"Where do vegans get their protein?" is a common question, and the good news is it has an easy answer: plants. There are plenty of non-animal foods that can provide ample protein for vegans, vegetarians, and anyone curious about adopting a plant-forward diet. Here, we've included some of the best vegan high-protein snack choices to give you a mid-afternoon or mid-morning pick-me-up (but if you're also curious about protein-packed vegan recipes for lunch and dinner, you can find our top 10 here).
The benefits of high-protein snacking
High-protein plant-based snacking offers a whole host of benefits. For one, it helps to keep you feeling fuller for longer (so you can go right through from snack time to dinner without any hunger pangs!), and regular protein intake also helps to keep blood sugar stable.
Plus, if you've been working out, protein is good for muscle maintenance and growth, too. This is because protein is essential for repairing and rebuilding tissue, which means it aids in recovery and growth after exercise. Protein also helps the body to burn more calories, and it helps with collagen production, which in turn, helps to keep skin, hair, and nails healthy.
Several studies support plant-based protein intake, in particular. For example, earlier this year, one study published in the British Journal of Nutrition suggested that substituting red and processed meats with beans may be beneficial for bone health. Another study published in the American Journal of Kidney Diseases suggested that a higher plant protein intake reduces the risk of developing chronic kidney disease.
If you want to reap all the benefits of plant-based protein, here are some of our favorite go-to vegan snacks.
The best vegan high-protein snacks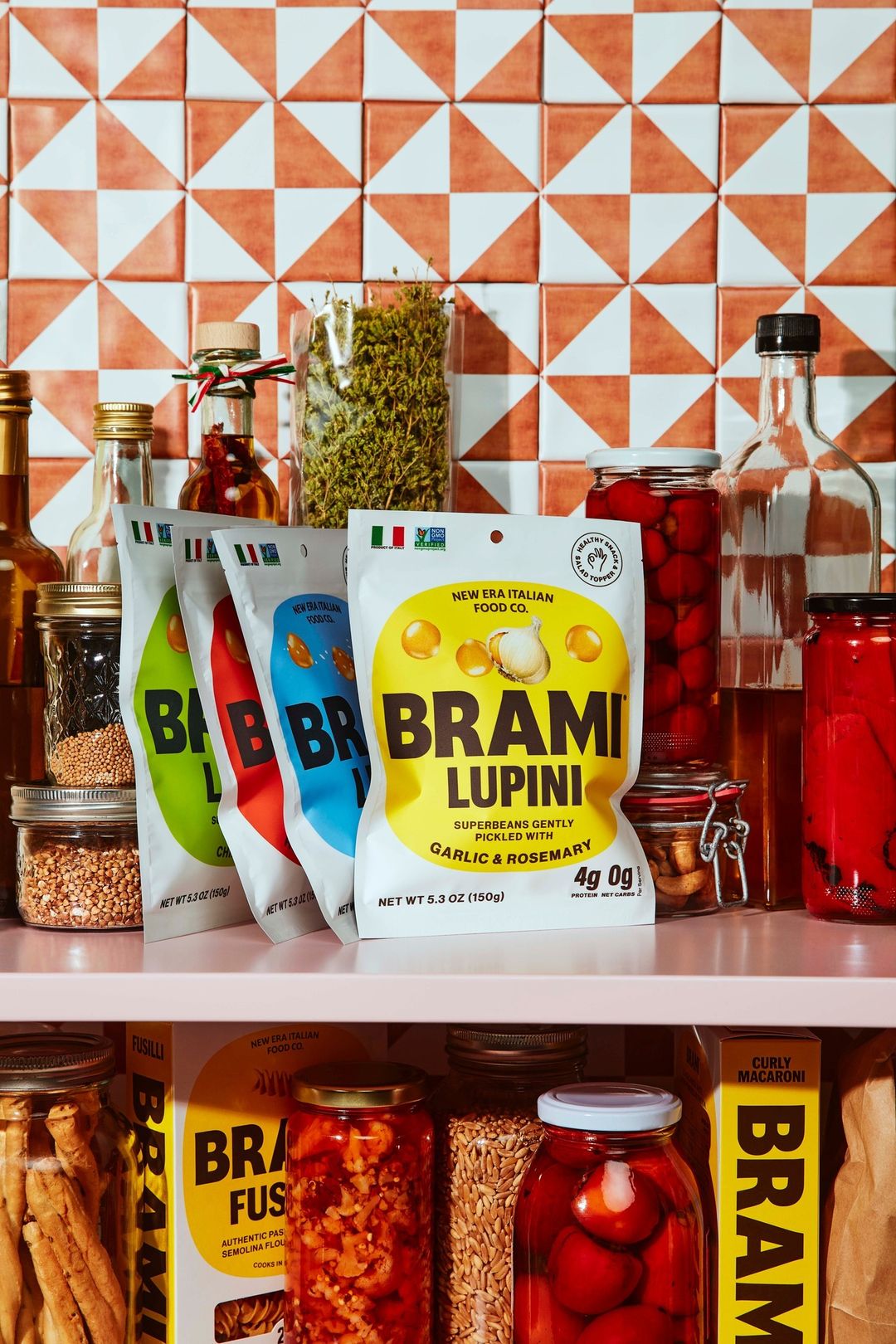 Brami
1 Lupini beans
Lupini beans have long been consumed across the Mediterranean and Latin America, but they're growing in popularity across the US. This is largely because of their strong nutritional profile—they're a good source of plant-based protein, but they also contain dietary fiber, B vitamins, and minerals, like iron, magnesium, and potassium. Brooklyn-based brand Brami specializes in lupini-based foods, including snack packs of pickled beans in a variety of flavors, including Garlic & Rosemary and Sea Salt & Vinegar.
Get it here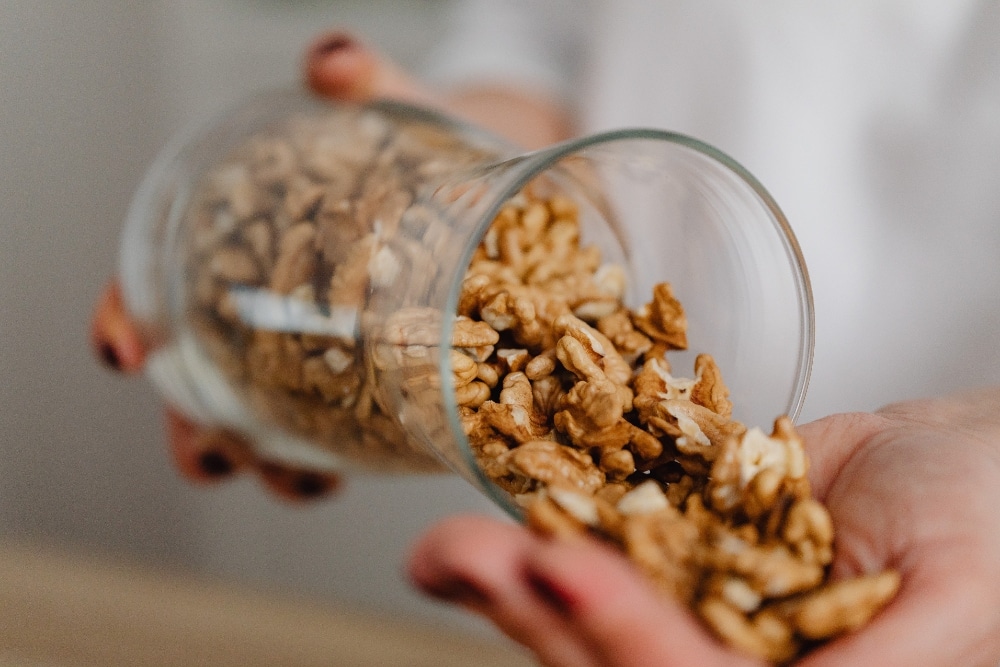 Pexels
2 Nuts
Nuts—like cashews, almonds, and walnuts—are a simple snack to your diet, but they come with a plethora of health benefits. Most contain around 20 grams of protein per 100 grams, and they're also packed with other essential nutrients, too, like omega-3, vitamin E, magnesium, and antioxidants.
Get IT here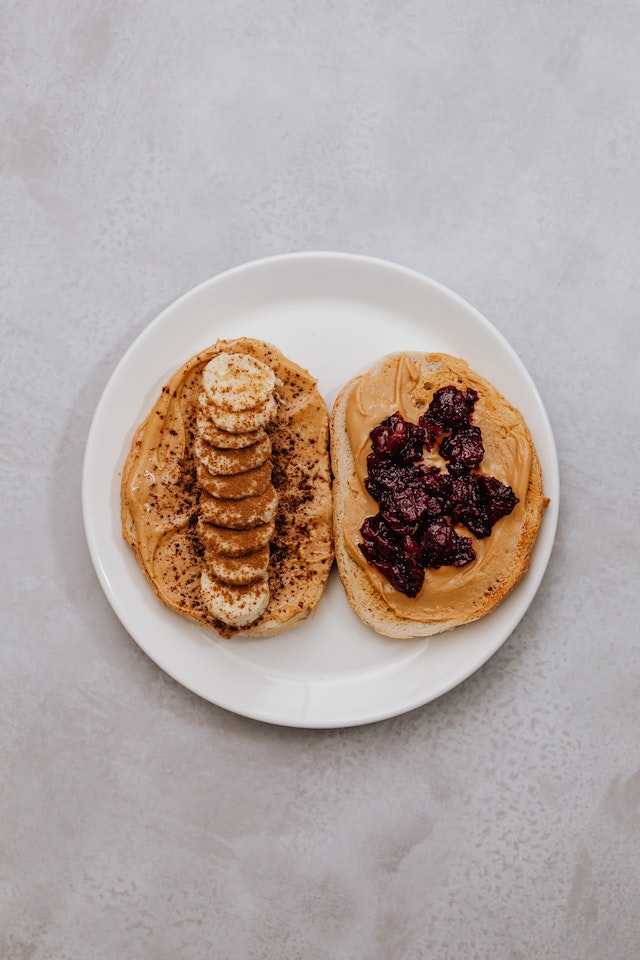 Pexels
3 Nut butter
Another way to reap the protein benefits of nuts is in spread form. There are plenty of vegan nut butter options on the market, all of which taste great when they're spread on toast or bagels, for example, or scooped up with celery sticks. Some of the best high-protein nut butter options include peanut butter, almond butter, cashew butter, and hazelnut butter.
Get IT here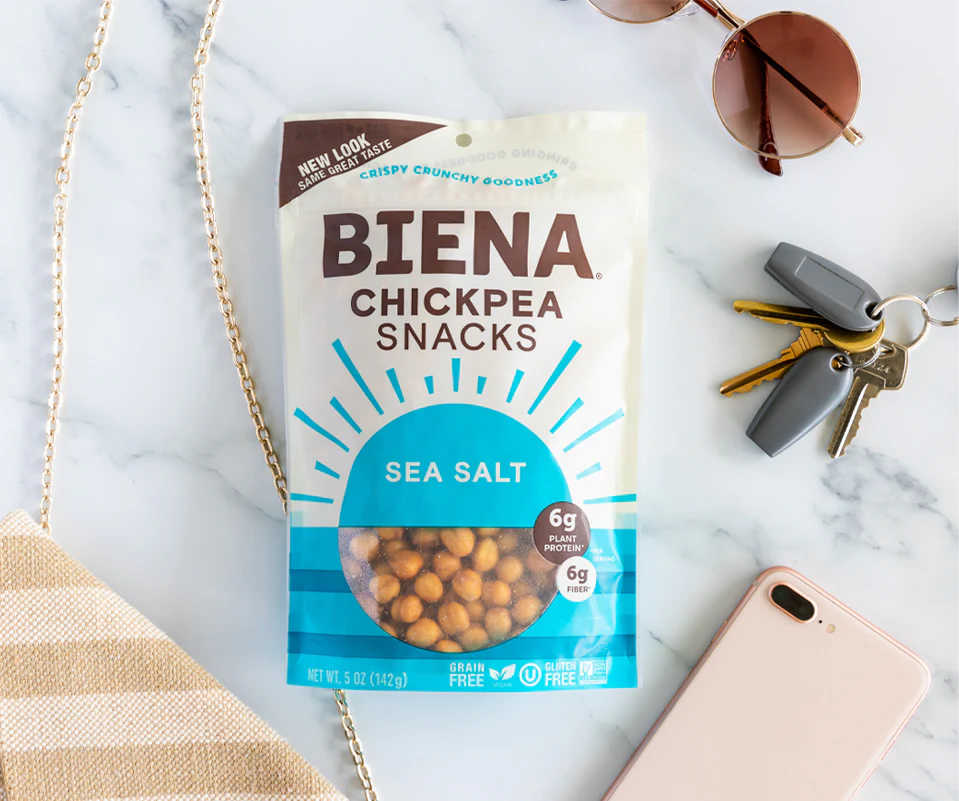 Biena
4 Dried chickpeas
Chickpeas, also known as garbanzo beans, are rich in protein. In fact, 100 grams of chickpeas packs in around 19 grams of the nutrient. They're also a source of fiber, vitamins, and minerals, including folate, iron, and magnesium. While chickpeas can be enjoyed in many different formats (we're fans of chickpea tuna!), dried is arguably the best snacking format. Brands like Biena Snacks, for example, sell dried chickpeas in a number of flavors, including barbecue, sea salt, and habanero.
Get IT here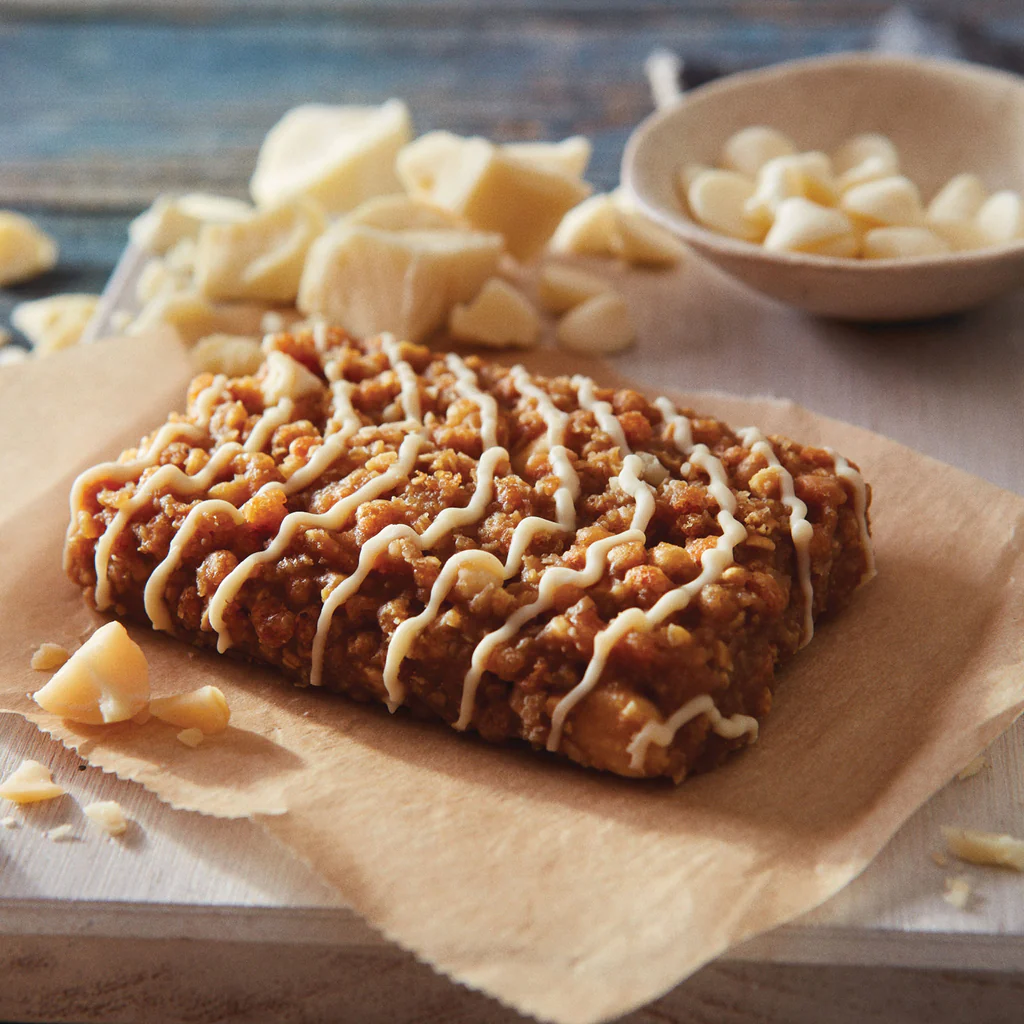 Clif Bars
5 Clif Bars
California-based brand Clif Bars makes its plant-based snacks with a blend of plant-based protein, fat, fiber, and carbohydrates, so you can guarantee they'll keep you feeling energized, full, and satiated. Plus, it has a wide range of vegan-friendly delicious flavors, including White Chocolate Macadamia Nut, Chocolate Chip, and Peanut Butter Banana with Dark Chocolate.
Get IT here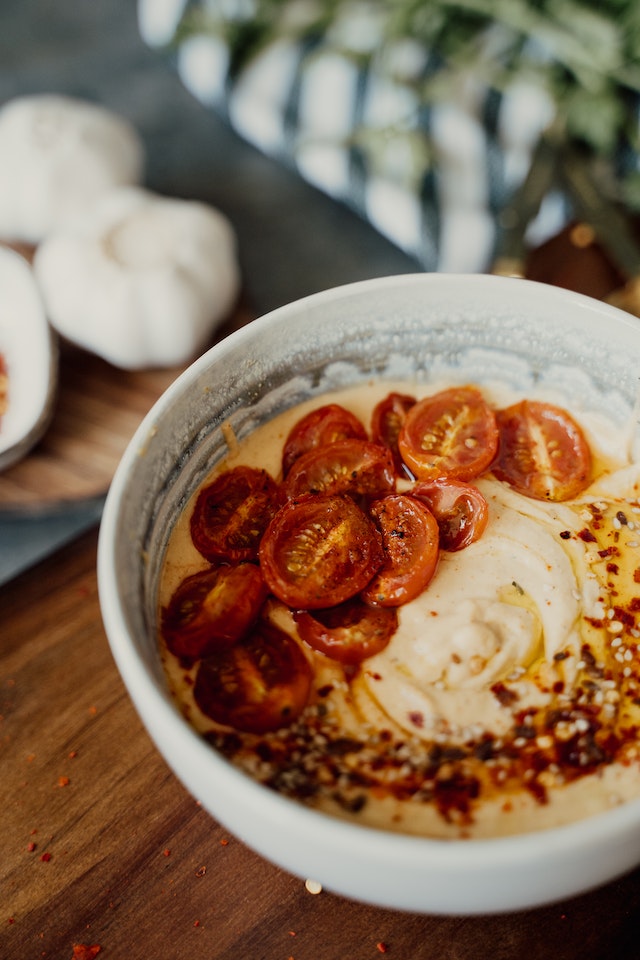 Pexels
6 Hummus
Hummus originated in the Middle East, but it's now popular all over the world, including in the US. The chickpea-based dip is high in protein, although it's not quite as high as dried chickpeas (it's around 8 grams of protein per 100 grams). It's also a good source of fiber, as well as minerals like folate, iron, and magnesium. Most grocery stores offer hummus, and some of the most popular brands in the US include Sabra, Boar's Head, and Tribe.
Get it here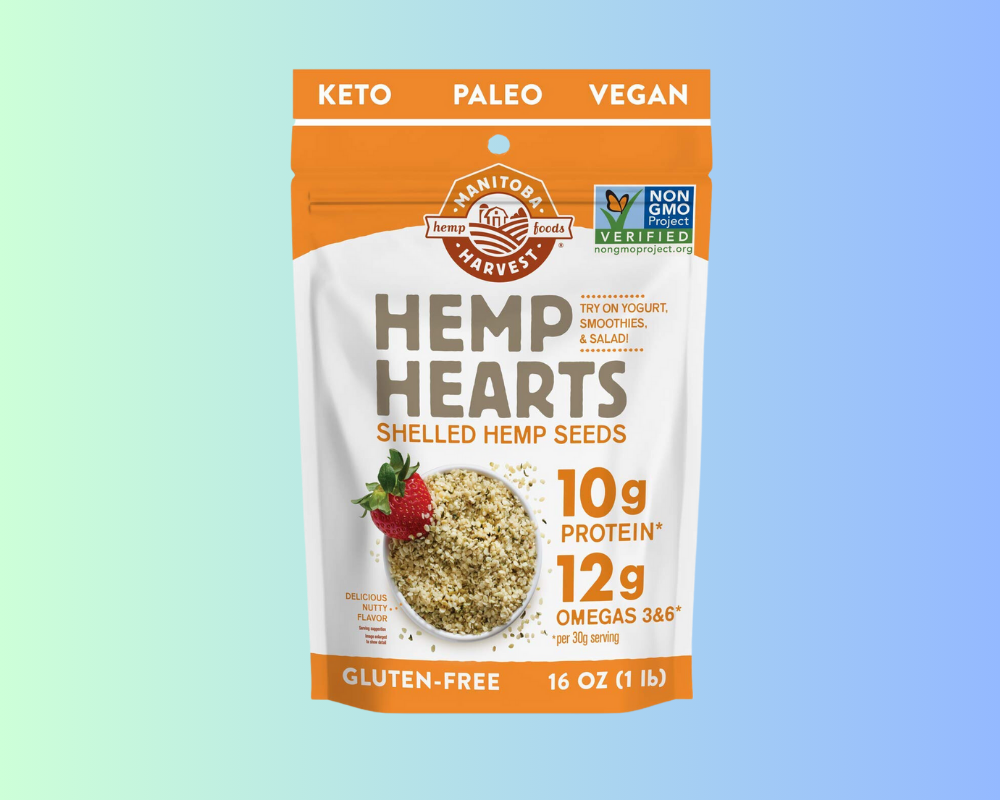 7 Hemp seeds
Hemp seeds (also labeled as hemp hearts) come from the cannabis sativa plant, but due to their trace amounts of THC, they won't get you high. They're a great source of protein (around 25 percent of their calorie content comes from protein), and they're also a good source of vitamin E, iron, magnesium, zinc, omega-3, and omega-9, too. Snack on them straight out of the packet, or you can add them to salads, smoothies, bagels, and more.
Get IT here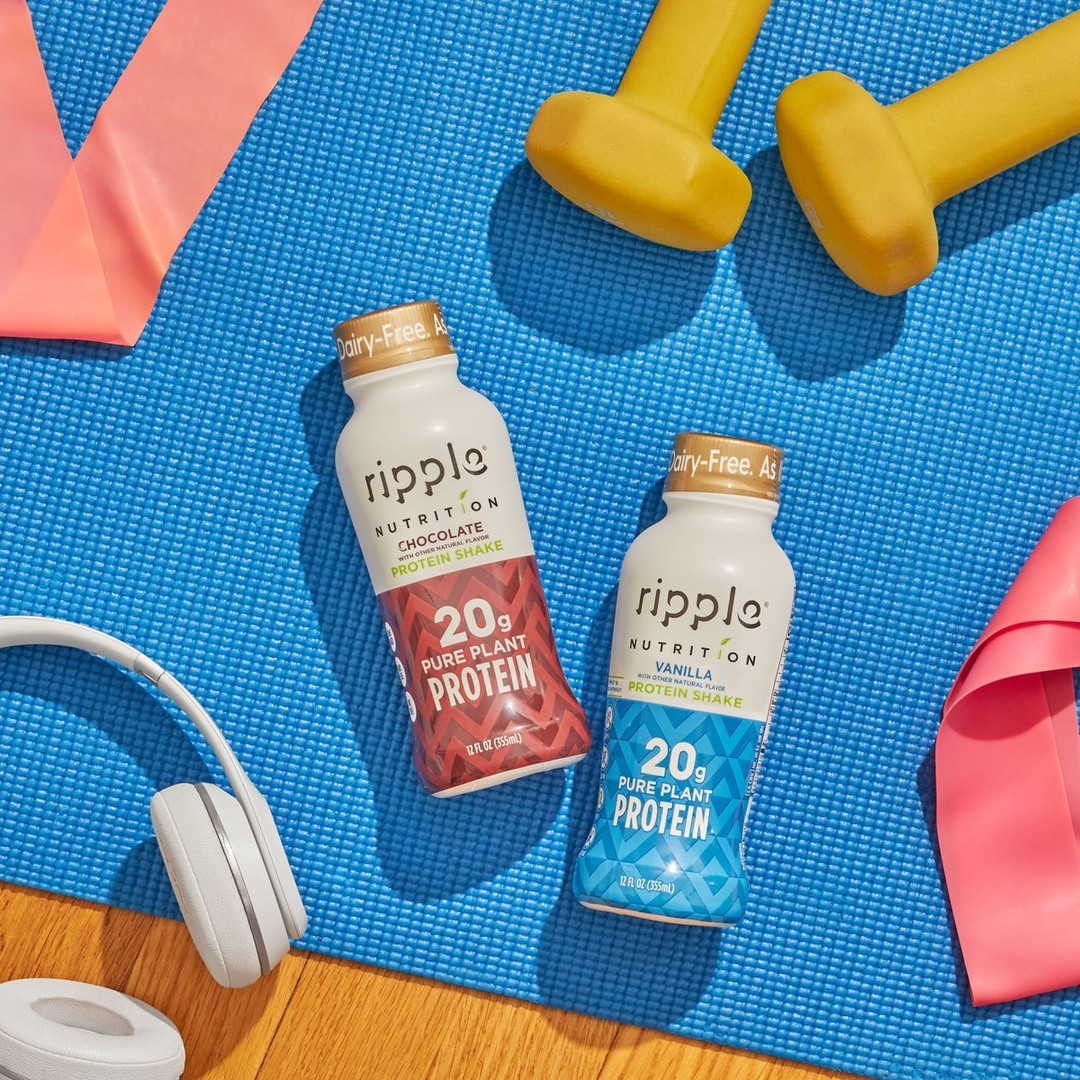 Ripple
8 Protein shakes
Finally, if you prefer to drink your snacks, you can't beat a protein shake on ease, flavor, and nutrition. Popular vegan protein shake brands include Ripple, which offers its pea milk-based shake in two flavors: Chocolate and Vanilla. You can also buy protein powder to make your own shake from home from brands like Vega and Truvani.
Get it here
For more on vegan protein, read:
Here at VegNews, we live and breathe the vegan lifestyle, and only recommend products we feel make our lives amazing. Occasionally, articles may include shopping links where we might earn a small commission. In no way does this effect the editorial integrity of VegNews.