The volcanic island of Java is home to picturesque sights, diverse wildlife, and Jakarta, Indonesia's most bustling city. But it's also the birthplace of one of the country's most beloved foods. Tempeh, a type of cultured soy-based protein invented in Java hundreds of years ago, is now a staple of Indonesian cuisine. You can nearly always find it in the country's warungs (which are small cafés or kiosks), alongside local dishes featuring noodles and fresh vegetables. In fact, research indicates that Indonesians eat around seven kilograms of tempeh each year.
But in recent years, tempeh has expanded beyond the scenic shores of Indonesia and also found a place on tables around the world. The global market is worth nearly $5 billion, and in the US, the ingredient has become a mainstay on grocery store shelves. But what actually is tempeh? Is it nutritious? And how do you cook with it? We've got all the answers below, plus delicious vegan recipe ideas.
What is tempeh?
Tempeh, referred to as "tempe" in Indonesia, has become synonymous with one particular type of food made from soybeans, but the word actually refers to the process through which it is made: fermentation.
"Tempeh is a traditional fermented food made from soaked and cooked soybeans inoculated with a mold, usually of the genus Rhizopus," notes one study published in the National Library of Medicine. "After fermentation has occurred, the soybeans are bound together into a compact cake by dense cottony mycelium."
It all sounds pretty scientific, but the result is a chewy, nutty, protein-packed ingredient, which effectively soaks up the flavors of anything you cook it with, making it an ideal meat substitute.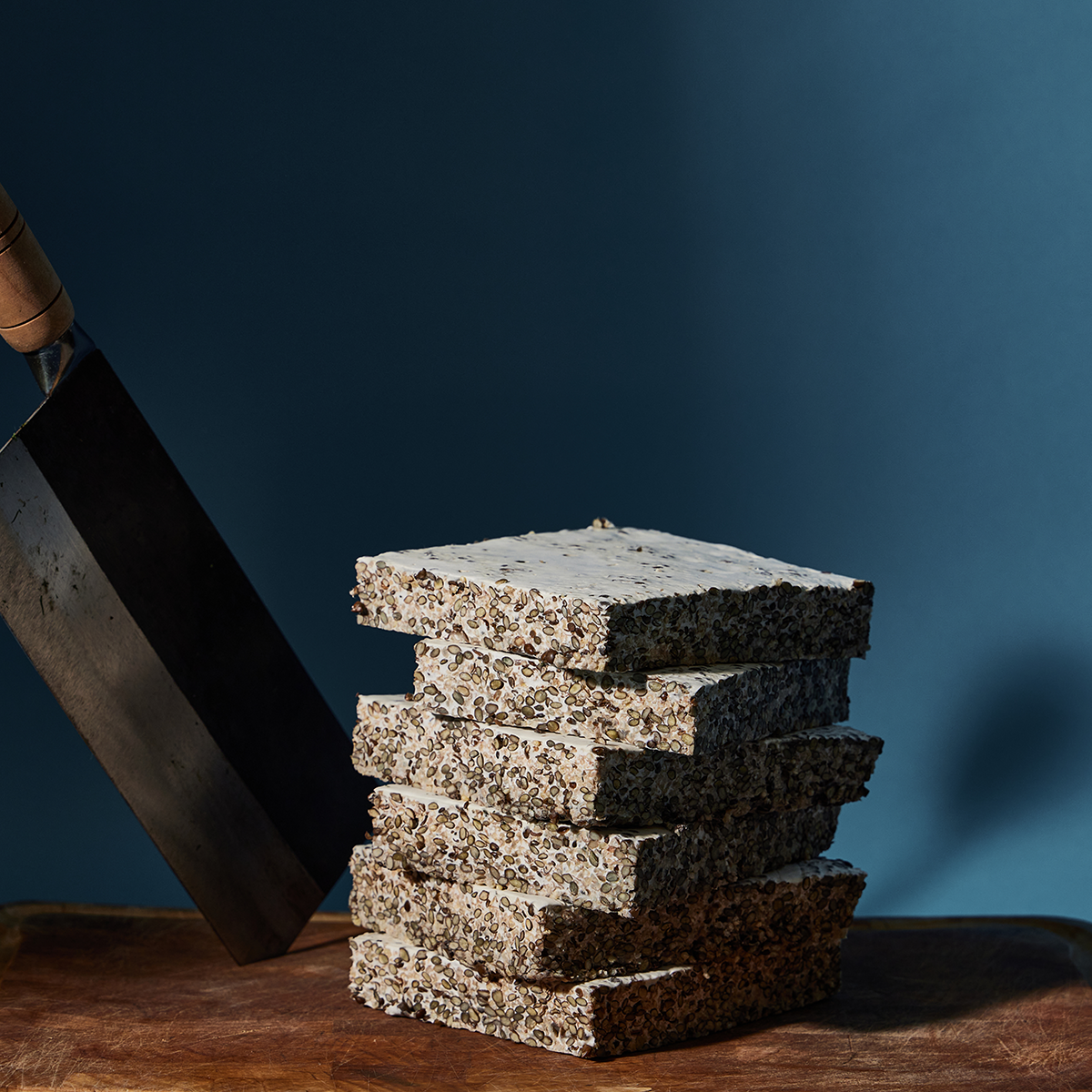 Unsplash
Is tempeh nutritious?
Tempeh is highly nutritious, which, in part, is thanks to the way it is produced. The fermentation process helps to break down the phytic acid and other antinutrients found in soybeans, which helps to make the nutrients more accessible to the body.
The versatile ingredient is also a good source of nutrients like protein, fiber, B vitamins, iron, and calcium. It's also a probiotic food, which means it contains beneficial bacteria that can help improve gut health and boost the immune system.

How do you cook with tempeh?
There are many different ways to cook with tempeh. It can be pan-fried, grilled, baked, and even boiled. But according to chef and food writer Lara Lee, one of the best ways to cook it is in the deep-fryer. "Deep-frying tempeh amplifies its prized umami flavor and savory meatiness, making it a versatile ingredient that works across multiple cuisines and food cultures," she explains to Bon Appétit. "When eaten as a traditional snack in Indonesia, tempeh is always deep-fried."
Vegan recipes with tempeh
If you want to sample the delights of tempeh for yourself, there are many different ways to enjoy it. To get you started, we've gathered just a few of our favorite vegan recipes with tempeh below.
Ashley Maddan
1 Vegan Smoky Tempeh Peanut Satay
Fuse together Indonesian and Thai cuisines by whipping up this deliciously nutty and protein-packed tempeh peanut satay, which calls for an ultra-flavorful Thai-inspired marinade. When you're ready to tuck in, serve with fragrant lemongrass rice or a side of your favorite roasted vegetables (or both!).
Learn more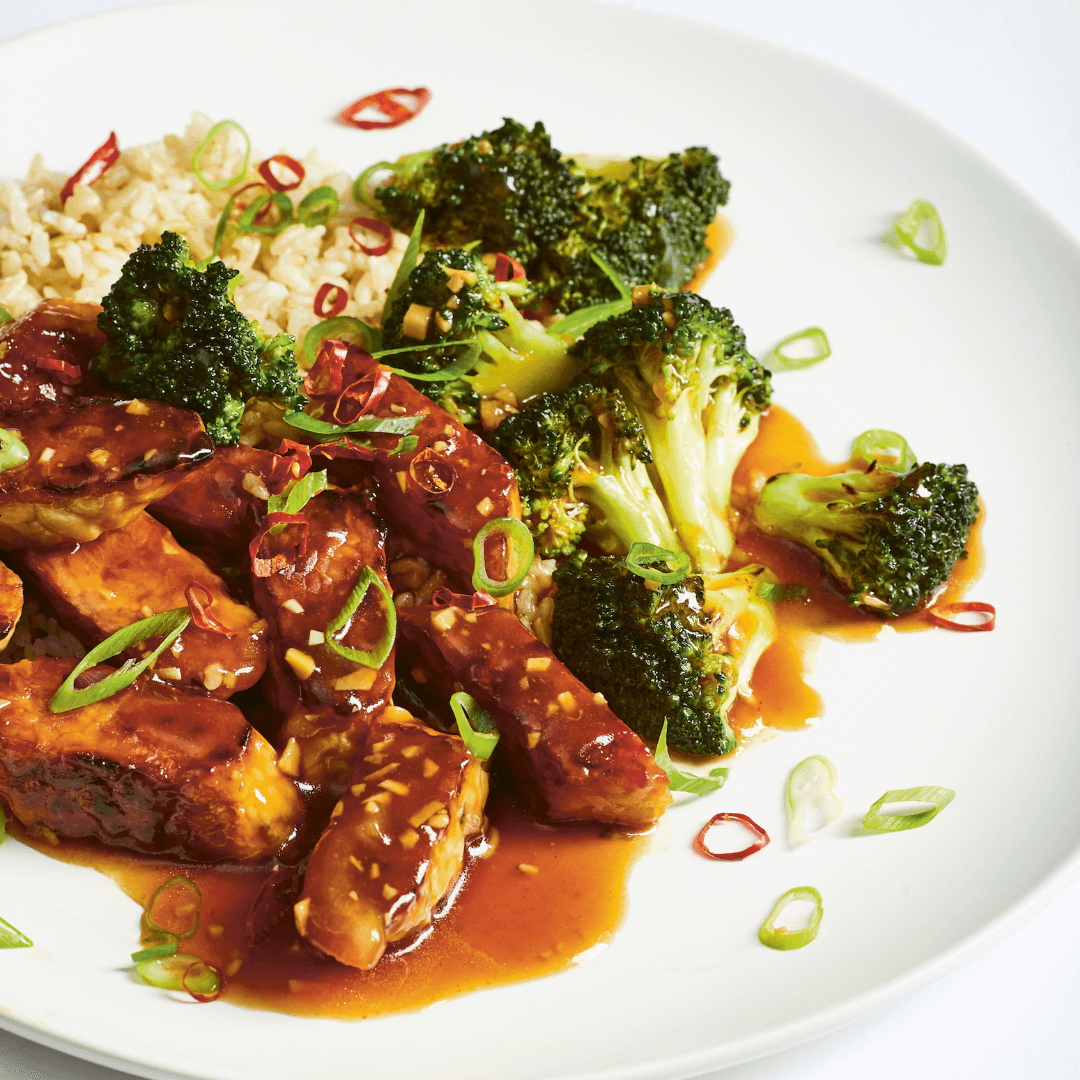 Isa Chandra Moskowitz
2 Beefy Vegan Tempeh and Broccoli
A staple of Chinese takeout, beef and broccoli is incredibly popular around the world. But it is possible to enjoy the flavors of this dish without any meat, and without opening a delivery app. Instead, save your money and try this vegan beefy dish made with tempeh, instead. You'll be pleasantly surprised at just how meaty and satisfying it is.
Learn more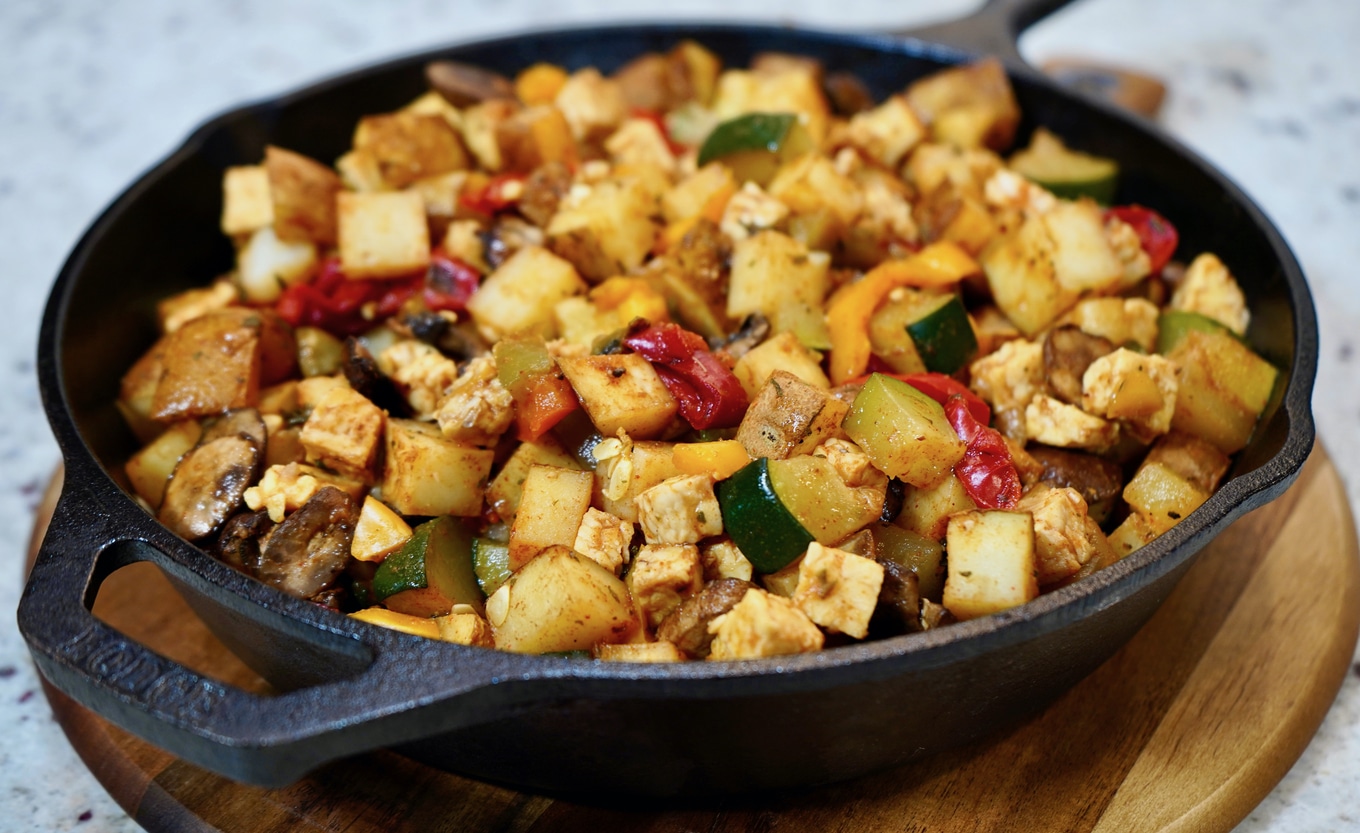 Jill and Jeffrey Dalton
3 Smoky Vegan Tempeh, Mushroom, and Potato Breakfast Skillet
For days when you've got a little more time in the morning, bookmark this vegan breakfast skillet, which features loads of delicious vegetables, crispy roasted potatoes, and fried tempeh. It's packed with nutrition, super satisfying, and guaranteed to become a new family favorite.
Learn more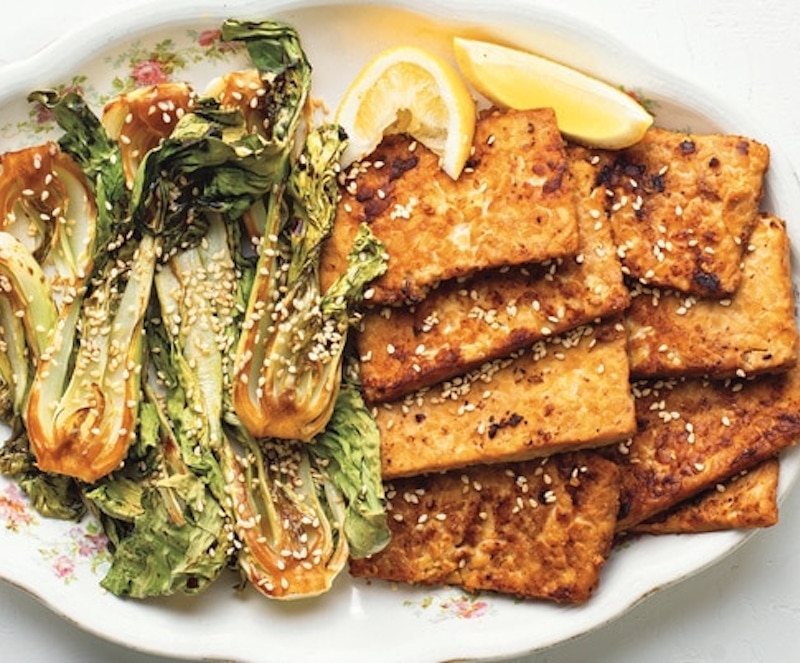 Alexandra Shytsman
4 Miso-Mustard Tempeh With Roasted Baby Bok Choy
Fuse together three different Asian foods, miso (from Japan), bok choy (Chinese cabbage), and tempeh to make this delicious, nutrient-packed, satisfying lunch or dinner. Add a little mustard for just a hint of spice and a squeeze of fresh lemon for extra zesty flavor.
Learn more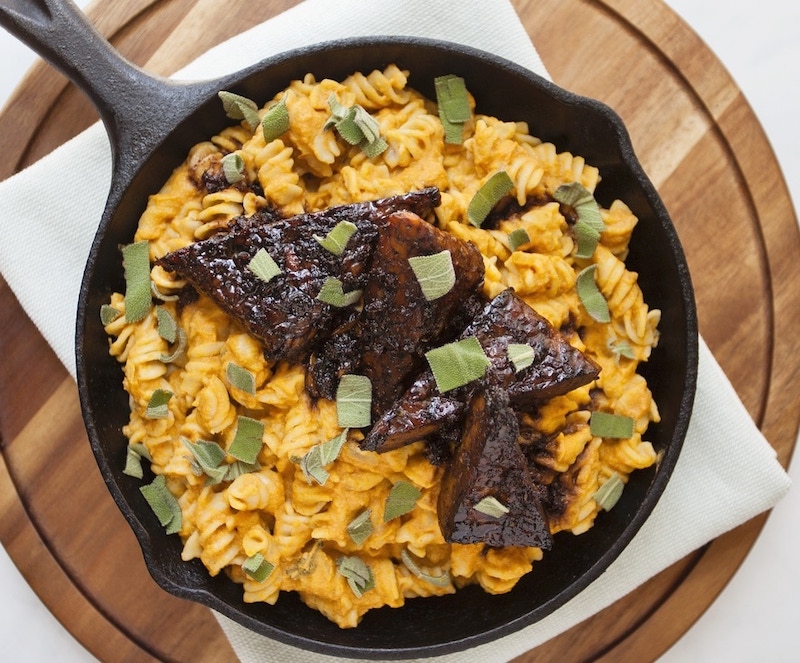 Amy Angelo
5 Vegan Pumpkin Sage Pasta With Blackened Tempeh
You can't go wrong with pasta. It's the perfect mid-week dinner solution and goes with everything, including tempeh. To make it blackened, all you need to do is make a marinade, which, in this recipe, consists of olive oil, maple syrup, balsamic vinegar, tamari, chili flakes, and liquid smoke.
Learn more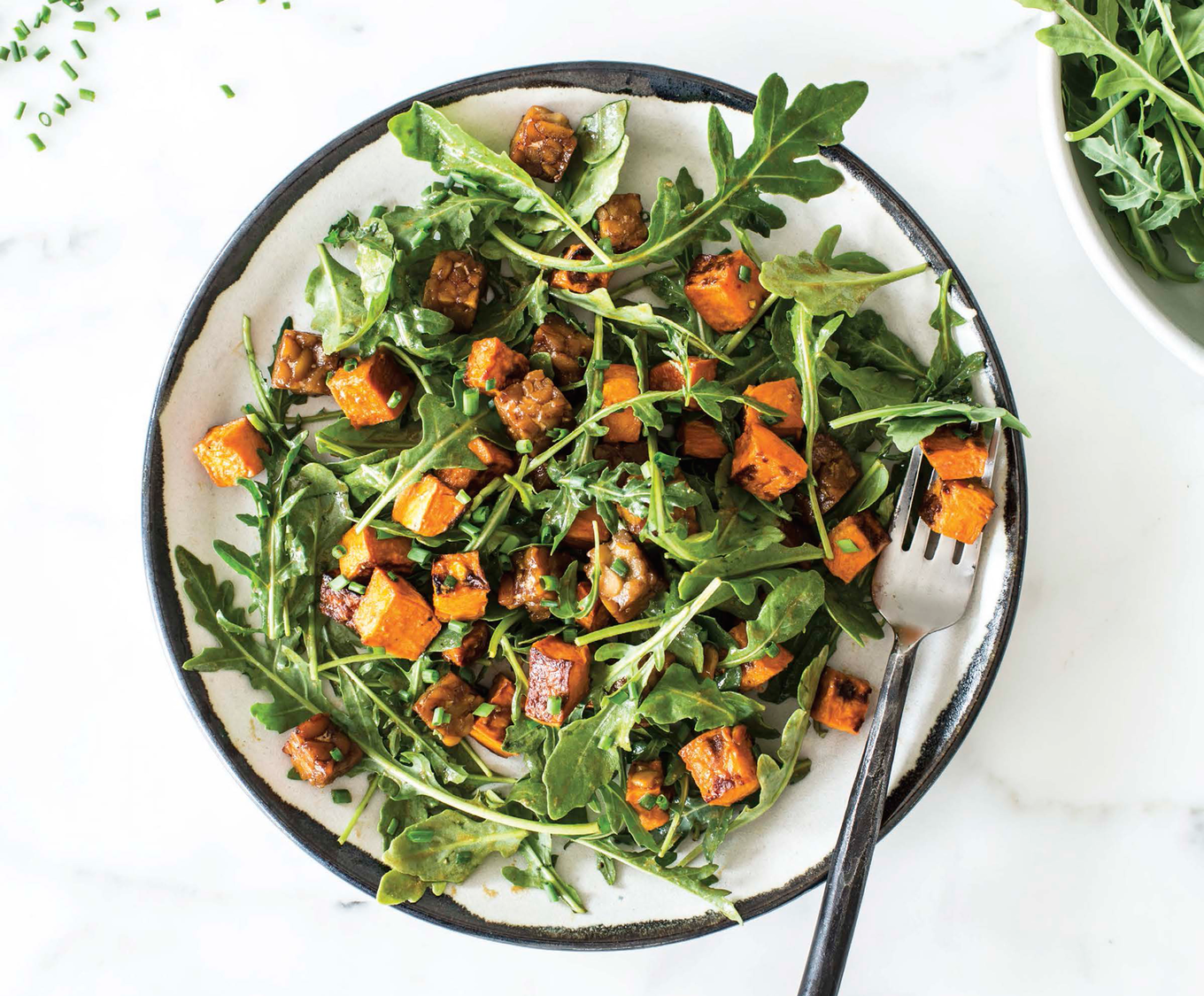 Gena Hamshaw
6 Vegan Sweet Potato Salad with Tempeh & Maple-Mustard Dressing
If you're bored of making the same salad recipe, shake things up by making this delicious sweet potato salad, which is as hearty as it is flavorful, thanks to the maple-mustard dressing. Add cubes of baked tempeh for extra protein and texture.
Learn more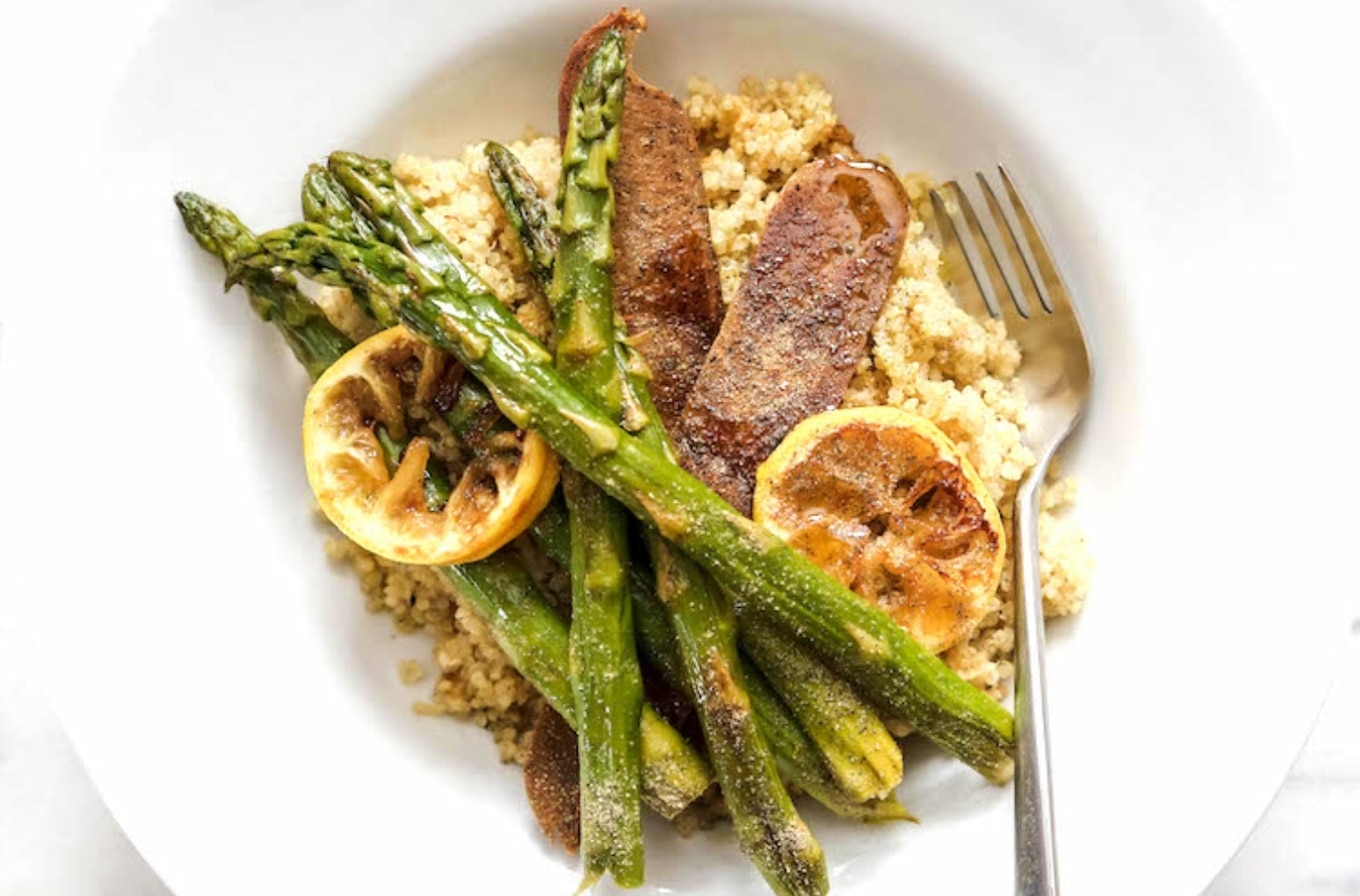 7 Tempeh 'Bacon' & Asparagus in a Lemon-Garlic Sauce
Bacon and asparagus are often paired together, and that's because the flavors and textures balance each other well. But you don't have to eat meat to enjoy this classic combination. Tempeh makes a great crispy and flavorful bacon substitute, especially when it's cut into thin strips and baked.
Learn more
For more nutritious ingredients, read: