Life is pretty busy for a pollinator. All over the world, millions of birds, bees, moths, bats, butterflies, beetles, and wasps help to pollinate over 180,000 different plant species. In most cases, the animal will simply hop from flower to flower, drinking nectar and picking up pollen on their body as they go, breezily playing their role in helping the natural world to thrive. But not all cases of pollination are quite as cheery. For many fig wasps, the process is actually deadly. So, given their role in the death of insects, does this mean that figs aren't vegan? Let's dive in.
Are figs vegan?
While figs are often thought of and treated as a fruit, they are actually inverted flowers, and their buds bloom inside their pods. And the nature of their design means their pollination process is actually quite a tragic story—for fig wasps, anyway.
The way it works is this: a female wasp crawls inside the fig, but the opening is so small, it destroys her wings. She lays her eggs before she dies, as she is unable to get back out and fly away. The eggs hatch, and the wingless males help the winged females to escape by creating tunnels after they have mated with them. Then, the males die, and the females live to lay their eggs in another fig before the entire cycle starts again.
While it seems like a sad existence, it is, what scientists call, obligate mutualism. It means that in this part of the natural world, figs and fig wasps rely on each other for species' survival.
But doesn't this mean that figs are filled with dead wasps? Yes. But not in the way you think. After the wasps have perished, they are digested by the fig plant's enzymes, which dissolve the insect's exoskeleton.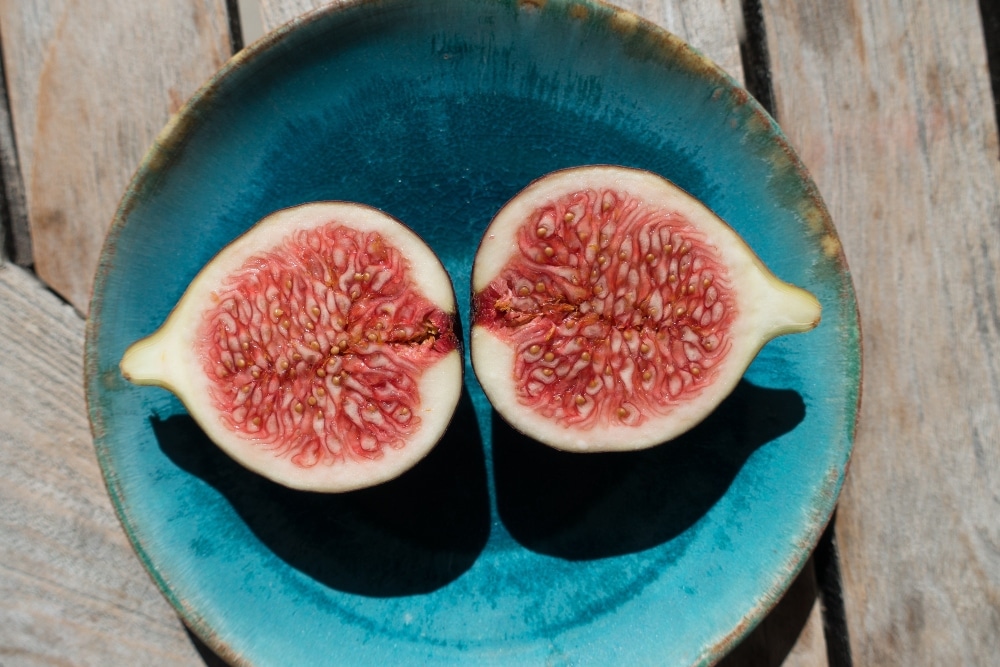 Pexels
Fig pollination is a result of nature, not human intervention, and for that reason, many vegans still eat figs. But for others, the line is clear: figs contain dead animals, and therefore, they are not vegan.
But whatever side of the debate you fall on, the truth is, you probably don't have to worry about fig wasps, because most of the figs in US grocery stores are not pollinated by them. Instead, they are predominantly self-pollinating varieties, called common figs, so you can munch them down, safe in the knowledge they are wasp-free.
That said, if you're concerned, it's always worth checking what type of fig you're buying. Smyrna figs, for example, rely on wasp pollination, and so do San Pedro and calimyrna varieties.
Are figs healthy?
If you've picked up a punnet of common figs from the grocery store or the farmers' market, as highlighted above, you're very unlikely to be accidentally snacking on wasps. But aside from a clean conscience, eating figs also comes with many other benefits. For one, they're soft and sweet. But they're also nutritious. They're a source of fiber, for example, as well as potassium, magnesium, calcium, and carotene.
Vegan recipes with fig
There are many different, delicious ways to prepare figs, which are usually in season in the late summer and early fall months. If you're stuck for ideas, we've compiled some of our favorite vegan recipes below.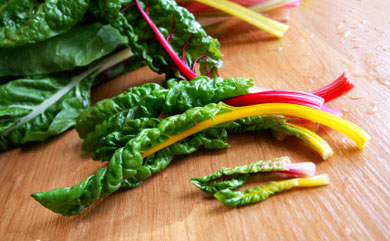 1 Rainbow Chard With Figs
In this Sicilian-inspired recipe, dried figs are combined with rainbow chard, garlic, olive oil, and pine nuts to make a delicious side dish, which would work beautifully with a large bowl of your favorite pasta.
Get the recipe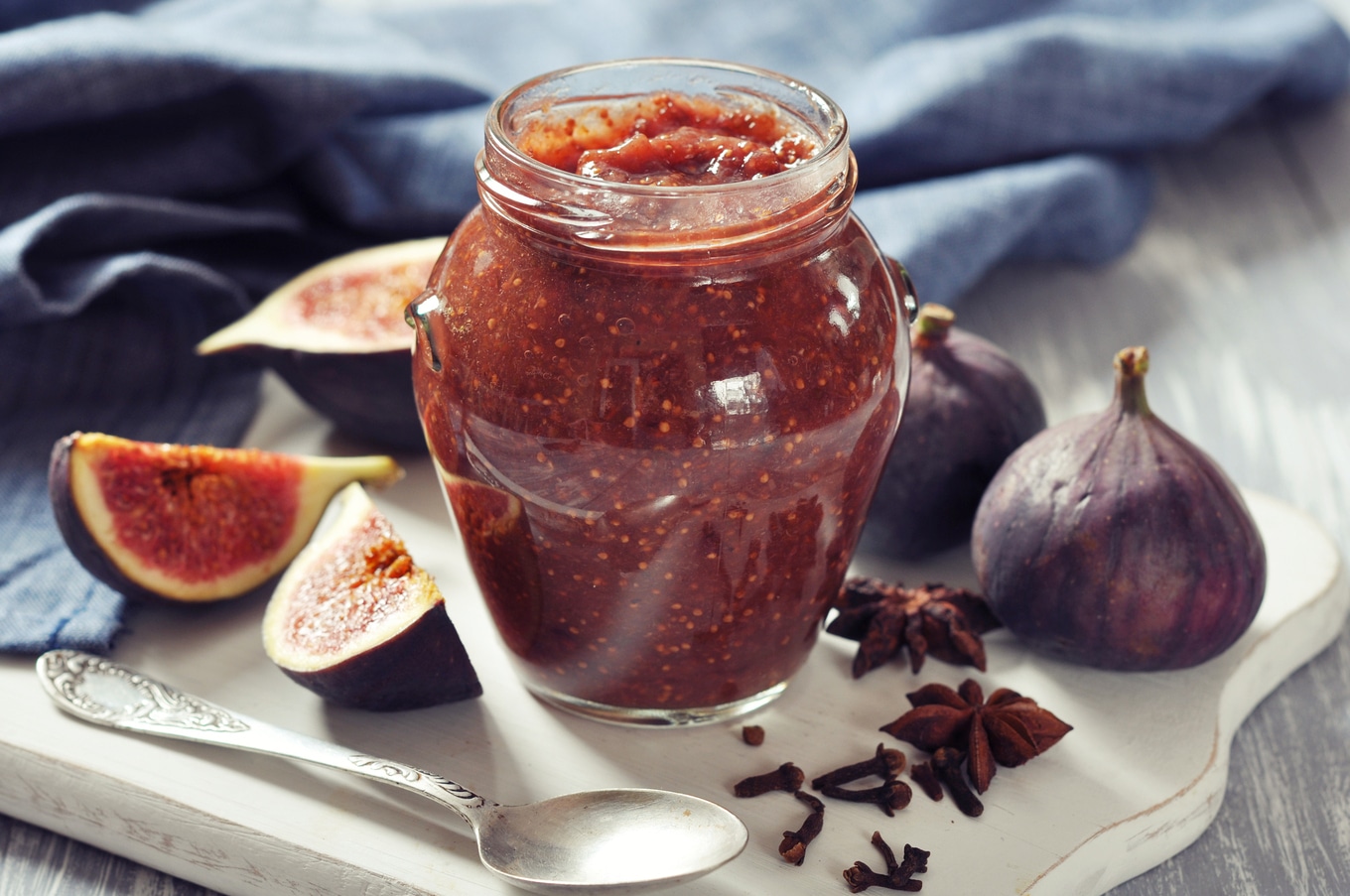 2 Balsamic Fig Jam
Sure, strawberry, blackberry, and raspberry are tried and tested favorites when it comes to jam. But don't sleep on fig. When combined with balsamic vinegar, the resulting spread is the perfect mix of sweet and savory, ideal for spreading on crackers, toast, or even scones.
Get the recipe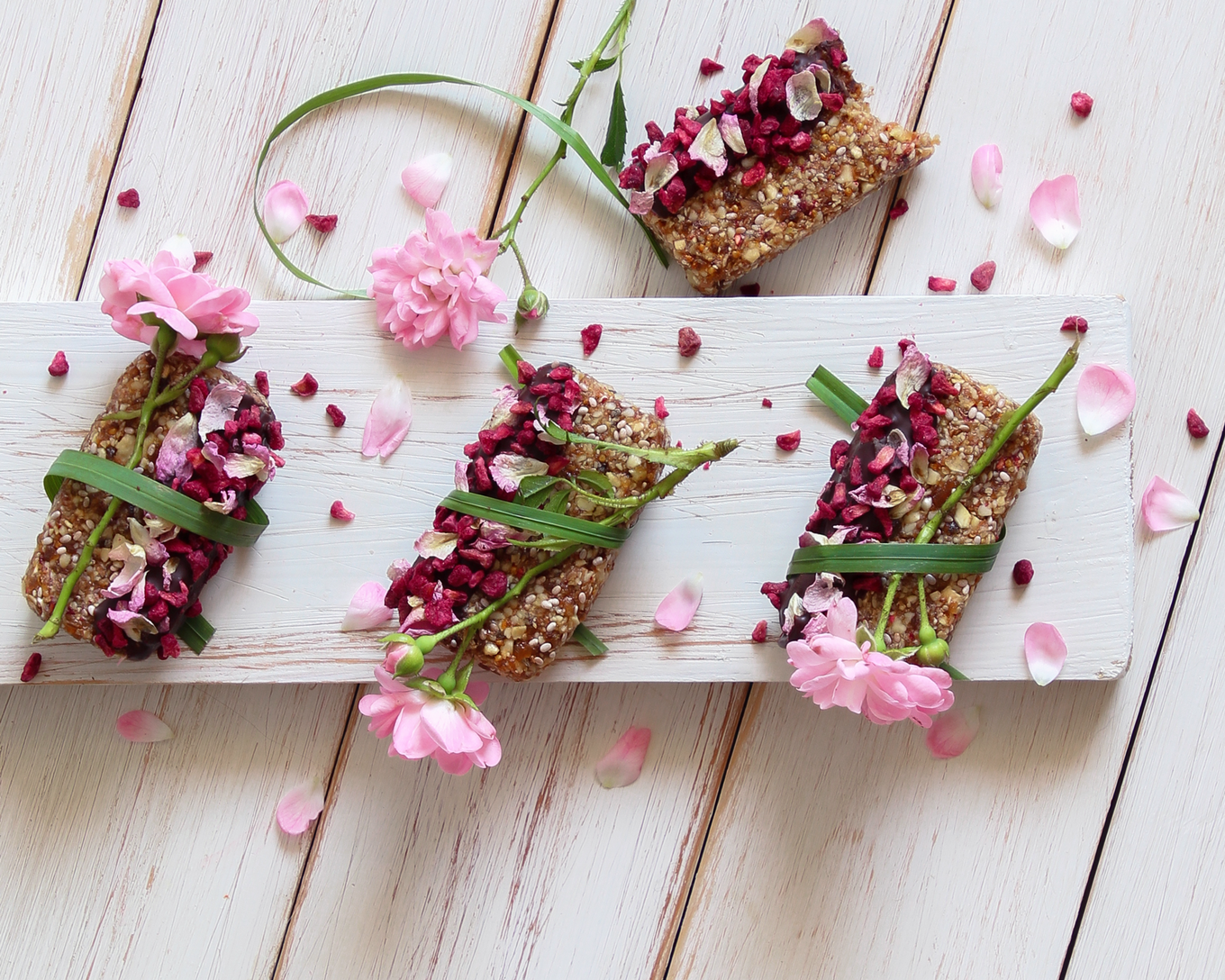 ToraFlora
3 Chocolate-Dipped Raspberry Rose Oat Bars
As mentioned above, figs are technically a flower, not a fruit. So it makes sense that their flavor pairs well with other flowers, too. Combine dried figs with rose petals, as well as cashews, raspberries, chia seeds, and chocolate, to make these deliciously addictive oat bars.
Get the recipe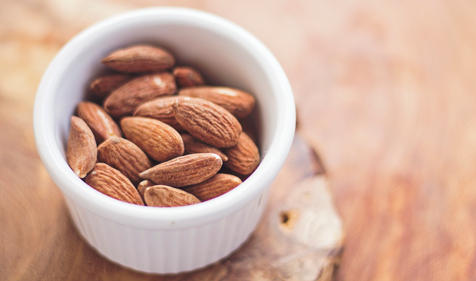 4 Fig-Hazelnut Energy Bars
Store-bought granola bars are great, but you can also make a very similar tasty treat from home, too, using nutritious whole-food ingredients like raw almonds, hazelnuts, white figs, and Medjool dates.
Get the recipe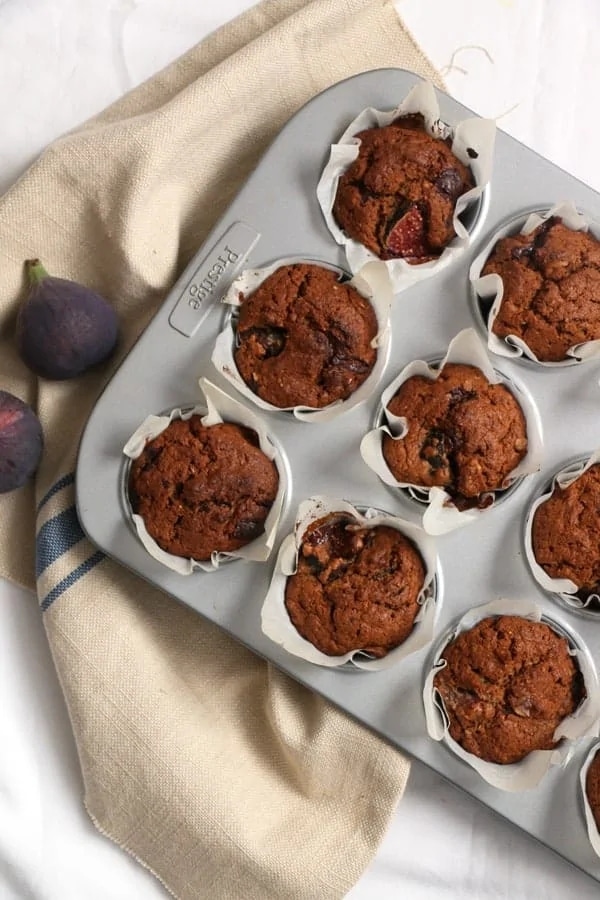 Nirvana Cakery
5 Fig Walnut and Chocolate Muffins
You can't go wrong with a muffin, especially when it's packed with nutritious, tasty ingredients, like figs, walnuts, and chocolate. These are guaranteed to be a crowd-pleaser, so just make sure you make enough for seconds!
Get the recipe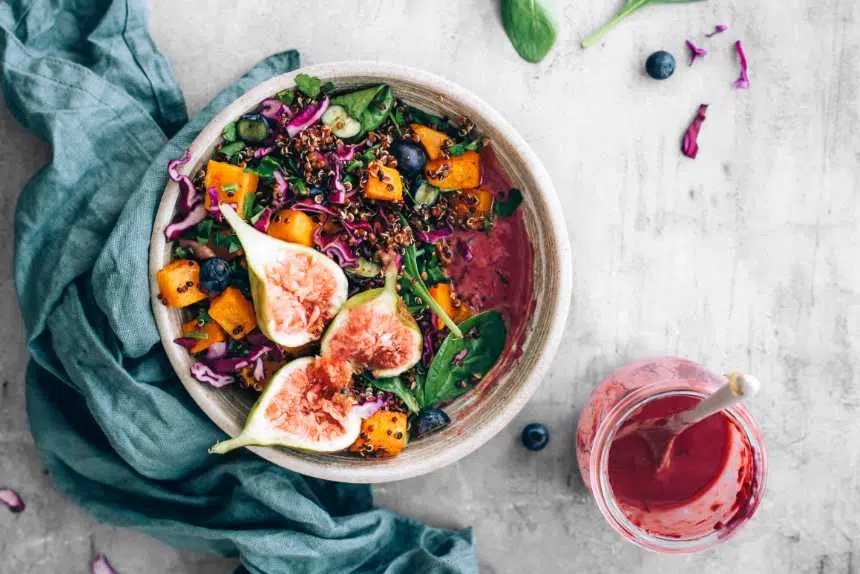 Nutriciously
6 Colorful Spinach Fig Salad
Liven up your lunchtime salad rotation by adding in this healthy, easy, quick, and tasty spinach, squash, and fig recipe. Plus, as an added bonus, it looks just as good as it tastes, too. This is one to bookmark for the fall when winter squash is in season.
Get the recipe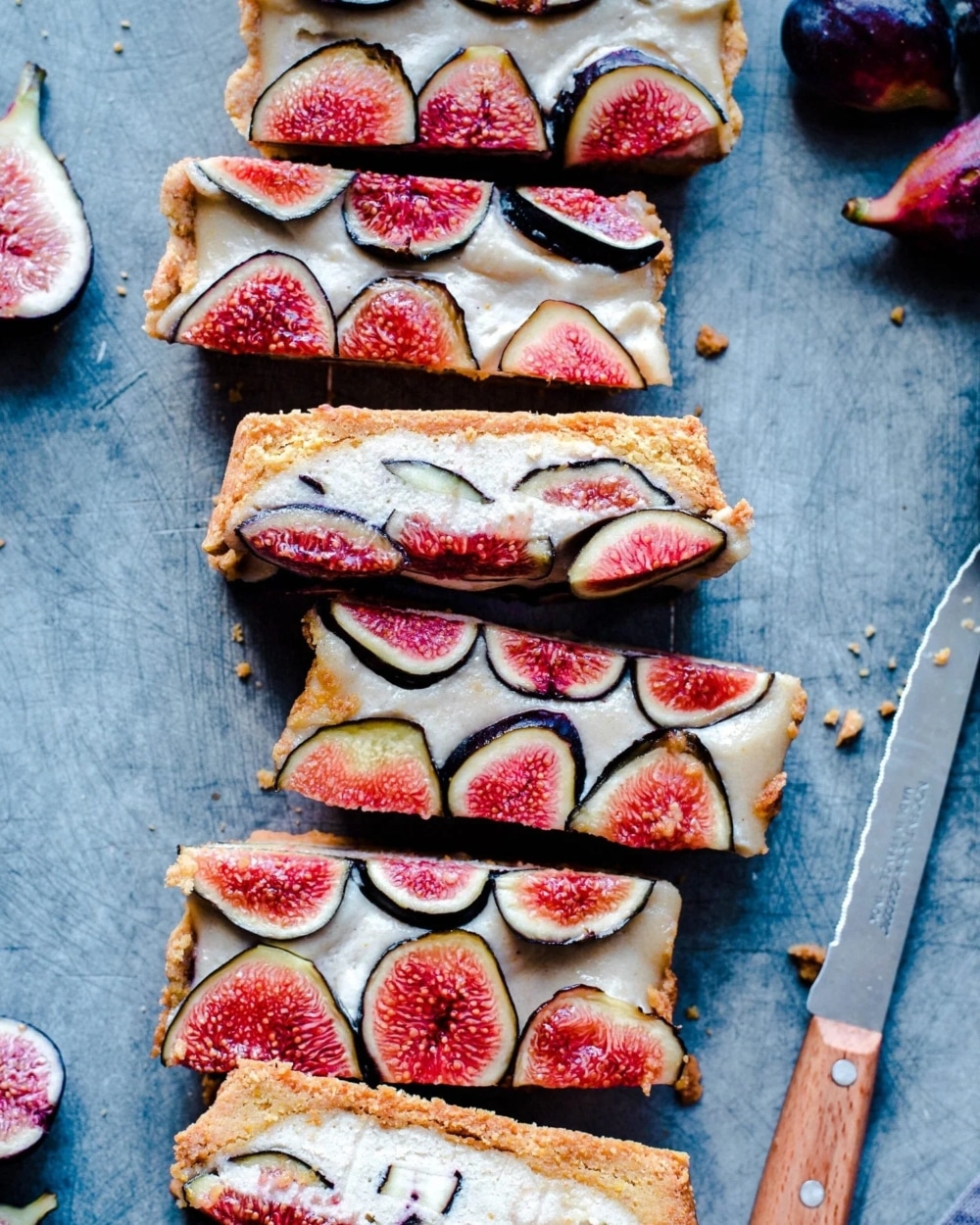 Rainbow Plant Life
7 Fig Tart With Coconut-Cashew Cream
This beautiful-looking fig tart is rich, creamy, and delightfully satisfying to make (and eat, too!). The coconut-cashew cream and the crunchy crust pair beautifully with the sweet figs. It's guaranteed to become your go-to late summer dessert.
Get the recipe
For more on vegan ingredients, read: