November 16 was an important day in food history. For one, the FDA gave its first greenlight for the safe consumption of a cultivated meat product, a chicken filet made by California-based UPSIDE Foods. The FDA's historic generally regarded as safe (GRAS) letter meant that UPSIDE's cultivated meat cleared a major hurdle toward regulatory approval and is now seeking a green light from the USDA.
On that historic day, I found myself at Steakholder Foods' first-ever cultivated meat-tasting event in the United States. Like UPSIDE, the Israeli company is in the business of creating a better way to deliver meat to the public—without the need to slaughter animals in the traditional, destructive way.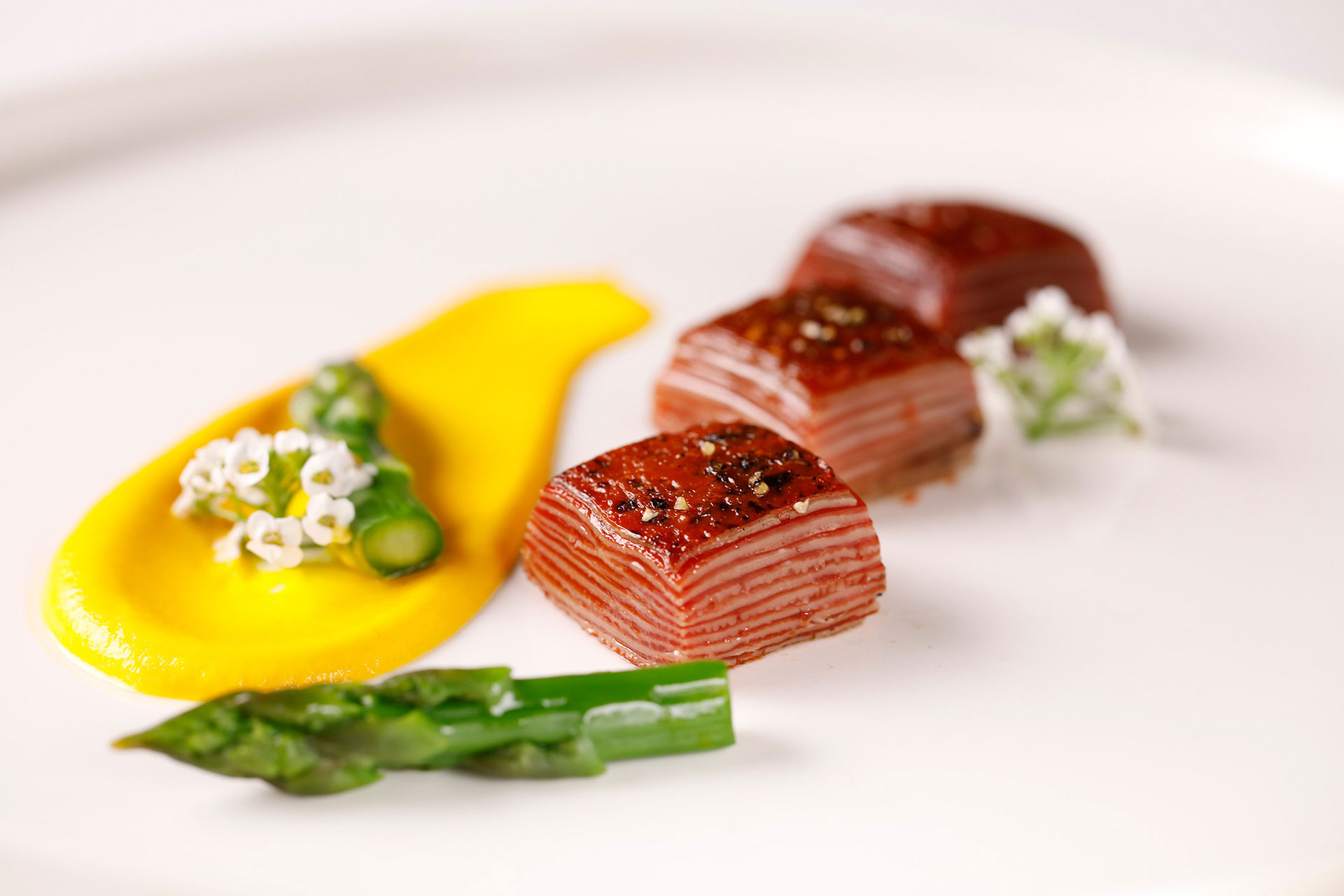 Steakholder Foods
Steakholder's approach centers around deep tech, including a 3D printer that delivers customizable cuts of cultivated steak with desired fat contents in a matter of minutes. And the company has shown that it can print meat just about anywhere, including at the top of a skyscraper in the middle of the Arabian Desert in Dubai.
Steakholder CEO Arik Kaufman is a seasoned entrepreneur in the cultivated foods space. He explained how Steakholder's approach differs from others, as it starts with hardware—with his company being able to advance its technology greatly since its inception in 2019.
"I've tasted plant-based products and understood that they won't replace meat," Kaufman told me during the event, explaining that the first meat Steakholder printed was "a thin layer of carpaccio that has now evolved into what you see here."
One person who believes this approach to be the future of meat production is actor Ashton Kutcher, who invested in Steakholder (then called "MeatTech") last year and is collaborating with the publicly traded company to help it commercialize.
And while Kutcher made a name for himself as a prankster, the actor is a prolific investor in technology. So what does this Ashton Kutcher-backed cultivated meat taste like?
Tasting Steakholder Foods cultivated steak
The tasting event took place in the historic Fort Mason complex in the Marina neighborhood of San Francisco, situated right on the water and not far from Greens Restaurant—a vegetarian mainstay that has served Bay Area meat abstainers since 1979.
But I came to the Marina for meat.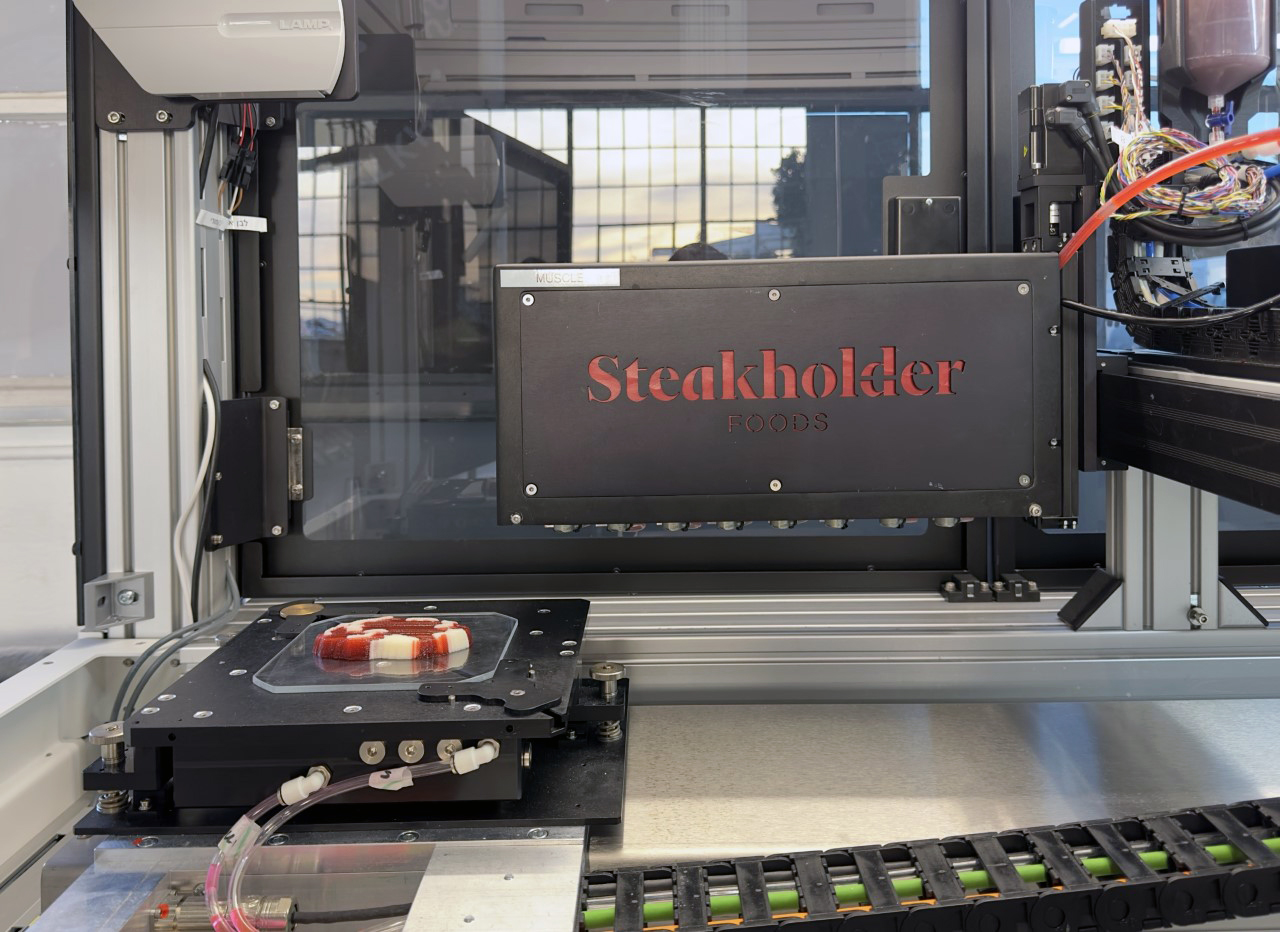 Steakholder Foods
Upon entering the event, I was greeted by the 3D printer as it laid down layers of a stand-in material to demonstrate how the meat I was about to eat is made. It was clean and transparent—a stark departure from what visiting a slaughterhouse, or even a supermarket meat aisle, is like.
Servers walked around with dishes prepared with different "cuts"—or cultivated meat made with various fat ratios. I snagged a bao bun filled with a bit of meat and other umami-rich ingredients like mushrooms. As I took my first bite, my heart pounded with both anticipation and worry that the flavor would deliver an ick factor. It did not.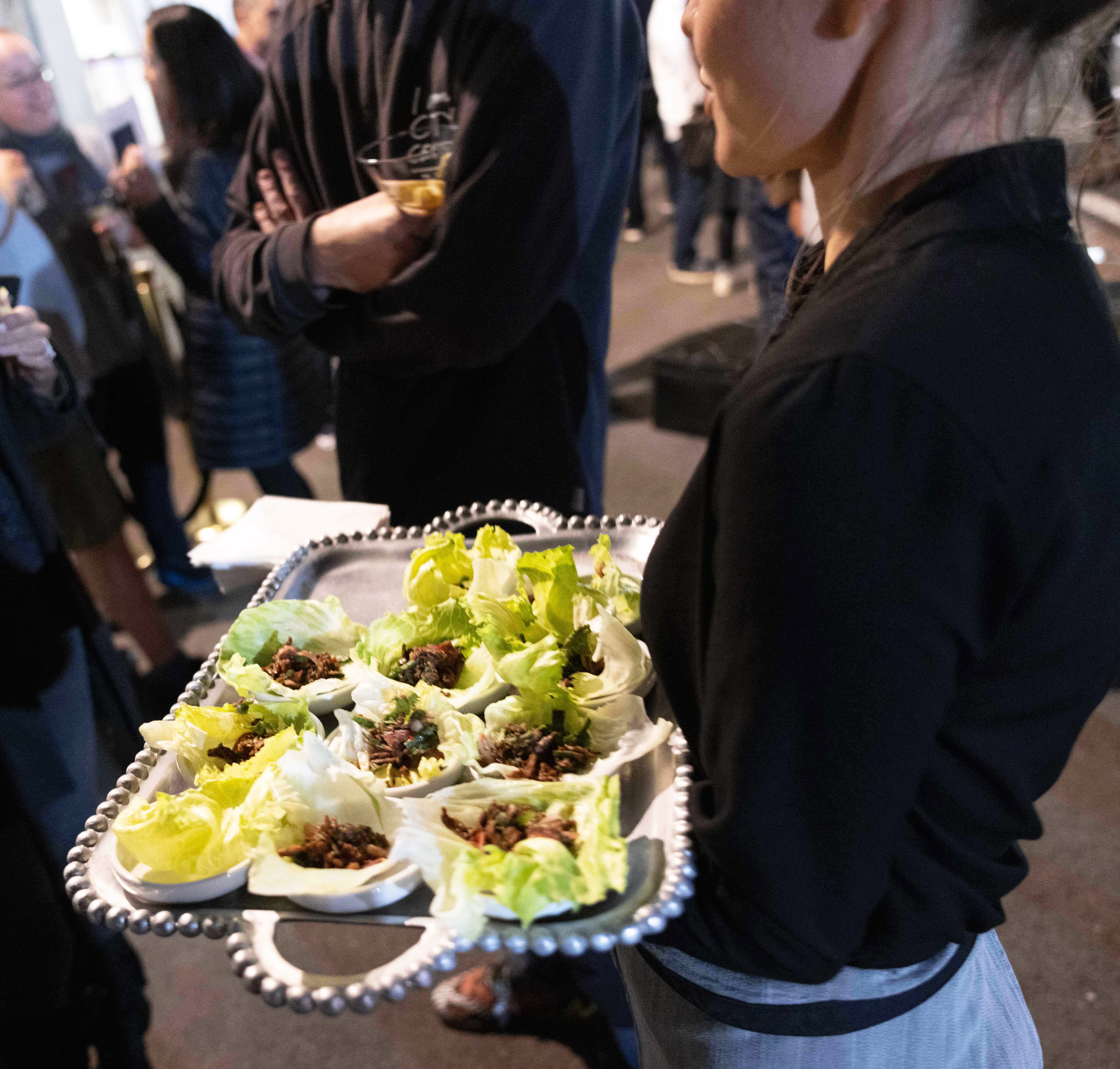 Steakholder Foods
The meat was hard to find in the bao so I reached for the next dish: a take on a Thai lettuce wrap with beef crumbles. This one was also good in terms of texture but tasting the meat proved hard under the layers of spices and citrus.
And so I reached for a skewer placed over a smoky glass container. The piece of meat here was hefty; it had weight, texture, and a certain gaminess that plant meat has not yet cracked. This dish gave me an opportunity to taste the star ingredient: real meat, made from animal cells, that no animal had to die for. And it made me think twice.
Is cultivated meat vegan?
I went vegan one decade ago after reading Mad Cowboy, a book by Howard Lyman, a cattle rancher who turned vegan after witnessing the atrocities of the animal agriculture industry firsthand. His story gave me all the authority I needed to take animal products off my plate for good. But it was not because I hated the taste of meat; it was because I knew too much about how it is made.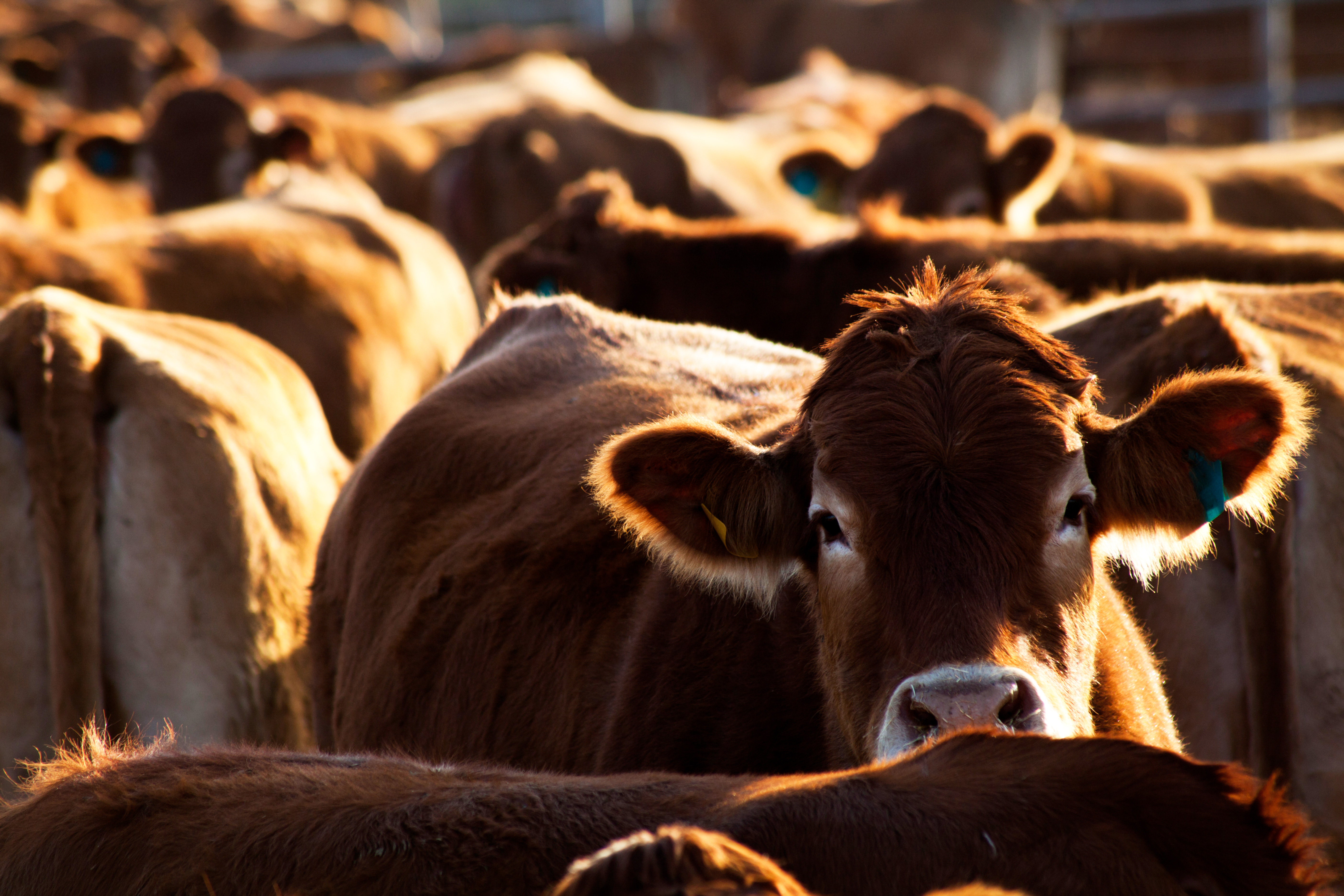 Getty
I have since had the good fortune to not only uphold my ethical beliefs but to help others understand the unnecessary brutality of animal agriculture through my work at VegNews, where I've been a news editor for more than seven years.
So how does cultivated meat fit into my vegan lifestyle, given that it is technically not even vegetarian? It has to do with the definition of veganism itself that tasks vegans to choose a path of as little harm as possible.
As a professional vegan, my path of least destruction is embracing the value of technologies that can eliminate some of the most egregious practices within the food system—and sharing what I learn with the public. And both Kutcher and I agree that cultivated meat has so much potential in this sense.
Will I eat cultivated meat regularly once it comes to market? Maybe. But it's not made for me.
Cultivated meat to feed the world
Just one day before the November 16 FDA approval and the Steakholder Foods tasting event, the world's population hit eight billion—that means we added one billion humans to the planet in just 12 years.
Ramping up animal agriculture to feed the growing population might provide food in the short term but would come with dire consequences, such as intensified environmental degradation and skyrocketing risk of zoonotic diseases, in the long-term, a new study found based on an analysis of 100 topical articles published in Science Advances.
While I and other vegans continue to eat plant-based foods, is it reasonable to expect everyone to ditch meat before it's too late? This is where cultivated meat can pick up the slack.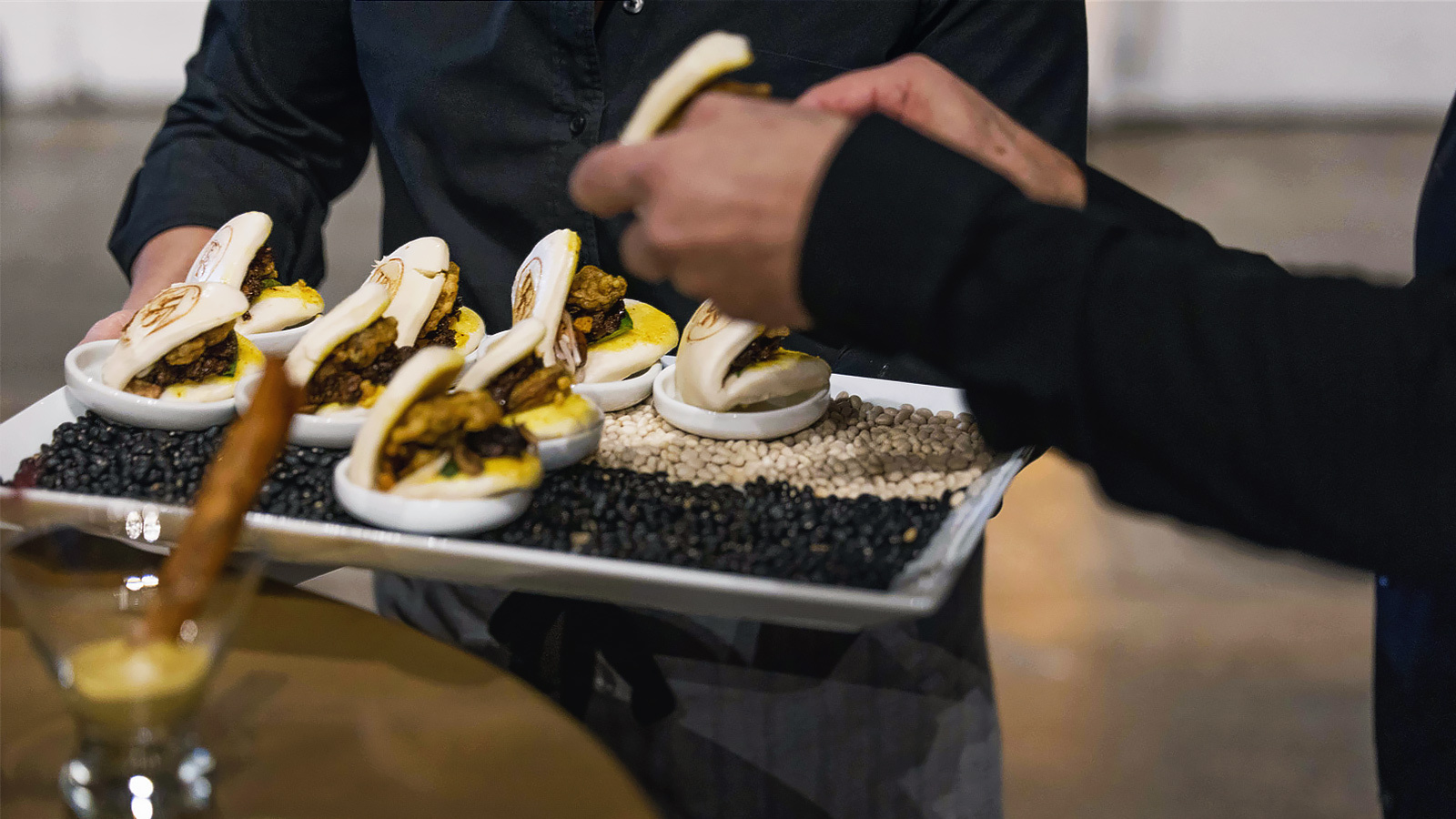 Steakholder Foods
The way Steakholder and other cultivated companies make meat takes animal rearing and slaughter out of the equation, and stands to improve so much of what makes traditional animal agriculture so terrible.
Kaufman explained that the cultivated meat industry will advance in stages, with hybrid products (a combination of plants and cultivated meat) to hit the market first before fully cultivated products can be scaled enough to be sold at competitive prices. The developments here are fast-moving, as well. Kaufman said Steakholder has been able to reduce the price of its 3D-printed meats by about 50 percent since last year.
Currently, Singapore—where Steakholder presented its products prior to hosting the San Francisco event—is the only country in the world where cultivated products are on the market. As regulatory approval for this new way of making meat gets closer to reality in the US and elsewhere, the company is working hard to perfect its technologies and move toward zero animal inputs. Its printing technology is also addressable to multiple species, including beef, pork, and fish.
"I try to be optimistic and realistic," Kaufman said. "Realistically, it will take time. The majority of people are used to eating delicious meat. It will take time before these products replace real meat … but we need to be patient. It won't happen in a day. It won't happen in a year. But it will happen."
With the historic FDA GRAS letter, the wait might not be that long as the milestone moment will push the global industry forward in a big way. "Everyone, including ourselves, have waited for the United States to be the leading country that will approve this," he said.