Have you ever wanted to scream into a void about all the annoying things your meat-eating uncle says to you during Thanksgiving? Is a locker room motivational speech the best way you can think of getting hyped up before facing your family during the holidays? You're in luck because vegan company Oatly is here to help you navigate traditional Thanksgiving like a pro.
This Thanksgiving, The Oatly Emotional Support Hotline for Plant-based Eaters will offer unique resources for vegans looking for support during the challenging holiday. What happens when you call in? Well, you've got options.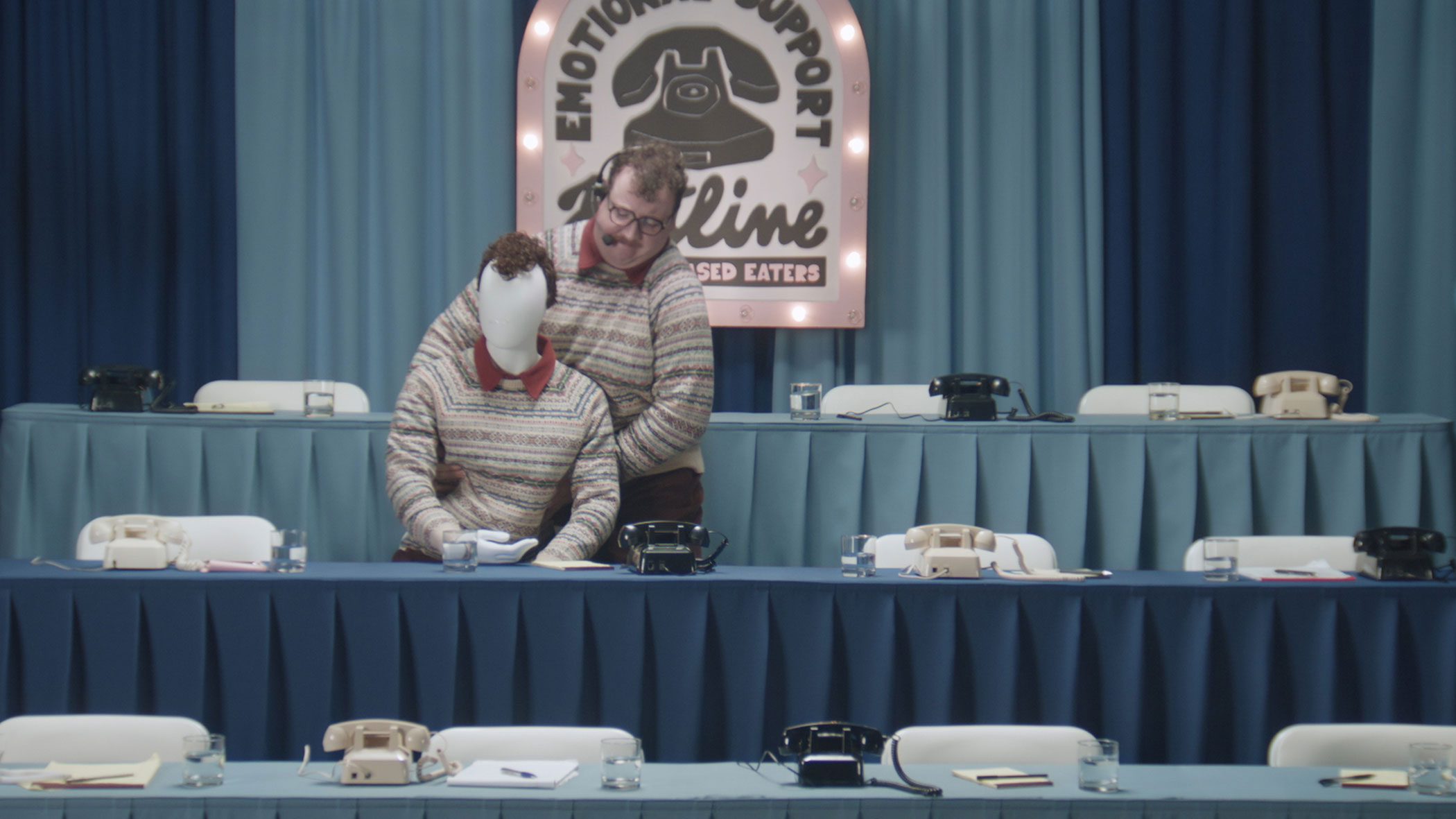 Oatly
First, you can listen to the main menu in different formats, including in English or Swedish, accompanied by smooth jazz or elevator music, or read by a fifth grader from Kansas who won a Thanksgiving essay contest.
Pressing one will get you to personal affirmations to help emotionally navigate a traditional meat- and dairy-heavy Thanksgiving dinner. Pressing two will get you to useful stats and talking points to defend your reasons for going vegan from a climate perspective.
Want to scream into a void about your frustrations about explaining your plant-based diet to people? Oatly gives you 30 seconds to do just that by pressing three.
Pressing four will get you to a locker room-style motivational speech inspired by—but not completely plagiarized from—the 1993 sports film Rudy. Other tools on the hotline include tips about weaving the benefits of plant-based eating into conversation and deflection tactics (such as asking if there is smoke coming from the oven) when the conversation gets too daunting.
"We know that every Thanksgiving, millions of plant-based eaters endure a heavily meat- and dairy-based holiday meal with family and friends who don't necessarily understand or accept their dietary choices," an Oatly spokesperson tells VegNews.
"Oatly of course feels for our likeminded plant-based friends and wants to arm them with all the help they could need to not only get through these holiday meals but even positively influence dinner conversations, so that's why we've decided to introduce The Oatly Emotional Support Hotline for Plant-based Eaters," the spokesperson says.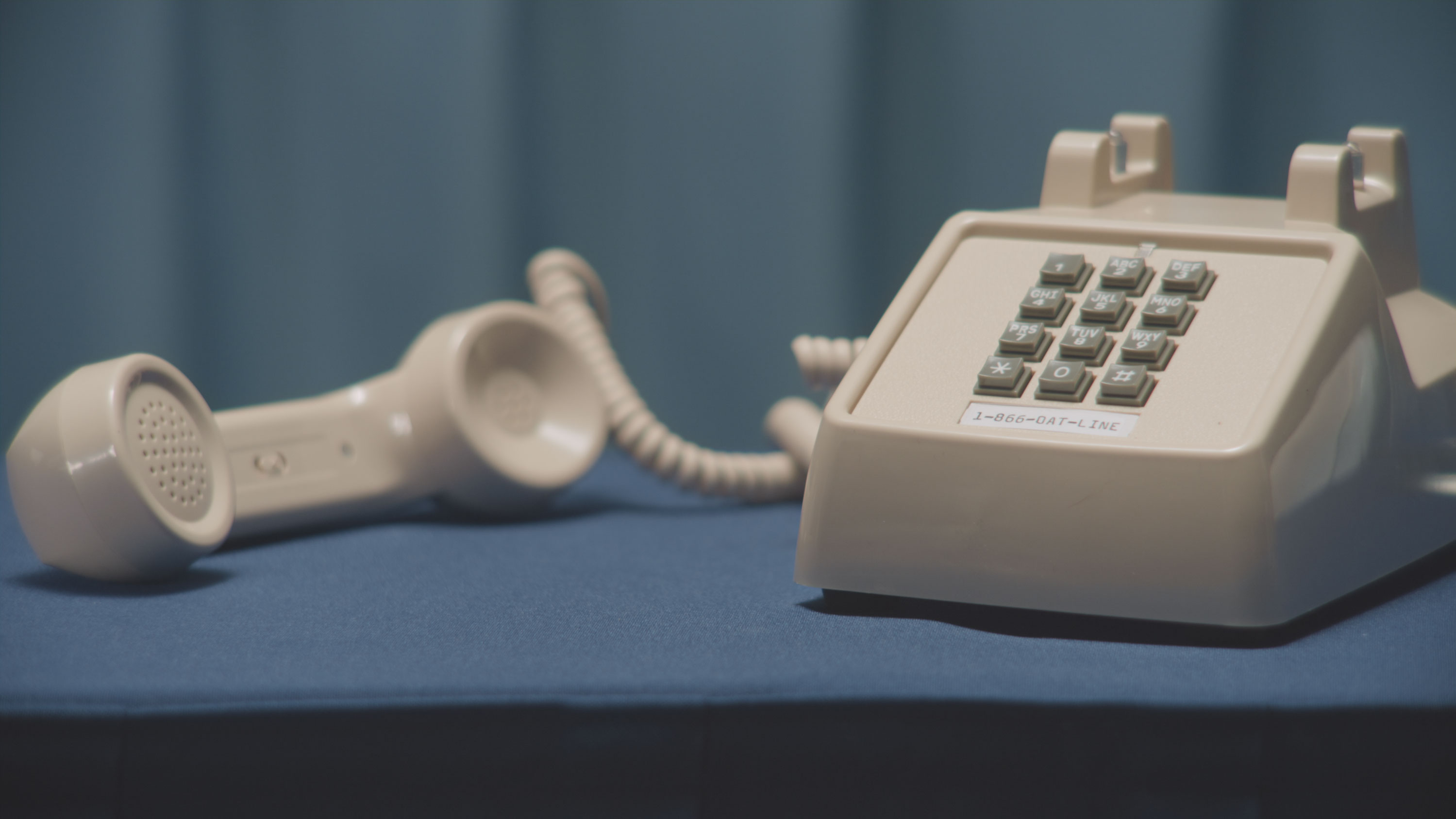 Oatly
The hotline can be accessed starting today and until November 24 by calling 1-866-OAT-LINE.
Oatly's vegan hotline is here to help
In addition to all of the aforementioned resources, Oatly's hotline will be operated by plant-based experts on Thanksgiving Day (November 24) from 3pm to 10pm EST. These operators will be on hand to answer questions and help plant-based eaters get through last-minute preparations before sitting down for Thanksgiving dinner.
"It's a way for Oatly to take a virtual seat at your holiday dinners, but do it in our very own way, always bringing a dose of lightheartedness—like dialing a number to let out a cathartic scream," the spokesperson says. "And, of course, to serve as a reminder that it's a great time to school your family and friends about all the delicious, climate-friendly, and dietary benefits of plant-based food."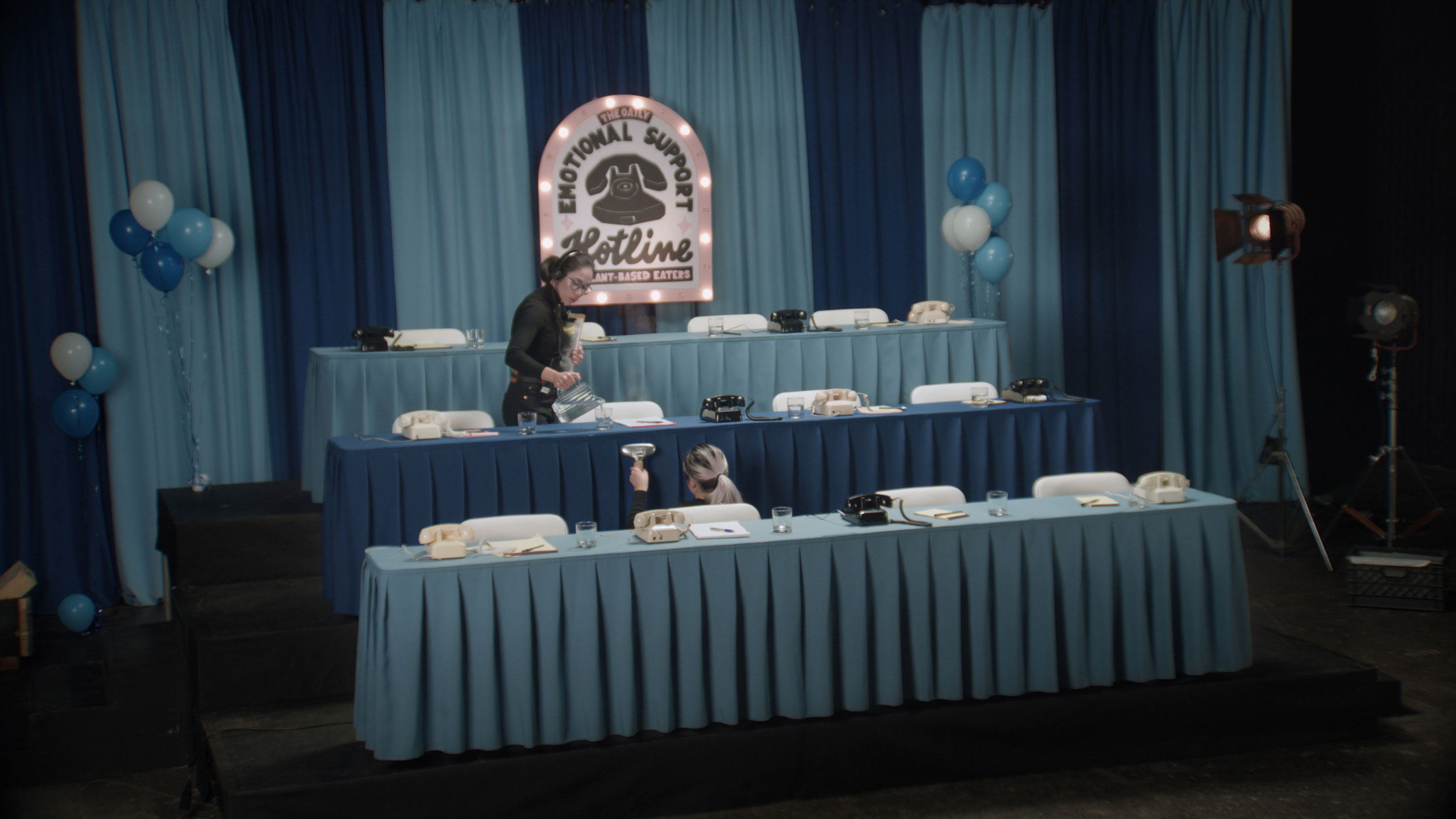 Oatly
For Thanksgiving, Oatly also partnered with James Beard-nominated chef Amanda Cohen, owner of New York City vegetarian mainstay Dirt Candy. Cohen recreated classic Thanksgiving dishes using Oatly's products instead of dairy, including Pumpkin Pie Oat Bars, Creamy Roasted Mushroom Gravy, and Roasted Carrots with Oatgurt Dressing.
Marketing vegan food can be funny
Oatly is known for its creative and humorous approach to ad campaigns. During the Super Bowl in 2021, Oatly CEO Toni Petersson appeared in a 30-second spot singing "it's like milk, but made for humans" in a field of oats. The commercial gained traction, in large part for being so strange—which Oatly ran with by releasing a T-shirt emblazoned with "I totally hated that Oatly commercial" and image of its CEO.
Earlier this year, the vegan company worked with master puppet maker Andy Gent—who was behind the puppets in Wes Anderson's Isle of Dogs—to create an ad campaign that furthered its mission to make oat milk the new normal. The campaign series revolved around five short episodes of fictitious "The New Norm & Al Show" which featured puppets "Norm" and "Al," who cleverly discussed shifting from old habits (drinking dairy milk) to new ones like consuming dairy-free milk.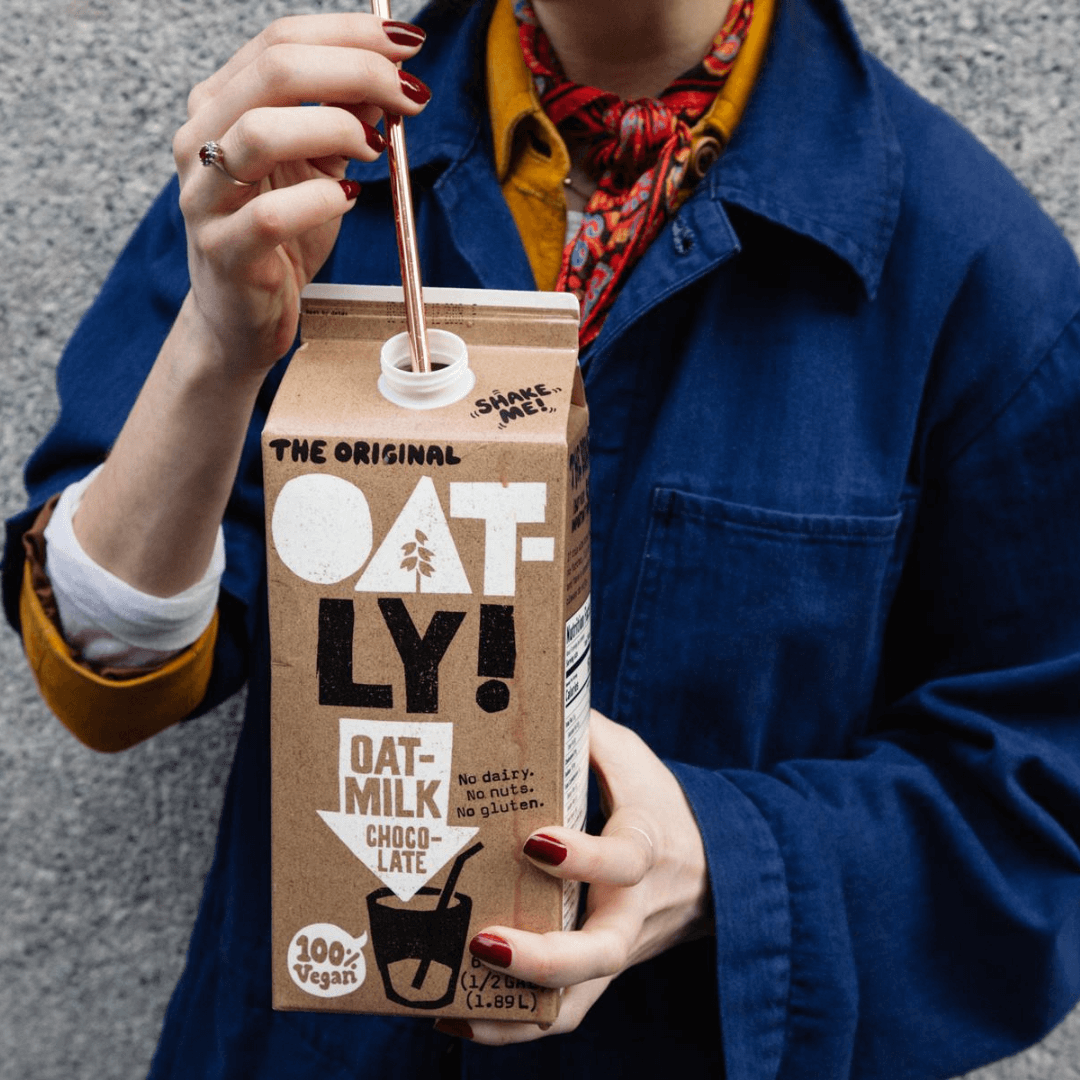 Oatly
While Oatly has its wits about it, the company recently reported that its third-quarter earnings missed the mark and is currently planning to reorganize the company, including by reducing its workforce, to cut costs by 25 percent.
"Third quarter financial results were below our expectations, largely driven by COVID-19 restrictions in Asia, production challenges in the Americas and continued foreign exchange headwinds," Petersson said in a statement. "However, we continue to see strong velocities, year-over-year sales volume growth, and minimal price elasticity globally, which we believe demonstrates the power and resilience of the brand."
For the latest vegan news, read: