Brooklyn, NY's famed Barclays Center has welcomed its only vegan vendor, fast-casual vegan barbecue restaurant Pure Grit BBQ. This is the first expansion for the eight-month-old restaurant, which opened in Manhattan, NY's Flatiron District last year.
At Barclays, Pure Grit BBQ is serving its popular, award-winning house-smoked Jackfruit Nachos and two exclusive sliders (House Smoked Jackfruit Sliders and Smoked Impossible Cut Brisket) served on cornbread waffles alongside house-made barbecue chips.
Pure Grit BBQ is part of the Barclay Center's Brooklyn Market concept, a coveted space where three to five brands are chosen as vendors, with an opportunity to move up to the majors by securing a permanent presence on the concourse.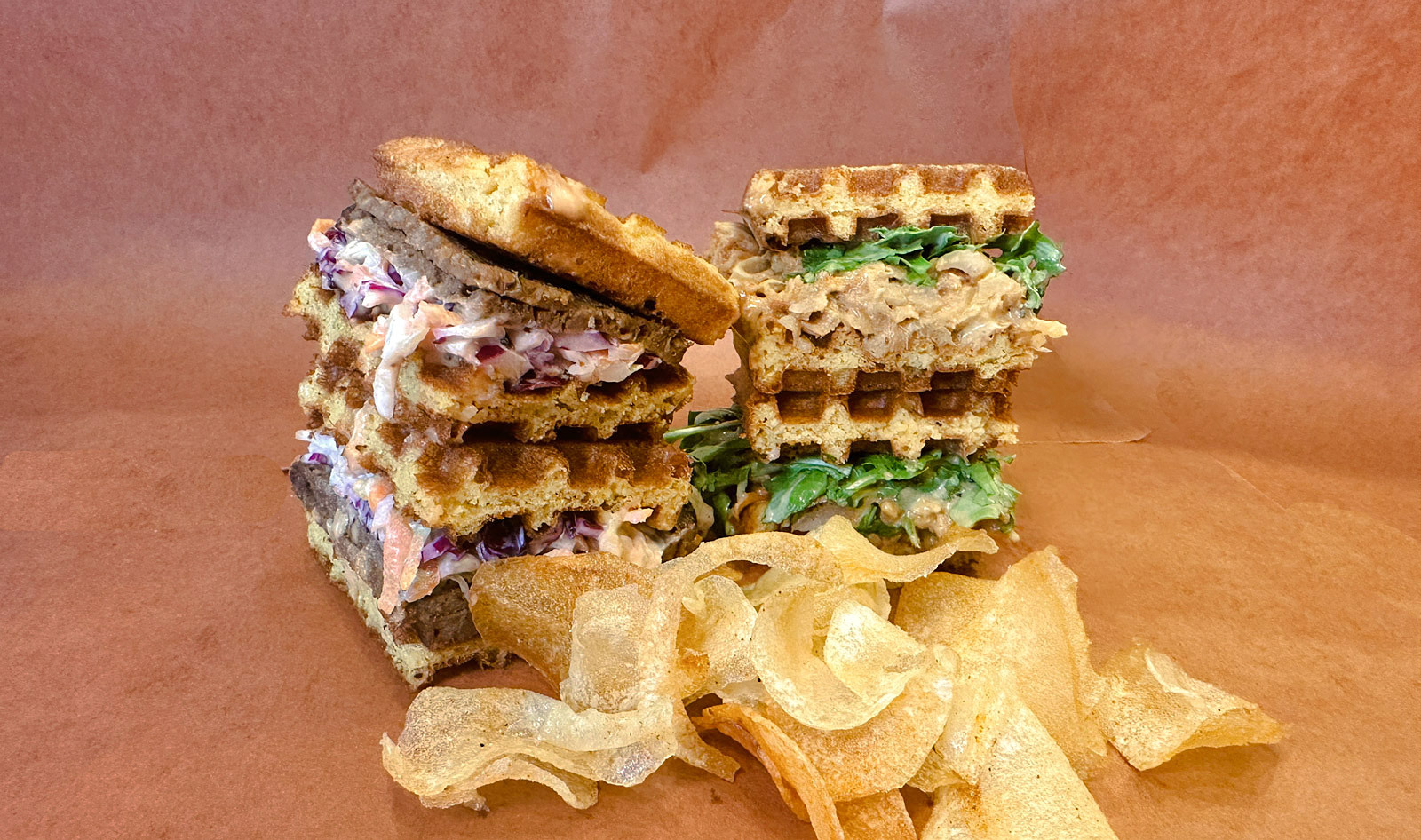 Pure Grit BBQ
"People were very excited to find fresh vegan options on game night," Jenny Mauric, co-founder of Pure Grit BBQ, told VegNews about their opening night.
Bringing Texas vegan barbecue to NYC
Founded in 2019, Pure Grit BBQ started by selling vegan barbecue essentials—a barbecue sauce, hot sauce, and a spice rub—accompanied by cooking and smoking tutorials. This was soon followed by the opening of a brick-and-mortar eatery where it offered vegan and gluten-free smoked barbecue mains such as fried chicken and waffles; pulled jackfruit, Impossible burgers sandwiched between cornbread waffles; and classic sides such as coleslaw, baked beans, potato salad, and mac and cheese.
Everything is smoked in-house and prepared with the brand's signature sauces and rub, which are also available for sale along with its branded merchandise.
Founded by Mauric and Kerry Fitzmaurice, the Pure Grit BBQ concept was born following a trip to Austin, TX where Fitzmaurice experienced the infamous Texas barbecue scene. When she couldn't find vegan options at local barbecue joints, she had an "aha" moment and decided to fill the void herself.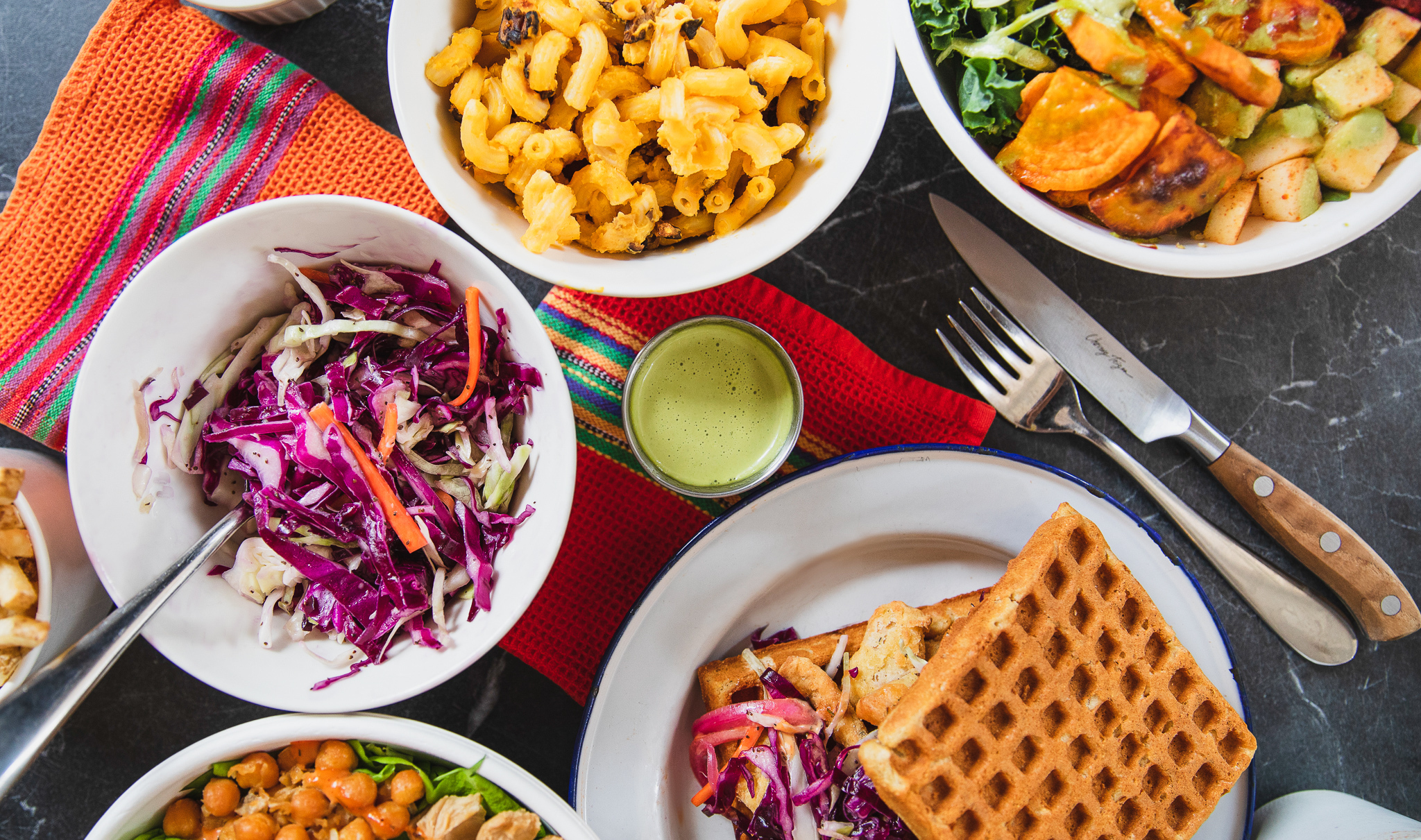 Pure Grit BBQ
Upon returning to New York City, where she lives, Fitzmaurice confided in colleague and now business partner Mauric about her desire to bring vegan barbecue to NYC—and that's when Pure Grit BBQ was born.
To create the menu, the duo collaborated with vegan chef Nikki King Bennett, who was previously head chef at shuttered vegan restaurant Pure Food and Wine and featured in the Netflix series Bad Vegan. While Bennett worked to perfect the sides, the founders tapped nationally-renowned pitmaster Daniel Jacobellis of Top Gun BBQ to ensure the authenticity of barbecue in every dish.
To top off the dream team, they welcomed trained vegetarian chef and Hell's Kitchen contestant Emily Hersh, who previously worked at famed NYC vegetarian restaurant Dirt Candy and moved back to New York City from her native San Antonio to helm the restaurant.
Vegan barbecue for all
Through pop-ups and tastings, the team knew NYC was the right place to introduce plant-based barbecue. "Barbecue is family. Whether it is gathering for a backyard barbecue or queuing up at your favorite local spot you'll get friendly faces, delicious food, and lots of laughter," Fitzmaurice told VegNews. "It is that sense of belonging that drove me to create Pure Grit BBQ: a space where everyone can pull up a chair."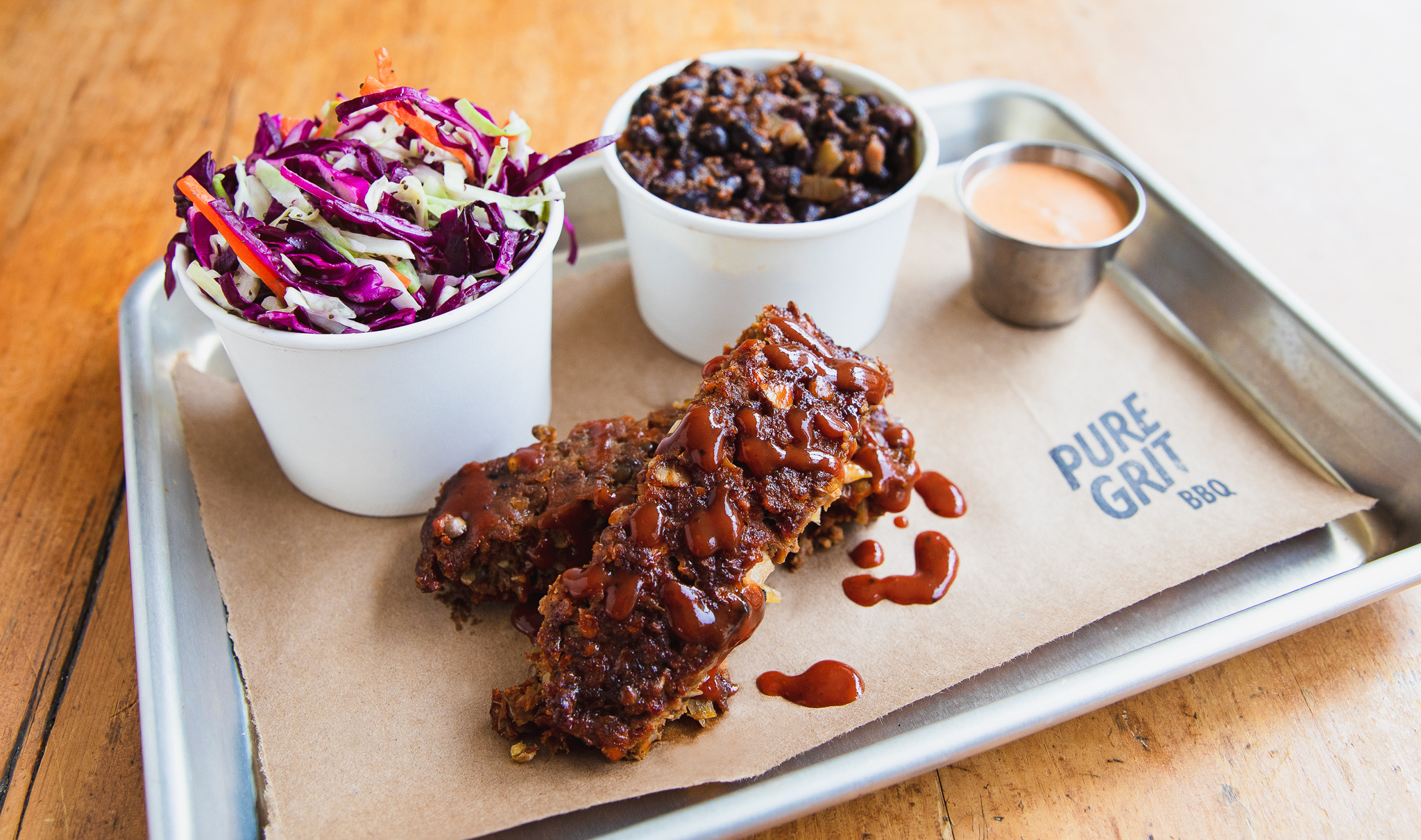 Pure Grit BBQ
Although the brand originally planned to start in foodservice in 2020, because of the uncertainty of the COVID-19 pandemic, they pivoted to retail, selling vegan barbecue sauces and rubs online and in select stores. Last year, Pure Grit BBQ received a cash infusion from an angel investor to not only open their flagship NYC location, but also operationalize their concept for scale and rapid growth, as well as streamline and expand their retail offerings.
"We serve delicious, satisfying food that happens to be vegan, gluten-free, and mostly soy-free. We call this BBQ for all," Fitzmaurice said. "Our first location is in our up-for-anything, always authentic NYC, but our plans are to expand across the country, sharing our table with anyone who wants in."
Southern plant-based barbecue
Pure Grit BBQ isn't the first brand to take on the challenge of veganizing classic Southern barbecue dishes. In 2021, vegan meat brand Barvecue opened the world's largest plant-based smokehouse, called the Carolina Smokehouse. Located in Cornelius, NC, the 10,000-square-foot facility started with an initial capacity of producing 800,000 pounds of the brand's meats, including Pulled BVQ (vegan barbecue pork with original sauce), Chopped BVQ (a gluten-free version of the Pulled BVQ) and Naked versions of both (lightly seasoned with no sauce).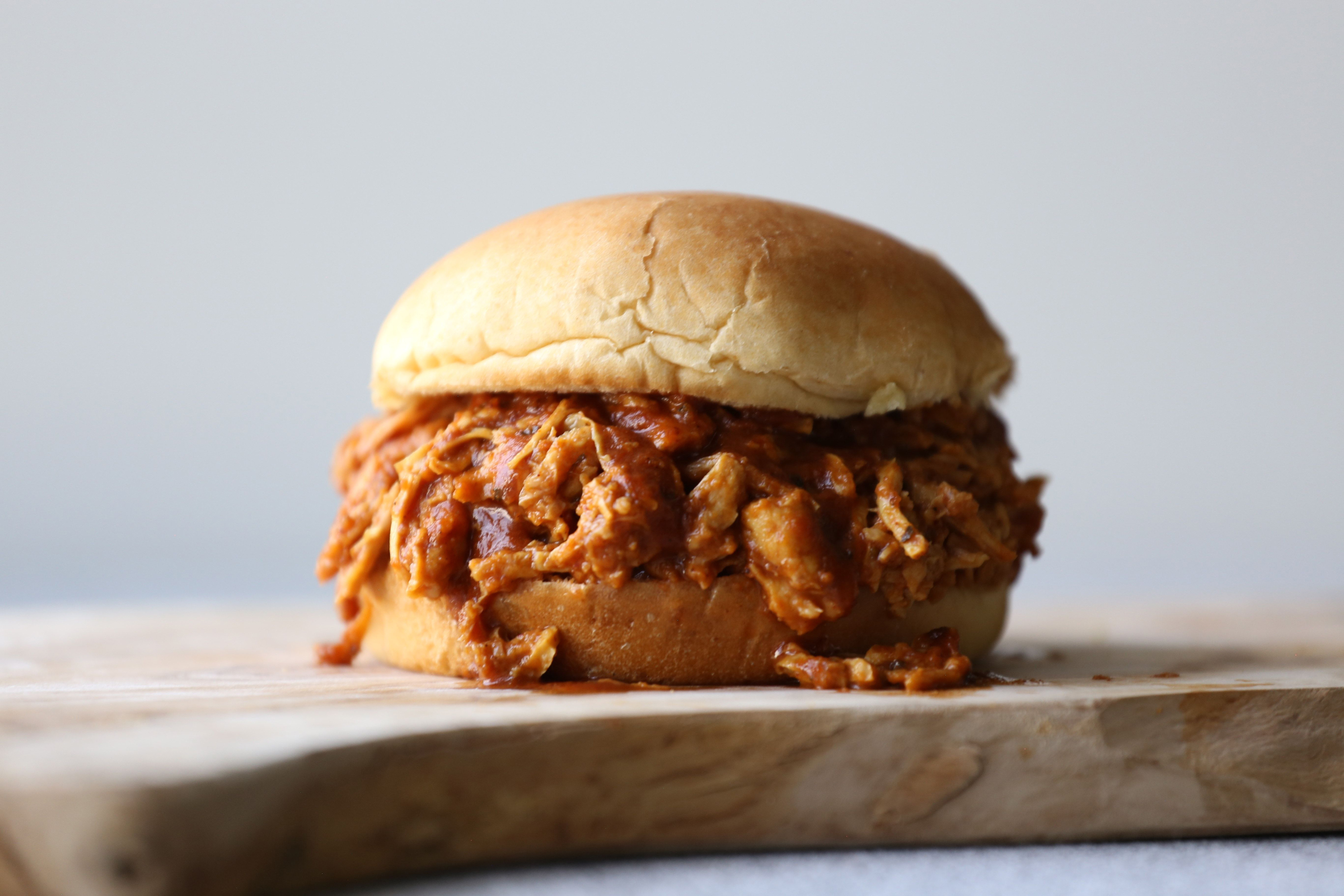 Barvecue
Founded in 2017, Barvecue is on a mission to create the world's best-tasting plant-based barbecue meats. "As the plant-based meat market surges, so, too, does the demand for our wood-smoked, plant-based Barvecue," Lee Cooper, Barvecue founder and CEO, said in a statement. "As we grow to keep up with demand for Barvecue products, we decided that it was time to expand production and lead the way in the plant-based barbecue market."
In nearby Atlanta, GA, vegan barbecue eatery Grass BBQ Joint opened its first brick-and-mortar location in 2020 after operating as a local grab-and-go pop-up. With a goal to "provide traditional southern Q, without the guilt," Grass BBQ Joint cold-smokes its vegan meats and slow-simmers its sauces for several hours before using them as bases for menu items such as the VicRiib Sandwich (with smoked vegan pork), Groveway (which features pulled jackfruit), Sloppy Joe (made with "veef" brisket), and Nashville Hot Chick'n.
For the latest vegan news, read: