New vegan milk THIS PKN made its debut earlier this month and it tastes just like … nuts. The new milk is made from pecans and while it can be used instead of cow's milk in every way, its taste is reminiscent of pecan pie and praline. Developed by creatively named and female-led company Lifestock, THIS PKN features no added sugar and was born from a mission of supporting Texas pecan farmers.
Founder and CEO Laura Shenkar chose to use pecans because they are a low-water nut that does not depend on remote water sources to thrive. She was inspired to use the nut after visiting pecan farmers in San Saba, TX—known as the "World Capital of Pecans." While farmers of other nuts, such as almonds, are now thriving due to rising demand in milk alternatives, pecan farmers have yet to benefit from the boom. Shenkar decided to create demand for pecans with the launch of THIS PKN and is working with farmers to develop long-term water-conservation strategies to ensure sustainable production.
"We chose to make pecan milk because pecans are the only commercial tree nut indigenous to the US," Shenkar said in a statement. "Consumers who are looking for a locally sourced, richly flavored, sustainable, and nutritious choice will find it with THIS PKN. We can't wait to welcome pecan fans and non-dairy consumers alike to join Team PKN."
Shelf-stable THIS PKN is available through the company website in original and chocolate flavors.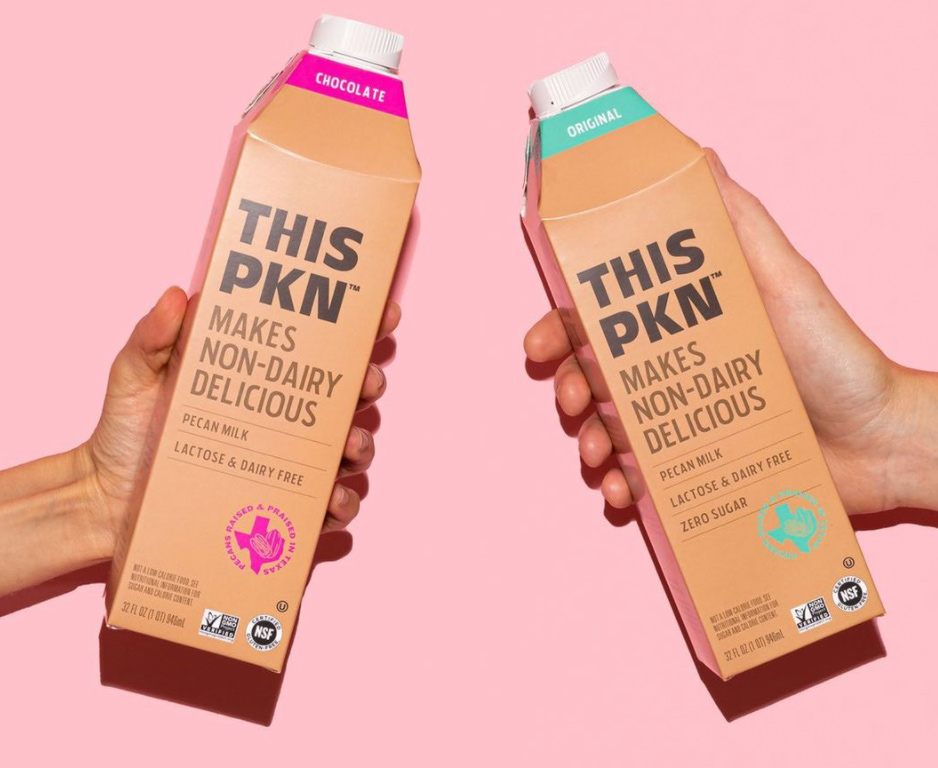 The vegan milk spectrum
Soy, almond, coconut, and oat are the most popular plant-based milks but dairy alternatives can be made from a wide spectrum of plants. While THIS PKN is unique, it is not the only vegan pecan milk on the market. In fact, it's not the only Texas-based pecan milk as MALK Organics was the first to commercially launch pecan milk in 2016. This brand's version is sweetened with maple and MALK also features pecan milk as a base for a blended coffee beverage and creamer.
Peas are the base for Ripple's unique plant-based protein base called Ripptein. The brand uses the pea base to create a variety of vegan products, including milk which expanded to select Midwest Costco locations last year. The brand used its allergen-friendly pea protein base to create a vegan ice cream line, available in Vanilla, Chocolate, Cinnamon Churro, Mint Chip, and Cookies & Crème flavors.
In New York City, vegan milk connoisseurs can find Táche, a pistachio-based milk created by father-daughter duo Roxana and Morteza Saidi. The duo was able to secure a stable and sustainable pistachio supply—one of the reasons why this type of nut milk has not been widely commercialized—from Europe and MENA (collective region of Middle East and North Africa) making their unique milk available for shipping nationwide and at NYC cafés and independent grocers.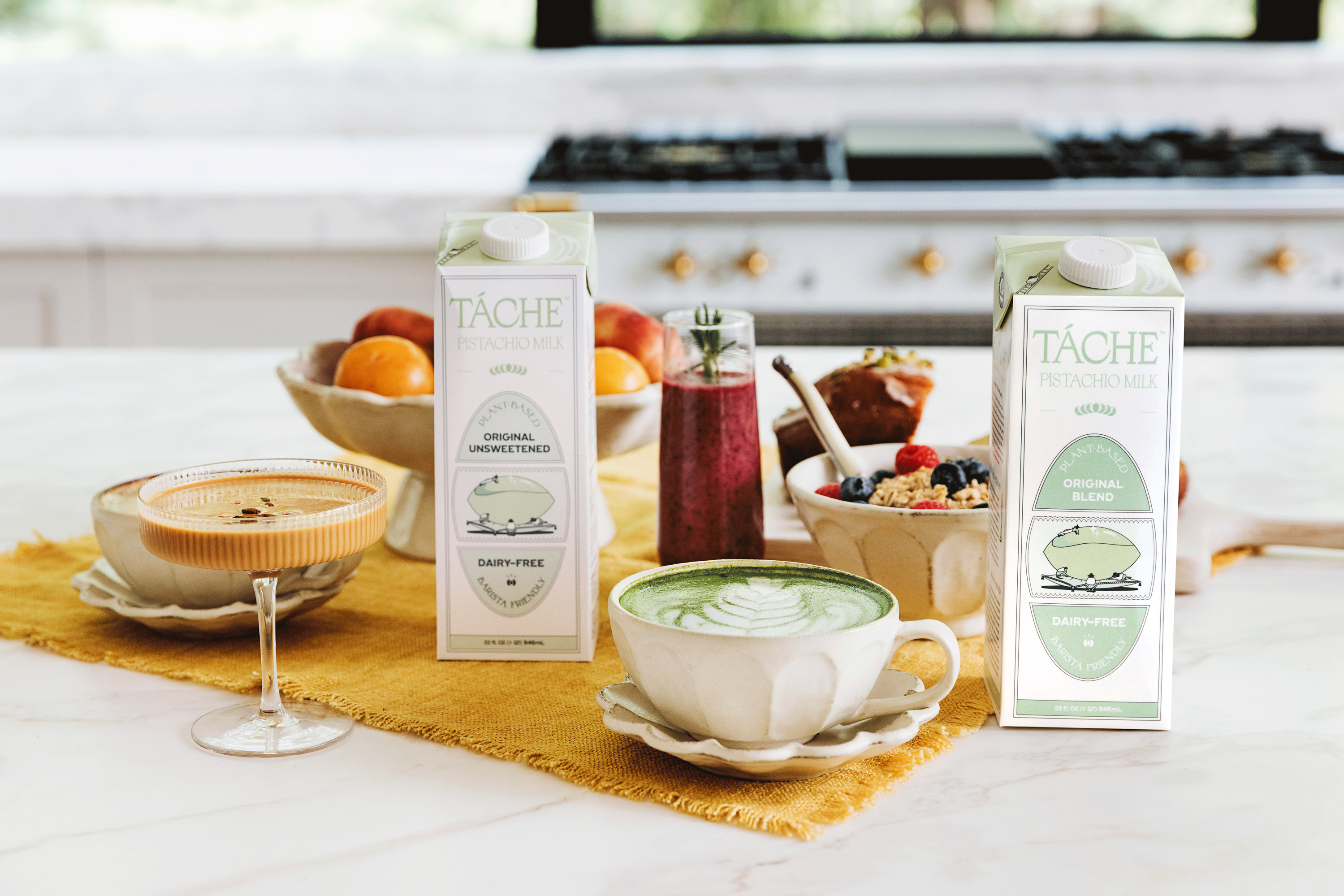 And just when it seems the entire plant kingdom has been used to make vegan milk, Swedish brand DUG came to market to prove that the humble potato has been left out of the mix. Made from a blend of potatoes and pea protein, the new vegan milk—which is available in Europe—is allergen-friendly, fortified with B12, and foams just like dairy when heating, making it the perfect potato-based alternative for lattes.
For those looking for vegan milk that tastes just like dairy, California startup Perfect Day has decoupled the cow from milk proteins with the help of technology. Founded in 2014, the startup makes its dairy-identical proteins using precision fermentation where yeast takes the place of a cow and makes animal-free whey. The startup has amassed $750 million in funding to date and is bringing its novel "flora-based" protein to consumers through various channels, including through its The Urgent Company consumer goods brand, which currently offers a line of Brave Robot vegan ice cream and Modern Kitchen vegan cream cheese.
For more about vegan milk, read:
New Zealand Gets Its First Vegan Milk FactoryCan Vegan Milk Get Any Better? Danone Thinks It Can.
Impossible Foods Is Now Developing Dairy-Identical Milk From Plants