A new vegan milk is hitting stores in Europe and it's made from an unlikely vegetable: the humble, and allergen-friendly, potato. Swedish milk brand DUG was created by parent company Veg of Lund in partnership with Professor Eva Tornberg at Lund University and just became available in Original, Unsweetened, and Barista flavors on Amazon in the United Kingdom after its domestic retail debut.
Fortified with vitamins, including B12, the potato-based milk also includes pea protein, rapeseed oil, and chicory fiber in its formulation. The new milk is free from soy, gluten, and added sugar, was developed to be versatile, and can be used in cooking and baking. DUG foams similarly to dairy milk making it a good substitute for lattes. Using potatoes as the main ingredient also means that DUG offers impressive sustainability metrics. It uses half of the land required to grow oats and 56 times less water than almonds—two of the most common crops used to produce plant-based milk.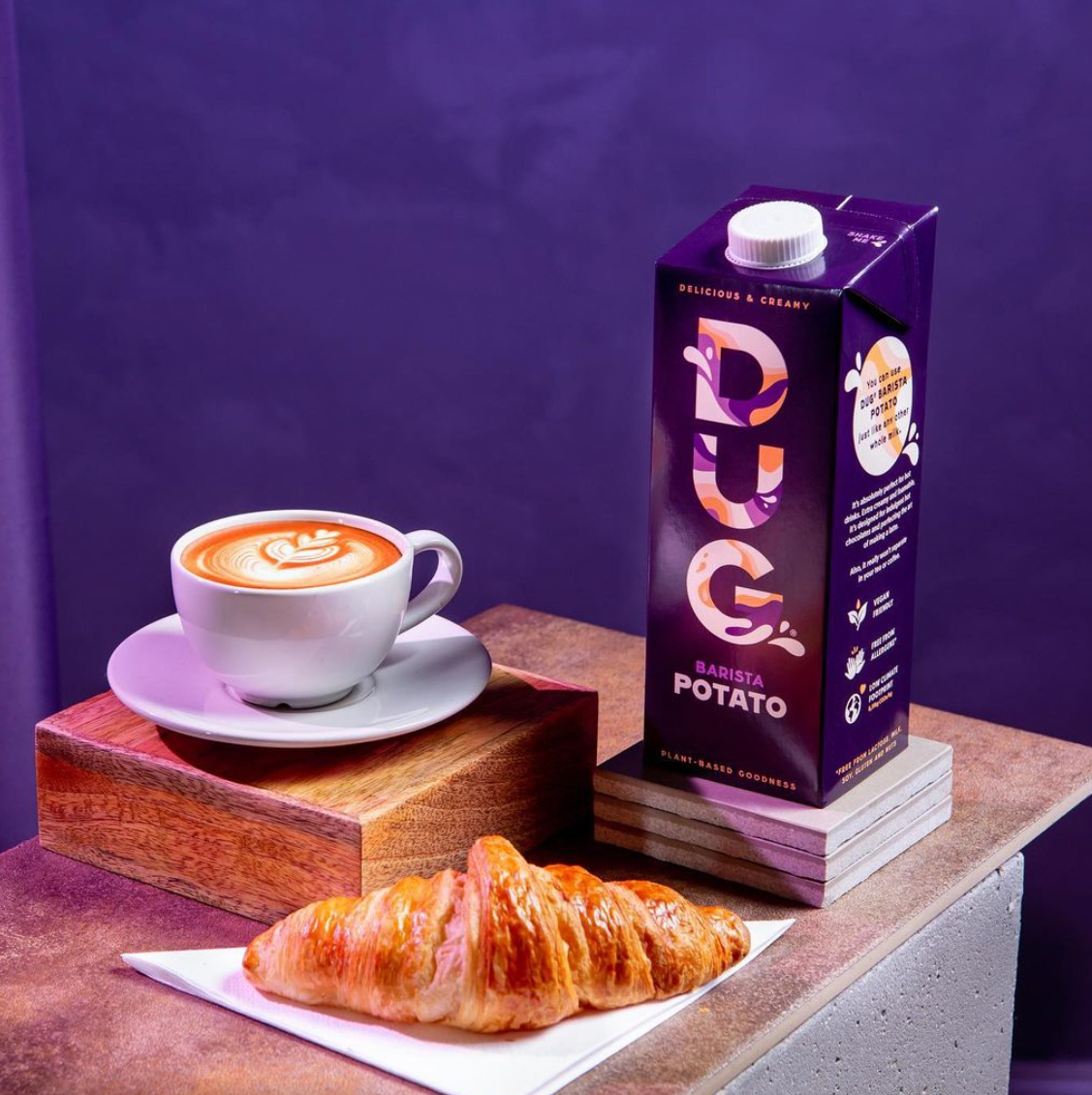 "We have a good product that we are proud of," Veg of Lund CEO Thomas Olander said. "Our choice to use potatoes as a base means that we have a super-sustainable drink. Potatoes don't need much to grow at all, making them a super-sustainable crop compared to others like soybeans, almonds or oats. Not to mention dairy products."
Believe it or not, DUG isn't the first potato-based vegan milk to hit the market. In 2015, vegan brand Veggemo released its milk—made using a blend of potatoes, cassava root, and pea protein—in Canada. The brand gained distribution in Canada, the United States, and China before going out of business. And if potato milk isn't enough, an Australian developer Andrew Dyh experimented making vegan cheese, which he called Chato, from potatoes back in 2016.
Vegan milk innovations
While soy, almond, rice, coconut, cashew, and oat milk are the most common bases for plant-based milk, they are not the only plants used to make vegan milk. Vegan brand Ripple has been using pea protein as a base for its vegan milk since it launched in stores in 2016. Since then, the brand has released a variety of vegan pea protein-based dairy alternatives, including yogurt, half & half, and ice cream.
Aussie import Milkadamia has been creating vegan milk from macadamia nuts since 2016. The brand sources its nuts from a regenerative farm in Australia and now, in addition to vegan milk, produces macadamia-based creamers and even vegan butter.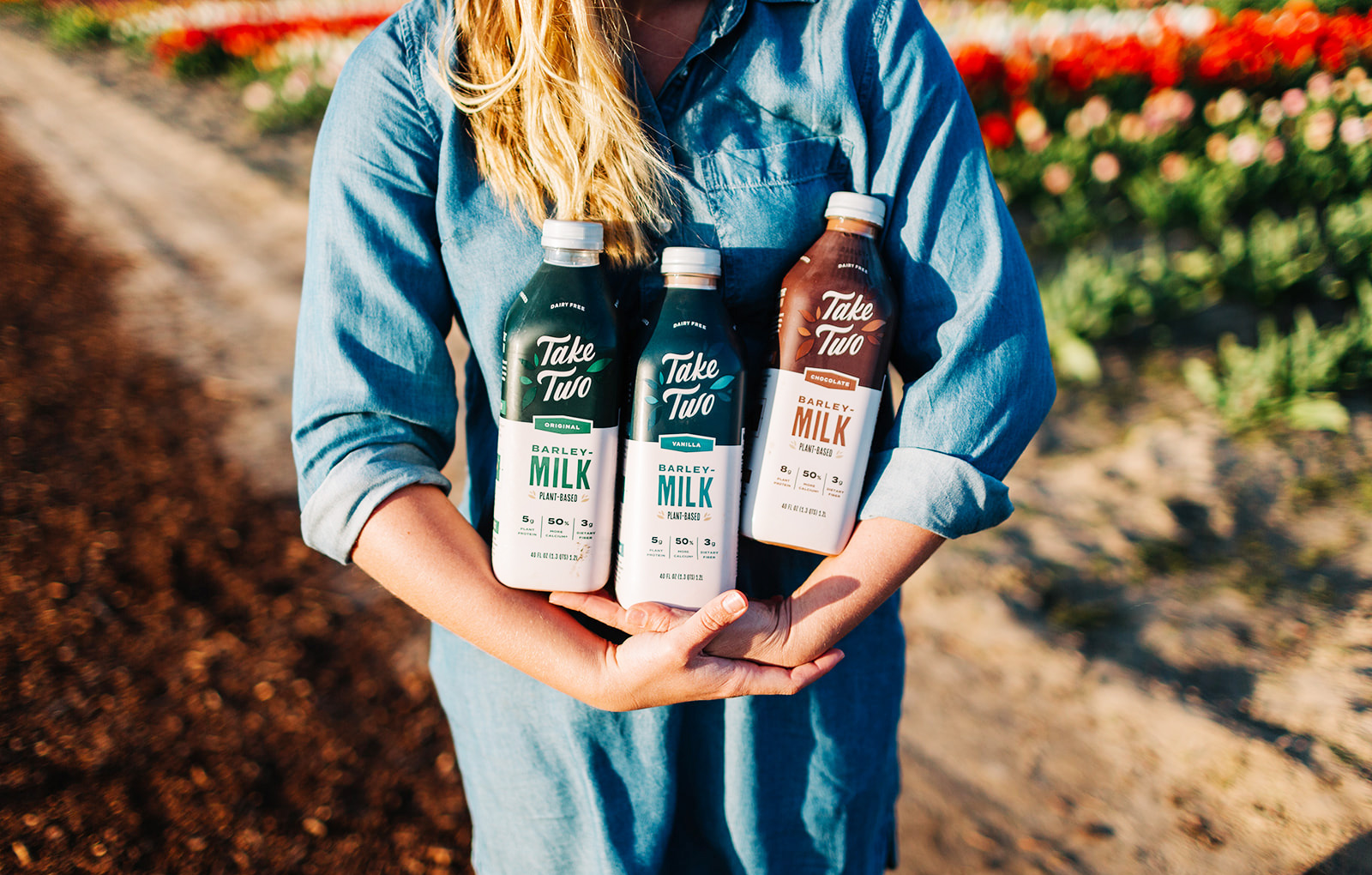 Barley is also a sustainable base for vegan milk used by several companies. Last year, Portland, OR-based brand Take Two Food released its barley-based vegan milk in Original, Vanilla, Chocolate, and Chef's Blend flavors at grocery stores and coffee shops across the Pacific Northwest and Los Angeles. Earlier this month, Purity Dairy—a 75-year-old Canadian dairy company—got into the non-dairy milk business with the launch of vegan milk made from barley and oats which are upcycled from the production of beer at Prince Edward Island (P.E.I.) Brewing Company.
In New York, Elmhurst is using the whole gamut of plants—from hazelnuts to walnuts to oats—to create its creamy vegan products. In its previous life, Elmhurst operated as a dairy company for more than 90 years in New York City and, after shuttering in 2016, transformed into a fully vegan brand that uses its proprietary dairy industry processes to create milk, creamers, ice cream mixes, lattes, and more from a variety of plants.
For more about innovative vegan milk, read:
Can Vegan Milk Get Any Better? Danone Thinks It Can.
The Ultimate Guide To Choosing The Best Vegan Milk For You
Chile's High-Tech Vegan Milk Makes Us Debut At Whole Foods Nationwide