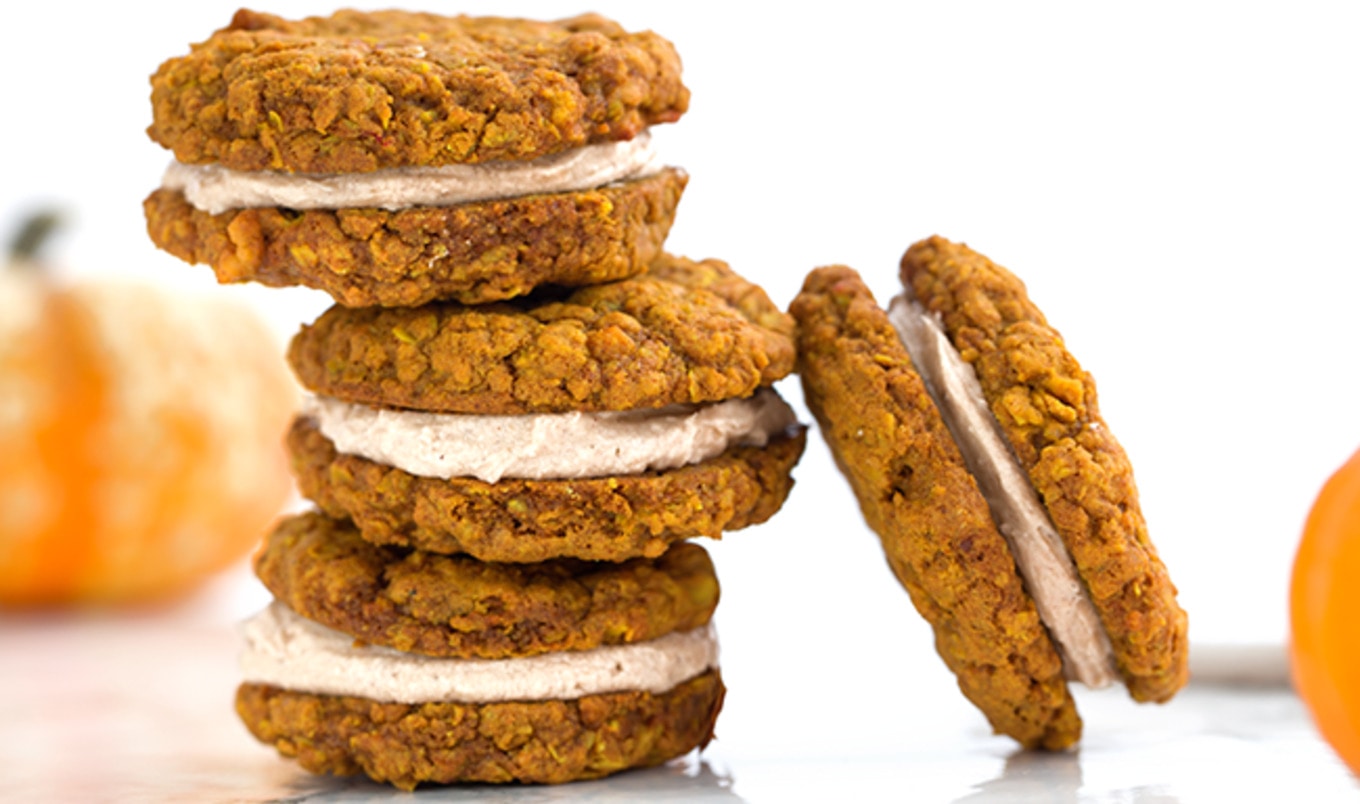 Lightly spiced and pleasantly sweet, these gluten-free cream pies are sure to be a hit at your holiday parties.
October 9, 2022
Our 2nd place winner in the VegNews 2017 Vegan Holiday Cookie Contest, these soft and chewy pumpkin oat cookies are sandwiched with thick, pumpkin-spiced vegan buttercream.
What you need:
For the cookies:
2 cups gluten-free oat flour
1 teaspoon baking soda
½ teaspoon salt
1 teaspoon pumpkin spice powder
½ cup pumpkin purée
½ cup vegan butter
½ cup sugar
1 cup brown sugar
1 teaspoon vanilla
2 cups gluten-free rolled oats
For the buttercream:
½ cup vegan butter
2 cups powdered sugar
2 teaspoon pumpkin spice powder
What you do:
1. Preheat oven to 350 degrees and line a baking sheet with parchment paper.
2. For the cookies, into a medium bowl, add flour, baking soda, salt, and pumpkin spice powder and mix to combine.
3. Into a separate bowl, add pumpkin purée, butter, sugars, and vanilla, and beat with a handheld mixer. Once combined, add dry mixture to wet and mix until combined, then fold in oats.
4. Place rounded tablespoons of dough ½-inch apart onto baking sheet. Grease bottom of a glass cup, press down lightly on each cookie with bottom of cup, and bake for 9-11 minutes. Remove from oven and let cool completely.
5. For the buttercream, into a bowl, beat butter for 1 minute, add sugar, and beat for additional minute. Add the pumpkin spice and beat again until combined and fluffy.
6. To assemble, spread or pipe onto bottom of one cooled cookie, top with another, and repeat with remaining cookies.
Check out all of the 2017 VegNews Holiday Cookie Contest Finalists. And for even more amazing holiday cookies, don't miss the 2015 VegNews Holiday Cookie Contest and 2012 Holiday Cookie Contest winners.