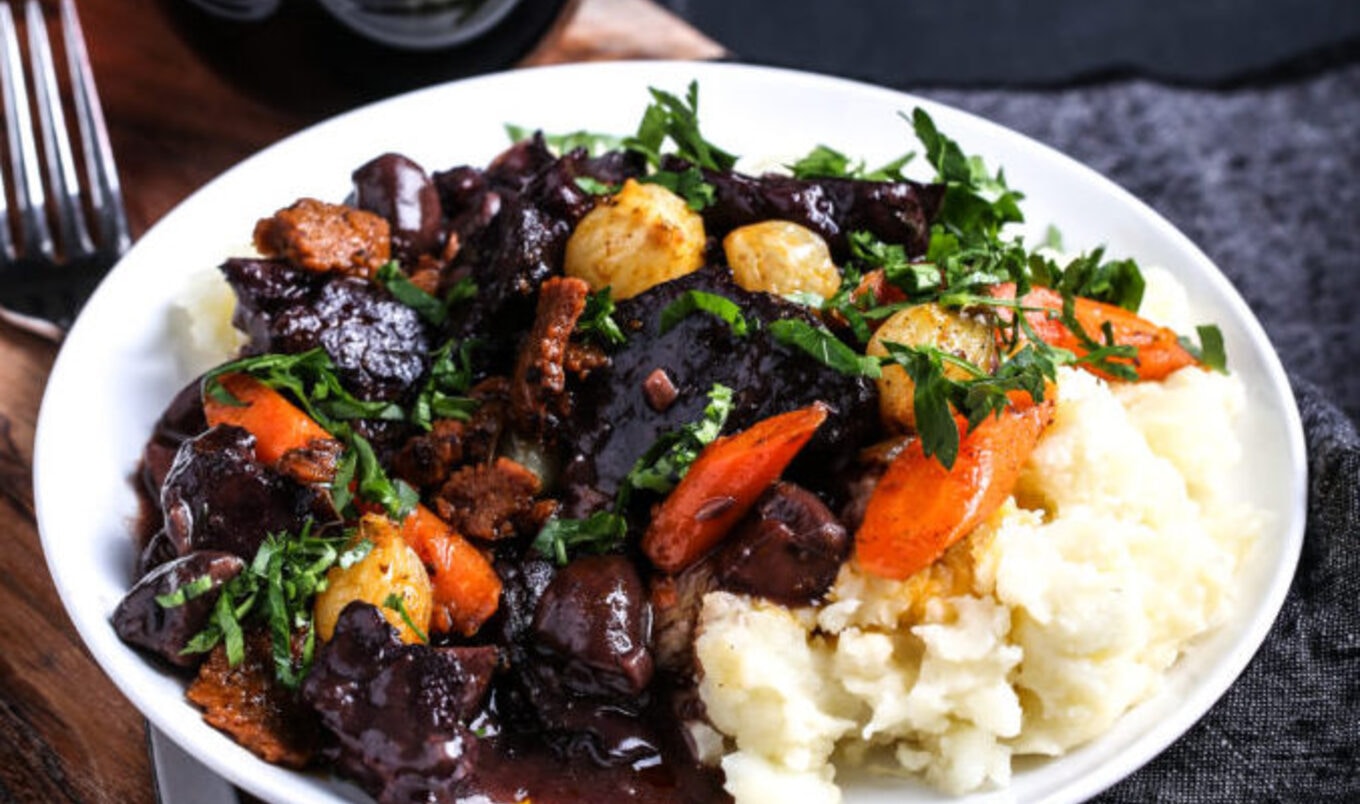 This rich, meaty stew will please even the most veg-skeptic eaters.
December 8, 2022
Protein-packed seitan, umami-rich mushrooms, and smoky vegan bacon fill this warming, comforting stew from Olives for Dinner blogger Erin Wysocarski. Serve with mashed potatoes and crusty bread for the ultimate comfort meal.
What you need:
For the stew:
1 tablespoon vegan butter
1 tablespoon olive oil
12 ounces seitan, sliced
1 teaspoon salt, divided
1 teaspoon black pepper, divided
1 pound brown mushrooms, quartered
1 cup sliced shallots
½ head garlic, minced
1 tablespoon flour
One bottle Cabernet Sauvignon
2 bay leaves
4 sprigs of thyme
For the vegetables:
2 tablespoons refined coconut oil
One package vegan bacon, chopped
1 teaspoon liquid smoke
1½ cup chopped carrots
1 cup pearl onions, fresh or frozen
¼ cup vegetable stock
What you do:
For the stew, in a large Dutch oven over medium heat, melt butter and olive oil. Into pot, add seitan slices, season with ½ teaspoon salt and ½ teaspoon pepper, and allow to brown on one side. Flip and brown other side. Add mushrooms and remaining salt and pepper, and stir.
Preheat oven to 350 degrees. Into pot, add shallots and cook for three minutes. Add garlic, stir, and cook for three more minutes. Add flour and stir until seitan and mushrooms are well-coated. Increase heat and add bottle of wine, bay leaves, and thyme. Stir, cover with lid, and place in oven for 1½ hours.
For the vegetables, when 45 minutes remain, place a smaller Dutch oven on stove over medium heat and add coconut oil. Add vegan bacon and allow to brown around edges. Add liquid smoke, carrots, onions, and stock. Reduce heat to lowest setting, cover with lid, and allow to cook and soften for 20 to 30 minutes. Remove from heat.
Remove stew from oven and remove thyme sprigs and bay leaves. Divide into 4 serving bowls and top with vegetables.