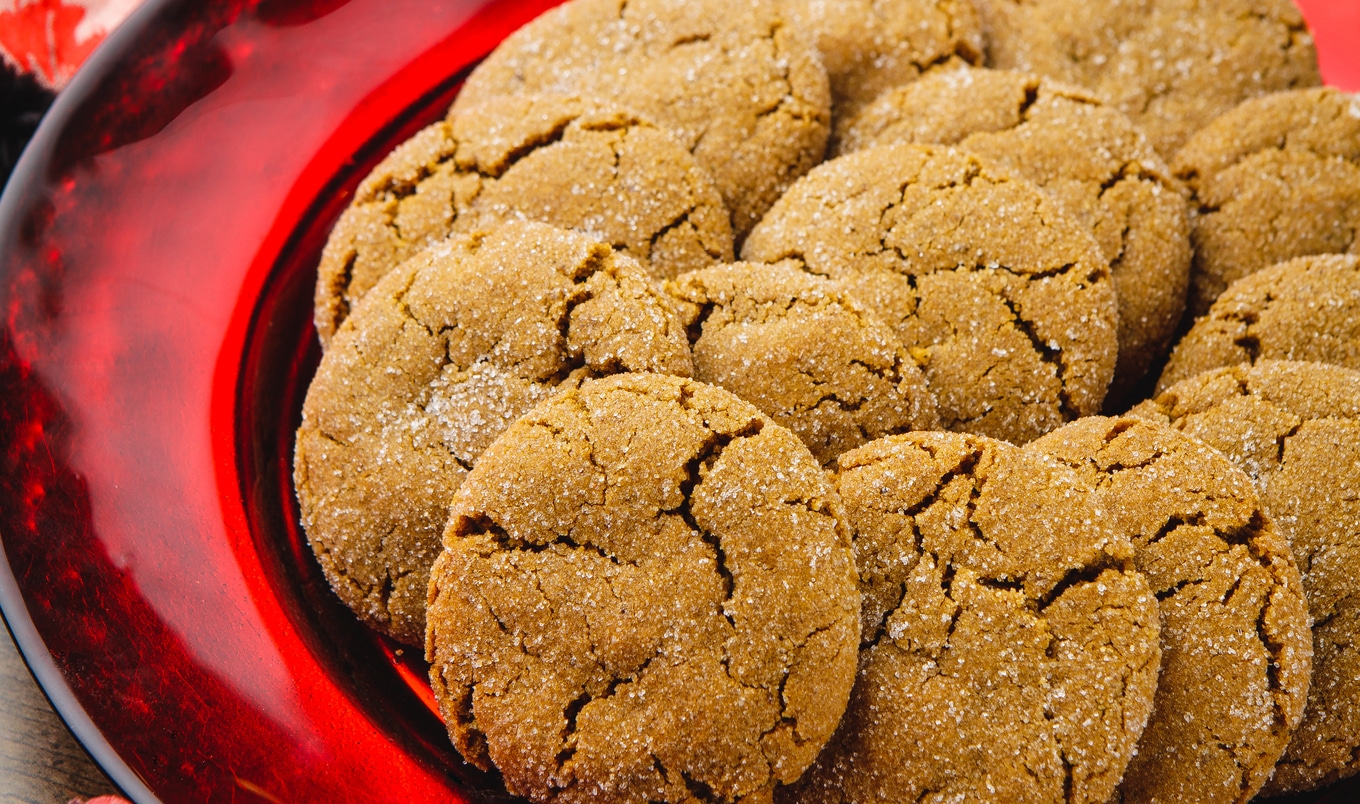 A sparkling, snow-like sugar coating and a pop of ginger-cinnamony sweetness will quickly make these soft, pillowy cookies your new favorite.
December 1, 2022
These spicy-sweet baked treats from the Vegan Christmas and Cocoa cookbook pair wonderfully with a steaming mug of tea or coffee. Incorporate chocolate chips or shredded coconut for an added delight.
What you need:
1 tablespoon ground flaxseed
3 tablespoons water
1½ cup all-purpose flour
1¼ cup oat flour
2 teaspoons baking soda
½ teaspoon salt
1 teaspoon cinnamon
1 teaspoon ground ginger
½ teaspoon ground cloves
1 cup packed brown sugar
¾ cup vegan butter, softened
¼ cup molasses
¼ cup granulated sugar for rolling
What you do:
Preheat oven to 375 degrees. 

In a small bowl, combine ground flaxseed and water and set aside. 

In a medium-sized bowl, combine flours, baking soda, salt, cinnamon, ginger, and cloves and stir to combine. Set aside.
Using a stand mixer, cream brown sugar, butter, and molasses until fluffy, about 1 minute. Add flaxseed mixture and mix again for 30 seconds. 
Add half of dry ingredients and mix on low until mostly combined. Then add second half of dry ingredients and mix again, starting on low speed and increasing to high as dough becomes thick and hard to mix. Scrape sides and bottom of bowl as needed. Dough will be very thick. 

Into a shallow dish, pour granulated sugar and set aside. Form 16 golf ball-sized dough balls and place on a parchment-lined baking sheet. Roll each ball in granulated sugar to evenly coat, then return to baking sheet, spaced 3 inches apart.
Bake for 9 to 10 minutes or until cracks form across surface. Allow cookies to cool on baking sheets for 3 to 5 minutes before transferring to a cooling rack.
For more recipes like this, check out: