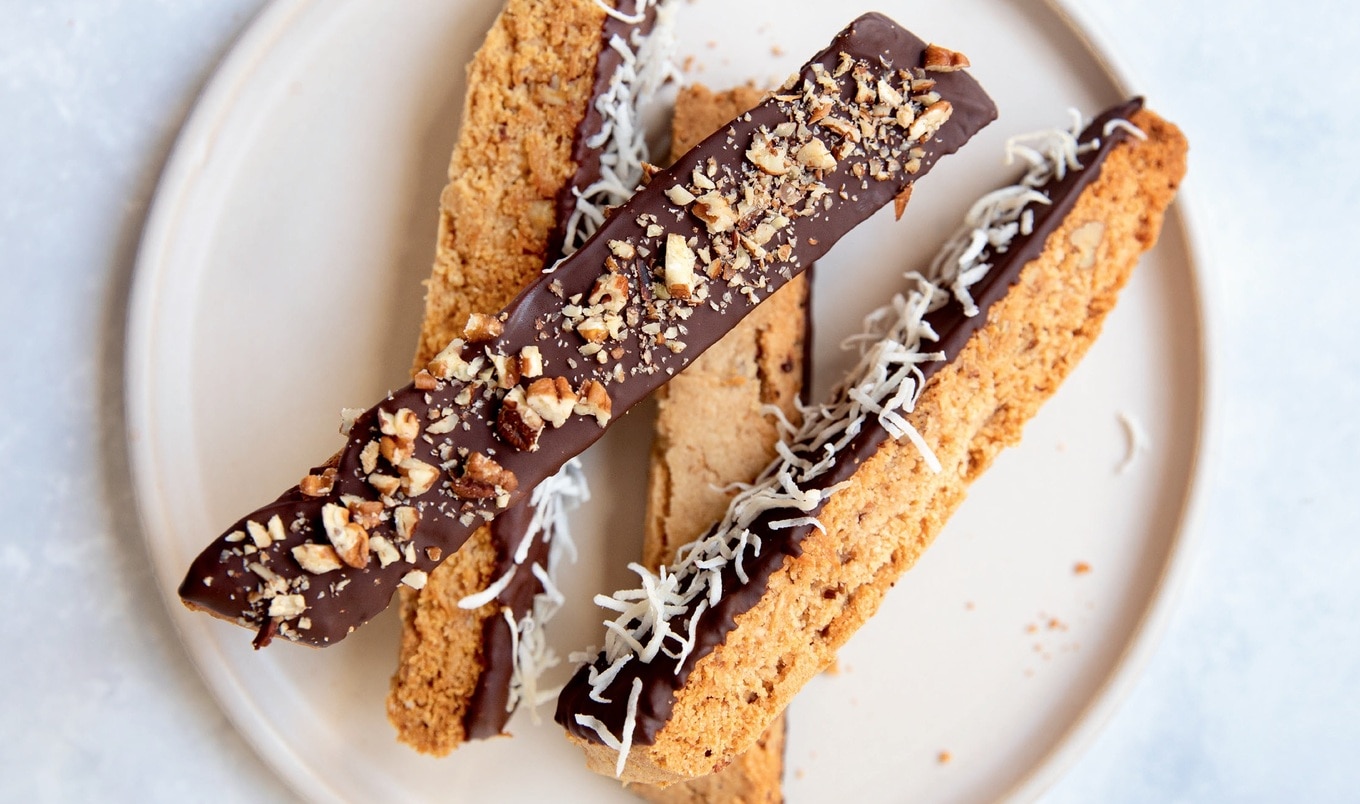 This gluten-free biscotti is light, crisp, buttery and makes the ideal companion to a hot cup of tea or coffee.
August 5, 2023
These coffee shop-ready, chocolate-coated baked treats from the Hot For Food All Day cookbook make an impressive homemade gift. Experiment with different flavor variations, such as swapping the cinnamon for cardamom, ginger, or allspice; fold in dried currants, blueberries, or nuts other than pecans; and try other dry additions such as lemon or orange zest.
What you need:
1 tablespoon golden flax meal
3 tablespoons water
1 cup fine almond flour
1 cup gluten-free all-purpose flour
1½ teaspoons baking powder
½ teaspoon ground cinnamon
½ teaspoon salt
½ cup vegan butter, room temperature
¼ cup sugar
¼ cup packed light brown sugar
2 teaspoons vanilla extract
1 (4-ounce) bar vegan semisweet baking chocolate, broken into squares, or ¾ cup vegan chocolate chips
⅓ cup finely chopped pecans
⅓ cup unsweetened shredded coconut
What you do:
Preheat oven to 350 degrees. Line a baking sheet with parchment paper.
In a small bowl, combine flax meal and water and set aside to thicken. In a mixing bowl, combine almond flour, all-purpose flour, baking powder, cinnamon, and salt.
In a large mixing bowl using a hand mixer, cream together butter, sugar, and brown sugar until fluffy, about 2 minutes. Add thickened flax mixture and vanilla and continue to mix until combined. On low speed, gradually add flour mixture until combined. Once dough comes together, use a spatula to mix in coconut and pecans until well combined.
Place dough on prepared baking sheet. Form into rectangle ¾-inch thick and 10 inches by 4 inches. Bake for 35 minutes, until slightly raised and edges are golden brown. Place baking sheet on a wire rack and let cool for 35 to 40 minutes. Slice while still a little warm and not completely cooled on a slight diagonal every ¾-inch into 10 biscotti.
Gently place biscotti on parchment cut side down. Bake again for 30 to 35 minutes, flipping gently to other side halfway through baking, until firm and golden brown. Remove baking sheet and transfer to a wire rack. Let biscotti cool completely before dipping in chocolate.
To melt chocolate, place a heat-safe bowl over a pot with 1 or 2 inches of gently simmering water. Melt chocolate until smooth, then pour into a wide shallow dish. Dip biscotti to coat bottoms and let excess drip off, then lay top-side-down on a wire rack. Decorate with chopped pecans and shredded coconut and allow to dry completely. Store in a container at room temperature.
For more recipes like this, check out: