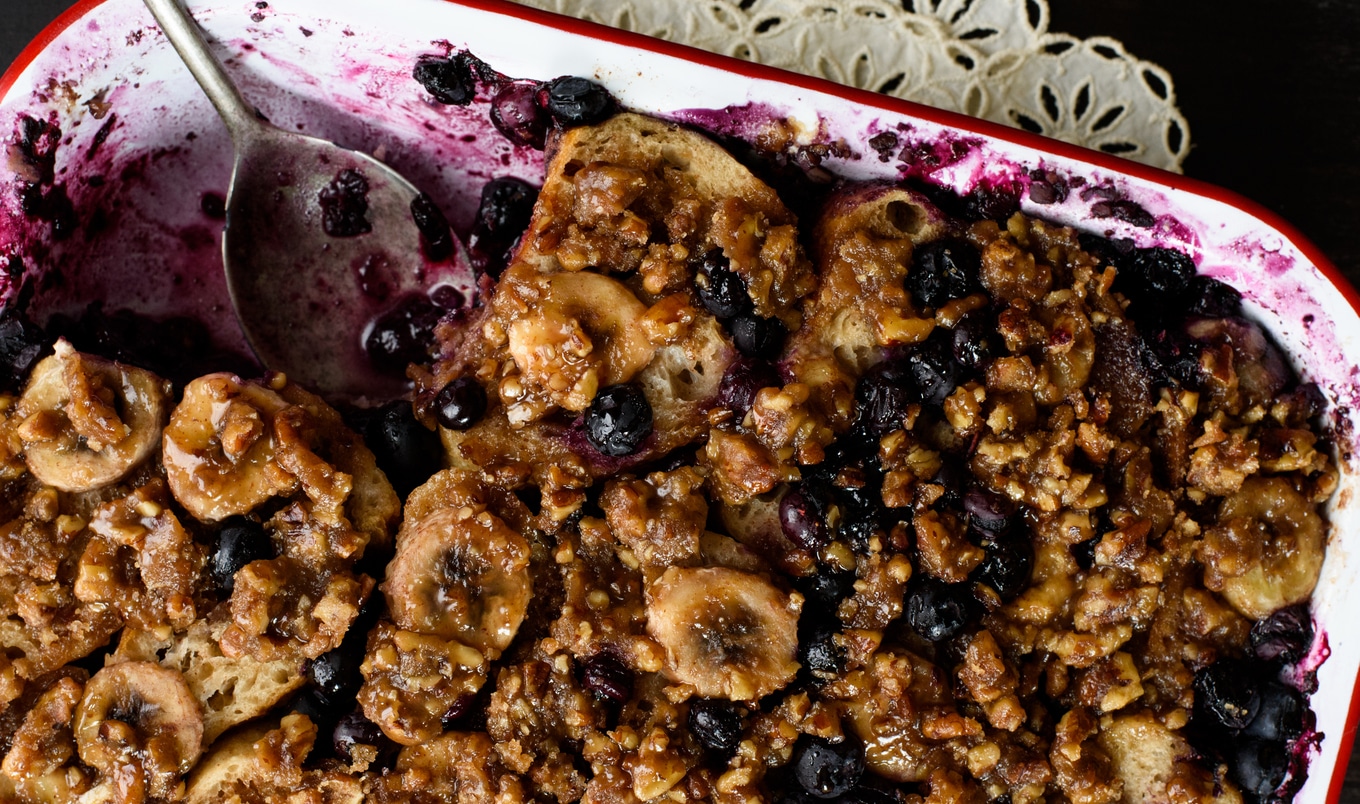 France is not in your future, you say? Then let this buttery, praline-adorned breakfast delight take you there.
May 27, 2021
This French toast casserole, a homestead specialty, from Compassionate Cuisine: 125 Plant-Based Recipes from Our Vegan Kitchen gets its luscious custard filling from bananas and vegan milk, while fresh blueberries burst open for a tease of tartness.
What you need:
For the praline topping:
¼ cup vegan butter
1 cup brown sugar, packed
½ cup maple syrup
1 cup finely chopped pecans
For the French toast:
1 large French baguette, cut into ½-inch thick slices
2 large ripe bananas, peeled and sliced into ¼-inch thick rounds
2 cups blueberries
2 cups unsweetened vegan milk
½ cup maple syrup
1 tablespoon vanilla extract
1 teaspoon ground cinnamon
What you do:
Preheat oven to 375 degrees. Lightly oil a 9-inch square casserole dish.
For the praline topping, in a small pot over medium heat, melt butter. Add brown sugar and maple syrup, stir, and bring to a simmer. Continue to cook, stirring occasionally, for about 5 minutes or until sugar is dissolved. Stir in pecans and turn off heat. Leave pot on stove to keep warm so that mixture won't harden. If praline mixture does harden, reheat for a few minutes, stirring occasionally.
For the French toast, arrange one layer of baguette slices on bottom of casserole dish. Top bread with a single layer of banana slices. Sprinkle half of blueberries over bananas and drop spoonfuls of praline topping over blueberries, using about half. Add another layer of bread and bananas, and top with remaining blueberries. Set aside.
Into a medium bowl, whisk milk, maple syrup, vanilla, and cinnamon. Pour over bread in casserole, making sure to saturate top. Spoon on remaining half of praline topping.
Cover dish with foil and place on a baking tray. Bake for 35 to 40 minutes. Remove foil for last 10 minutes of baking. There should be liquid bubbling around sides and corners when done. Remove from oven and let sit for a few minutes before serving.
Photo credit: Alexandra Shytsman