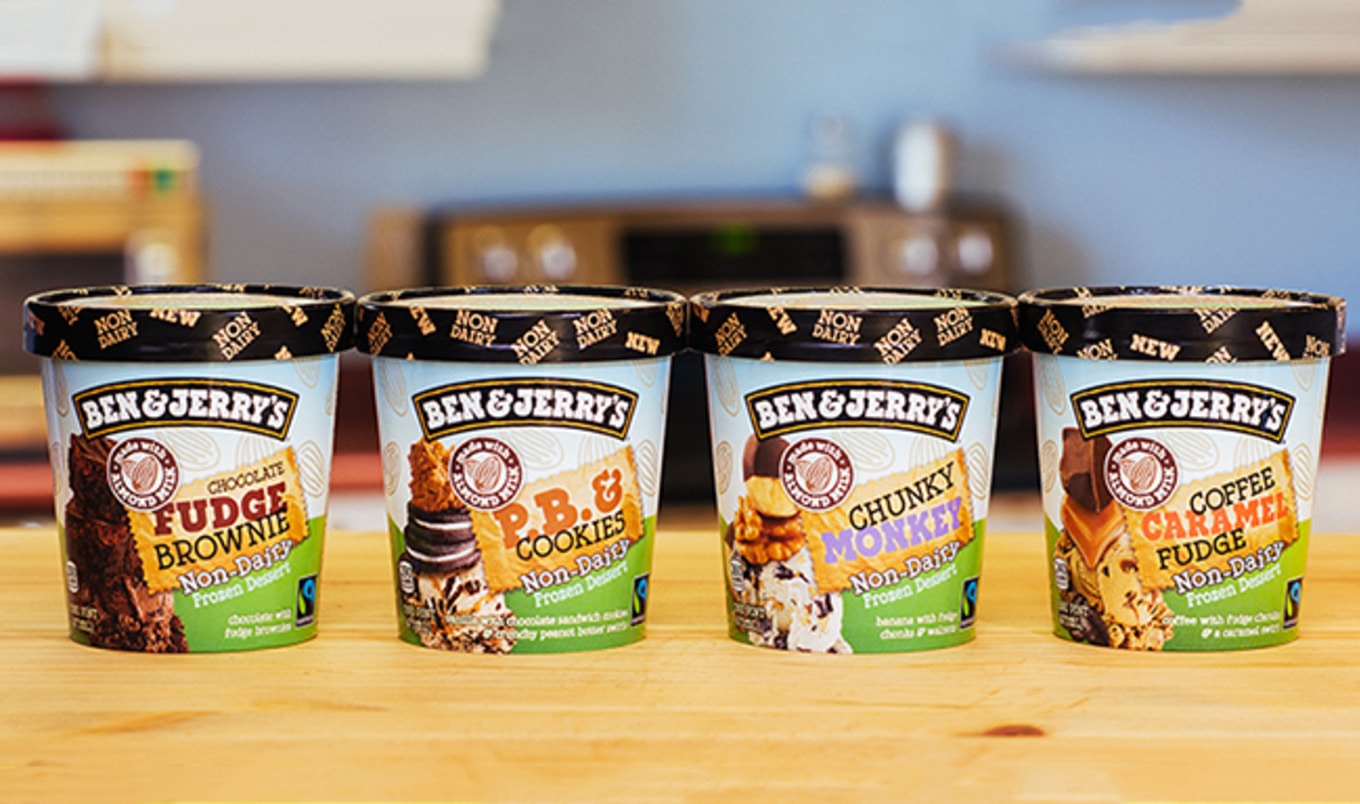 Being vegan doesn't mean you have to miss out on creamy frozen desserts—you can choose from coconut, cashew, soy, almond, and more!
August 31, 2017
---
2017 has been an important year for vegan ice cream, and market research firm Future Market Insights (FMI) predicted that the industry will reach $1 billion in revenue before the end of the year. Major brands such as Häagen-Dazs, Breyers, and Ben & Jerry's unveiled new plant-based options, while cruelty-free companies like NadaMoo have expanded their offerings. With so many vegan options on the market today, your hardest decision is determining which pint to grab from your local supermarket! If this sounds like you, don't worry because our guide to all things dairy-free ice cream is here to help.
COCONUT-BASED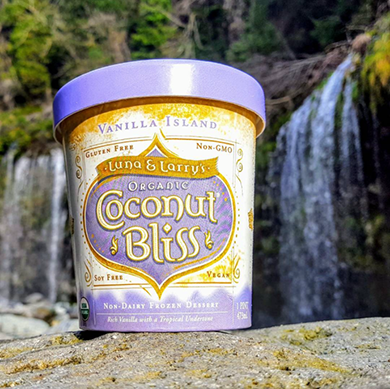 Oregon-based vegan ice cream company Coconut Bliss is known for its wide-range of utterly decadent pints in flavors such as Mocha Maca Crunch, Ginger Cookie Caramel, and Chocolate Hazelnut Fudge, and recently the brand has expanded its offerings to ice cream sandwiches.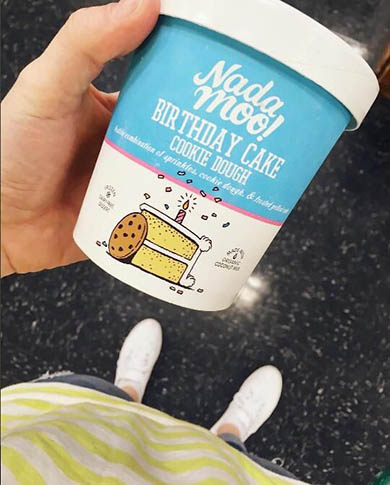 If you're in the mood for Mmm…Maple Pecan, That Snickerdoodle Dough, and Birthday Cake Cookie Dough, look no further than NadaMoo, a dairy-free brand that has been making cruelty-free ice cream for more than a decade.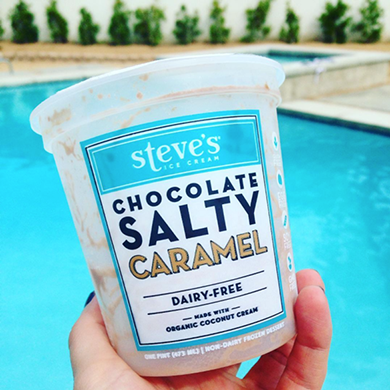 Next, Steve's Ice Cream offers a line of dairy-free flavors like Burnt Sugar Vanilla, Chocolate Salty Caramel, and Speculoos Cookie Butter. Even better? The company uses (almost) all-organic ingredients and isn't laden with additives or artificial ingredients.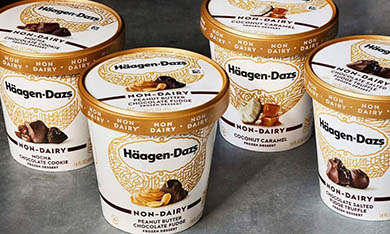 In addition, Häagen-Dazs—the newest major brand to the dairy-free industry—began offering four vegan-friendly options this summer, including the Coconut Caramel comprised of rich coconut cream and swirled with coconut caramel sauce.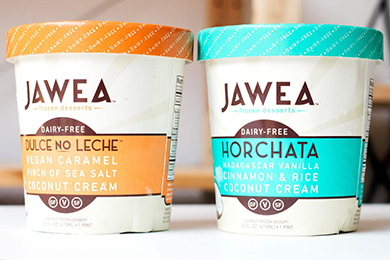 Finally, globally-inspired brand Jawea was founded by chef Mike Rosenthal, who was inspired to feature authentic flavors from his travels through Latin America and Southeast Asia. His travels come through in his flavors—Horchata, Dulce No Leche, and Spiced Coffee to name a few.
CASHEW-BASED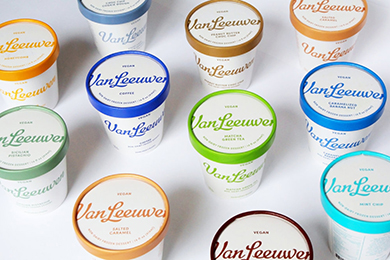 Brooklyn-based Van Leeuwen crafts its frozen treats from a base of housemade cashew milk, pure cocoa butter, coconut milk, and organic carob bean—with swirls of distinct mix-ins. A few of our favorites include Matcha Green Tea, Caramelized Banana Nut, and Sicilian Pistachio.

Seattle-based vegan ice cream shop and company Frankie & Jo's makes unique flavors daily to supply both their scoop shop and their online shop. We love all the flavors, but we're prone to order the California Cabin, Gingered Golden Milk, and Salty Caramel Ash.

Finally, no discussion of vegan ice cream is complete without mention of So Delicious, which changed the dairy-free game thanks to the debut of its cashew-based ice cream. The rich, frozen sweets are available in major supermarket chains across the United States, ensuring everyone can fall in love with a multitude of flavors such as Salted Caramel Cluster, Snickerdoodle, and Dark Chocolate Truffle.
ALMOND-BASED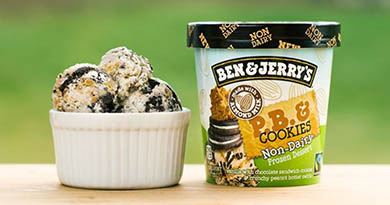 Ben & Jerry's was the first to start the trend of major ice cream brands debuting new vegan flavors when they released four non-dairy pints in 2016. This year, they added three more flavors to their line, including the famous Cherry Garcia, Coconut Seven Layer Bar, and P.B. & Cookies.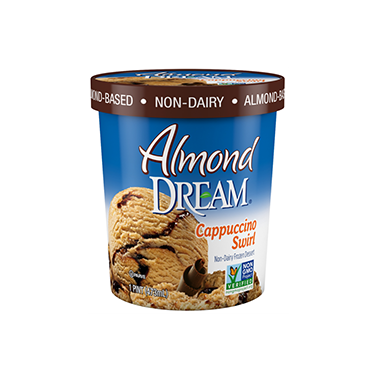 Furthermore, Dream offers frozen desserts with many different bases, but its Almond Dream line carries, by far, the widest variety of pint flavors. This budget-friendly brand offers simple classic flavors such as Mint Chocolate Chip, Strawberry, and Toffee Almond Fudge, ensuring you can satisfy your cravings whenever the feeling strikes.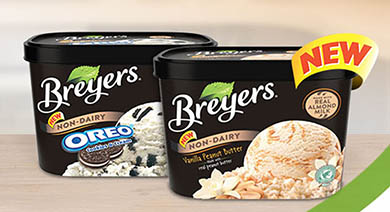 Finally, Breyers was another brand to make mainstream news this year when it debuted two new dairy-free options, proving once again that the dairy free trend isn't going anywhere. At $4.99 per 1.5 quarts, flavors like Vanilla Peanut Butter and Oreo Cookies & Cream offer the best bang for your buck.
SOY-BASED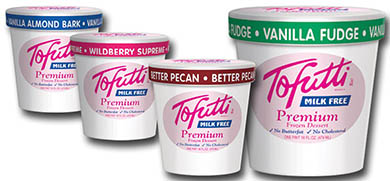 More than 30 years ago, Tofutti became the first major company to get dairy-free products into mainstream supermarkets. The brand's simple, retro packaging hasn't changed much, and the Tofutti Cuties ice cream sandwiches, Fudge Pops, and Marry Me Cones are still a staple for many who adhere to a dairy-free diet. Other favorites include Vanilla Fudge, Chocolate Supreme, and Chocolate Cookie Crunch.
Sarah McLaughlin is an editorial assistant at VegNews who can't get enough So Delicious' cashew-based ice cream.