Vegan Dining Month has returned to Las Vegas this January for its sixth year, bringing a smorgasbord of enticing and mouthwatering new vegan menu items to this desert town.
Organizer Diana Edelman has enticed over 25 restaurants to participate—both omnivore and vegan—to create custom dishes just for this month, which also aligns with the global Veganuary movement. "Six years ago, Restaurant Week in Las Vegas didn't have any vegan options and I thought it was a huge missed opportunity for restaurants to reach a new audience and left out a population of people," Edelman said. "Vegan Dining Month is designed to celebrate the diverse vegan dining scene, encourage restaurants and chefs to try out new vegan dishes, and show diners that they can find amazing vegan food where they live and visit," she continued.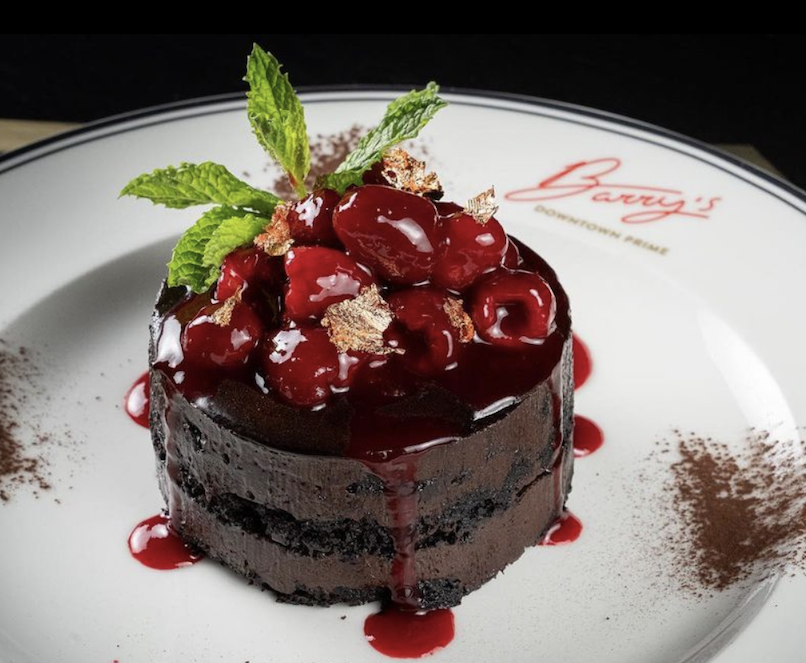 Barry's Downtown Prime
If you're not vegan, January is the perfect time to give it a go and discover just how satisfying this lifestyle can be. If you are vegan, use January as a time to explore and broaden your culinary horizons beyond your safe and reliable go-to dishes. Vegan Dining Month is already in full swing in Las Vegas, and we are primed to dive in.
What to expect from Vegan Dining Month
Any sort of city-wide dining or restaurant event is something to take advantage of. It's a great way to discover a new place, try a new menu item, or in the case of Vegan Dining Month, introduce vegan food to non-vegans.
To be clear, this event is for everyone—vegans, vegetarians, pescatarians, flexitarians, omnivores—if you eat, it's for you.
The goal is to challenge both vegan and omnivorous restaurants to create a new vegan dish exclusive to the month. Some concepts like Tacos & Beer and the high-end Barry's Downtown Prime are presenting multi-course or prix-fixe menus. Edelman said she continues to be surprised by "the diversity and some big players in each city. From sushi to Indian to doughnuts to French pastry spots, there's something for everyone."
Highlights from the Las Vegas Dining Month menus
This list doesn't capture every participating restaurant or limited-time dish (for that, see the Vegans, Baby website), but it does offer a delicious snapshot of the wide and appetizing variety available this month. If you were ever considering booking a trip to Vegas, January is the time to go and take advantage of these offers.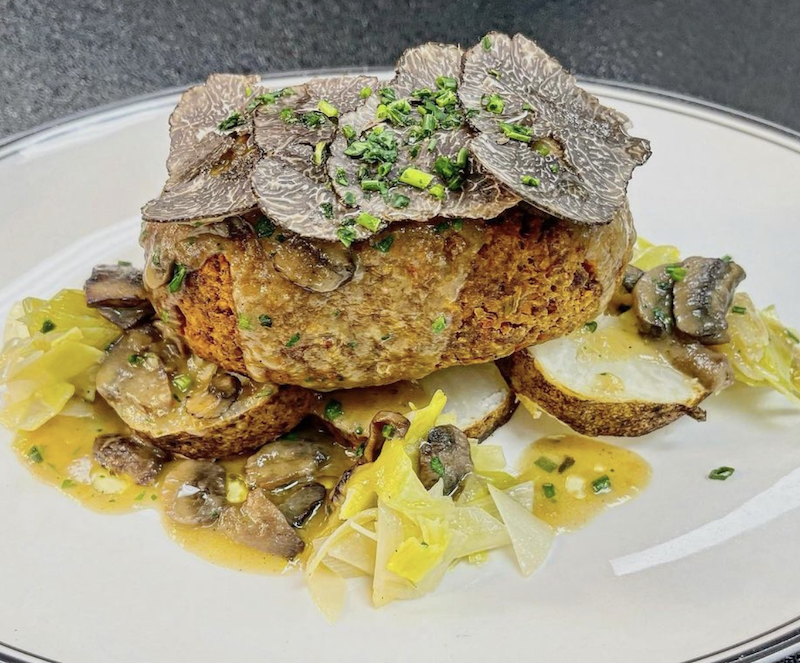 Barry's Downtown Prime
1 Barry's Downtown Prime
Proof that you can eat vegan and well at a steakhouse, Barry's isn't new to vegan cuisine. The permanent vegetable meatloaf on the menu is legendary, not only for its jaw-dropping $59 price point, but for the fact that it actually might be worth it. The truffle mushroom gravy will seriously tempt you to lick the plate, even in this high-end establishment.
Other vegan menu items aren't priced quite as high—you'll find a Butternut Squash Steak for $32 and a robust mixed green salad for $19. The indulgent Vegan Chicken Marsala comes in at $48 … so maybe cross your fingers and play at the CIRCA casino before sitting down to dine.
Find out more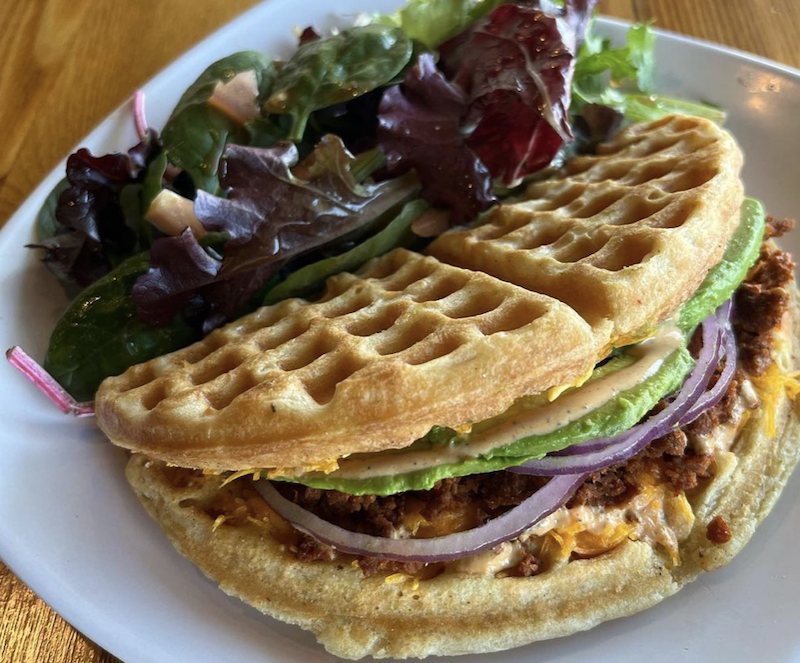 TIABI
2 TIABI
Vegan Dining Month isn't just for dinner—you can find excellent breakfast, brunch, and lunch options as well.
This two-location, fast-casual concept specializes in all things waffles, from sweet to savory. It's not vegan, but one bite of the limited-time "Chorizo" Avocado Wafflewich and you wouldn't know it; this place does vegan exceptionally well. Made with Abbot's Butcher "Chorizo," avocado, hot sauce, melty non-dairy cheese, and bright red onion, it's the perfect gateway food for the veg-curious or even skeptic.
TIABI is also offering a red velvet cold brew and a spicy vegan chicken wafflewich for the remainder of the month.
Find out more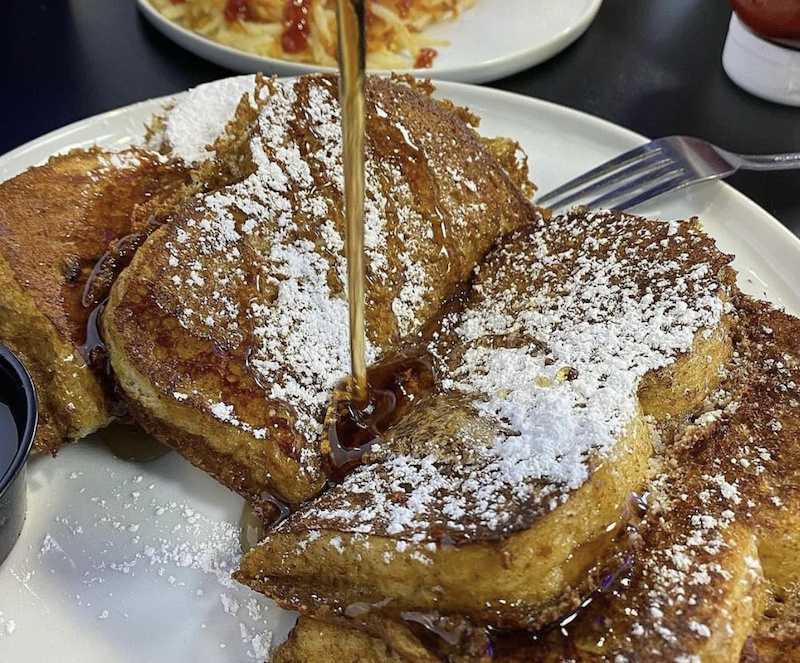 Black and Blue Diner
3 Black and Blue Diner
Vegas is known for its endless and indulgent buffets, but it also has a stellar diner scene to support its reputation of late-night revelry.
Here, breakfast is served all day (it closes at 3pm), and the vegan items are exactly what you'd expect from your favorite greasy spoon. There's Chick'n and Waffles with gloriously thick fruit compote; cheesy, meaty loaded fries; and the Jackpot—a full breakfast plate that comes with two vegan eggs, plant-based sausage, potatoes, and your choice of a waffle or French toast.
Find out more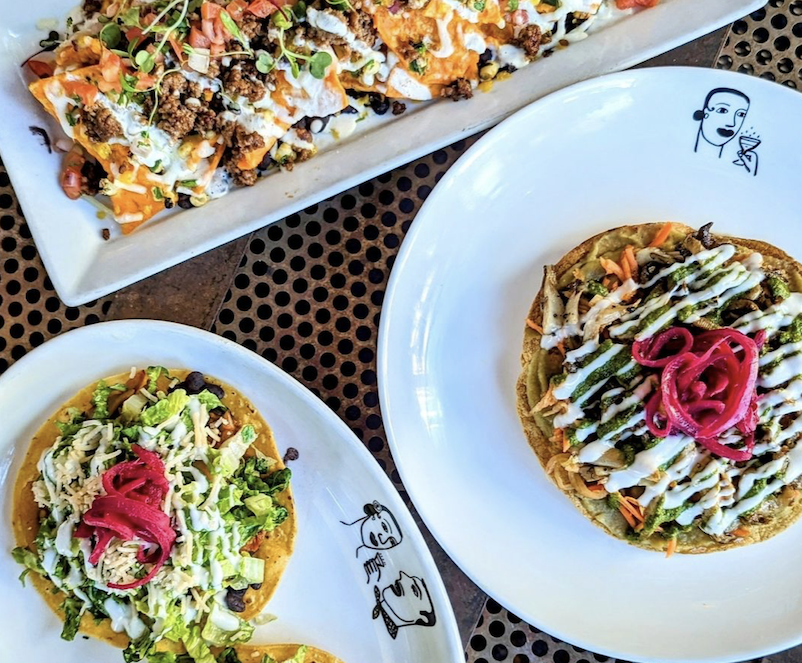 Border Grill
4 Border Grill
With multiple locations spanning several states, this Las Vegas outpost at the Mandalay Bay resort is always a haven for anyone looking for a solid plant-based option in Vegas, any time of year. For Vegan Dining Month, the restaurant is showcasing a selection of new plant-based appetizers, entrées, and a blood orange cheesecake dessert with tart Meyer lemon meringue.
Everything is a la carte, but we suggest starting with the Pickled Vegetable and Roasted Mushroom Tlayuda, savoring the Seared Tofu "Scallops" as your main, and leaving plenty of room for the cheesecake.
Find out more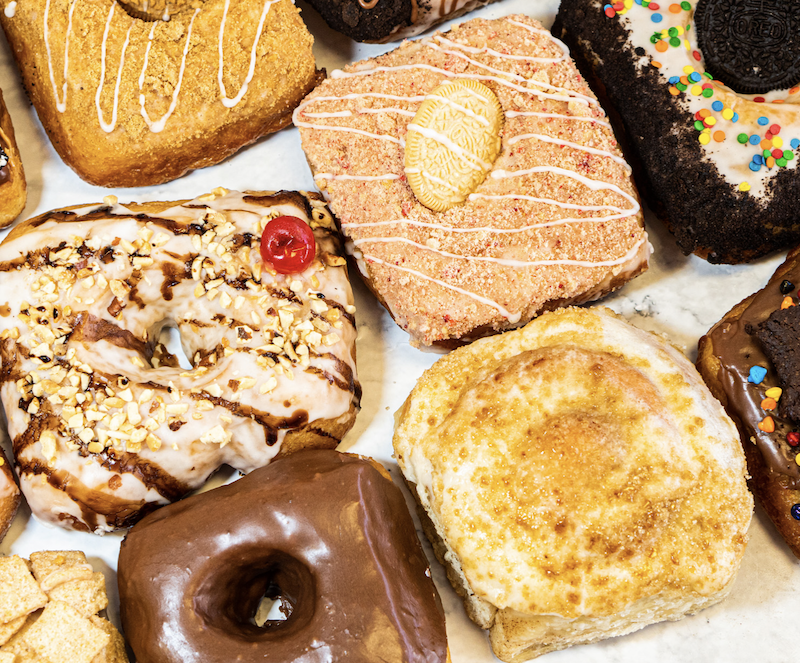 Disco Donut
5 Disco Donut
Sin City's first vegan doughnut shop is baking (er, rather, frying) up a sweet menu for January. All made with the bakery's signature 24-hour brioche dough, there's a fun Birthday Cake doughnut topped with confetti cake crumbles, vanilla glaze, a birthday cake truffle, and an Oreo; a Strawberry Cheesecake stuffed doughnut served with maple syrup and a Bourbon Maple Bakon doughnut coated in brown sugar cinnamon. You'll need a knife, a fork, and a napkin to devour any one of these sweet treats.
Find out more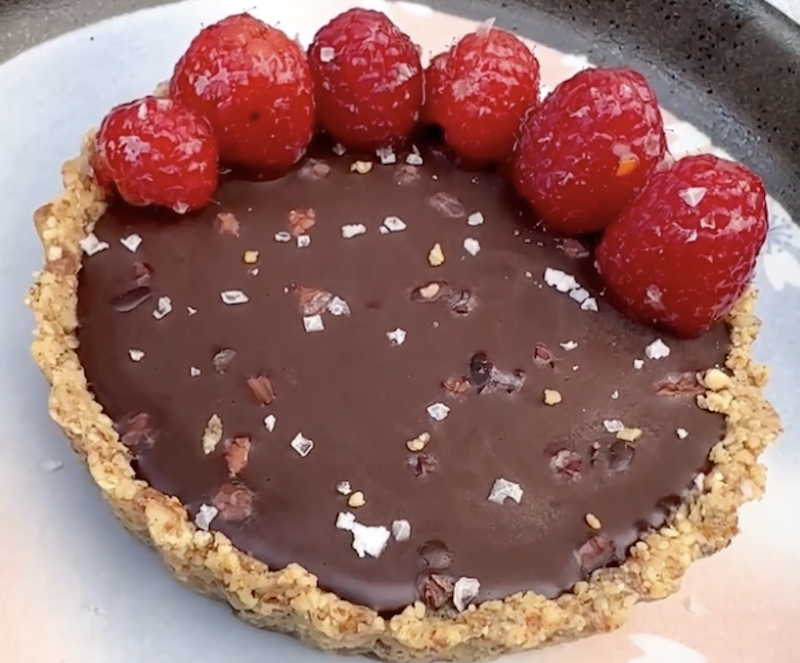 Down 2 Earth
6 Down 2 Earth
Found inside the Vegas Test Kitchen, which hosts an eclectic array of vegan and non-vegan food purveyors, Down 2 Earth is offering a $35 prix-fixe menu that includes an arugula salad, mini beef Wellington, and a raw chocolate tart. All items are also available a la carte.
Find out more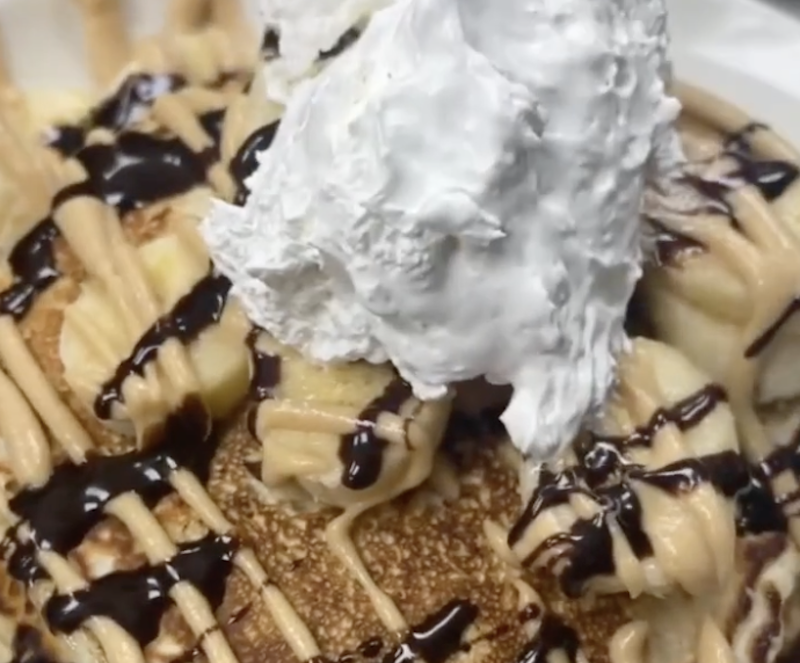 Graze Kitchen
7 Graze Kitchen
This all-day vegan eatery is always a reliable option, and it's drawing us in even more often with its new January menu items.
The breakfast menu is hot with Chunky Monkey pancakes—a near-dessert item crafted with indulgent peanut butter chocolate chip pancakes adorned with sliced bananas, chocolate drizzle, and whipped cream—and a thick breakfast quesadilla stuffed with vegan sausage, tempeh bacon, queso, Chao cheese, Just Egg, pico de gallo, and fresh cilantro. Limited-time offerings for lunch and dinner include a hearty meatloaf sandwich on a pillowy, chewy pretzel bun.
Find out more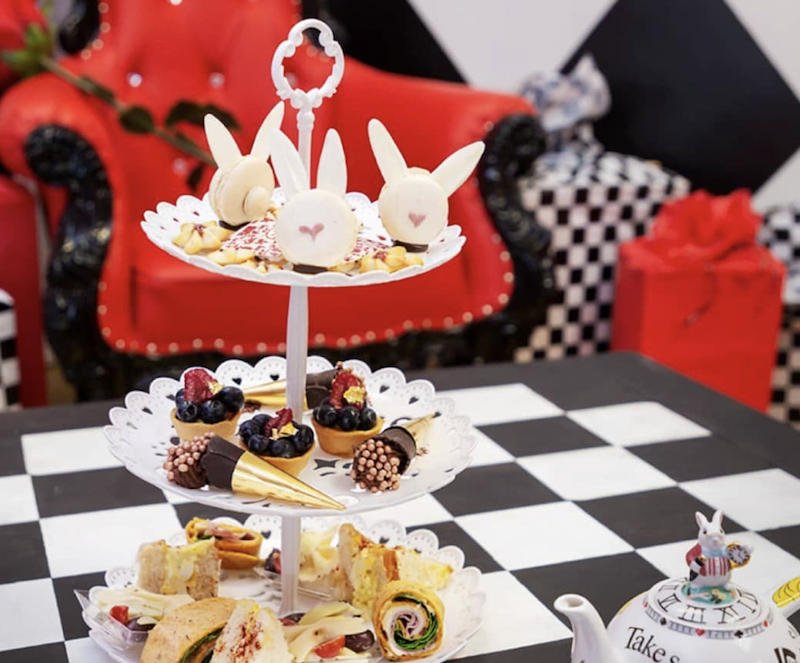 Queen of Hearts
8 Queen of Hearts
Don't expect pastel colors at this themed tea room—it's all jarring red, black, and white in a space fit for the pompous queen herself.
The Vegans, Baby Vegan Tea Party is a pure delight. For $45, you and your party will sip a selection of teas accompanied by an assortment of crumbly scones, sweet treats, and savory bites.
We're particularly enamored by the White Rabbit cream puff (yes, it's actually shaped into bunny ears) and the savory Golden Sweet Potato Butterfly. Reservations are required.
Find out more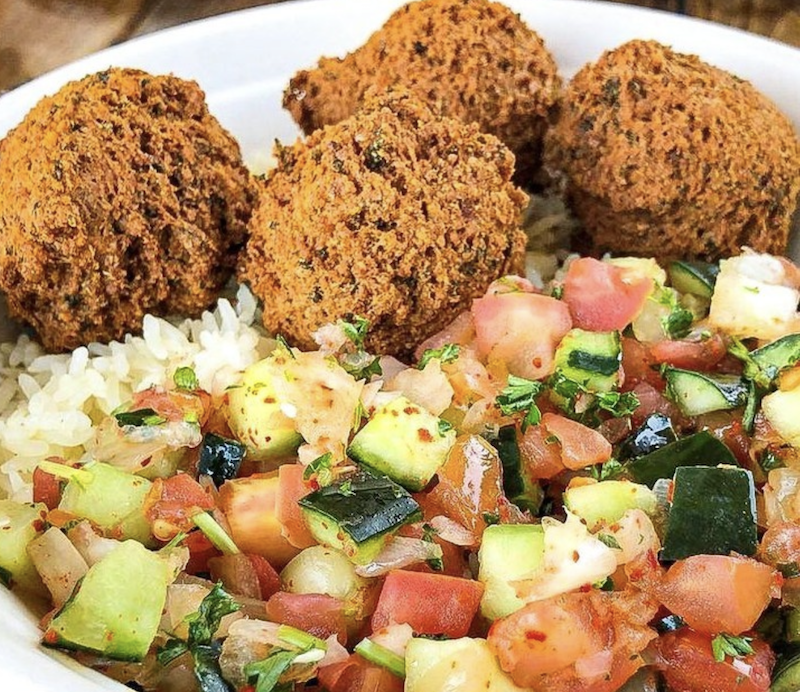 Stephano's
9 Stephano's
This Mediterranean concept has three locations in the Greater Vegas area, but visit the Blue Diamond spot to take advantage of the Vegan Dining Month specials. The Vegan Combo Plate is the item to order—the substantial spread includes hummus, Israeli salad, lentil-studded rice, a vegetable kebab, three pieces of falafel, pita bread, and tahini to drizzle over everything. If only the baklava was vegan … maybe next year, Stefano's.
Find out more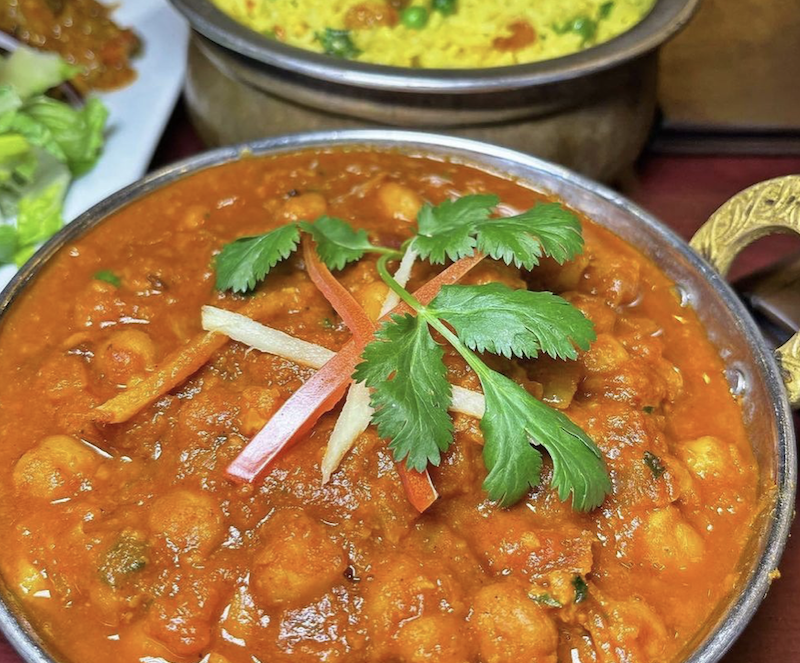 Taj Palace
10 Taj Palace
Indian restaurants in the US are generally vegan-friendly—you can typically rely on a naturally plant-based chana masala with roti to fill you up. For Vegan Dining Month, this local favorite is dishing out vegan Roti Aloo Saag, decadent Mushroom Mutter, Vegetarian Biryani, and more. Miss Vegan Dining Month? Taj Palace offers a vegan menu all year long.
Find out more
What other cities participate in Vegan Dining Month?
As Edelman's hometown, Las Vegas was the inaugural city to host Vegan Dining Month. Launched in 2018 as a part of Edelman's expert local guide to Vegas—Vegans, Baby—the month-long event was a success, setting up the logistical infrastructure for other cities to take part as well.
Two other vegan-friendly cities have launched their own Vegan Dining Months, both in January and run by Edelman. Portland celebrated its first year in 2020, and New York City joined just this year. (For details and exclusive menu items in these towns, see here for Portland and here for New York.)
While they do not fall under the Vegans, Baby umbrella, other cities have hosted their own versions of vegan dining events, too. Richmond, VA is planning its annual V72x2 Vegan Food Week from January 24 to 29, 2023. Phoenix, AZ's Vegan Restaurant Week is held in mid-September. Then, there are state-wide vegan events. Both Rhode Island and Maryland host vegan restaurant weeks; Rhode Island occurred last October through early November, and Maryland's Vegan Restaurant Month is scheduled for March 3 to 26, 2023.
If you don't live in one of these cities or states, look to your local restaurant week or month. You'll often find participating vegan restaurants, and an increasing number of omnivore establishments offer a dedicated vegan menu or a few clearly labeled vegan options on the limited-time menu.
For more on vegan Las Vegas finds, read: