Stepping off a quiet, cozy stretch of Union Street in San Francisco into the breezy restaurant that is Wildseed is an invitation. An invitation for a night filled with the buzz of conversation, the clink of craft cocktail glasses, and the faint aroma of fresh herbs and sizzling garlic.
Wildseed slides right into place in the wellness-oriented neighborhood of Cow Hollow, nestled among yoga studios, a ritzy Equinox, and smoothie shops. The concept was developed by Back of the House restaurant group—the force behind many popular San Francisco eateries—and run by acclaimed restaurateur Adriano Paganini.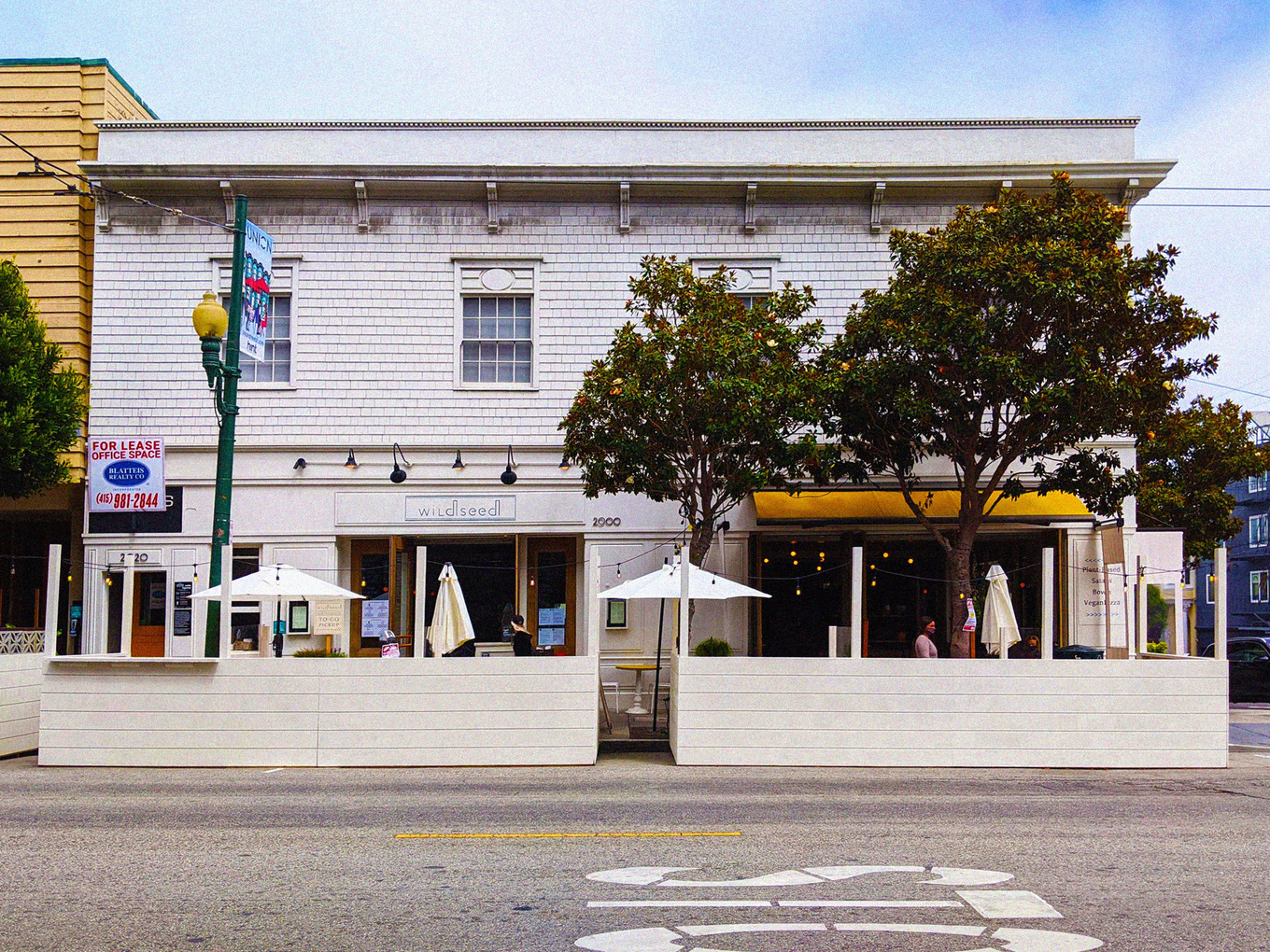 Wildseed
The Milan native's resumé is the stuff of legends, having been selected to lead a dinner service for Queen Elizabeth at just 24 to opening and expanding popular West Coast restaurant chain Pasta Pomodoro in 1994 at 27. Now, with 24 restaurants under his Back of the House belt, Paganini has forged into the plant-based foodscape with Wildseed, where a focus that's deeply rooted in seasonal, local, and environmentally conscious ingredients has been delighting diners since 2019. Following the Environmental Working Group's recommendations, the "Dirty Dozen" are always organic at this establishment—and don't expect a dish to remain on the menu permanently. Everything is developed with careful consideration of Northern California's abundant produce, with the state's fresh and diverse cuisine reflected in every corner of the menu.
"We are so fortunate to live in a place where high-quality, fresh produce is available year-round," Laura Kwan-Rosenbush of Back of the House, says. "And by having a menu that changes with the seasons, we are able to offer our guests dishes that highlight ingredients when they are at their best … we really strive to make plants taste the best they possibly can."
That focus on making plants the shining star of a plate is exactly why you won't find a menu full of meat and cheese alternatives. Nearly everything is made in-house.
Fresh takes and reimagined classics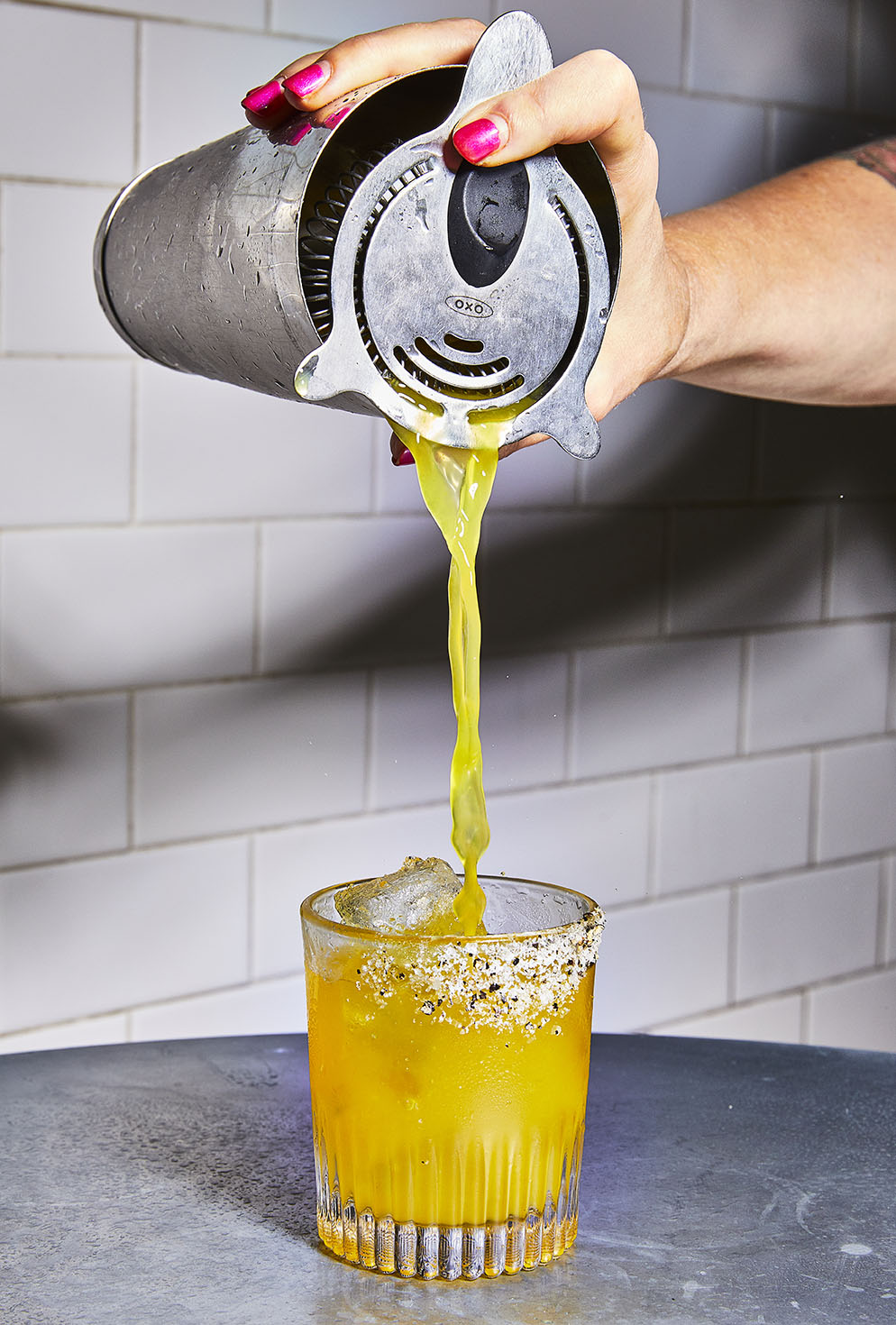 Wildseed
Slide into your seat at one of the welcoming booths or high-top tables—or cut your wait time down by opting for a spot at the lengthy communal dining table—to peruse the menu and masterfully curated cocktail list, where the emphasis on the highest-quality ingredients is carried over as well. The Seaside Martini, a nod to the famous bay that lies just north of the eatery, is made with a smooth, olive oil-washed gin, apple brandy, vermouth, celery, and finished with a few green olives. The spicy-sweet And The Beet Goes On—a blend of fresh beet juice, grapefruit juice, tequila, habanero, and cherry liqueur—feels almost as much like a health tonic as a cocktail. And if booze isn't your vibe, don't sweat it. There are more than a dozen zero-proof refreshments on the drink menu (try the Passion Sour with non-alcoholic rum, fresh passion fruit, basil, mint, lime juice, and fluffy aquafaba foam).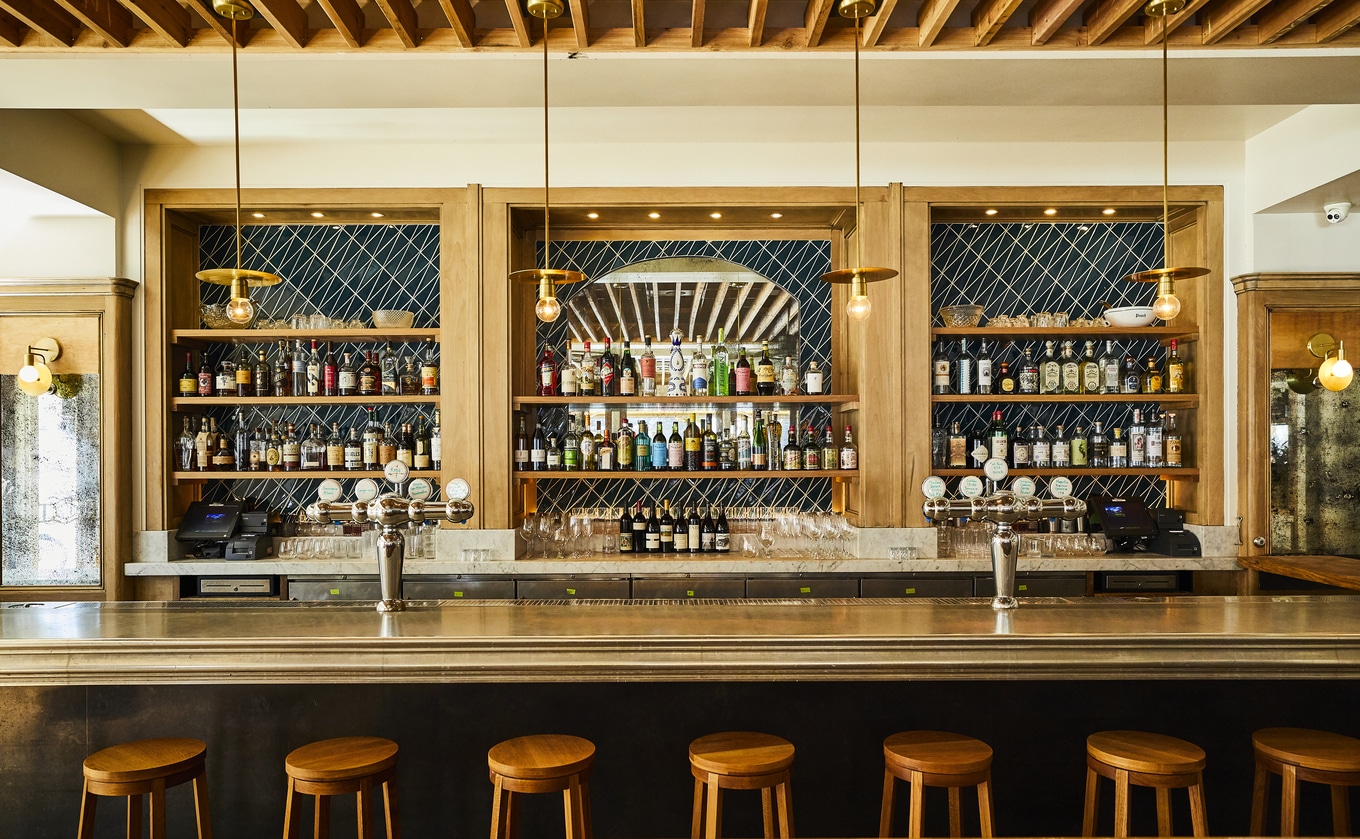 Wildseed
The first part of the menu is full of tapas-style dishes that encourage guests toward family-style dining, which, strategically, is the best way to explore the stellar small plates Wildseed has on offer. Sit at the bar and pair your drinks with chili-thyme-spiked olives and gochugaru-marinated cucumbers coated in furikake. Or opt for the thick, steak-cut Belga fries—an homage to the Belgian restaurant that resided in the space before Wildseed—accompanied by a trio of sauces: herb aioli, chipotle aioli, and a decidedly German-inspired curry ketchup.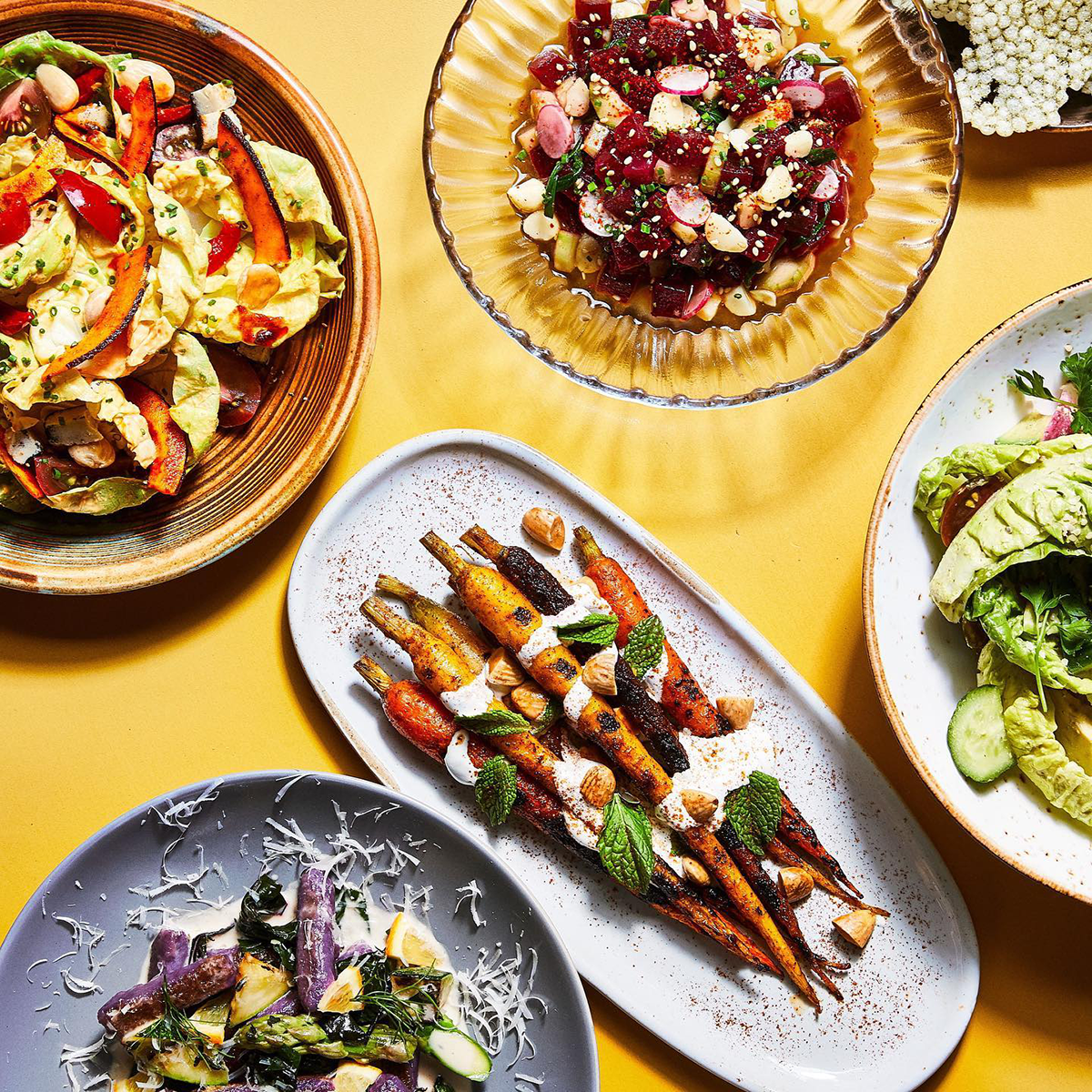 Wildseed
In line with nationwide trends and growing curiosity around plant-based cuisine, Wildseed's clientele is mostly non-vegan, and as a result, special attention is paid to how plants can intrigue and satisfy all palates. So, along with the more conventional, albeit elevated, fries and snacking olives, expect inventive plates like the Pea Tendrils (served with housemade kimchi, a vegan fish sauce vinaigrette made from tamari and mushrooms, and crispy garlic) and the Wild Mushroom Zeppole (five huge, crispy fritters sprinkled with umami-rich porcini dust and served with an herby, eggless aioli).
But for all the new, tasty takes, Wildseed is still happy to provide a ramped-up, contemporary rendition of an old vegan menu mainstay: the hummus platter. For the Mezze Plate, an entire plank of Mediterranean favorites is dropped off in front of patrons, ready to be devoured. In one bowl, a trio of craggy, crunchy falafel—hot out of the fryer and hiding tender interiors—encircle a light and peppery salad of quinoa and mixed greens dressed in tangy pomegranate vinaigrette. In another, bright white chunks of buttery coconut feta are speckled emerald green by an oily, herb marinade. Smoky white bean hummus, silky baba ghanoush, and a lightly blistered, seeded flatbread with just the right amount of chew round out the perfectly updated platter. But save your appetite, because there's still a world of culinary exploring left to do.
Elevated bowls and elegant entrées
If you haven't already noticed, Wildseed's approach to food is decidedly global. Korean, Indian, and Mexican flavors shine alongside Italian and Mediterranean staples. And that diversity can even be savored on the often-overlooked salad and bowl section of the menu, so adventurous eaters shouldn't make the mistake of skipping straight to the entrées.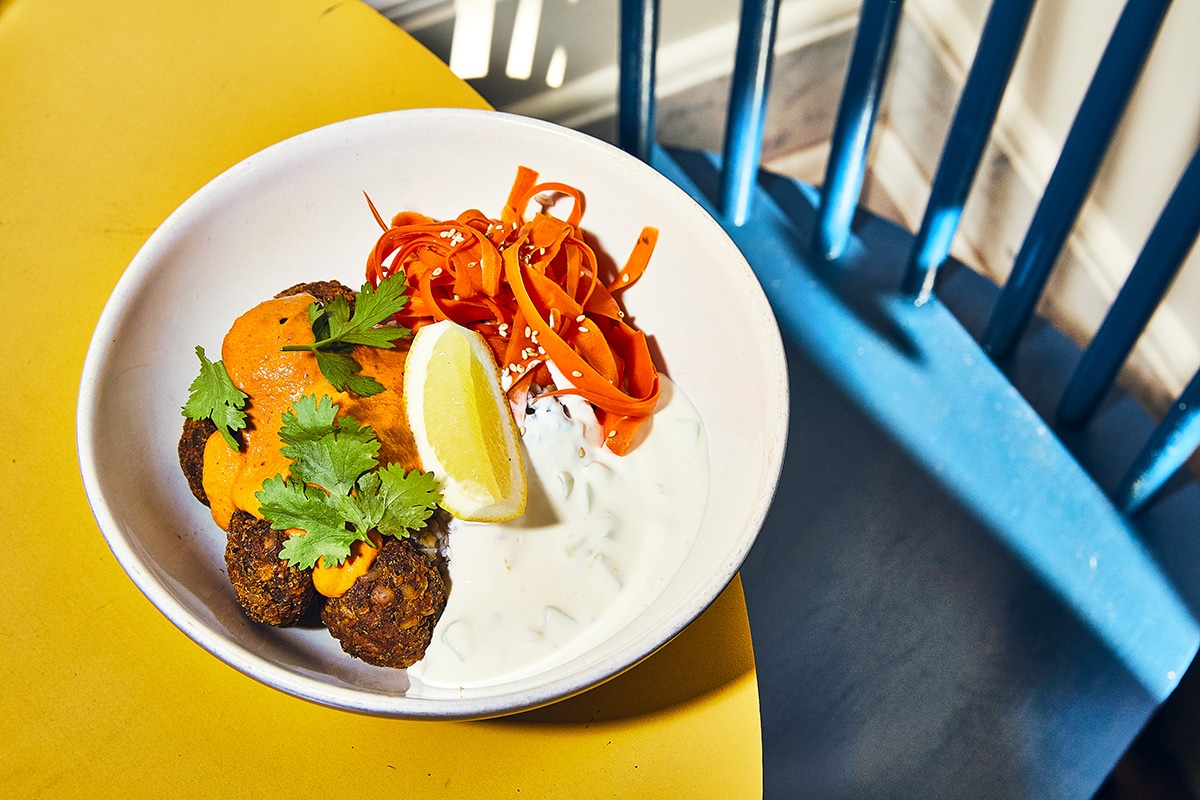 Wildseed
The Ensalada Andalusia (inspired by the diverse region in southern Spain) is piled high with crisp butter lettuce, colorful and bitter chicories, toasted almonds, smoky coconut bacon, cashew mozzarella, hot-and-sweet peppers, and a lightly sweet sherry-agave vinaigrette. And for a bit more heft, choose between a trio of globally inspired bowls. The Neatball Masala has been a customer favorite since the beginning thanks to its thick, velvety coconut masala sauce generously poured over warm super grains, hefty lentil-walnut meatballs, pickled carrots, kale, and finished with a soy yogurt-based dilly tzatziki sauce.
As you move into the main courses, the choice of whether to opt for an entrée-style dish or a wood-fired pizza is not easy, so bring a friend or two and go for both. The Risotto Primavera offers instant, creamy comfort with imported carnaroli rice, green garlic, sugar snap peas, baby carrots, English peas, generous amounts of coconut parmesan, and a mint-herb finish that provides a welcome freshness.
The wood-fired, California-style pies are anything but average, especially the Carbonara, featuring a truffled faba milk bechamel, smoked tempeh bacon, fermented garlic, lemon-infused olive oil, and fresh English peas. And getting your greens in pizza form is easily achieved with the Green Forest, featuring Argentinian chimichurri, charred broccolini, sautéed mushrooms, a duo of mozzarellas (smoked cashew and gooey coconut), fresh arugula, a kiss of lemon, and a dusting of more coconut parm.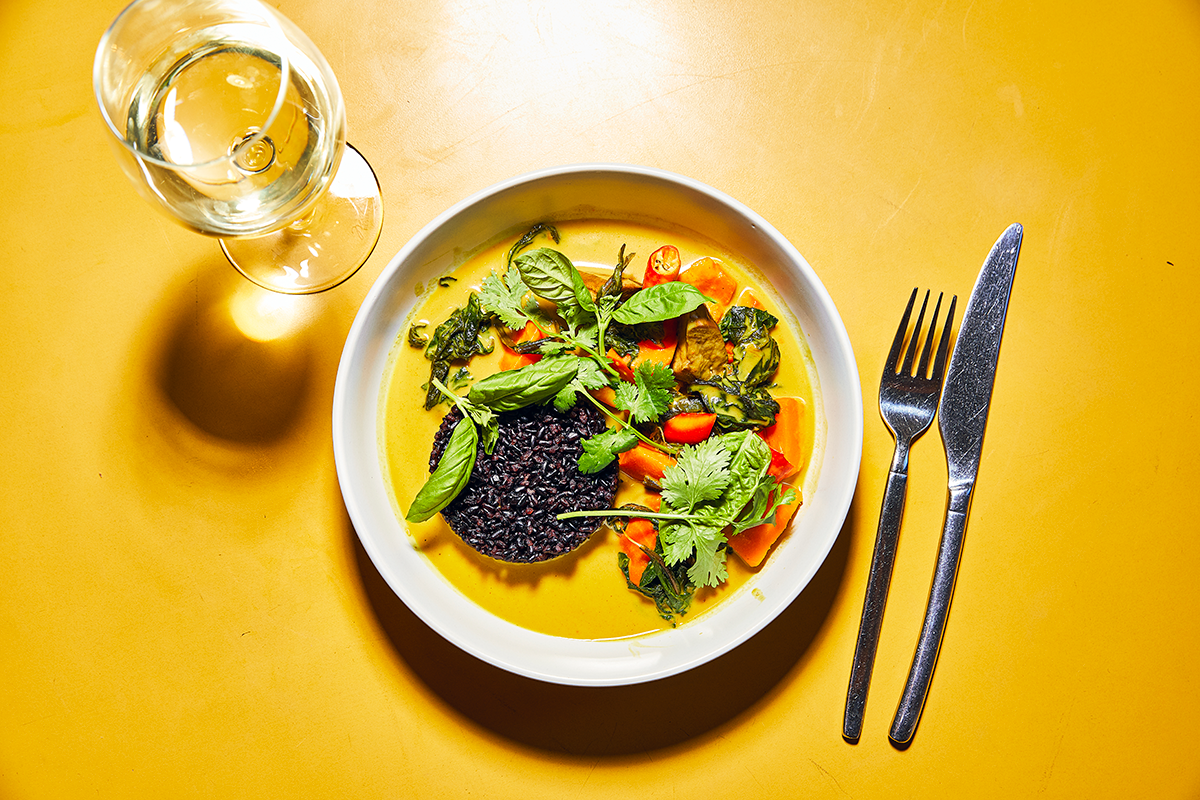 Wildseed
The Spicy Yellow Curry rivals the best of the best. A delicate yet full-bodied golden curry infused with Thai basil is ladled over lightly crisped squash, eggplant, chard, green beans, and a bed of purple-black forbidden rice. The Peruvian Hodo Soy Tofu Skewers are yet another call-out to Northern California, featuring Oakland-made Hodo tofu paired with seared king trumpet mushrooms, sweet yams, and yellow chili pepper aji amarillo sauce.
Desserts to die for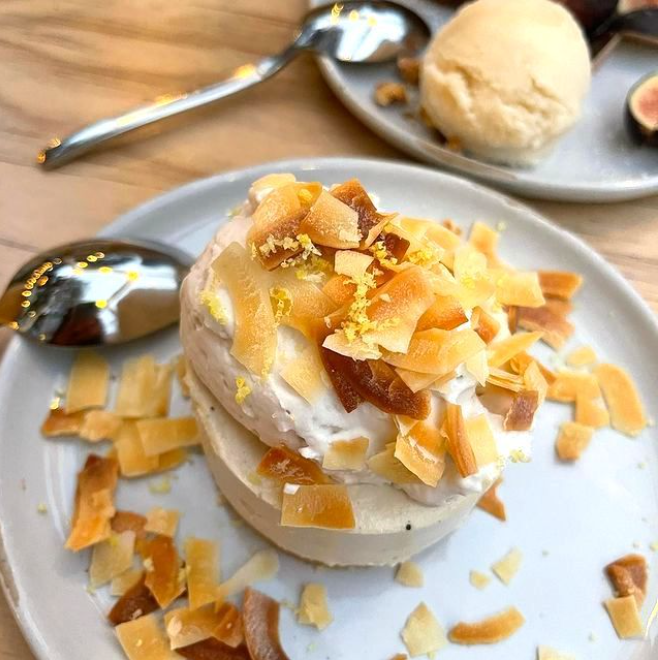 @tete.eats/Instagram
As you lean back in your chair, sliding your empty plate away, make sure you've saved just enough room for dessert. The small but stand-out dessert menu offers classics such as warm apple crumble with sweet-tart Honeycrisps, golden almond streusel, and a generous scoop of vanilla bean oat milk ice cream, along with a custardy vanilla-coconut panna cotta with blackberry jam and crushed pistachios. For those with an insatiable chocolate craving, the Warm Beet and Banana Chocolate Cake is the antidote. A rich, fudgy chocolate cake is paired with brûléed bananas and a decadent, hefty scoop of chocolate gelato for a dessert that will leave you wanting to lick each drop of chocolate sauce from the plate.
And the moist poppyseed cake with a bright lemon curd, fluffy coconut whip, and toasted hazelnuts is simultaneously hefty and light as each buttery bite melts in the mouth. You can even imbibe on a heady, sweet, after-dinner Espressotini cocktail with smooth bourbon, espresso, and coffee liquor to give you just the right amount of caffeine boost for your journey home.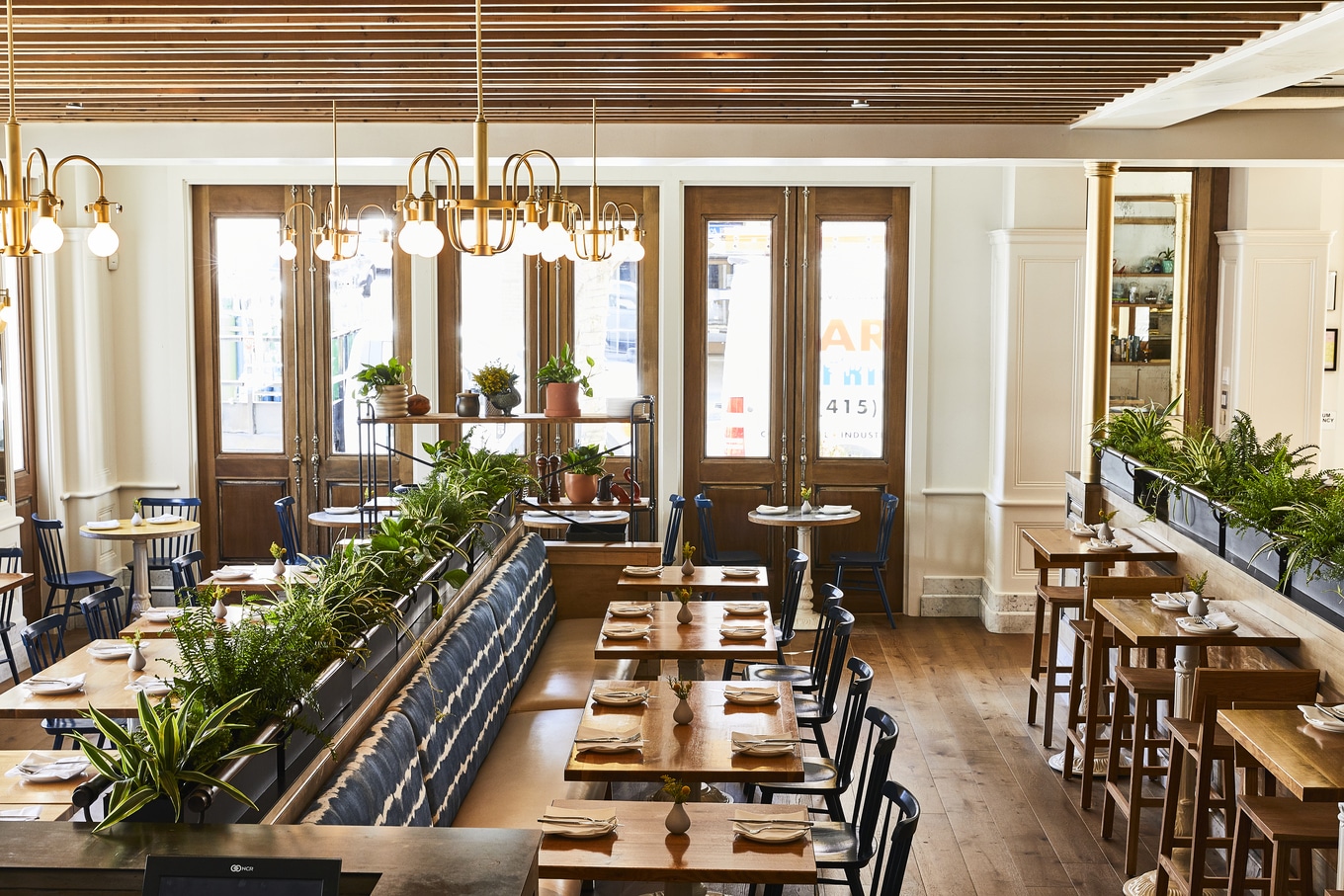 Wildseed
As you leave—stuffed to the brim, in a dreamy, food-fueled haze—and journey out into San Francisco's famous fog, the thoughts of inventive, international fare linger in the mind and on the tongue. After a dining experience as expansive and diverse as this, you can drift off to a good night's sleep with dreams of your next meal at Wildseed.