Starting today, Panda Express will expand its test of vegan orange chicken to an additional 70 locations across 10 states. Co-developed with vegan brand Beyond Meat, the new Beyond The Original Orange Chicken (BTOOC) is made to mimic Panda Express' original orange chicken, which has been the star of its menu since it launched in 1987. The BTOOC offers the same texture and bite of the original orange chicken and is coated in a similarly tangy, spicy, and sweet sauce but is entirely vegan.
"We're excited to expand BTOOC to ten states across the US as we work to increase accessibility to plant-based options at consumers' favorite restaurants," Deanna Jurgens, Chief Growth Officer at Beyond Meat, said in a statement. "We're proud to be Panda's trusted partner in reenvisioning their iconic, best-selling dish and are confident that BTOOC will continue delighting fans who are seeking great-tasting, and sustainable protein options."
BTOOC will now be available at select locations in California, New York, Georgia, Illinois, Texas, Florida, Washington, Pennsylvania, Maryland, and Virginia. Panda Express has launched a locator tool to help customers find the participating locations serving its now popular vegan orange chicken.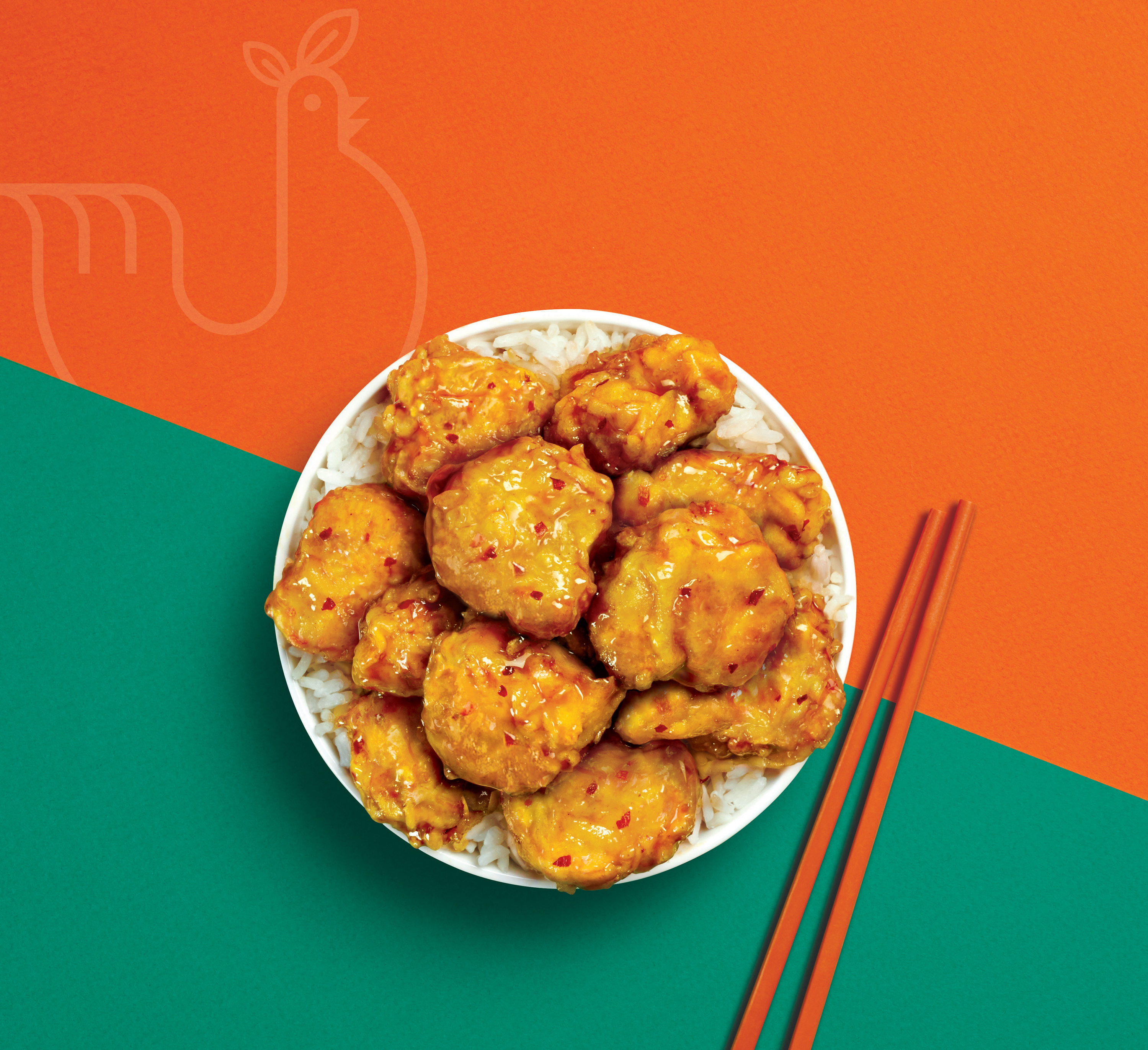 Panda Express
Vegan orange chicken arrives at Panda Express
The expansion of BTOOC to 70 locations follows a wildly successful test launch of the vegan chicken at a handful of locations in Southern California and New York. On launch day in July, Panda Express sold 1,300 pounds of BTOOC in one day and the Southern California test locations sold out of the vegan orange chicken in less than two weeks. Its partnership with Beyond Meat on BTOOC represents Panda Express' first-ever product collaboration and one of its most successful regional launches to date.
Panda Express—which operates more than 2,000 locations—will use this expanded test to perfect the incorporation of the new vegan orange chicken into operations with an eye on a national rollout. "We saw such strong demand for Beyond the Original Orange Chicken during our initial launch in July 2021 that we're excited to expand it to additional locations across the United States, allowing more guests to enjoy this delicious plant-based innovation," Evelyn Wah, Executive Director of Brand Innovation at Panda Express, told VegNews. "With this latest expansion, we're continuing to gain insight into guest demand and preferences in anticipation of a wider rollout in the future. As we collect learnings, we will continue to optimize the product for Panda's kitchens and guests."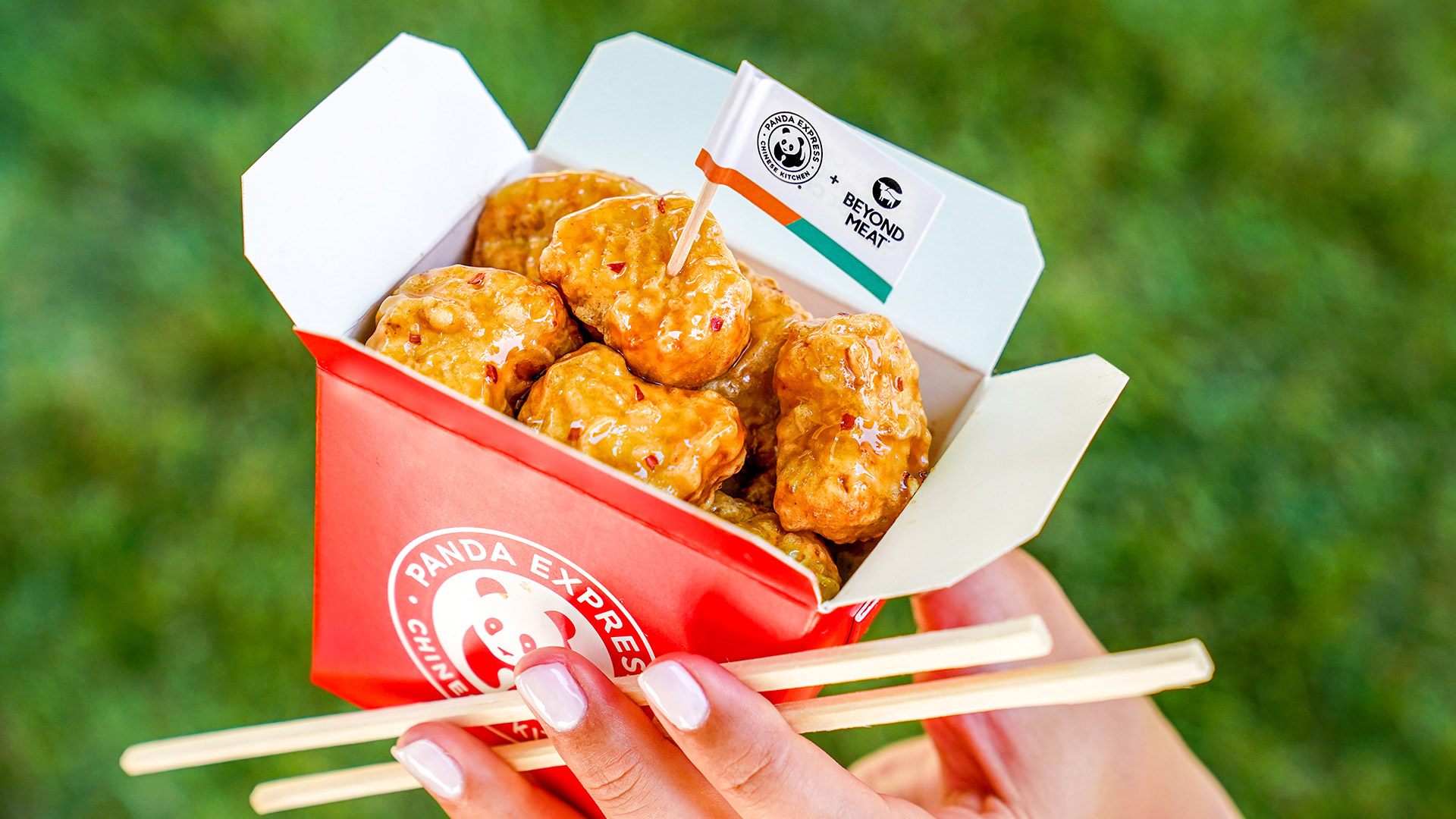 Panda Express
In addition to BTOOC, Panda Express offers several plant-based sides, including Eggplant Tofu, Super Greens, Chow Mein, and Vegetable Spring Rolls, along with steamed white and brown rice. However, Panda Express does not advertise any of its items as "vegan" due to cross-contamination concerns.
Vegan chicken goes national
The test launch of BTOOC makes Panda Express the first national Asian restaurant chain to add plant-based chicken to its menu. However, vegan chicken is now rolling out to many other corners of the fast-food world.
In August, Beyond Meat worked with fast-food chain A&W to add its own vegan chicken nuggets to the menu at 1,000 locations across Canada. The Beyond Meat Nuggets were available for a limited time as a six- or 10-piece meal, as well as an option for the A&W Kids' Pack, with a choice of dipping sauces. Its partnership expansion with A&W—which Beyond Meat has been working with since 2018—came on the heels of the debut of Beyond Chicken Tenders at 400 restaurants across the United States in July. Beyond Meat also previously worked with KFC on a limited launch of Beyond Fried Chicken but the 2019 test has yet to result in a national rollout.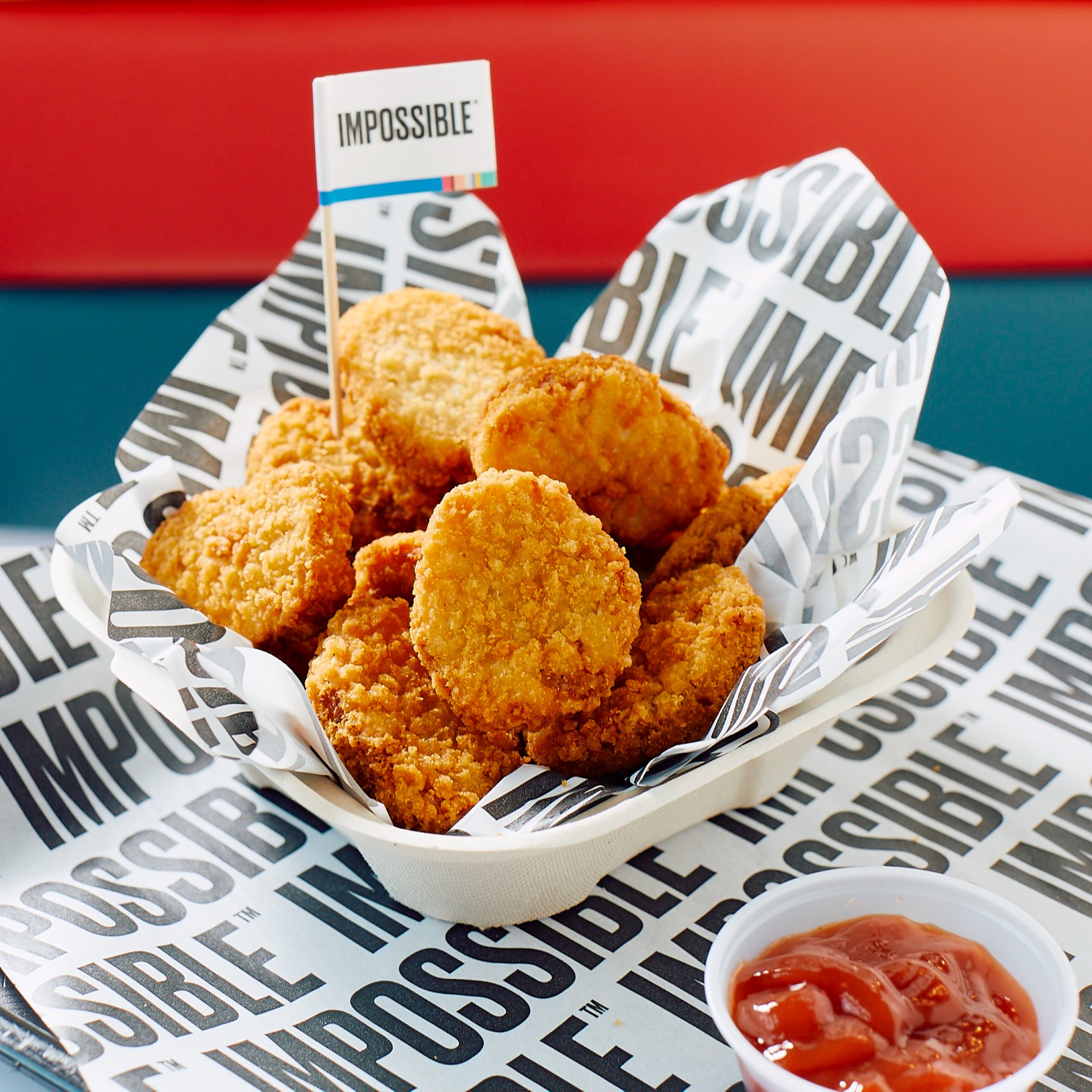 Impossible Foods
Beyond Meat's biggest competitor, Impossible Foods, staked its claim in the growing vegan chicken sector, as well. In July, Impossible Foods unveiled its first vegan chicken product: Impossible Chicken Nuggets Made from Plants. In September, Impossible's vegan nuggets rolled out in 10,000 grocery stores and hit the menu at 150 restaurants nationwide. This month, Burger King—a longstanding partner of Impossible Foods—became the first global fast-food chain to offer vegan chicken nuggets with the test launch of Impossible Chicken Nuggets Made from Plants at select locations in Des Moines, IA, Boston, MA, and Miami, FL.
For more about vegan chicken, read:
KFC Is Working to Make Vegan Chicken Perfect

22 Vegan Fried Chicken Sandwiches that Beat Chick-Fil-A and Popeyes
Ready to Try the New Beyond Chicken? Here's Where It's Available