Food and beverage brand Chobani—known best for its Greek-style dairy yogurt—is launching vegan Oat Nog in time for the holiday season. With this new, limited-batch drink, Chobani aims to offer a dairy-free version of eggnog, which is traditionally made with eggs and dairy. Its Oat Nog is made from whole grain oats and is available in 32-ounce tetra packs.
"We're really excited to offer a plant-based option of this favorite, iconic drink," Chobani President and COO Peter McGuinness told VegNews. "Chobani Oat Nog is creamy, yummy, and full of holiday flavor. Shoppers can find it on shelves now."
Chobani's Oat Nog is available now through mid-December at retailers nationwide, including chains such as Publix, Kroger, Wegmans, and Hy-Vee. The new offering joins a lineup of limited-batch seasonal products from the brand, including vegan options such as Pumpkin Spice Oat Coffee Creamer and Peppermint Mocha Oat Coffee Creamer.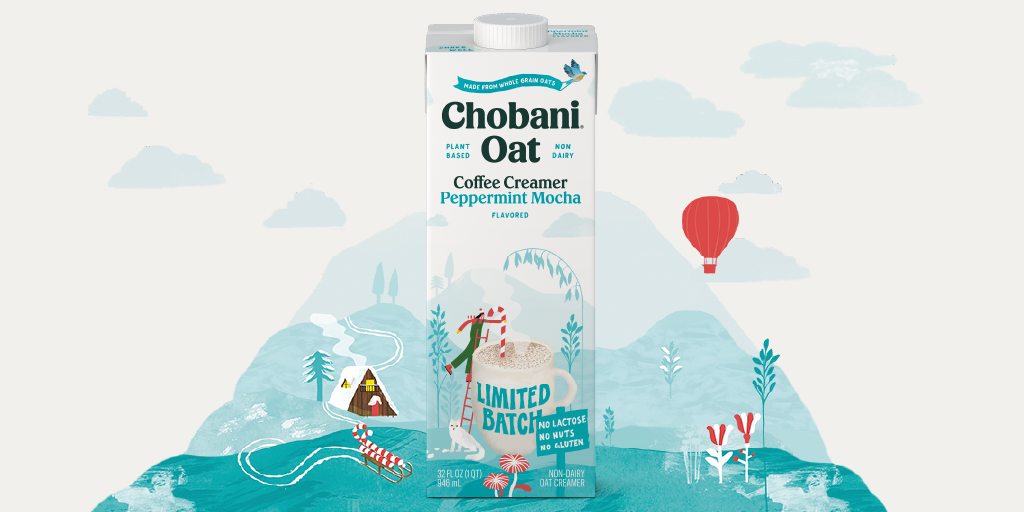 Chobani goes beyond yogurt
Chobani began in 2005 as a startup that produced dairy yogurt, but in 2019, the company expanded to plant-based products with the unveiling of a series of innovations in four new categories: oat milk, plant-based coffee creamers, ready-to-drink cold brew coffee, and plant-based probiotic drinks. Chobani also entered the vegan yogurt space with the launch of a coconut cream-based line. Fortified with probiotics, the Non-Dairy Chobani line included single-serving cups of plant-based yogurt in Blueberry, Peach, Slightly Sweet Plain, Strawberry, and Vanilla flavors, along with Mango, Slightly Sweet Plain, Strawberry, and Vanilla Chai yogurt drink varieties.
Chobani continued to explore non-dairy bases for its product development and in November 2019, the brand unveiled its The World of Chobani Oat platform to build upon its existing vegan options. Under the new sustainability focused oat line, Chobani released a wide variety of vegan yogurts in flavors such as Strawberry Vanilla, Blueberry Pomegranate, and Peach Mandarin, along with yogurts paired with crunchy toppings, and yogurt drinks. Chobani also created barista oat milk and zero-sugar oat milk.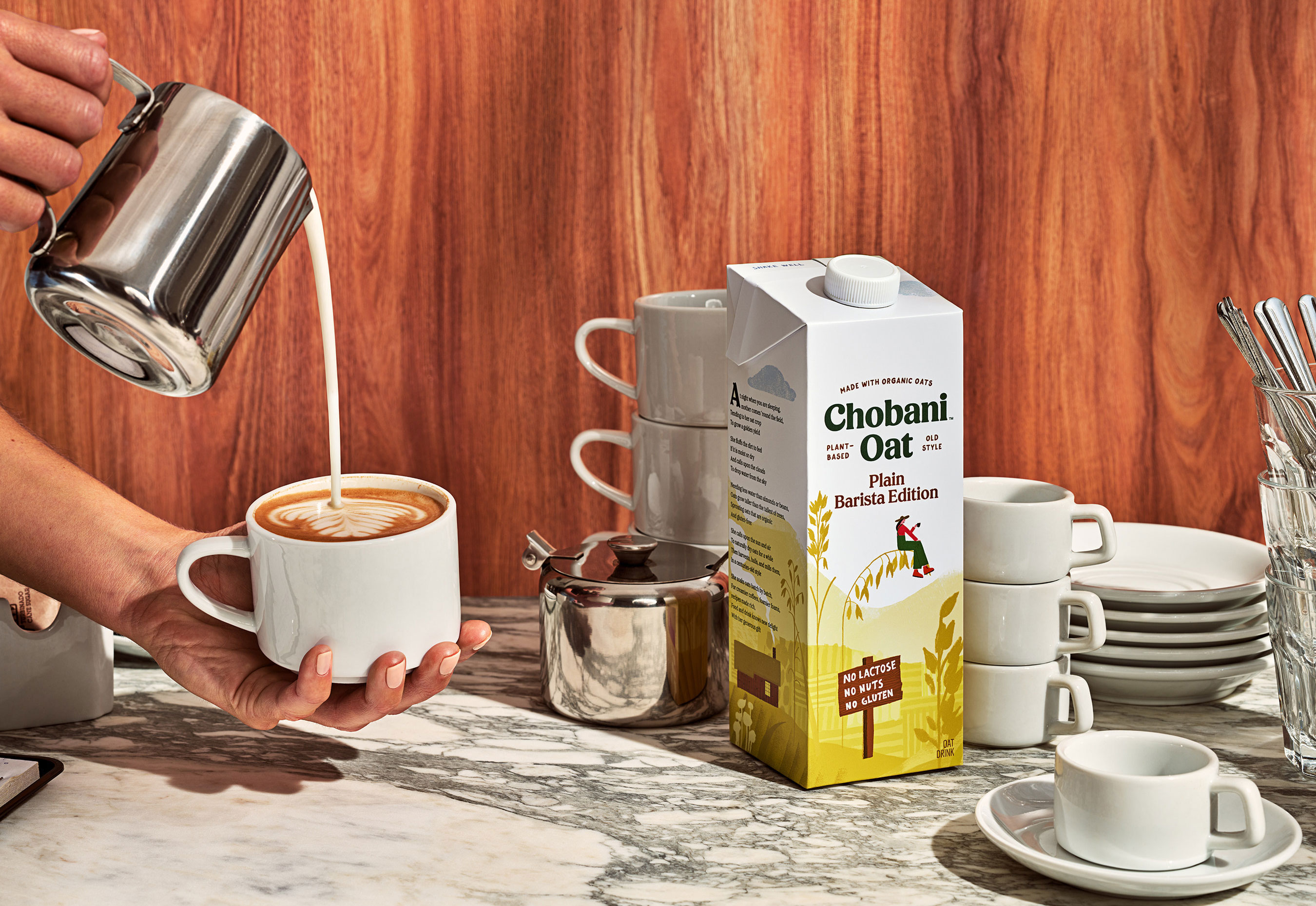 In 2020, Chobani further explored the coffee category with the launch of two oat-based creamers in original and vanilla flavors, and in 2021, the Greek yogurt brand launched a ready-to-drink coffee beverage with oat milk.
Recently, the brand has been focusing more on its sustainability efforts, which includes repackaging its vegan oat milk-based yogurts, oat milk carton, cold brew coffee, and creamers in paper cups instead of plastic. The yogurt cups are Chobani's latest effort and are made from 80 percent paperboard, replacing most of the plastic on its oat yogurt packaging with the exception of a thin plastic lining that preserves the integrity of the yogurt.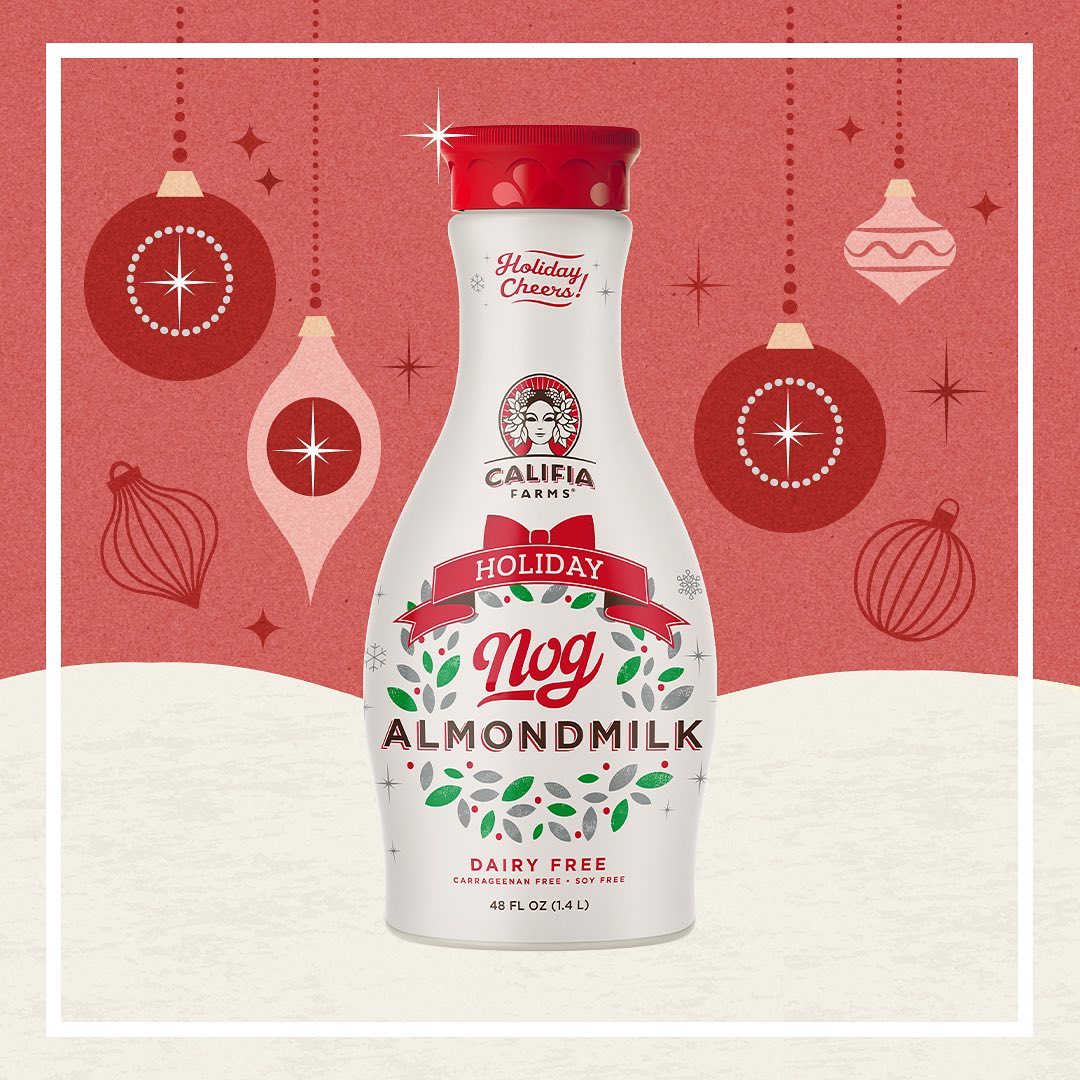 Vegan nog for the holidays
Chobani joins a growing number of vegan milk brands offering seasonal nogs for the holidays made from plant bases such as coconut, almonds, soy, cashews, and oats. Among its vegan holiday product offerings, supermarket chain Trader Joe's offers Almond Nog during the holiday season.
Popular non-dairy milk brand So Delicious also offers Holiday Nog Coconutmilk made with coconut milk and a hint of nutmeg; Califia Farms offers Holiday Nog Almondmilk with nutmeg, cloves, and ginger; Silk offers Dairy-Free Nog made with soymilk, nutmeg, and cinnamon; Milkadamia offers Veggnog made with macadamia nut milk; and Elmhurst recently launched Oat Nog that combines whole grain oats and cashews with holiday spices for a creamy drink without the dairy.
For more on vegan holiday products, read:
Violife Launches Vegan Cheese Holiday Platter in the US
Whole Foods Launches its Own Vegan Holiday Roast
20 Vegan Holiday Products to Look for on Your Next Grocery Trip