A new vegan brand that uses technology to replicate the juiciness, texture, and flavor of chicken is readying to make its retail and restaurant debut. Portland, OR-based CHKN Not Chicken (CNC) has just closed a $4.5 million Series A funding round that will allow it to debut its vegan chicken through ecommerce channels prior to launching at grocery stores and restaurants. CNC was developed over the course of two years by a group of flexitarians with the aim of helping omnivores cut down on meat.
"Our mission is to inspire consumers to live healthier, more sustainable lives and we believe the best way to achieve this vision is to create easy ways for people to enter the flexitarian lifestyle and cut meat out of their diets a couple of days a week," CNC co-founder and CEO Brian Pope told VegNews. "Small, sustainable changes in eating behavior for a large segment of the population will have a very large cumulative effect on both people's health and the environment."
CNC's soy- and gluten-free vegan chicken is made using a proprietary extrusion, flavor-infusion, and enrobing technology to create realistic pea protein-based vegan chicken that will be available in a shredded format in three flavors: Naked CHKN, Mexican-inspired Fiesta CHKN, and pan-Asian-inspired Zen. Eventually, the brand aims to introduce vegan products in other categories.
"We are also innovating to deliver consumers other forms of CHKN Not Chicken including breast and tenders," Pope said. "But the ultimate vision is to extend the brand into other proteins and our innovation pipeline includes Pork Not Pork, TRKY Not Turkey, and more. CHKN Not Chicken is just the beginning."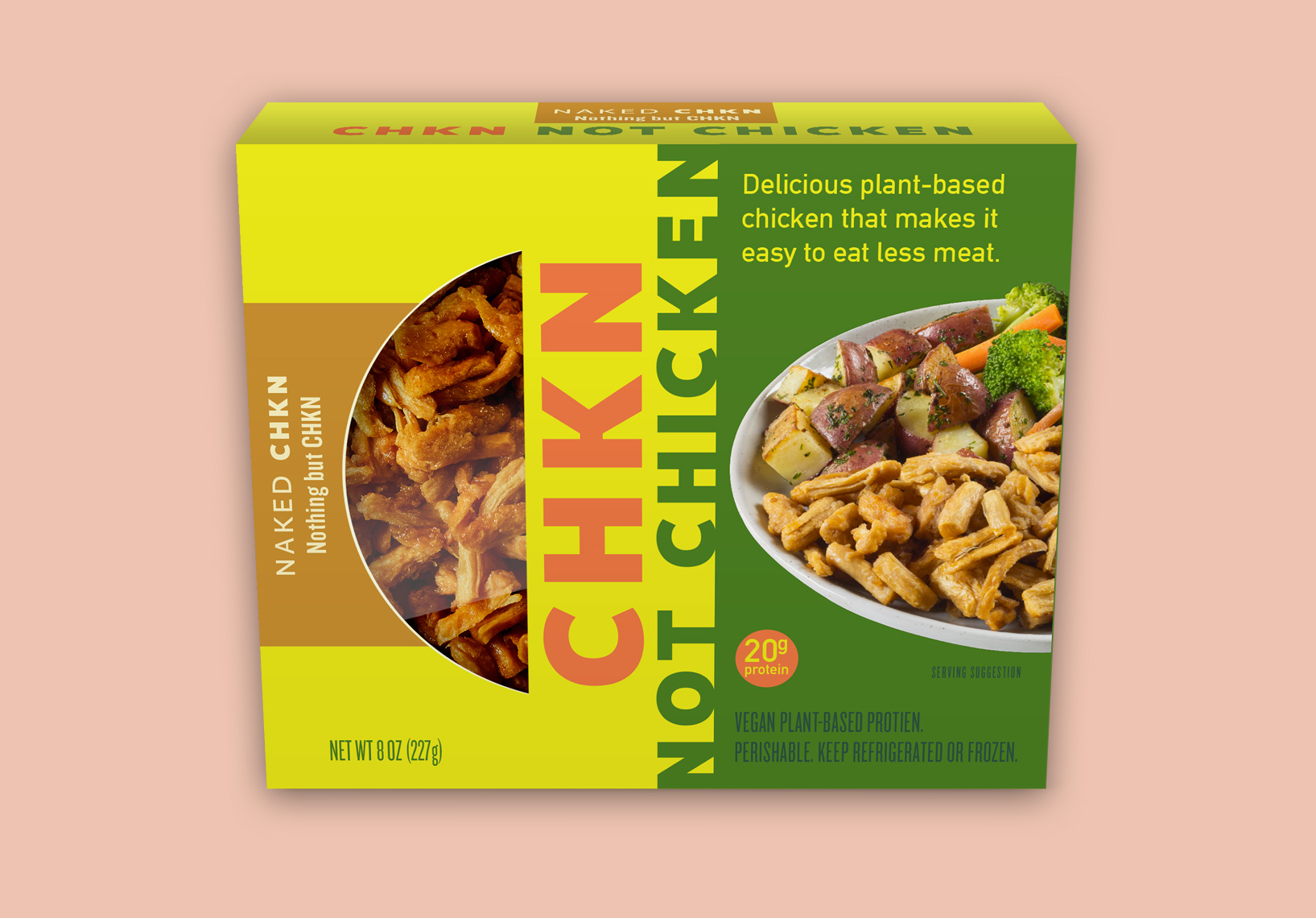 Vegan chicken takes flight
CNC tackled vegan chicken first to give consumers an alternative to the world's most-consumed (and abused) animal. Prior to his work at CNC, Pope was an executive at snack brand Popchips and Virgin Galactic—Sir Richard Branson's space flight company. With his new vegan brand, Pope aims to reach 5 million consumers in five years to help them replace chicken with his brand's vegan alternative which would result in greatly reducing the environmental impact of animal agriculture.
"Chicken is the most consumed meat in the world. In the US, consumption of chicken is two times that of beef and much higher than pork, turkey or other proteins," Pope said. "Chicken is also used in a wide range of recipes including tacos, stir fry, rice bowls, pasta, pizzas, and salads. Beyond Meat and Impossible Foods have created great alternatives to beef burgers, but there has not been as much innovation in the chicken space."
While Beyond and Impossible have yet to make a big dent in the chicken space, that might soon change. This summer, Beyond Meat launched its Beyond Chicken Tenders at 400 restaurants nationwide and partnered with several fast-food chains to create vegan chicken versions of their popular dishes, including Panda Express which tested Beyond the Original Orange Chicken at select locations in Southern California and New York in July.
Impossible Foods is also gaining ground in the vegan chicken space. This week, the brand announced the launch of its Impossible Chicken Nuggets at approximately 150 restaurants nationwide, including celebrity-chef owned Fuku, Joyland, and Red Rooster and chains such as Fatburger, Gott's Roadside, and Dog Haus. The soy-based vegan chicken nuggets will also be making their way to 10,000 grocery stores by the end of the year, including Walmart, Kroger, and Safeway.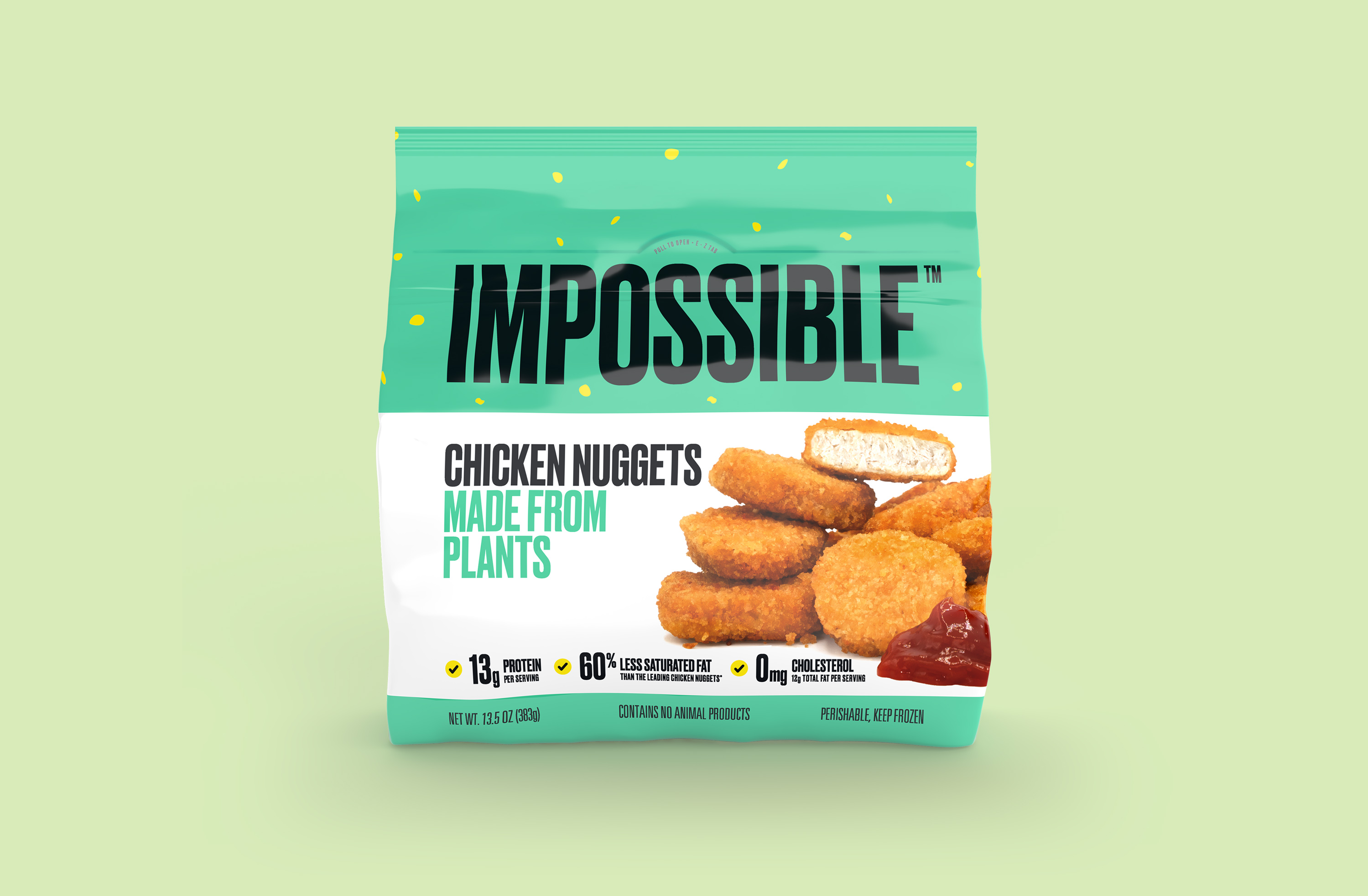 Vegan bacon is the holy grail
CNC is and always will be a vegan brand, but its founding members, including Pope, are still working to reduce their own consumption of animal products. "I am on the same journey as millions of Americans who are reducing their reliance on meat products and am incorporating plant-based meals regularly into my diet," Pope said. "The tremendous innovation that is currently happening in the plant-based food space is making it easier and more delicious to replace meat and brands like Good Planet Cheese are delivering amazing alternatives to dairy so many of my meals today are vegan. But if I am being truly honest, the allure of bacon may prevent me from going fully vegan."
Luckily, Beyond Meat CEO Ethan Brown has identified vegan bacon as a "holy grail" innovation and his company is working to make indistinguishable plant-based versions of the pork product. Currently, Beyond Meat is exploring alternatives to a wide variety of animal products and has filed 108 trademarks with the United States Patent and Trademark Office, including one for Beyond Bacon.