Vegan brand Beyond Meat is exploring alternatives to a wide variety of animal products and has filed 108 trademarks with the United States Patent and Trademark Office (USPTO). While some terms are familiar and expected, others are for potential products that Beyond Meat has not discussed publicly, including Beyond Crab, Beyond Shrimp, and Beyond Tuna in the plant-based seafood space; general terms such as Beyond Brunch, Beyond Bowls, and Beyond Deli; and new categories such as Beyond Eggs and Beyond Jerky.
This week, the company filed for its latest set of trademarks around the term "Beyond Milk," with one filing related to the logo, another to cover plant-based milks, and a third that focuses on its use as a base for making milk shakes, and as part of coffee or tea beverages. The company also previously filed to trademark Beyond Cheese, but the USPTO rejected its application as a British company (Beyond Cheese, Ltd) currently holds that trademark. In January, Beyond Meat filed a petition to cancel the British company's trademark.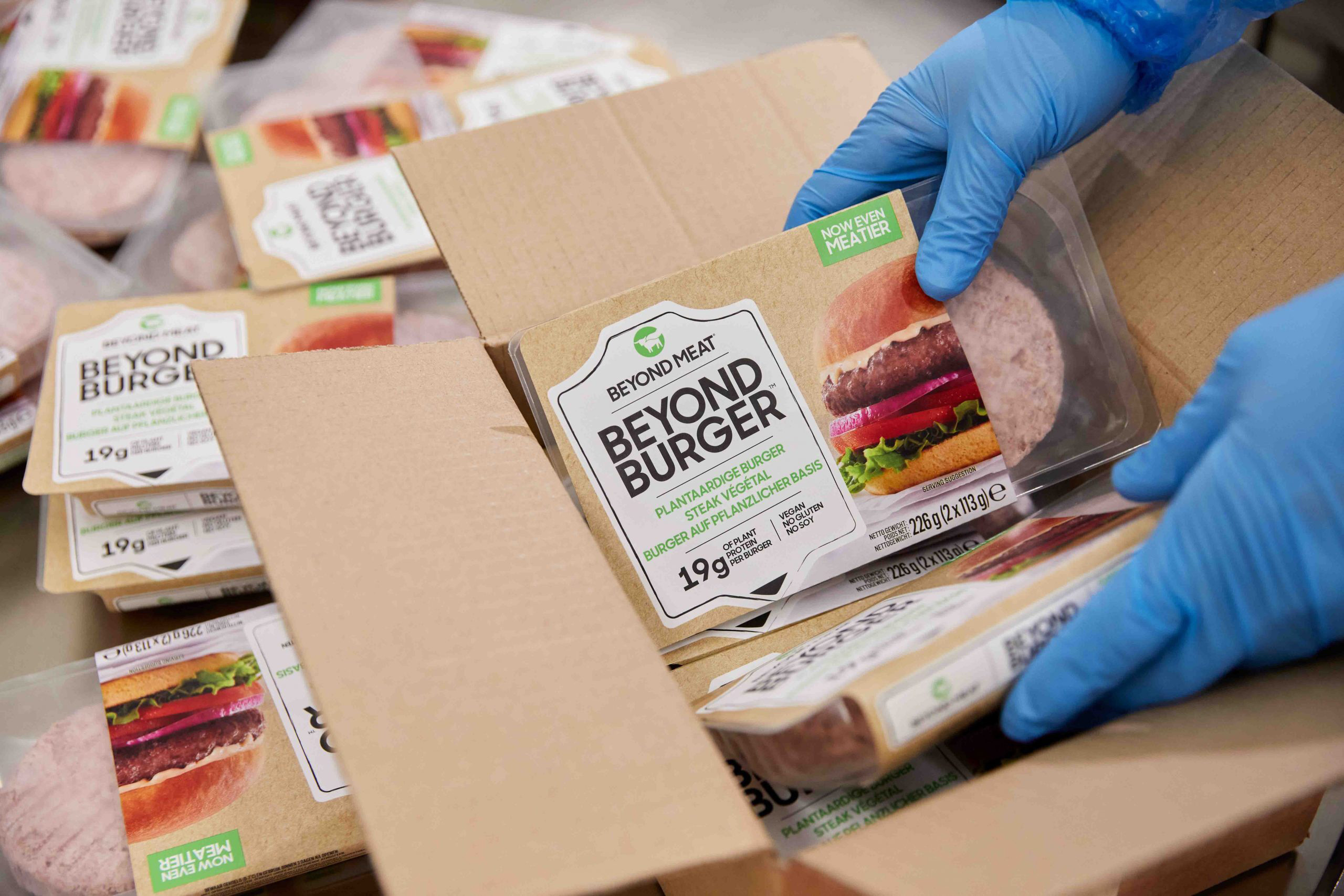 Last October, the company also filed applications to trademark Beyond Bacon, which is one of the "holy grail" vegan meat innovations according to Beyond Meat CEO Ethan Brown. "The real test for us is to make each of our platforms—beef, pork, and poultry—indistinguishable from animal protein," Brown told The Wall Street Journal this summer. "How do you make a raw chicken breast with the translucent skin, the color transition that occurs? Steak, given its distribution of fat and protein, and, of course, bacon? Those three things are the holy grail."
The majority of Beyond Meat's trademarks are filed as "intent to use," meaning the company aims to secure the trademark with the intent to use it in the future. VegNews has reached out to Beyond Meat to inquire more about its trademark applications.
Vegan chicken, pepperoni, and beyond
Beyond Meat currently holds several registered trademarks, including Beyond Burger, Beyond Beef, Beyond Sausage, Beyond Chicken, a more specific Beyond Fried Chicken, and more. The brand has already commercialized products using these trademarks—most notably in the plant-based beef space—and is now moving on to new categories.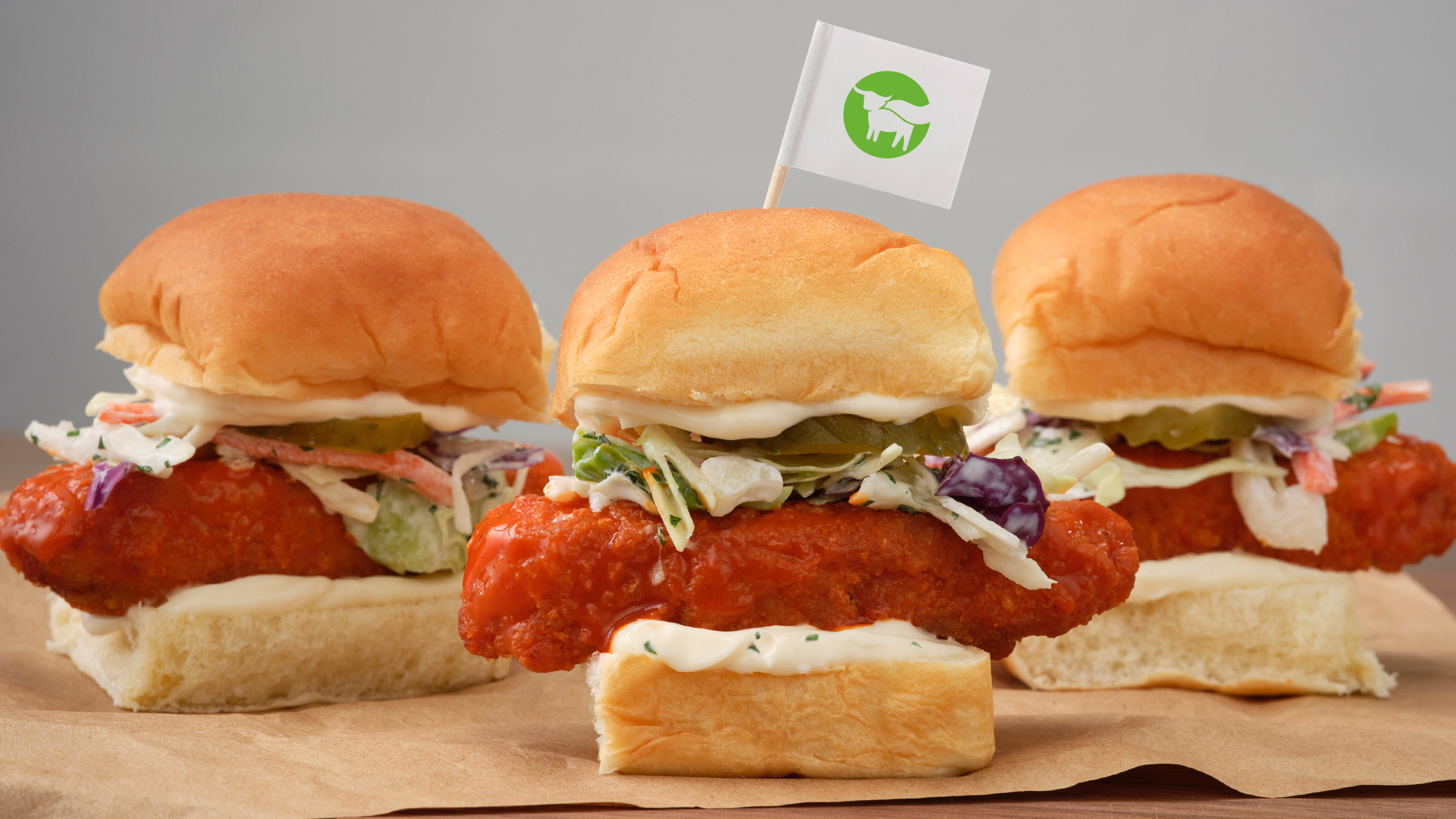 While Beyond Meat's trademark for Beyond Chicken has been registered since 2014, the brand only recently made big moves in the vegan chicken space. Beyond Meat offered plant-based chicken strips in 2012 but discontinued them and set off on a decade-long journey to create vegan chicken that mimics the real thing. This summer, Beyond Meat launched Beyond Chicken Tenders at 400 restaurants across the United States. These breaded tenders are made from a combination of faba beans and pea protein and were developed to be used in a variety of dishes, from sandwiches to pastas to appetizers, as a one-for-one substitute to animal-derived chicken.
Beyond Meat is also working directly with established fast-food chains to develop bespoke plant-based meat solutions. In addition to working with KFC in 2019 on a wildly successful test launch of Beyond Fried Chicken at select locations, this year, Beyond Meat teamed with Panda Express to create a vegan version of its popular orange chicken. In late July, Panda Express tested the creation, dubbed Beyond The Original Orange Chicken (BTOOC), at a handful of locations in the New York City and Los Angeles regions. On the first day of launch, Panda Express sold 1,300 pounds of BTOOC and completely sold out of the vegan orange chicken at its Southern California locations.
Similarly, Beyond Meat worked with Pizza Hut on a soy-free vegan pepperoni that crisps in the same way as its pork-based counterpart but without any animal products. The new Beyond Pepperoni (a term the company filed to trademark last year) is made from a blend of rice and peas and is now available at 70 Pizza Hut locations in five cities for a limited time.
Taking animals out of the food system
Examining Beyond Meat's trademark applications shows that the company is looking to disrupt the global food system in a big way and from many angles, all with the mission to replace animals with plants as a food technology. Beyond Meat's biggest competitor, Impossible Foods, has similar aspirations and with a concrete timeline. Impossible Foods CEO Pat Brown (no relation) is looking to create viable plant-based alternatives to all animal products by 2035.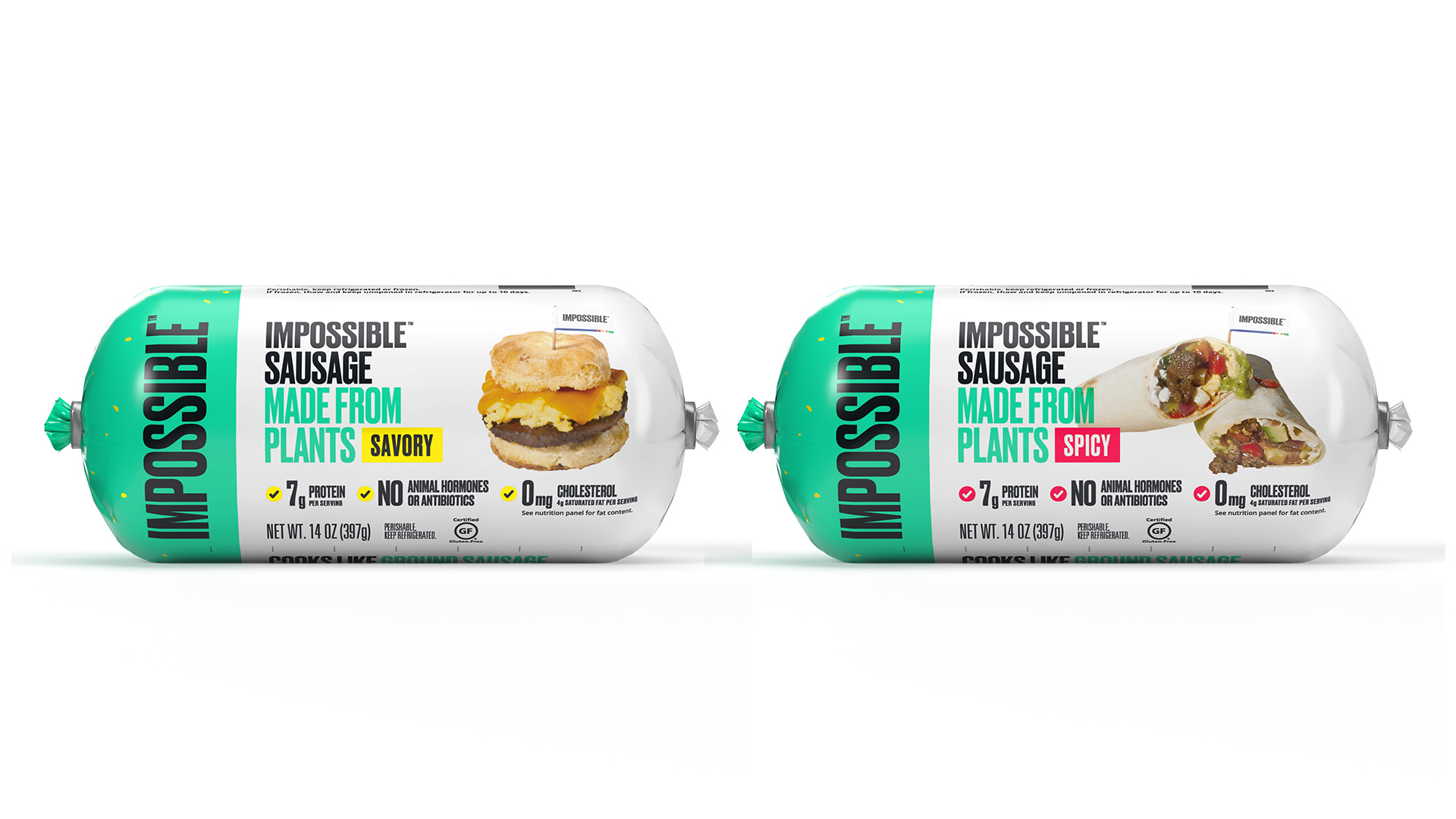 To that end, Impossible Foods is also developing products beyond the Impossible Burger, its flagship beef alternative. This month, the company expanded the Impossible Sausage to 13,000 retailers after launching the plant-based pork alternative with foodservice partners such as Starbucks, Burger King, and Jamba. Last year, Impossible Foods also showed a prototype of its own plant-based milk alternative, the yet-to-be-named "Impossible Milk", which is being developed to mimic dairy milk in terms of texture, taste, and functionality. In the chicken category, Impossible Foods unveiled its Impossible Chicken Nuggets at the DOT Foods trade show in July. The company aims to debut its vegan chicken nuggets through the foodservice sector, potentially on school lunch menus, prior to launching Impossible Chicken Nuggets in retail.