Jewish or not, everyone with a sweet tooth can enjoy the food traditions of Rosh Hashanah. This New Year celebration revloves heavily around fruit and sweet food in general, and it's an excellent occasion to get in the mood for fall baking. We've found nine fruity desserts from traditional round raisin challah to adventurous gooseberry cupcakes so you can make the most of this sweet celebration.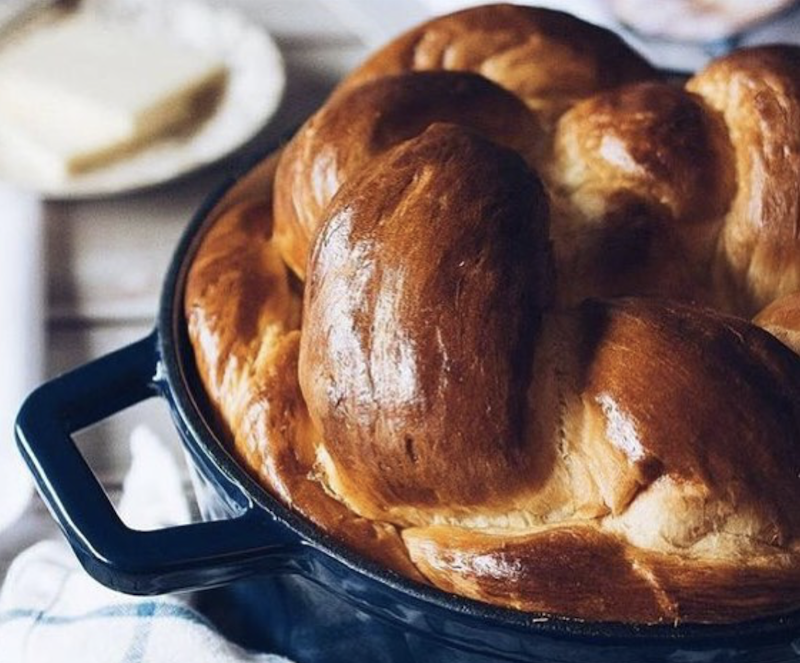 Challah Hub
1. Round Raisin Challah by Challah Hub
Of all the challah recipes we've tried, this one never fails. It's an everyday challah that is easily customized—we've even made cinnamon rolls out of this foolproof dough. For traditional Rosh Hashanah challah, work a cup of raisins into the dough after its second rise (right before you form it into a circle). Just before it's about to go into the oven, brush the top and sides with a scant amount of non-dairy milk then sprinkle cinnamon sugar over it for an extra sweet treat.
Get the recipe here.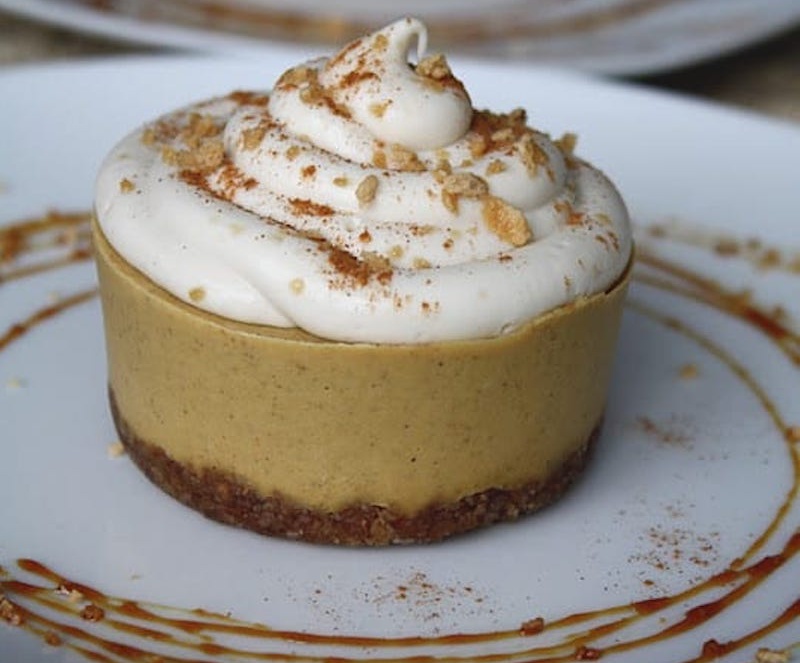 Sweetly Raw
2. Pumpkin Lucuma Cheesecake by Sweetly Raw
Rosh Hashanah tradition dictates trying a different fruit every year. As vegans, we may think we've tried every fruit under the sun—but have you tried lucuma? This fall recipe calls for a powdered variety, but you can also find frozen lucuma in some Latin markets or online. The flesh looks like that of a mango's, but it has a wonderful caramel taste to it and pairs perfectly with pumpkin and sweet potatoes. Make this raw cheesecake for Rosh Hashanah, then mix in some lucuma into your fall pies for a je ne sais quois flavor that will keep all your friends and family guessing.
Get the recipe here.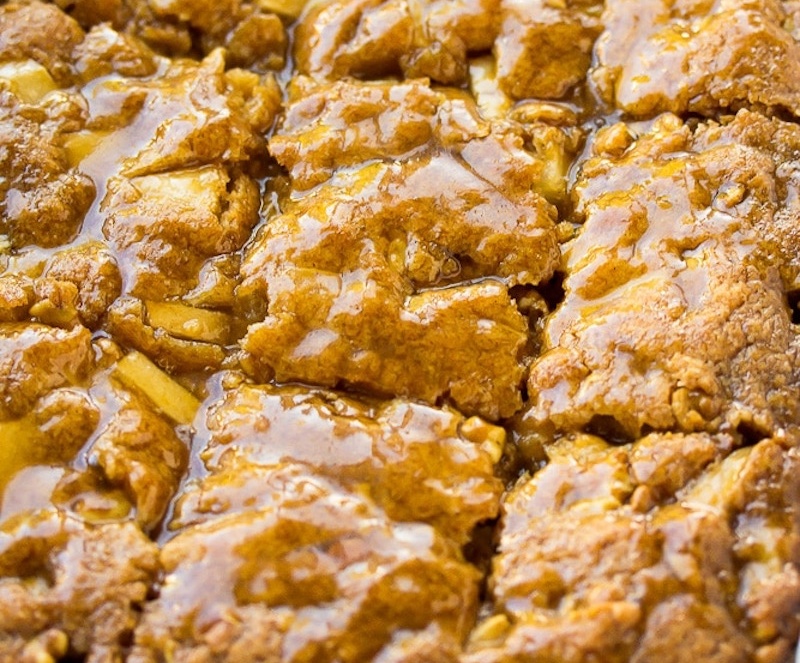 Nora Cooks
3. One-Bowl Vegan Apple Cake by Nora Cooks

Sure, you could dip some apple slices into a jar of vegan honey or agave to check off that tradition box, but with just a bit more effort, you can dive into a stunning, caramel-coated apple cake. It's a great way to use up those fresh apples from apple picking (tis the season), and it all comes together in ninety minutes from start to slicing. This dessert also freezes beautifully, so you can enjoy this treat well after the holiday comes to a close.
Get the recipe here.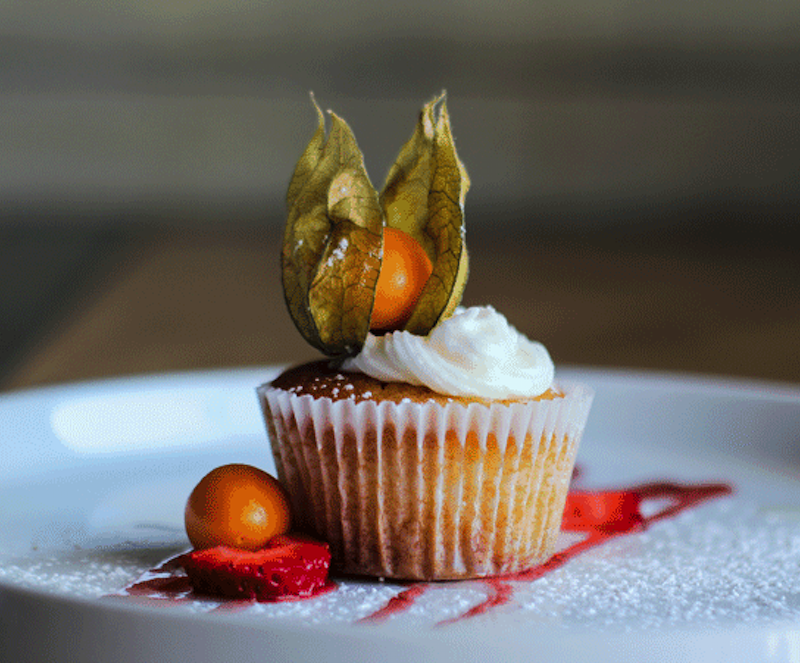 Rachel Carr
4. Pisco Sour Cape Gooseberry Cupcakes by Rachel Carr
If you can find gooseberries (try Latin markets or Amazon), you need to make these cupcakes. The flavors are inspired by the national drink of Peru—the Pisco Sour—and combines the earthy sweetness of the gooseberries with a tart hint of lime. The mild vanilla buttercream brings everything together in each intriguingly delicious bite.
Get the recipe here.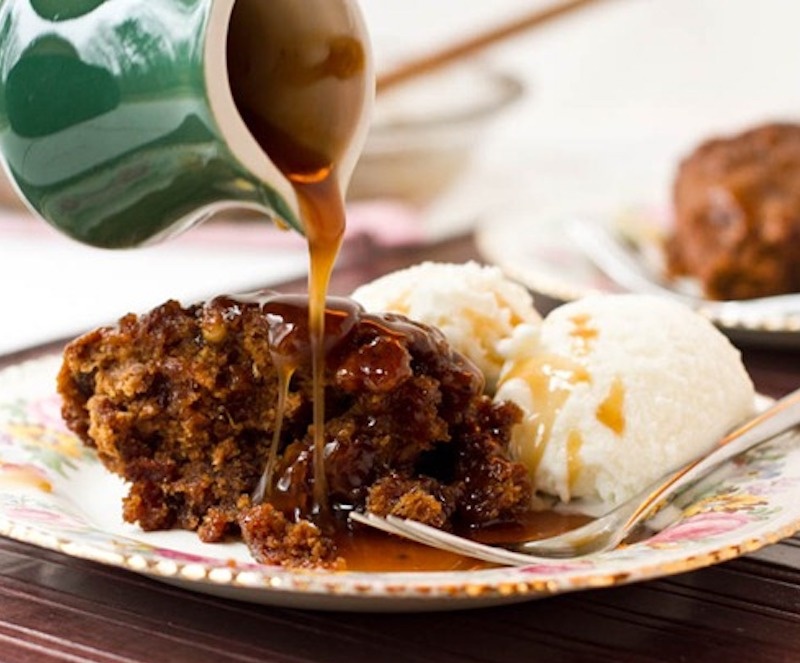 Oh She Glows
5. Sinless Sticky Toffee Pudding by Oh She Glows
For those who live in cooler climates, this decadent date-studded sticky toffee pudding will warm you from the inside out. It's tender, not-too-sweet, and gooey with a bit of crunch from a sprinkling of roasted walnuts. Be liberal with the caramel drizzle and serve with vegan ice cream.
Get the recipe here.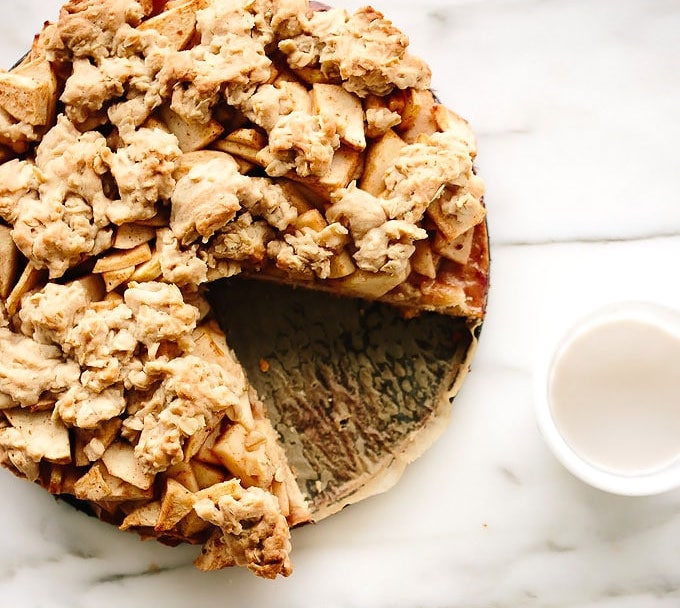 Blissful Basil
6. Caramel Apple Crumble Pie by Blissful Basil

Ashley Melillo of Blissful Basil has perfected this cozy autumn favorite. The mountain-high pile of tender, caramely apples topped with mounds of oat-packed crumble is well worth it. Serve it for dessert than indulge in a slice for breakfast—we've found it pairs wonderfully with coffee.
Get the recipe here.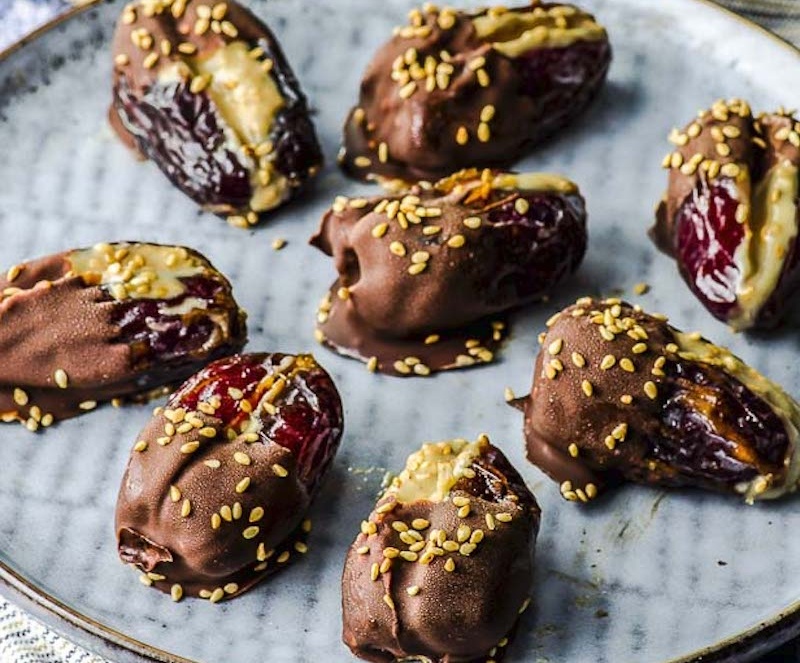 May I Have That Recipe
7. Halva-Stuffed Dates Dipped in Chocolate by May I Have That Recipe
While bite-sized, these desserts over deliver in both flavor and texture. Sweet, melt-in-your-mouth medjool dates are stuffed with a cardamom-spiced spoonful of sweetened tahini then rolled in chocolate and crunchy toasted sesame seeds. Pile them on a party tray and watch them disappear.
Get the recipe here.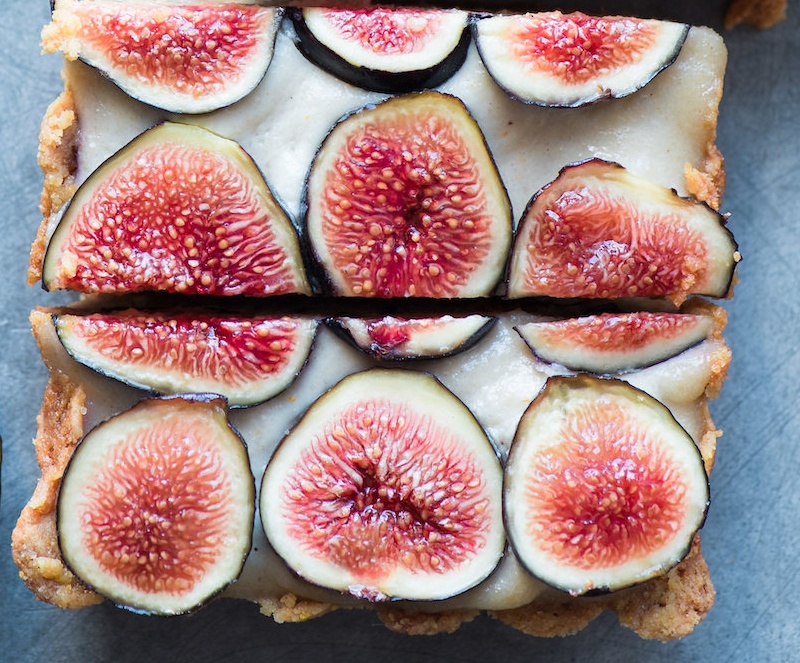 Rainbow Plant Life
8. Fig Tart with Coconut-Cashew Cream by Rainbow Plant Life
Take advantage of fig season with this Instagram-worthy tart. The heavy cashew and coconut cream filling is balanced by the addition of fresh figs, because when they're in season, there's no need to sweeten or adorn them in any way. If your experience with figs has been limited to Fig Newtons, this will taste like an entirely different fruit—in the best way.
Get the recipe here.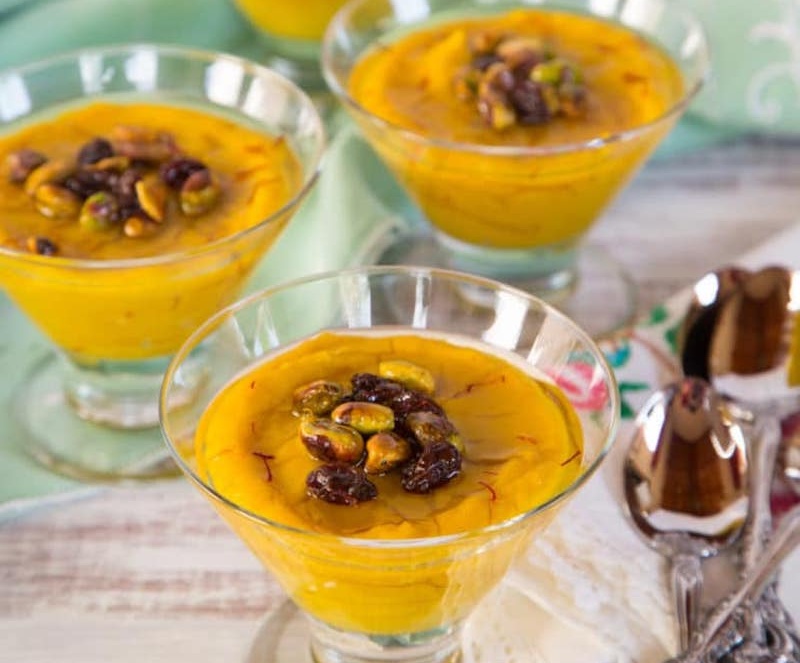 Tori Avey
9. Persian Saffron Pudding by Tori Avey
This creamy orange treat will change your perspective on pudding. Flavored with a blend of warm spices—such as star anise, cardamon, and cinnamon—and an unexpected orange blossom syrup, this thick custard is far more sophisticated than the lunchbox pudding cups we grew up with. Crunchy pistachios and chewy golden raisins add texture to create a show-stopping dessert.
Get the recipe here.

Tanya Flink is a Digital Editor at VegNews as well as a writer and fitness enthusiast living in Orange County, CA.
JUST LAUNCHED! Get our 10 Easy Vegan Summer Meals recipe book as a FREE instant download.
JUST LAUNCHED! Get our 10 Easy Vegan Summer Meals recipe book as a FREE instant download.