Model Winnie Harlow recently wore a haute couture vegan dress made from cocoa bean husks to the 2022 British Fashion Awards. For the dress, ice cream brand Magnum—which offers a range of vegan ice cream bars—partnered with luxury Dutch fashion designer Iris van Herpen to design the vegan dress inspired by its dairy-free ice cream.
The vegan dress first debuted earlier this year during Paris Fashion Week at Elysée Montmartre theater in Paris for van Herpen's 15th anniversary show, called "Meta Morphism." The dress and the rest of the collection explored society's acceptance of digitalism with the arrival of the 3D virtual world called the Metaverse and how this is becoming an increasingly prevalent part of everyday life.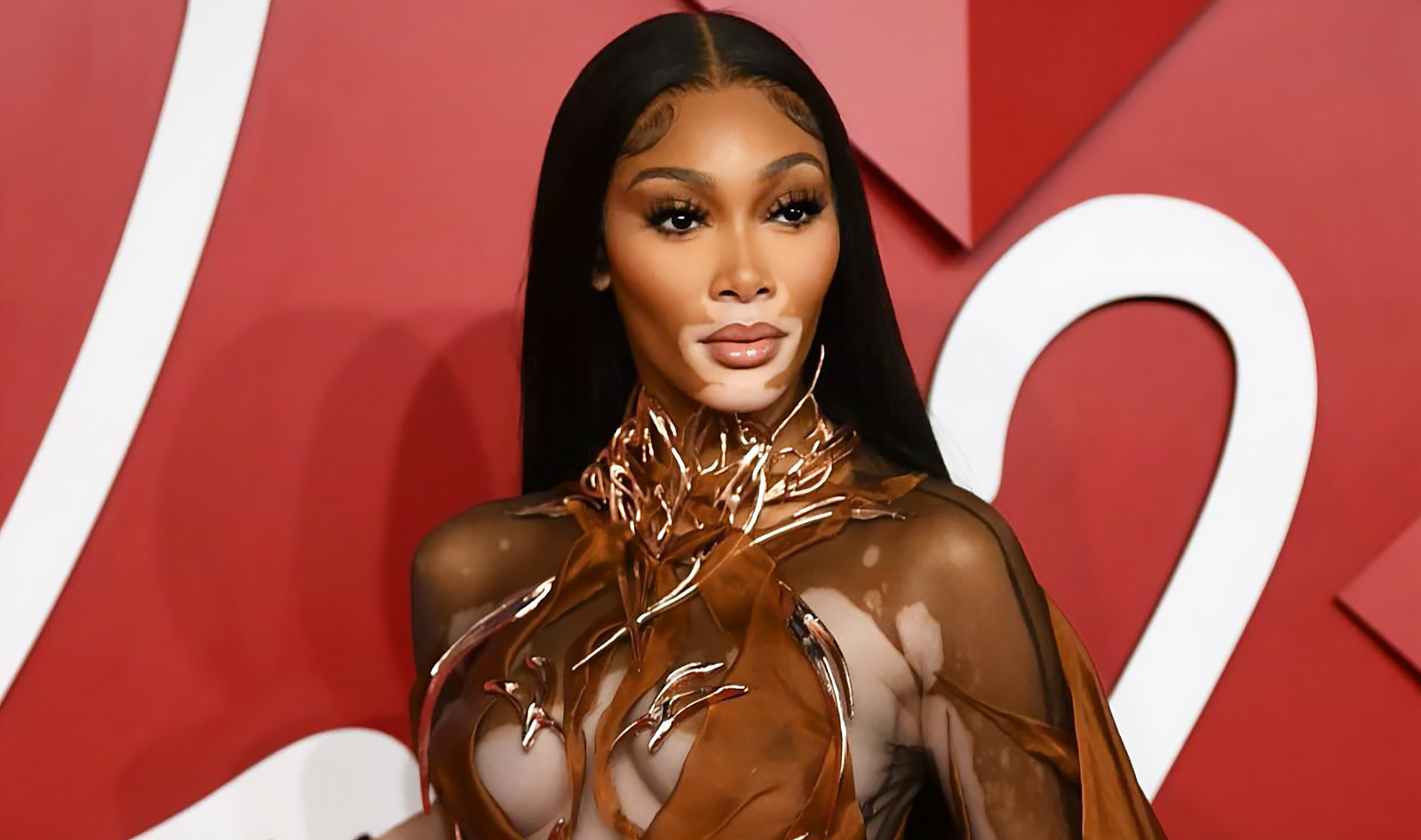 Winnie Harlow
Inspired by Ovid's classic poem "Metamorphoses," the designer breaks down the lines between reality and digital realms in a futuristic, avant-garde collection designed to inspire and evoke the question of who we are beyond a perceived reality.
"What an honor to be able to reveal the Magnum Vegan Dress to the world—and to be able to do this at Iris's 15th anniversary show just makes this even more special," Cindy Bruna, who modeled the dress on the runway at Paris Fashion Week, said in a statement. "Bringing together ice cream and haute couture in such an unexpected and impactful way is so exciting, making this a partnership that I am delighted to be a part of."
The first of its kind for the brand, the Magnum Vegan Dress was designed and created using an intricate 3D design and incorporating sustainable materials that reference Magnum ice cream's vegan ingredients in a fusion between the brand's melting chocolate and van Herpen's luxurious fluid designs.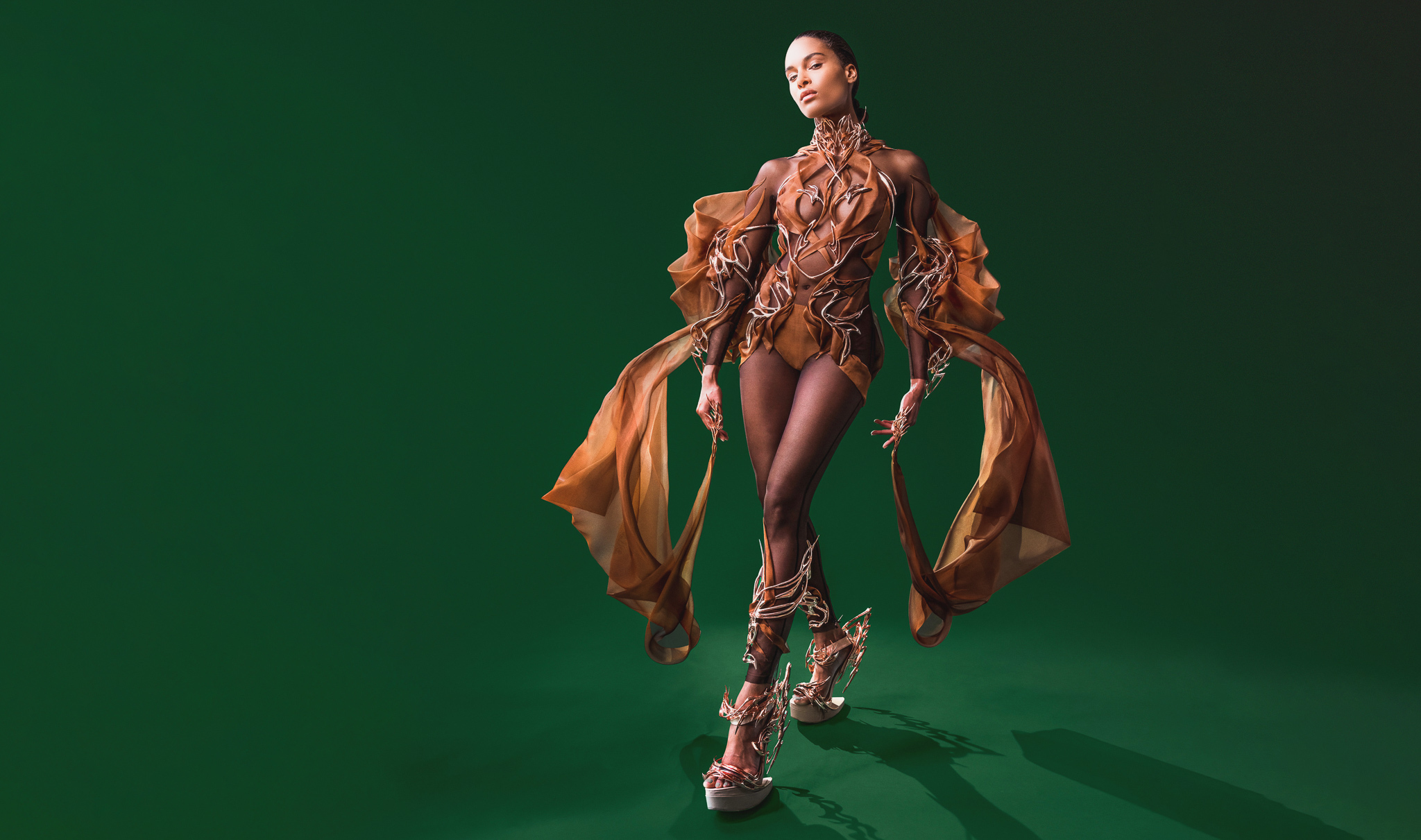 Magnum
With the aid of 3D printing technology, the dress is also the first haute couture dress to be made from cocoa bean husks, which have been processed to create a fully organic biopolymer material.
Upcycling for sustainable vegan fashion
The Magnum Vegan Dress features intricate details including plant-like body embellishments, which are copper-coated, draped, and entwined with upcycled and pliseed organza, while other 3D elements have been printed using innovative selective laser sintering technology. The creation of the dress supports Magnum's and van Herpen's ambitions to work towards a fully sustainable production chain within the fashion industry and beyond.
"As a designer, I have always worked to push the boundaries of design and this collaboration has really allowed us to take this one step further by linking the ingredients of an iconic Magnum Vegan to create a haute couture design," van Herpen said in a statement. "The opportunity to work with the brand on such an innovation in sustainable fashion has been a very special experience."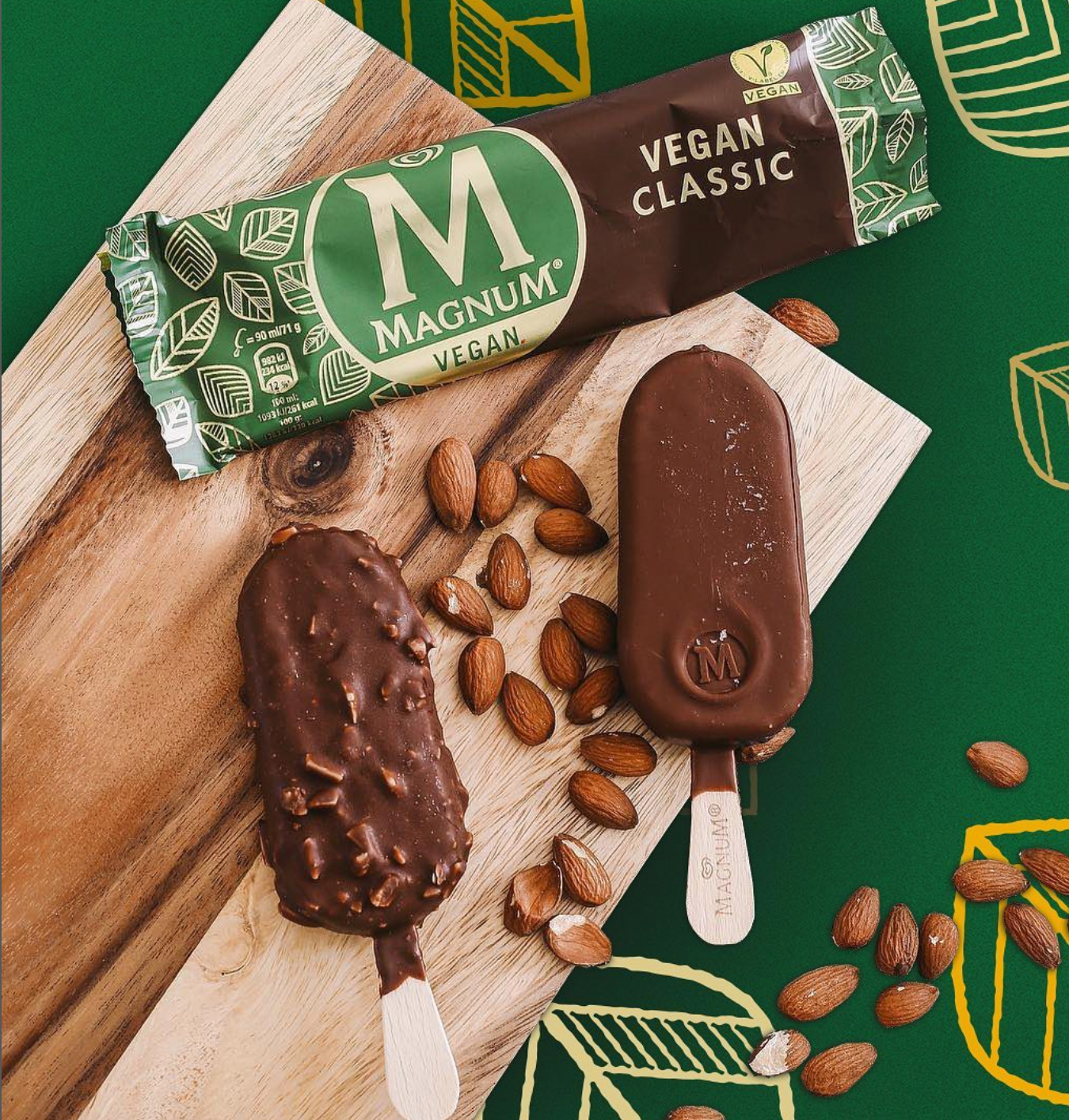 Magnum
In an effort to help move the fashion industry towards a more circular economy, Magnum is also partnering with the University of Leeds in England to commission a research project with the Leeds Institute of Textiles and Colour (LITAC) in the School of Design to look at how Magnum ice cream can bring to life accessible, sustainable fashion using byproducts from its core ingredients. This is part of the brand's long-term commitment of revolutionizing its waste products into a viable, circular solution.
Magnum vegan ice cream
The haute couture dress might be a first for any ice cream brand and commemorates Magnum's journey into the realm of dairy-free ice cream. The brand launched in the United States in 1989 but its first vegan flavors weren't introduced until 2018, first launching in Europe and Australia before expanding to the US in 2019.
At first, the Magnum Non-Dairy frozen dessert bars were available in Classic and Almond flavors, both of which featured a creamy vanilla ice cream base that is dipped in vegan Belgium chocolate.
To give customers even more choice, in 2020 the brand expanded its vegan offerings to include Non-Dairy Sea Salt Caramel bars, made with a caramel ice cream base that is dipped in non-dairy chocolate. And earlier this year, Magnum added Non-Dairy Hazelnut Crunch Bars to its lineup, which feature a hazelnut ice cream base with salted caramel swirled throughout, which is dipped in caramelized hazelnuts and non-dairy chocolate.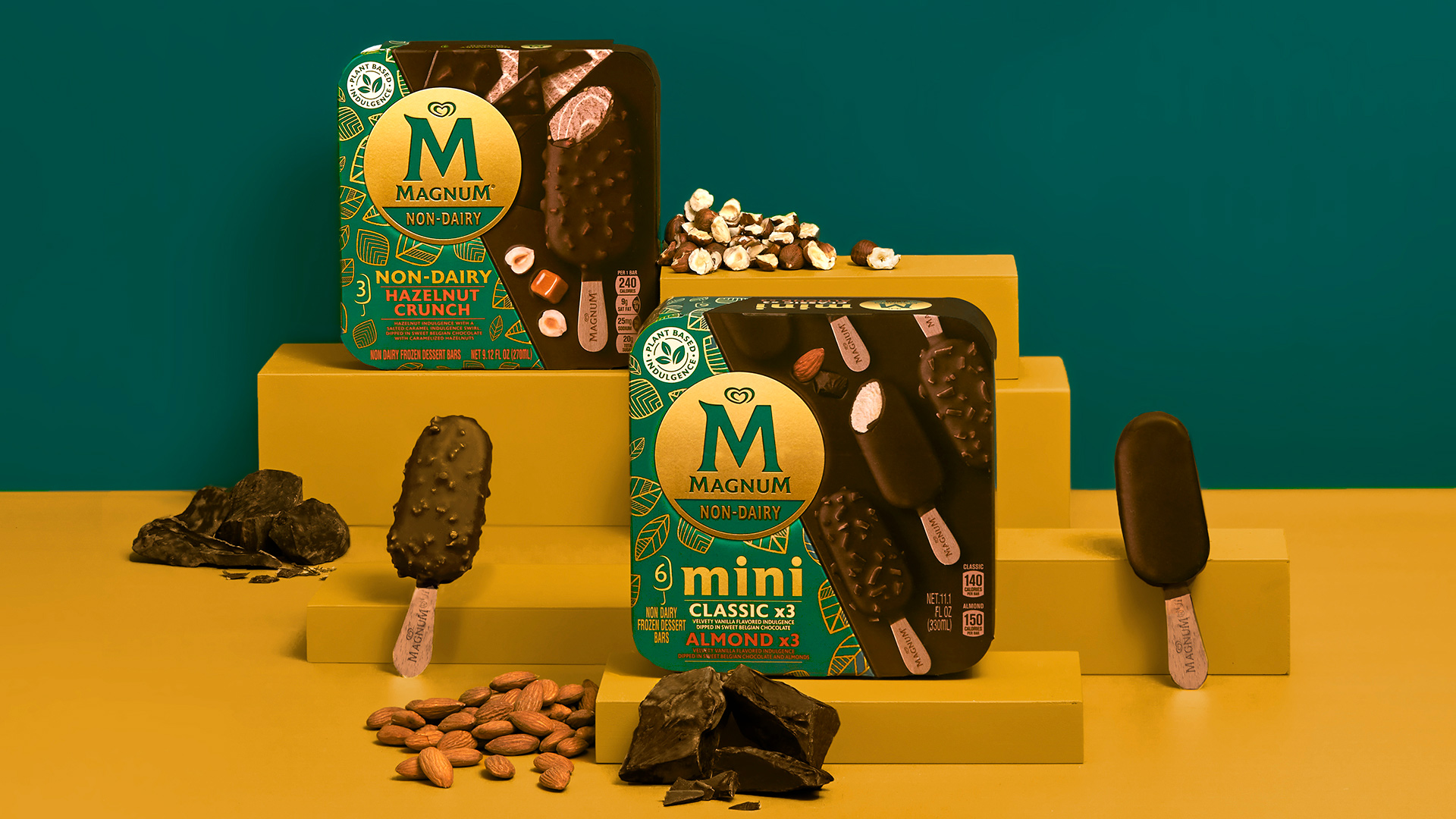 Magnum
In addition to the Hazelnut Crunch flavor, Magnum released a new format of vegan ice cream bars. Previously only available in dairy varieties, Magnum now offers its existing vegan ice cream flavors in snackable mini bars. The Magnum Non-Dairy MINI Variety Pack features three mini bars of Classic and Almond vegan flavors.
"We believe everyone should be free to indulge in the lifestyle they choose, and that of course includes treats such as Magnum ice cream," Nicole Towner, the US Brand Manager of Magnum ice cream, previously told VegNews. "As we listen to our fans and continually release non-dairy ice cream offerings, we are providing more options for consumers to experience the indulgence of Magnum ice cream."
For the latest vegan news, read: