This weekend, Martha Stewart and friends enjoyed vegan egg sandwiches during a brunch the lifestyle guru hosted in Los Angeles prior to watching the Super Bowl. The sandwiches featured JUST Egg Folded (a vegan egg replacer made with mung beans), a crispy hash brown, avocado aioli, and a hint of spicy pico de gallo on a vegan brioche bun. The sandwiches were expertly prepared and delivered by Plant Food + Wine Venice, an upscale vegan restaurant owned by chef Matthew Kenney.
The brunch was co-hosted by supermarket chain Ralphs as part of The Kroger Co.'s Zero Hunger/Zero Waste campaign, which aims to eliminate food waste while creating communities that are free from hunger by 2025. During this event—which benefited local nonprofit Los Angeles Mission—guests dined on vegan egg sandwiches and other brunch foods, listened to live music, and packed lunches for people experiencing hunger and homelessness in the Los Angeles area. Ralphs also donated $100,000 to support the life-saving work of the Los Angeles Mission.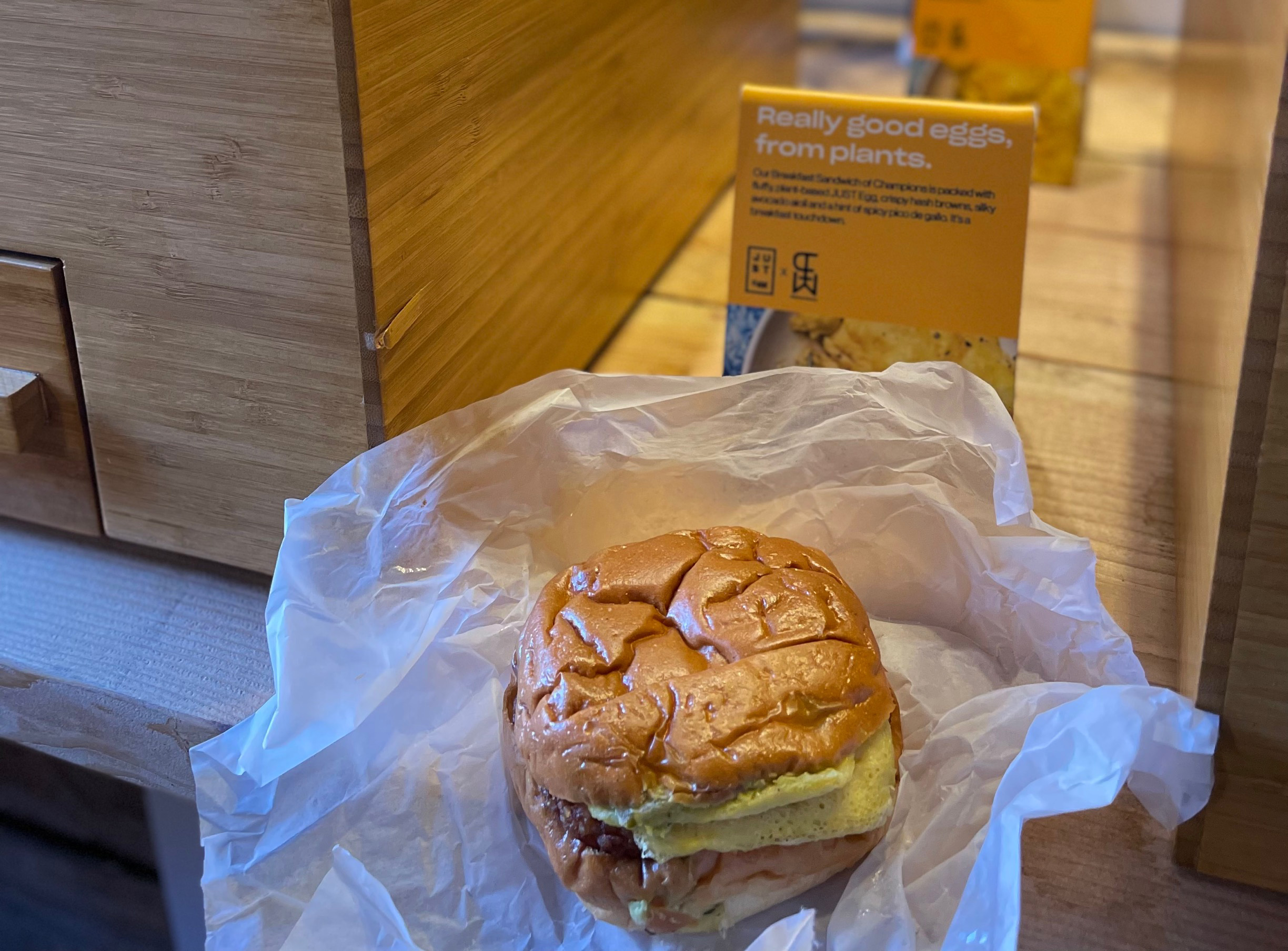 Ethan Glanger
"When we heard that Martha Stewart and Ralphs were hosting an event to honor two incredible football teams and give back meaningfully with a friendly competition packing fresh meals for those struggling with hunger in the Big Game's host city, we had to be part of it," Andrew Noyes, Head of Global Communications at JUST Egg-maker Eat Just, told VegNews. "We're thankful to have had a modest role in a fun and impactful morning and support an initiative that aligns with our mission to build a more equitable and just food system."
In addition to hosting this brunch event, Stewart and longtime friend Snoop Dogg reunited to host the annual Puppy Bowl to help its adoptable puppy participants find forever homes.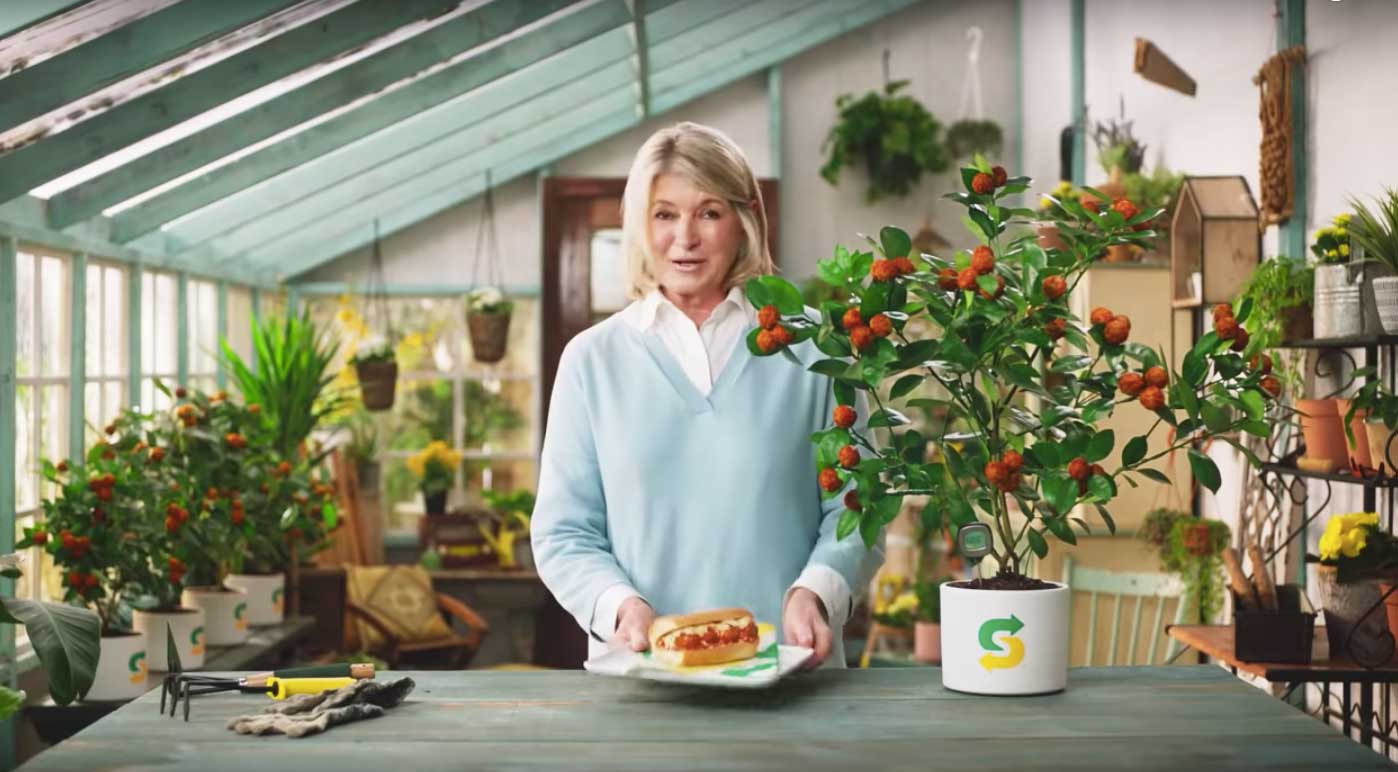 Subway
Martha Stewart's vegan ventures
For several years, Stewart has been outspoken about the environmental benefits of plant-based meat. In early 2020, Stewart partnered with Subway to promote the launch of the Beyond Meatball Marinara sub—made with vegan meatballs by Beyond Meat, a vegan company which counts the lifestyle guru as an investor—at the sandwich chain's Canadian locations. Subway expanded the meatless sandwich across Canada (which has since disappeared from the menu) after testing it in 2019 at 685 North American locations.
Later in 2020, Stewart continued her partnership with Beyond Meat to promote the retail launch of its Beyond Breakfast Sausage by creating new recipes that feature the vegan sausage and sharing them with fans in an effort to highlight the importance of reducing meat consumption to fight climate change.
Stewart is also an investor in burger chain Burgerfi, an early entrant adopter of the plant-based shift which added the Beyond Burger to its menu in 2017. "I think [vegan meat] has a lot of potential," the 80-year-old told Fortune in 2021. "I have been an investor in Beyond Meat, and I've been trying older products for several years now. For vegetarians, for people who like the idea of a hamburger but don't like the idea of meat, it is such a nice answer."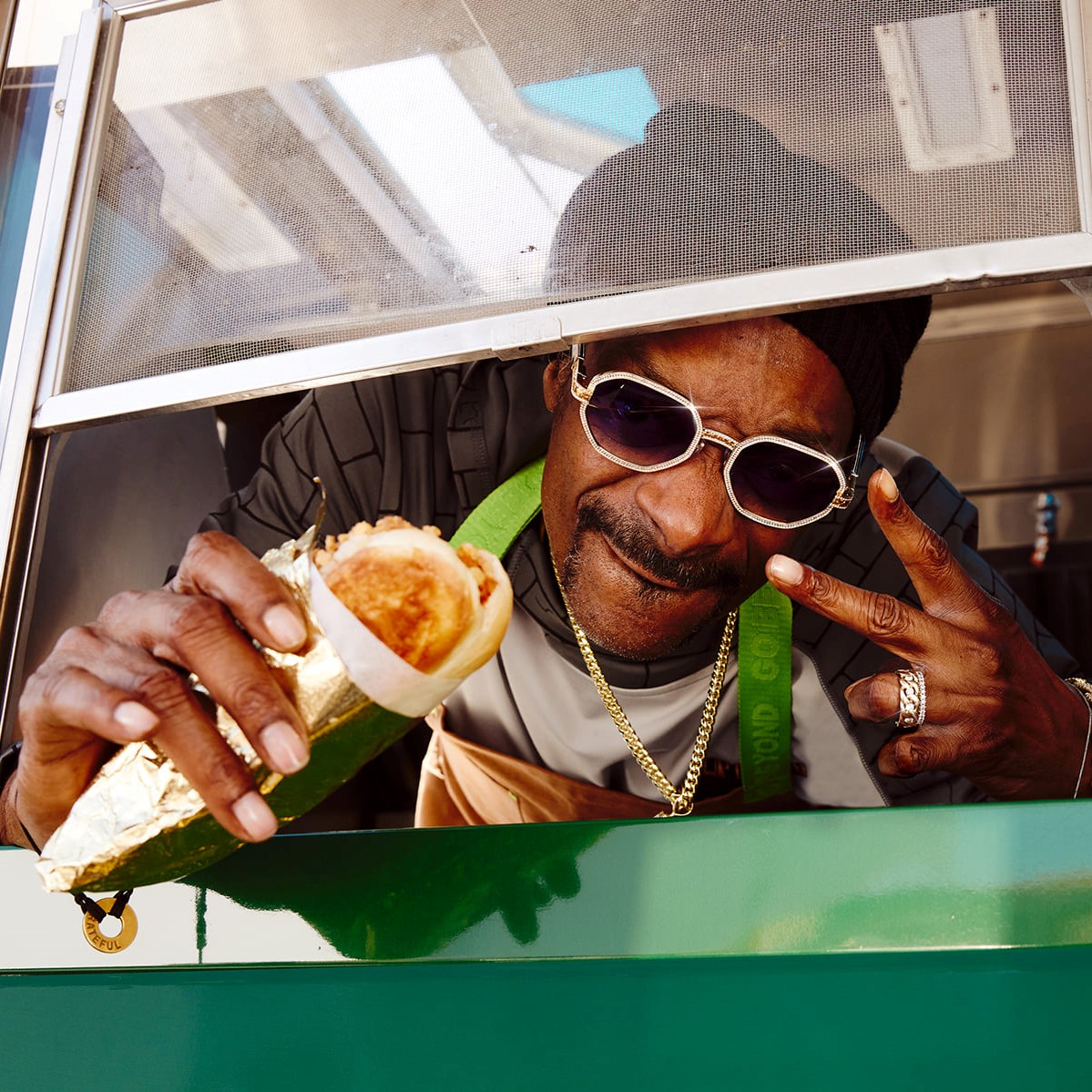 Beyond Meat
Stewart's Puppy Bowl co-host Snoop Dogg is also an investor and ambassador of Beyond Meat and has promoted its vegan products at various events in recent years, including his 2019 Grammy Awards party and by making a personal appearance at one Dunkin' location after the Beyond Sausage Breakfast Sandwich hit the menu.
For more about vegan egg sandwiches, read:
Peet's Vegan Breakfast Sandwich Is Made With Just Egg and Beyond Meat
The Ultimate Vegan Breakfast Sandwich Just Launched at 500 Whole Foods
Vegan Breakfast Sandwiches Just Launched at Costco