Grocery giant Amazon Fresh is the latest company to capitalize on the plant-based alternatives industry with the launch of Fresh Plant-Based. The retailer launched the in-house line with 15 products, including almond milk (in Original and Vanilla flavors, both in unsweetened and sweetened varieties); plant-based chicken (in nugget and patty formats); and plant-based beef (in ground, patty, and meatball formats). Amazon's new line was developed with affordability in mind and all products are SNAP (Supplemental Nutrition Assistance Program) EBT eligible.
"At Amazon, we obsess over quality products and great selection and strive to respond to customer's needs by giving them choices that fit any lifestyle," an Amazon spokesperson told VegNews. "With Fresh Plant-Based, we offer customers a selection of affordable favorites that are free from animal products and full of flavor. Fresh Plant-Based has the essentials customers need to create a healthier meal that will satisfy the whole family and won't break the bank."
The line first became available via Amazon Fresh's digital channels in November and is hitting its 25 Amazon Fresh physical stores this month. To celebrate the launch, Amazon is offering 20-percent off of its plant-based meat alternatives to customers in-store and online throughout the month of March. The brand will also expand the Fresh Plant-Based line this year to "bring customers more healthy, affordable plant-based products," the spokesperson said.
Target
Grocery stores launch their own vegan meats, dairy-free milks, and more
The plant-based alternatives industry continues to grow, with sales of plant-based alternatives to animal products surging by 27 percent to $7 billion in 2020. Additionally, dollar sales of plant-based foods grew by more than 25 percent in 2020 in every US Census region.
And as grocery stores watch branded items by companies such as Beyond Meat, Follow Your Heart, and Eat Just fly off shelves, they are increasingly launching their own brand items to capitalize on the growth. In addition to its new Fresh Plant-Based line, Amazon-owned Whole Foods Market—a long time stockist of branded vegan products—offers its own line of plant-based meats, cheeses, frozen items, and more under its more affordable 365 by Whole Foods Market brand.
Major retailer Target is also doubling-down on its own-brand of vegan products. In 2019, Target launched its flagship in-house brand Good & Gather under which it offers some vegan products such as oat, coconut, and almond milks, meatless chicken tenders and vegan beef patties, along with produce items. Last year, Target built upon Good & Gather's success with the launch of new in-house brand Favorite Day, under which it offers a wide selection of dairy-free ice cream pints and bars.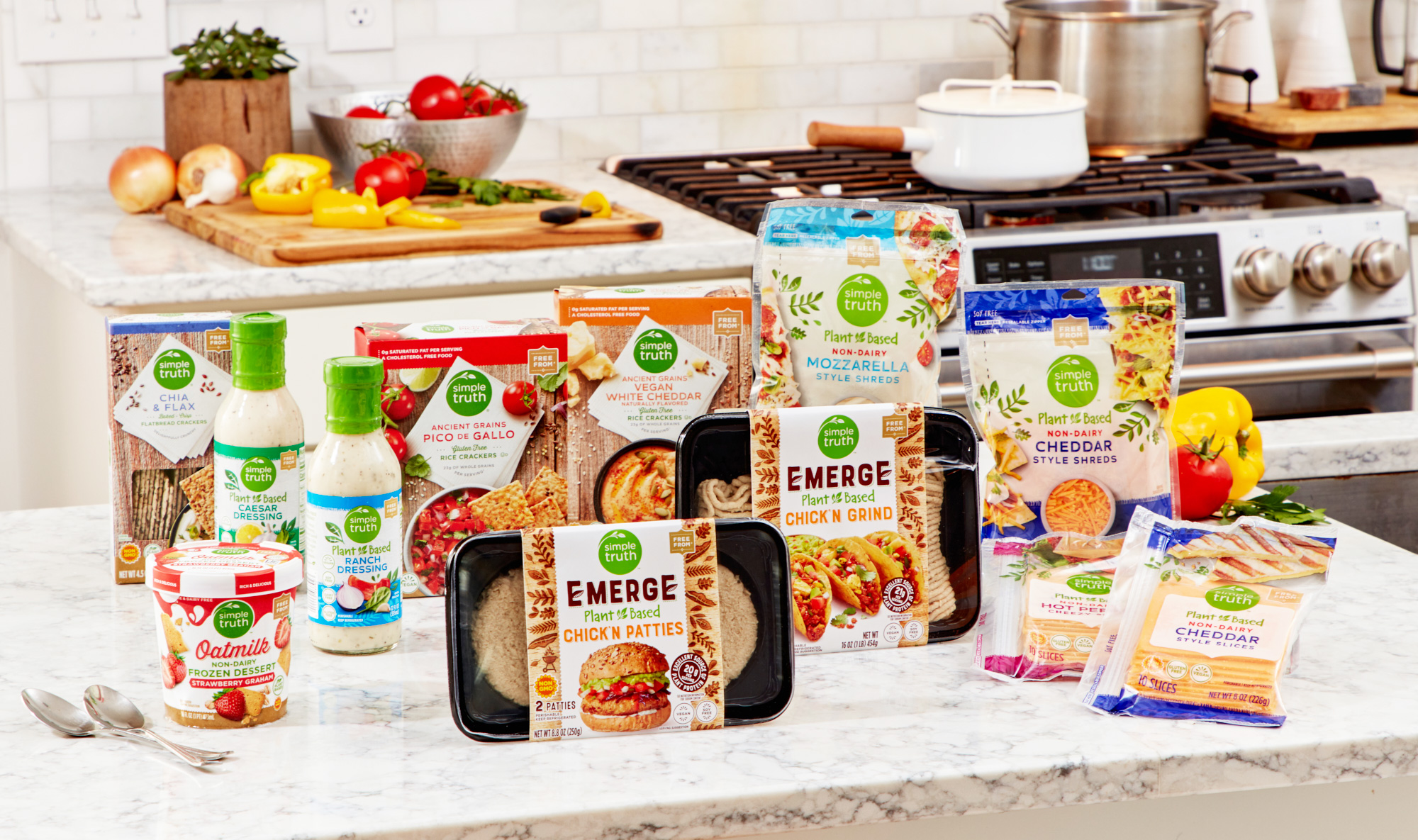 Kroger
Kroger—the largest grocery chain in the US—is also a big player in the plant-based space with its private-label brand Simple Truth. In 2019, Kroger launched a plant-based line extension of the Simple Truth brand with 20 products such as vegan deli slices, dairy-free dips and spreads, and its own plant-based burger patties and grounds. In 2020, Kroger expanded this line with 50 additional products such as vegan chicken patties, almond milk-based yogurt, dairy-free cheese, and oat milk-based ice creams.
Kroger is also exploring a new way to bring plant-based meat to its customers. This month, Kroger also announced a partnership with Impossible Foods (which it carries in-store) which may result in a co-branded product under its Home Chef brand—a meal kit that is available both in store and for home delivery.
For more about private-labeled vegan lines, read:
Trader Joe's Is Working on Vegan Seafood
Grocery Chain Sprouts Launches Its Own Vegan BurgersPublix Just Launched Its Own Vegan Chicken Tenders in 1,200 Stores