New vegan meat brand Skinny Butcher is rolling out its plant-based chicken products, including nuggets, tenders, patties, sliders, and breasts, in retail outlets nationwide—and crispy fried chicken sandwiches that can be delivered straight to your door through its Crazy Crispy Chick'n virtual kitchens.
Developed in Detroit by the founders of salsa brand Garden Fresh Gourmet—which they sold to the Campbell's Soup Company in 2015 for $231 million—Skinny Butcher is bringing its products to consumers through both retail and foodservice outlets simultaneously, which is something few brands can accomplish at once. To do this, the brand has partnered with three food industry big hitters to streamline manufacturing and make its products accessible on a national scale.
Skinny Butcher aims to take on conventional chicken but with a sustainable vegan alternative that leaves a "skinny planetary footprint." It is made with a progressive vegetable fiber strain of pea protein and seasoned with a proprietary spice blend that results in products that are virtually indistinguishable from their animal-based counterparts. The crispy coating makes the product competitive with major fried chicken sandwiches available in fast-food restaurants across the country.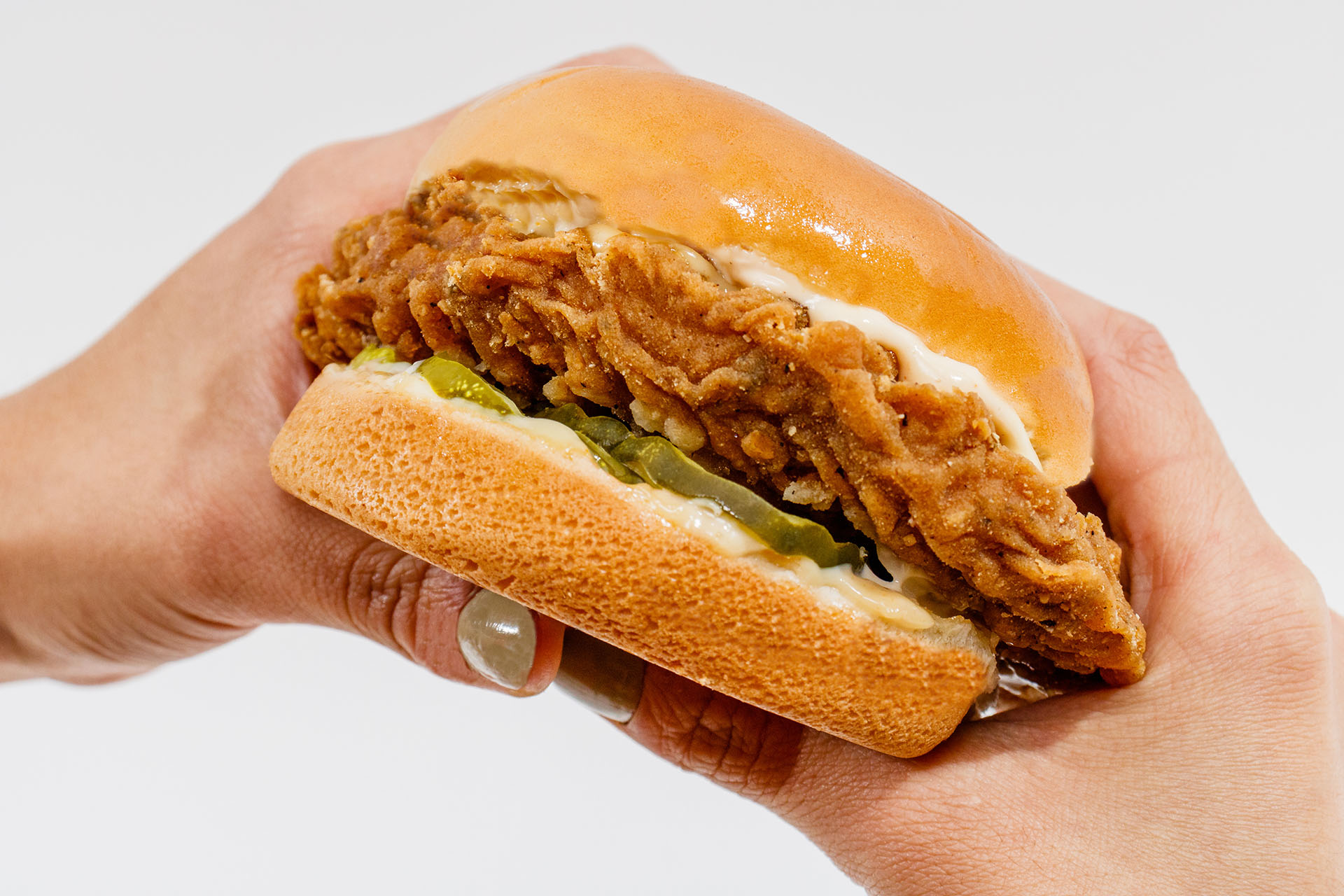 Skinny Butcher
"Our mission is to go to market with a line that wins on branding and on flavor profile," Skinny Butcher CEO Dave Zilko said in a statement. "No other plant-based program possesses the brand personality of Skinny Butcher; he [the butcher] endears himself to the consumer at the point of sale and that relationship continues through consumption. Skinny Butcher does not take himself—or our Crazy Crispy line of Chick'n Nuggets, Tenders, Patties, Sliders or Breasts—too seriously. This kind of food should be fun, while also being sustainable."
Bringing plant-based chicken to more consumers
The coalition of food industry partners includes Los Angeles-based food manufacturer Golden West Food Group, which was brought on as manufacturer and vendor of record of the Skinny Butcher line to ensure a speedy market entry. In addition to an exclusive manufacturing agreement, Golden West is an equity stakeholder in the brand.
Chicago-based fast-casual Asian restaurant chain Wow Bao is leading the development of the virtual kitchen concept for Skinny Butcher, offering a Crazy Crispy Chick'n menu that features Chick'n Parm, Jumbo Chick'n Tenders, Chick'n Caesar Salad, Teriyaki Chick'n, sandwiches, and sliders. Wow Bao has already begun onboarding Skinny Butcher onto its existing platform of more than 650 virtual kitchen locations throughout the country. Skinny Butcher's Crazy Crispy Chick'n is currently available in Chicago through Uber Eats, Grubhub, and DoorDash.
Additionally, the brand received $10 million in funding from Valor Siren Ventures to help in its expansion efforts.
"We've assembled an amazing collection of thought leaders from across the country," Zilko said. "Skinny Butcher offers instantly iconic branding at retail and an industry leading flavor format with a virtual restaurant program and the resources to scale nationally."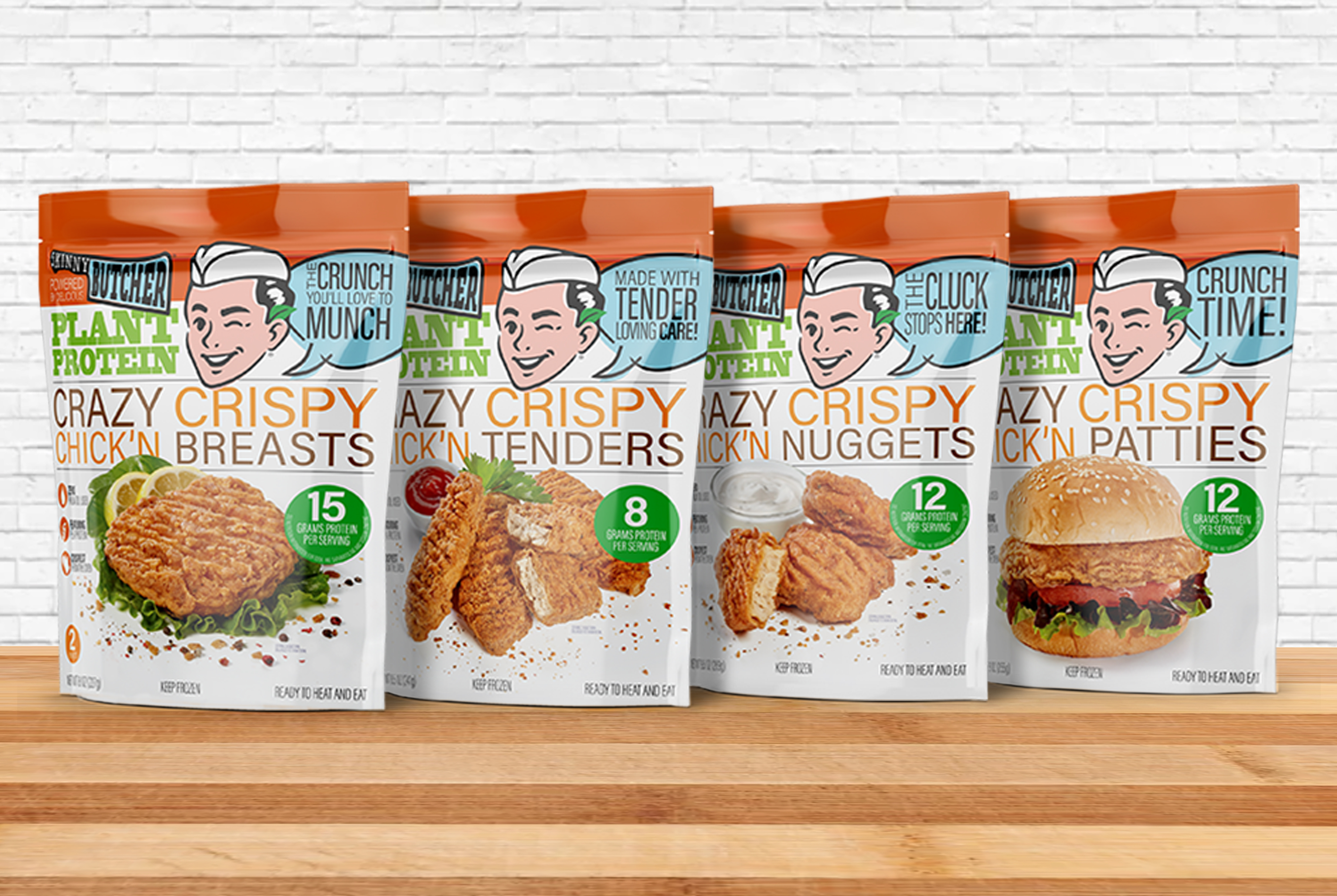 Skinny Butcher
The vegan chicken wars
In recent years, brands across the country have been vying to create sustainable animal-free chicken options for consumers. Last year, Beyond Meat and Impossible Foods—both major players in the plant-based meat space—launched vegan chicken in the form of breaded nuggets and tenders. Both products are now in major restaurants and retailers across the country.
Last month, TiNDLE, a flagship brand of Singapore's Next Gen Foods, secured $100 million in a record-breaking Series A funding round for its plant-based chicken. While Next Gen Foods has been in business for a short time, TiNDLE already has a presence in restaurants across Amsterdam, Singapore, Hong Kong, Macau, Kuala Lumpur, and the UAE. The new funding will help Next Gen Foods expand TiNDLE to key markets, including Europe and the United States.
For more on vegan chicken, read:
KFC Launched Vegan Fried Chicken at More Than 4,000 Stores
This Entrepreneur Aims to Put Chick-Fil-A Out of Business With Vegan Chicken
Panda Express Launches Its First Vegan Orange Chicken With Beyond Meat