It seems that every week in the world of vegan food news is more exciting than the last and this week is no exception. Atlanta-grown chain Slutty Vegan is about to "sluttify" New York City with its first Brooklyn location. German candy brand Katjes is further expanding its gelatin-free gummies across new US retailers. And Canadian smoothie chain Booster Juice just got a plant-based boost thanks to Field Roast's vegan Italian sausage crumbles. Read on for more.
1 Slutty Vegan expands to Brooklyn
Entrepreneur and social justice advocate Pinky Cole is building a plant-based empire, one slutty vegan burger at a time. It's hard to believe that Slutty Vegan has only been around since 2018 as the business is now a veritable institution that has "slutified" everyone from Usher to Snoop Dogg to Tyler Perry. The chain has been steadily growing and now operates four Georgia locations, where people wait for hours to try Slutty Vegan's slut-sauce slathered burgers, plant-based chicken sandwiches, and sides.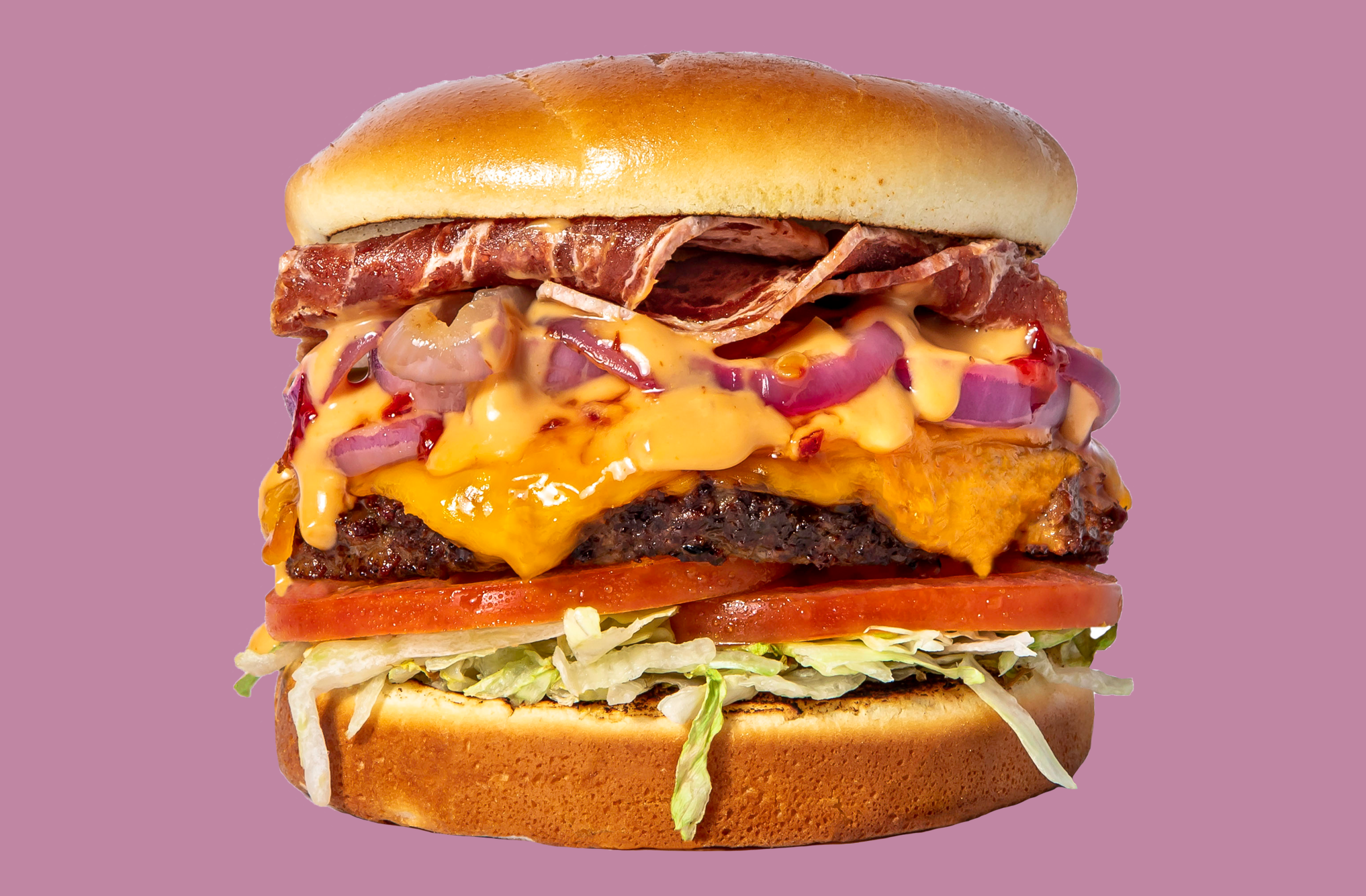 Slutty Vegan
This week, Slutty Vegan announced that its first New York City location is also on the horizon with plans to open a Brooklyn outpost this spring. Slutty Vegan Brooklyn is slated to open in the Fort Greene neighborhood and will serve as a bit of a homecoming for Cole, who previously operated a restaurant in Harlem that, unfortunately, she lost due to a fire. In addition to Brooklyn, Slutty Vegan is planning locations in Birmingham, AL, Baltimore, MD, and other regions.
We're getting in line now because once the word of Slutty Vegan Brooklyn gets out, it might be a bit of a (worthwhile) wait to get our hands on a Sloppy Toppy, Fussy Hussy, or One Night Stand.
2 Vegan pepperoni pizzas arrive at Rapid Fired
Rapid Fired Pizza boasts that it can get a hot pizza in your hands within a speedy 180 seconds. Now, the chain is adding new plant-based options to make its ready-in-two-minutes pizzas even better.
While Rapid Fired already offers vegan mozzarella cheese and other plant-based toppings, this week, it remade two of its fan-favorite pizzas into plant-based superstars with the help of vegan pepperoni and Italian sausage crumbles made by MorningStar Farms.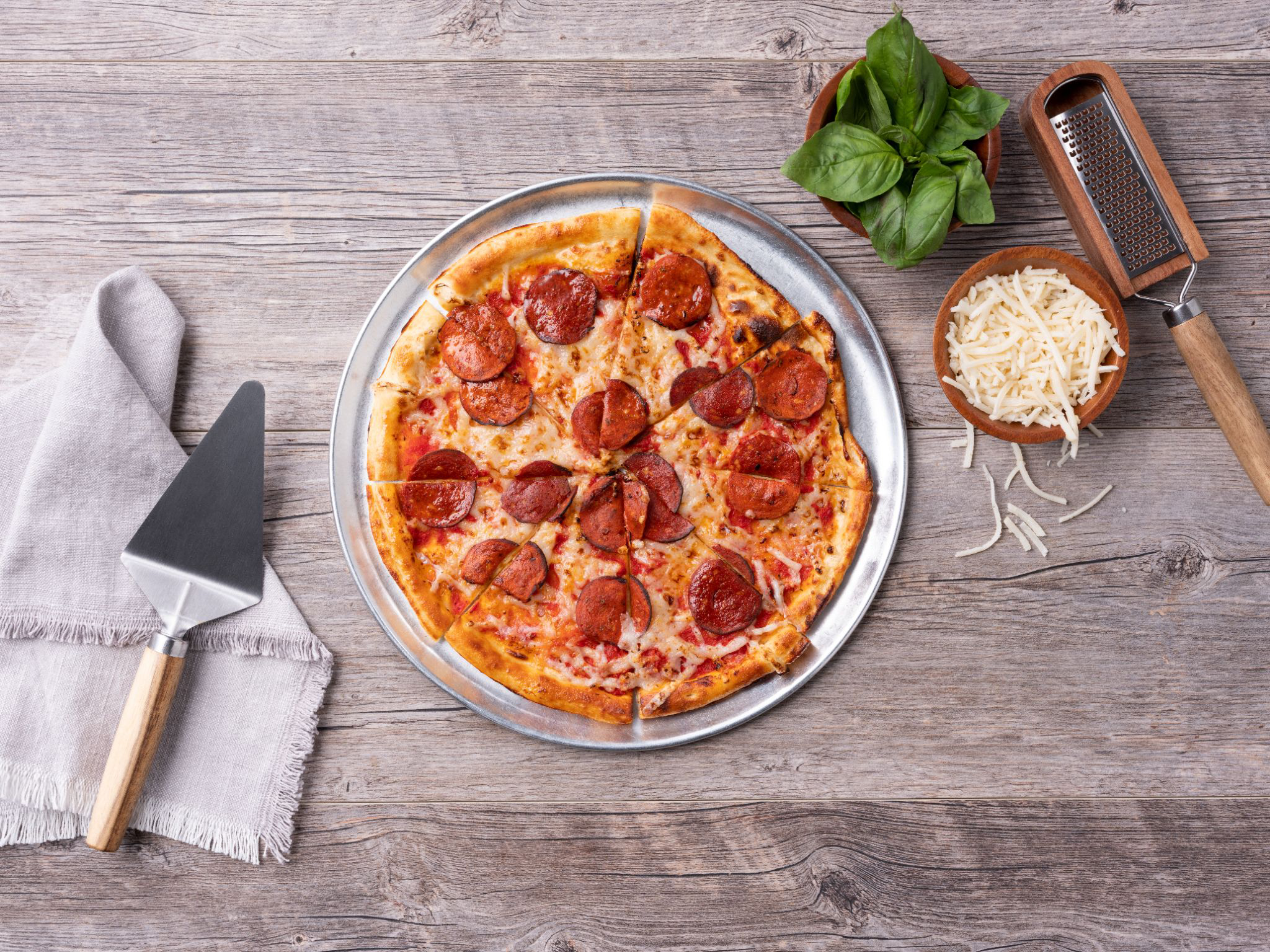 Rapid Fired Pizza
The P.B.D. (Plant-Based Deluxe) is made with MorningStar Farms sausage crumbles, plant-based pepperoni, vegan mozzarella, green peppers, red onions, and classic red sauce; while the PepperNoMeat features plant-based pepperoni, vegan mozzarella, and classic red sauce.
"We've always prided ourselves in having quality, flavorful ingredients. For these new toppings, there was no difference in the selection process," Mike Kern, president and CEO of Rapid Fired Pizza, said in a statement. "With all of the requests we've had from the community, it felt right to launch these two new products. We're excited to grow our already loved plant-based range, and encourage all pizza lovers to give plant-based a go."
The new options are available from now until April 15, 2022 at all 31 locations of Rapid Fired Pizza in the Midwest, Southeast, and Texas.
3 New dairy-free cheese at Sprouts
The only thing better than vegan cheese is more vegan cheese and this week, Grounded Foods' delectable dairy-free creations are coming to 364 Sprouts stores nationwide. Founded in 2019 by Australian duo Veronica Fil and Shaun Quade (an award-winning chef), Grounded Foods uses a proprietary fermentation process to create realistic vegan cheese with the help of imperfect cauliflower and proteins and fats contained in hemp.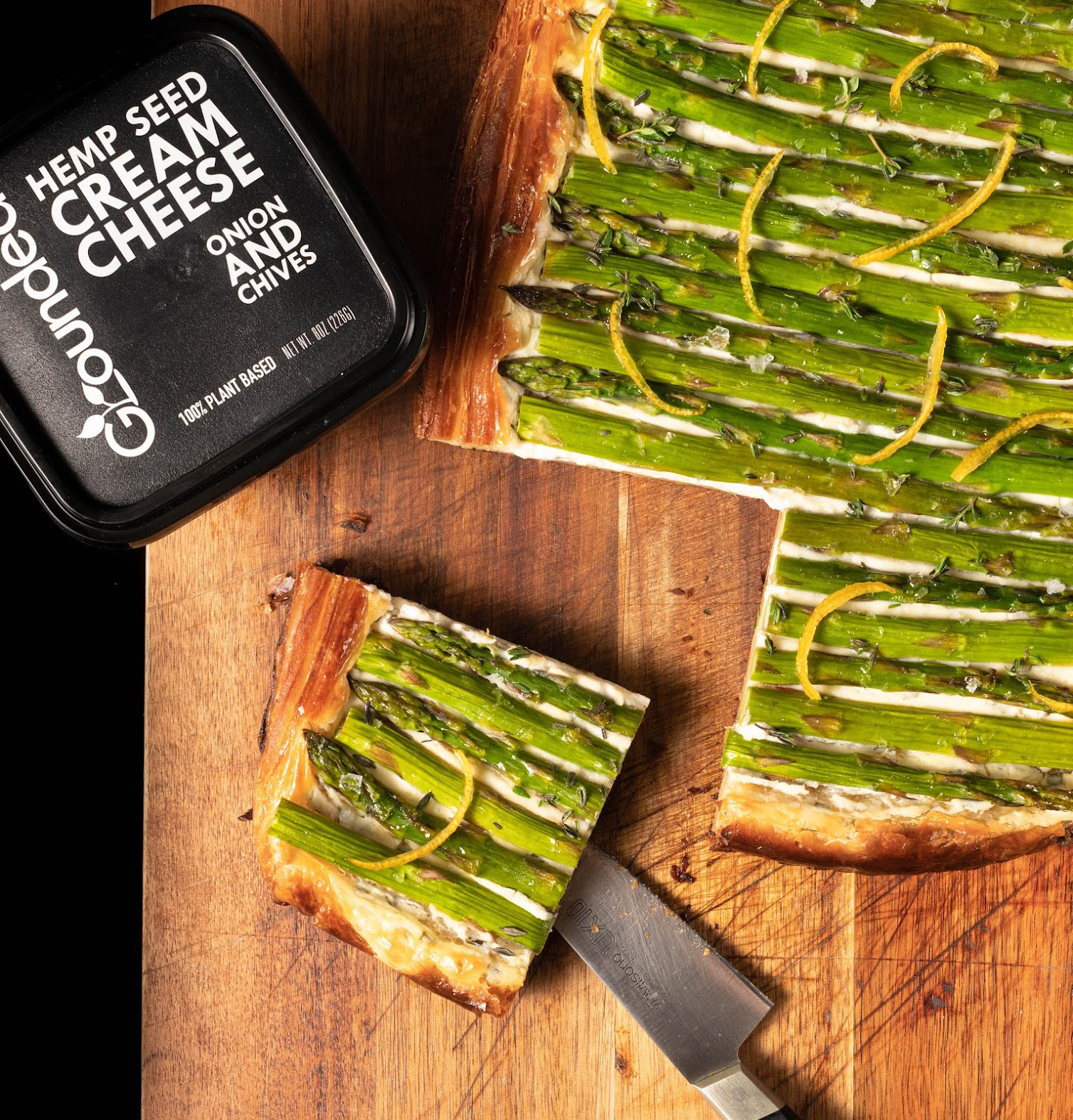 Grounded Foods
"It's the taste for us. That comes first with everything we do," Fil said in a statement. "We firmly believe that it's possible to satisfy people's craving for dairy cheese using existing, natural and underutilized plant resources—stuff that comes from the ground."
The brand currently makes three vegan products: Hemp Seed Cream Cheese, Hemp Seed Goat Cheese, and a Cheese Free Cheese squeeze-on sauce. In addition to Sprouts, Grounded Foods' cheeses can be found at Whole Foods, Bristol Farms, Gelson's, Harmon's, Festival Foods, and Pete's Fresh Market.
4 Gelatin-free gummies galore

German gummy candy brand Katjes has worked to replace animal gelatin (made with boiled connective tissue of pig or cow bones, ligaments, and tendons) with a plant-based substitute (which contains none of that icky stuff). The brand's palm oil-free gummy candies landed in the US in 2021 by way of Walgreens where they come in variety packs of shapes such as unicorns, fairies, and hearts.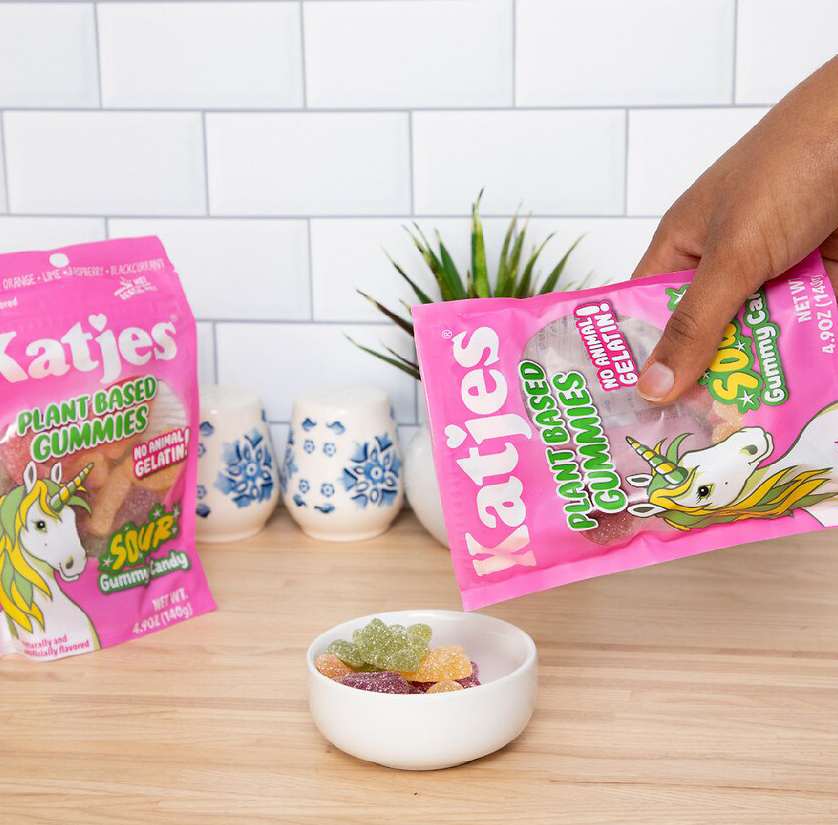 Katjes
Currently, the convenience chain stocks Katjes gummies in Rainbow, Sour, and Love & Stars (a patriotic nod to its US debut) variety packs. In 2022, Katjes is working to expand its vegan gummy selection with a new innovation it will announce in May at the 2022 Sweets & Snacks Expo. This week, Katjes announced that it is also expanding to additional US retailers outside of Walgreens.
5 Plant-based paninis arrive at Booster Juice
This week, Canada's largest juice and smoothie chain Booster Juice got a plant-based menu boost with the addition of Field Roast's vegan Italian sausage crumbles. The 410-location chain now serves two menu items made with the new plant-based Garlic & Fennel sausage: Italian Crumble Plant-Nini (vegan sausage, mixed peppers, onions, spinach, and pesto served on a grilled focaccia flatbread) and Italian Crumble Plant Wrap (which features the same fillings as the plant-nini but served in a grilled tortilla wrap).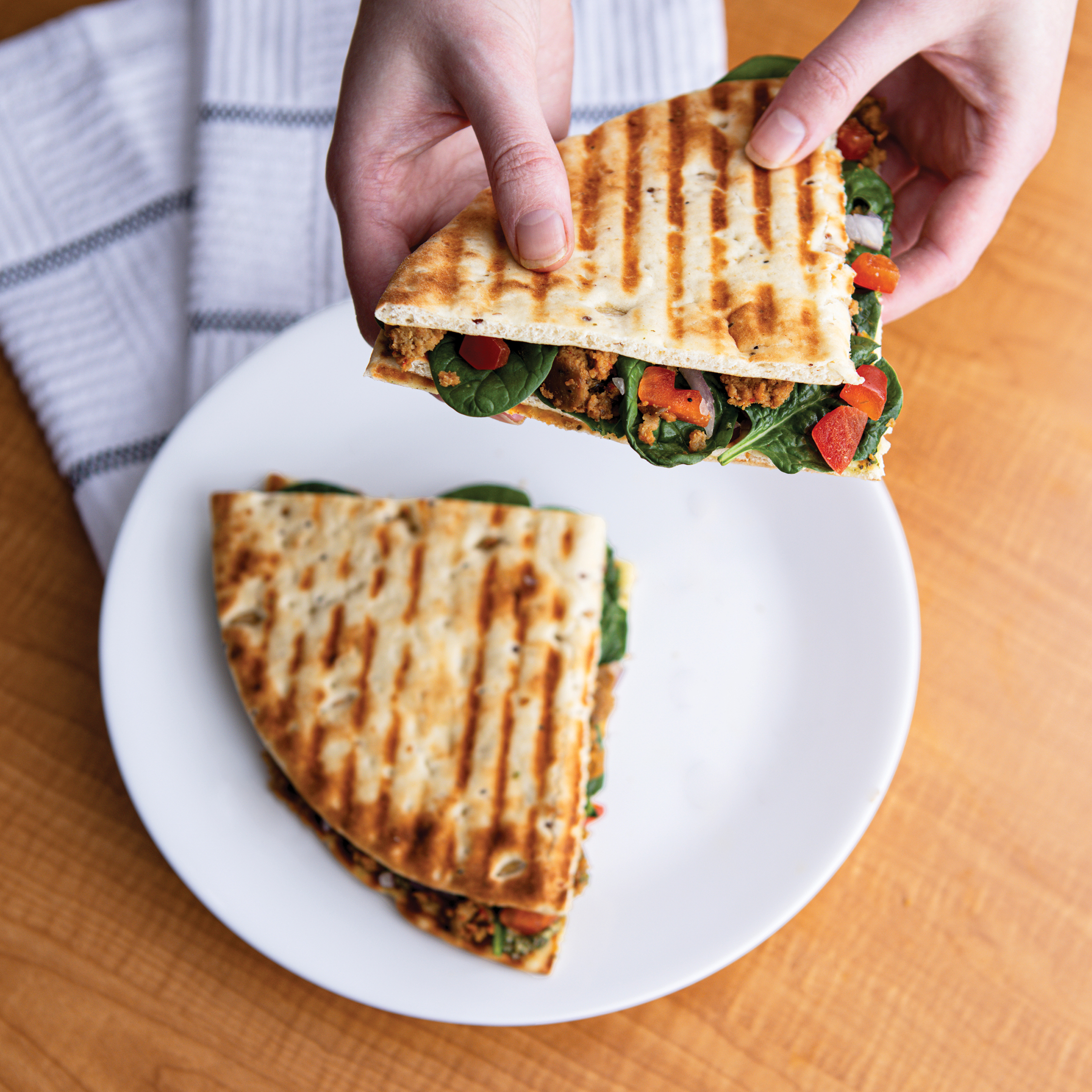 Booster Juice
"Booster Juice is excited to partner with plant-based industry leader Field Roast to debut new items on our Healthy Food Menu," Dale Wishewan, president and CEO of Booster Juice, said in a statement. "We know our customers have come to know Booster Juice for our quality products and this addition falls right in line with our other premium offerings."
6 Burger King UK's new vegan options
Burger King has been heavily invested in adding plant-based options to its menus worldwide after its launch of the Impossible Burger in 2019 at its US locations. At Burger King UK, plant-based options—such as the Rebel Whopper, Meatless Nuggets, and Vegan Royale—have been steadily growing in recent years, too. So much so that Burger King UK CEO Alasdair Murdoch says that plant-based items will steadily displace meat-based options, leading to a Burger King UK menu that's 50-percent plant-based by 2031.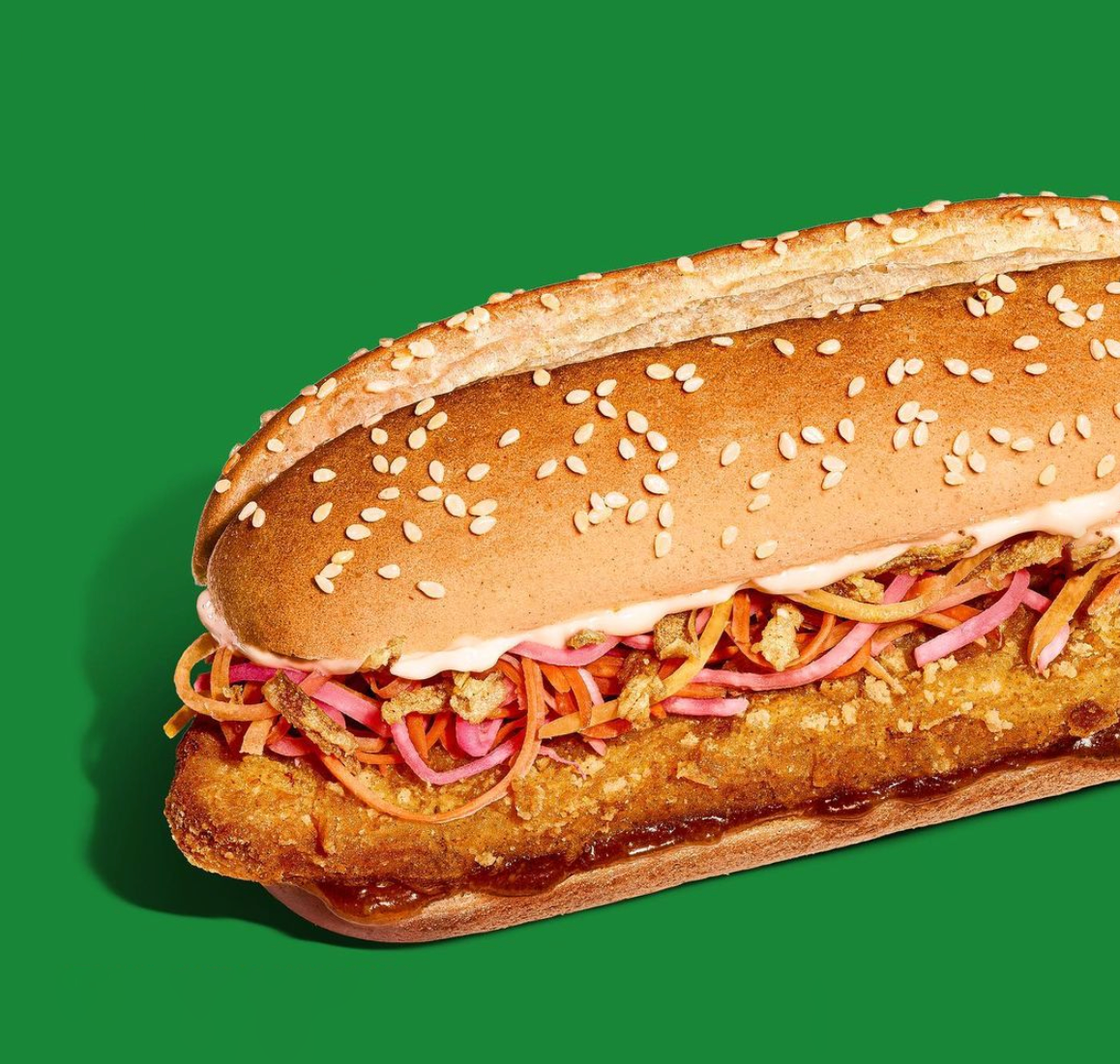 Burger King UK
On March 8, Burger King UK is expanding its vegan menu with two new Japanese-inspired options: the Katsu Vegan Royale (which features a breaded vegan chicken patty, katsu sauce, pickled slaw, crispy onions, and vegan mayonnaise) and the Katsu Plant-Based Chilli Whopper (made with two meatless patties, chili sauce, crispy onions, pickled slaw, and katsu curry sauce). As is the case with most fast-food restaurants, Burger King UK cooks its vegan items on shared equipment.
"We know katsu curry is one of the nation's favorite flavors, so we can't wait for people to try these twists on our classic Whopper and Royale," Katie Evans, Burger King UK Chief Marketing Officer, said in a statement. "We're promising new specials that max on flavor, with vegan and vegetarian options that taste almost identical."
For the latest vegan news, read:
Scarlett Johansson Turns Her Beauty Routine Into a Vegan Skincare Line
Global Sustainable Protein Sector Raises Record $5 Billion in 2021
New Dairy Company Betterland Makes Dairy-Identical Milk Without Cows