Grammy Award-winning musical artist Kelly Rowland is helping her fans swap cow's milk for dairy-free alternatives thanks to a new partnership with Silk—a Danone-owned vegan brand with a suite of dairy-free products. As part of the collaboration, Rowland is helping kick off Silk's TikTok presence with videos that promote the #SwapItWithSilk taste challenge.
In her first TikTok video made in partnership with Silk, Rowland shows viewers the inside of her fridge, where she has swapped dairy products with their dairy-free counterparts made by Silk, including milk, creamer, and Greek yogurt. "Now she's rich and creamy," Rowland says about the Silk Nextmilk in the video, adding that Silk's dairy-free Greek style yogurt is "thicc with two 'c's."
The second TikTok video Rowland shared as part of the collaboration features her cousin, who she blindfolded for a taste test of everyday milk-forward dishes—including cookies dipped in milk, a milkshake, and granola and milk—made with Silk's Nextmilk. Rowland's cousin does not hesitate to identify that the key element of all of the samples was milk, demonstrating that the dairy-free alternative is a viable swap for the cow-derived version.
Rowland will keep the campaign going by passing off the #SwapItWithSilk taste challenge to several yet-to-be-named influencers.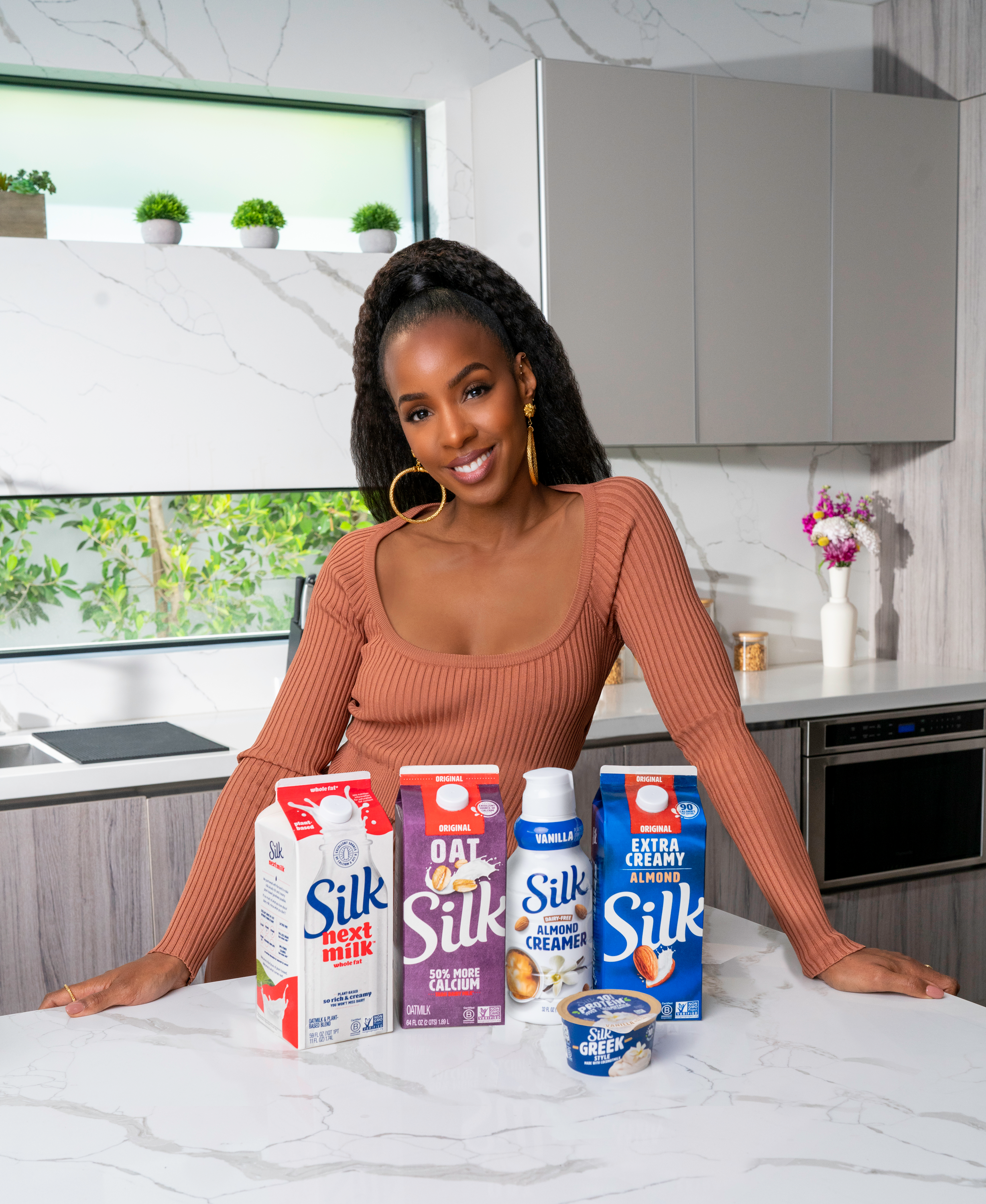 Silk
Silk improves vegan milk
Silk has been in business since the '90s under parent company WhiteWave Foods—which also produces So Delicious, Vega, and Alpro brands. In 2016, multinational company Danone acquired WhiteWave in a $12.5 billion deal. In recent years, Danone has been interested in further innovation in the dairy-free alternatives sector in order to compete with increasingly dairy-like products. As such, Danone introduced its "plant-based 2.0" platform last year.
Under this new platform, Danone has released new "dairy-like" lines this year. With the Silk and So Delicious brands, Danone developed Nextmilk and Wondermilk, respectively. While previous vegan milks were of single origin (for instance, soy, almond, or coconut), these innovations are made from blends of these bases to mimic the whole spectrum of attributes of cow's milk, including the sweet, sour, and salty flavors and creamy mouthfeel. Danone also developed Alpro Not Milk for the European market and used Wondermilk as a base of a new So Delicious ice cream line.
"Some consumers remain skeptical about plant-based food and beverages due to taste and texture, but Silk Nextmilk is on a mission to change that. We deconstructed dairy to create this revolutionary product that delivers the taste and texture we think dairy drinkers will love," John Starkey, President of Plant-Based Food and Beverages at Danone North America, said in a statement. "Thanks to Silk Nextmilk—a true category game changer—we're confident dairy lovers will want to cross the aisle."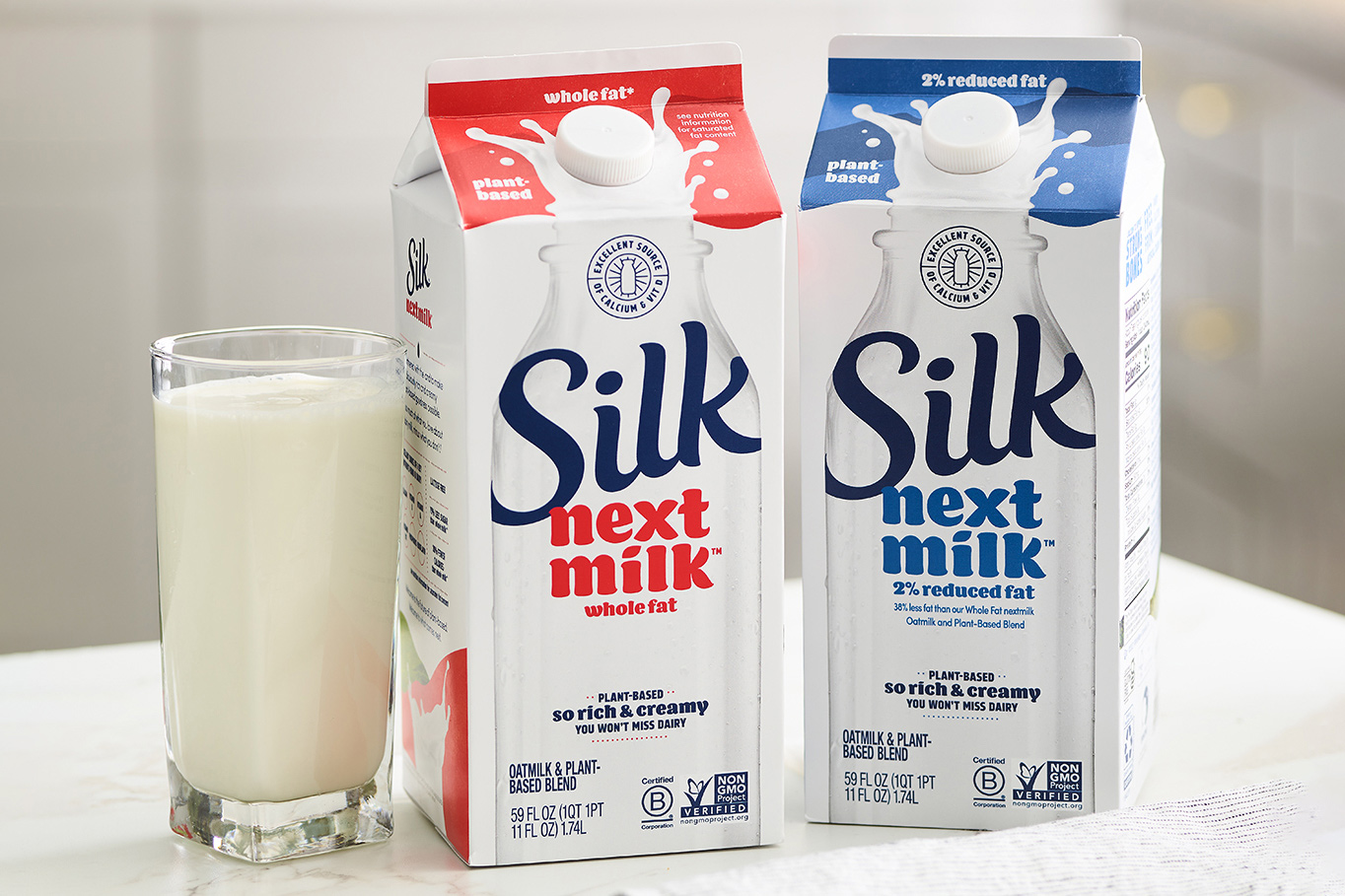 Silk
Silk's celebrity campaigns
Rowland's involvement in promoting Silk follows a celeb-centered campaign the brand launched last summer to promote its oat milk. Silk's G.O.A.T. campaign was developed in partnership with creative agency Lightening Orchard and featured celebrities who are the Greatest of All Time (G.O.A.T.) in particular areas.
For the campaign, Silk named celebrity chef Gordon Ramsay as the G.O.A.T. of Yelling in Kitchens—a title the chef, who was previously critical of vegans, gracefully accepted. "Well, it took my kids getting on me, but now I really enjoy cooking more plant-based dishes at home and in my restaurants," said Ramsay in a social media post related to the campaign. "Let me tell you, I know greatness when I taste it, and I am loving Silk Oatmilk for both sweet and savory recipes."
The campaign was also supported by Alicia Silverstone—of Clueless fame—who Silk named the G.O.A.T. of '90s Fashion and athlete Gabi Butler (from Netflix series Cheer) who was crowned with the title of G.O.A.T. of Cheerleading.
For more about celeb-backed vegan brands, read:
Why NBA's First Draft Pick Cade Cunningham Is All About Vegan Eggs
Octavia Spencer Stars in Beyond Meat's First Television Commercial
Jay-Z's Latest Plant-Based Investment Is in Vegan Cheese