NBA superstar Chris Paul (nicknamed "CP3") is celebrating Father's Day in the most vegan way: by nominating his dad, Charles Paul, to be the Dad Ambassador for JUST Egg, a vegan egg that has helped both men live their best lives. Chris Paul recently joined Eat Just—the company behind JUST Egg—as an ambassador and introduced the mung bean-based vegan egg to his father, who has also become a fan.
While Charles Paul was initially skeptical about trying plant-based foods, the athlete's father eventually began replacing animal products with plant-based alternatives and has seen improvements in his health metrics such as lowered cholesterol.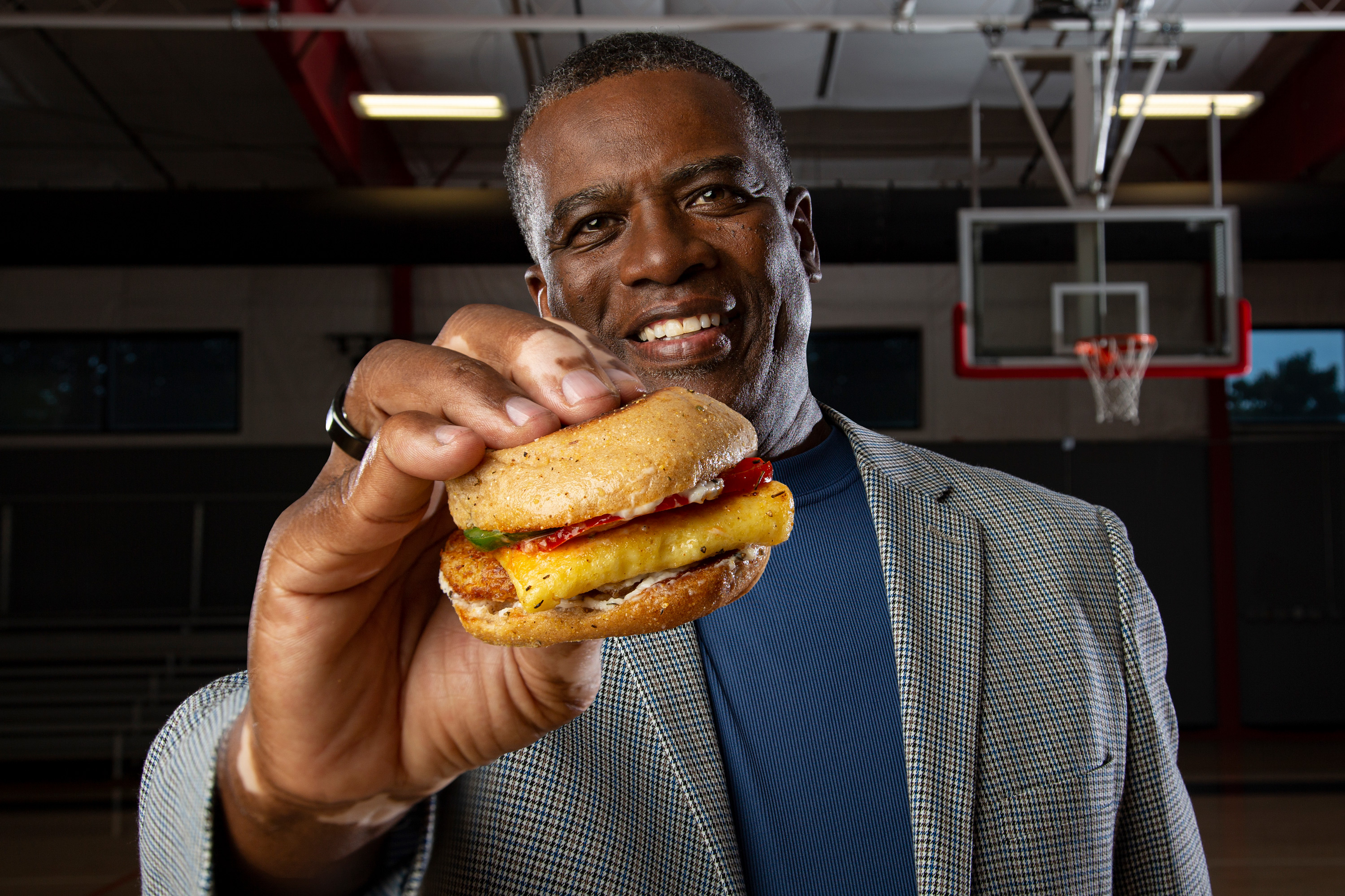 Eat Just
"The more [Chris] talked to me the more I started making life changes like removing dairy," Charles Paul explained in an interview with People. "I remember being in Oklahoma once and I had a case of soda and a bunch of candy bars and he said, 'Dad, you gotta really think about your health.' And I left the candy bars and the soda there, and I came home and started making changes. I eat JUST Egg. I eat a lot of salad. I pick and choose and find things I like to eat."
While Charles Paul is thankful to his son for pushing him to improve his diet, Chris Paul credits his dad for helping him become the star athlete he is today and continues to turn to him for support and advice.
"I admire who [Charles] is as a man," Chris Paul said in the interview. "A lot of times kids grow up with heroes and entertainers, athletes. I'm 37 years old now, and my dad is still the ultimate man and the person I look up to most. In a world of entertainment and sports, you're always being compared—the only person whose approval I really really care about is my dad."
Chris Paul's vegan journey
Paul went vegan at age 34 for the health and performance benefits of consuming a plant-based diet. "When I first started this out, it was all about basketball, right? How can I be the best athlete and basketball player that I can be?" Paul said in a campaign video for JUST Egg. "And then it changed because I started thinking about life and life expectancy and I'm looking at my parents."
A parent himself to two kids Camryn (9) and Christopher (13), Paul helped his father transition to more plant-based foods to ensure that he lived a long, healthy life. "As a parent, for the most part, you feel like you're teaching your kids. It's gotta be totally weird when your kids start teaching you things," Paul said. "You know, the one thing you can't buy with money or anything like that is time. [Charles] wants nothing but to make sure that he and my mom are as healthy and around their grandkids for as long as possible."
Eat Just
Charles Paul is part of Eat Just's larger Father's Day campaign which asks fans to nominate their fathers as "dad ambassadors" with a comment on Eat Just's Instagram account with #JUSTEggMyDad. The company will pick one dad to win a year's supply of JUST Egg to help them regain their health the way Chris Paul helped his father. "When I come to your house in North Carolina, it's going to be JUST Egg for breakfast every single time," Chris Paul said directly to his dad at the end of the video.
In addition to working with Eat Just, Chris Paul is also an investor and ambassador of vegan brands Beyond Meat and Koia. In addition to Chris Paul, JUST Egg's celebrity ambassadors include DeAndre Jordan, Cade Cunningham, Serena Williams, Jake Gyllenhal, and many more.
Just Egg hits summer music fests
When JUST Egg isn't helping Chris Paul and his dad improve their health, the vegan egg is attracting thousands of new fans at this summer's hottest music festivals. Since last month, the company has been on the road, setting up colorful and engaging vegan egg booths at six major festivals this summer to go head-to-head with typical sponsors such as alcohol companies.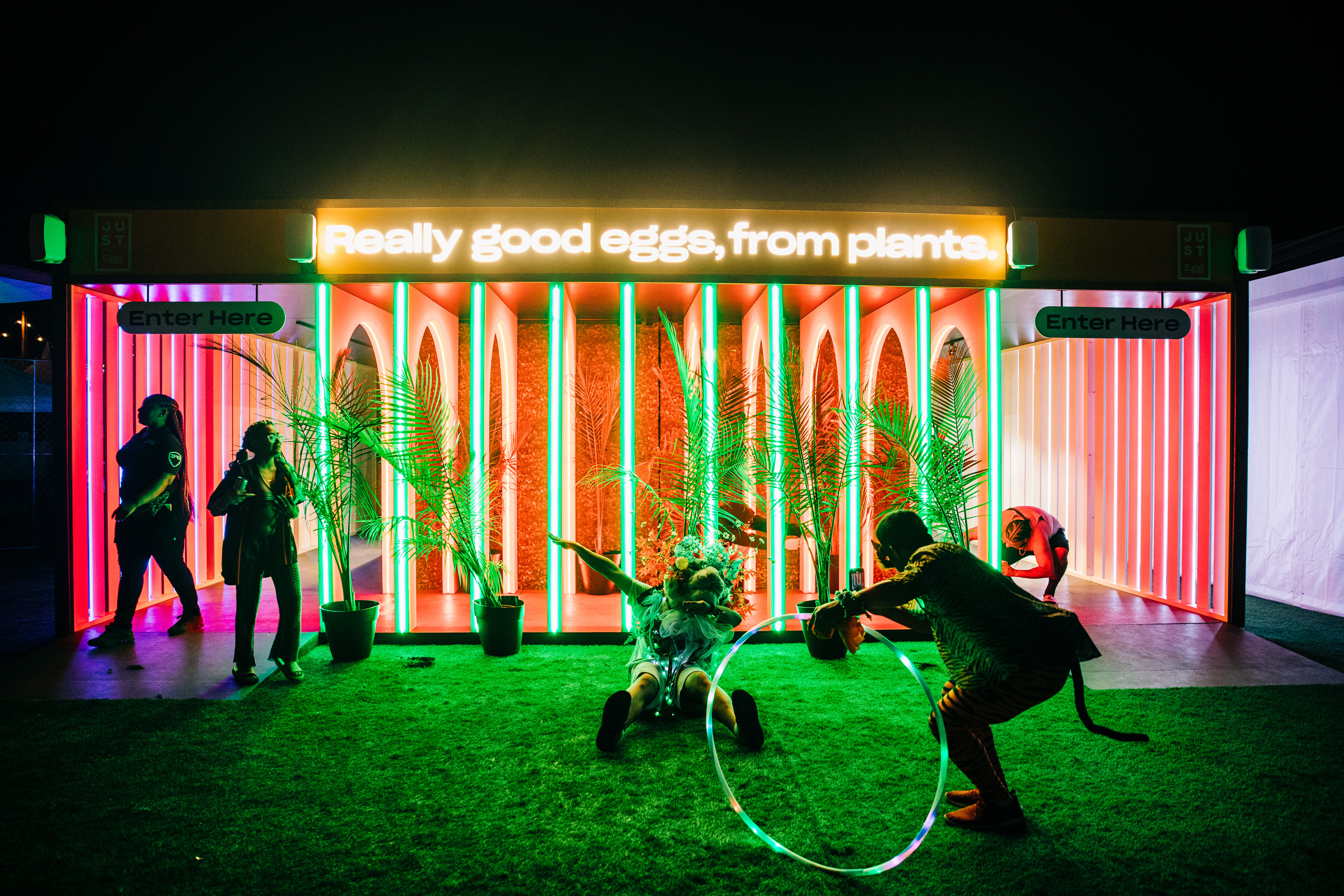 Azuree Wiitala
Thus far, JUST Egg has delighted music fest-goers and performers alike at Broccoli City in Washington, DC and EDC Las Vegas (North America's largest electronic music dance festival). The vegan egg is now heading to Beyond Wonderland in George, WA this weekend before moving on to Bonnaroo in Manchester, TN; Levitate Music and Arts Festival in Marshfield, MA; and Primavera Sound in Los Angeles, CA.
For the latest vegan news, read:
Kevin Hart Opens Vegan Chain To Transform Fast-Food Industry
Burger King Opens 2 Meat-Free Locations in Switzerland
United Adds Impossible's Plant-Based Meat to Flights and Lounges