Tennis champion Serena Williams and actor Jake Gyllenhaal are the latest celebrity investors in Eat Just, a brand known for JUST Egg, a vegan egg replacer made from mung beans. The duo are also part of the brand's "Really Good Eggs" campaign and are appearing in two separate, 30-second commercials.
Gyllenhaal's appearance is themed around next-level, secret celebrity workouts and shows him eating JUST Egg to refuel after a round of underwater jiu jitsu and before he is scheduled to do "galactic robo-knight training."
Williams' commercial spot takes a different approach. She is pictured in her home kitchen surrounded by scientists, nutritionists, and trainers that optimize her every move, including what she consumes for breakfast.
"I'll let you in on a secret: I don't actually have a scientist in my kitchen. It's not that exciting in there. But I do have JUST Egg," Williams said in a statement. "I eat to live, so JUST Egg helps me feel and perform better. But it's also delicious—I don't think my family can even taste the difference between JUST Egg and chicken eggs."
The ads will appear in major markets such as Chicago, Los Angeles, and New York City, as well as nationally through connected TV platforms and social media. In June, Eat Just will also launch giveaways created in partnership with its brand ambassadors that feature exclusive kits filled with some of each person's favorite items for the kitchen and gym.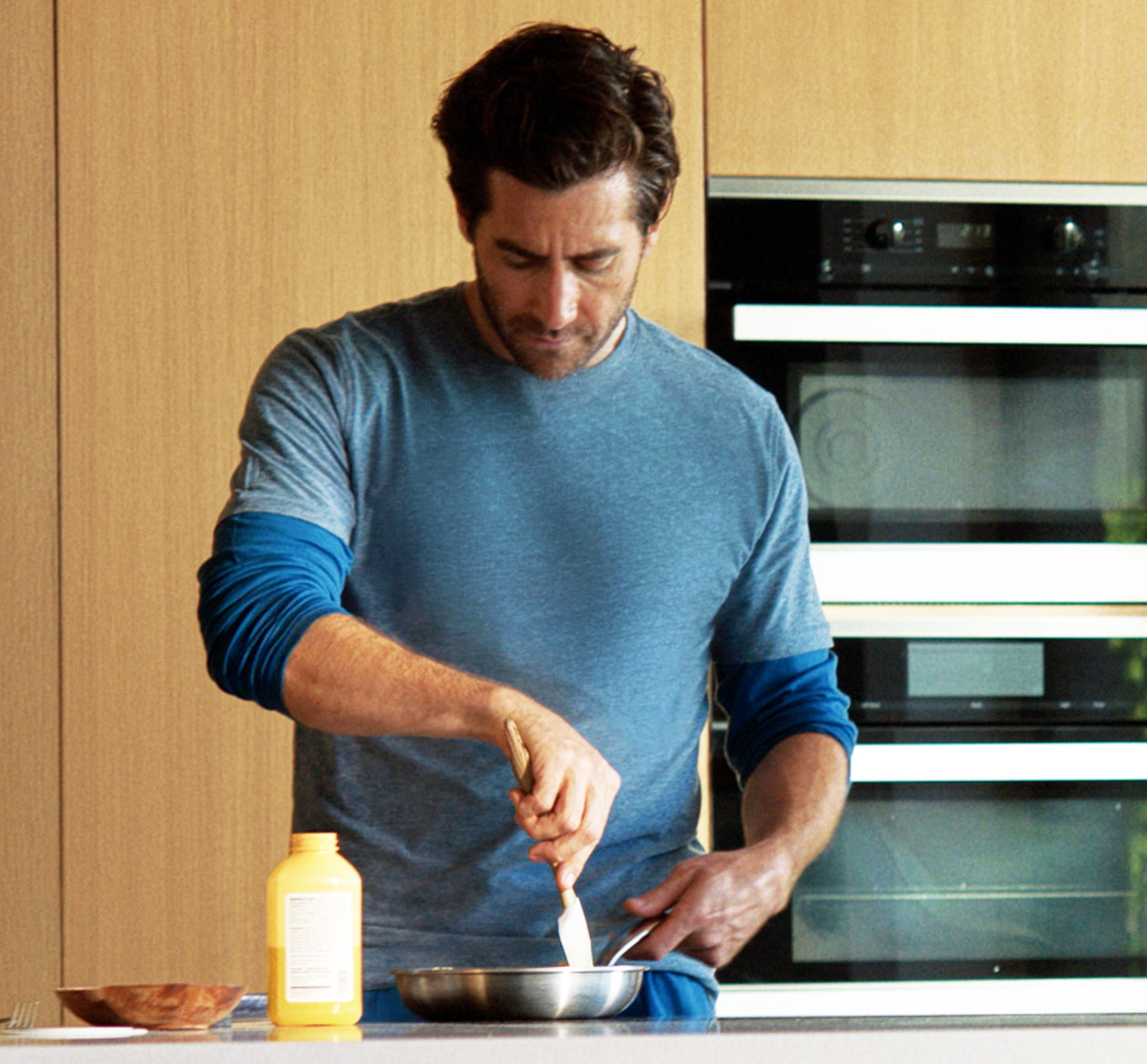 Eat Just
Jake Gyllenhaal turns to JUST Egg to eat more plant-based
These two new celebrity ads are part of Eat Just's first commercial campaign, which is made up of 30-second ads created to challenge presumptions about plant-based food. The "Really Good Eggs" ads launched last September with three difficult breakfast scenarios: dealing with a hangover before work, making a breakfast scramble before school, and making a plant-based breakfast for a new vegan boyfriend.
All of the "Really Good Eggs" ads are narrated by J.B. Smoove, an actor and comedian known best for his work on Curb Your Enthusiasm. "I'm excited to be partnering with JUST Egg," Gyllenhaal said in a statement. "I'm eating more plant-based for my health, and JUST Egg makes it easy and delicious. I also recognize the impact our food system has on our planet, so JUST Egg's mission is important to me. And, honestly, who can turn down being narrated by J.B. Smoove."
Like Williams and Gyllenhaal, Smoove is also a big fan of JUST Egg—and has been known to carry a bottle of the vegan egg with him to his favorite fried rice restaurant. The actor and comedian went vegan in 2018 after years of pressure to ditch animal products from his wife, Shahidah Omar. "I do it for diet. I do it for health reasons. I do it for animals, for the planet," Smoove said about his reasoning behind going vegan. "For me, it's a wide spectrum."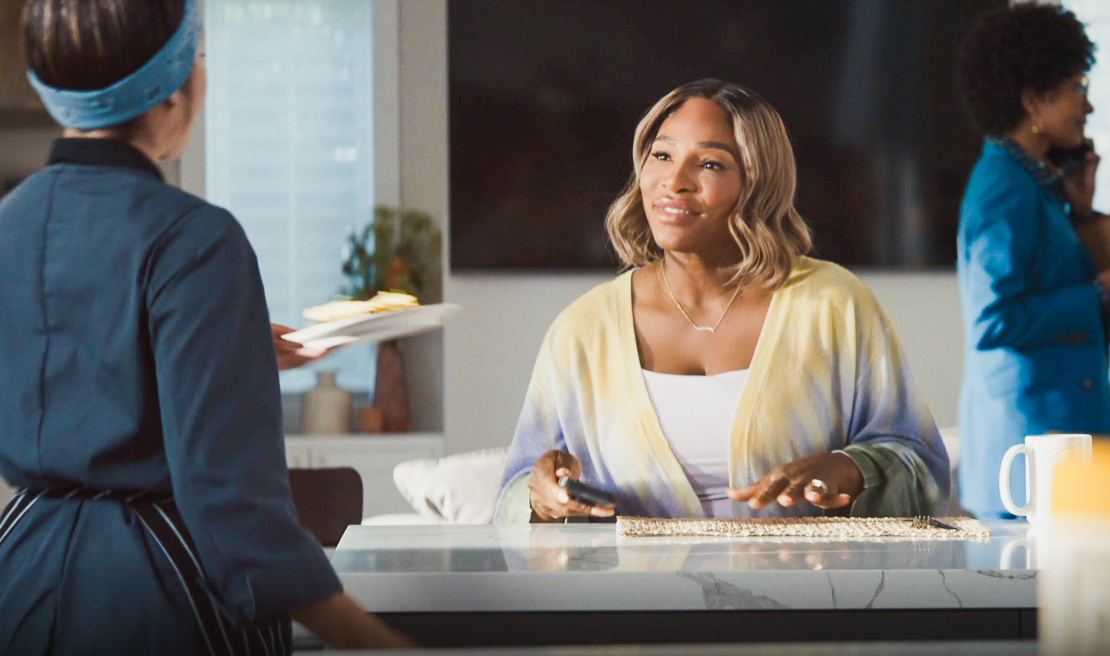 Eat Just
Serena Williams loves vegan eggs
Williams' investment in Eat Just is just one of her many vegan ventures. Most recently, Williams invested in WILE, a vegan supplement brand created by women for women undergoing different stages of menopause. Williams participated in WILE's $3 million seed round through Serena Ventures, a new early-stage venture capital firm that just raised $111 million to support brands and founders that Williams believes in.
In addition to aligning with her dietary habits, Williams' most recent investment in Eat Just is also motivated by sustainability. "I'm also all-in on the mission: how can we make healthy, sustainable options accessible to everyone?," Williams said. "JUST Egg is making a real difference, and I'm proud to partner with them and be a shareholder in the company."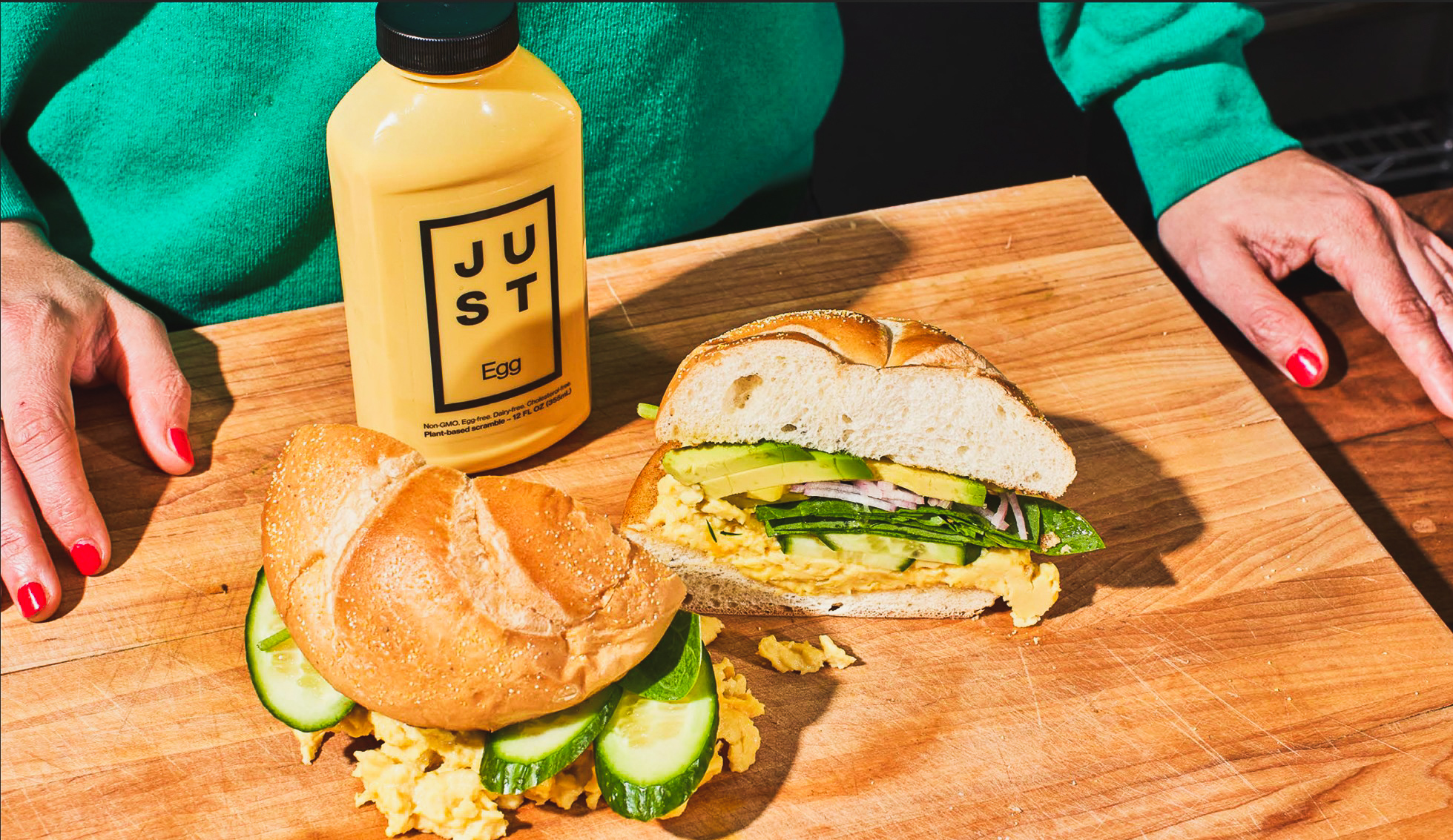 Eat Just
The two ads come during a pivotal growth period for Eat Just—which launched JUST Egg in 2018. Since then, the company has sold the plant-based equivalent of 250 million eggs, saving 9.1 billion gallons of water, avoiding 43.6 million kilograms of CO2 emissions, and sparing 13,446 acres of land. JUST Egg is currently available in approximately 44,000 points of retail distribution and 2,200 foodservice locations, including recent partners Alfred Coffee, Caribou Coffee, and Peet's Coffee—which all serve vegan sandwiches made with the plant-based egg.
After its key ingredient mung bean protein gained approval from the European Union, Eat Just is also expanding its global distribution to Europe this year further growing its international footprint which includes Canada, Hong Kong, China, Singapore, South Africa, and South Korea.
For more about JUST Egg, read:
Crepini Partners With JUST Egg To Create First Vegan Keto Egg Wraps
New Version of JUST Egg Is "More Egg-like" Than Chicken Eggs
Le Pain Quotidien Replaces Chicken Egg Frittata With Vegan JUST Egg Version