A new, next-level vegan bacon is coming to retailers nationwide and it's made by Colorado-based Planterra Foods—a plant-based subsidiary of Brazil's JBS, the world's largest beef company. The company is launching True Bite Plant-Based Bacon under its OZO brand in three flavors: Cracked Black Pepper, Applewood Smoke, and Spicy Jalapeño.
The company aims to keep its ingredient labels simple and OZO bacon features a protein blend of rice flour, wheat, non-GMO soy, and pea protein that is made unctuous by adding different oils to replicate animal fat, which is all rounded out with seasonings that bring out its bacon-like flavors. The bacon is made using a variety of ingredients and techniques that recreate the layers of fat and meat found in its animal-derived counterpart to deliver a next-level product that can be cooked crispy or chewy to taste.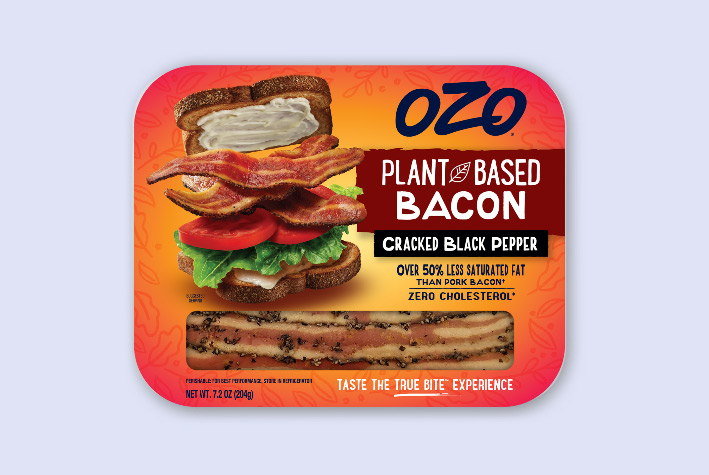 Planterra
And OZO bacon's layers, Planterra CEO Darcey Macken tells VegNews, are symbolic of the next layer of the plant-based movement, where eaters looking to lessen their meat consumption can build atop of now familiar things like plant-based burgers by adding layers of meatless bacon. "It is a type of extrusion with multiple different layers and fats so that brings those different textures as you cook it and it gives it that different type of meatiness when it's cooking," Macken said. "We see this as the next generation [of plant-based meats]. It's another layer."
OZO's new vegan bacon is available through the company website and is now rolling out at Sprouts Farmers Market stores nationwide with additional retailers planned in the future.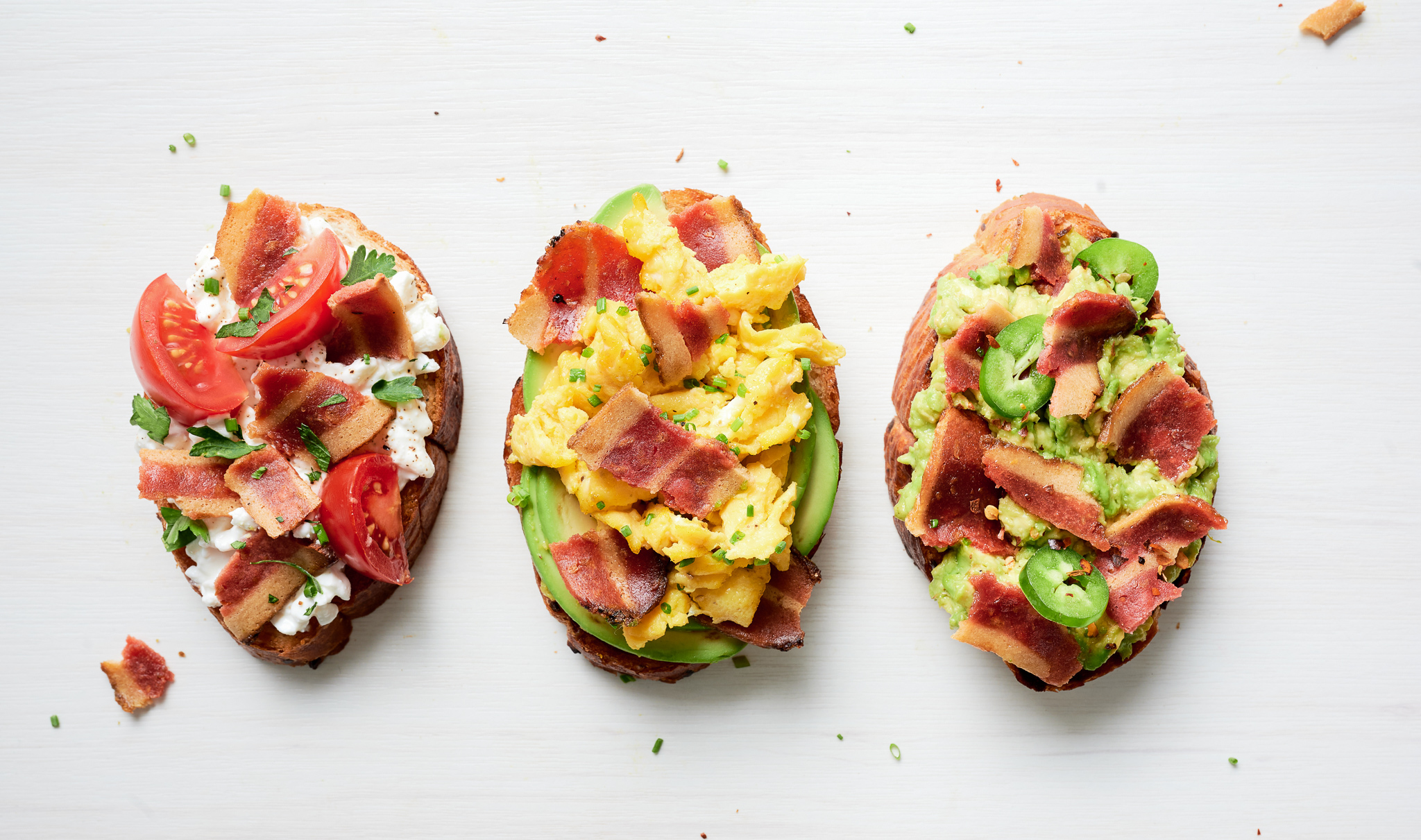 Planterra
JBS ventures into plant-based meat
JBS has been in the animal meat business for 167 years and while it will likely not end its core business any time soon, the company does want to be part of a future where plant-based meat becomes the norm, particularly in light of its climate goals to reach net zero by 2040. "That's a massive commitment and there's a lot of work that needs to be done by then," Macken said. "I'm at the table with the men in leadership [at JBS] when we get together every six months to talk about these things and what's important."
Spearheaded by Macken, Planterra launched its first products in the retail sector in early 2020, starting with OZO vegan burgers, grounds (in plain and Mexican-seasoned flavors), and Italian-style meatballs. Last March, OZO expanded its product line with vegan breakfast sausages and meatballs. Its new vegan bacon comes after a November launch of True Bite shreds and cutlets, high-protein vegan chicken products made from an exclusive blend of pea and rice protein fermented by shiitake mushrooms with a taste and texture that mimic their animal counterparts.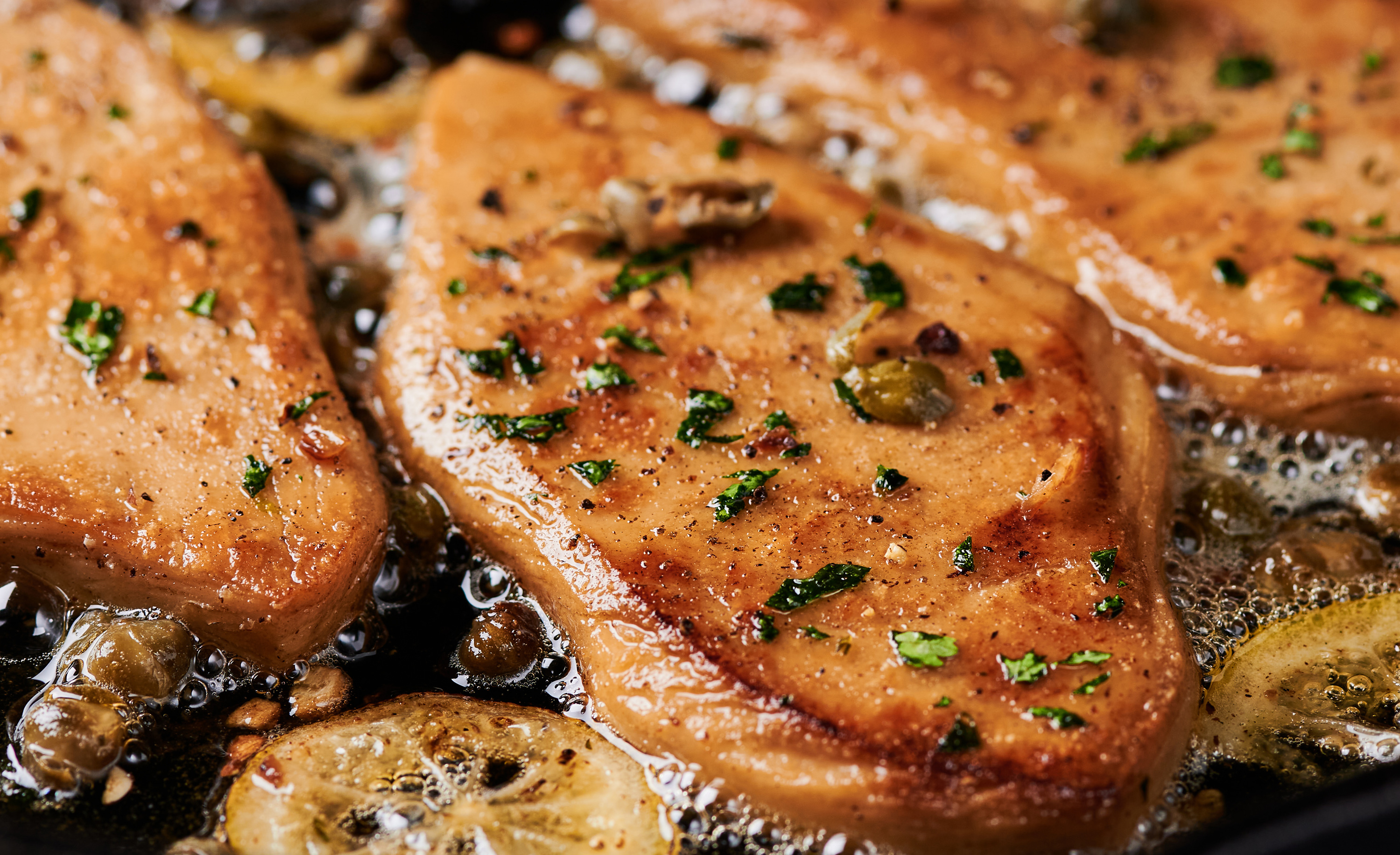 Planterra
"We knew we had to jump right into the future and into innovation and double-down on how we get to the future faster," Macken said, describing the brand's technology that unlocks "the foods that people know and love but made from plants." The company used the downtime during the COVID-19 pandemic to increase its research and development efforts. "So the last two years, we've been able to learn and hone it in."
Macken came to her current role as the head of Planterra after years of working with large consumer packaged goods companies such as The Kellogg's Company and yogurt brand Noosa. With Planterra, Macken is utilizing JBS' resources to get its plant-based products to market in ways others cannot. "We're leaning really hard into big procurement … knowing that if we need to scale this big time tomorrow, [we can]," she said.
While Planeterra is well-connected and funded by JBS, Macken says that the company is otherwise set up as more-or-less a standalone in terms of influence since the meat giant is not well-versed in plant-based brands. "I think it's critical that everyone is doing it and it's important for this world," Macken said in reference to established brands getting into the plant-based space.
And JBS is getting into the plant-based space in more than one way. Last April, JBS acquired Dutch brand Vivera—known for its realistic plant-based steaks—for $410 million in an effort to grow its global plant-based protein platform. "JBS is just that type of company that is incredibly competitive and they want to win in this space. They want speed but also know that it's a marathon and not a sprint. So they will be around," Macken said. "They continue to make acquisitions and a lot of investments in all things non-animal protein because they know that's the future."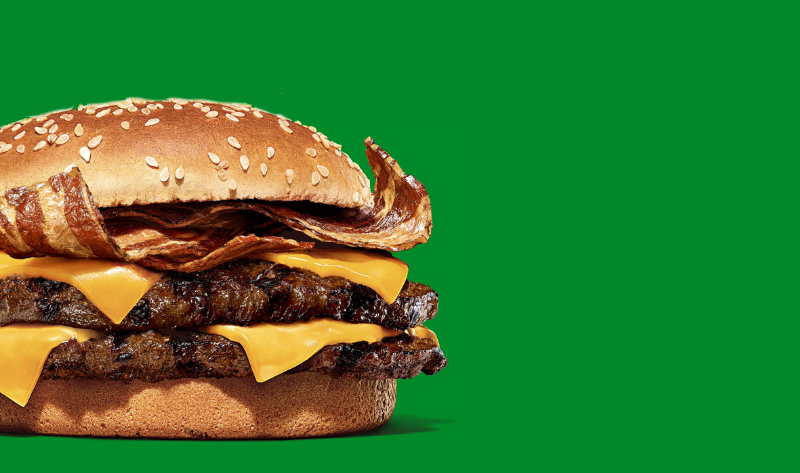 Burger King UK
Vegan bacon at Burger King and beyond
JBS is tapping the plant-based bacon category at a time when it is starting to take off the way plant-based burgers did a few years ago. As technology in the plant-based realm progresses, new companies are coming to market with innovative bacon formulations. In New York, MyForest Foods—a subsidiary of biotechnology company Ecovative Design—is making whole-cut bacon using mycelium, fast-growing fungi root systems. After raising $40 million earlier this year, the startup signed a deal with Ontario company Whitecrest Mushrooms Ltd. to scale the production of its vegan bacon.
Last year, upon leaving his post at doughnut chain Dunkin', former CEO David Hoffmann made an investment into Hooray Foods helping the California company raise $2.7 million in an extended seed round. Hooray also makes plant-based bacon and sold 1.8 million strips in one year since its founder Sri Artham created the brand in his home kitchen.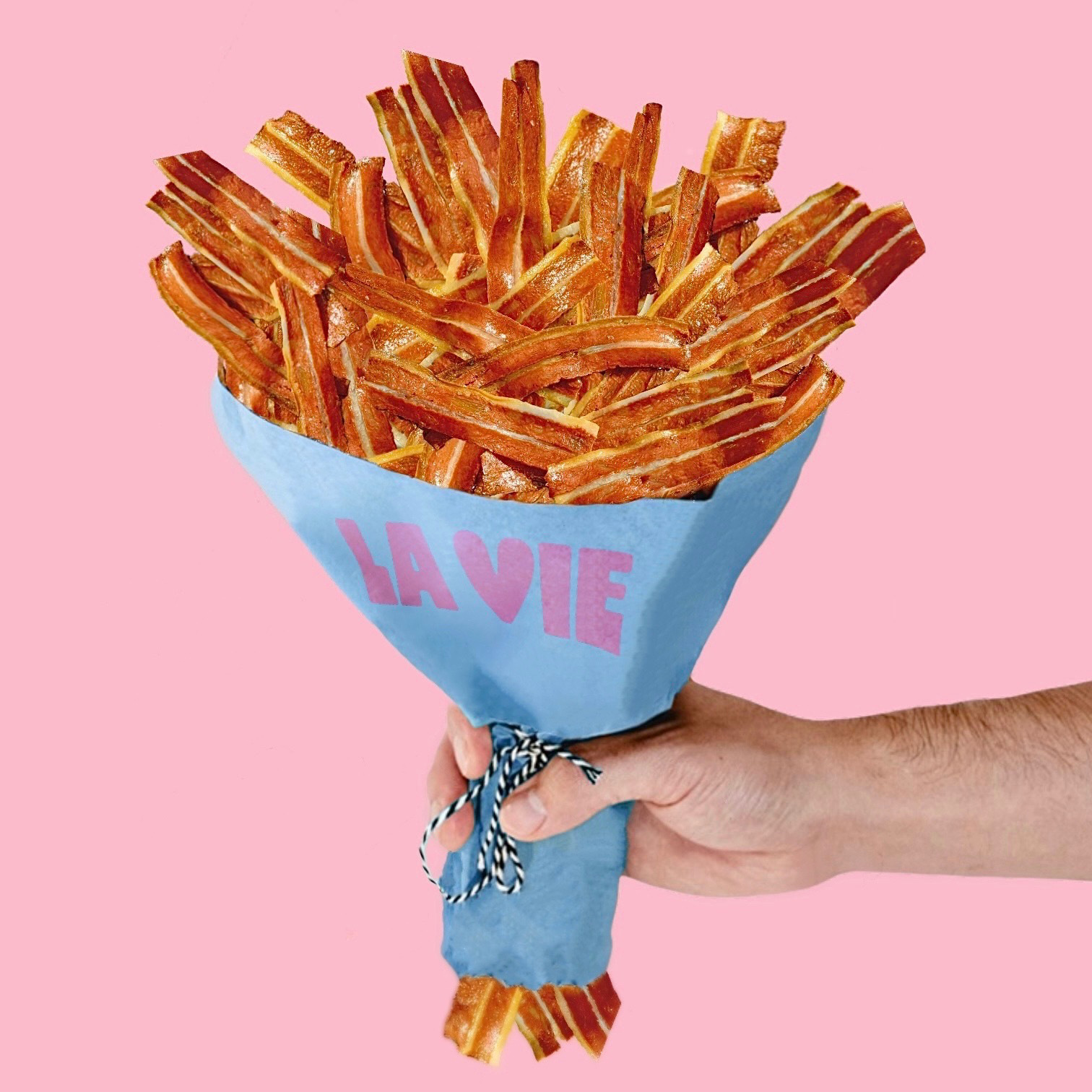 LaVie
And last week, Burger King capitulated to a campaign launched by French startup LaVie—which counts Natalie Portman as an investor—to add its vegan bacon to its French outposts for a limited-time run with potential to roll it out in other markets. This meat-free bacon can now be ordered as part of the Veggie Steakhouse, a plant-based remake of Burger King's meat-heavy classic burger that comes layered with bacon.
As for OZO's vegan bacon, Macken says the goal is to bring it and other exciting innovations to consumers wherever they might be consuming animal products, including at quick service restaurants. And because OZO bacon goes from raw to cooked in three-to-five minutes and can hold its texture for a prolonged period of time, the product is already a viable contender for larger QSR partnerships.
In addition to retail shelves, consumers will soon be able to find OZO's vegan bacon on the menu at vegan chain Veggie Grill which plans to serve it up in a classic BLT sandwich. "For us, it's all about feeding future generations and access. And this is access," Macken said. "This is just another way for people to get excited about eating all things plant-based."
For more about vegan bacon, read:
Gordon Ramsay Just Dropped a Crispy Vegan Bacon Recipe on TikTok
9 Vegan Bacon Brands for Breakfast, Lunch, and Dinner
Hellmann's Just Launched Vegan Bacon Mayo