This fall, Vancouver-based food company Urbani Foods is launching a hyper-realistic vegan ribeye-style steak under the brand Misteak. Initially, Misteak will be available at specialty stores and high-end restaurants.
The launch comes after two years of intensive research and development into a whole-muscle vegan meat that mimics the marbling and texture of a premium butcher shop style steak. Made from a blend of soy and wheat proteins and spices, Misteak aims to bring a plant-based steak experience to the center of consumers' plates with a juicy and tender ribeye-style steak that has a dry aged texture traditionally found in conventional meat offerings.
Following several years of success with its soy-based NOBLE Jerky, Urbani co-founder Stefan Urbani says the company decided to launch a vegan steak because it's an ideal product that comes to mind when people think of beef. "We wanted to show that plant-based alternatives can be more than just ground particle-style products like burgers and sausages," Urbani told VegNews. "Technically, whole-muscle meats are harder to replicate, but [they] open up an entirely new area of plant-based products."
In addition to coming up with a unique product, Urbani aimed to satisfy the palate of a traditional adult audience. "Most of the existing plant-based offerings seem like they are targeted to 10-year-old kids—nuggets, burgers, tenders," Urbani said. "Misteak will be a plant-based alternative targeted to a more adult audience that occasionally eats a meal at a table with a plate and cutlery."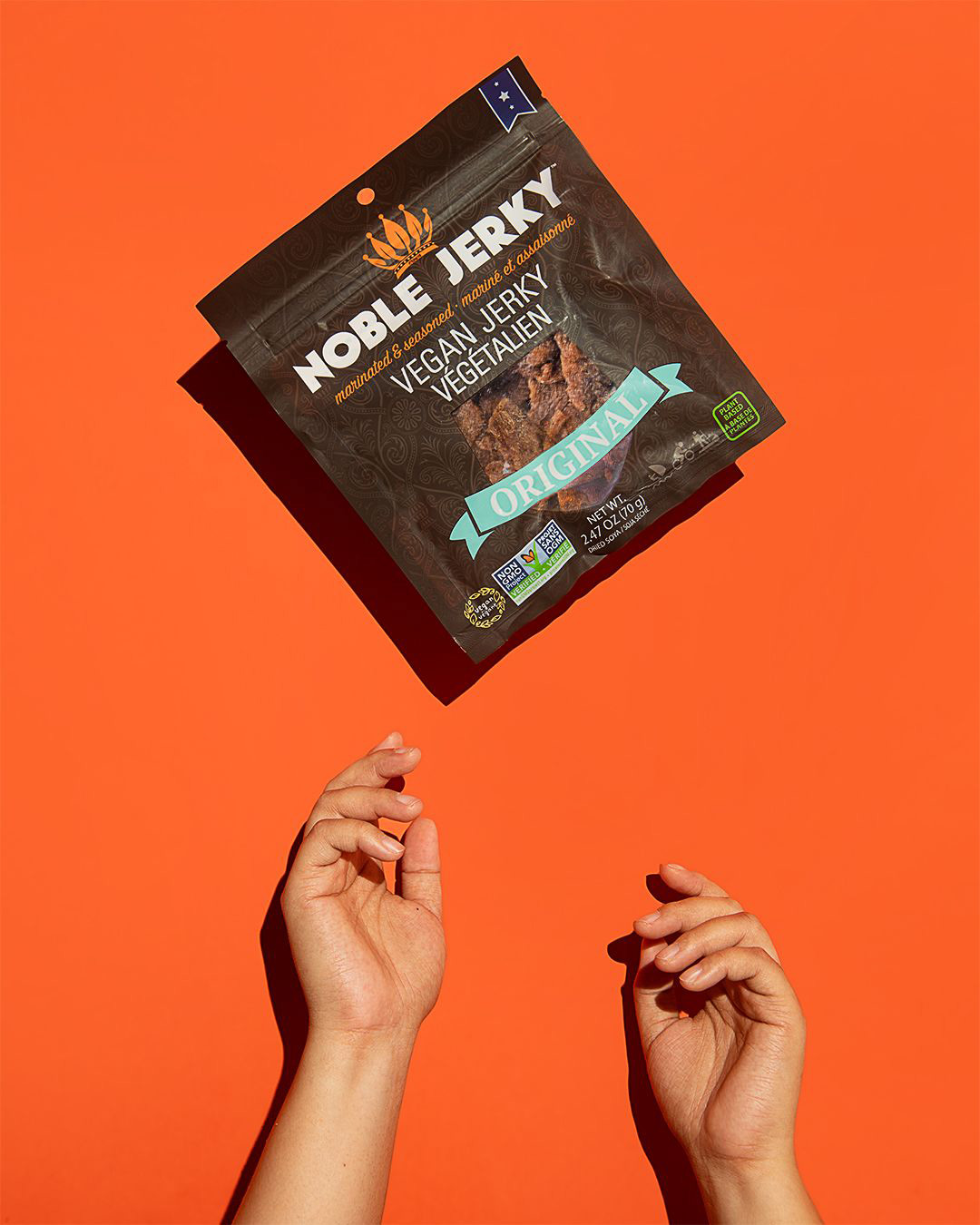 Urbani Foods
From salami to (vegan) steak
Prior to launching NOBLE Jerky in 2018, the Urbani family was in the business of making animal-based salami for 50 years. The decision to pivot the company to producing plant-based meat using its expertise in meat-making was made after CEO Claudio Urbani realized that feeding a growing world population with animal products was not sustainable. A few short months after launching NOBLE Jerky, its first plant-based meat product, the vegan Teriyaki flavor became the best-selling item in the "Jerky and Meat Snacks" category on Amazon in Canada—with its Sweet BBQ and Chipotle flavors not far behind in second and third place, respectively.
"Plant protein is becoming a real alternative for all consumers and their buying choices and habits are starting to reflect this," the company said in a statement at the time.
Urbani isn't the first company to take a stab at creating whole cuts of vegan meat. In recent months, the plant-based movement has identified its next move in replacing every part of the cow, moving from ground beef—often in burger form from the likes of Beyond Meat, Impossible Foods, Gardein, and Meatless Farm—to whole cuts of beef.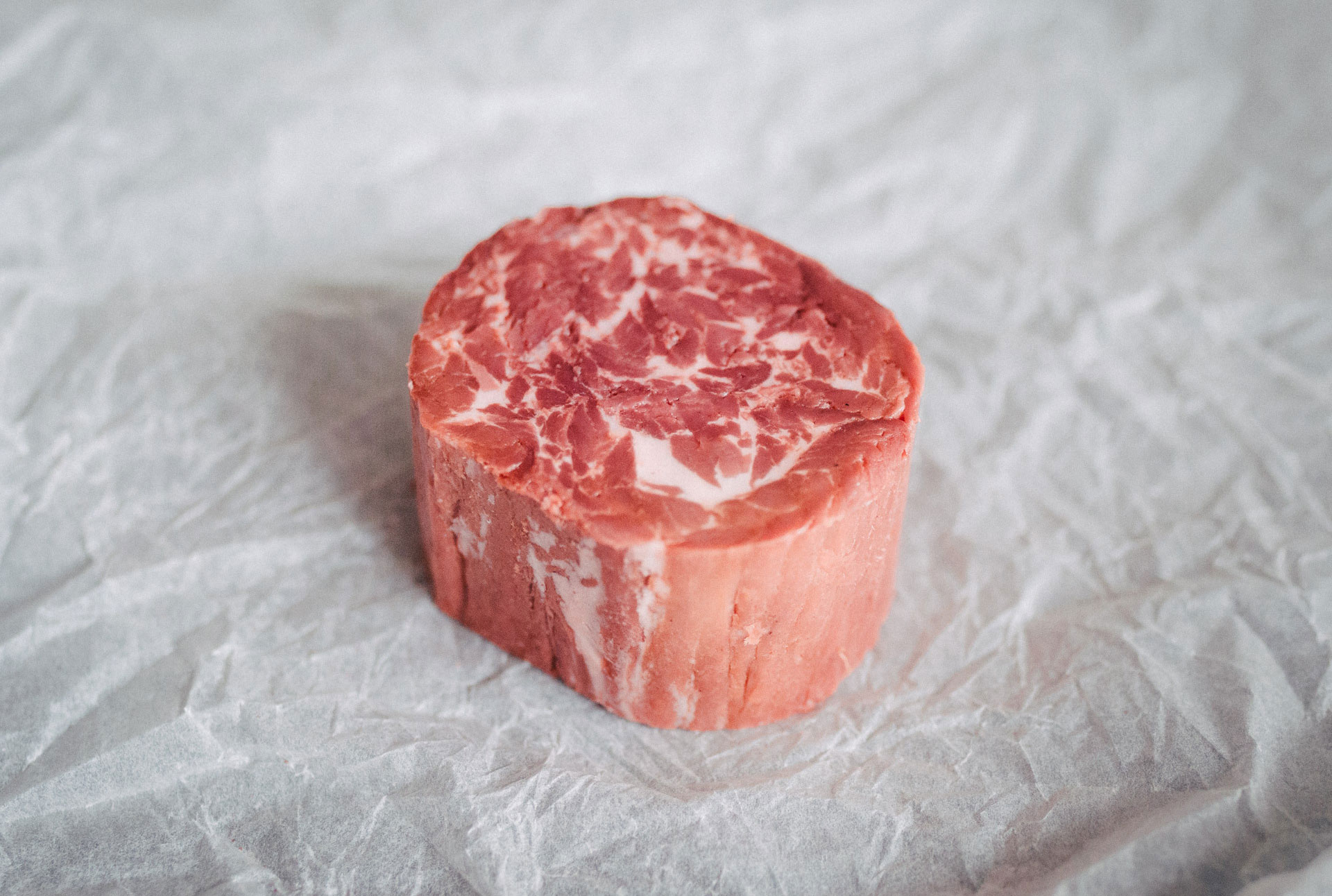 Juicy Marbles
An emerging player in this new era of plant-based meat is Juicy Marbles, a Slovenian company founded in 2020. The startup makes vegan filet mignon steaks by layering soy protein into linear fibers using the Meat-o-matic Reverse Grinder TM 9000, its patent-pending technology that reverse-engineers animal meat and improves upon it in terms of flavor longevity, juiciness retention, crust development, and nutrition profile.
In May, Juicy Marbles made its vegan filet mignon available to customers in the United States for the first time through what it calls a "meat leak." Within eight hours, the company sold thousands of steaks for a sell-out success—despite a hefty price tag of approximately $40 per steak.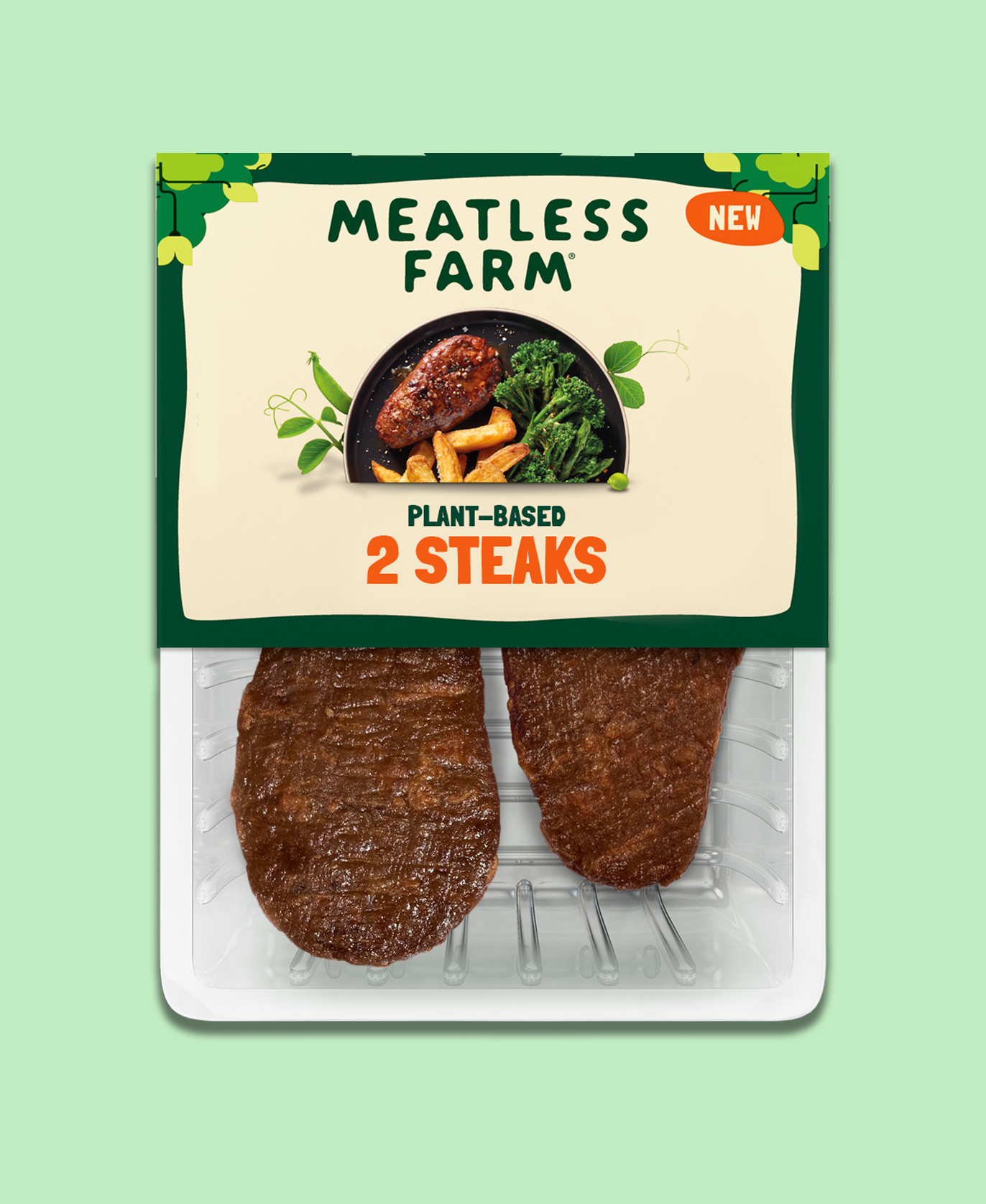 Meatless Farm
United Kingdom-based brand The Meatless Farm Co. is also releasing a whole-cut pea protein-based steak made using its proprietary technology to emulate the taste and texture of beef steak. Launched to coincide with an uptick in at-home steak consumption among British consumers, Meatless Farm's new plant-based steak is now hitting 125 locations of supermarket chain Sainsbury's at a relatively affordable price point of £3.50 ($4.41) for two filets.
Stateside, Colorado-based company Meati Foods is creating vegan steaks and chicken cutlets using mycelium, the fast-growing root system of mushrooms. At scale, Meati says it can produce the vegan meat equivalent of 4,500 cows every 24 hours and requires less than one percent of the water and land compared to conventional industrial meat production.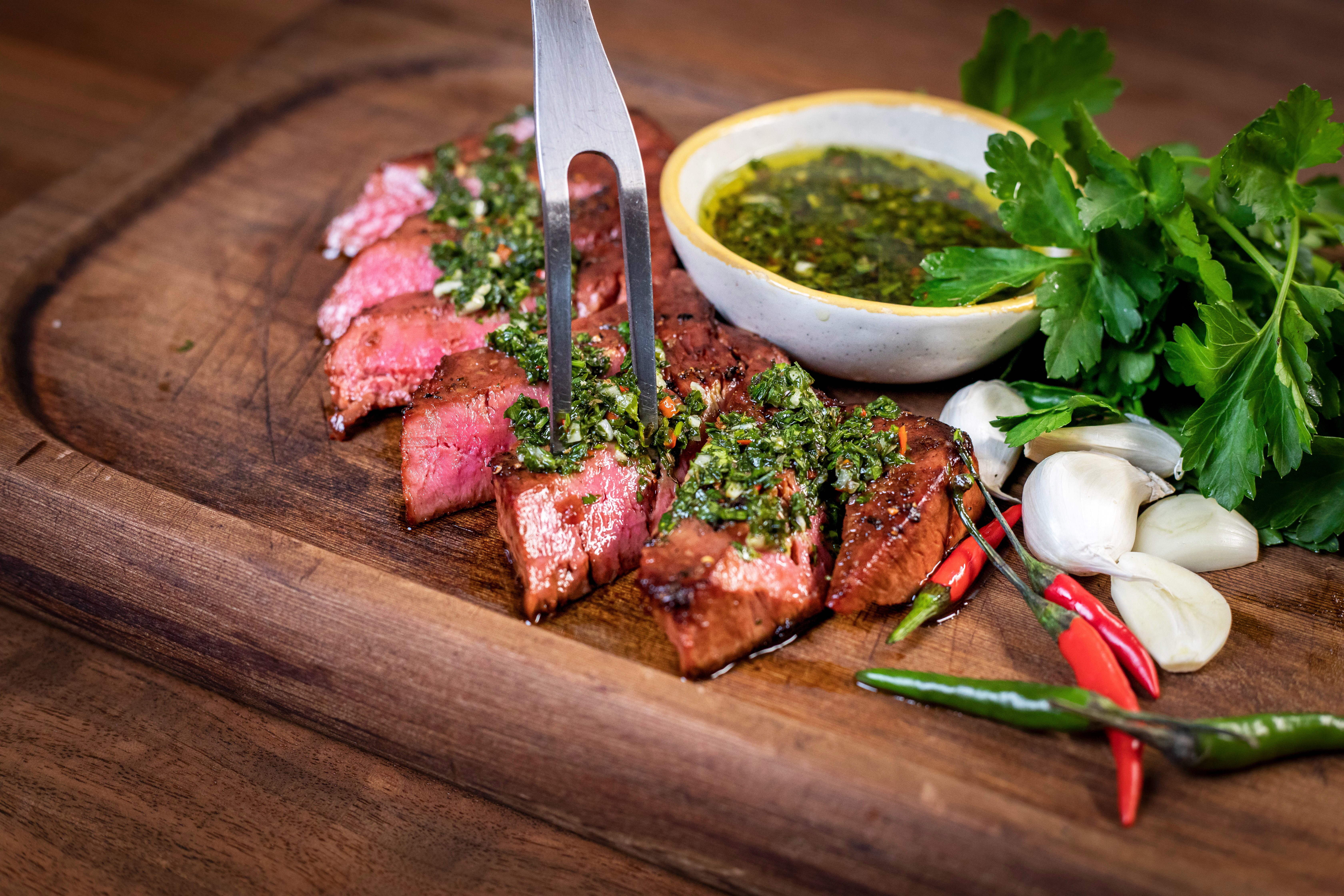 Meati Foods
"I grew up on a bison ranch, so my standards for meat are quite high. Meati Classic Steak is one of the first, if not the first-ever, whole-food, whole-cut beef steak alternative, and it delivers on incredible, juicy, mouthwatering flavor," Meati co-founder Tyler Huggins told VegNews. "It's packed with protein and fiber and has only .5 grams of fat and 0 grams of cholesterol. People can feel great about eating it, and we can't wait for everyone to try it."
And earlier this year, Beyond Meat announced its plan to move into whole-cut meats with the release of its vegan steak. "It's probably one of our best products to date," Beyond Meat CEO Ethan Brown said during The Wall Street Journal's Global Food Forum. The new Beyond Meat vegan steak will come in a sliced format and is expected to launch sometime this year.
For the latest vegan news, read:
Can the Vegan Food Industry Save 1.5 Million Animal Agriculture Jobs?
With Electric Trucks, Beyond Meat Is Even More Sustainable Than Beef
Quinoa Can Help Prevent Type 2 Diabetes, New Study Finds