Canada-based company PlantX just opened what is believed to be the largest vegan grocery store in the world. PlantX took over an existing Peter Rubi grocery store and transformed the 6,000-square-foot space into XMarket, a mecca of vegan products that range the gamut of ice cream, meat and cheese alternatives, and a grab-and-go section with XMarket-branded items—akin to how Whole Foods Market offers its own brand packaged goods.
With an expansive produce aisle with fresh fruit and vegetables, PlantX sees this large store as a necessary format to accommodate the exponential growth in this space. "It's cool to see the world moving in a way where you can have such a large store because of all the new brands and companies coming out," PlantX Chief Marketing Officer Alex Hoffman told VegNews.
The concept here will use the space to its maximum potential, operating as both a vegan grocery mecca and as a prep kitchen for the e-commerce side of the PlantX business that ships prepared vegan meals across the United States. By the end of the fall, the space will also become a food hall that supports a rotating line-up of food vendors, including a vegan concept made to rival In-N-Out created by PlantX itself which is cleverly called "Up-N-Down Burger."
XMarket Uptown held its grand opening celebration on July 31 with sampling stations from vegan brands such as Dreampops, Kitchen 17, Good2Go Veggie, and its forthcoming Up-N-Down Burger. The store also delivers groceries through Mercato and Instacart.
PlantX's massive Chicago location joins a number of large grocery stores operating worldwide, including Australia's Vegan Grocery Store, which began operations more than 20 years ago as The Cruelty Free Shop and now has locations in Sydney and Melbourne.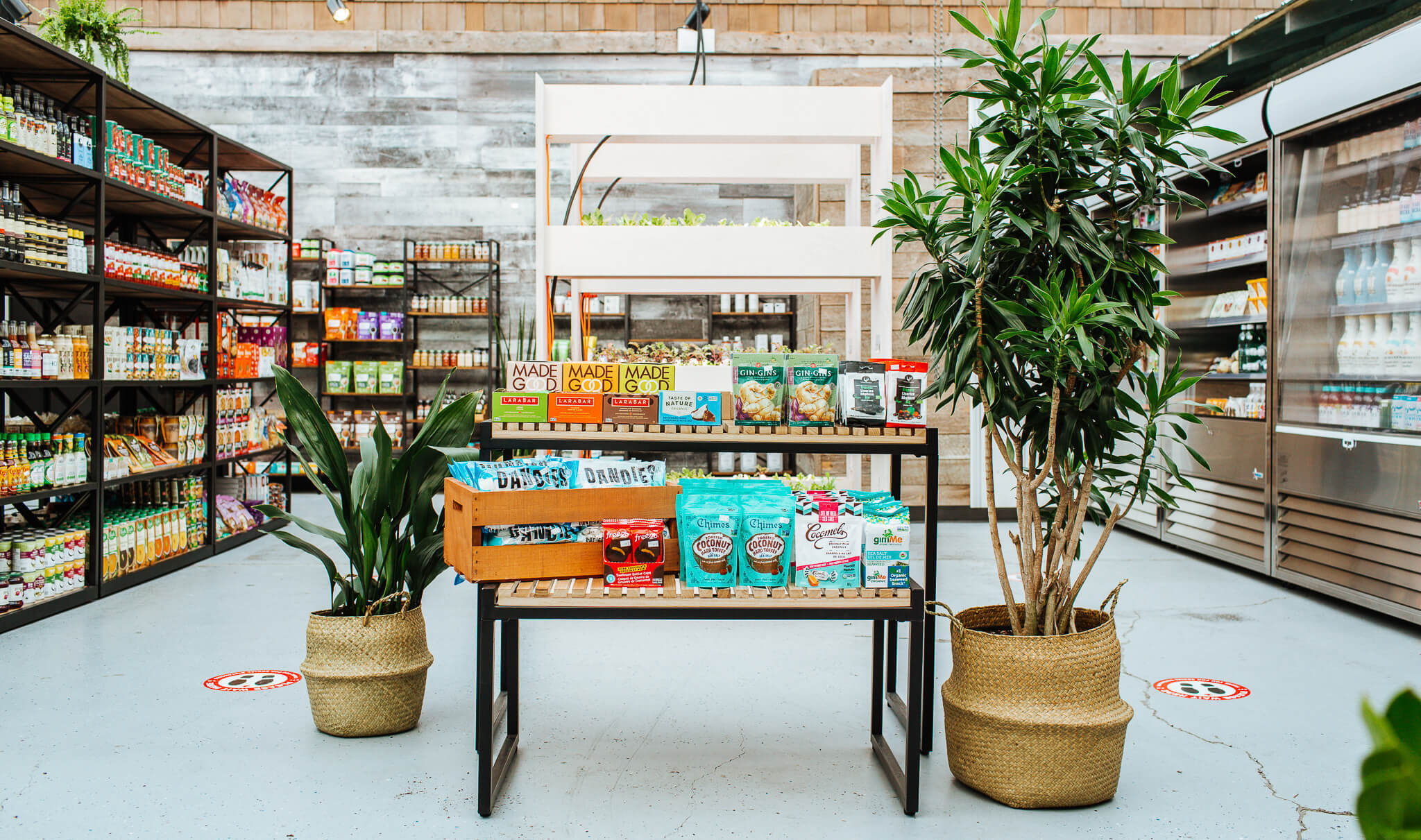 PlantX
Bringing vegan groceries to the masses
The new Chicago store is the seventh physical XMarket location, with other stores operating in Canada, California, Israel, and a co-branded location in Plainfield, IL. As a whole, the concepts serve to promote plant-based eating—and bring greater access to vegan foods—to the neighborhoods in which they operate.
Last Year, PlantX acquired New Deli, a vegan convenience store concept owned by chef Mathew Kenney. The company also hired Kenney as its Chief Culinary Officer and signed a five-year partnership agreement with Kenny's lifestyle company Matthew Kenney Cuisine (MKC).
PlantX has since transformed the Venice, CA deli into an XMarket location that focuses on sandwiches with Kenney's signature touch. The space is dedicated to hosting multi-month popups to promote local and emerging vegan concepts. Officially called "Vegan Pop Up by XMarket," the concept evolves based on the brand highlighted and will often feature storefront displays, painted front signage, and new menu items or promotions.
It first highlighted BESTIES Vegan Paradise, a mission-driven vegan grocery store with a location on the east side of Los Angeles. "That was to help them test the West Side to see if that's the market they should go into next," Hoffman said. "We're the platform. We're not their competitors. And it's funny how one of our first pop-ups was with one of our competitors. It was a really good way to collaborate and show that … everything is a partnership in this [plant-based] industry."
The next business featured at the Vegan Pop Up by XMarket was cold-pressed juice brand Little West which resulted in new smoothie options featuring the brand's juices and various events featuring Little West's products. Currently, the shop is highlighting dessert brand Dreampops, which recently launched shelf-stable items that XMarket is serving as toppings on its existing soft serve. Vegan Pop Up by XMarket collaborations are booked through 2023, with several partnerships that focus on smaller, local brands for shorter month-long pop-ups to help bring them exposure.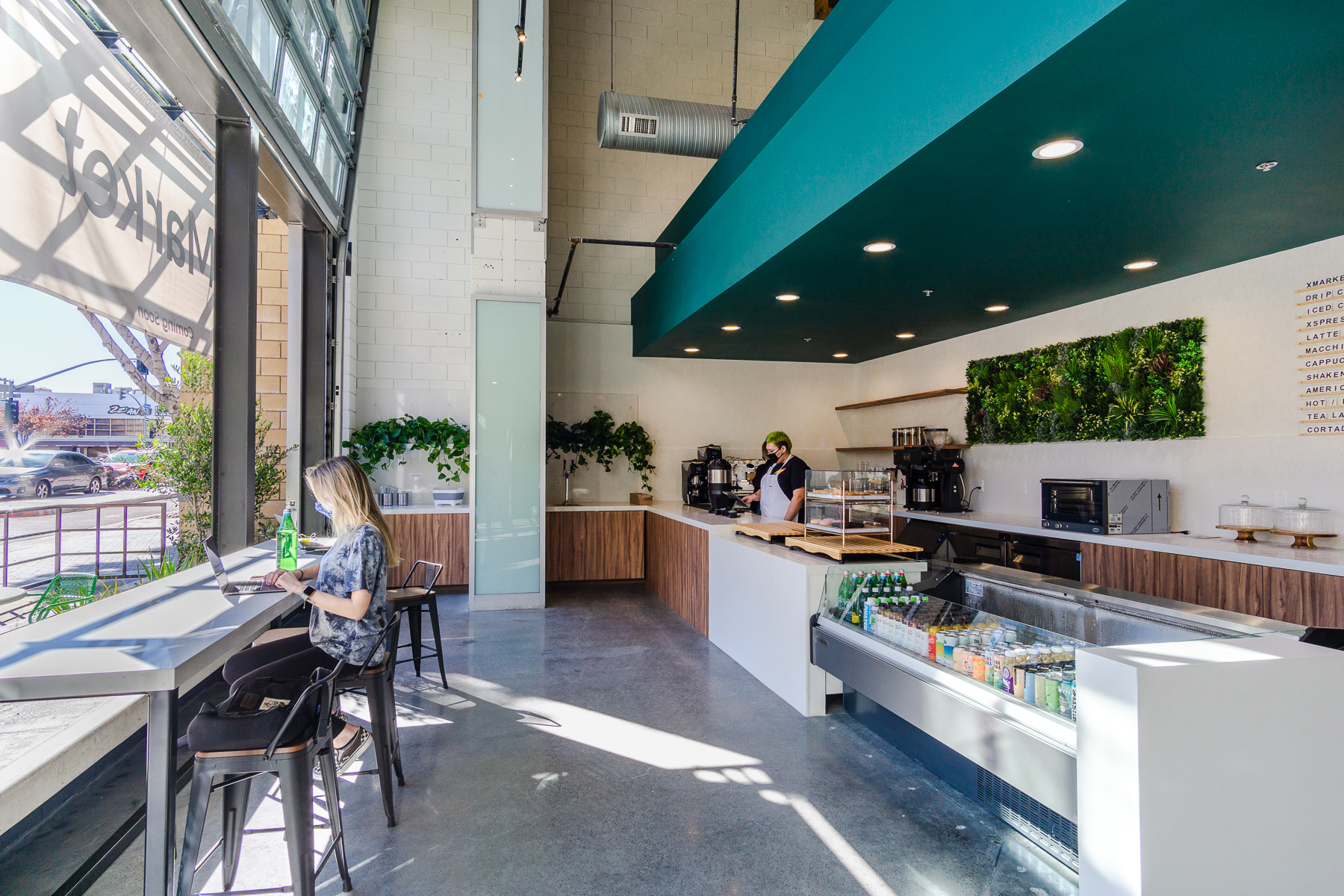 PlantX
PlantX opened its flagship XMarket store in the United States last year in the Hillcrest neighborhood of San Diego. This 4,500-square-foot space featured a variety of vegan food products, a cosmetic section, indoor plants, and an in-store café that featured items curated by Kenney, including coffee beverages, pastries, sandwiches, lunch options, and more. Unfortunately, despite investing heavily into this space, due to long-standing issues related to the property itself and its landlord, this XMarket location is closed indefinitely.
While PlantX does the bulk of its business through its e-commerce platform, the company is open to, and set up for, franchising opportunities that might grow the physical retail business side.
For the latest vegan news, read:
These New Initiatives Aim To Make Vegan School Lunches the Norm
Why Vegan JUST Egg Is Everywhere This Summer
Vegan Lasagna Is Helping Daniella Monet Reconnect With Her Italian Roots