For actress Daniella Monet, family is everything. She found fame early in life through various appearances on family-friendly television shows, including Nickelodeon's Victorious where she played Trina Vega, the lead character's charismatic sister. Monet has also been vegan for 23 years or as she puts it "vegan before it was normal." Now, the 33-year-old is the mother of two toddlers, and is passionately driven to invest in brands that align with her mission of changing the world for the better.
And her latest investment, Italian comfort food brand Sunday Supper, hits close to home. Launched in 2021 by entrepreneurs Richard Klein and Maleeda Wagner, Sunday Supper is rebranding and refreshing its approach this week and coming to market with a singular, perfected dish: a family-sized vegan lasagna in Italian Sausage and Three Cheese flavors. The dish is ready-to-bake and features five servings per package, a family-style approach that got Monet's attention.
"My nonna used to make amazing lasagna and I hadn't had lasagna that good since I was a kid," Monet told VegNews. "Making lasagna is one of the more laborious jobs. I've made it myself, but it's not something that with two little ones I can whip up as much as I'd like. Knowing that this exists for myself and others, it was just very exciting. It felt very nostalgic and is such a crowd pleaser."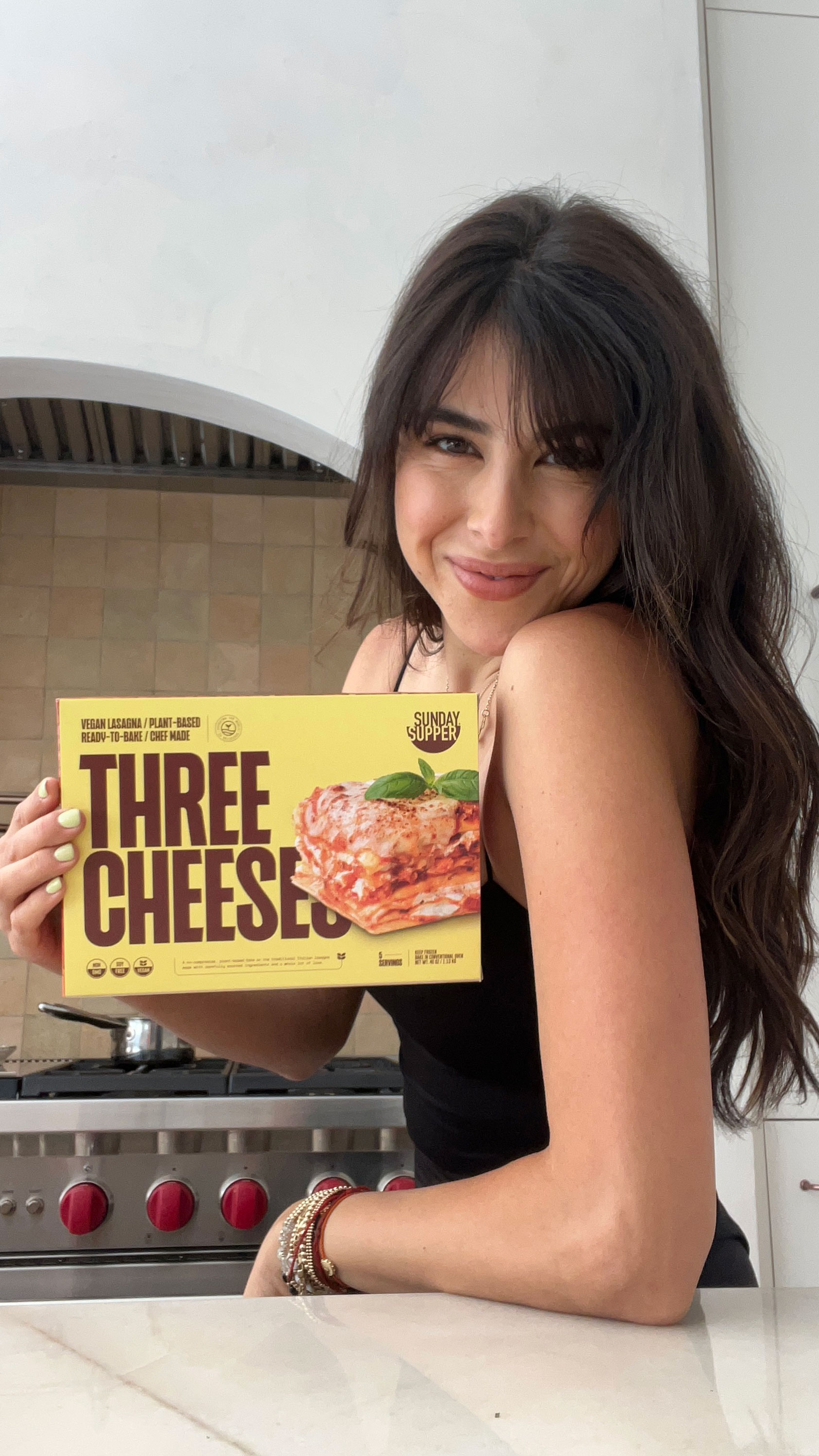 Sunday Supper
Vegan lasagna for the whole family
Italian families are known to enjoy dinner for four to five hours and Monet's is no different. With Sunday Supper's take-and-bake lasagna, Monet sees a way for her to bring a homey vegan option to the table that is at once familiar and enjoyable. "I just want to be able to offer my own spin on things without it feeling so disjointed because I am the only vegan one in my extended family," Monet said. "Having an option that I can bring and be so proud of, that isn't going to take me a ton of time to do because I don't have that luxury anymore with two little kids right now, makes me feel like this couldn't have happened at a better time."
As a mother, Monet learned early on that eating together with your children is markedly different from putting food in front of them and asking them to eat it. With Sunday Supper's lasagna, Monet says her kids instantly "gobbled it up," showing her that this had wide appeal.
"This is something that I love, but I'm vegan and it's an easy sell. But if it's something that my family and extended family loves, that gets my stamp of approval," Monet said. "I can make this for my nonna. And my nonna is very traditional Italian. And she's not as open-minded to vegan food and this is something that she's eaten."
Monet further explained that having a ready-to-bake vegan option is helping to nurture her family bond as its dynamics change over time. "[My nonna] actually stopped cooking recently which doesn't sound like a big deal but it is a big deal for our family," Monet said. "So our families have to pivot on whose home we go to for holidays or who is doing the load of the cooking. We're all just figuring it out."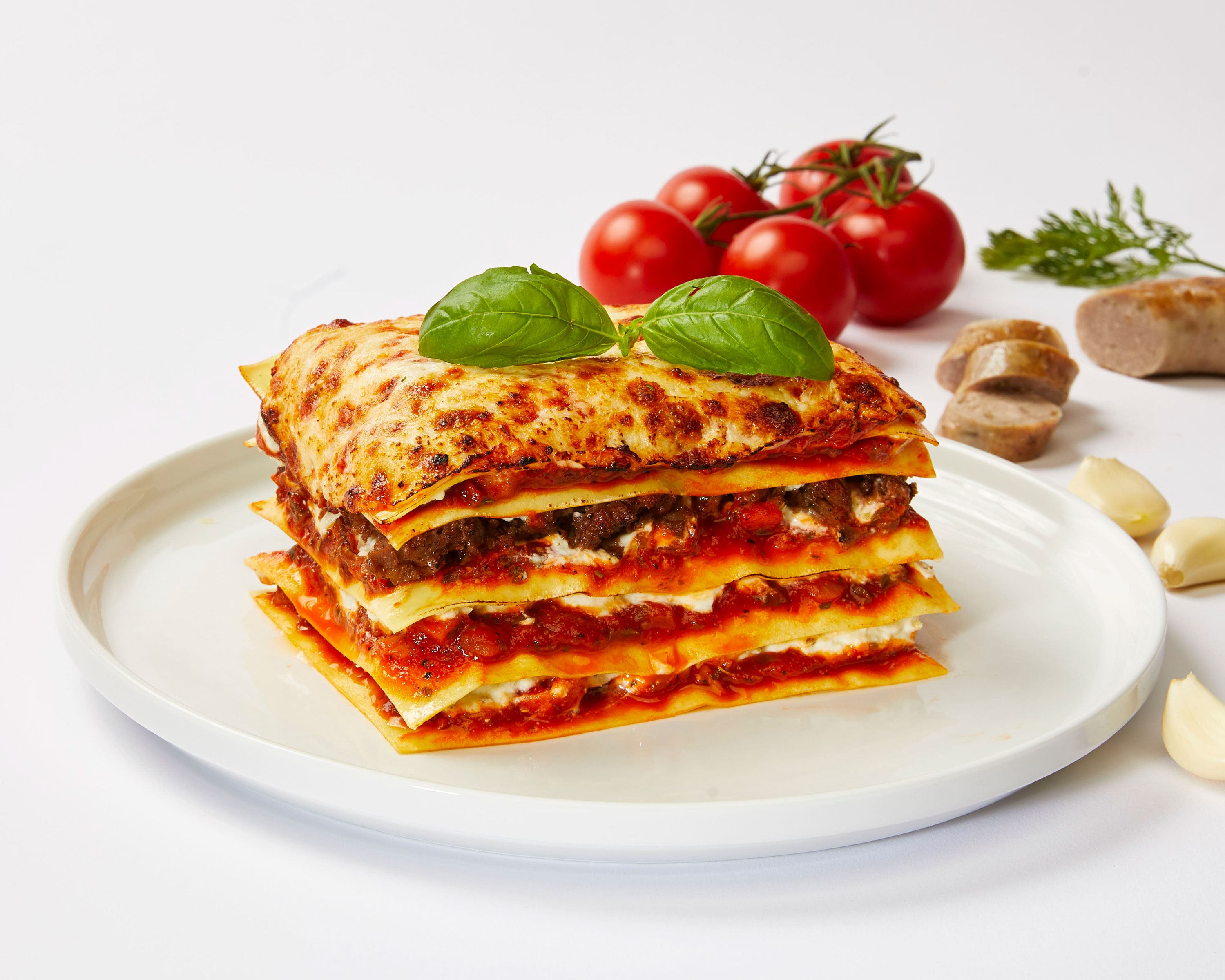 Sunday Supper
Crafting the perfect vegan lasagna
Sunday Supper is aiming to disrupt the $38 billion frozen food category with its wholesome, plant-based approach, and its founders bring a certain know-how to the table. Wagner is an executive with 20 years of experience in the frozen food space, and Klein is a passionate vegan who loves family-style meals as much as Monet. "I used to throw pretty regular Sunday dinner parties at my place and wanted to create a vegan lasagna that even my meat-eating friends would love," Klein told VegNews. "They were an instant hit with everyone at the table; vegan and non-vegan alike, and I knew I had to bring this product to market."
To make its Italian comfort foods really shine, Sunday Supper recruited Chef Celestino Drago—who, while not vegan himself, has been an authority on Italian cooking for decades. While many vegan cheese and meat products are readily available on the market, Sunday Supper chose to craft its own plant-based ricotta to deliver an extra homey touch.
"We want to bring friends and family around the table to share a meal. We are about good food for food lovers, and we aim to get more people to eat more plants and eat less animal products. Ultimately, it is a win for our planet," Klein said. "Our focus is on bringing love to the table with dishes that are as delicious and authentic as their original Italian versions."
In addition to investing in Sunday Supper, Monet is also on the brand's advisory board alongside fellow Sunday Supper investor Ryan Bethencourt, the founder and CEO of Mark Cuban-backed pet food brand Wild Earth and a managing partner of Sustainable Food Ventures. Sunday Supper products can be purchased through online grocer GTFO It's Vegan and will land at grocery chain The Fresh Market nationwide this fall. The brand is also entering a seed funding round with an eye on expansion that will bring additional vegan Italian meals—such as arancini balls, mozzarella sticks, pizzas, and even tiramisu—to thousands of retail locations nationwide.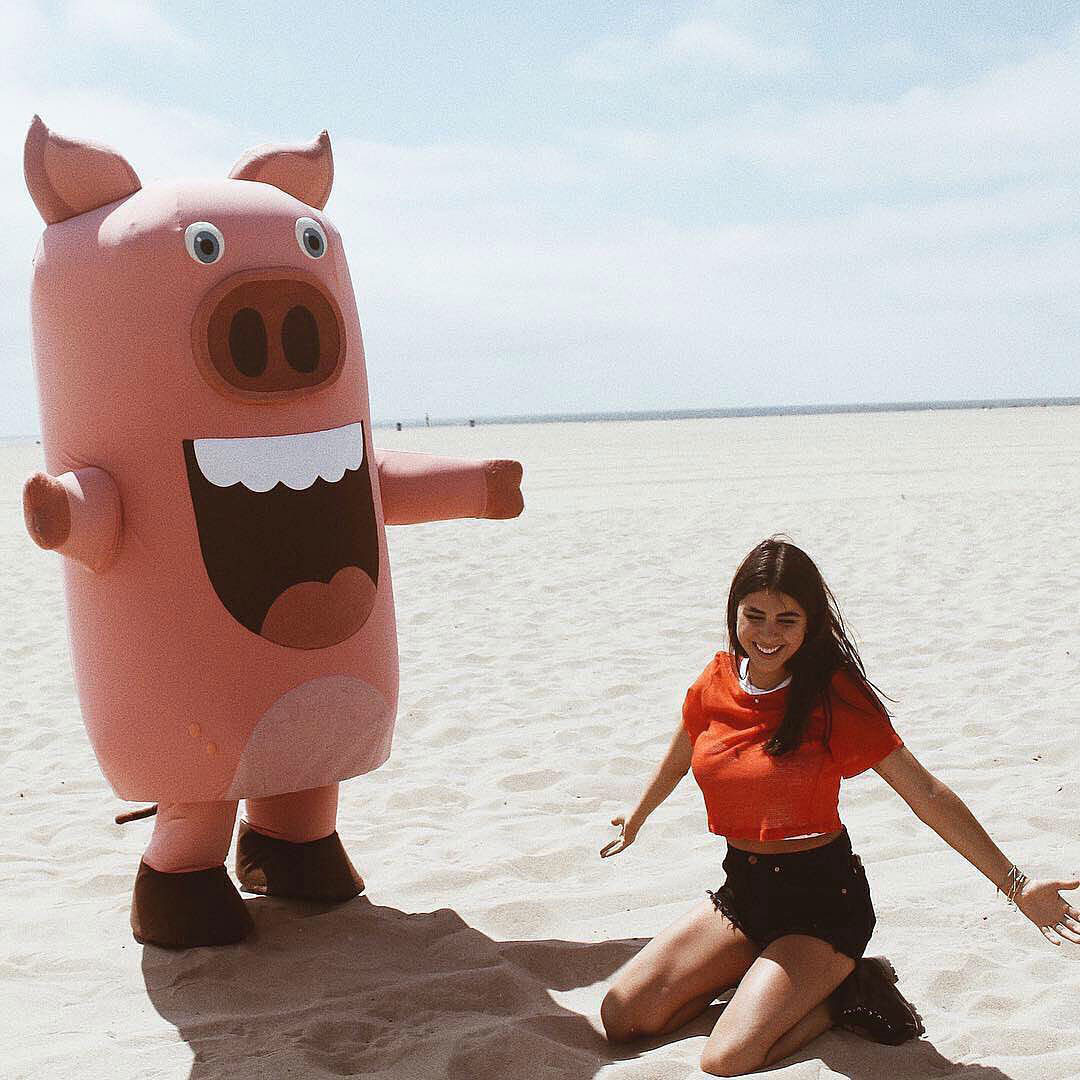 Outstanding Foods
Daniella Monet's vegan ventures
Monet's investments are driven by her veganism as much as they are by her desire to support people who she believes in. In addition to Sunday Supper, Monet is an investor in vegan snack brand Outstanding Foods and Sugar Taco, a growing vegan restaurant chain in the Los Angeles area. In 2018, Monet co-founded subscription company Kinder Beauty together with actress Evanna Lynch (of Harry Potter fame) as a way to help consumers easily find products that are vegan and cruelty-free.
"I just want to be able to make really great choices accessible for the masses," Monet said. "I was vegan during a time when it was not normal, and I kind of had to be ashamed of it. People didn't know how to accept me, and I didn't know how to navigate it either. I would get anxiety just around food. I want to cut through all that and show that this is just a way of life, and it's better and this is how you do it and it's not that complicated."
Her latest vegan venture, which will launch on August 18, is an app called "Daniella's Digest" that shares the plant-based lifestyle Monet lives with her children and fiancé, Andrew Gardner. Monet promises that the family-oriented app will deliver grocery guides, nutritional facts, and recipes with her family's unique spin.
"My goal with it is to provide resources for mostly families but really anyone can get something from it," Monet said. "I just want [plant-based] to feel like a very simple lifestyle."
For the latest vegan news, read:
Red Meat Increases Risk of Cardiovascular Disease by 22 Percent per Serving
Cracker Barrel's Impossible Sausage Drama Sheds Light on Bigger Issues
Can a New Postbiotic Protein Make Babybel the Best Vegan Cheese?