Last December, Berkeley-based chocolate brand TCHO announced plans to go vegan by the end of 2023. However, TCHO has hit that goal months ahead of schedule, slashing its overall greenhouse gas emissions by more than 75 percent, and continuing to win international chocolate awards without skipping a beat.
"We're really happy to announce that we had our final dairy production at our factory in Berkeley, CA in August 2022 and are now officially a dairy-free facility and chocolate company," Josh Mohr, Senior Vice President of Marketing at TCHO Ventures, tells VegNews.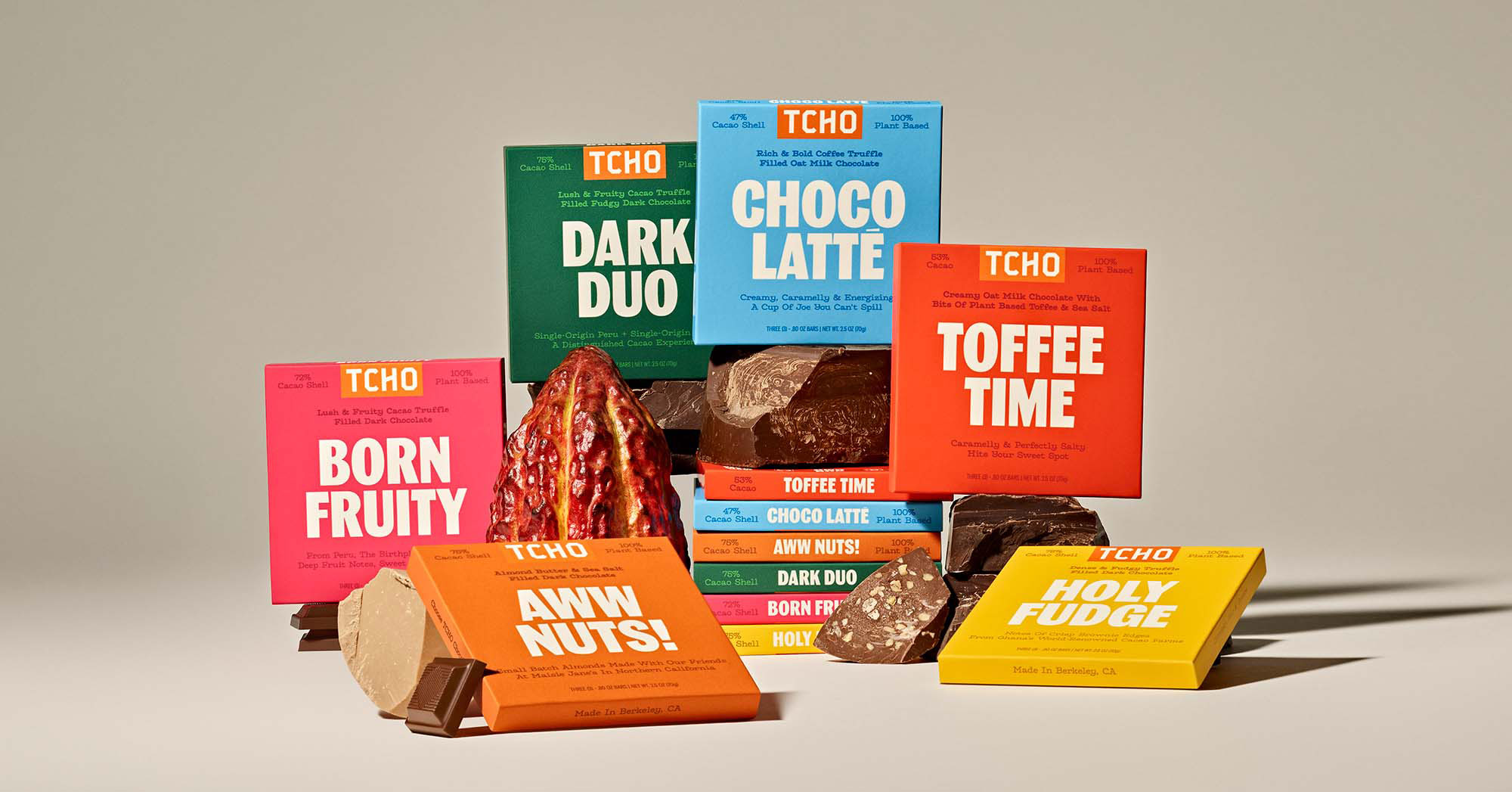 TCHO
Instead of dairy, TCHO now uses oat milk to craft unique chocolate offerings such as its six-bar retail line that includes Toffee Time (a creamy bar with crunchy toffee and sea salt flecks), Holy Fudge (made with Ghanaian dark chocolate with a flavor that is meant to evoke crispy brownie edges), and Choco Latté (a coffee truffle bar filled with oat milk chocolate and organic coffee beans.)
Removing dairy from its product lines—which includes its professional line—also came with some hefty sustainability perks. "TCHO is certified B Corp, certified organic, and certified Fair Trade, so we already have some aggressive sustainability goals," Mohr says. "Replacing dairy milk and going 100-percent plant-based is another huge step in the right direction."
"The greenhouse gas emissions associated with TCHO's dairy-free chocolate is over three-quarters lower compared to our original dairy milk bars," Mohr says."
In conjunction with its decision to go vegan, TCHO transitioned its packaging to paper cartons that are fully recyclable, and the vegan chocolate bars housed within are now wrapped in layers of 100-percent post-consumer waste paper and certified compostable film.
TCHO's new oat milk chocolates
TCHO first launched in 2007 with principles of bringing higher ethical and sustainability standards to the chocolate industry. The company's Chief Chocolate Maker Brad Kintzer was tasked with transitioning the formulations to meet TCHO's award-winning standards, and he was both excited and nervous to take on the challenge.
A botanist and cocoa plant enthusiast, Kintzer tells VegNews the company ethos centers around curiosity, an important element that inspires team members to discover new and exciting ways to use cocoa in combination with the vast world of plant-based ingredients.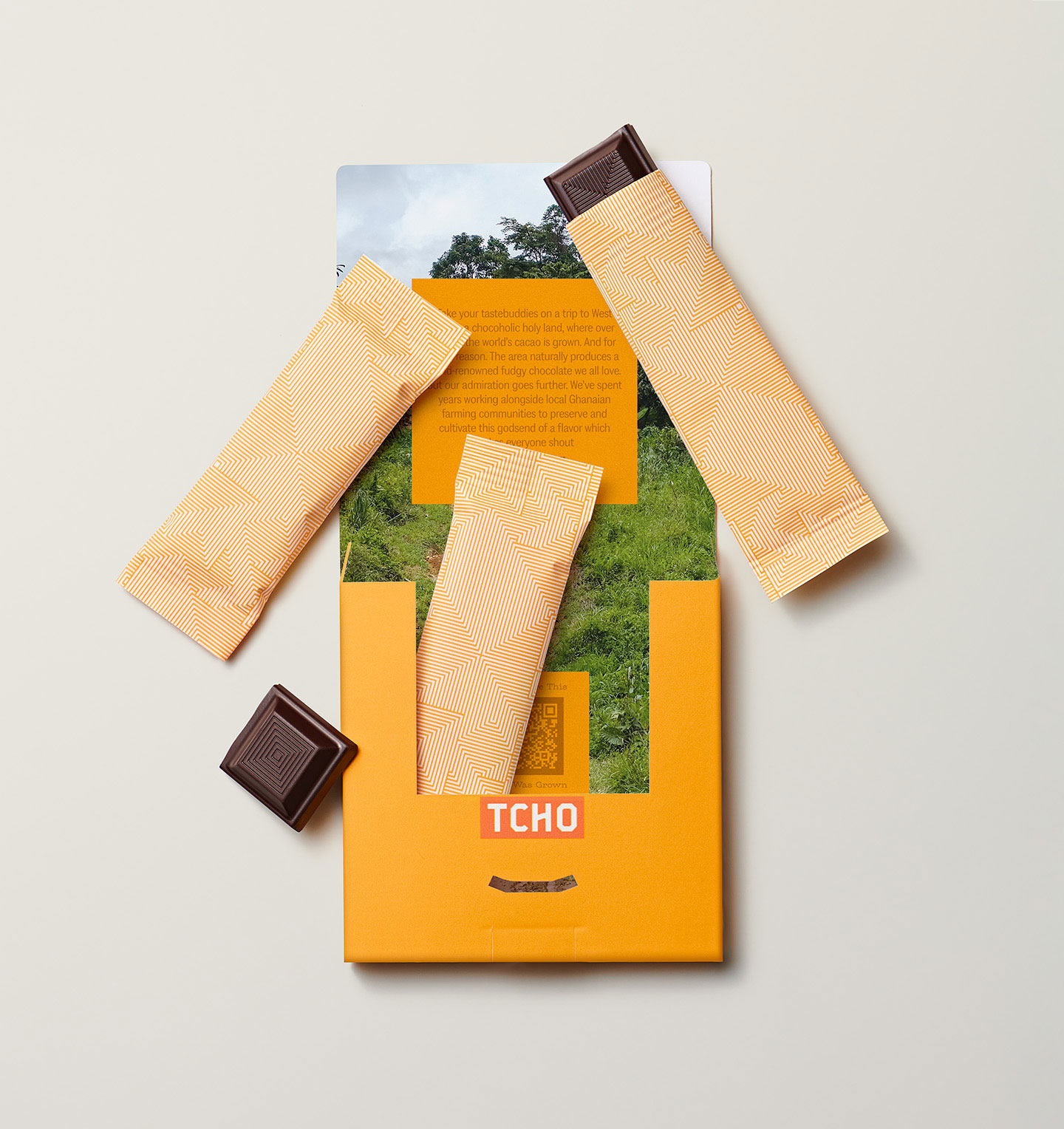 TCHO
"The challenge was always about if we could get close to making a plant-based milk that we could be proud of, and it took years of development and curiosity," he says. "It was deconstructing what we really love about milk chocolate."
After three years of rigorous development, Kintzer and the TCHO team landed on a base that consists of cashew butter, Balinese coconut sugar, and creamy oat milk, a combination that perfectly replicated the creaminess, gentle nuttiness, caramel notes, and soft mouthfeel that dairy brings to chocolate.
"Once we knew we could make an incredibly delicious oat-milk-based chocolate, it was clear that TCHO should discontinue all of our dairy production and move to 100-percent plant-based," Mohr says.
In addition to its retail line, TCHO transitioned its professional line of chocolate products to be fully vegan and is launching new and exciting options for food industry professionals. This month, TCHO is adding oat milk-based baking chocolate Oat My Gawd (46 percent) and oat milk-based white chocolate Choco Blanco (35 percent) to its professional offerings which open up a world of possibilities for vegan confections.
TCHO's new vegan white chocolate is one of a handful currently on the market and Kintzer made sure to craft it with utmost care—using top-notch Madagascar vanilla, creamy oat milk, cocoa and cashew butters, a bit of sugar, and a touch of coconut oil. "It's a different kind of a white chocolate," Kintzer says with pride.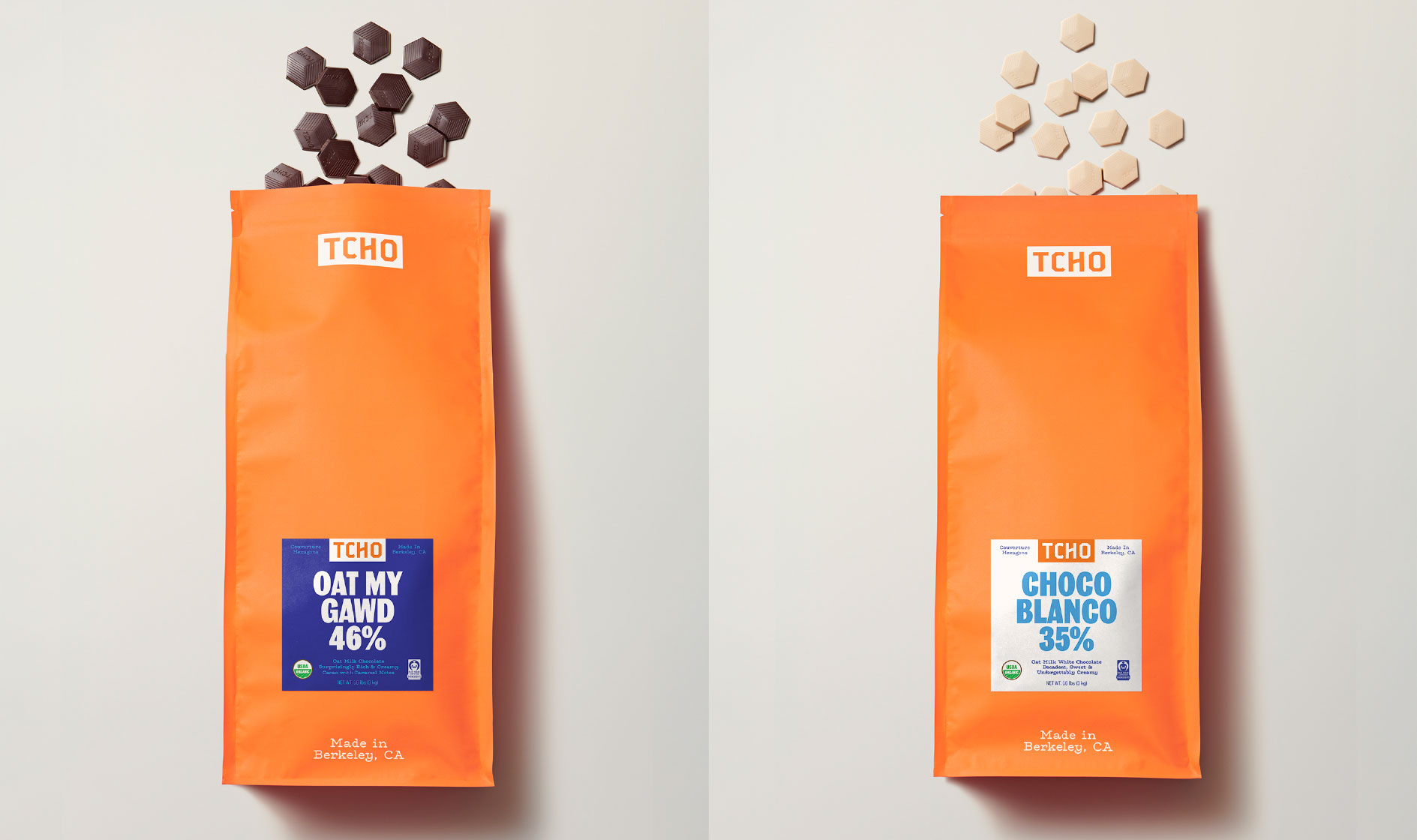 TCHO
The Choco Blanco and Oat My Gawd formulations also received extensive input from industry professionals such as chefs David Rodriquez and Erin Kanagy-Loux, along with Salt & Straw and Humphrey Slocombe (ice cream chains that use TCHO in their offerings).
And the new professional line is already hitting menus, including at acclaimed vegan restaurant Millennium in Oakland, CA. "This chocolate is a game changer for any chefs or bakers wanting to expand their vegan offerings," Saloni Mehra, Head Pastry Chef at Millennium, said in a statement.
Oat milk chocolate for the win
Since its launch 15 years ago, TCHO has won more than 30 awards at the International Chocolate Awards (ICA), a globally recognized event that tasks taste-makers with choosing the world's best chocolates.
Going vegan meant that TCHO would discontinue its award-winning milk chocolate and instead submit its oat milk bars to be scrutinized alongside dairy-based competitors. The ICA's Americas competition took place earlier this month and featured 800 entrants. So how did TCHO do?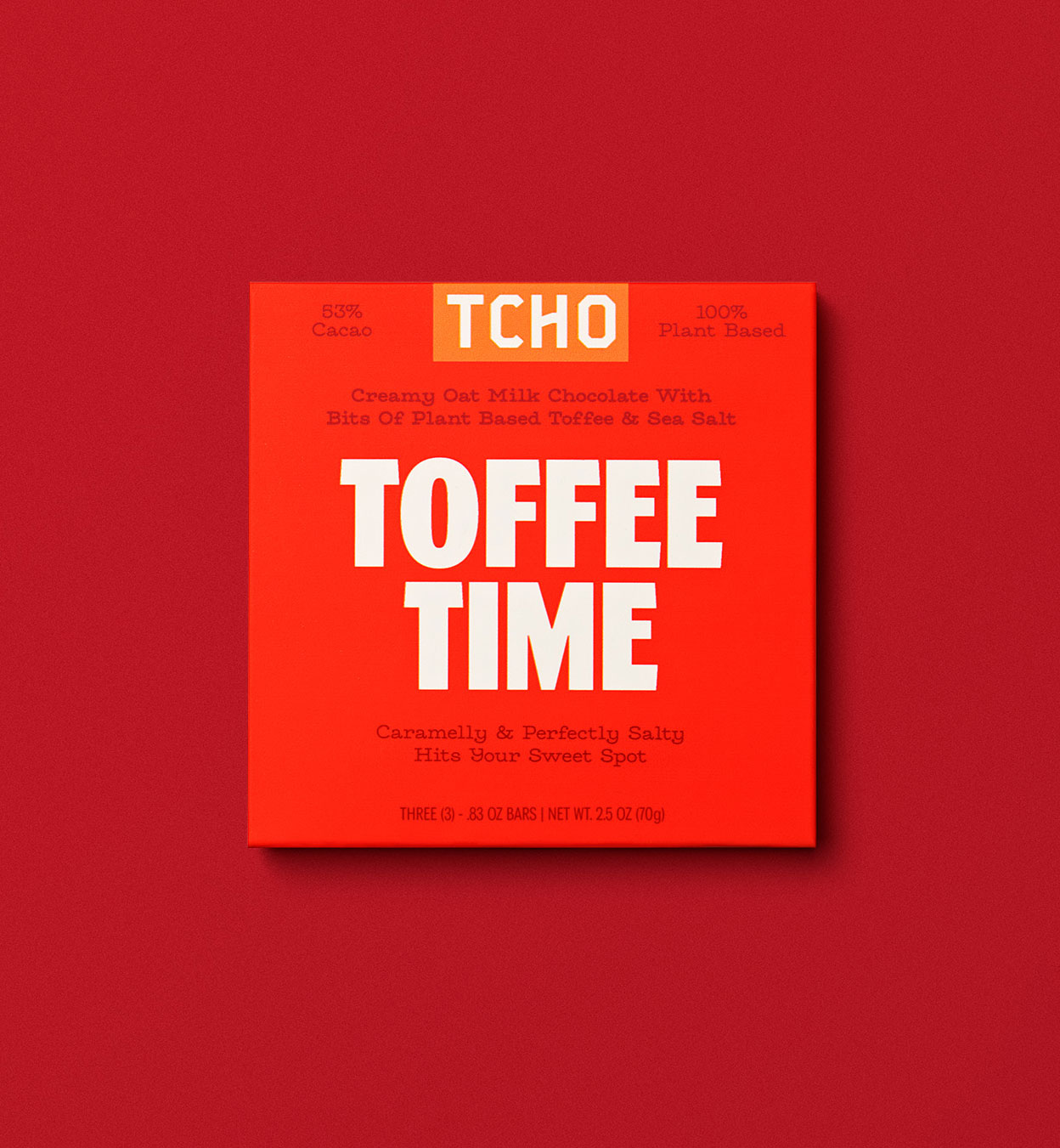 TCHO
Kintzer's hard work paid off because TCHO's chocolates won in two categories: TCHO Choco Latté got gold in the Milk Chocolate with a Filling category and TCHO Toffee Time won a bronze in the Milk Chocolate with Inclusions or Pieces category. Beating out dairy milk entrants, TCHO's vegan chocolates are now advancing to next month's World Finals in Germany where judges will determine winners from the 3,000 products entered this year.
"We took a big risk in discontinuing our existing line of chocolate bars and launching six new 100 percent plant-based bars," Mohr says. "Our previous chocolate bars had won more than 30 International Chocolate Awards and were loved by many. But we are chocolate makers first and foremost, so we knew our new bars would be equally amazing, if not better. And we were confident about the positive impact we would be making in the world by going 100-percent plant-based."
TCHO's award-winning chocolate bars and professional products are available through its website. Its bars are also available at select retailers, including Whole Foods and Safeway in the Northern California region.
TCHO: a modern chocolate company
While TCHO is a relatively small company, its journey in removing animal products from its formulations sets a precedent for how a modern chocolate brand can operate in a way that respects its farmer partners, promotes ethical practices along the supply chain for both people and animals, and hits sustainability goals, while delivering an award-winning product to consumers and professionals without compromise.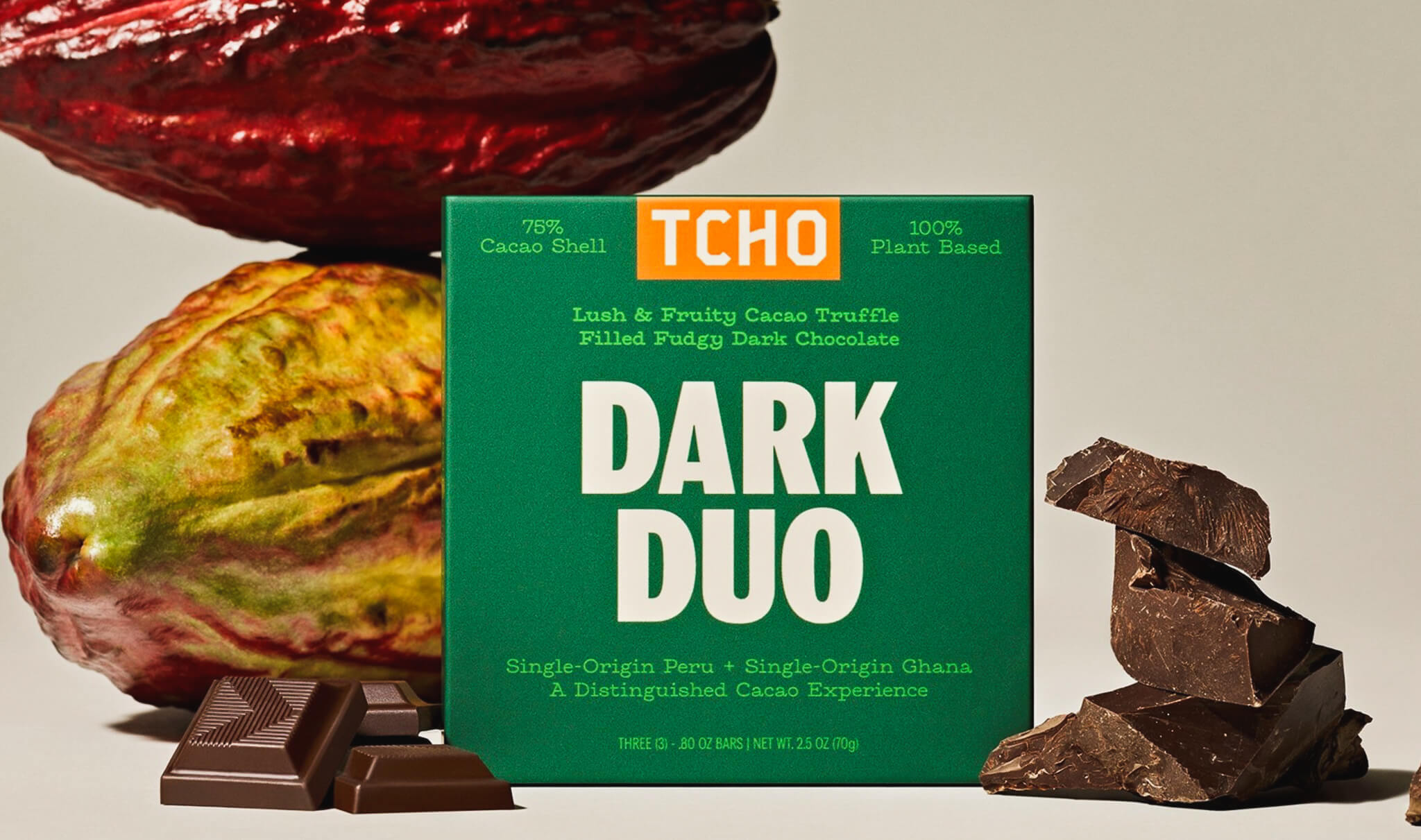 TCHO
And TCHO's drive to transform the chocolate industry has been part of its business from the start. After realizing that most cocoa farmers have never tasted chocolate made from their beans, TCHO established 10 flavor labs in cocoa-producing regions around the world to co-develop the best chocolate right at the source.
This gives the people who make the raw materials a chance to be part of the chocolate-making process and, in turn, develops a shared language around chocolate that helps TCHO create better products more efficiently and sustainability.
TCHO also recently secured B Corporation status, is fully organic, and moving toward becoming soy-free. And with dairy out of the picture, TCHO can continue to work toward its never-ending pursuit of bringing ethical, fair, and delicious chocolate to the world.
"There's just a way to design things so that you can make less of an impact," Kintzer says. "Moving away from our dairy milk chocolate line was kind of unthinkable but there was always a curiosity about how we can do things better, in a more unique way, and with a better impact on the world in different ways."
For the latest vegan news, read: