If your New Year's resolution is to go vegan, Chipotle Mexican Grill is here to help with new options inspired by Gen Z and Millennial wellness trends. Starting today, the chain is adding two new plant-based options as expansions to its Lifestyle Bowls, a selection of preconfigured menu items created to appeal to customers who follow diets such as vegan, paleo, keto, and Whole30.
The first new plant-based option is the Veggie Full Bowl which comes with white rice, black beans, fajita veggies, fresh tomato salsa, roasted chili-corn salsa, and guacamole. The second option is the Plant-Powered Bowl which includes supergreens lettuce blend, white rice, Sofritas (a tofu-based vegan protein), fajita veggies, fresh tomato salsa, roasted chili-corn salsa, and guacamole.
Chipotle's new Lifestyle Bowls—which include other non-vegan options—are available as digital exclusives in the United States and Canada.
Chipotle is also encouraging fans to exercise and meditate in the new year with an augmented reality (AR) experience it will launch on Snapchat on January 13—known as "Quitter's Day," or when many people forfeit their New Year's resolutions.
The first restaurant to promote physical activity and wellness with an AR Lens on the platform, Chipotle will give away a code for a free small side or guacamole to the first 100,000 US users to engage with the feature.
Chipotle gets into plant-based proteins
Chipotle is a trailblazer when it comes to plant-based proteins and added its first vegan option, Sofritas, to its menu in 2014. Made from organic tofu that is spiced with poblano pepper, cumin, and chipotle chiles, by 2018, Sofritas became a popular mainstay at Chipotle, selling 7.5 million pounds that year alone.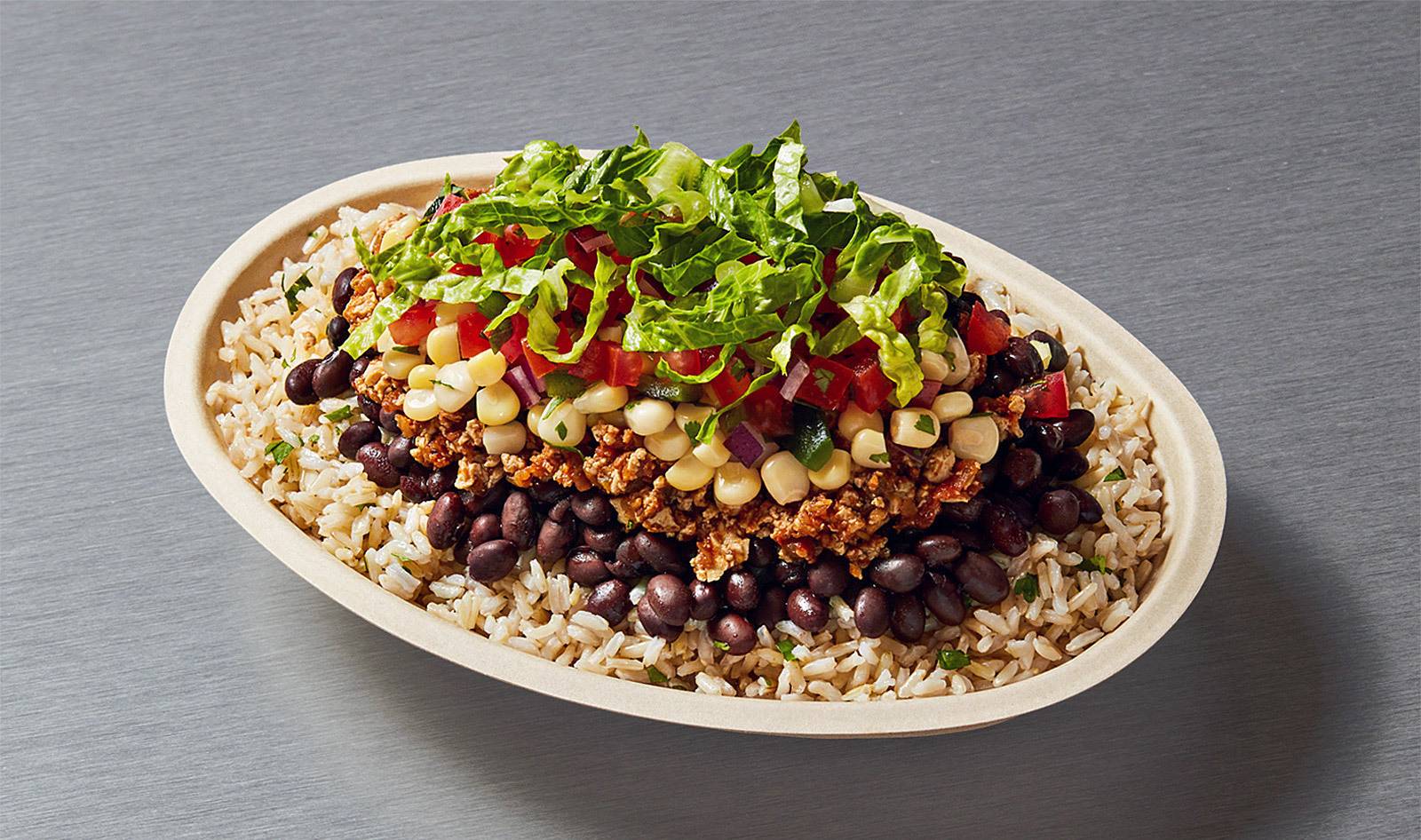 Chipotle
After the success of Sofritas, Chipotle explored its first Vegan Bowl in 2019, a preconfigured menu item that includes the vegan protein as a topper.
"We've found that many people are increasingly looking for plant-based protein options, so we wanted to make it easy for our customers with digital shortcuts for these bowls," Chris Brandt, Chief Marketing Officer of Chipotle, said in a statement at the time.
"Since introducing Sofritas five years ago, Chipotle has provided flavorful options for every lifestyle, while simultaneously doing something good for the planet," Brandt said.
Last year, Chipotle dug further into its exploration of plant-based meats with the launch of Plant-Based Chorizo. Made in-house, the vegan-certified meat option was made with a base of pea protein that was flavored with ancho chilies and chipotle peppers, tomato paste, crushed garlic, Spanish smoked paprika, and extra virgin olive oil.
"Creating a delicious plant-based protein that sizzles on the grill with the robust flavor and texture profile chorizo-lovers expect was a real challenge," Nevielle Panthaky, Vice President of Culinary at Chipotle, said in a statement at the time. "Our culinary team has worked relentlessly for years to develop this breakthrough Plant-Based Chorizo recipe that is uniquely Chipotle and aligns with the brand's industry-leading Food with Integrity standards."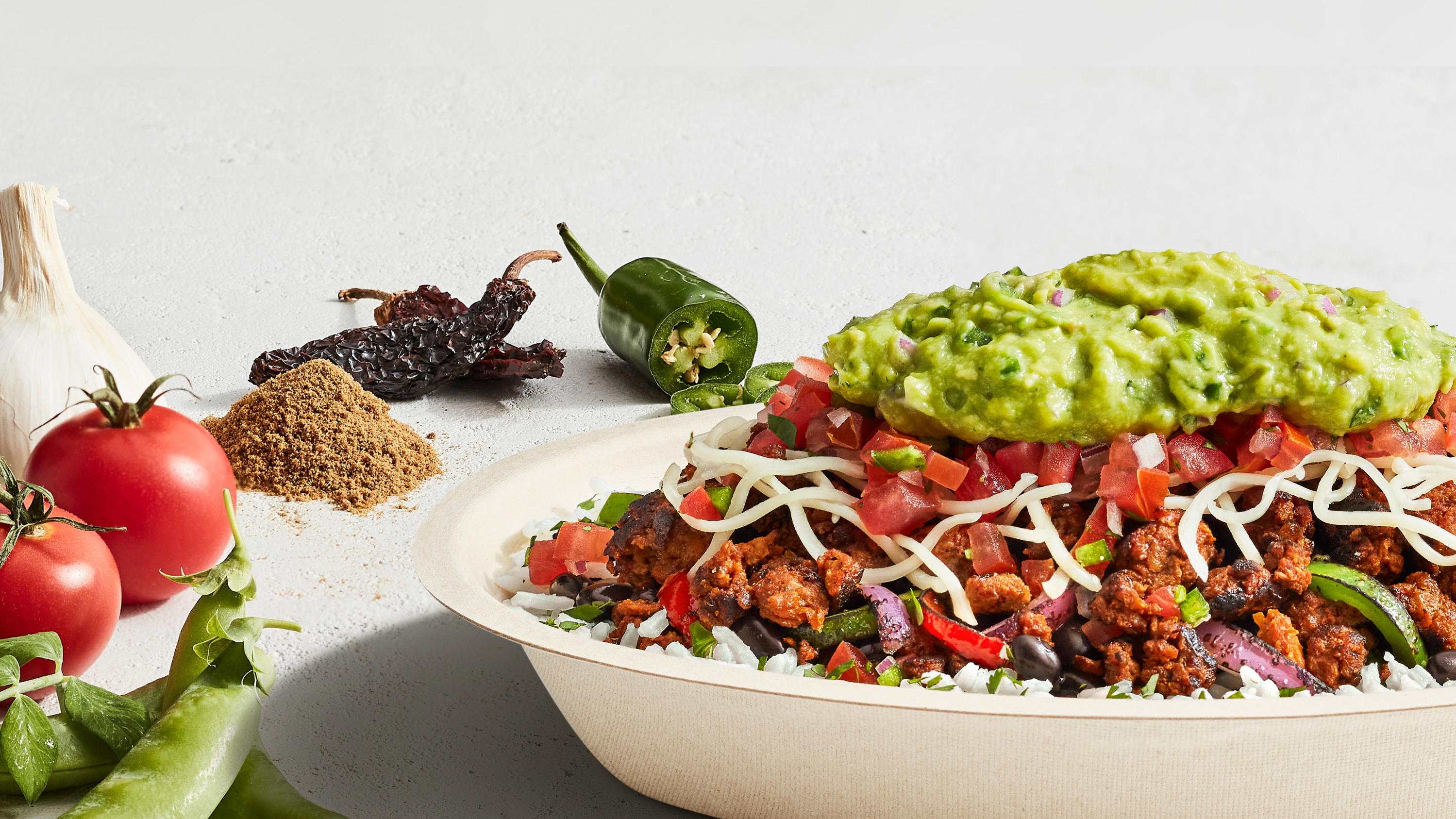 Chipotle
Chipotle first tested the vegan chorizo at 103 locations in Indianapolis, IN; Denver, CO; and Orange County, CA in summer 2021. By January 2022, the chain expanded Plant-Based Chorizo to 2,700 locations nationwide, offering the limited time option as an add-on to any customizable meal and as part of three Lifestyle bowls.
While Chipotle has removed the Plant-Based Chorizo from its protein options, it continues to explore the plant-based space.
Taco Bell tests vegan beef
In addition to Chipotle, a slew of Mexican-inspired chains have begun to embrace the plant-based revolution, most notably Taco Bell. The fast-food giant also offers a fully customizable menu, a late-night staple for many who abstain from animal products.
More recently, Taco Bell has been looking beyond its core plant-based offerings of beans and veggies and stepping into the world of plant-based meat. In spring 2021, Taco Bell unveiled its first vegan beef option called the "real seasoned plant-based protein." Made from a blend of pea and soy proteins, Taco Bell first tested the option at one Tustin, CA location before expanding it to 95 Detroit, MI area locations by the fall of 2021.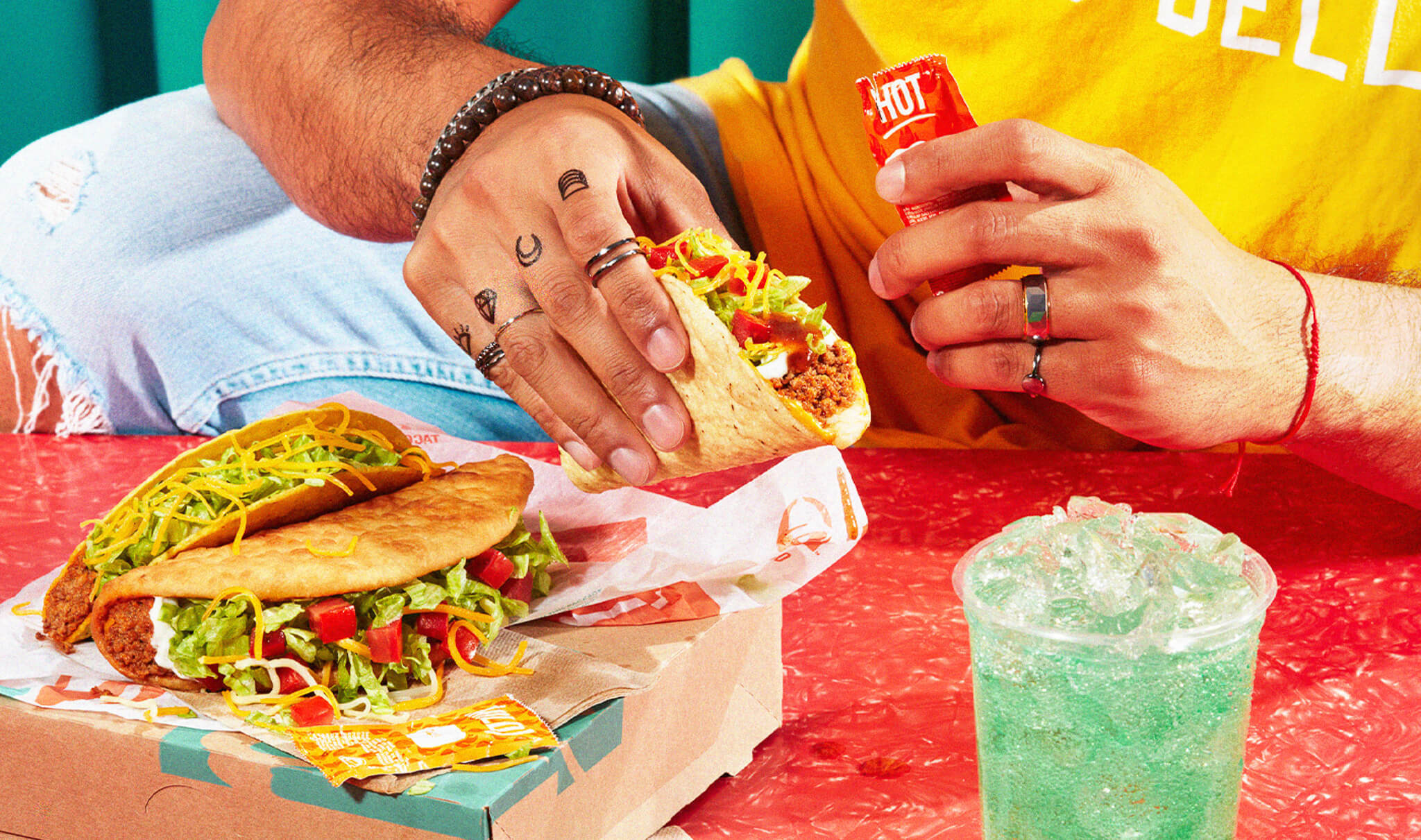 Taco Bell
Last year, Taco Bell further expanded the vegan beef to approximately 50 test locations in the Birmingham, AL area where customers could order it as part of tacos, burritos, and more. Taco Bell has not announced if a national expansion of its vegan beef is imminent. However, the chain is working on yet another innovation in the plant-based beef space.
Taco Bell is owned by Yum Brands! (also parent company of KFC and Pizza Hut) and has been working with vegan brand Beyond Meat on a novel plant-based meat option for several years. In October 2022, Taco Bell fans finally got a glimpse of what the duo had been up to when the Beyond Carne Asada Steak—a vegan version of the chain's marinated steak—hit the menu at 50 test locations in Dayton, OH.
There, customers could get the vegan steak in place of animal-derived meat in any menu item for no extra cost. Taco Bell has yet to announce if this item will be available at additional locations.
For the latest vegan news, read: