In the last decade, vegan options have become ubiquitous on restaurant menus. However, there was a time when scrounging together a meal from side dishes was how plant-based eaters got by at restaurants.
This was the case for Eleni Vlachos who, together with friend Chef Shirle, was inspired to start the first Vegan Chef Challenge (VCC) in 2010 as a way to make sure hearty vegan options were available to all. The idea here was to challenge chefs at a few restaurants in Durham, NC to create vegan dishes for one month, inspiring some healthy competition while delivering exciting new plant-based options to local diners.
After the initial challenge proved successful, other activists realized that their home towns also lacked vegan options and VCC gained traction. Eventually, the grassroots campaign exploded in popularity, with organizers wanting to take part all over the country.
In 2019, nonprofit Vegan Outreach came on board after finding synchronicity with VCC in its mission to mainstream veganism by making it easy for everyone to choose plant-based food.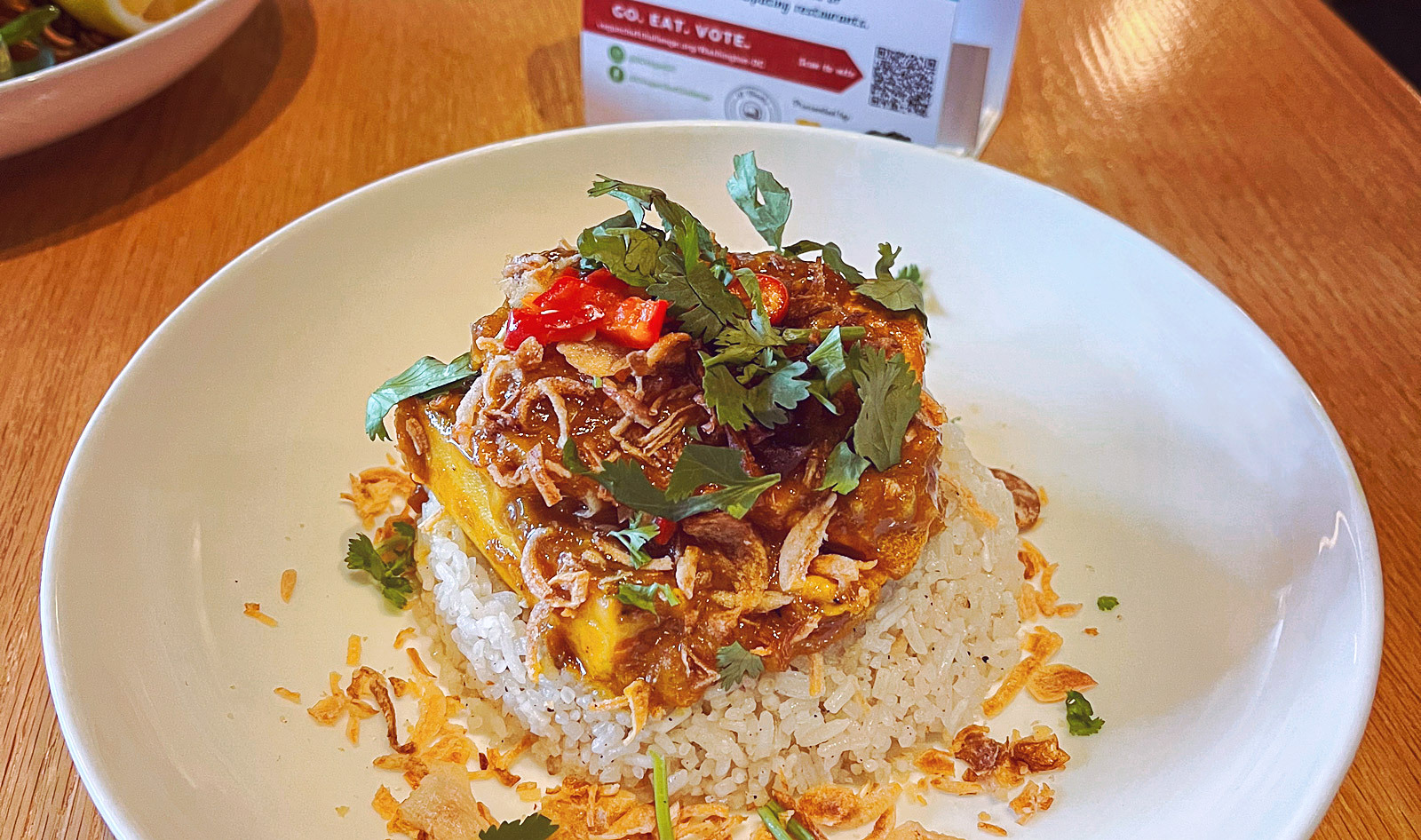 Vegan Outreach
"All our programs are actually not for vegans. They are for non-vegans," Jackie Va, Director of Food Events at nonprofit Vegan Outreach, tells VegNews. "We're trying to find ways to make it easy for you to go vegan."
In 2023, VCCs are coming to more than 20 cities to build community engagement around vegan food while giving pandemic-stricken restaurants a chance to offer patrons something new to be excited about. "It really brings the community together and is about bringing non-vegans to the table to try vegan options," Va says.
Vegan Chef Challenge sparks vegan scene in Sacramento
Activist Bethany Davis organized the first west coast VCC in Sacramento in 2011 with about 10 restaurants participating. "It was grassroots for a while in Sacramento and over time, it built a great following," Davis tells VegNews.
At all of these events, chefs are tasked to prepare at least three new dishes which diners can sample all month before voting for their favorites. Each VCC is different and presents unique opportunities for spin offs such as burger battles and cupcake bake-offs, or time-appropriate themes like New Year's resolutions in January or Earth month in April.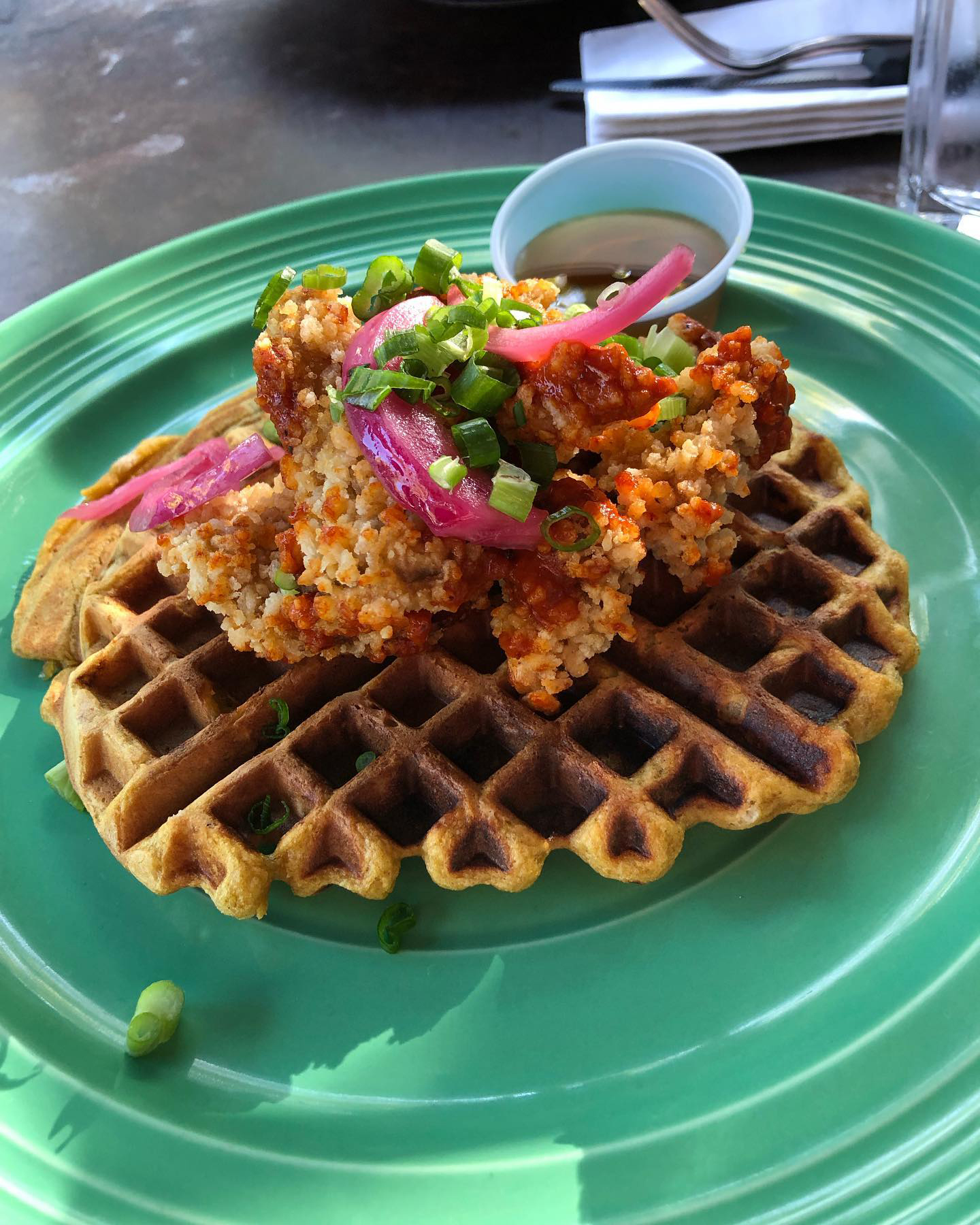 Vegan Outreach
After a few successful VCC events, Sacramento participants continued the momentum with fun spinoffs. "We had one restaurant that started an annual murder mystery dinner that was all vegan," Davis says. "We had another restaurant do an annual vegan Super Bowl party." In 2016, the VCC got an extra media boost when Paul McCartney, a vocal vegetarian, headlined the first show at Sacramento's newly opened Golden 1 Center arena.
The event really took off when Sacramento-based Vegan Outreach came on board in 2019, giving organizers access to its resources to support growth. Since then, Davis has also helped VCC challenges get off the ground in Twin Cities, Santa Barbara, Reno, and Contra Costa County.
In 2022, the Sacramento VCC saw a record-breaking 50 restaurants participate, a testament to the culture the initiative is building around plant-based eating in California's capital city.
"It helped change the awareness and face of vegan dining in Sacramento," Davis says.
Davis is currently working on the VCC in Olympia, WA, which takes place from February 1 to 28 with a dozen diverse participants from ice cream shops to Italian restaurants. Here, chefs have created exciting vegan specials such as Vegan Barbecue Chicken (The Oyster House); Spinach Enchiladas (Mi Pueblo); and Blueberry Cheesecake Cupcakes (Miss Moffett's Mystical Cupcakes); and much more.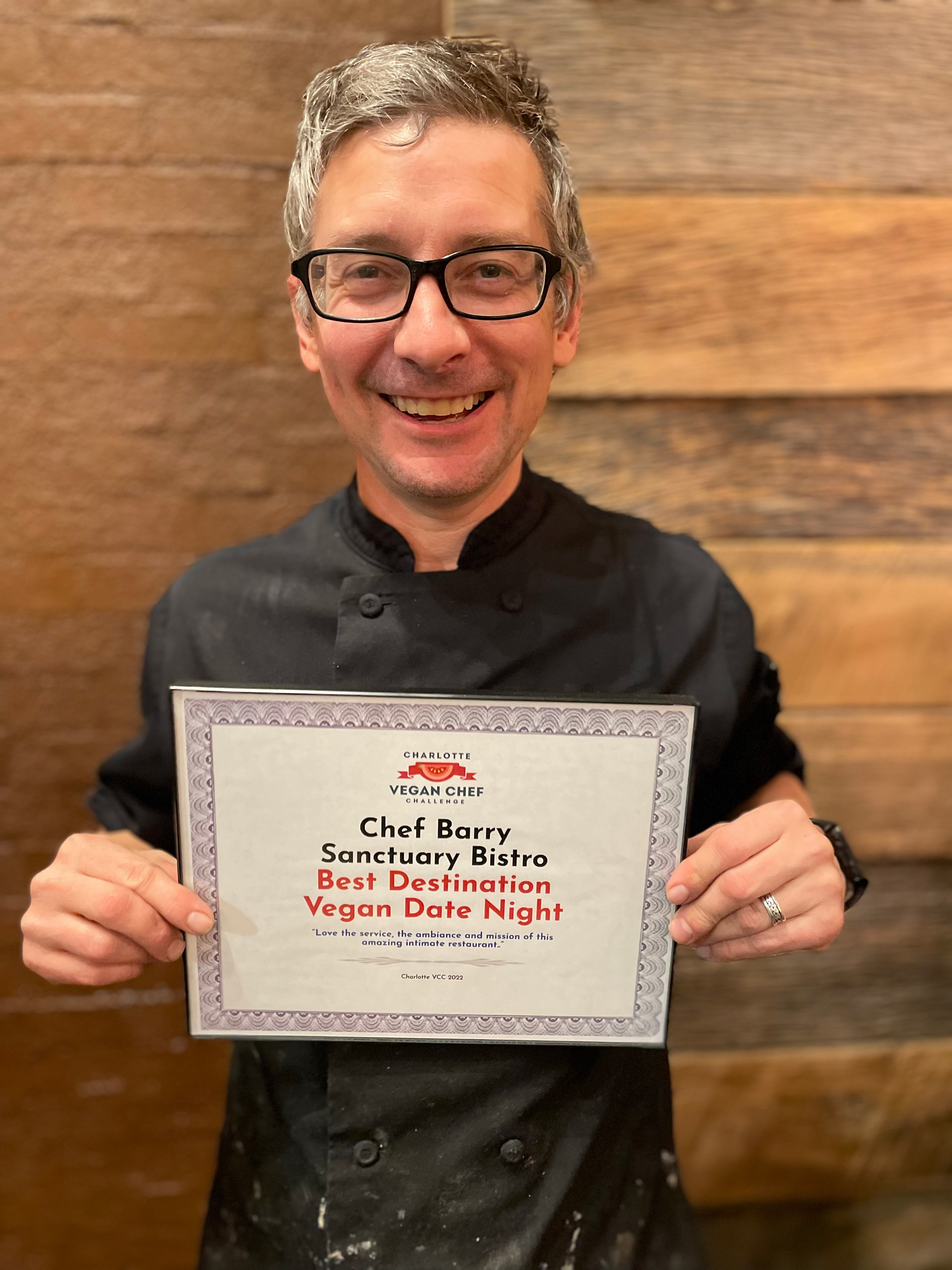 Vegan Outreach
While there is a winning element to the challenge, the best dishes are chosen in fun and diverse categories to encourage friendly competition and community-building while rewarding chefs—by way of actual, printed awards—for their creativity.
VCC faces COVID challenges
The COVID-19 pandemic has had a lasting impact on the restaurant industry nationwide, and VCC's efforts were affected, as well, with many events having to pivot to a takeout model or pause altogether. Despite some setbacks, in 2022, organizers held nine VCC's, seven of which were inaugural events.
Davis says VCC participation is an advantage for restaurants which can use their vegan dishes and awards as differentiating factors.
"When restaurants are operating at a three to five percent profit margin, any little edge that can increase that profit margin is in their favor," she says. "It's not just vegans that are ordering the food, either."
And these challenges really do infuse cities with permanent vegan options. Data collected by Vegan Outreach shows that 53 percent of last year's 170 participating businesses added at least one vegan dish—or an entire vegan section—to their menus. 2022 also marked Mobile, AL's first VCC and all 15 participating businesses added a permanent vegan option to their menus.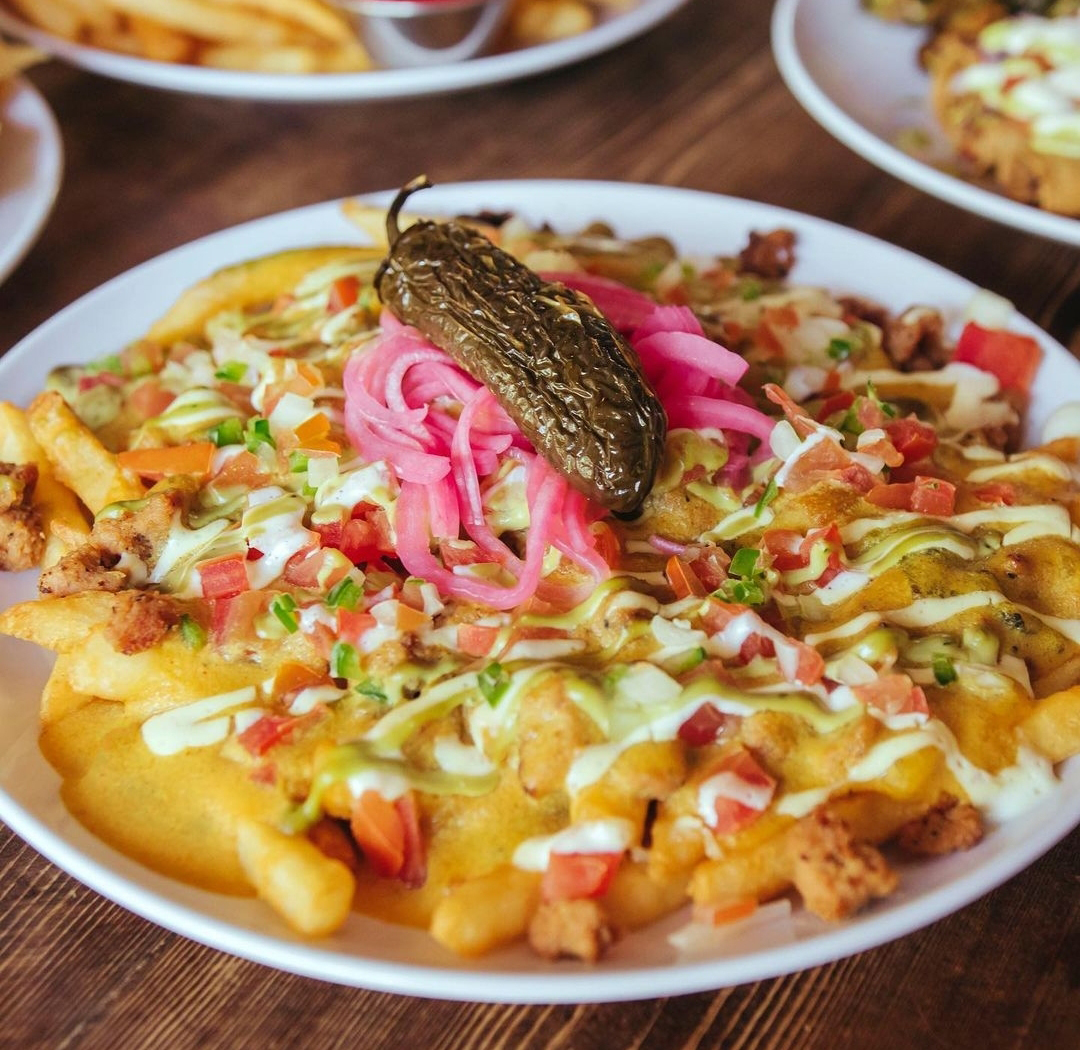 Vegan Outreach
"It's a little more difficult to get restaurants to sign up because they are short-staffed in the kitchen and don't want to put something else to do on the plate for their chefs," Davis says.
"That said, eggs are really expensive right now," she says. "Why not do something different?"
Revitalizing the restaurant industry with vegan food
In 2023, the challenge is back in full force and is an opportunity for participating restaurants to bring in clientele in a whole new way
In Sacramento, prior to participating in VCC, El Papagayo had a minimal amount of vegan diners. After its VCC participation, the restaurant says approximately 75 percent of its clientele is vegan. At VCC participant Wild Rooster Bistro in Fair Oaks, CA, the challenge attracted 200 new customers and it sold more than 300 VCC specials.
"Businesses definitely get new customers. Vegans will drive for vegan options," Va says. "It's so nice for chefs to get recognition from a community they didn't think about before."
Vegan Outreach's turnkey support—which includes funding, social media tools, printed materials, and templates—has been instrumental in growing the VCC nationwide and has energized volunteers to organize events around the country. By gathering votes and other review data, Vegan Outreach is also providing restaurants with valuable intel that they can parlay into customer retention.
Wrapped within the VCC are other resources, including Vegan Outreach's 10 Weeks to Vegan Program, which helps people switch to a plant-based lifestyle with supporting tools. This program saw 200 sign-ups in 2022 from diners participating in VCC.
Due to the grassroots nature of these events, VCCs make plant-based food a little more accessible in areas where it is needed most, all while bringing attention to vegan causes and animal sanctuaries and supporting local businesses at the same time.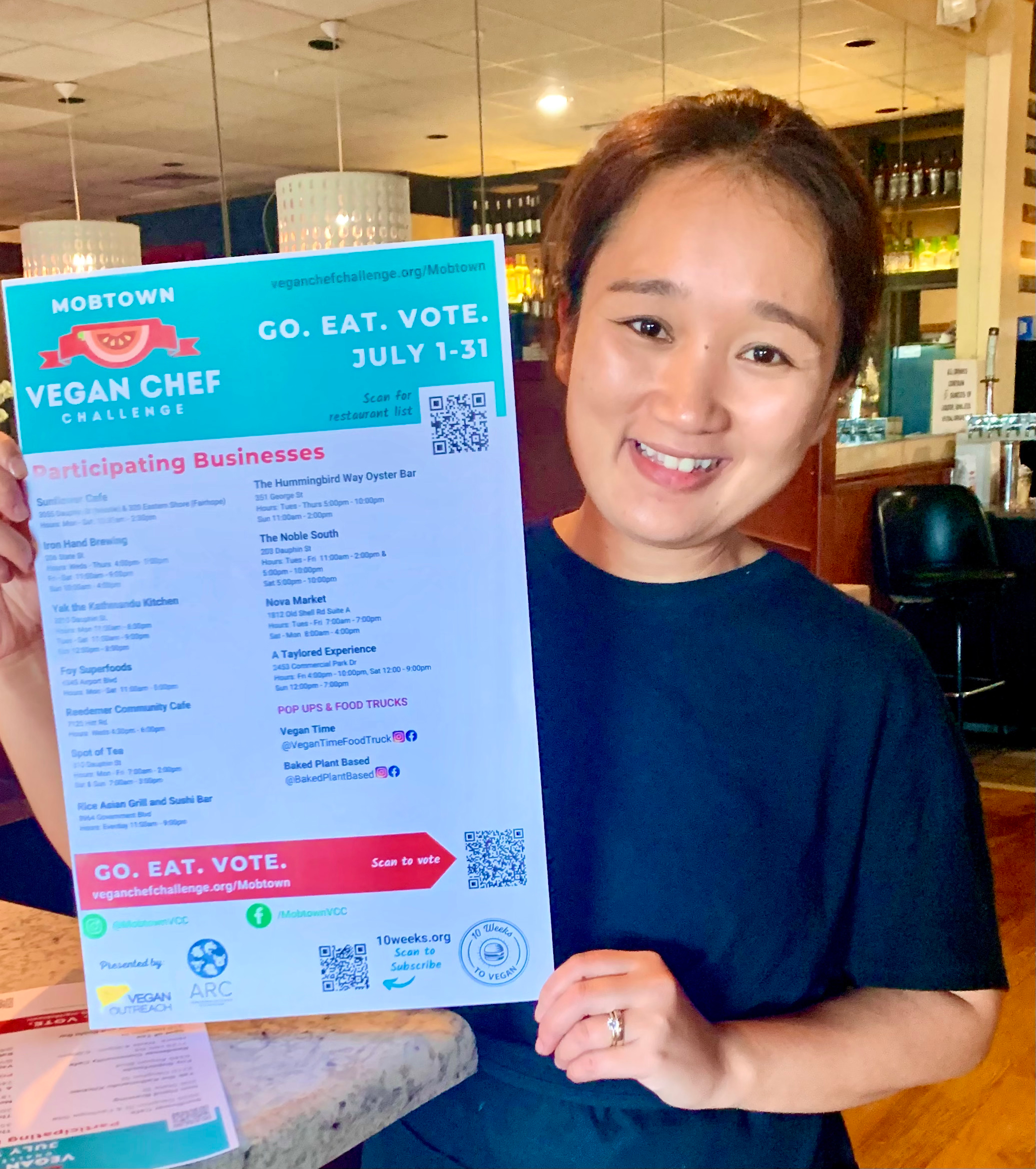 Vegan Outreach
"The organizers on the ground are developing relationships with restaurant owners, managers, and chefs," Davis says. "It's those relationships, in addition to participating in the challenge, that help those restaurants [and chefs] have a positive experience and be willing to open up and participate year over year … the people on the ground are helping forge relationships between local restaurants and the vegan community, as well."
February, VCC events will also be held in Anchorage AK, Santa Fe NM, and Central Arkansas; with Detroit, MI, Knoxville, TN, South East Bay, CA in March; and Yolo County, CA (UC Davis Area) and Dallas Fort Worth, TX planned for April. To round out the year, challenges will take over Huntsville and Mobile, AL; Topeka, KS; Albuquerque, NM; El Paso, TX; Washington, DC; Sacramento, CA; and Santa Barbara, CA.
Vegan Outreach has an easy-to-use portal with information, educational resources, and tools to help anybody interested in organizing their own VCC in their home city.
For the latest vegan news, read: