The days of boring salads are officially behind us with exciting vegan restaurant news cropping up every week. British import Neat Burger is putting plant-based fish and chips—made in collaboration with Hong Kong's OmniFoods—on its New York City menu. Central Florida is becoming a vegan steak destination thanks to Chunk Foods and its ongoing partnership with Talk of the Town Restaurant Group. And funnyman Tim Robinson puts a vegan spin on the classic Coney Dog at Plant Power Fast Food in Hollywood. Read on for more.
1Vegan Greek moussaka in NYC
New York City-based Greek restaurant Kellari Taverna is looking to lure plant eaters with an evolving menu of vegan items. Operated by the Aktipis family and led by Executive Chef Vasiliki Vourliotaki, the restaurant aims to offer an authentic Greek experience.
Vourliotaki identified a lack of vegan options in many contemporary Greek restaurants and has developed new dishes to fill this gap.
"Over the past few years, we have seen a huge increase of vegan guests and health- conscious consumers," Vourliotaki tells VegNews. "At Kellari, we feel it is our job to include more vegan options on our menus, to embrace the new change and accommodate our guests."
"It has also been a beautiful challenge for us chefs to create something beautiful, nutritious, and heartwarming without using any animal byproducts," Vourliotaki says.
Two standout vegan dishes have been added to the Kellari menu: Vegan Moussaka and Almond Pudding.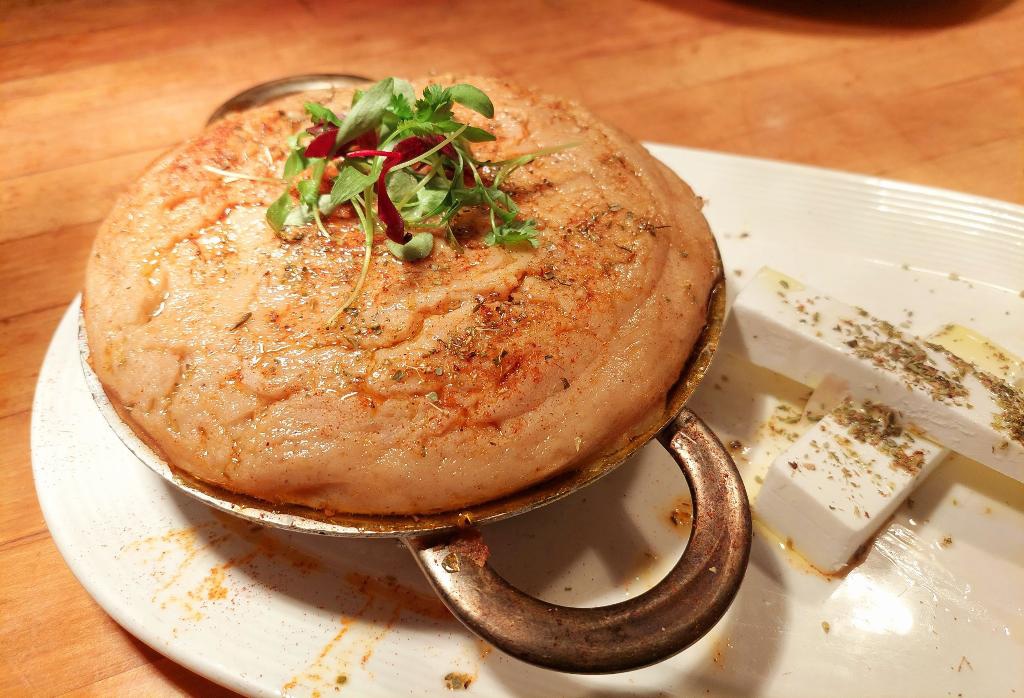 Kellari
The Vegan Moussaka features layers of eggplant, zucchini, potatoes, white mushrooms, and a tomato sauce spiced with cinnamon, cloves, and nutmeg, finished with almond milk. The dish is served in a small casserole with vegan feta on the side.
The Almond Pudding is a light dessert made with vanilla, almond milk, petimezi syrup, and grapes, garnished with roasted almonds.
Both dishes are rooted in Vourliotaki's desire to create vegan-friendly versions of Greek classics. They are inspired by her memories of Greece and are a fusion of modern and traditional culinary practices.
In total, the restaurant offers four vegan dishes, and customers can ask for vegan feta on its Greek salad, as well.
"We are continuously working on more vegan options, as we feel that understanding veganism is crucial to operate a successful restaurant," Vourliotaki says.
2Fish and chips at Neat Burger
Vegan fast-food chain Neat Burger—a British import backed by Leonardo DiCaprio and Lewis Hamilton—is getting into plant-based seafood in partnership with Hong Kong-based OmniFoods.
"As a long-time seafood lover, I was skeptical about how closely it could replicate the taste and texture of traditional fish, but I was pleasantly surprised," Bruno Trebbi, Head of Food & Innovation at Neat Burger, said in a statement.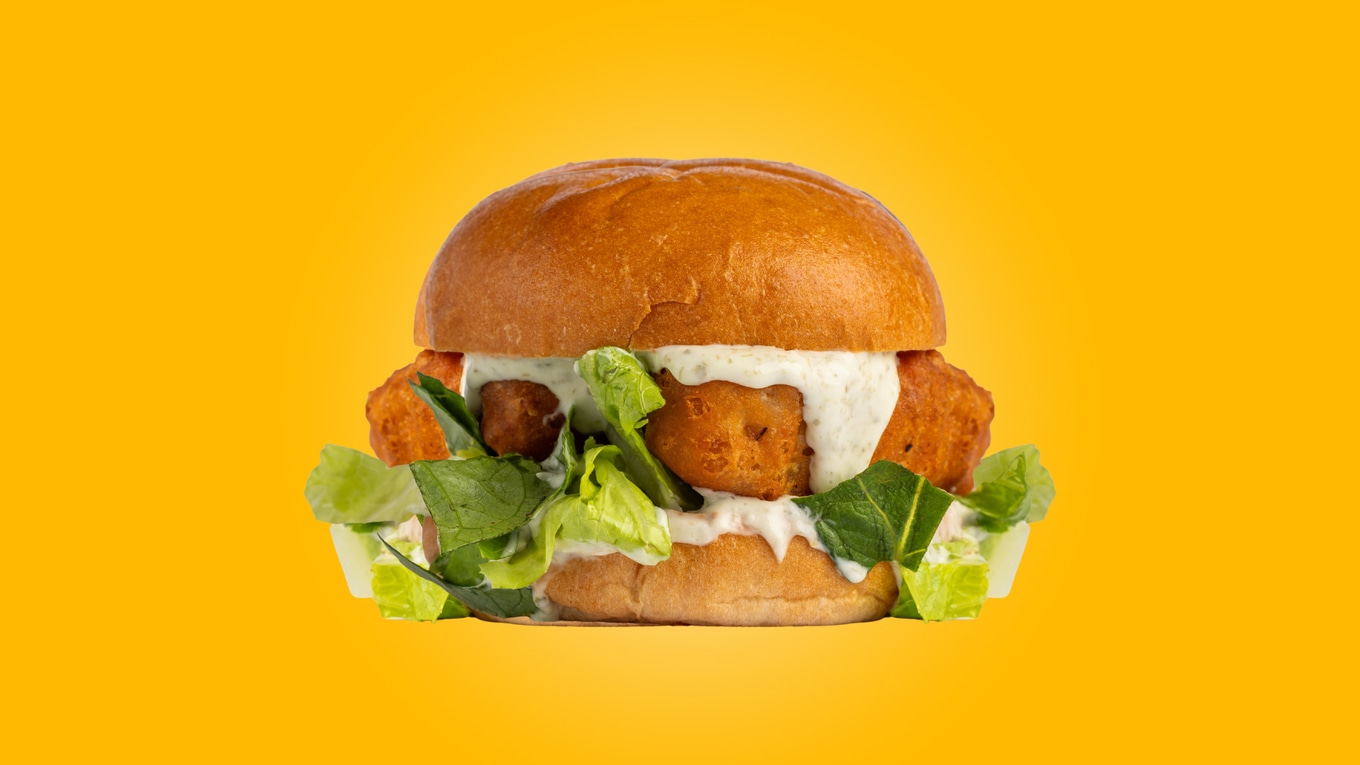 Neat Burger
This week, the NYC restaurant is introducing two new menu items: Neat Fish & Chips and Crispy Fish Sandwich, both featuring OmniFoods' Golden Fillet.
"The Omni Golden Fillet 'fish' had a flaky, tender texture that was remarkably similar to the real thing, and the crispy coating was perfectly seasoned," he said. "What's even better is that this dish is not only delicious but also environmentally friendly,"
"The plant-based fish and chips exceeded all my expectations," Trebbi said. "It's delightfully surprising."
Neat Burger continues its mission to provide ethical and sustainable plant-based options with these new seafood-inspired offerings. Additionally, from October 16 to 31, a $1 donation from each sale of any Omni menu item will go to Vegan on the Fly in Midtown NYC to help restore their outdoor seating area.
"We are excited to partner with Neat Burger in introducing these exciting new Omni menu items," David Yeung, CEO and Co-founder of OmniFoods, said in a statement.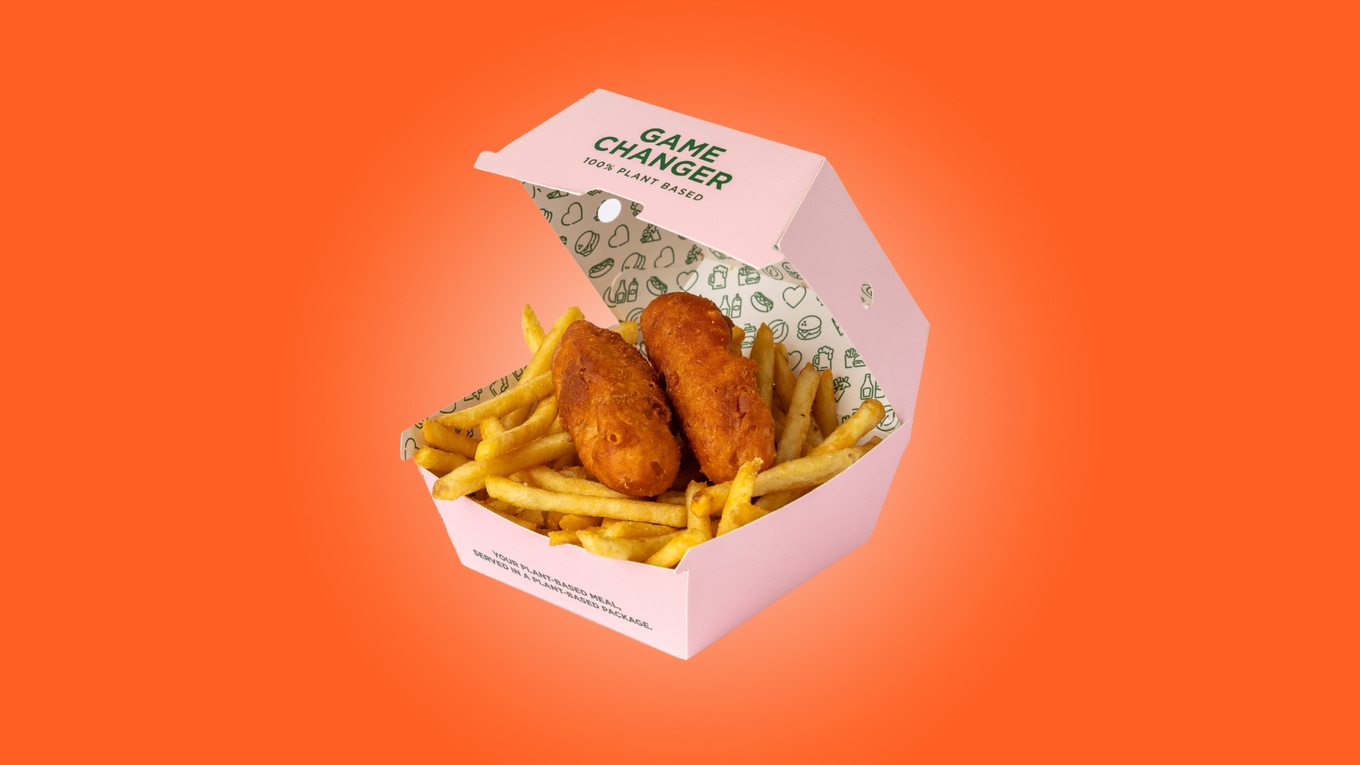 Neat Burger
"By combining our expertise in plant-based alternatives with Neat Burger's commitment to sustainability, we are confident that we can provide an exceptional dining experience to customers," Yeung said.
3Halloween Vegan Night Market
We are deep into the spooky season and we can't think of a better way to celebrate than a hop over to Portland, OR for a massive night market with vegan treats (and some tricks).
The most sizable vegan food festival in the Pacific Northwest, the Halloween Vegan Night Market is returning this year with trick-or-treating, raffles, face painting, games, costume contests, tarot readings, and Dia de los Muertos celebrations, along with an extensive selection of food options.
The festival caters not only to vegans but also to those seeking allergen-friendly trick-or-treating experiences for children. The event aims to unite the community in a festive atmosphere while fundraising for the Blue Barn Farm Sanctuary. Attendees are advised to bring to-go containers, as the food offerings are expected to be plentiful.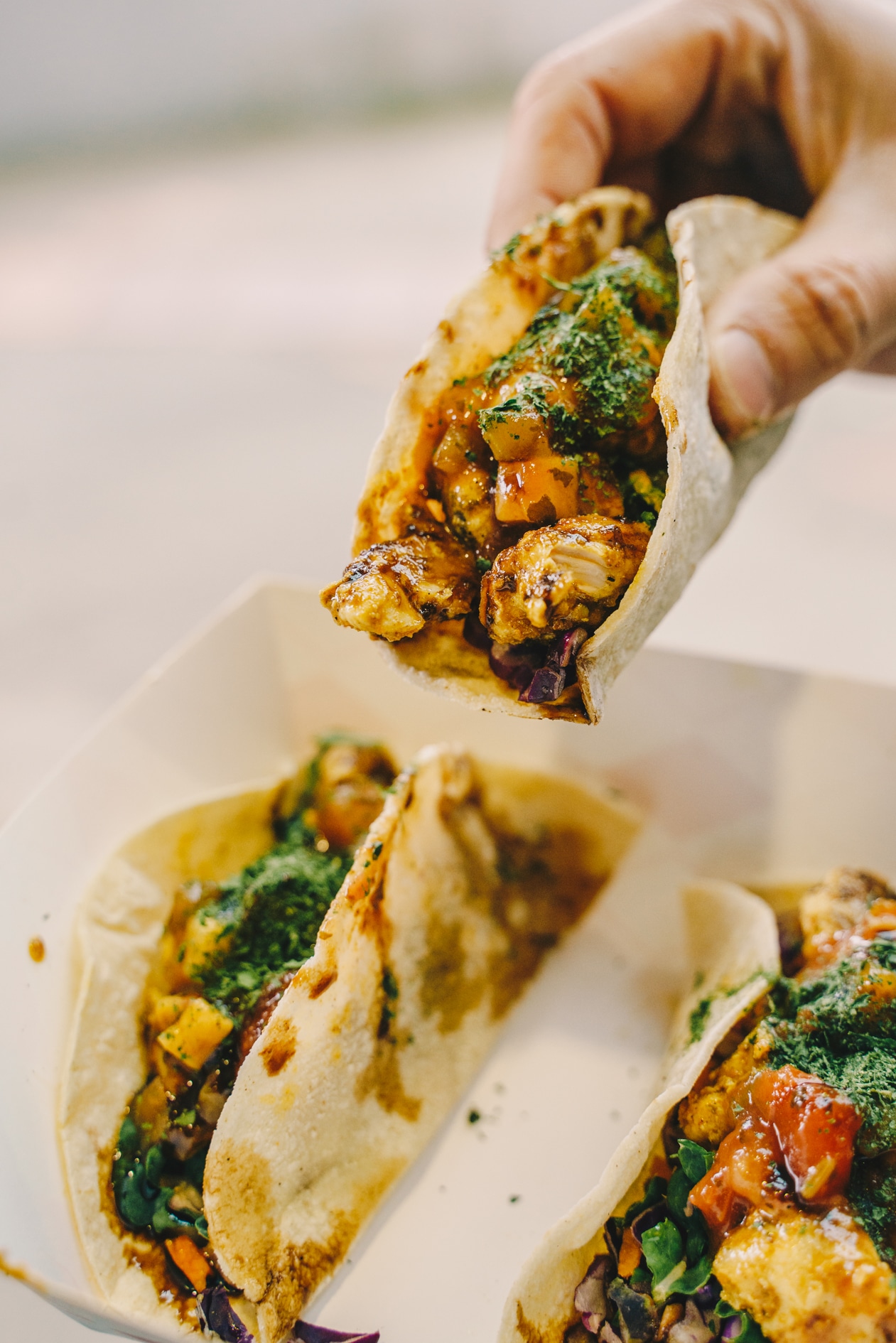 Vegan Night Market
Taking place on October 28 (with a $5 suggested donation), the event will support more than 100 vegan establishments, including restaurants, pop-ups, small businesses, artisans, nonprofits, and grassroots organizations.
A raffle with more than 20 prize packs will benefit the Blue Barn Farm Sanctuary. Other activities include a photo booth offering free Polaroid souvenirs (sponsored by Meant To Be Photography), and themed costume contests. Music will be provided by DJ Retrobot and The Coterie.
4Chunk's vegan steaks take over Central Florida
Following its epic debut this summer at Charley's Steak House, vegan steak company Chunk Foods has broadened its market reach in Central Florida. The company introduced its plant-based steaks in three restaurants—Vito's Chop House, Fishbones, and a new outpost of Charley's Steak House.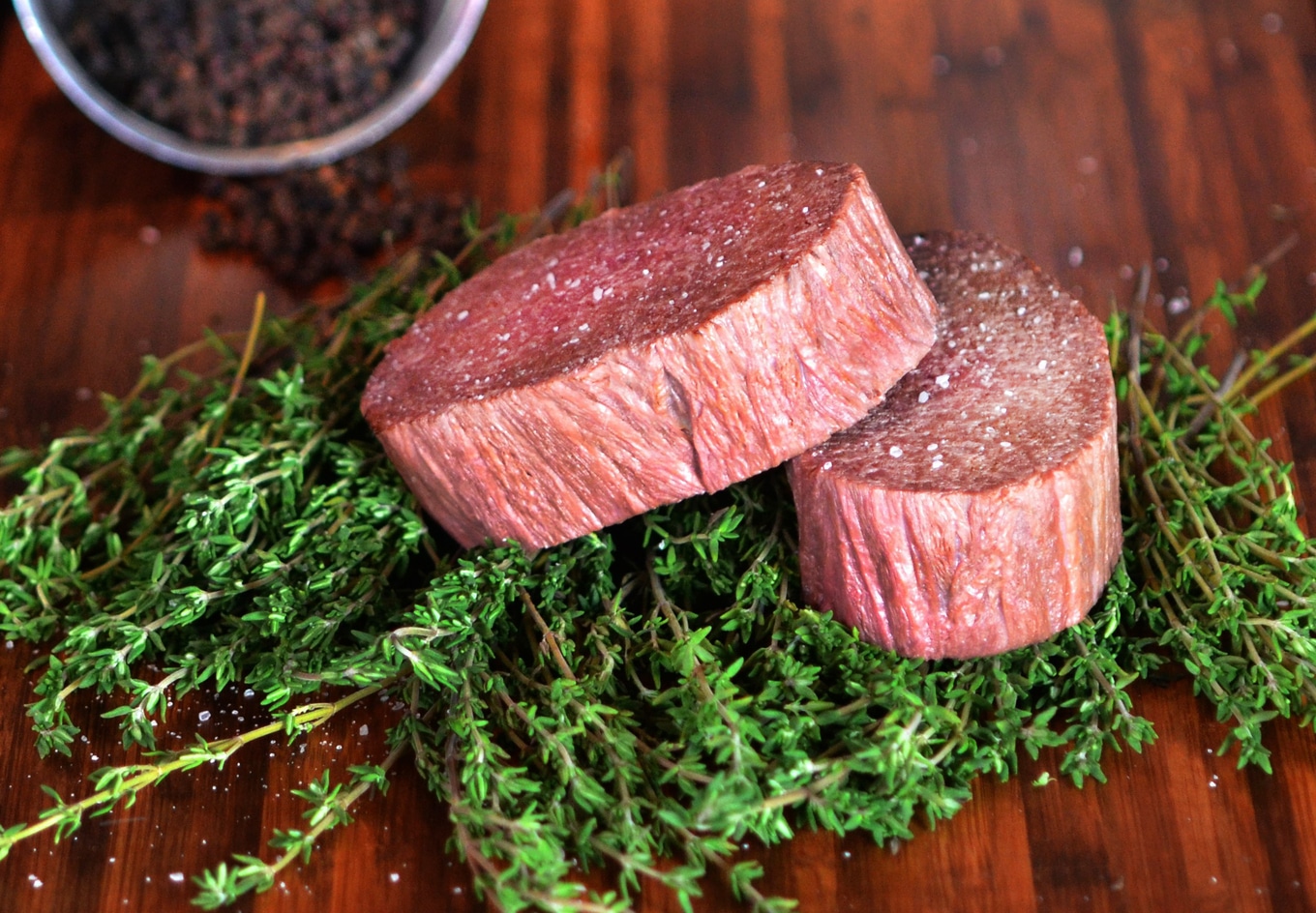 Chunk Foods
This expansion comes through Chunk Foods' alliance with Talk of the Town Restaurant Group, which has facilitated the distribution of its toothsome vegan steaks made from fermented soy and wheat.
"Our mission at Chunk is to make delicious, nutritious, plant-based whole cuts that are kind to the environment, and accessible to all," Amos Golan, CEO of Chunk Foods, tells VegNews.
"By expanding our partnership with Talk of the Town Restaurant Group to their remaining restaurants, we're able to bring our plant-based steaks to even more people, expanding the overall addressable market," Golan says.
Outside of Florida, Chunk's vegan steaks are also on the menu at various New York City establishments, including Neat Burger, and recently hit the menu at Philadelphia's Monster Vegan.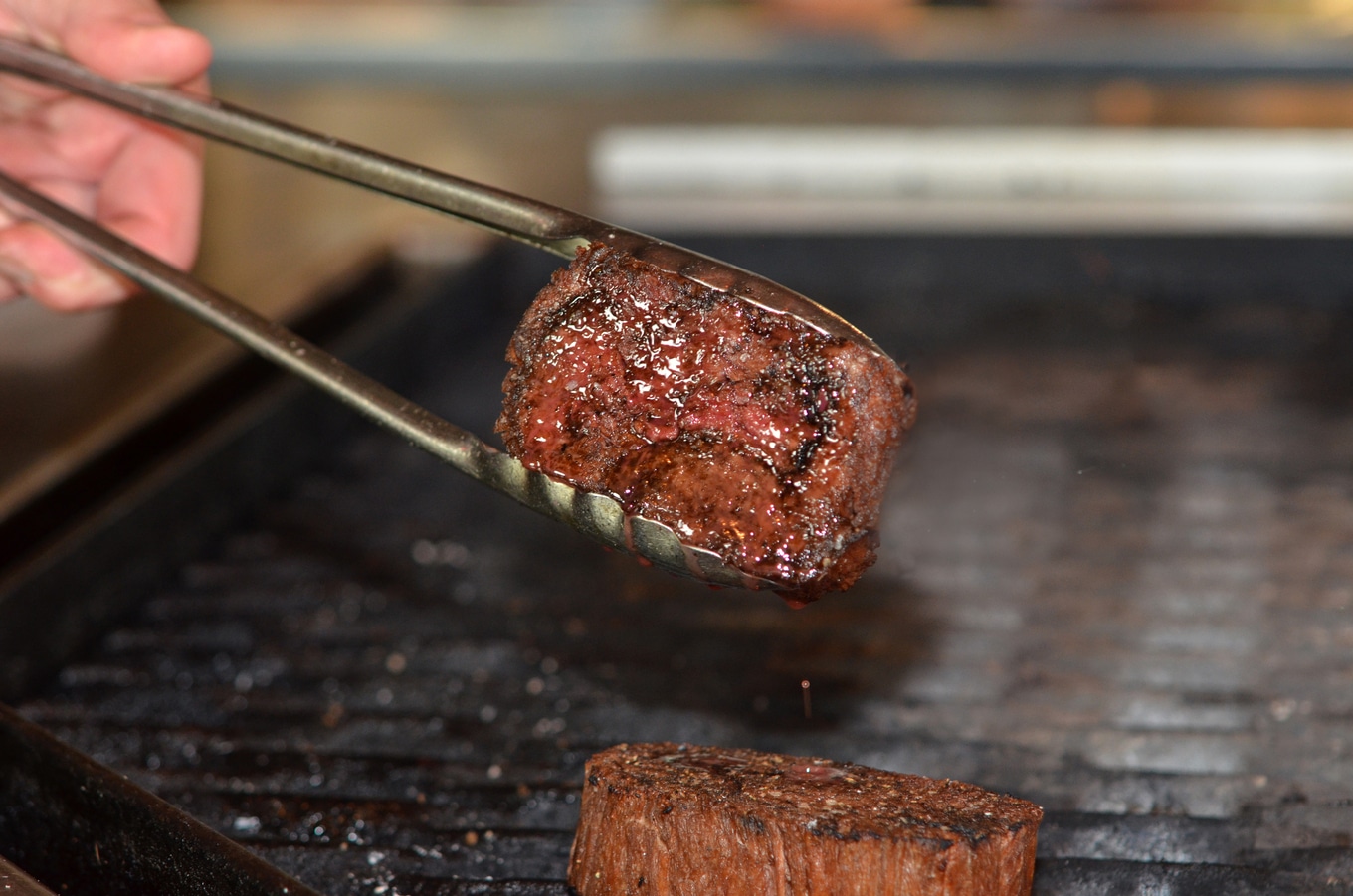 Chunk Foods
If you happen to find yourself in Texas this weekend, Chunk will be grilling its plant-based steak over an open flame at the F1 All Pro Smoke Show in Austin as the only vegan option at the event.
5Tim Robinson's vegan Coney Dog
SNL funnyman Tim Robinson—known for his irreverent skit show I Think You Should Leave—takes his Coney Dogs very seriously.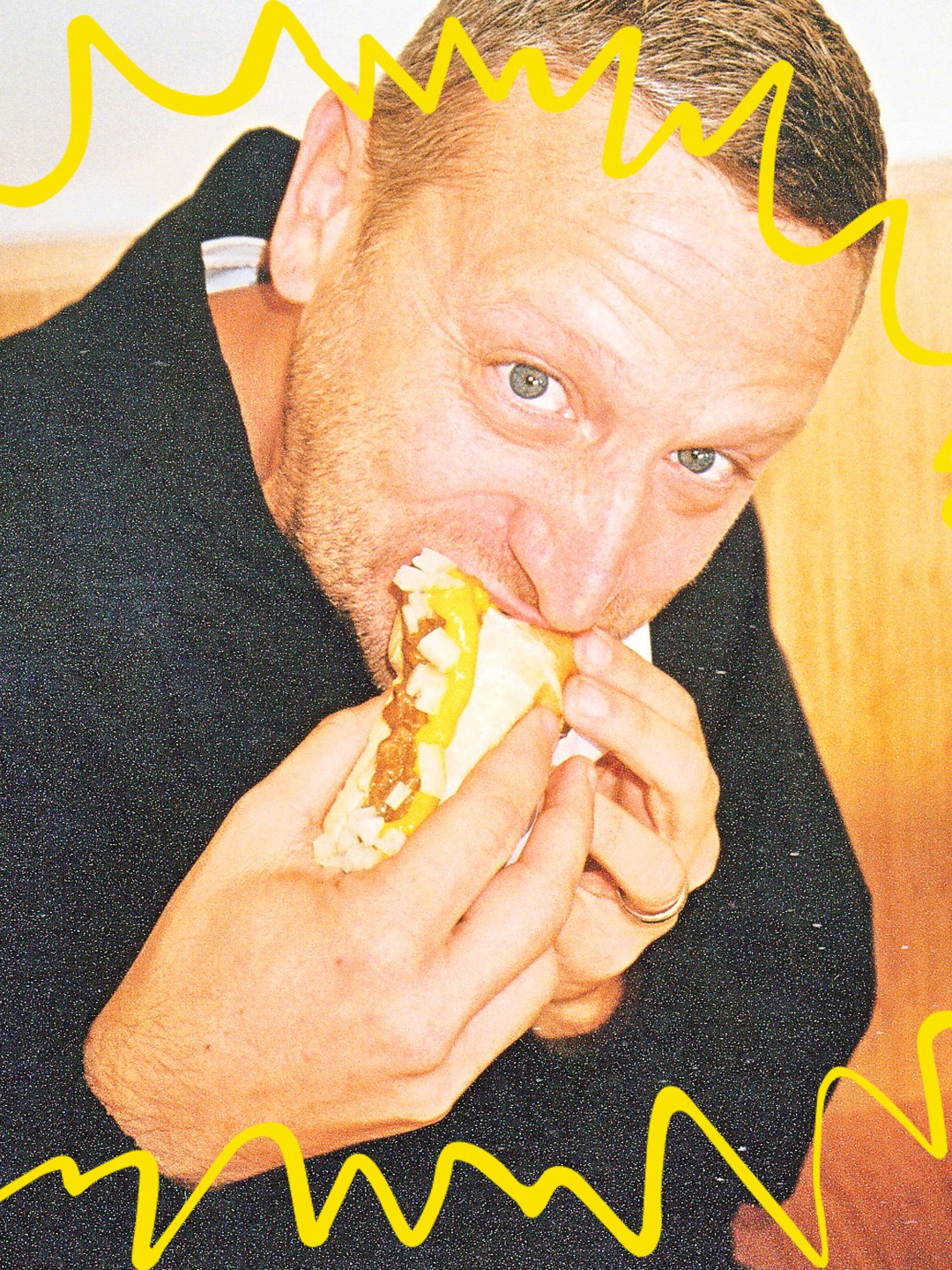 Plant Power Fast Food
That's why he has collaborated with vegan chain Plant Power Fast Food to introduce a plant-based version of the Coney Dog—a cherished dish from Robinson's home state of Michigan where it has been a culinary staple since the early 1900s. The item will be available at the chain's Hollywood location starting October 21 for a limited time.
Plant Power Fast Food
This partnership stands out as more than just a celebrity-backed product; it is a sentimental endeavor for Robinson, who hails from Detroit, MI. At Plant Power, the new vegan item is a take on the classic Coney Dog and features a meaty chili sauce, mustard, and finely chopped white onions.
All proceeds from the sale of the plant-based Coney Dog and associated merchandise will go toward Youth Climate Save, a non-profit organization led by activist Genesis Butler.
"Teaming up with Tim to put a vegan twist on one of his home state dishes has been exciting for us," Zach Vouga, founder of Plant Power Fast Food, said in a statement.
"Being able to channel our combined passions into supporting the incredible work of activist Genesis Butler is fulfilling as she continues to be a beacon of inspiration for our entire team," Vouga said.
For the latest vegan news, read: