Chef Chad Rosenthal has shown off his culinary chops on television for the past two decades. Many might recognize the name from his two-time stint on Food Network's The Next Food Network Star or, perhaps, from his win on Beat Bobby Flay. One thing that the Philadelphia-born chef is best known for is his expertise in the realm of meat, with three locations of barbecue restaurant The Lucky Well in Pennsylvania.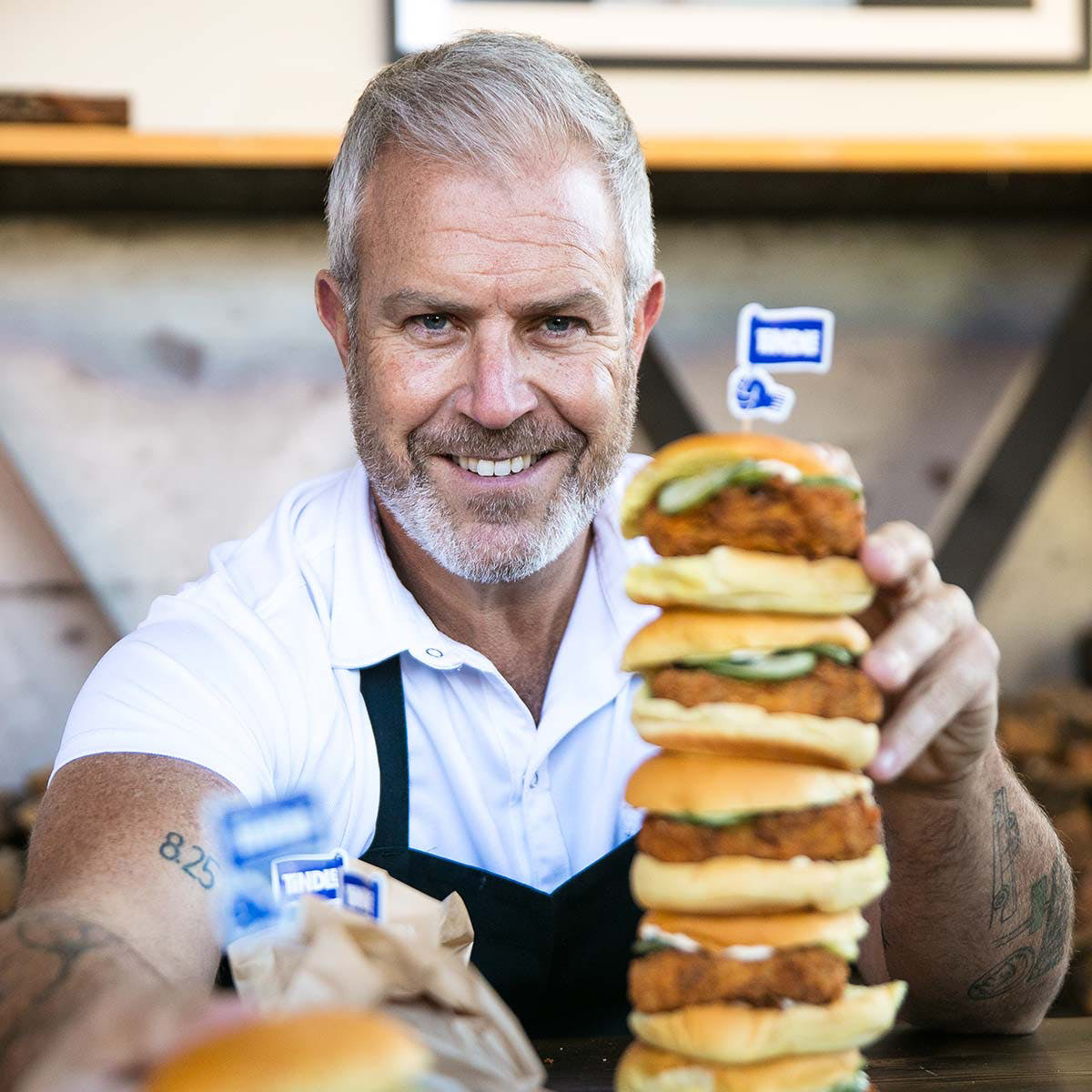 Motel Fried Chicken
However, like many of us, Rosenthal is looking at how plant-based meat will play a role in the future of the culinary world. As such, Rosenthal recently collaborated with vegan chicken brand TiNDLE to completely transform his Motel Fried Chicken concept—a sandwich shop on GoldBelly—into a plant-based chicken paradise.
"Before trying TiNDLE, I had never cooked with plant-based meat before. I've worked with BBQ meats for most of my life, but I've always been interested in the idea of working more with plant-based foods," Rosenthal tells VegNews. "TiNDLE has an unbeatable taste and texture, especially for fried chicken, which is one of my specialties."
TiNDLE's vegan fried chicken lands on Goldbelly
Rosenthal first launched his Motel Fried Chicken concept on Goldbelly with animal-derived proteins but his work with TiNDLE has changed his mind. "It tastes and eats just like chicken, so much so that I changed my whole concept—Motel Fried Chicken—from animal protein-based to 100-percent vegan," he says, teasing that more news is on the way from the new concept.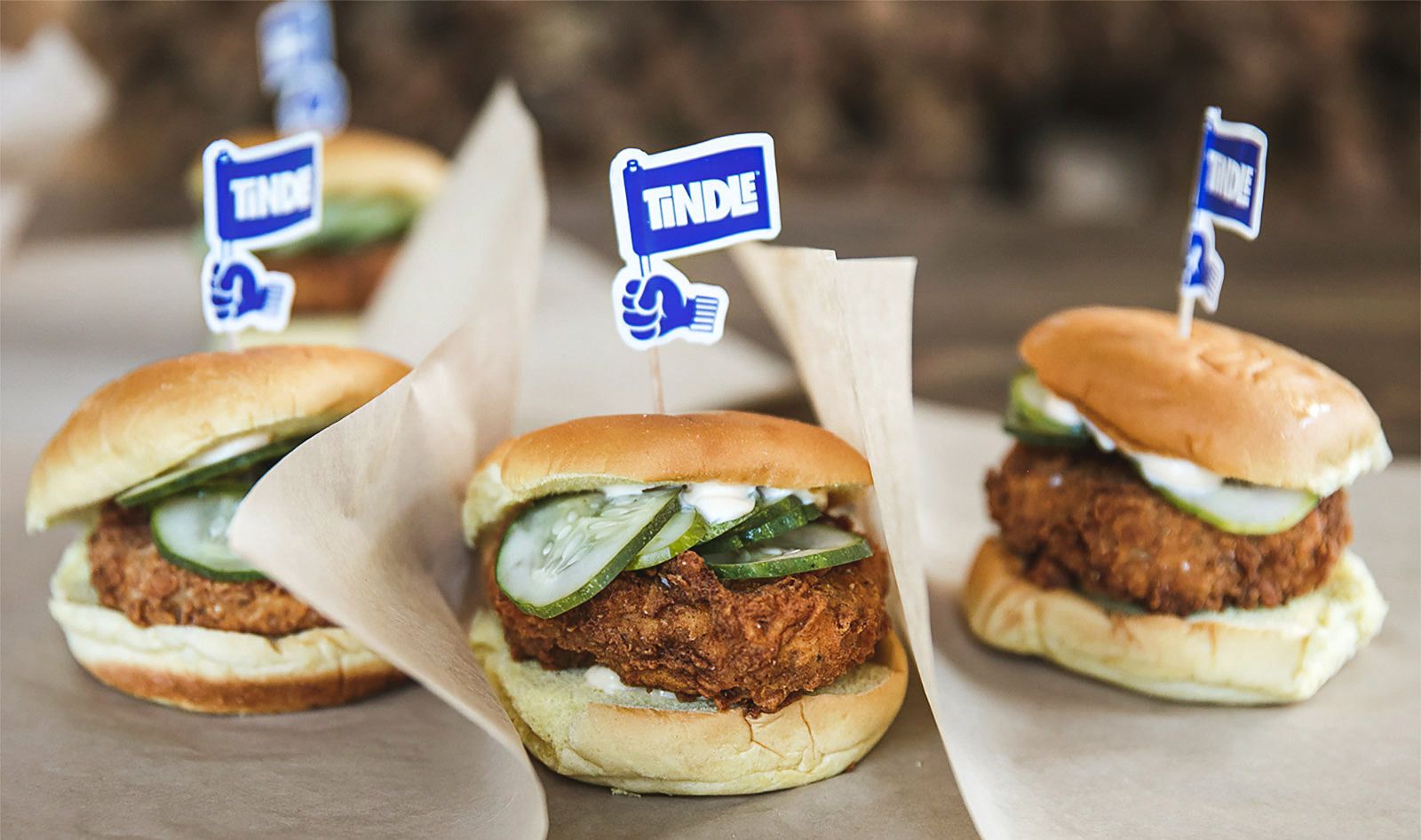 Next Gen Foods
On Goldbelly, Rosenthal crafted three meal kits using TiNDLE's vegan chicken: Buffalo Chicken Wrap (tossed in a hot Buffalo sauce and served with a tangy, vegan blue cheese slaw); Chicken Sandwich (which features TiNDLE's vegan fried chicken patty topped with Memphis mustard slaw, vegan citrus mayo, dill pickles, and a zesty hot seasoning); and Sweet Honey BBQ Wings (which come doused in sweet honey barbecue sauce and served with sides of homemade vegan ranch and Memphis mustard slaw.)
"All are perfect for any occasion like dinner parties, family meals, or even an at-home Valentine's Day dinner," Rosenthal says. "I'm looking forward to seeing what else we can explore in the plant-based realm together with TiNDLE."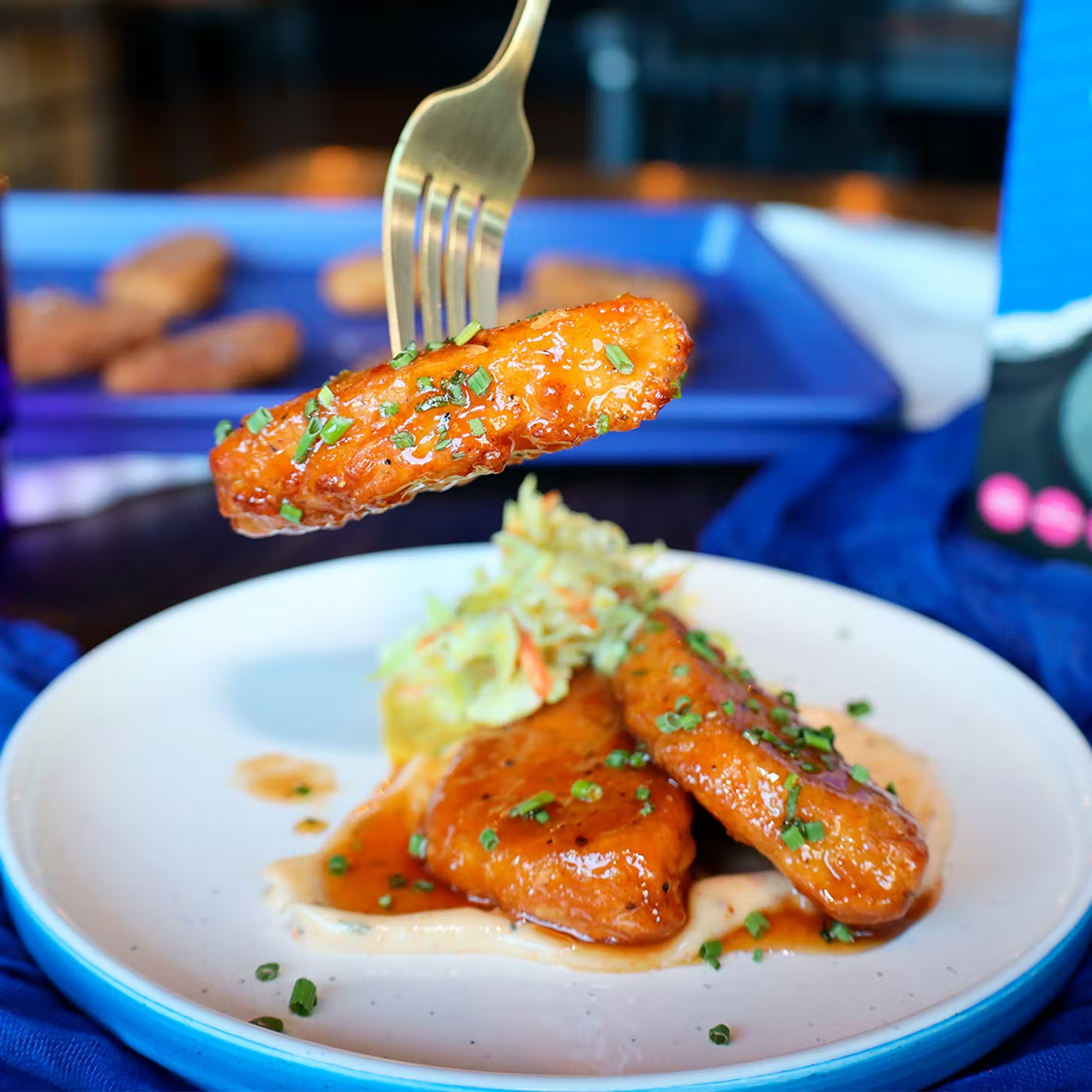 Motel Fried Chicken
Rosenthal crafted each item with care to include exciting flavors while keeping everything animal-free, including in the wings dish which is made with vegan honey created by food-tech company MeliBio—which uses precision fermentation, not bees, to produce the beloved sweetener.
"In my experience, meat substitutes are mainly popular with consumers who are trying to reduce meat consumption, so having a solution for people with different preferences is fulfilling, especially as a chef who thrives on finding new culinary trends," Rosenthal says.
The availability of TiNDLE's vegan chicken through Rosenthal's Motel Fried Chicken concept on Goldbelly (available nationwide for $109.95 for each six-serving kit, plus shipping) is a preview for American audiences and the brand aims to get its products on store shelves later this year.
TiNDLE's vegan chicken line expands in Europe
TiNDLE is the flagship brand of Next Gen Foods, which was founded in 2020 by Andre Menezes (a Brazilian-born poultry exporter and food industry veteran) and Timo Recker (a German native whose family business made schnitzel and other meat products for three generations).
Based in Singapore, the chef-driven brand's mission is to "make saving the planet easy, enjoyable, and delicious." The company's vegan chicken is made from common plant-based meat bases such as soy and wheat gluten but its differentiating factor is "lipi," a plant-based fat that gives the product its chicken-like unctuousness.
TiNDLE's vegan chicken products debuted on shelves in 2021 at culinary hotspots such as Dubai, Hong Kong, and Kuala Lumpur. This month, TiNDLE's European expansion—supported by a $100 million Series A investment round—went into overdrive with the rollout of its vegan chicken in major cities across Germany.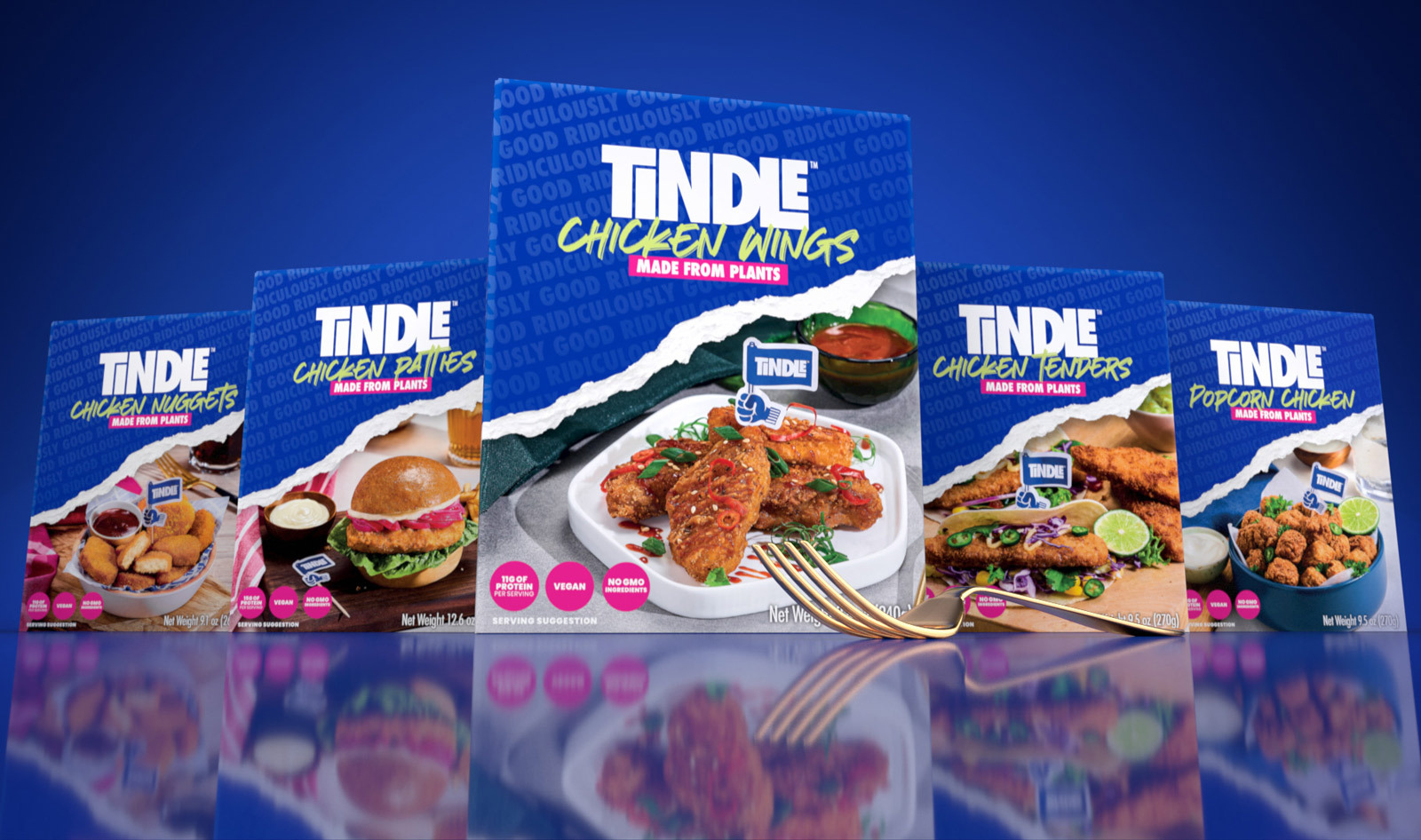 Next Gen Foods
Starting this month, shoppers can find TiNDLE products at 2,200 EDEKA grocery stores with vegan fried chicken in four formats: Schnitzels, Nuggets, Popcorn, and Tenders. Additionally, for this week only, TiNDLE's Schnitzel, Nuggets, and Wings will be available at 4,200 Netto stores in the retailer's frozen aisle.
Its work with Rosenthal is not the first time that TiNDLE has collaborated with celebrity chefs to give its vegan chicken the star treatment. Last year, the company welcomed famed culinarian and television host Andrew Zimmern to its team as a business and culinary advisor. Celebrity chef Rocco DiSpirito is also part of the company's list of advisors.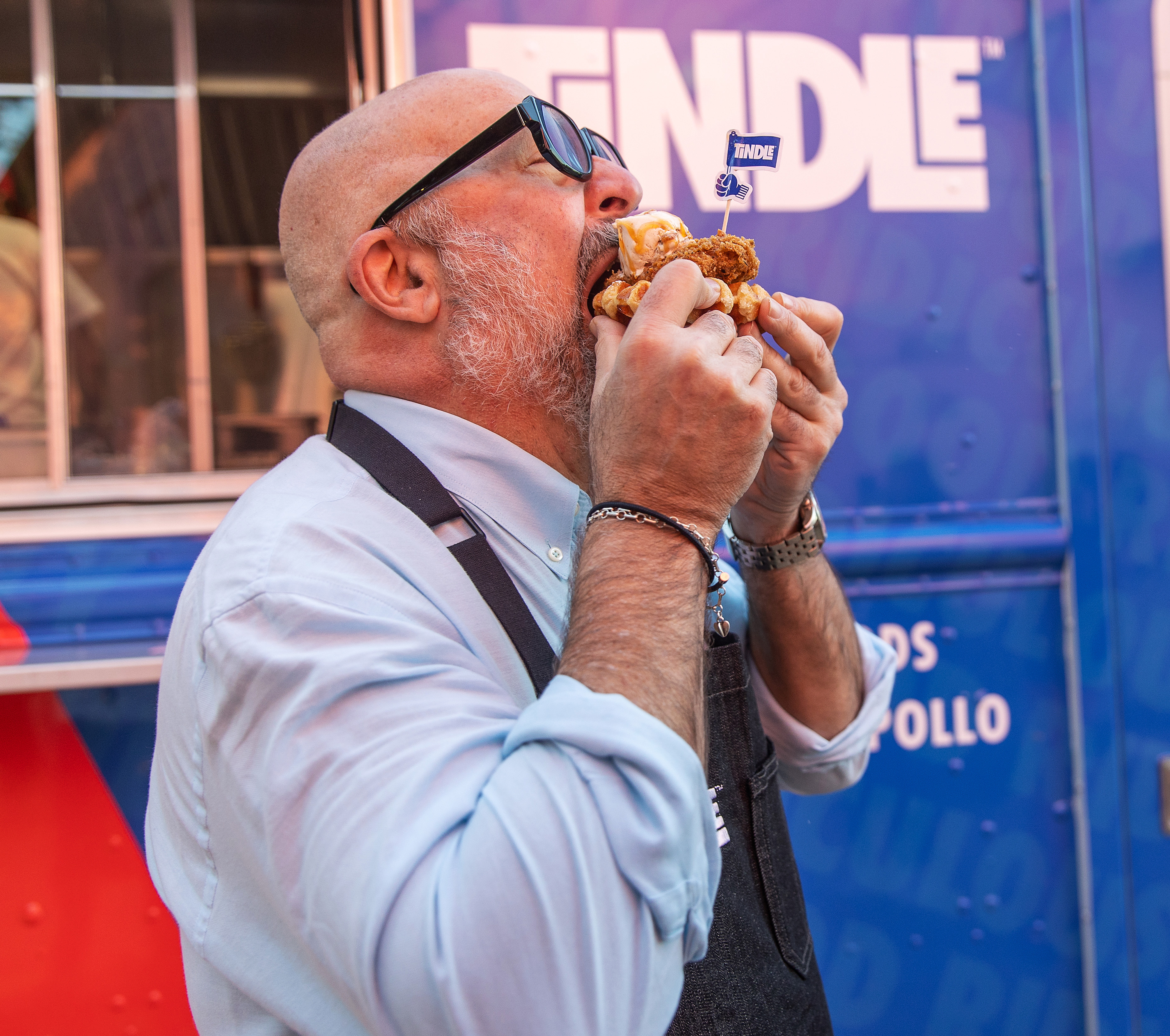 Next Gen Foods
"Ever since we first debuted TiNDLE, consumers have been asking when they'll be able to cook with it at home, and with our expansion into grocery stores now, we're making progress in achieving our goals of establishing a more sustainable food system," Menezes said in a statement.
"We've been amazed so far by the imagination of chefs who've cooked with TiNDLE and can't wait to see the creations coming out of home kitchens after today," he said.
For the latest vegan news, read: