When it comes to dairy versus plant-based milk, making the more environmentally friendly choice should not cost extra. For Earth Month, coffee chain Peet's Coffee is removing barriers to choosing climate-friendly options by dropping its surcharge for vegan milks, which include oat, almond, or soy.
At Peet's, substituting vegan milk in place of dairy in beverages such as lattes and cappuccinos typically comes with a surcharge of up to 80 cents per beverage. Dropping this charge throughout April will, therefore, greatly open up the opportunity for customers to try a more sustainable beverage.
Peet's first added soy milk way back in 1995 and was one of the first coffee chains to introduce almond milk in 2013—Starbucks put it on the menu in 2016. Peet's also added oat milk in 2019, also beating Starbucks which added this vegan milk option in 2020.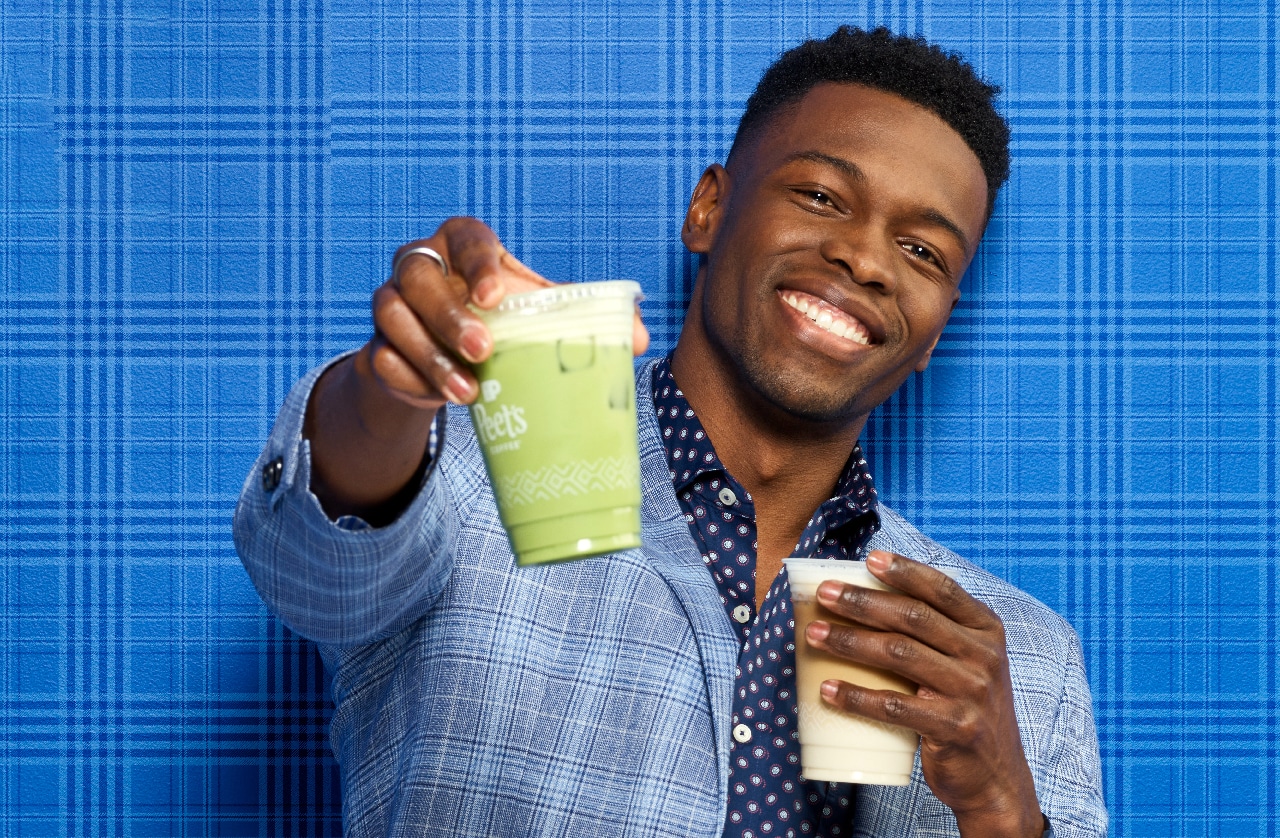 Peet's Coffee
In recent years, Peet's has witnessed the popularity of dairy-free milks soar. Currently, 21 percent of the beverages ordered at Peet's are customized with dairy-free milk (up from just 10 percent in 2019) and vegan milk makes up 34 percent of all milk used by the chain.
"Peet's mission is to serve the finest coffee possible, and that means providing coffee lovers with choices for plant-based milk," a Peet's Coffee spokesperson tells VegNews. "We are committed to leading with innovation, and continuing to offer plant-based menu items, as well as support the growing demand for non-dairy alternatives. This is one way we can lead this year."
After Earth Month, Peet's will reinstate its vegan milk surcharge but will use the promotion period as an opportunity to gain insight into dropping the charge for good.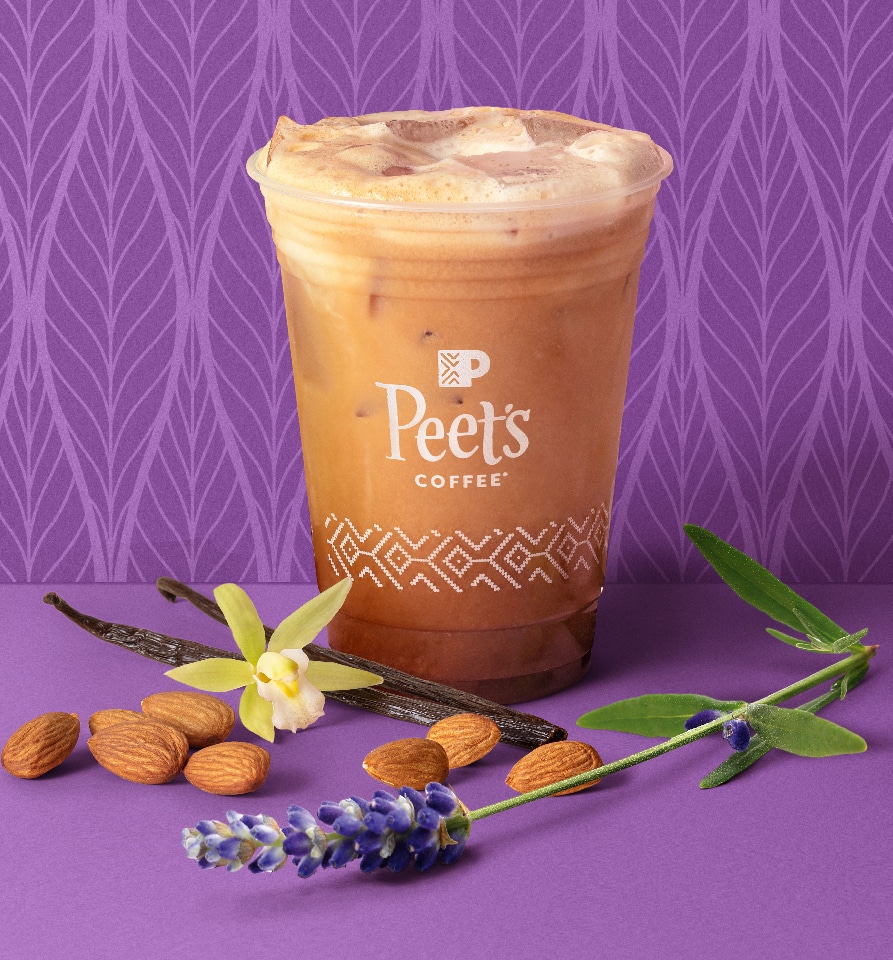 Peet's Coffee
"While we would love to make a permanent change for pricing, this is a conscious start," the spokesperson says. "Our Earth Month Free Dairy-Free program will help us better understand demand among Peet's customers in the future."
Plant-based options have sprung up at Peet's
In addition to its Earth Month dairy-free milk promotion, Peet's is celebrating spring with plant-based bites.
Peet's dove into its exploration of plant-based foods in 2021 when it tested the Everything Plant-Based Sandwich—in which, everything from the cheese (Violife), sausage patty (Beyond Meat), and egg (JUST Egg) is, indeed, entirely plant-based. That limited-time sandwich gained so much popularity that Peet's put it on the permanent menu ever since.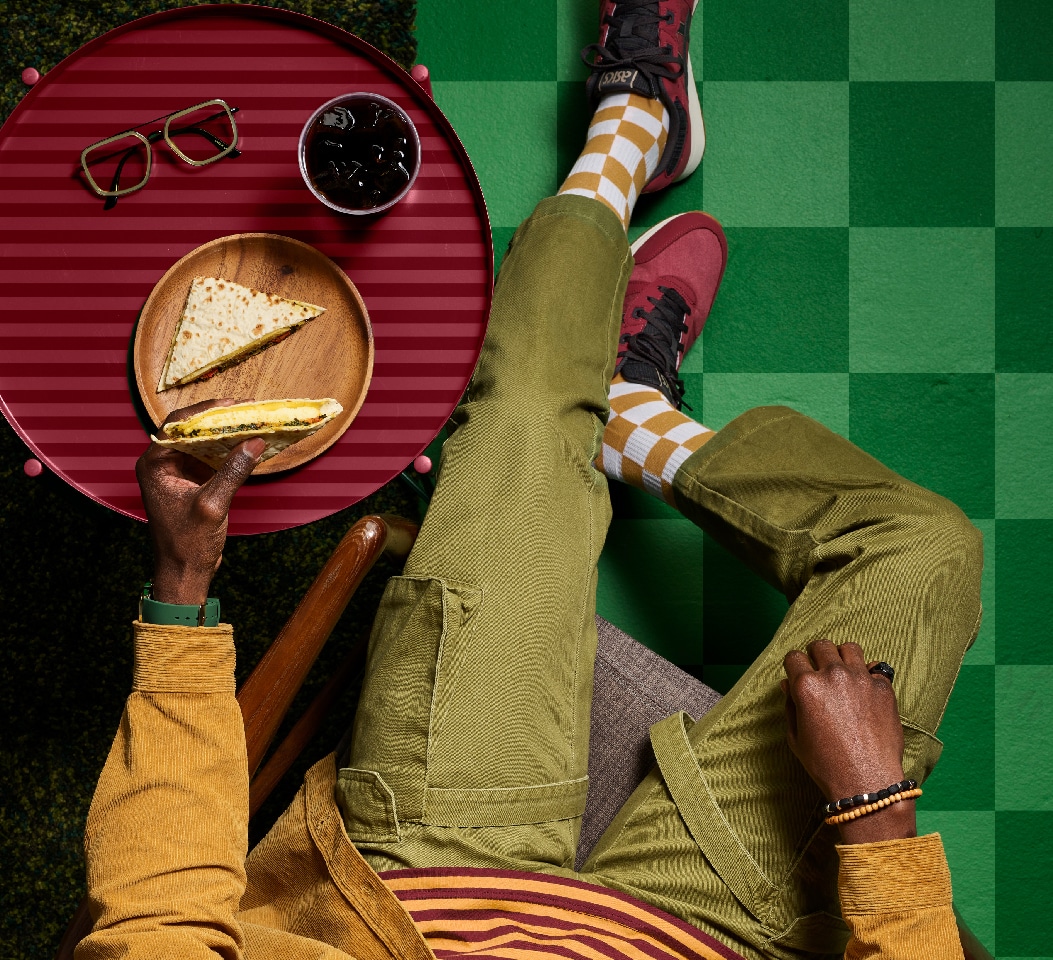 Peet's Coffee
Since then, Peet's spruced up its plant-based offerings even further with the addition of the Plant-Based Mediterranean Flatbread, a wrap with JUST Egg and Violife's vegan smoked provolone cheese served atop a savory blend of pesto, kale, tomatoes, and bell peppers inside a crispy lavash bread.
The chain is promoting its Everything Plant-Based Sandwich on its spring menu which also brings back the Plant-Based Mediterranean Flatbread.
"At Peet's, we are big fans of plant-based ingredients, especially coffee. Earth Month is an important time to shine a spotlight on our planet and on the availability and attributes of plant-based ingredients," the spokesperson says.
"We think these foods are good for the planet and we feel good about celebrating them," the spokesperson says. "For years, we have been bringing plant-based ingredients to the forefront for coffee lovers."
This spring, Peet's has also concocted a beverage menu that celebrates dairy-free beverages with three items: Lavender Vanilla Almond Latte; Lavender Cold Brew Oat Latte; and Vanilla Almond Matcha Latte (a popular off-the-menu item).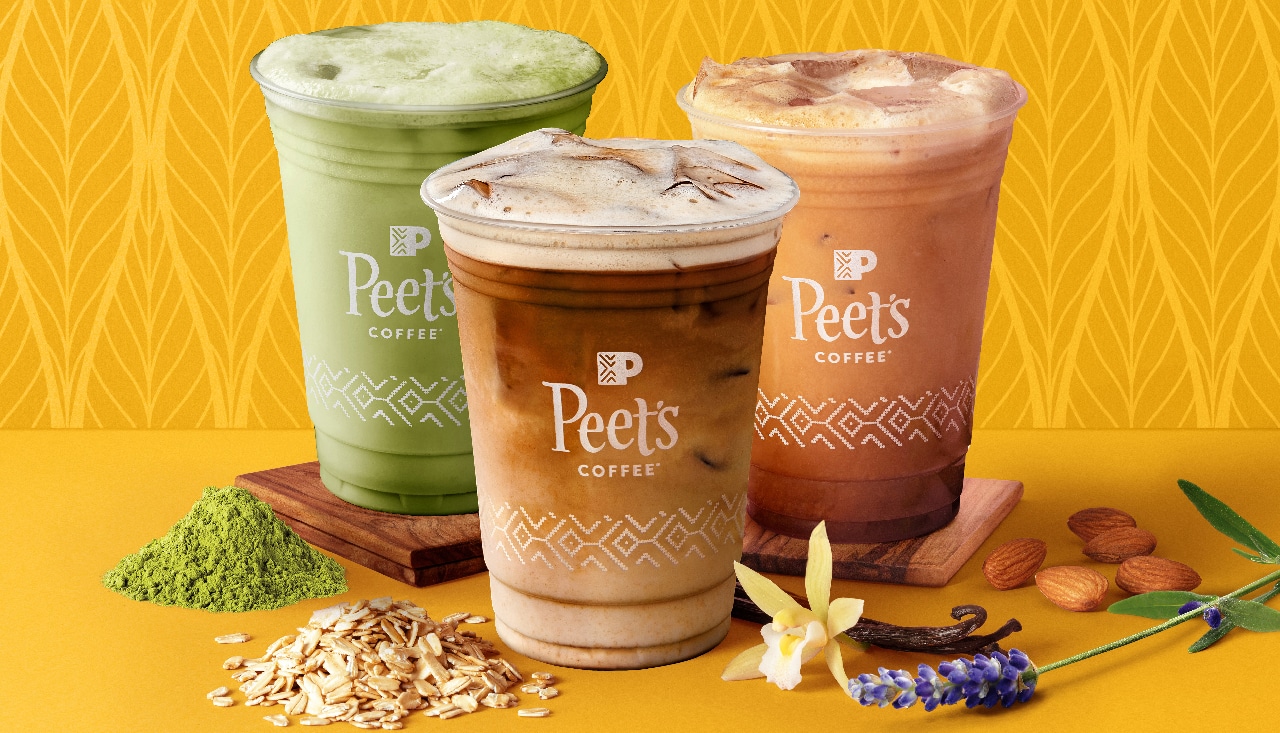 Peet's Coffee
"Our seasonal menus always highlight food and beverage choices that meet vegan, vegetarian and plant-based needs for our customers," the spokesperson says. "Our mobile app has a section dedicated to these choices because they are what many Peet's fans look for."
The new dairy-free Earth Month promotion and spring plant-based menu are available at all 200 Peet's operated stores but not at independently owned locations (such as those inside Capital One cafes and airports).
Is the vegan milk surcharge on its way out for good?
Dairy carries a much larger carbon footprint than vegan milks, a fact that is floating to the top as global coffee chains look to make their operations more sustainable.
A 2020 audit of the biggest player in the space, Starbucks, attributed 21 percent of its carbon footprint to dairy milk. Since then, Starbucks has been exploring ways to slash its carbon footprint, with a focus on vegan milks.
In South America, it's diversifying its offerings with The Not Company—which uses artificial intelligence to formulate dairy alternatives from a blend of plants. Similarly, Starbucks added more vegan milk options to its stores in the United Kingdom last year with the launch of Starbucks Original Nut Blend, a blend of light rice milk, hazelnuts, and cashews the chain created to compliment its espresso.
And while adding vegan milk options is one way to help consumers make sustainable choices, continuing to charge extra for making vegan milk substitutions has a counterproductive effect.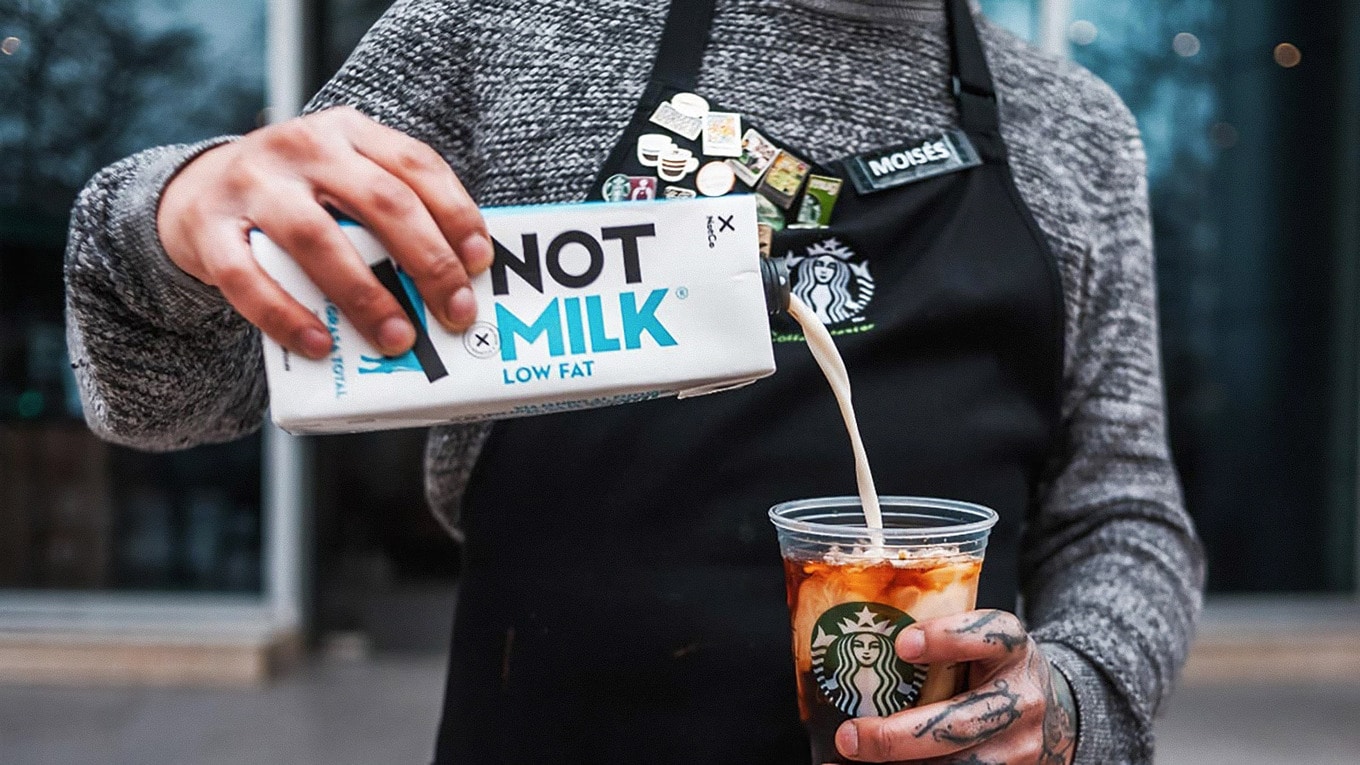 Starbucks
Starbucks has made some progress on this front in recent years, dropping its vegan milk surcharge in the UK and France and continuing its policy of not charging extra for dairy-free substitutions in China and India.
Earlier this year, Starbucks modernized its policy at all 145 locations across Germany by dropping the vegan milk surcharge. However, more than half of Starbucks' more than 35,000 locations reside in the United States where activists—including celebrities such as Alicia Silverstone, Sir Paul McCartney, and James Cromwell— have been demanding that the chain drop its vegan milk for years.
So, will Starbucks US follow Peet's lead? We checked in with Starbucks this week and a spokesperson confirmed that it has no immediate plans to drop the vegan milk surcharge at its US stores.
For the latest vegan news, read: