It seems that every week in vegan food news is better than the last and this week is no exception. Hearty vegan ravioli and manicotti are joining the frozen family meal lineup at Sunday Supper—a brand loved by Billie Eilish and Daniella Monet. A St. Patrick's Day vegan shake is celebrating everything green on the new and improved menu at chain Next Level Burger. And a new egg-free mayo is coming to stores from the Kraft Heinz Not Company. Read on for more.
1Kraft Heinz Not Company's vegan mayo
This month, a new condiment will begin hitting select store shelves thanks to The Kraft Heinz Not Company, a joint venture between Chile's The Not Company (NotCo) and food giant Kraft Heinz.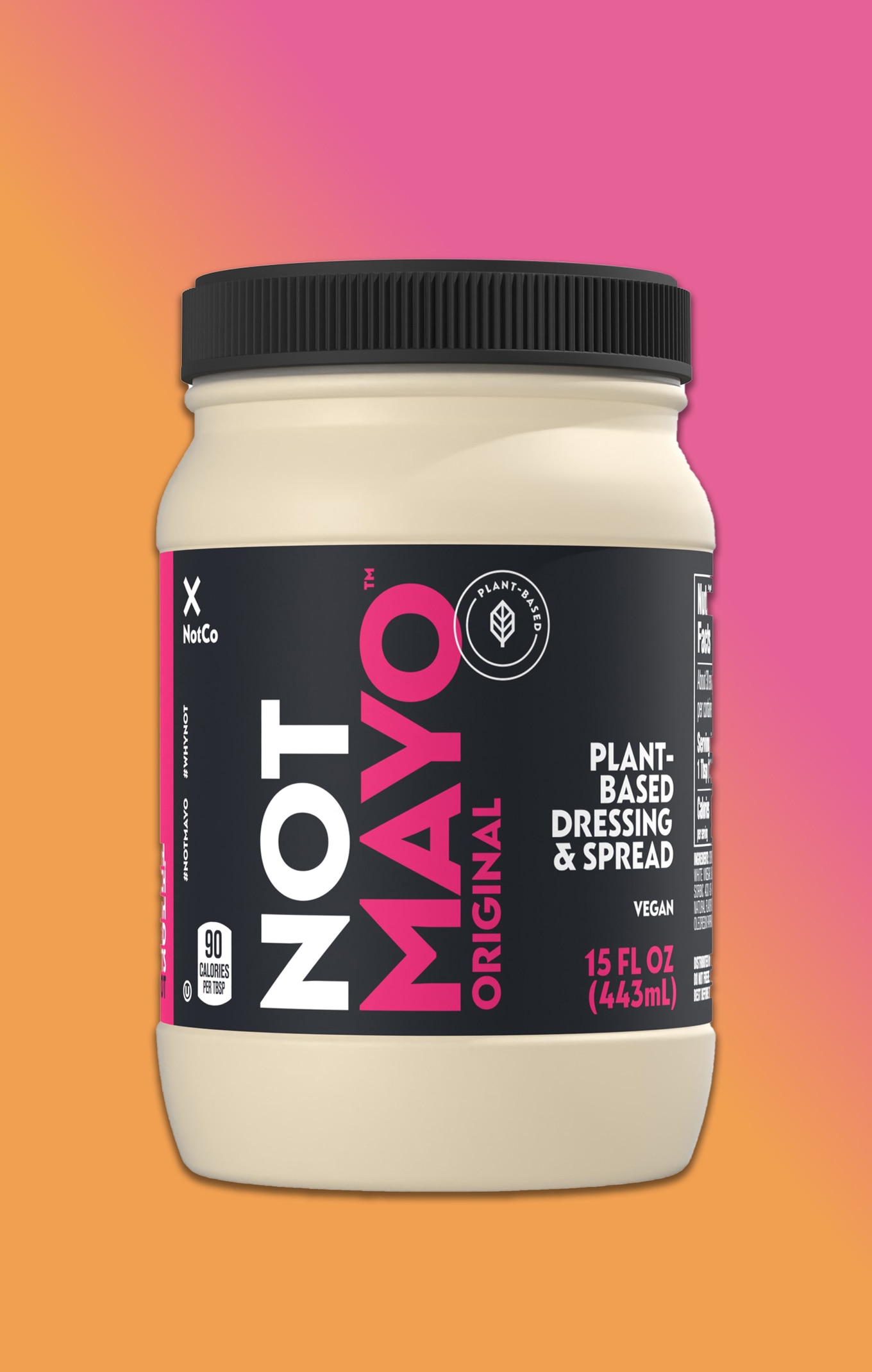 The Kraft Heinz Not Company
The duo is now rolling out NotMayo, a vegan mayonnaise developed by NotCo using its artificial intelligence platform. After its initial launch this month, NotMayo will roll out nationally before hitting shelves in Canada.
"When deciding which products to bring to market first, we analyzed various categories and taste and ingredient profiles, as well as the consumer need for a great tasting product – and plant-based mayo rose to the top," a spokesperson for the joint venture tells VegNews.
"We were able to create a great tasting product in record time and fulfill a consumer need in the category and that was important to us," the spokesperson says.
The new NotMayo is the second product to launch under the joint venture following the recent release of NotCheese—a vegan version of Kraft Singles available in American, Provolone, and Cheddar flavors.
The Kraft Heinz Not Company joint venture will result in launches in four categories this year before expanding to seven categories and more international markets in 2024.
2Sunday Supper's three new plant-based meals
Frozen comfort food company Sunday Supper—a favorite among celebs such as Billie Eilish and Daniella Monet—is expanding upon the success of its frozen lasagnas with three new meals, sold in family-sized portions to make mealtime easy.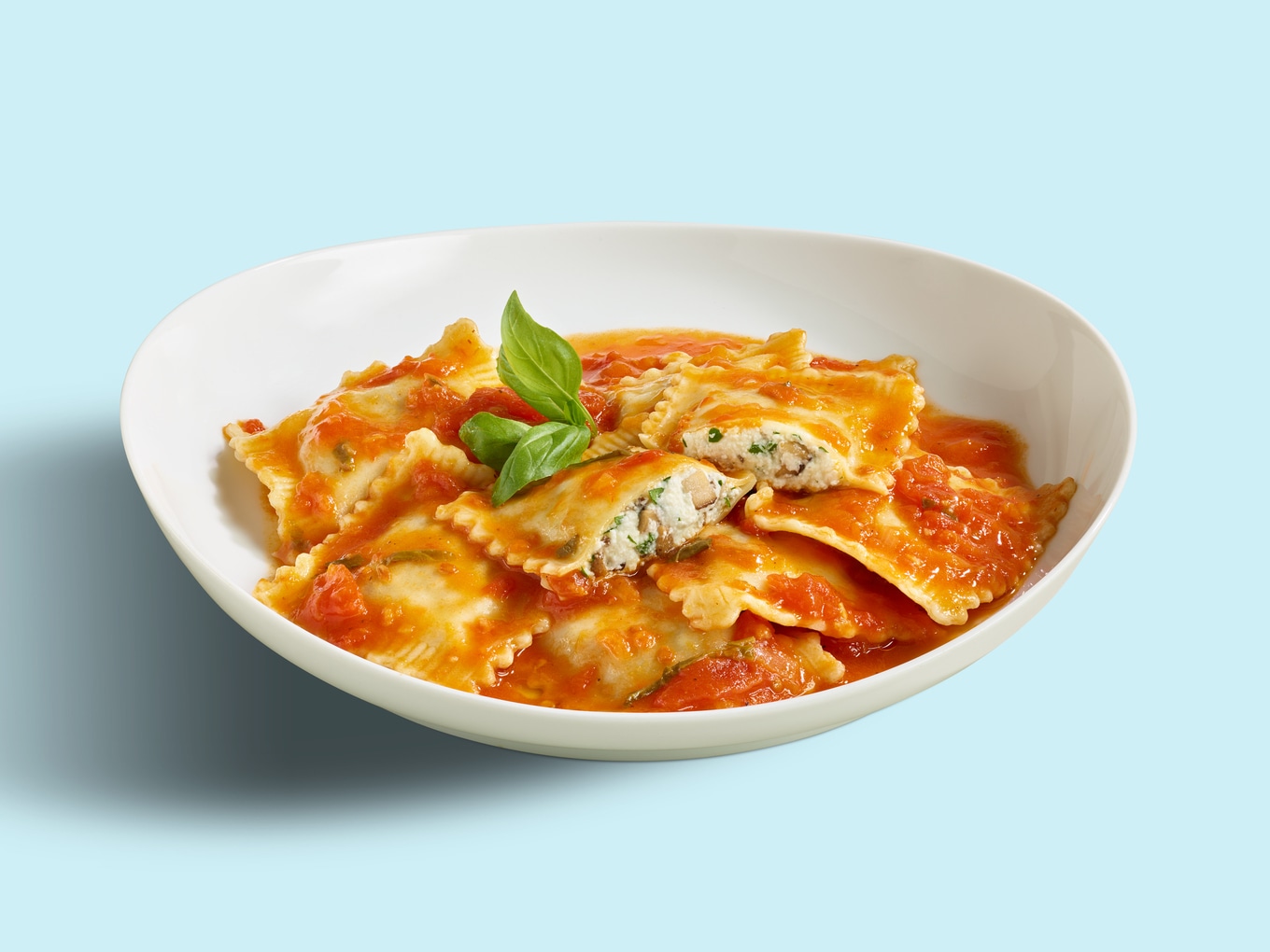 Sunday Supper
Sunday Supper's new Three Cheese Ravioli features almond-based ricotta, vine-ripened tomato sauce and plant-based parmesan while its Wild Mushroom Ravioli is stuffed with a hand-selected mix of shiitake, nameko, oyster, porcini, and portabello mushrooms in an olive oil and sherry wine reduction.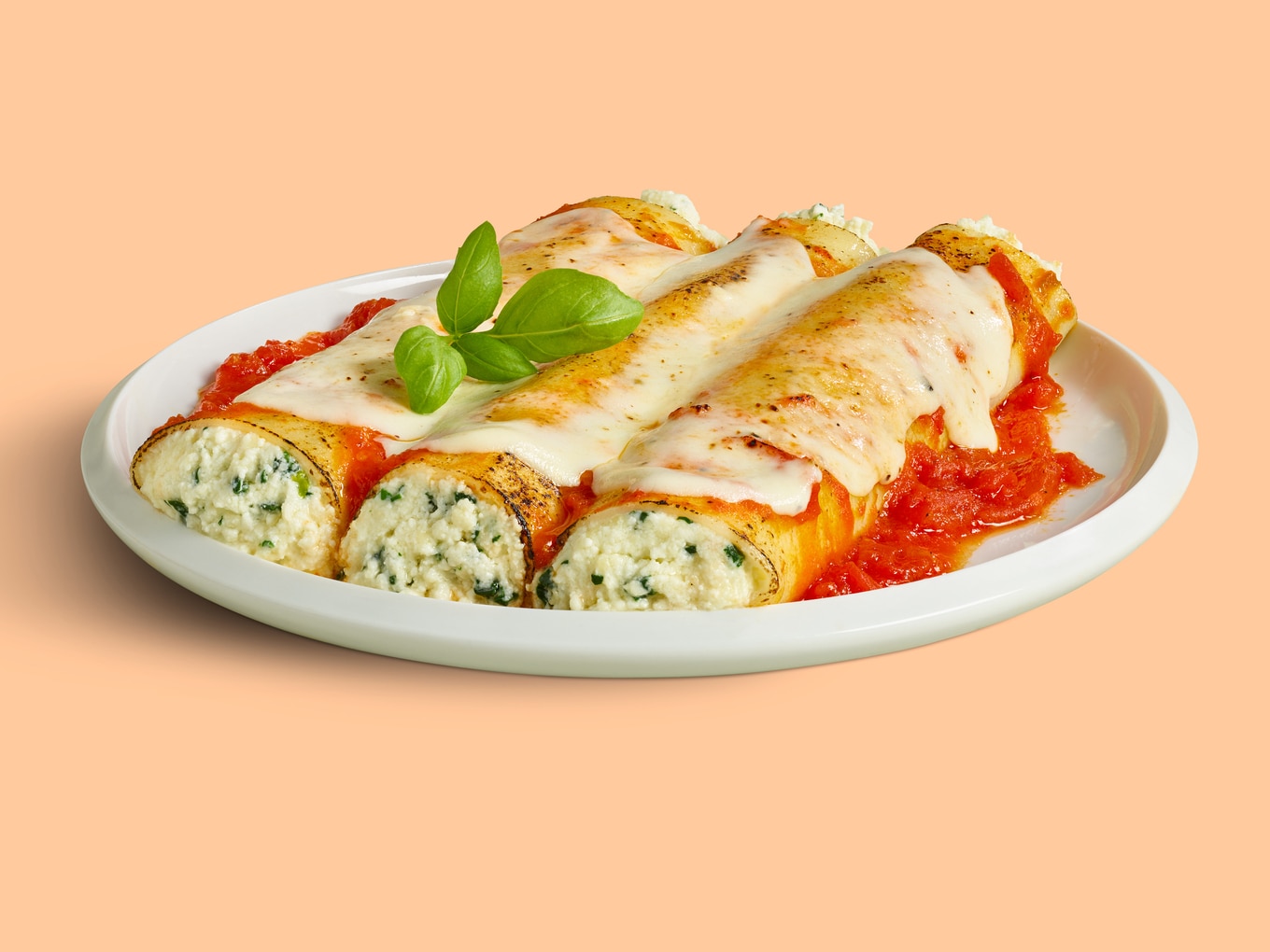 Sunday Supper
Lastly, the Spinach and Ricotta Manicotti is packed with almond-based ricotta and spinach and topped with a bechamel and tomato sauce blend.
"Our delicious line of products are an easy family meal as well as a great way to celebrate a special occasion with more ease and no compromise on quality," Richard Klein, co-founder and head of product at Sunday Supper, said in a statement.
"We are focused on the multi-serve format because our meals represent time spent together," Klein said. "And we also deliver on the freshness and locked-in goodness that restaurant-quality frozen foods like ours represent to the consumer."
Sunday Supper's new meals are available through the company website and through virtual grocery store GTFO Its Vegan. Its lasagnas can also be found in stores at The Fresh Market, Plum Market, and Erewhon.
3Dairy-free leprechaun shakes at NLB
Today is the day for eating green foods and if you're looking for something special, organic vegan fast-food chain Next Level Burger (NLB) has just the thing. For the month of March, NLB is serving the Lucky Leprechaun Shake, a hand-spun soy- or coconut-based milkshake that features mint, house-made gluten-free chocolate cookies, and vegan marshmallows that come topped with edible green and gold glitter for extra sparkle.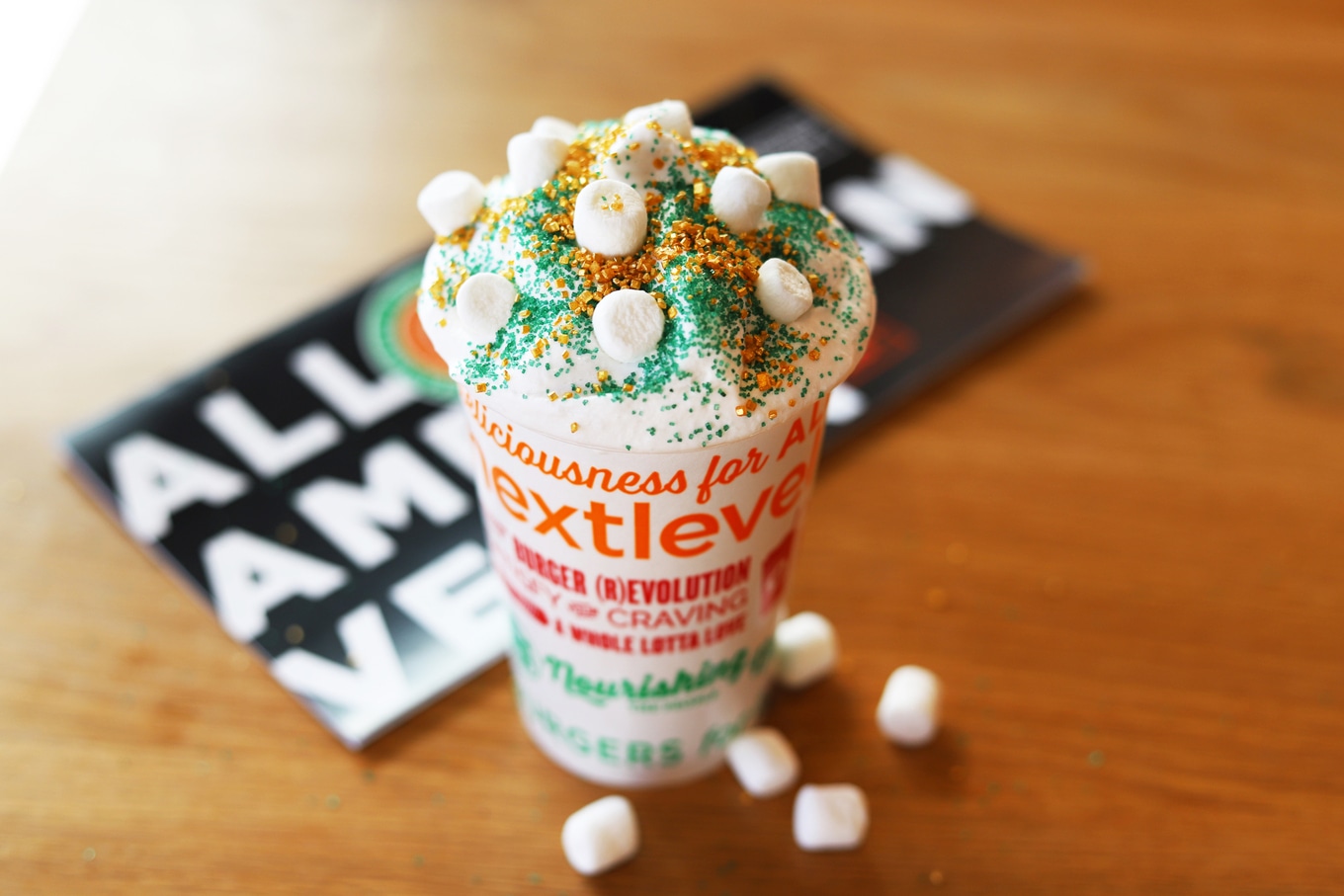 Next Level Burger
If you're looking for some bites to go along with your green shake, NLB is serving a new menu that features items such as The Chipotle Burger (made with an Actual Veggies Chipotle Black Bean Burger patty; Spicy Southwest Salad (loaded with tempeh bacon); and The Animal (an absolute beast of a burger with two Beyond Burger patties).
In addition to the new menu items, NLB is also tweaking some of its classics to give consumers even more to enjoy. Its new chicken sandwiches feature a heftier patty and its burgers (both Beyond Burger and its housemade patty) have been increased from three to four ounces each.
"Our mission is to combat climate change, and we choose to do so through the vehicle of delicious, craveable and better-for-you-and-the-planet plant-based food," CEO and co-founder Matt de Gruyter said in a statement.
"And while consumers are dealing with shrinkflation around every corner, we decided to go the opposite direction and give our guests even bigger burgers so that their dollars go further at NLB," he said.
4Craig's vegan ice cream goes national
West Hollywood's Craig's Restaurant delighted Angelenos with its vegan ice cream since 2016 before packing up the treat in pints in 2018. Now, the cashew-based ice cream is coming to Publix supermarkets so that even more people can get a taste of the celeb-favorite treat enjoyed by Hailey Bieber, Emma Chamberlain, and TikTok personality Tinx.
"When we first started serving decadent, 100 percent plant-based ice creams at our restaurant in LA, we knew from day one we had an instant hit on our hands," founder Craig Susser said in a statement.
"Ice cream is one of those desserts that has no boundaries—whether you're five or 95—everyone loves this classic and we believe that everybody and every pallet, regardless of dietary restrictions deserves a delicious, creamy and nostalgic treat," he said. "We're thrilled to partner with Publix and share our luscious desserts with shoppers throughout the southeast."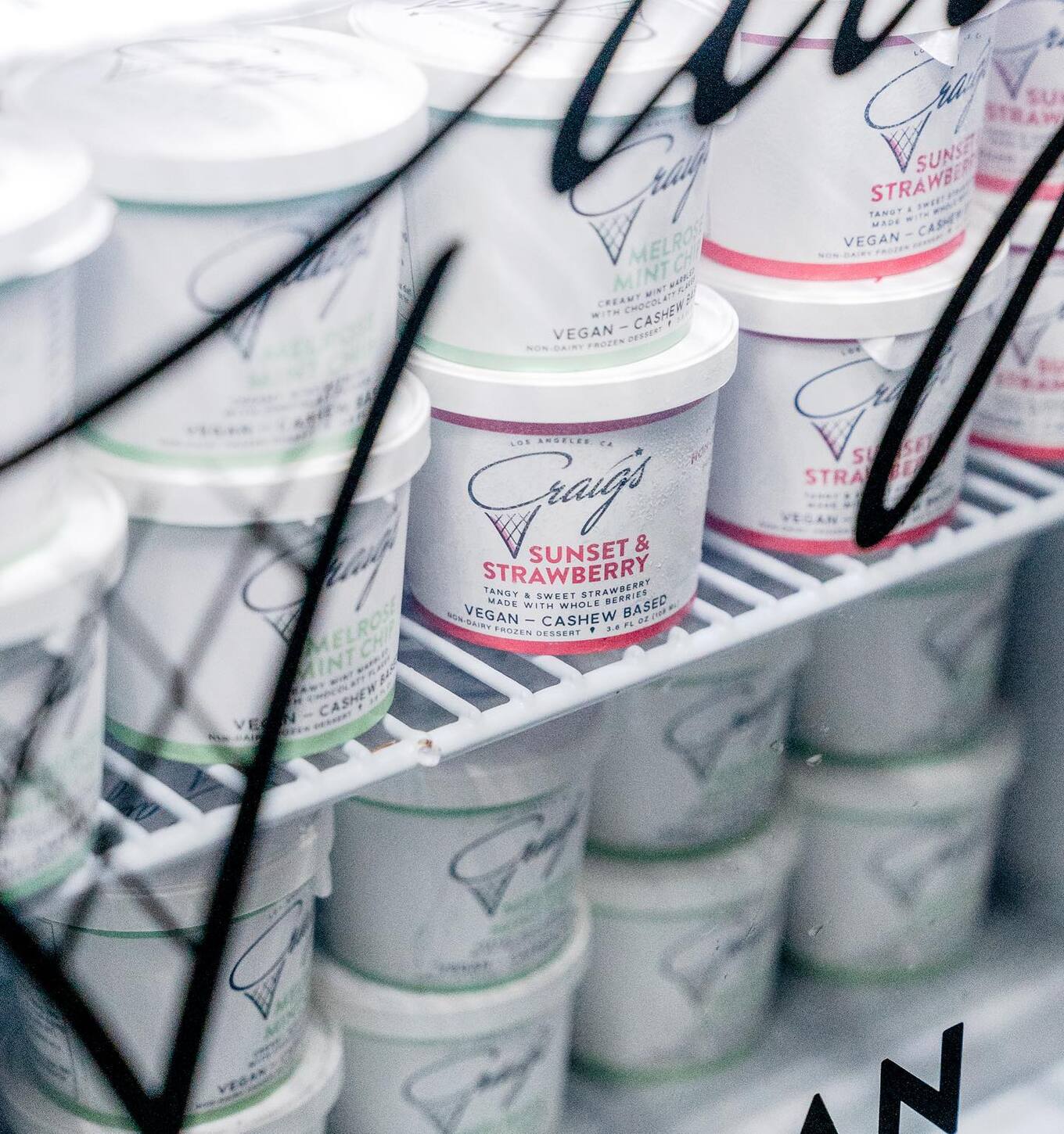 Craig's Vegan
At Publix, Craig's Vegan will be available in Melrose Mint Chip, Cold Brew Coffee made with Chamberlain Coffee, Killa' Vanilla, Perfectly Chocolate, and Sunset & Strawberry. If you happen to be near Las Vegas, Craig's also has a vegan scoop shop on the strip.
5Ben & Jerry's free cone day
Speaking of scoop shops, Ben & Jerry's is bringing back its Free Cone Day after a four-year hiatus. On April 3, Ben & Jerry's shops in 35 countries will celebrate the holiday by giving away free scoops—a tradition founders Ben Cohen and Jerry Greenfield started in 1979 to celebrate their first year in business.
Ice cream lovers looking for non-dairy treats can also celebrate the holiday as participating scoop shops will offer vegan ice cream (flavors vary by location) for free on April 3, as well.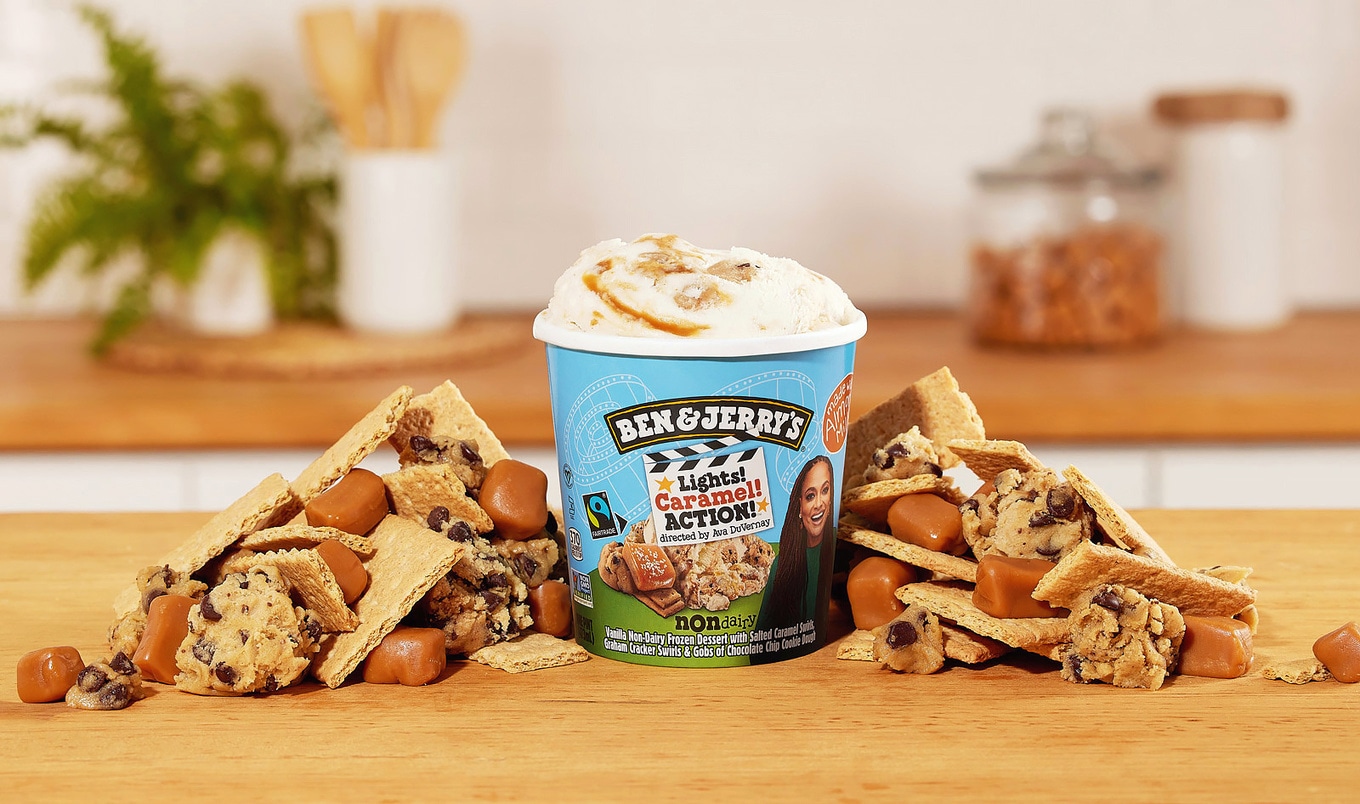 Ben & Jerry's
What kinds of non-dairy flavors might be on offer? Ben & Jerry's has grown its selection of vegan ice cream exponentially since it debuted its first almond milk-based line in 2016 with new additions such as Non-Dairy Phish Food (a vegan version of the classic); Bananas Foster (with a gooey caramel core); and Lights! Caramel! Action directed by Ava DuVerney (a historic flavor crafted together with the award-winning director).
The best part about Free Cone Day? You can get in line for a free scoop as many times as you'd like.
For the latest vegan news, read: