While other segments of the plant-based food industry have fluctuated in recent years, dairy-free milk continues to gain market share of its animal-derived counterparts. Over the last three years, sales of dairy-free milk have grown by 36 percent at a compounded annual growth rate of 11 percent, according to data compiled by nonprofit Good Food Institute, Plant Based Foods Association, and market insights firm SPINS.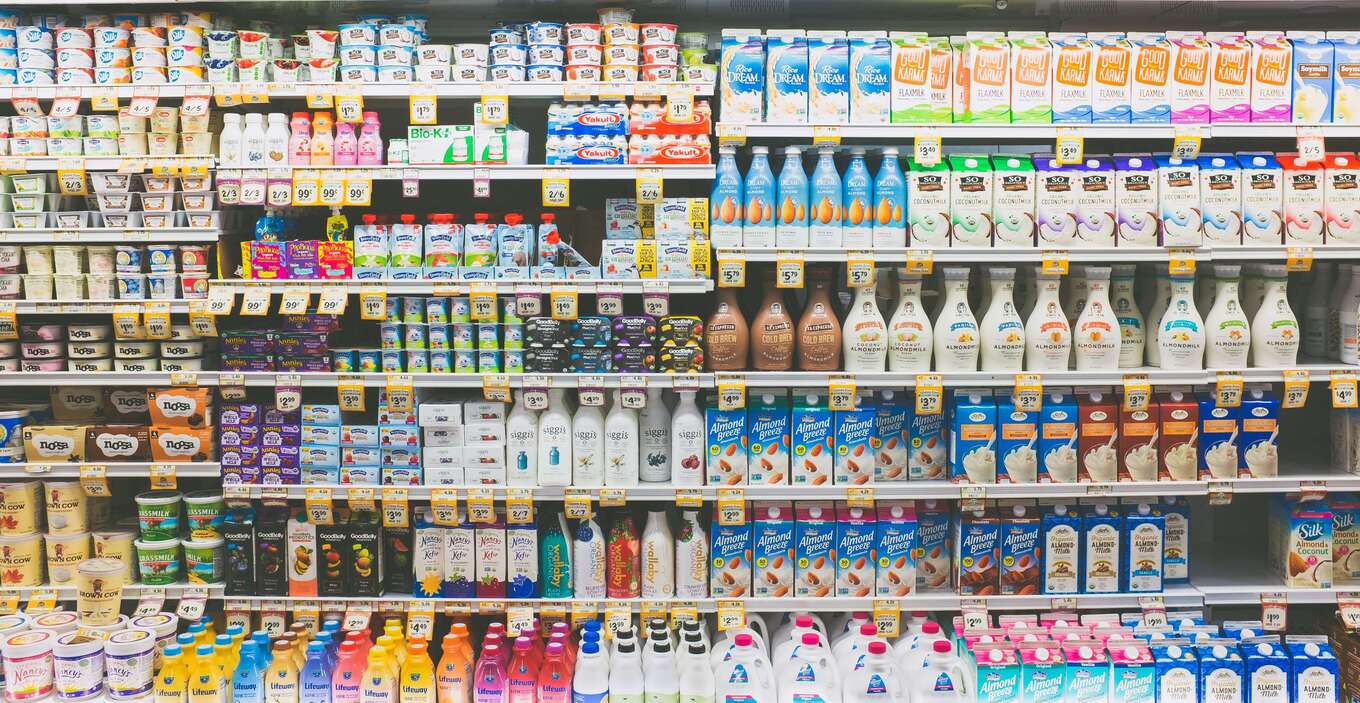 Unsplash
So why is vegan milk still on the up and up?
"Plant-based dairy has grown tremendously over the last few years and its growth is driven by consumer values from those following a diet, avoiding allergens, [and] those who are concerned with the sustainability of the dairy industry," Dan Buckstaff, Chief Marketing Officer at SPINS, tells VegNews.
"There are a lot of purchase drivers that are reshaping the non-animal dairy and plant-based dairy industry, as these products are [driven] by important shopper values and how that impacts what they add to their carts."
Why is vegan milk performing so well?
The global dairy-free milk market, another market insights firm Grand View Research predicts, will continue to grow by a compounded annual growth rate of more than 14 percent between 2021 to 2028, with major companies such as Danone, Nestlé, and PepsiCo already operating the sector.
Buckstaff explains that the vegan milk category is outperforming other plant-based segments because the products are closer replacements for their animal counterparts.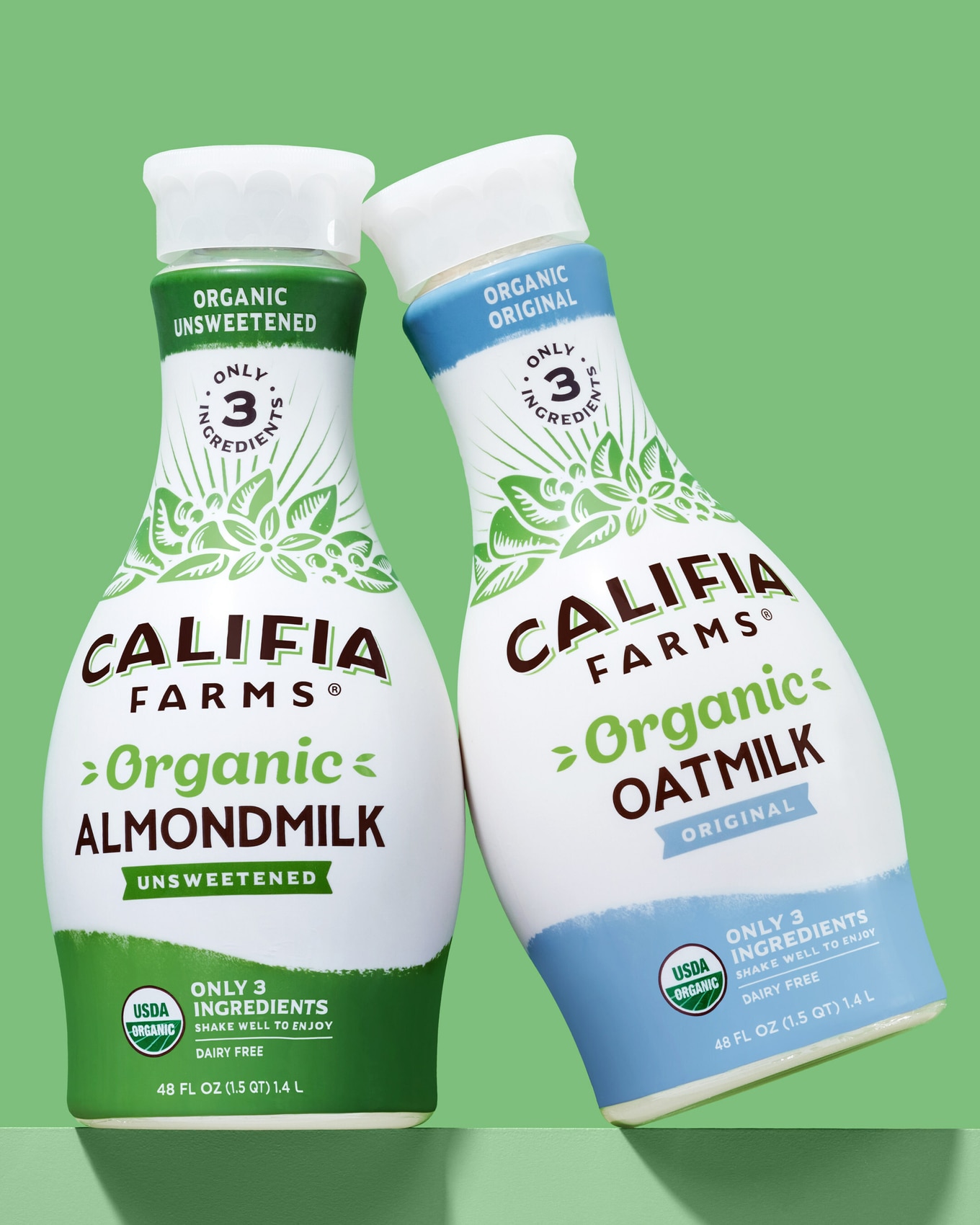 Califia Farms
Companies like California-based Califia Farms—which recently launched a line of oat and almond milks made with only three ingredients—are also quickly heeding the consumer call for shorter labels.
Products such as vegan burgers and cheeses are typically formulated to be as indulgent and flavorful as possible to better compete with cruel and environmentally damaging animal products. However, consumers are now scrutinizing them through a health lens, as well.
"In the alternative meat category, the difference in products is more substantial," Buckstaff says. "Plant-based meat for example has a larger number of ingredients and flavorings that don't always appeal to consumers looking for clean label options. In terms of taste and texture, some plant-based cheeses are still working on perfecting these details to match dairy cheese."
"For consumers who are flexitarian specifically and are choosing back and forth between plant-based and animal-based products, these differences are important in their decision-making," he says.
Outside of cleaning up its labels, the plant-based milk category remains popular because it continues to expand beyond its soy, coconut, and almond roots into new bases such as potatoes, sesame seeds, pecans, and more.
"From nuts to seeds to vegetables to oats, there are tons of options for consumers to choose from, and this innovation has created a long-lasting purchasing behavior among shoppers," Buckstaff says.
Oat milk makes a splash
Out of the many vegan milk bases, oat milk is becoming the darling of the sector, which has been historically dominated by almond milk. Last year, oat milk had a particularly great year, with sales growing by 50.52 percent, the largest overall growth in the category which saw a 6.4 percent uptick to nearly $2.3 billion during the 52-week period through July 2022.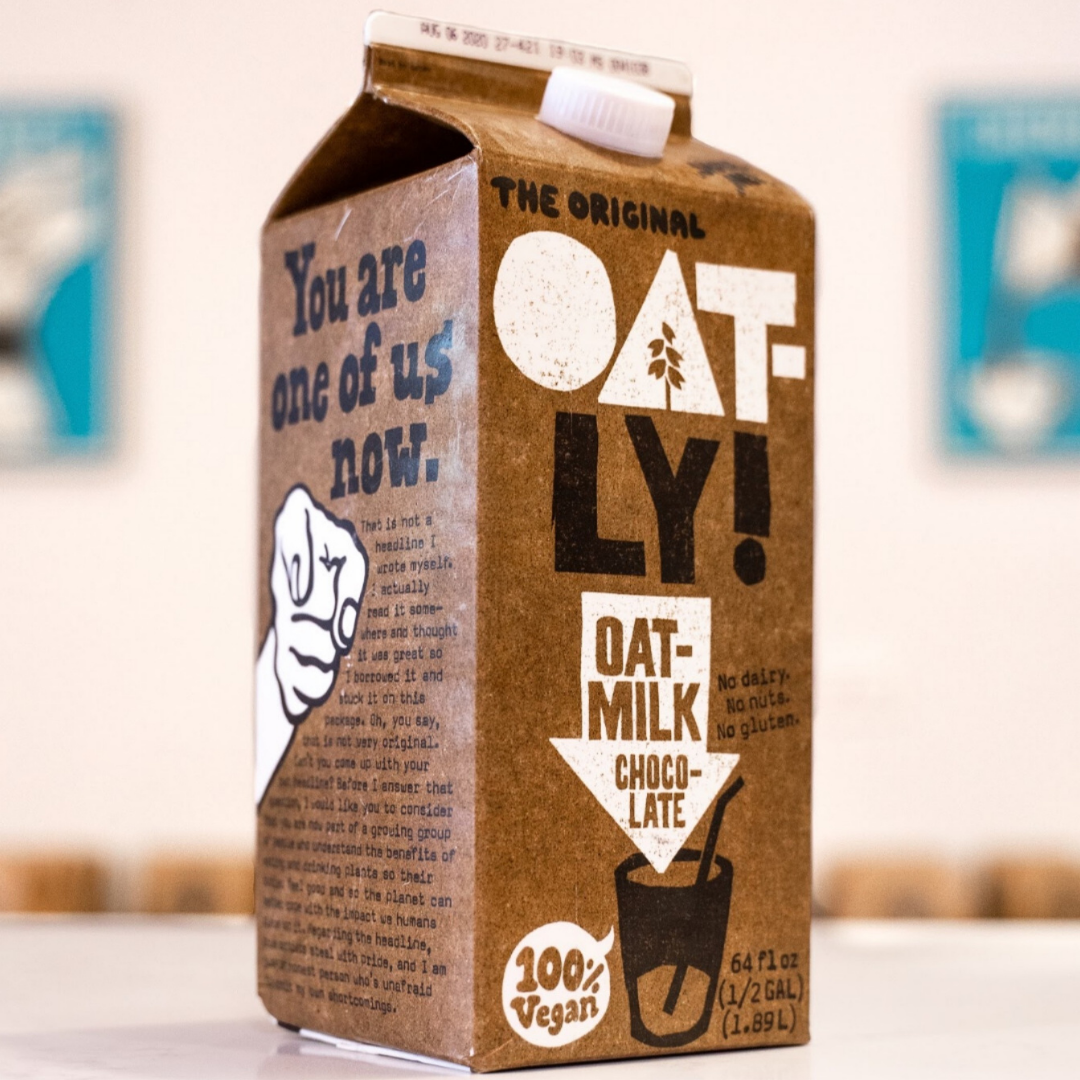 Oatly
Oat milk is offered widely, including at Starbucks, and is now a default option at popular coffee chains such as Blue Bottle and Stumptown. So why did oat milk get so popular?
"Oat milk was one of the first popularized plant-based milks that wasn't made from soy or nuts and served as a substitute for plant-based shoppers with common soy and nut allergies," Buckstaff says.
"Some of its popularity can be attributed to sustainability concerns brought forth by plant-based shoppers that shied away from soy and nut milks because of issues with excess water consumption, land use, and emissions," he says.
Buckstaff explains that ingredients in some oat milk formulations—such as oils and sugars—might be of concern for some shoppers and he expects innovations in this category.
"In the short term, oat milk will continue to be popular among shoppers looking for plant-based alternatives, but in the long term we expect a high level of ongoing innovation in this category that shift share in favor of other options—a few emerging trends include hemp and pea milk," he said.
The future of dairy
As the climate crisis rages on, the need to rethink the global food system is more pressing than ever—and consumers are demanding food companies clean up their carbon footprints. Producers of traditional animal dairy milk, Buckstaff says, have been working to incorporate more sustainable practices and relay environmental messaging to consumers.
"One of the main changes we'll see in the short term is an increase in messaging and offerings among animal-based dairy, similar to what we witnessed when organic products first hit the shelves, there will be even more options for consumers to choose from that match their lifestyle," he says.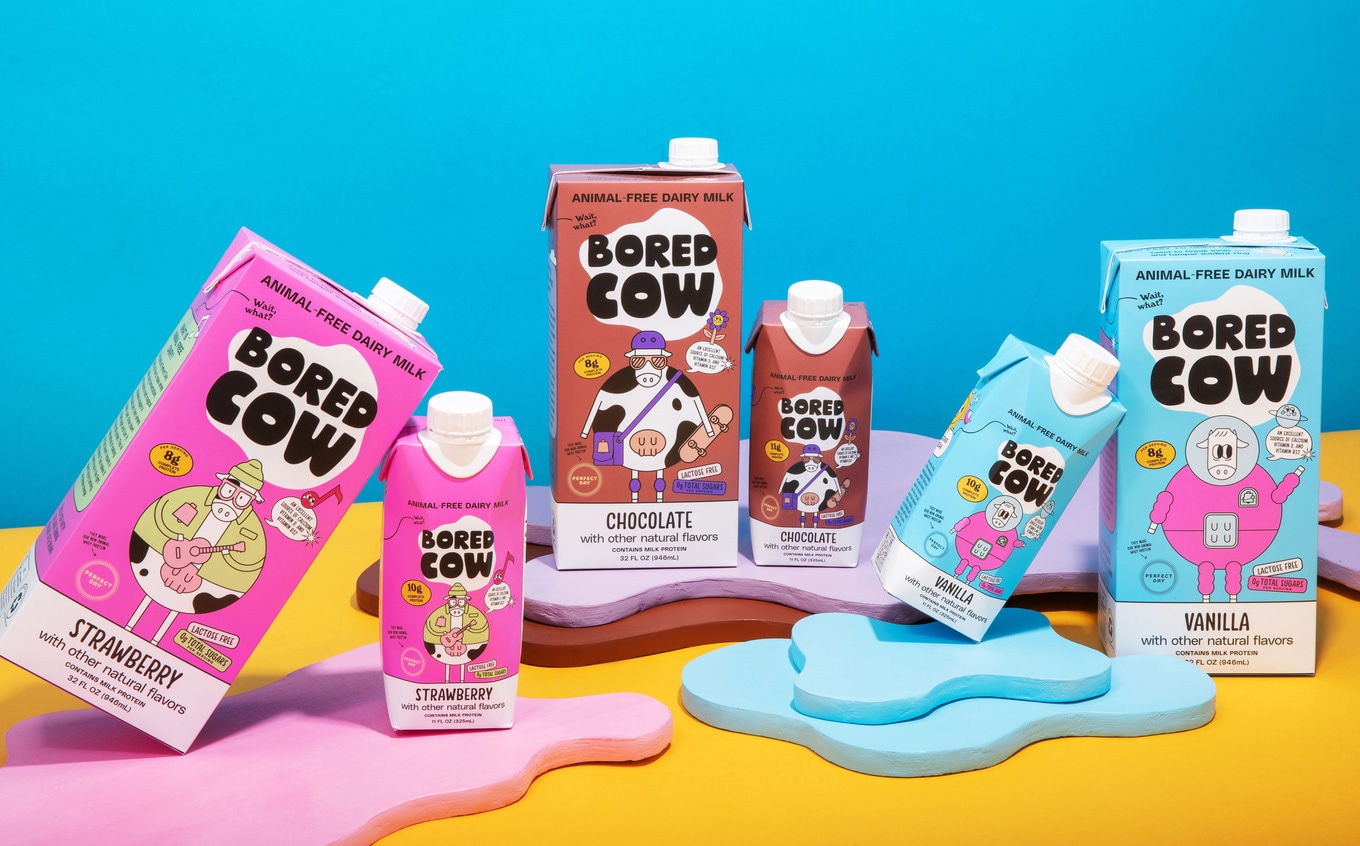 Tomorrow Farms
However, improving the carbon footprint of resource-intensive animal milk is a tall order. Some innovators are now looking to take the animal out of the dairy and meat equation altogether, instead relying on biotechnologies such as precision fermentation (a process that replaces animals with microbes in producing proteins).
"There are a lot of very exciting new technologies that have the potential to really disrupt our food system," Buckstaff says.
One major player in the precision fermentation space is Perfect Day, which uses the biotechnology to produce animal-free whey that is now showing up in new dairy-identical vegan milk, ice cream, sports nutrition products, and more.
"While cultivated and mycelium meats are making headway and can be very interesting in the future, I think that precision fermentation around the dairy space is going to make the most disruption in the next two years," he says. "We are already seeing items pop up on store shelves in forms including ice cream and protein powders."
"Empirically speaking, this topic has been at a wide variety of conferences as well, showing the sheer depth of interest," he says. "The quality of the products also seems to be well ahead of some of the other examples."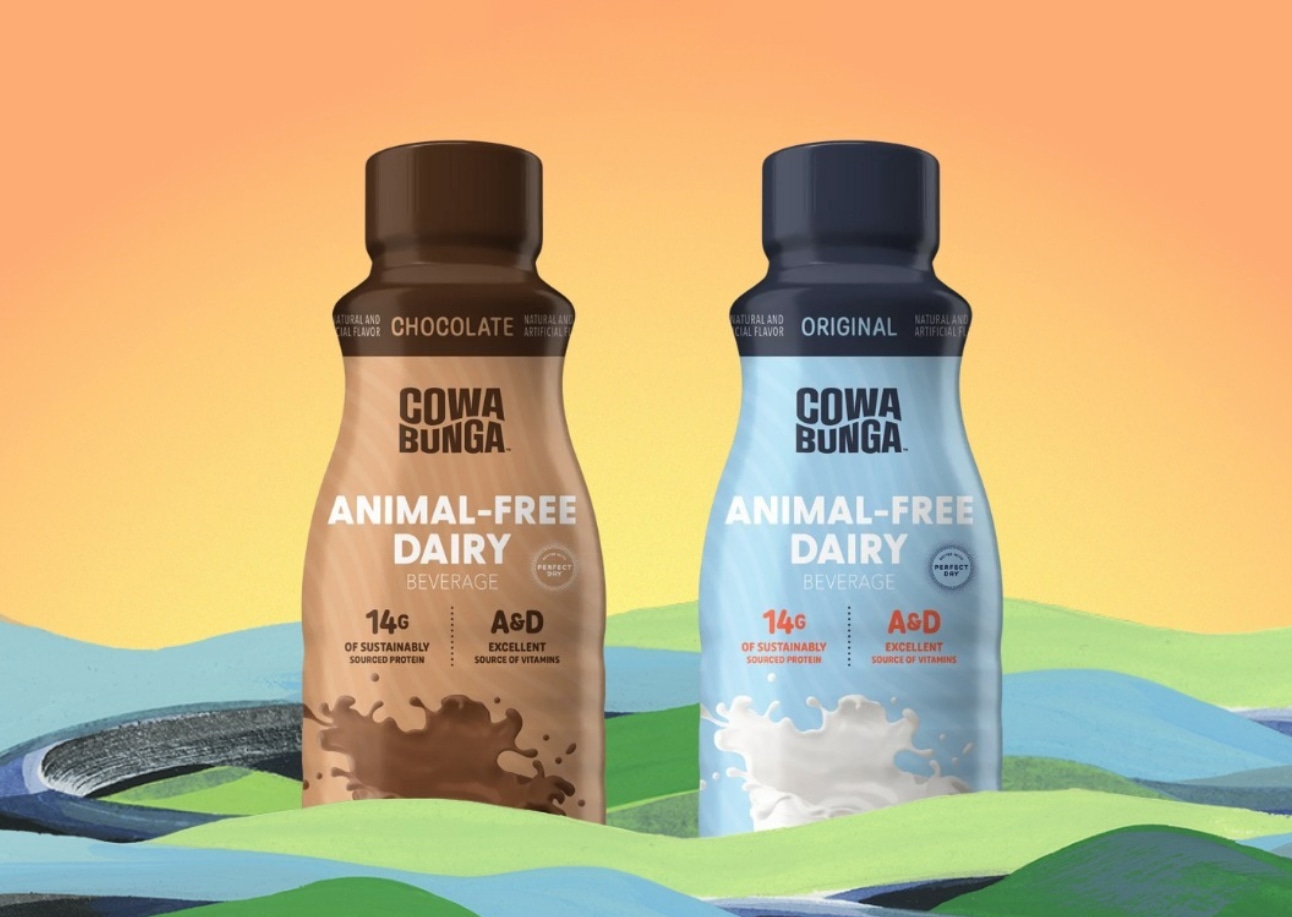 Nestlé
Big companies also think that the quality of products made with Perfect Day's animal-free whey are superior. In recent years, Mars, Nestlé, and Bel Group (the French cheese giant behind iconic cheese brands Babybel, The Laughing Cow, and more) have all explored animal-free dairy products in partnership with Perfect Day.
"Look for the headlines to continue to grow around precision fermentation this year with an opportunity for sales disruption in 2024," Buckstaff says.
For the latest vegan news, read: