What are some of the most important issues in the United States today? A new Danone North America study found that 87 percent of Americans say access to healthy food is a top priority, ranking just as high as access to healthcare—and higher than jobs and climate.
The State of Nutrition Equality Study found that most Americans (60 percent) do not eat food they would describe as very nutritious due to physical and economic barriers, factors that disproportionately affect multicultural consumers.
Survey participants—a representative sample of 4,000 Americans—indicated that these gaps in healthy food access have a ripple effect across families, communities, and the country.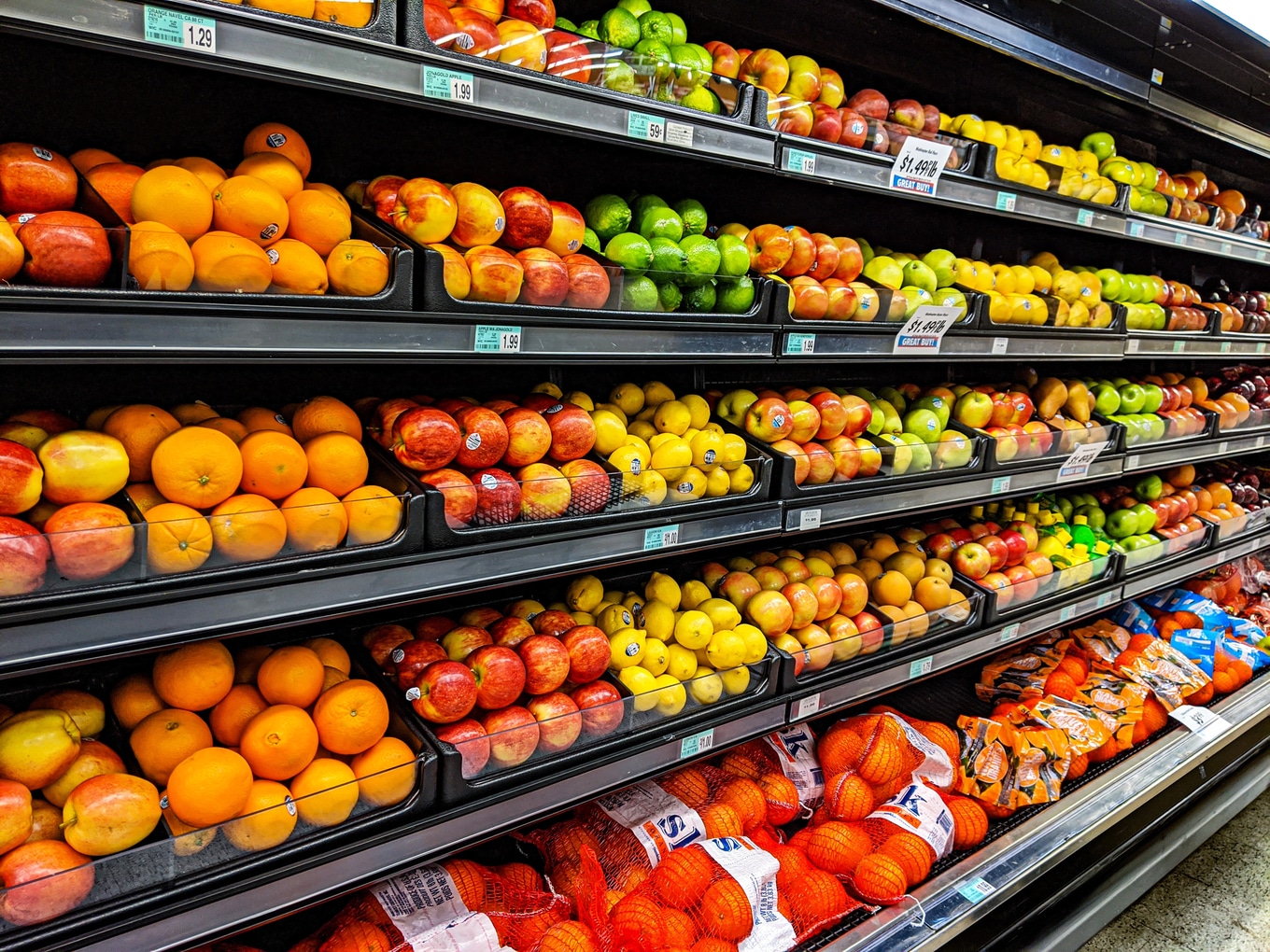 Unsplash
Danone commissioned this study to better understand American consumers as the expanded pandemic-era Supplemental Nutrition Assistance Program (SNAP) benefits—used by 15 million people—come to an end.
"Danone believes in a future where nutrition is more available, accessible, and equitable—our vision is for a more inclusive state of nutrition where consumers have agency over their health, through food," Shane Grant, Group Deputy CEO, Danone, said in a statement.
Danone does dairy-free
Danone's study showed that yogurt was considered a top nutritious food and, among multicultural respondents, dairy-free or plant-based milk products were among their top five food choices.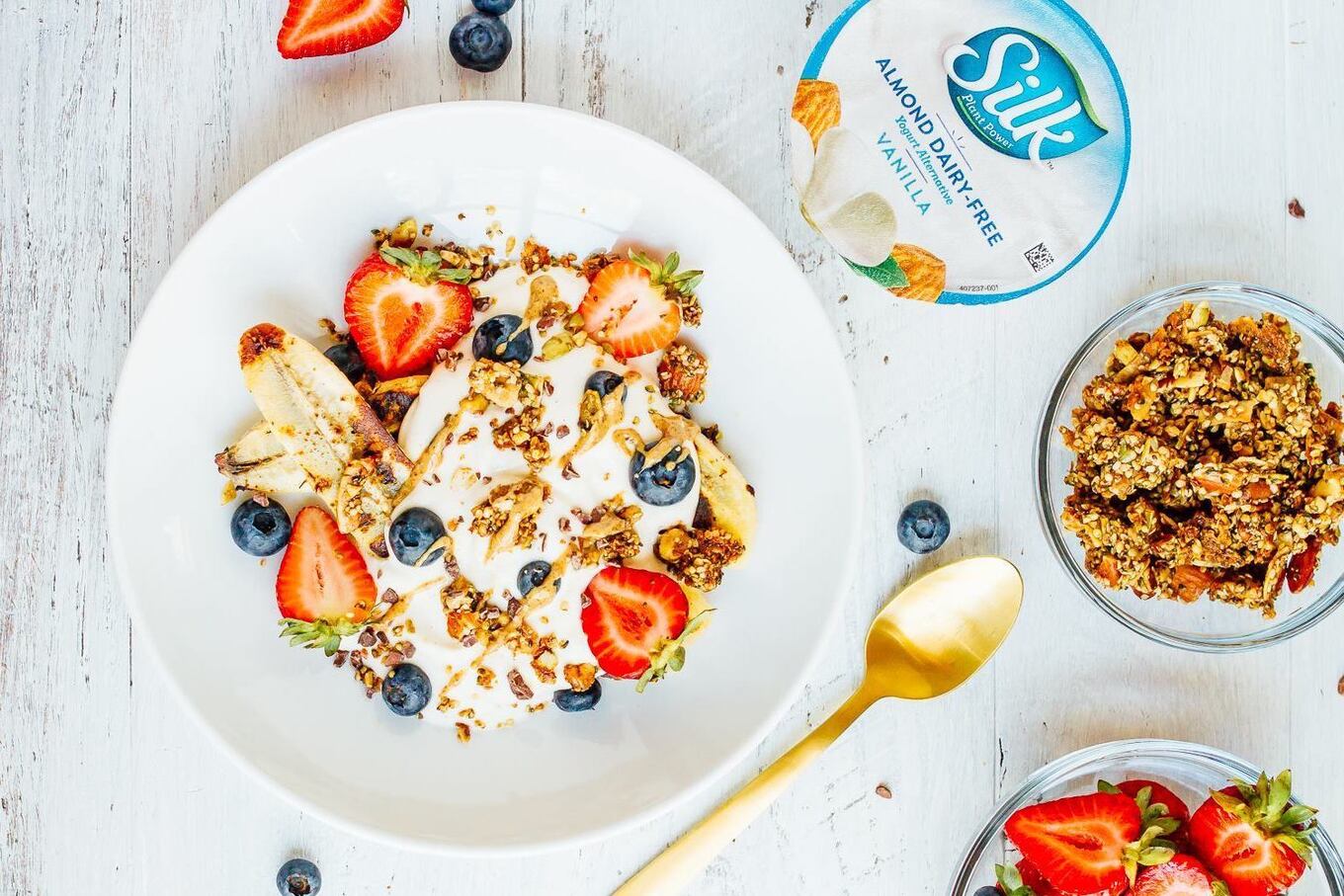 Silk
In recent years, Danone has diversified its portfolio to increase its dairy-free options, most prominently by its 2016 acquisition of White Wave Foods (parent company of vegan brands Silk, So Delicious, Alpro, and Vega). In 2021, it also acquired Earth Island, parent company of Follow Your Heart, which makes Vegenaise, egg alternative VeganEgg, and a variety of dairy-free cheeses, dips, and dressings.
While the company targets flexitarians with its diversified portfolio, Danone study proves that expanding access to vegan products is important for people who cannot digest dairy.
"We are seeing an increasing awareness and demand for health-conscious and culturally appropriate products, which offers an opportunity for Danone to continue to innovate to meet these needs with a range of plant-based products," Amanda Blechman, RDN, Director of Health & Scientific Affairs, Danone North America, tells VegNews.
"At Danone, we are constantly innovating and expanding our brand portfolio to reach a diverse set of consumers with superior taste and nutrition, and to deliver the right product at the right time in the right format," Blechman says.
Expanding access to dairy-free options is also important in helping to mitigate illness because while dairy products do contain nutrients, consuming them has been tied to increased risks of certain diseases, including prostate and breast cancers.
The food and beverage giant is also working to make its existing dairy-free options even healthier.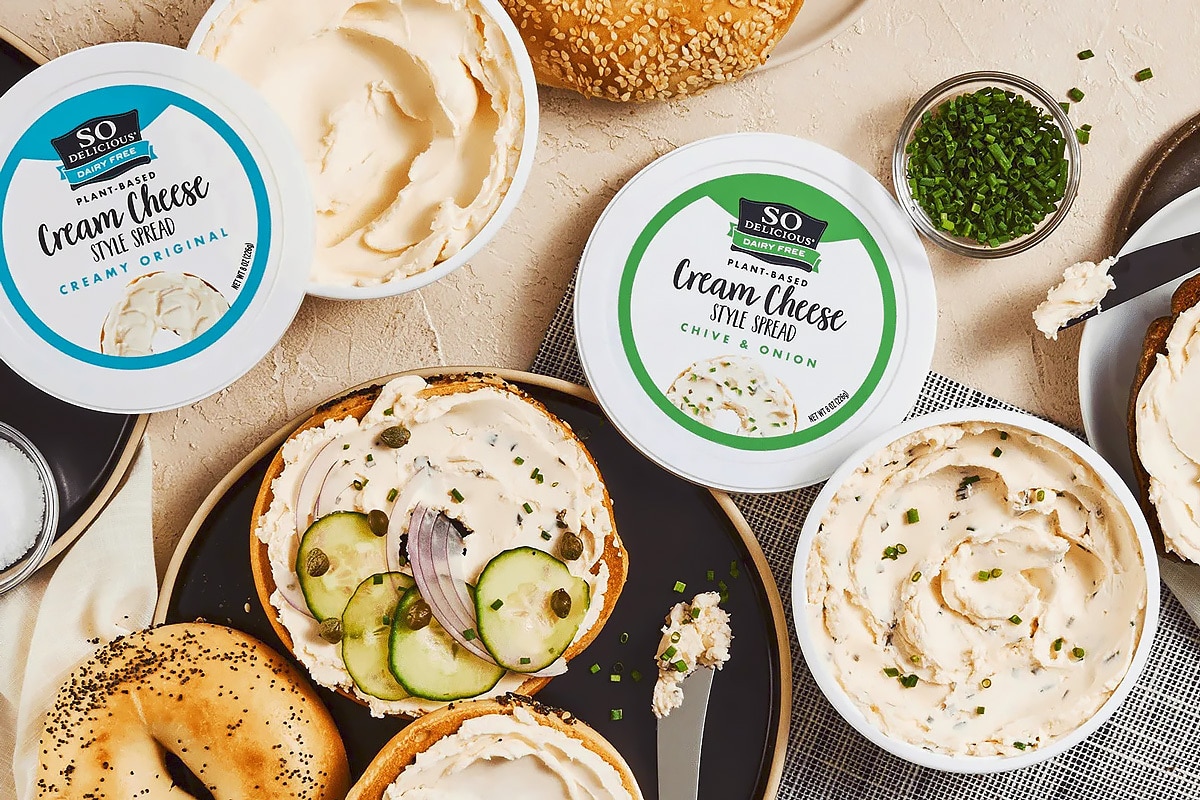 So Delicious
During last year's White House Conference on Hunger, Nutrition, and Health, Danone announced that it is investing $22 million in wellness initiatives it plans to carry out by 2030, including the reformulation of more than 70 percent of its plant-based beverages to increase their nutrient density.
This initiative is part of its Renew Danone strategy to prioritize the company around three pillars: Health, Nature, and People & Communities. The company, Blechman explains, is also working to identify community partnerships and alliances and has previously working with nonprofit Green Bronx Machine (GBM). One stand-alone initiative here gave students access to plant-based foods through programming at GBM and Bronx schools.
"Now, as we look ahead, we are looking at longer lasting partnerships with GBM, including collaborating with retail partners and public schools to distribute healthy products and educational information about nutrition, helping to make it easily accessible and inclusive in daily lives," Blechman says,
What can increasing access to healthy food do for American consumers? Danone's study found that 80 percent of Americans feel they would have a higher quality of life, with other benefits such as improved mental health; enhanced childhood development; improved health disparities; and reduced healthcare costs.
Increasing access to healthy food
Danone's study also found that one in four Americans do not have a positive outlook when it comes to their ability to access healthy food in the future. They are hoping both the private and public sector takes action.
How can companies help? Participants say that supporting local food systems, developing affordable products, providing education and resources about healthy food, diversifying packaging and price points, and supporting policy change are all key.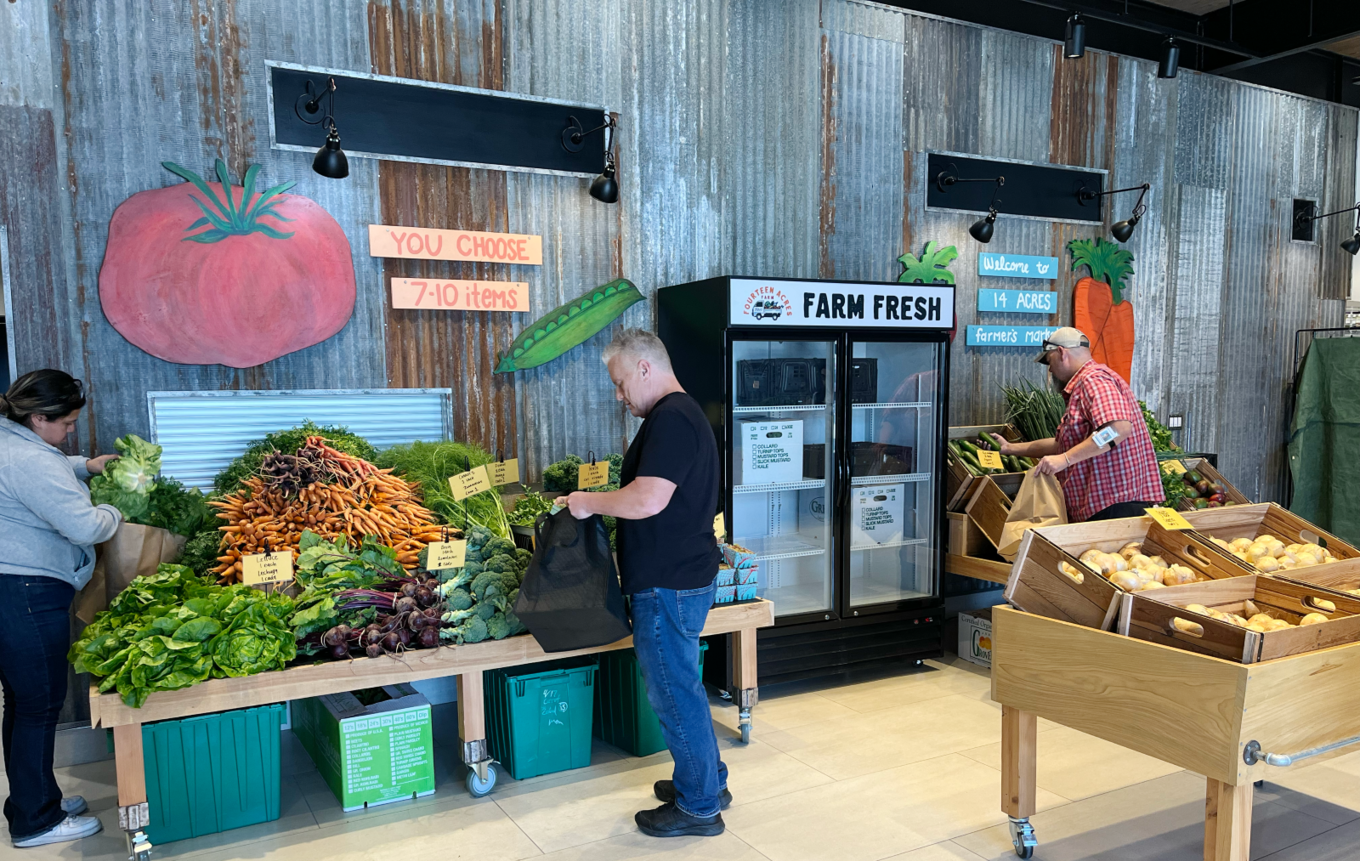 Fourteen Acres Farm
In addition to Danone, other companies are working to increase access to healthy food. At Tito's Handmade Vodka, the company set up a 14-acre farm exclusively for its employees to gain access to more than 25 fresh fruit and vegetable varieties. This initiative also sparked the company's Love, Tito's Block to Block program to help communities gain access to fresh produce, one block at a time. In 2023, this program will expand to more than 35 cities.
Over in New York City, expanding food concept Plantega is bringing plant-based food into bodegas, corner stores that fuel city residents daily. Here, classics such as bacon, egg, and cheese are reimagined with plant-based ingredients, which continually change to showcase emerging vegan brands with nutrition in mind.
"We know our food is inherently healthier than the animal-derived meat, dairy, and eggs that are available at bodegas, we know a lot of consumers are choosing our menu for health reasons," Plantega founder Nil Zacharias told VegNews in May.
"We want our menu to increasingly lean in on that while it still has delicious and decadent tasting options," Zacharias said.
And comedian Kevin Hart is taking healthy food access seriously with a massive expansion planned for his Hart House chain. The idea here is to make the vegan chain—which serves healthier indulgent but healthier fast-food options—as ubiquitous as McDonald's, Chick-Fil-A, and Wendy's.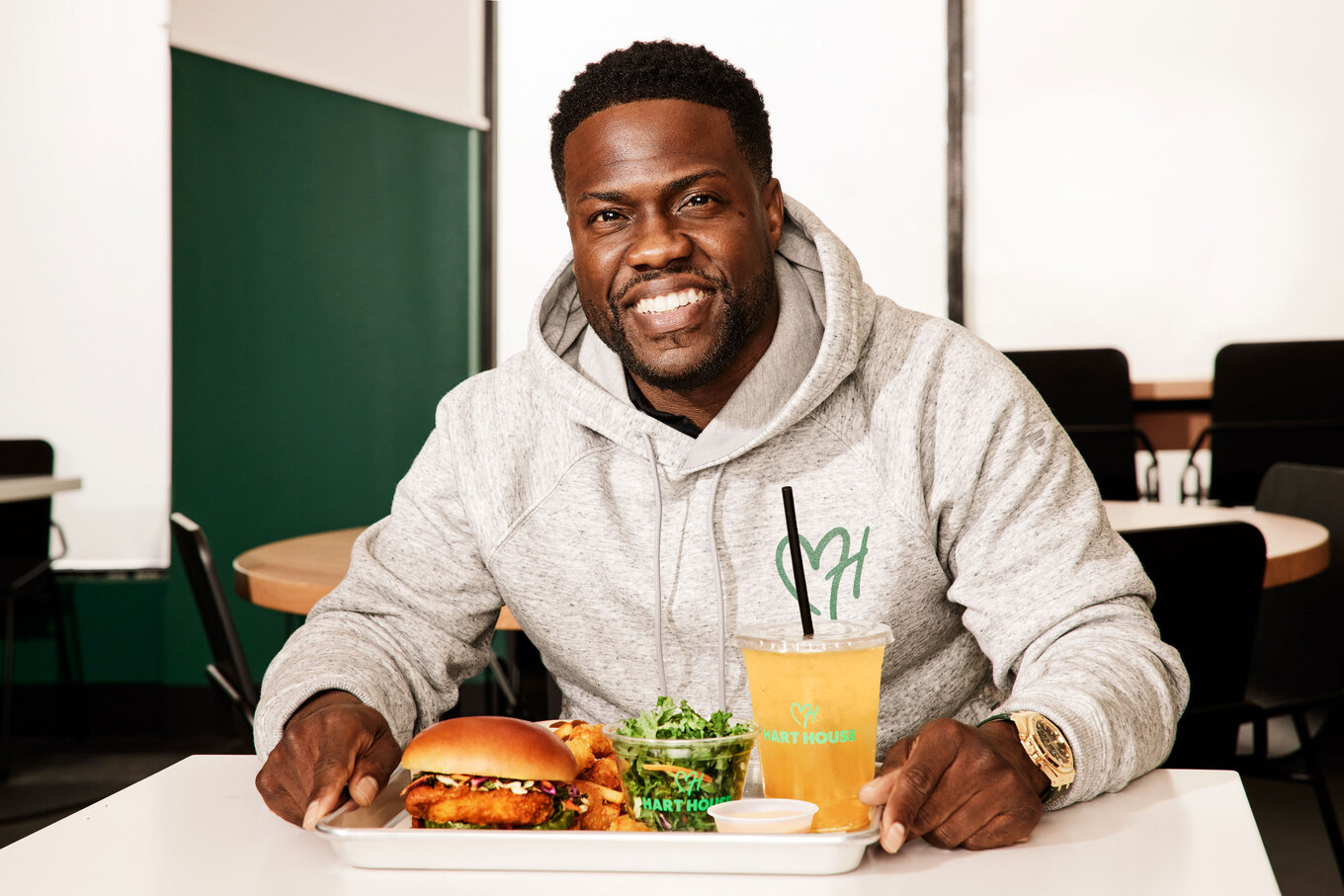 Hart House
"As someone who has been preaching 'Health is Wealth,' building Hart House felt like the natural evolution of my flexitarian lifestyle and my business ecosystem," Hart said in a statement last year.
Policy change to promote healthy food
Some leaders in the public sector are also taking the initiative. NYC's mayor Eric Adams has been working to create programs that provide plant-based meals in schools and hospitals while embracing food as medicine, bridging Americans' healthy food access and healthcare concerns.
On a federal level, New Jersey Senator Cory Booker has been working to improve the country's food system through various legislative measures. Earlier this year, Booker, a member of the Senate Agriculture Committee, reintroduced the System Reform Act (FSRA), proposing legislation that would disband factory farms.
Passing this legislation would reallocate government subsidies, Booker explained on an episode of Mark Bittman's podcast, and ultimately help to eliminate some of the barriers Americans face in accessing healthy foods, particularly communities of color.
"Ultimately, we have a nation [that] is sick: One out of three of our government dollars right now goes to healthcare for this explosion of diet-related diseases," Booker said.
"Are my kids going to go to a bodega and have a Twinkie product cheaper than an apple? Only two percent of our agriculture subsidies go to fruits and vegetables."
For the latest vegan news, read:
Editor's note: this story has been updated with additional insights