In recent years, Disney's theme parks, hotels, and resorts have embraced plant-based food worldwide, and this year's Epcot International Food & Wine Festival is no exception. Starting July 27, the Epcot theme park inside the Walt Disney World Resort in Florida will transform into a destination for global cuisine with 30 marketplaces dedicated to countries, cuisines, and culinary concepts.
Plant-based options will be in full force during the festival at several marketplaces. The options include Greece with Impossible Moussaka; India with Potato and Pea Samosa with coriander-lime cream; and Flavors from Fire with its Impossible Burger Slider.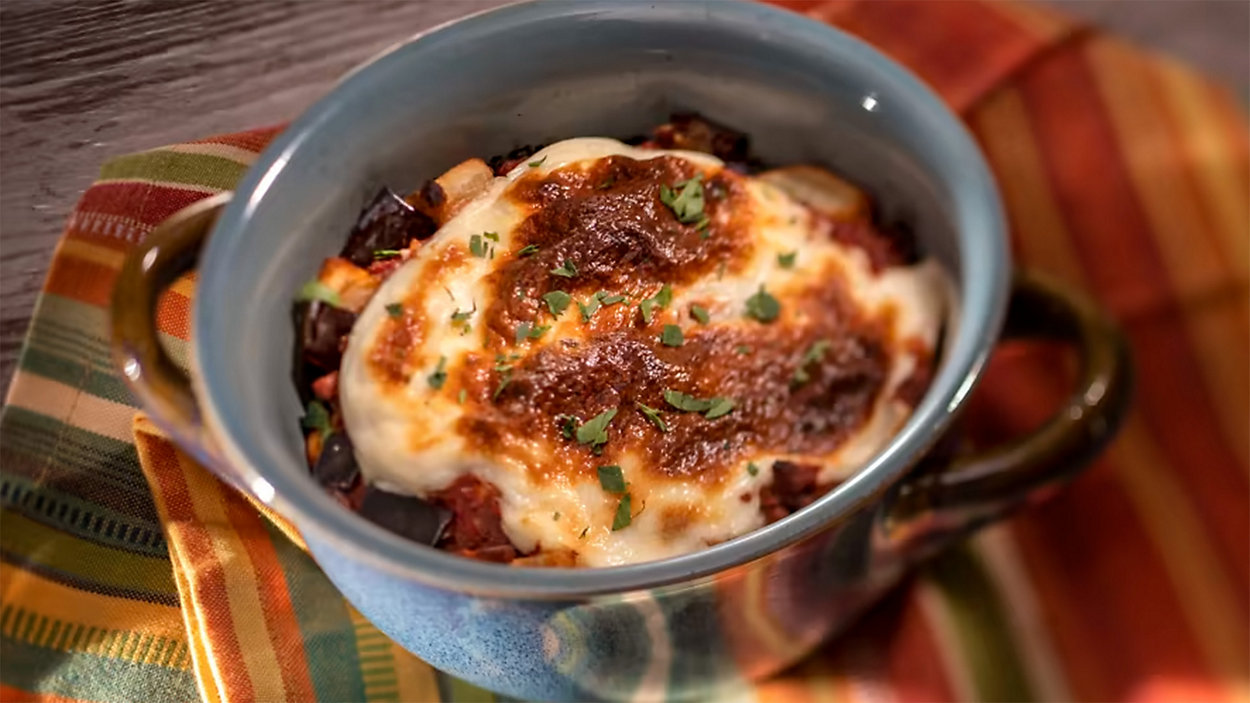 Disney
The Brew-Wing Lab is serving up Impossible Buffalo Chicken Tenders served with plant-based blue cheese, plant-based ranch, and celery. For a more vegetable-centric dish, guests can opt for Buffalo Brussels Sprouts which can also be ordered with these plant-based dips.
At Tangerine Cafe, the flavors of the Medina are showcased with dishes such as Falafel Pita with Tahini Sauce and Stone-baked Moroccan Bread with hummus, chermoula, and Zhoug dips.
From August 15, The Noodle Exchange will be serving an elaborate Tofu Ramen with shiitake mushrooms, pickled carrots and daikon radish, shaved peppers, and baby bok choy in citrus-sesame broth. This eatery will also serve an Impossible Pork Ramen but this item is made with chicken broth.
Other options scattered throughout the festival include Sea Salt and Malt Vinegar Fries and Adobo Yuca Fries with garlic-cilantro aïoli at the Fry Basket; and Guava Cake with whipped cream and coconut at Simmering Sips by Corkcicle.
Even at Char & Chop—a butcher shop-inspired marketplace—a vegetarian option is on the menu with the Impossible Grilled Impossible Spicy Sausage served with herbed polenta, puttanesca sauce, and dairy ricotta.
This year's food and wine festival at Epcot—which runs through mid-November—builds upon the continuing transformation of Disney properties into destinations for plant-based dining.
Plant-based at Disney
In 2020, Disney introduced 400 new plant-based dishes to major and quick-service restaurants in Walt Disney World Resort to respond to growing consumer demand. Following the success of this initiative, Disneyland Resort in California shortly followed suit by offering these options, as well.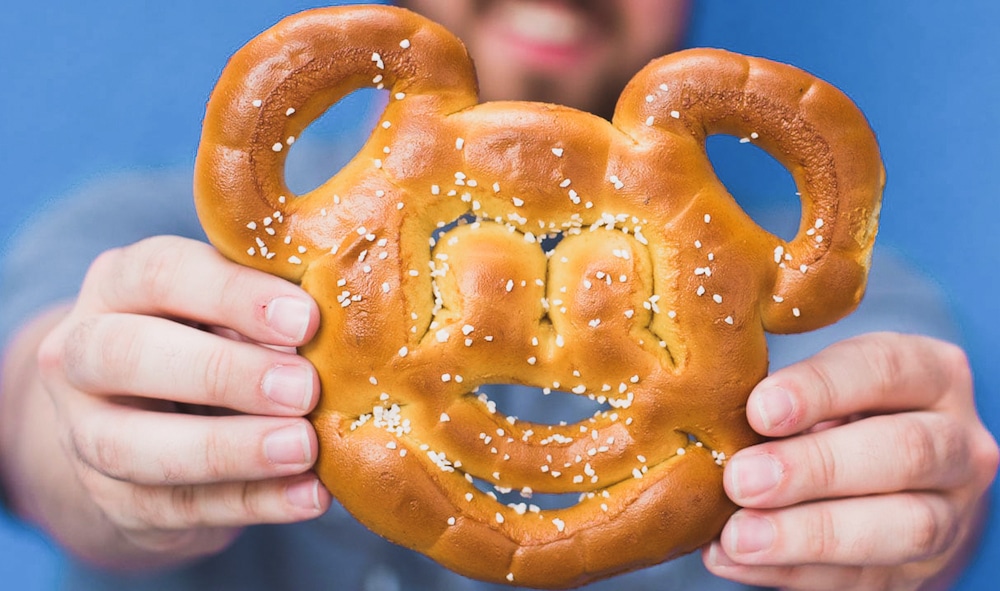 Disney
These additions cater to a wide range of preferences, with highlights including spaghetti and meatballs (made with Impossible Meatballs); lobster rolls made with hearts of palm in place of crustaceans; and vegan doughnuts served with coconut-based ice cream.
Also in 2020, Impossible Foods partnered with Disney Parks, Experiences, and Products which brought the Impossible Burger—Disney's "Preferred Plant-Based Burger"—to multiple locations across the Walt Disney World Resort, Disneyland Resort, and Disney Cruise Line.
"We're excited to add more items featuring the Impossible Burger to our menus," Chef John State, Culinary Director at Disneyland Resort, said in a statement at the time.
"We're always looking for ways to bring more flavor, innovation, and creativity to the Disney dining experience and we're delighted to include Impossible Foods in new dishes that our guests and fans are sure to enjoy," State said.
Due to these developments, Disney's newest cruise ship, the Disney Wish, set sail last summer with vegan options in every restaurant.
Internationally, Disney also partners with the latest innovators in plant-based food. Last year, Disneyland Paris announced that Beyond Meat was its official plant-based partner and challenged chefs to create dishes for every meal using Beyond Burger, Beyond Meatballs, or Beyond Sausage instead of animal-derived meat.
Disney celebrates plant-based food
Disneyland announced its Beyond Meat partnership in celebration of its 30th anniversary in Paris and the company continues to lean into plant-based food at some of its biggest events.
While Florida's Disney property is hosting its Epcot festival later this month, Disney's California Adventure Park also showcased its dedication to plant-based fare during its own annual Food and Wine Festival earlier this year.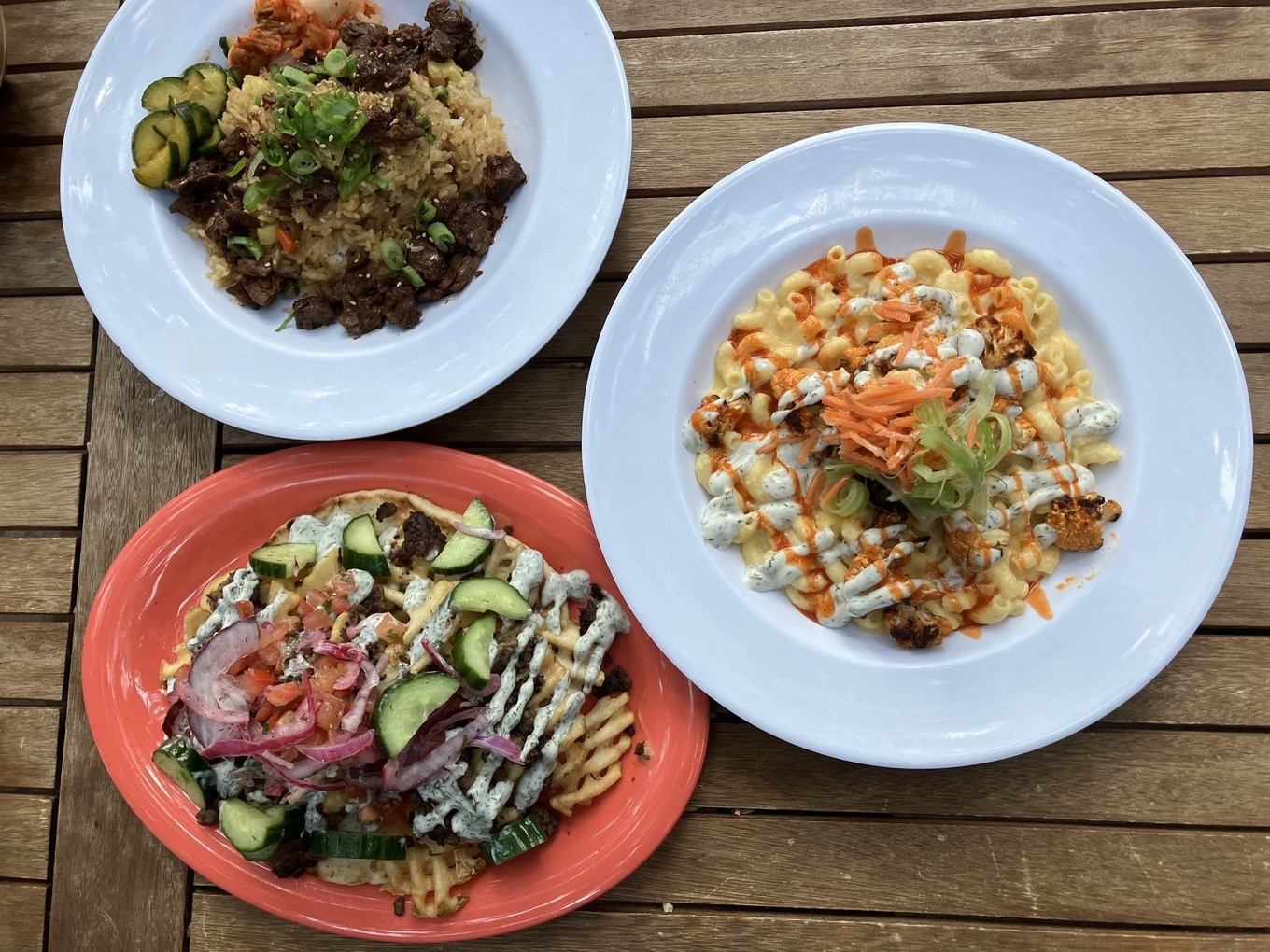 VegNews
And for the first time in the festival's history, Disney dedicated an entire restaurant, Paradise Garden Grill, to a completely plant-based menu. The limited-time menu featured five vegan options inspired by global flavors such as the Bulgogi Fried Rice, Impossible Gyro Fries, Roasted Cauliflower Buffalo Mac and Cheese, Torta de Chilaquiles, and Peach and Blueberry Cobbler for dessert.
While the specific items from the Food and Wine Festival did not make it to the park's permanent menu, California Adventure Park continues to offer diverse vegan choices at its restaurants, including Lamplight Lounge, Lucky Fortune Cookery, Shawarma Palace, Cocina Cucamonga Mexican Grill, Carthay Circle, Wine Country Trattoria, and more.
While the Dole Whip has been a vegan dessert draw for many at Disney properties, it is safe to say the parks have transformed to give guests a wide variety of plant-based options globally. A bonus? Disney is dedicated to clearly marking items as plant-based across its properties to make them easier to find.
For the latest vegan news, read: