For decades, dairy milk has been touted as an essential component of childhood nutrition. However, recent studies and shifting dietary habits have called into question the long-standing belief that dairy is the only source of vital nutrients for growing children.
The decline in fluid milk consumption, currently at an all time low, reflects a change in dietary preferences, and the shift has created an opportunity for plant-based milk brands to cater to the evolving needs of health-conscious families.
Research continues to show that children can thrive on plant-based diets, but can vegan milks really swap out dairy?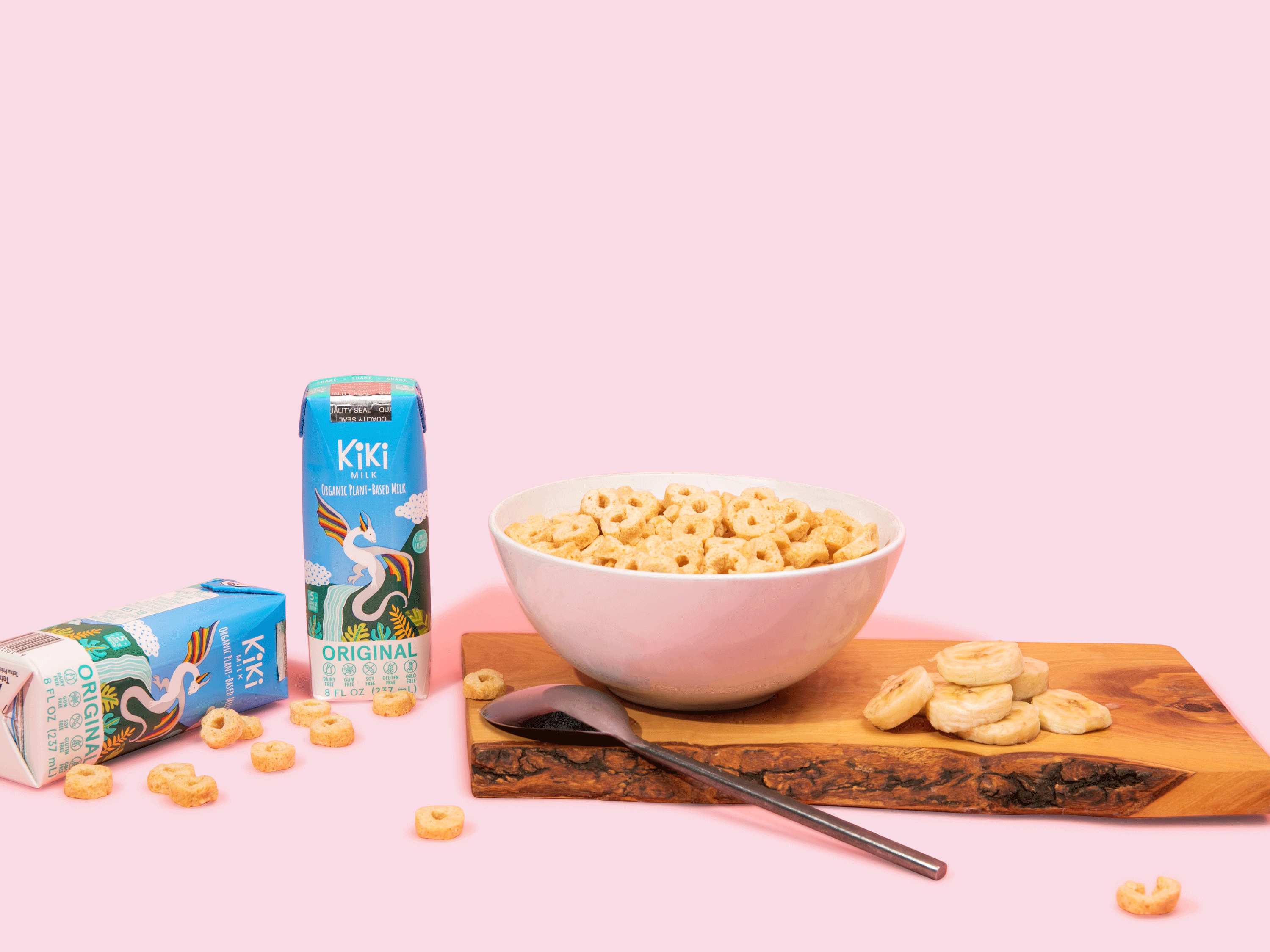 PlantBaby
Newcomers PlantBaby, Tally Kids, and Kiddiwinks are stepping in to show what's possible with vegan milks made specifically with children in mind.
Vegan milk to nourish kids
Hawaiian brand PlantBaby released its Kiki Milk line in 2021 to challenge dairy's stronghold in childhood nutrition. While the line features nutritious plant-based formulations, just matching dairy milk was not the end goal according to Erica Bassett, Vice President of Research & Development, and Food Safety at PlantBaby.
"We formulated Kiki Milk with the intention of delivering nutrition to our children that they needed," Bassett tells VegNews. "Instead of simply trying to match or exceed dairy milk, we asked the question of what we actually need."
Created with the expertise of pediatricians and nutritionists, Kiki Milk is certified organic and crafted with purposeful ingredients like organic oats, seeds, and coconut. By incorporating superfoods such as sprouted pumpkin seeds, hemp seeds, and Aquamin (a red algae-derived source of magnesium and trace minerals), Kiki Milk offers a rich source of omegas, plant-based calcium, and protein.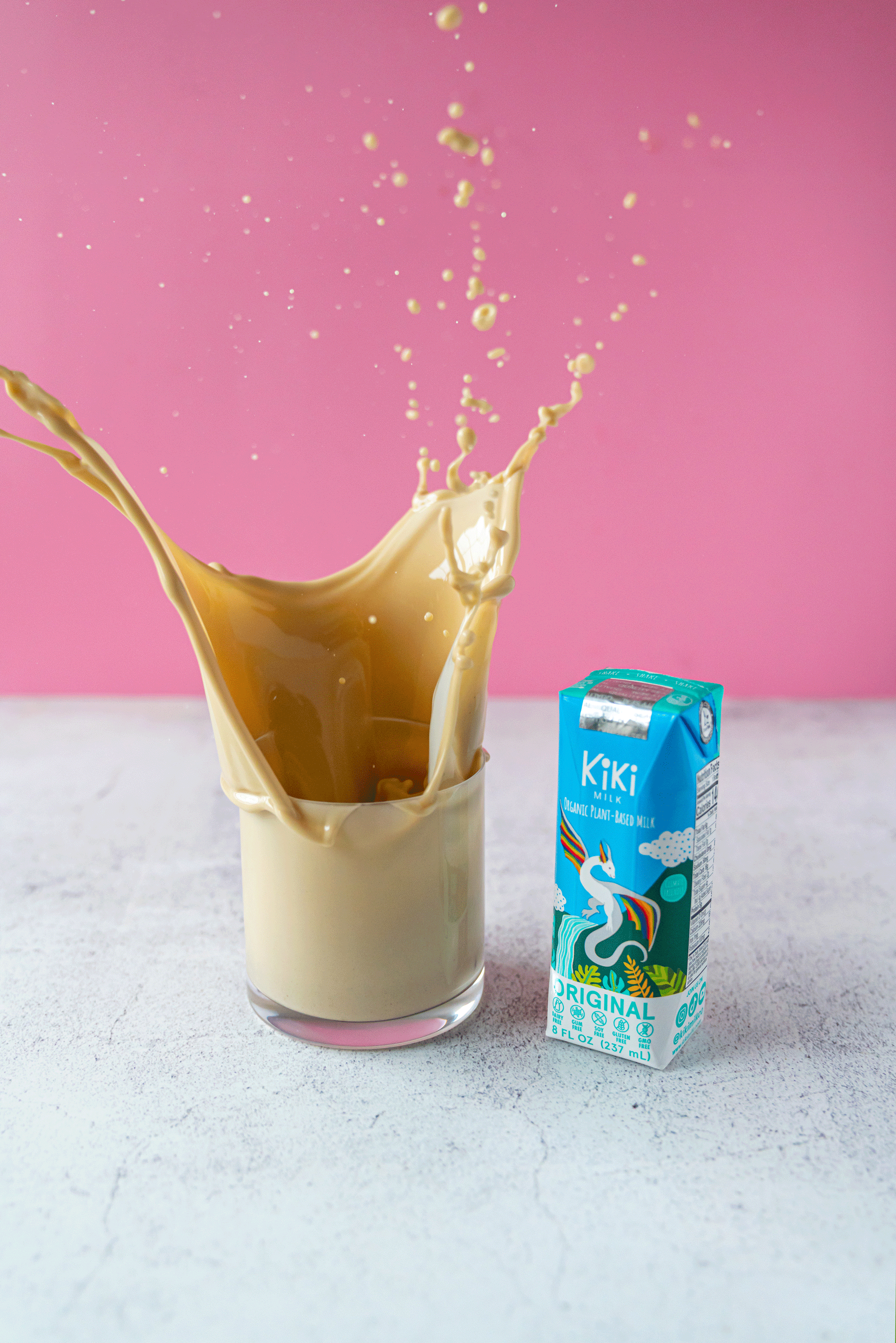 PlantBaby
"We wanted to have a drink that had more protein than sugar and a healthy amount of fats and carbohydrates to provide energy," Bassett says. "We also wanted to ensure that our calcium and magnesium levels were present in the most bioavailable forms we could find. We have been working to increase those levels and see how we can add more nutrients to our milk that will be readily absorbed and used within the body."
Kiki Milk's commitment to providing a complete nutritional profile ensures that young children receive the necessary vitamins, minerals, and essential fats vital for their growth and development, something Bassett says has been well-received by parents.
"We've seen a huge response from parents about how thankful they are to have Kiki Milk," Bassett says. "They're overjoyed that their kids love the taste of the milk, the ease with which they can transition from breastmilk with minimal digestion issues, and the quality, clean ingredients that are present in the milk."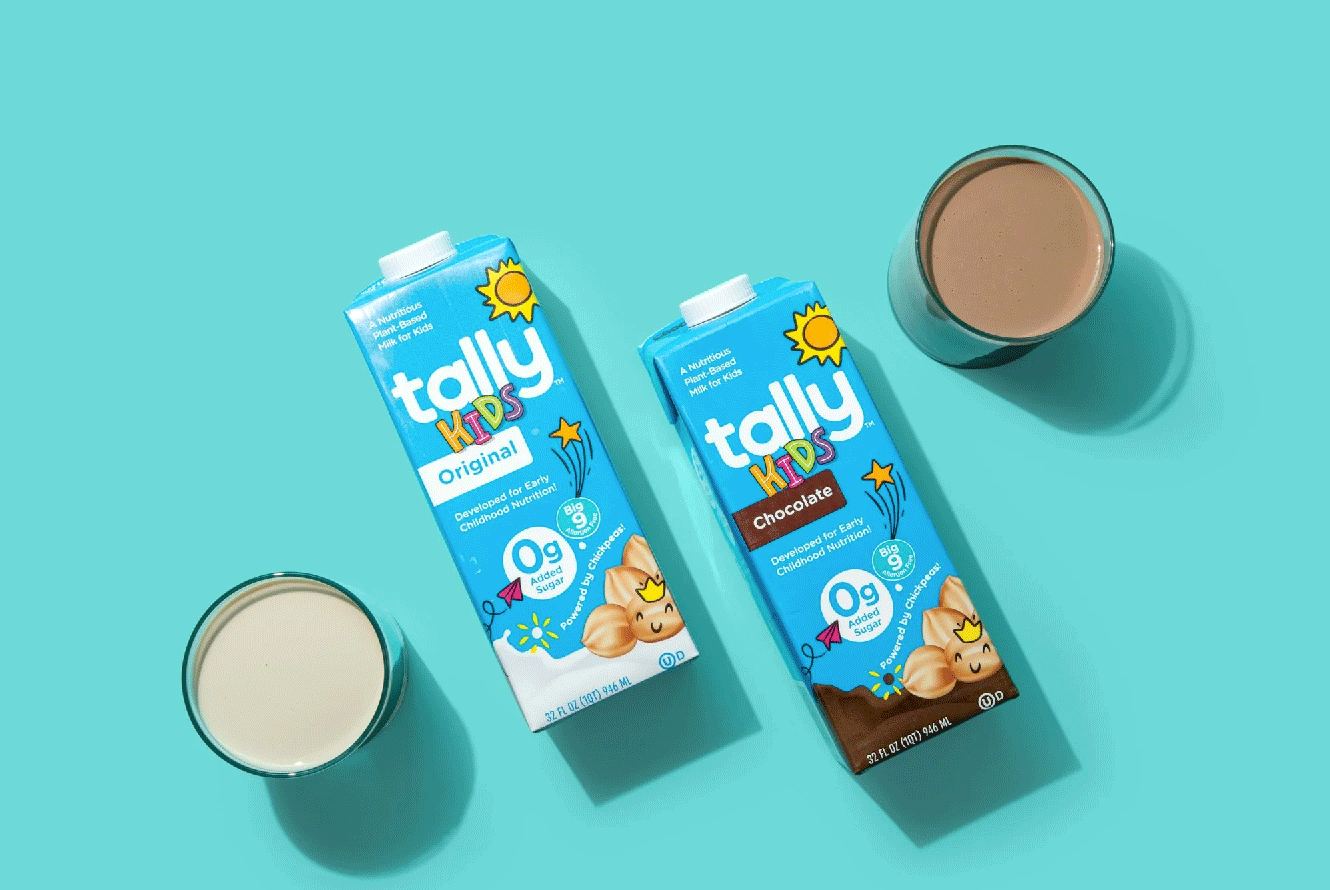 Tally Kids
Another company focused on early childhood nutrition, Tally Kids, fortifies its chickpea-based milk with 21 essential vitamins and minerals, including zinc and iodine, to deliver nutrition density to its formulations.
Nutritional biochemist Susan Marie Fluegel, PhD, created the company's allergen-free products to serve the nutritional needs of children aged one and older. Tally prioritizes the use of high-quality complete plant proteins, such as chickpea protein, to provide all the essential amino acids required for optimal growth.
Additionally, Tally includes chia omega-3 fats and choline, which are essential for brain development and provide easily digestible fiber to avoid upset stomachs.
"A nutrient-rich vegan milk can serve as a suitable replacement for dairy as long as it is a complete protein, provides enough protein per serving, and contains the essential minerals and vitamins found in dairy," Fluegel tells VegNews.
"Many experts believe that plant-based milks should also be fortified with zinc and iodine to counteract the tannins and phytates found in plant-based drinks," she adds.
Kiddiwinks, a Brooklyn-based women-owned company, also recently launched to give parents more animal-free options when it comes to milk. Made in kid-friendly Vanilla and Chocolate flavors, Kiddiwinks' plant-based milk is made from a proprietary blend of oats, chickpeas, and chicory root, providing ample calcium, vitamin D, and protein per serving.
The company's vegan milks also feature fiber, a nutrient that is wholly lacking in dairy.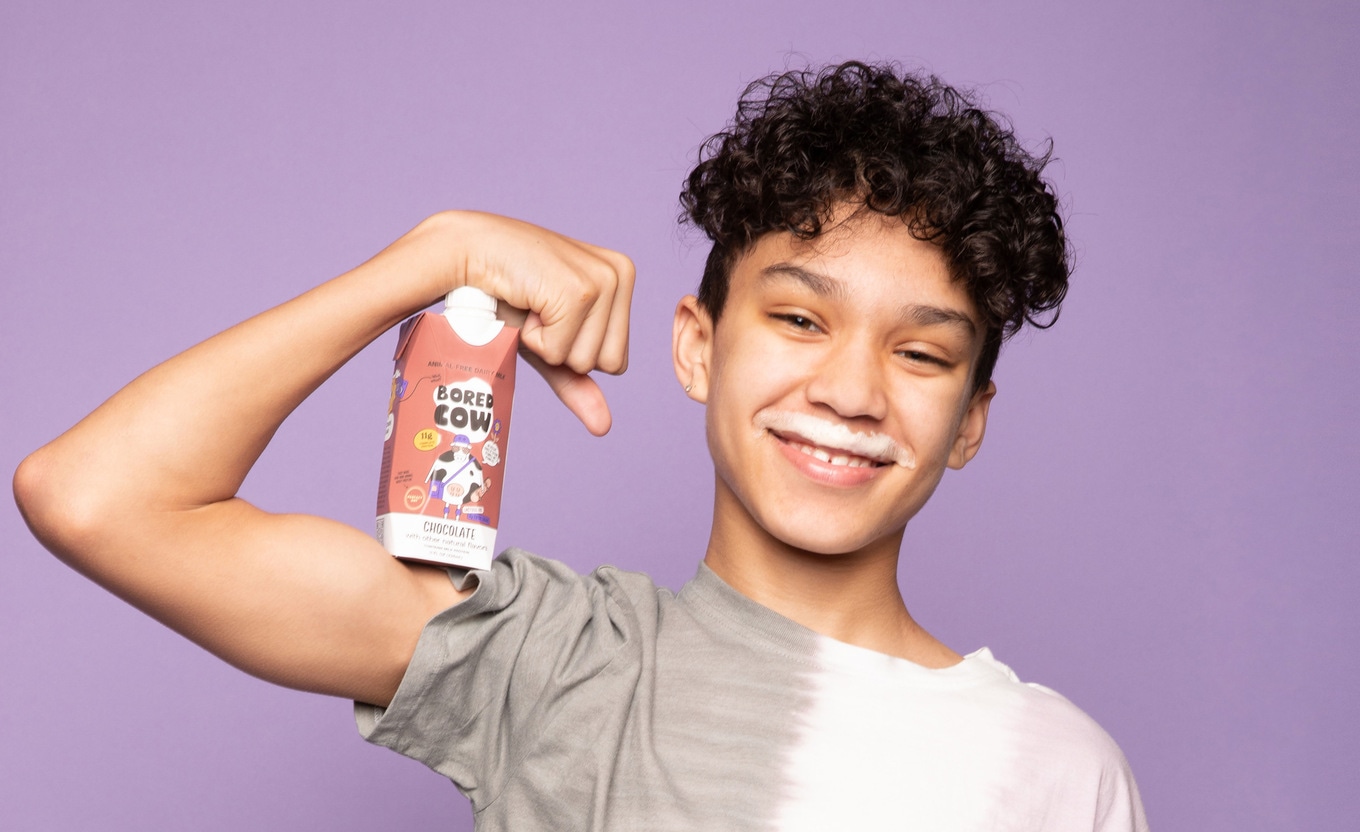 Tomorrow Farms
These three brands expand upon existing options from other dairy challengers, such as Silk, Ripple, and Tomorrow Farms (which uses animal-free whey made through precision fermentation).
Dairy on school menus
Despite evolving consumer needs, federal regulations continue to require schools to offer fluid animal milk to all children, whether or not they consume it. And, as it turns out, nearly 30 percent don't, throwing away approximately $300 million worth of unopened milk cartons annually.
But as attitudes towards dairy milk shift, many are questioning the need for its omnipotent presence in schools, including through the newly introduced Addressing Digestive Distress in Stomachs of Our Youth (ADD SOY) Act.
This legislation seeks to offer soy milk to kids participating in the National School Lunch Program and directs the USDA to fully reimburse schools for the cost of the soy milk provided.
Adopting ADD SOY would not only serve the needs of lactose intolerant children but could open the door for other nutritionally dense vegan milks to find their way into schools, too.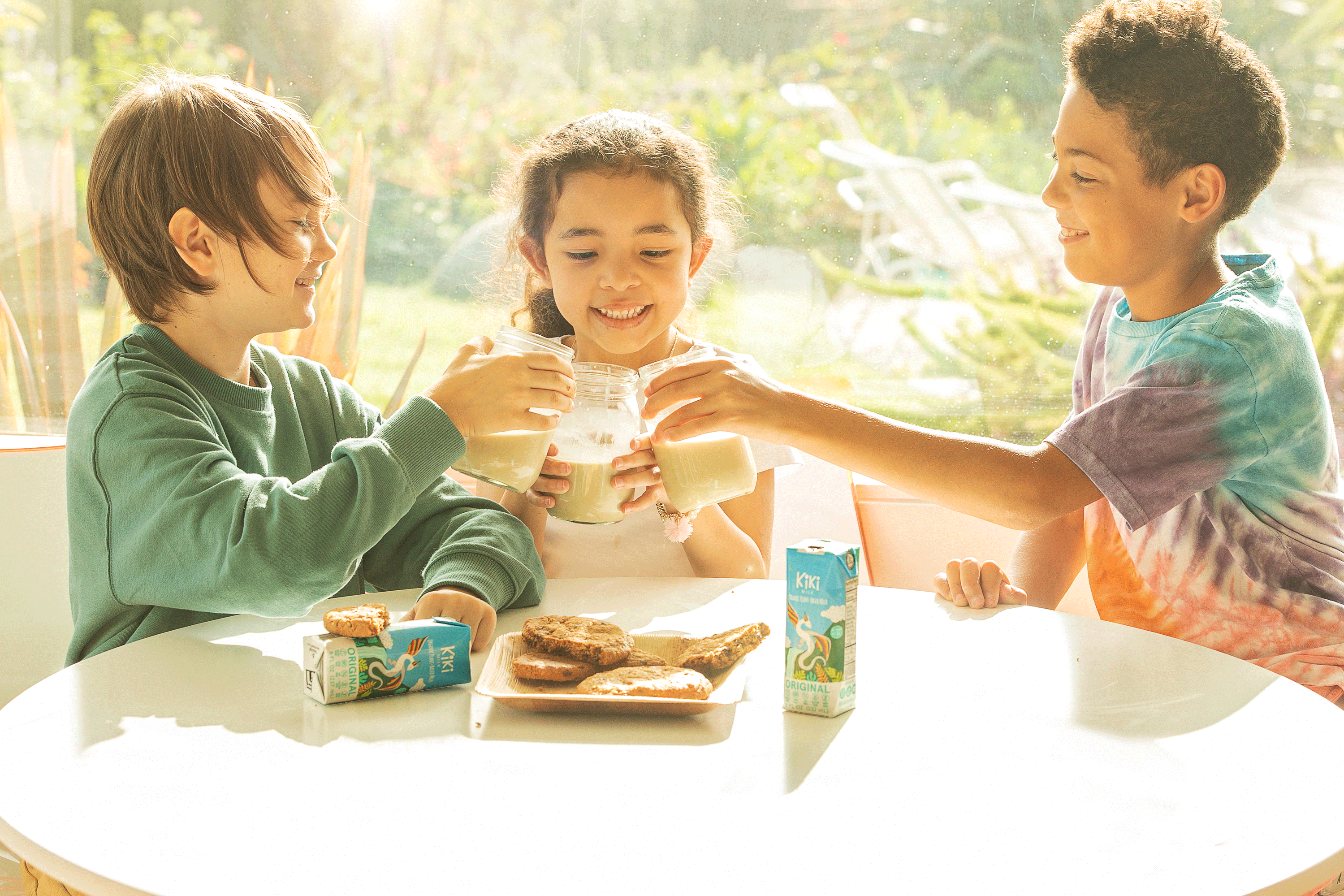 Overall, Bassett says, the dairy industry has had a stronghold on early childhood nutrition but education around how plant-based milks can fit into a healthy diet for children is key, and starting to gain traction.
"The dairy industry has been consistently promoted and so widely known within the US as being vital to drink for nutrition," Bassett says. "We're looking to explain the nutritional value of our plant-based alternative to parents who are consistently told to feed their kids dairy milk."
"Our food regulations are all surrounding how to fortify dairy milk, and the various nutritional guidelines are based on whole milk as opposed to what is actually needed for children," Bassett says. "When you're creating an alternative from plant-based options, it's difficult to try to match animal-produced milks, and oftentimes not actually necessary."
"We want to introduce variety to our diet and not rely on one or two sources for our nutrition, which has been a pitfall of the Standard American Diet," she says.
For the latest vegan news, read: