Chef Matthew Kenney's impact on the plant-based movement is undeniable. Throughout his decades-long career, the chef has elevated plant-based food through his more than 50 restaurant concepts and businesses globally.
Always informed by his whole foods-centered approach, Kenney's concepts span the gamut from fast casual to fine dining. On the higher end is Plant Food + Wine (PFW), which Kenney opened in 2015 on Abbot Kinney Boulevard in Venice, CA. Here, the upscale dishes are crafted from locally sourced ingredients and elevated with organic and biodynamic wines.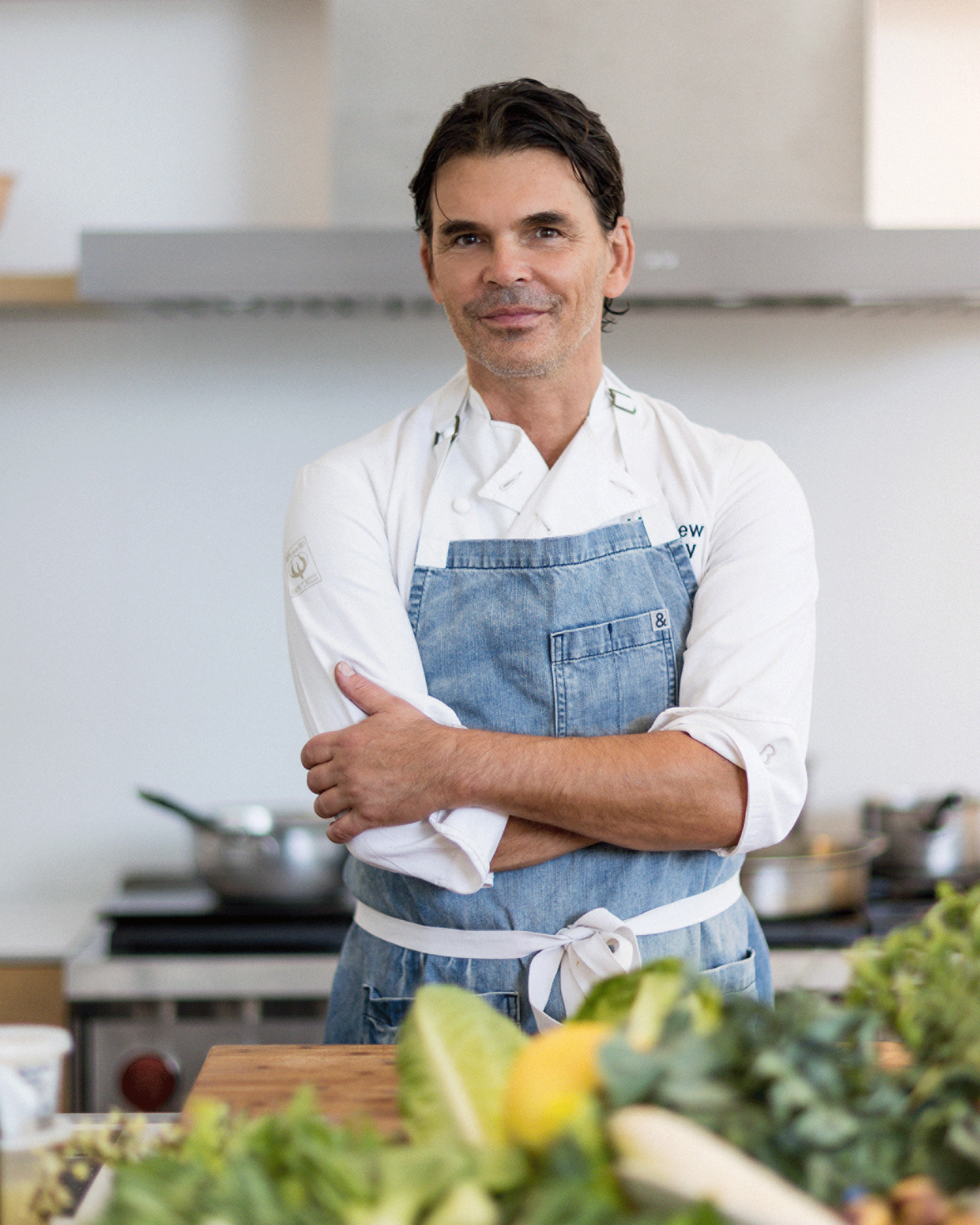 Four Seasons Hotel
On the other end, Kenney also operates businesses aimed to make vegan food more accessible. For instance, in 2021, the chef opened vegan drive-thru VEG'D in Southern California. Here, the menu features approachable everyday fare such as Just Egg-stuffed breakfast burritos, vegan cheddar cheese-topped burgers, and plant-packed bowls.
Kenney is also behind Plant City, the first plant-based food hall in Rhode Island which serves as a showcase for several of his concepts, including pizzeria Double Zero, Mexican eatery Besina, and sandwich and smoothie shop Makeout. There's also a burger bar, grocery store, coffee bar, bakery, and speakeasy.
As a whole, Kenney uses these businesses to make plant-based food the norm for every budget. And he's just made two new moves to keep the momentum going.
Affordable vegan ready-made meals
Kenney and entrepreneur Max Koenig recently launched a venture called Earth Company with the mission of empowering individuals to make conscious and sustainable food choices.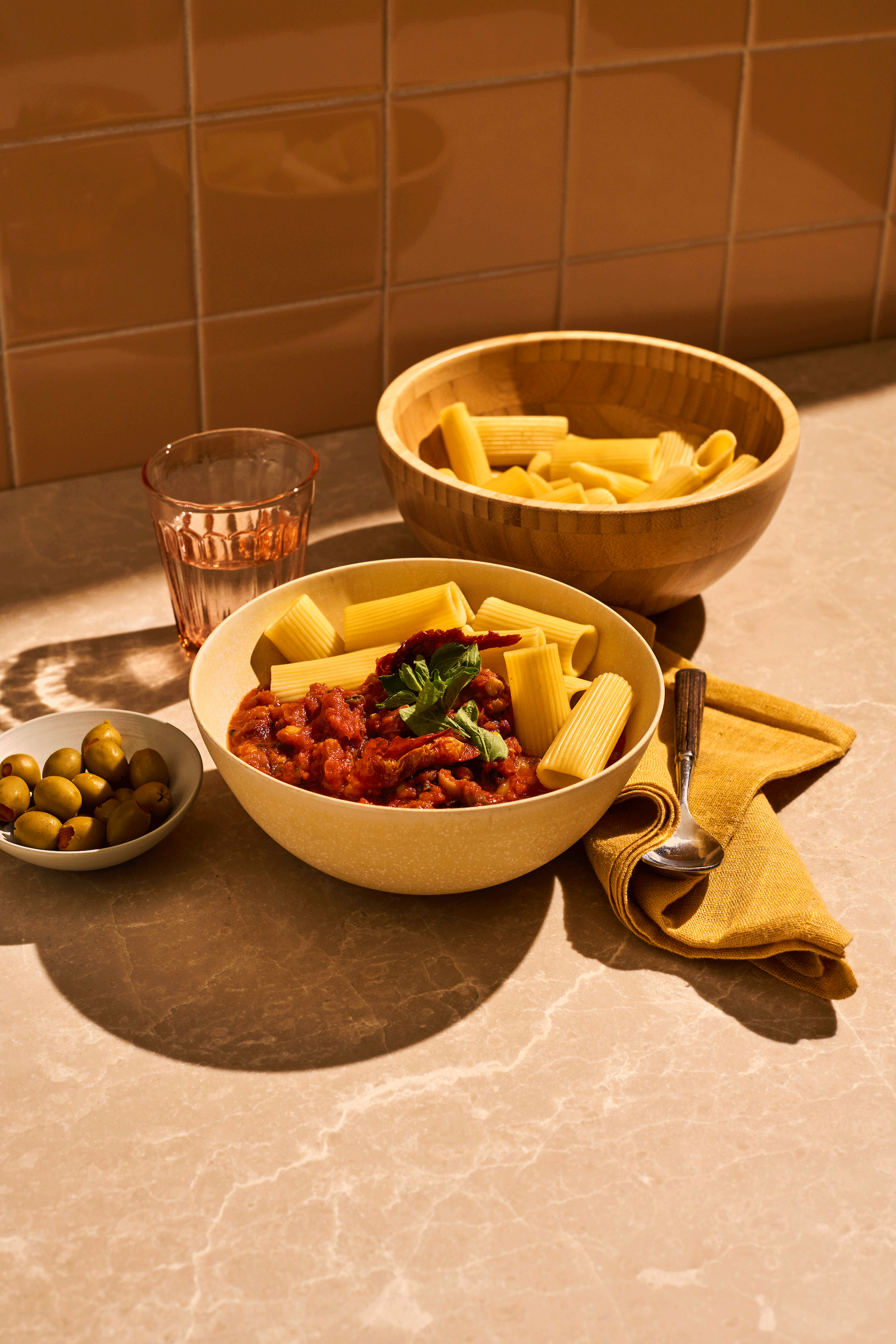 Earth Company
The draw here is chef-crafted, nutrition-packed vegan meals that cost $6 or less per serving and ship nationwide. Sold in multi-serve jars, Earth Company currently offers chili, bolognese, and curry—all of which can be prepared in three minutes for a filling lunch or dinner. The company also offers three not-too-sweet breakfast blends that feature pea protein, oats, and other nutrient-dense ingredients.
Made from "unattractive produce," Earth Company's products are also shelf stable, which minimizes food waste while expanding on convenience.
Kenney was inspired to get involved with the Earth Company by Koenig, whose style, business vision, and creativity he admires. The chef says that they both share the vision of "changing how the world eats and the impact of food choices on the planet and its citizens," and have found a solution with the Earth Company given the rising cost of healthy food.
"Earth Company has really done an excellent job of identifying the entire process of how to make the cuisine we believe in accessible," Kenney tells VegNews.
When it comes to nutrition, Earth Company's meals are created using the latest in health science to combine more than 80 nutrients meant to optimize energy, immunity, cardiovascular and gut health, and more.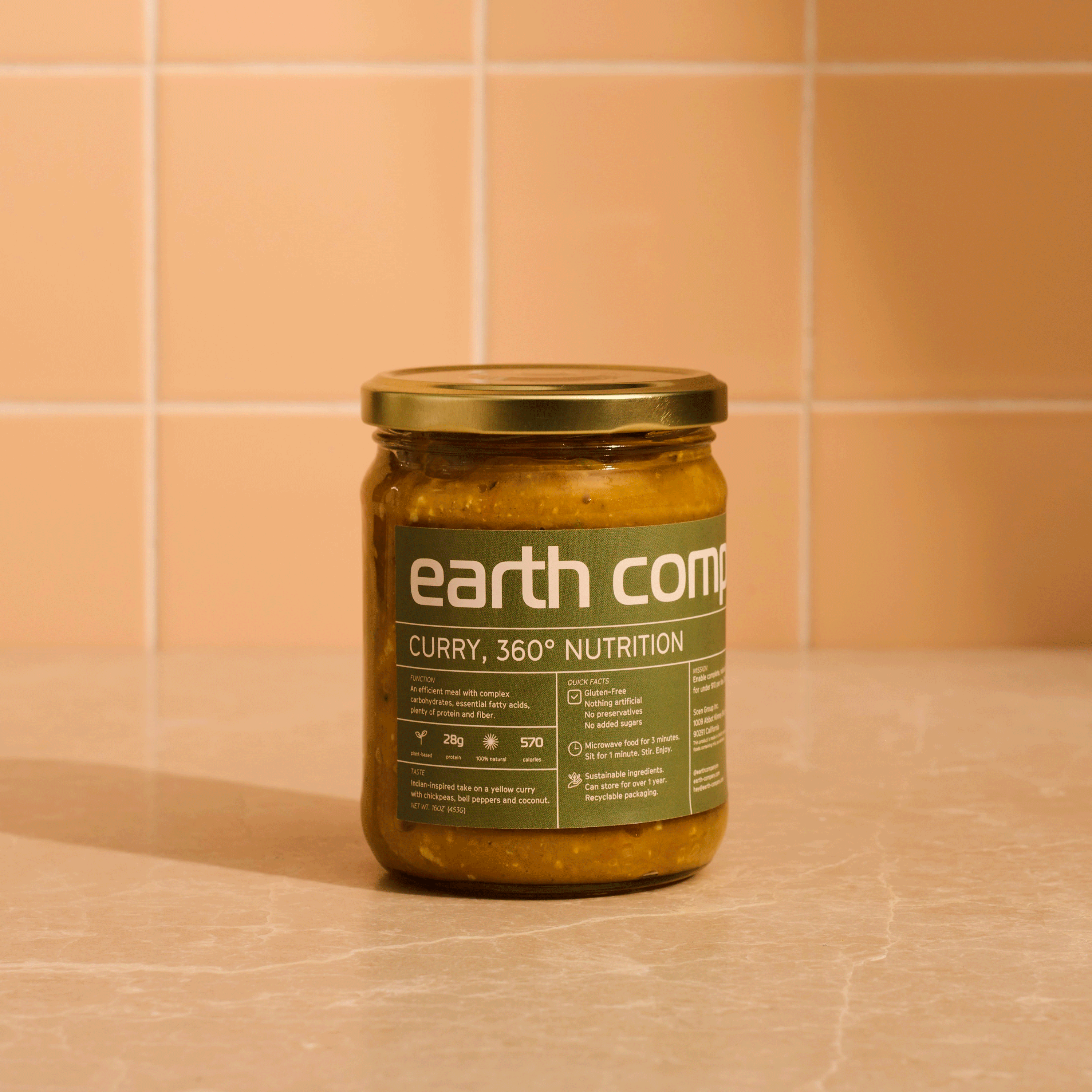 Earth Company
"After my grandfather was diagnosed with multiple chronic diseases, I left my job and put all my time into supporting him throughout his healthcare journey, which included researching natural treatments," Koenig said in a statement. "After understanding the benefits of a plant-based diet, we both made the switch to a new routine and saw immediate benefits."
"I was inspired to bring the same impact and knowledge to others with Earth Company," Koenig said.
In the future, Earth Company hopes to expand into new meal categories and occasions and eventually offer consumers a full day's worth of nutritious meals for $10 or less.
Plant Food + Wine moves to Beverly Hills
On the other end of the spectrum, Kenney is moving PFW from its Venice, CA location into the legendary Four Seasons Hotel Los Angeles at Beverly Hills. Kenney has had a long-standing relationship with the hotel and, together with vegan Prince Khaled bin Alwaleed bin Talal, launched a vegan menu (called "Folia") there in 2018.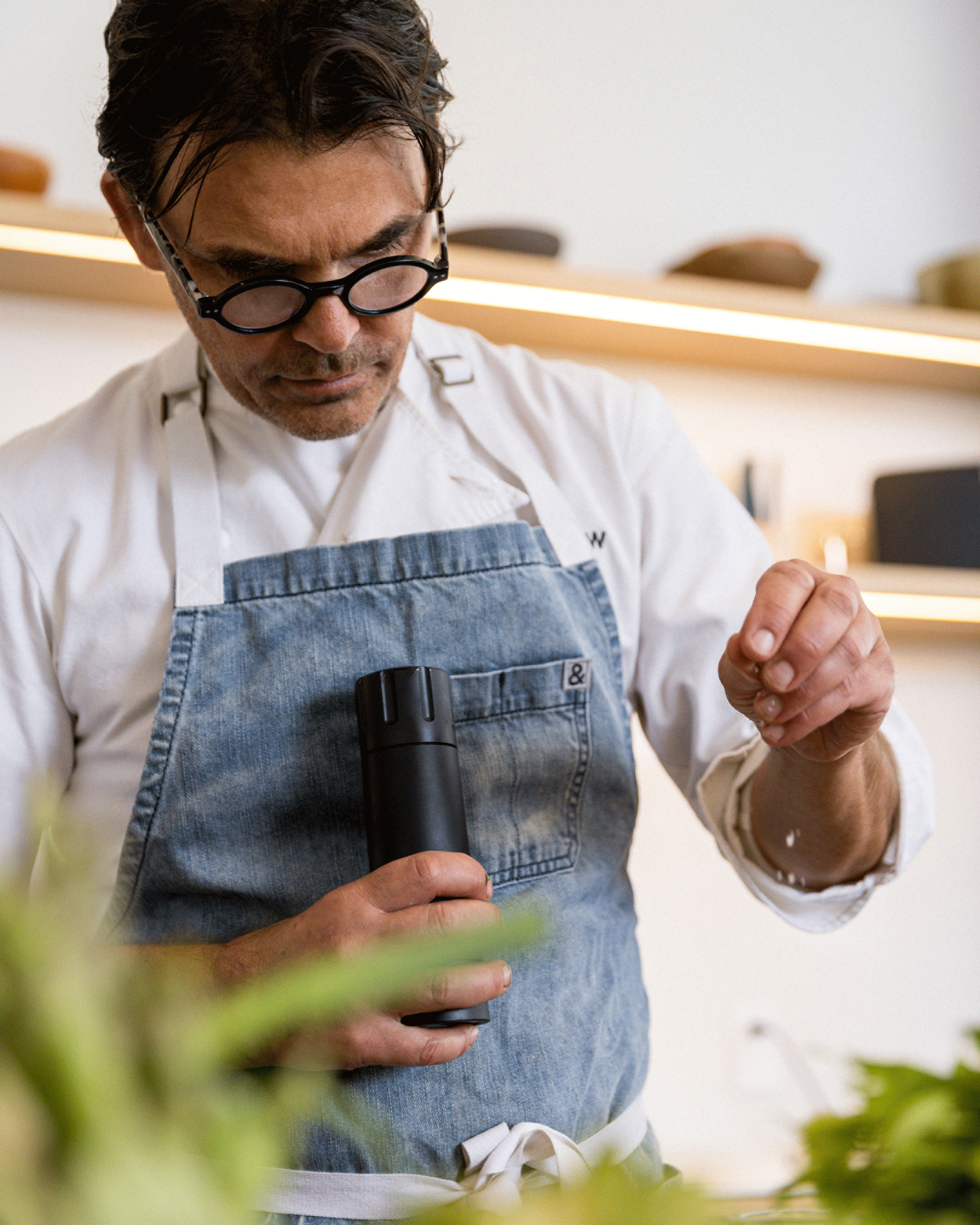 Four Seasons Hotel
On July 20, Kenney and the Four Seasons are bumping things up a notch with the opening of PFW poolside on the fourth floor at the Beverly Hills property.
Kenney says that moving the restaurant to a more "asset light" model at the Four Seasons allows him to both have a strong support system and to scale more efficiently during a time when plant-based concepts continue to grow and evolve.
The move also maintains some of the important elements of the original restaurant, including the "outdoor spirit of PFW," and allows his team to "serve three meal periods, provide an opportunity for an elevated menu at night that may not have been ideal in Venice and to hopefully grow our global partnership with Four Seasons Hotels & Resorts that we admire tremendously."
"They make it fun and inspiring and that is what we'd like to convey to our guests," Kenney says about the Four Seasons.
This collaboration not only elevates the culinary offerings at the Four Seasons but also provides an exclusive platform for PFW to showcase its innovative plant-based cuisine to a wider audience.
David Wilkie, General Manager of Four Seasons Hotel Los Angeles at Beverly Hills, explains that this move is mutually beneficial.
"Our patrons will now be able to sip and savor Mathew Kenney's elevated, plant-based cuisine surrounded by the property's natural beauty," Wilkie said in a statement. "This partnership also proves to be a milestone for the brand's continued emphasis on wellness offerings."
The new menu at Plant Food + Wine in Beverly Hills
At PFW's new home, the menu will be updated from its Venice location while maintaining a focus on organic, locally sourced ingredients and artistic presentations.
For breakfast, guests can expect both sweet and savory selections such as French toast with coconut whip and hibiscus syrup; confit oyster mushrooms with a porcini sunflower pâté; and smoked tofu Benedict, along with juices, smoothies, and kombuchas.
The afternoon menu is made exciting with food innovations like a vegan cheese plate featuring Climax Foods' innovative dairy-identical cheeses and sliders made with Black Sheep's vegan lamb. Kenney will also offer a vegan Caesar salad with baby gem lettuce; his signature raw heirloom tomato and zucchini lasagna; burgers; Just Egg frittatas; broccoli asada tacos; and more.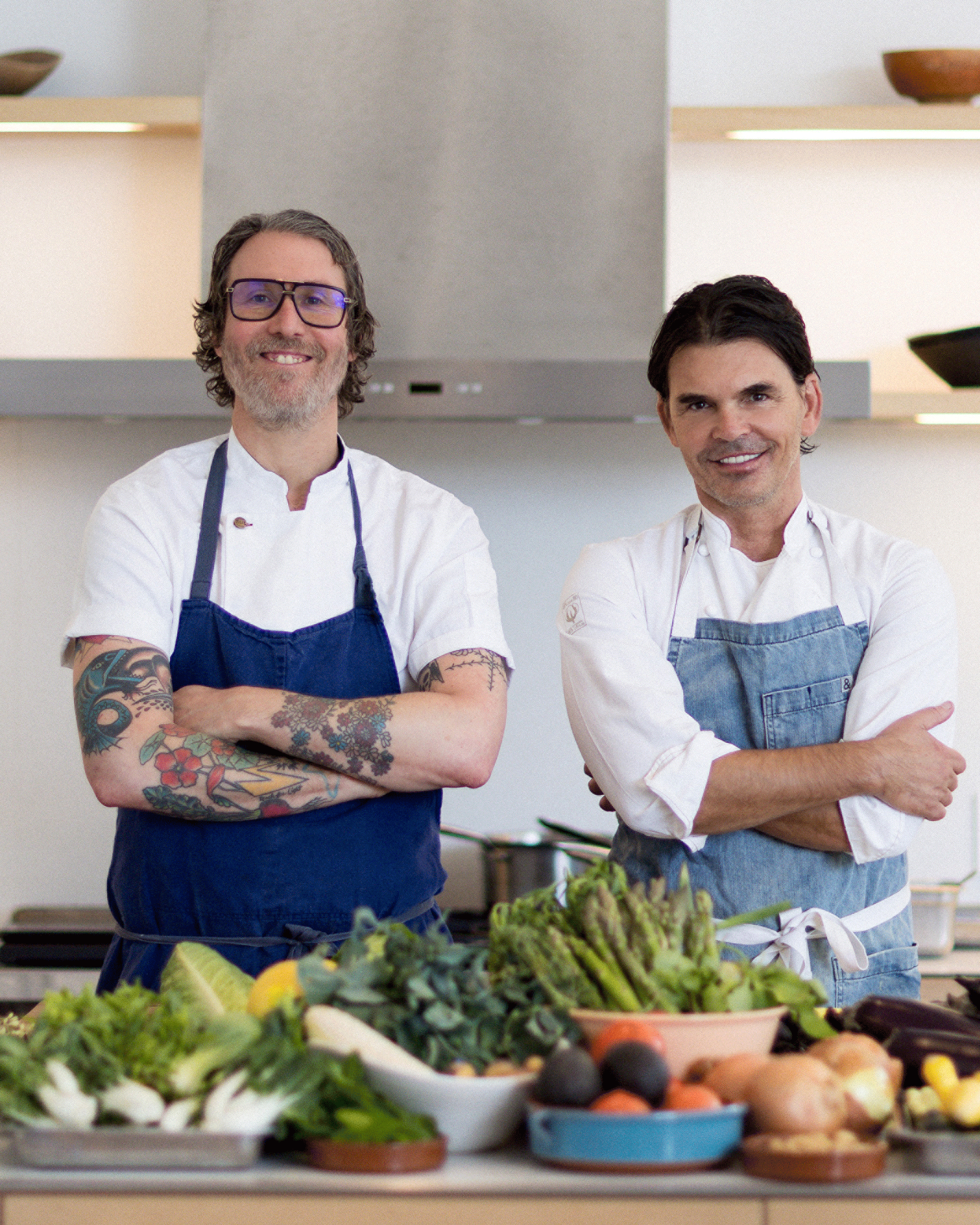 Four Seasons Hotel
In the evening, the menu will expand to a greater variety of dishes, including butternut cashew fundido with charred broccoli; udon noodles with baby vegetables; summer squash enchiladas with spiced tofu; and more. Dessert options include banana cream pie, stone fruit creamsicle, and olive oil panna cotta.
Kenney also intends to launch an evening tasting menu.
Outside of his partnership with the Four Seasons and Earth Company, the chef is still opening brick-and-mortar restaurants—with three in the works for this year alone. However, he is leaning toward diversifying his projects to make maximum impact.
"We need to become more agile in order to fulfill the larger potential to bring plant-based not only to fine dining but to the general population and to participate in actions that will hopefully have a positive impact on the supply chain and sustainability, in addition to health initiatives," Kenney says.
For the latest vegan news, read: