There's an exciting new shift occurring in supermarkets across North America, thanks to the innovative vision of classically trained French chef, Yves Potvin. After trailblazing the plant-based food industry with Yves Veggie Cuisine's veggie dog and Gardein's plant-based meat offerings, Potvin's latest venture, Konscious Foods, is bringing a unique twist to a widely loved culinary staple: sushi.
Sushi may seem ubiquitous, with almost 20,000 sushi restaurants across the US and countless supermarket sushi counters. However, the rise of Konscious Foods' frozen sushi rolls suggests something novel.
That's because you won't find this sushi in the fridge or prepared section. Instead, you'll have to head to the freezer to try this unique line of sushi rolls, onigiri stuffed rice snacks, and poke bowls, all made entirely from plants.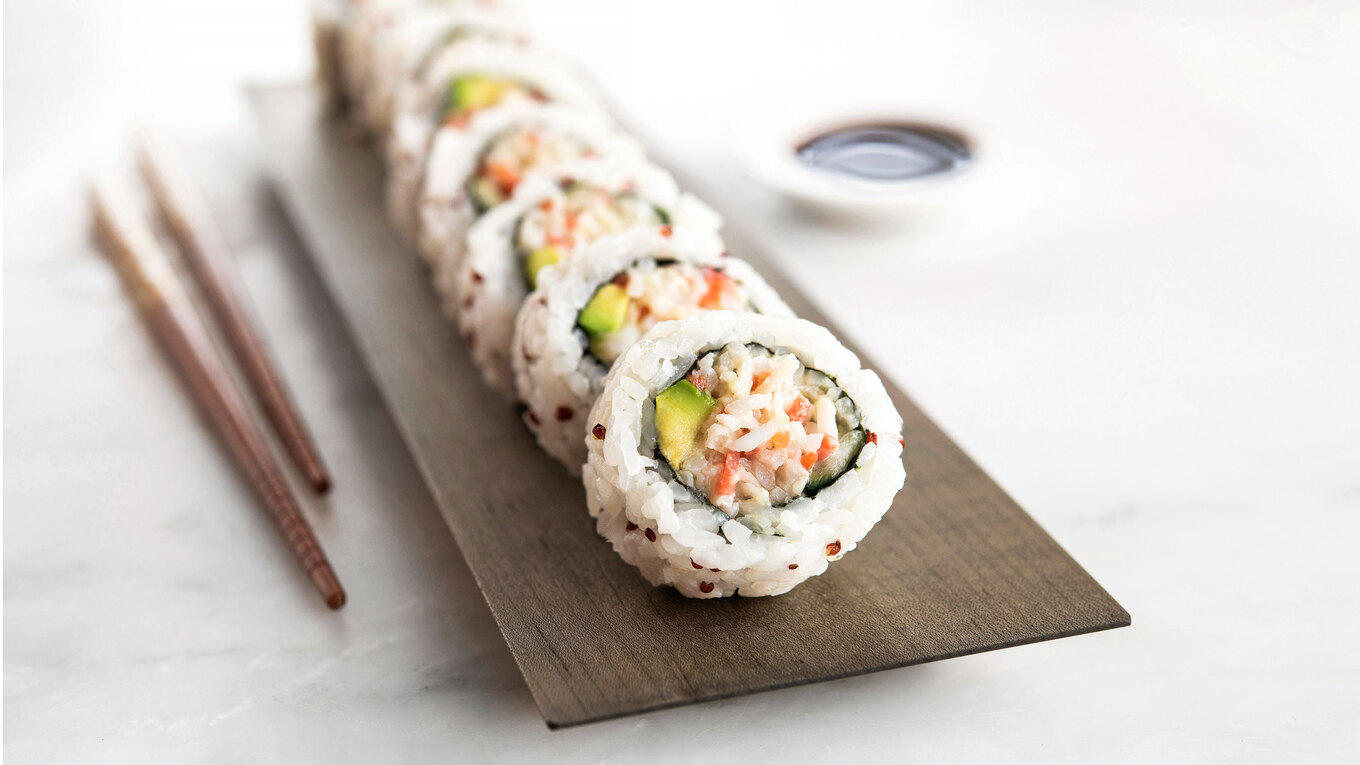 Konscious Foods
"I've always had a passion for great-tasting healthy food and early on, I saw an opportunity to marry my love of cuisine with better-for-you foods," Potvin tells VegNews. "For me, food has to deliver on taste and texture first. Konscious has been an evolution and really, the defining moment in my career."
And Konscious' innovative products are more than just a snack or meal. They are part of Potvin's broader mission to address key health and global sustainability issues.
"As you know, I created the first veggie dog with Yves Veggie Cuisine. I then brought food made from plants to the center of the plate and to the masses with Gardein," Potvin says.
"With Konscious, we've created a platform for convenient food made from plants specifically designed to hit on taste and texture made with the best fruits, vegetables, and grains that help solve a number of key health and sustainability issues the world is facing," he says.
Super convenient vegan sushi
To craft the line, Konscious uses konjac (a Japanese root vegetable), pea fiber, Jasberry rice, and organic red quinoa. Each item goes from frozen to fresh—on a countertop or in your hiking backpack—in just eight minutes.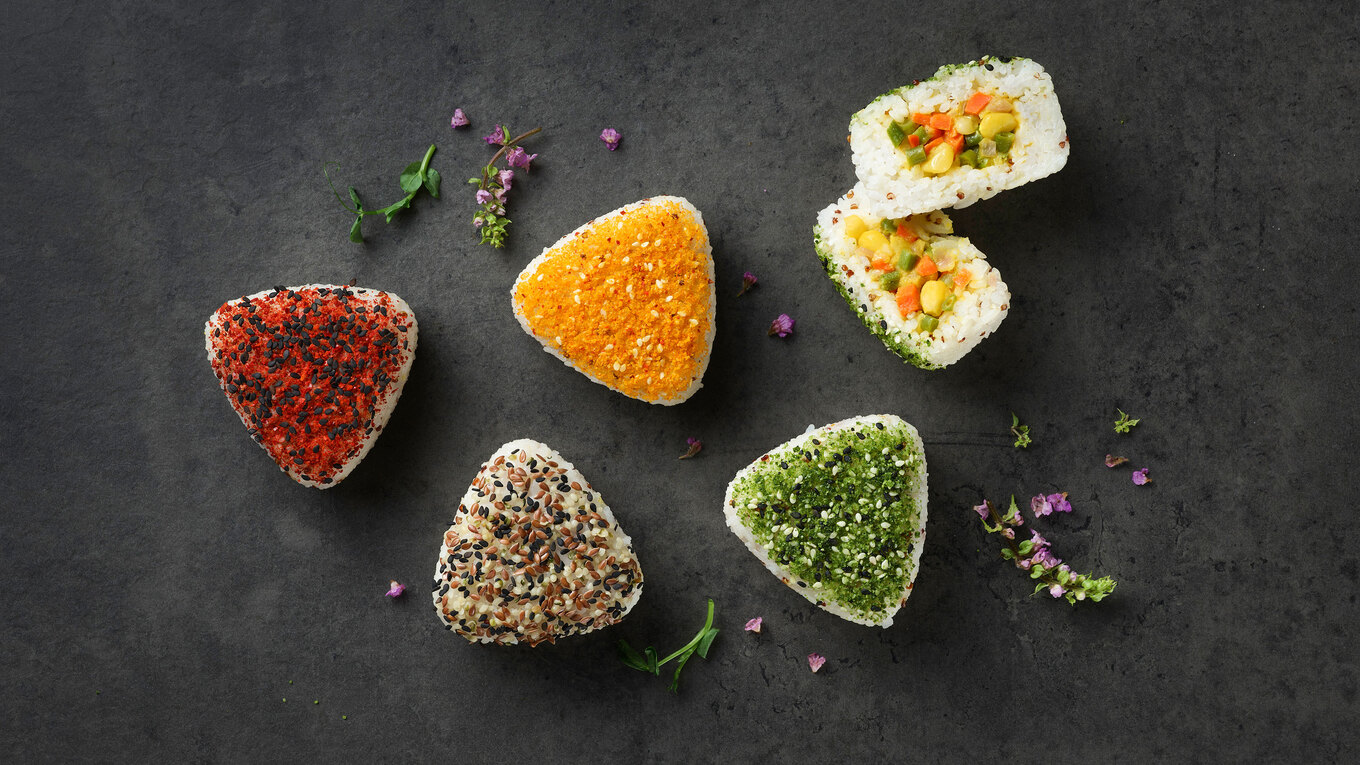 Konscious Foods
"We needed to make a product that had the unique texture and taste of seafood. We also needed to make it convenient without price parity to traditional proteins," Potvin says.
"Most important is we were able to keep costs down with the cost of the Konscious Maki Rolls [which is] at price parity with traditional sushi rolls and all conveniently available in the frozen aisle," he says.
Priced from $7.99 to $8.99 per pack, the line includes sushi rolls (California, Spicy California, Rainbow, and Tuna Avocado); Onigiri Stuffed Rice Snacks in Kale Gomae, Japanese Vegetable Curry, Roasted Corn + Poblano, and Korean BBQ Mushroom); and Poke Bowls (vegan fish topped-bowls loaded with edamame, corn, mango, and sauce).
Konscious has already made its products accessible nationwide, with retail locations in the United States and Canada, including popular outlets such as Sprouts Farmers Market and Whole Foods Market. With an ambitious growth strategy, the company plans to expand its availability to over 4,500 stores by the end of the year.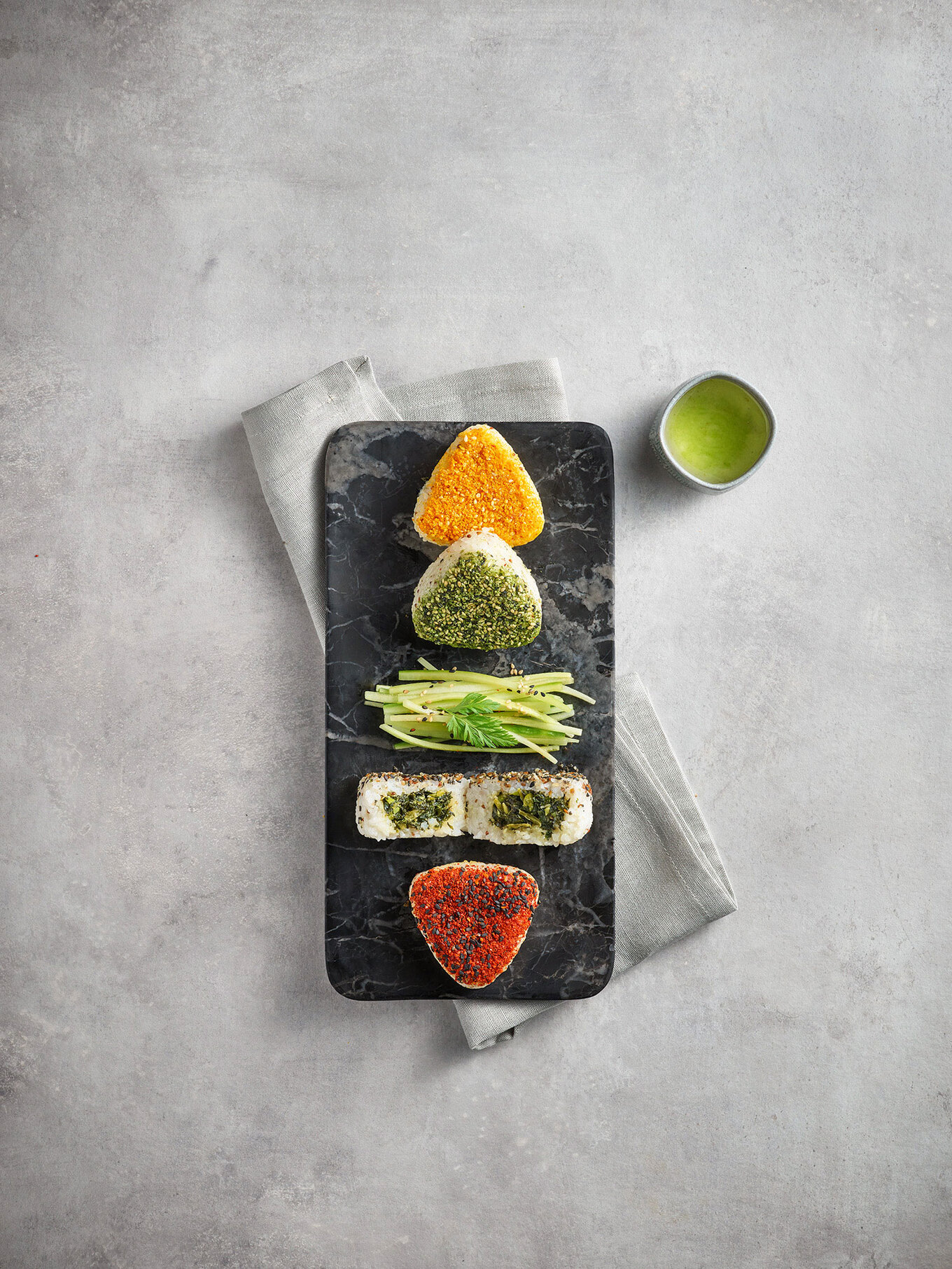 Konscious Foods
The company's expansion plans are bolstered by a recent financing round, where the company raised an impressive $26 million from a diverse group of investors, including Protein Industries Canada, Zynik Capital, and Walter Group, among others.
Sushi with a conscience
If you've watched the shocking Netflix documentary, Seaspiracy, you'd know the harsh realities that traditional seafood consumption imposes on marine life and our planet.
And Konscious frozen sushi rolls are more than just a testament to Potvin's culinary skills. They represent a response to the world's overfishing problem.
How bad is it? The World Bank reports that nearly 90 percent of global marine stocks are overfished or exploited. Meanwhile, the UN's Food and Agriculture Organization warns that more than one-third of the planet's fish stocks are being caught at unsustainable levels.
With the global population projected to reach 10 billion, our food demand is expected to increase by 60 percent. Potvin's plant-based seafood alternatives offer a sustainable and ethical solution to this looming crisis.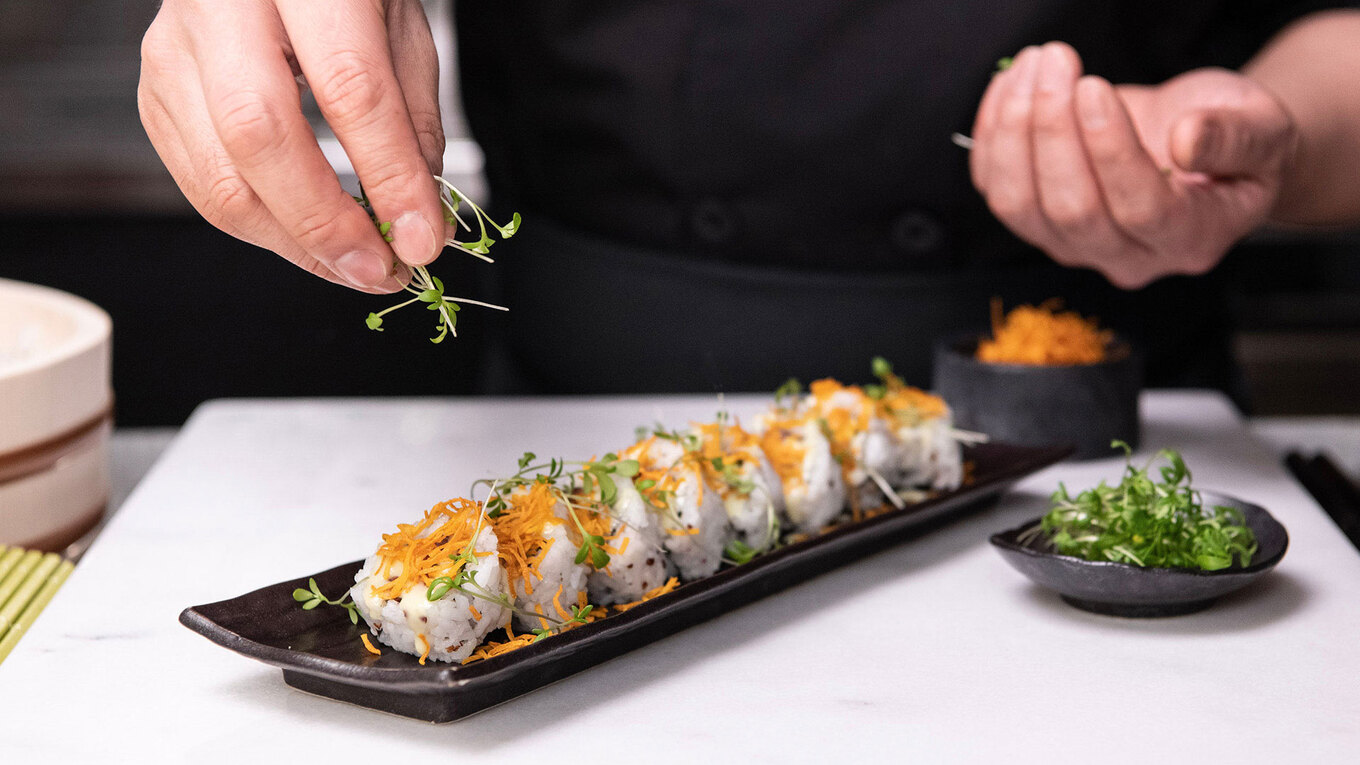 Konscious Foods
Identifying as a flexitarian, Potvin understands the growing trend of flexitarianism among Americans—almost half of the population views themselves as such, and 58 percent of households buy both traditional and plant-based items.
Recognizing this demand, he has designed his plant-based sushi to be a versatile choice for all, thereby lessening the strain on our marine ecosystems.
"Future generations are increasingly motivated to help better this planet, and they need solutions that are affordable and deliver on taste and texture," Potvin says. "We can do our part to take the strain off the skyrocketing demand for seafood with Konscious Foods."
Bringing these plant-based seafood alternatives to the broader market wasn't a straightforward journey. "We needed to make a product that had the unique texture and taste of seafood. We also needed to make it convenient without price parity to traditional proteins." However, the challenge spurred innovation and determination, leading to some remarkable triumphs.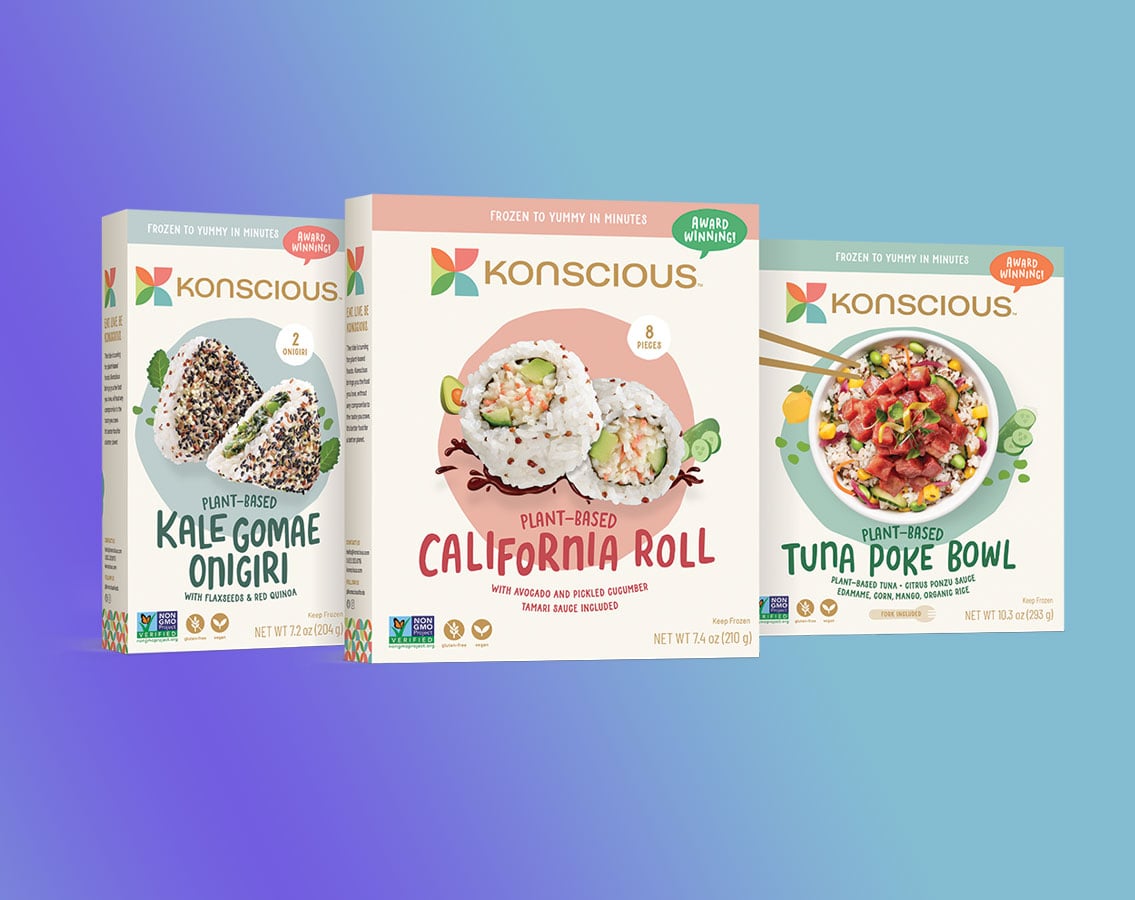 Konscious Foods
The new vegan line has already won several awards, including a VegNews Best of Show Award during this year's trade show Natural Products Expo West.
In the coming months, keep an eye out for Konscious Foods' sushi rolls in the freezer section for a plant-based taste of the sea, wrapped in a commitment to sustainability.
For the latest vegan news, read: