A humble noodle soup that originated from China, ramen has steadily evolved and integrated itself into Japanese culture, captivating a worldwide audience with its rich, flavorful broth and chewy noodles.
Ramen, whether traditional or instant, is composed of four basic components: broth, noodles, tare (flavoring sauce), and toppings. While noodles are sometimes vegan-friendly, they can also contain egg. The traditional broth is made from fish or meat-based stocks, and toppings often include slices of pork.
Momofuku Ando, the founder of Nissin Foods, created instant ramen in the late 1950s as an affordable, easy-to-prepare food option. However, since then, traditional instant noodles have often been associated with unhealthy eating habits, prompting many brands to reformulate their recipes with more fiber, by reducing sodium, and removing harmful additives.
And as more consumers embrace plant-based diets, companies are developing flavorful alternatives for the modern instant ramen lover.
Instant ramen goes vegan
Amid the COVID-19 pandemic, consumers stocked up on quick meals like instant noodles, showing a strong preference for home-cooked meals. The convenience and extended shelf life of instant ramen, coupled with the growing interest in plant-based diets, contributed to the surge in the popularity of vegan ramen.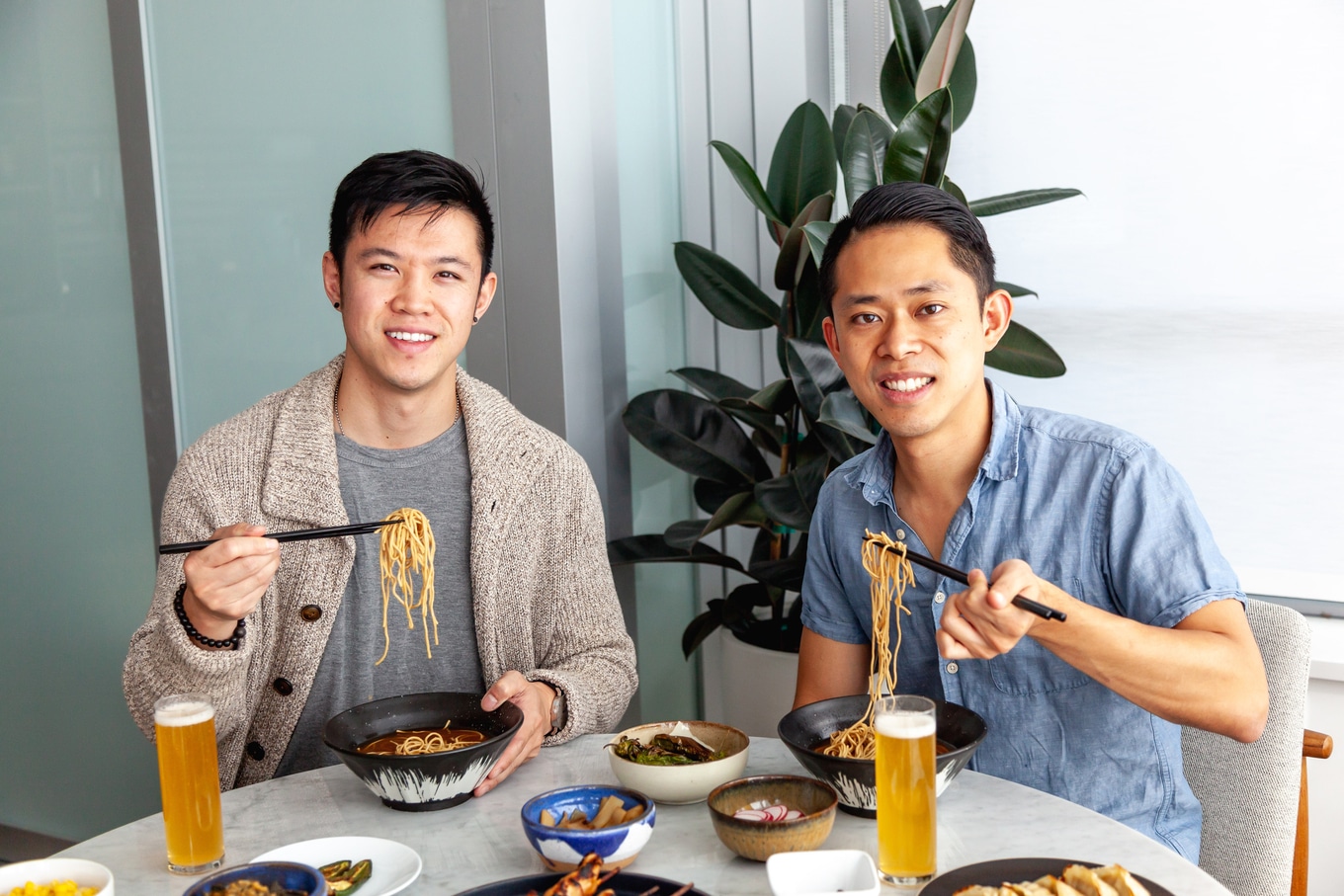 Immi
This is the environment that inspired founders Kevin Lee and Kevin Chanthasiriphan (known collectively as "The Kevins") to launch Immi in 2021. The celebrity-backed vegan ramen brand is informed by a combination of the founders' Taiwanese and Thai family food business backgrounds, with each product formulated to be a low-carb, high-protein, plant-based ramen alternative that retains authentic Asian flavors.
"We created Immi to help make nutritious and delicious Asian American food accessible to people around the world because we saw how our own families suffered through chronic health conditions due to a lack of access to nutritious foods," the founders previously told VegNews.
Immi's instant ramen has since gained major distribution at Whole Foods, Wegmans, and The Fresh Market, and has garnered strong celebrity endorsement and financial backing from tennis star Naomi Osaka; music legend Usher; Olympic speed skater Apolo Ohno, and others who invested in the brand's $10 million Series A round earlier this year.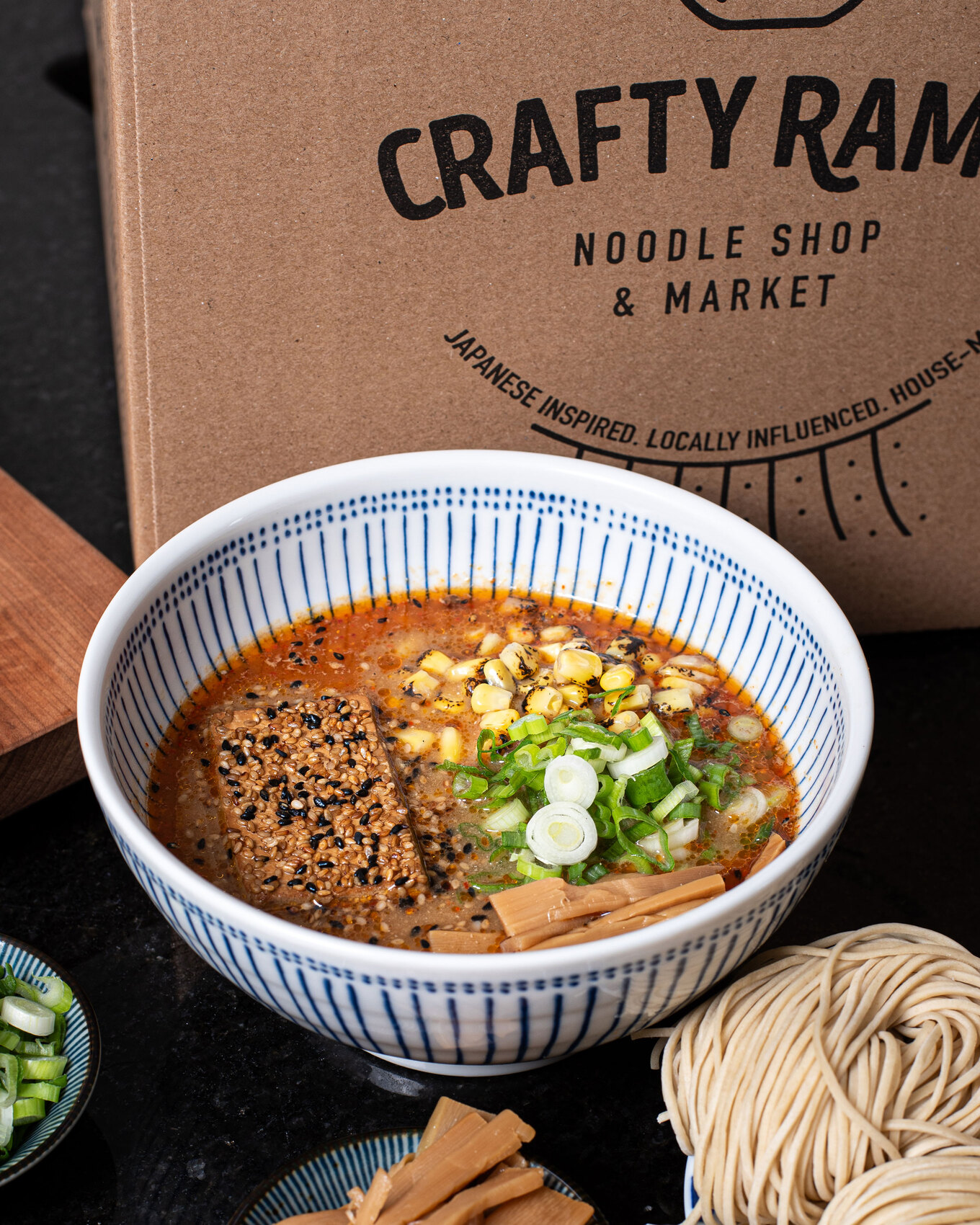 Crafty Ramen
Adding to these innovators is Crafty Ramen, a Canadian ramen business founded by husband-and-wife duo, Jared and Miki Ferrall. The company recently expanded its "Heat and Eat" range with seven new flavors, including new vegan options, reinforcing its mission of delivering restaurant-quality, locally sourced ramen that can be conveniently prepared at home.
Crafty Ramen's new Vegan Mapo Tofu is inspired by the Chinese dish, bringing the concept back to ramen's roots that also redefines what "instant" means a meal that goes from frozen to ready-to-eat in seven minutes.
"Right from the beginning, 40 percent of the Crafty Ramen menu has been vegan or vegetarian," Jared Ferrall, the company's Chief Culinary Officer, tells VegNews. "We made this choice because we believe vegan and vegetarian options should be given as much care and attention as all the other options on the menu, not an afterthought."
"These days, people are choosing to eat meat-free for health and environmental reasons more and more," Jared Ferrall says. "We want to help people do that as well as accommodate a variety of dietary preferences and needs. It's important to us that the menu at Crafty Ramen be inclusive."
Even famed chef Gordon Ramsay is embracing vegan ramen through his recently forged strategic partnership with Borealis Foods. Since its founding in 2019, Borealis, via its Palmetto Gourmet Foods subsidiary, has been making nutritious vegan food more accessible. With Ramsay on board as a shareholder, advisor, and brand ambassador, the company hopes to further popularize and innovate its high-protein Chef Woo Ramen and Ramen Express brands.
The future of vegan ramen
Predictions place the global instant noodles market at $86.47 billion by 2030, fueled in part by rising demand for health-conscious and convenient meals. Vegan ramen answers this call by offering a quick, nutritious, and easily-prepared meal that is in step with diverse dietary preferences.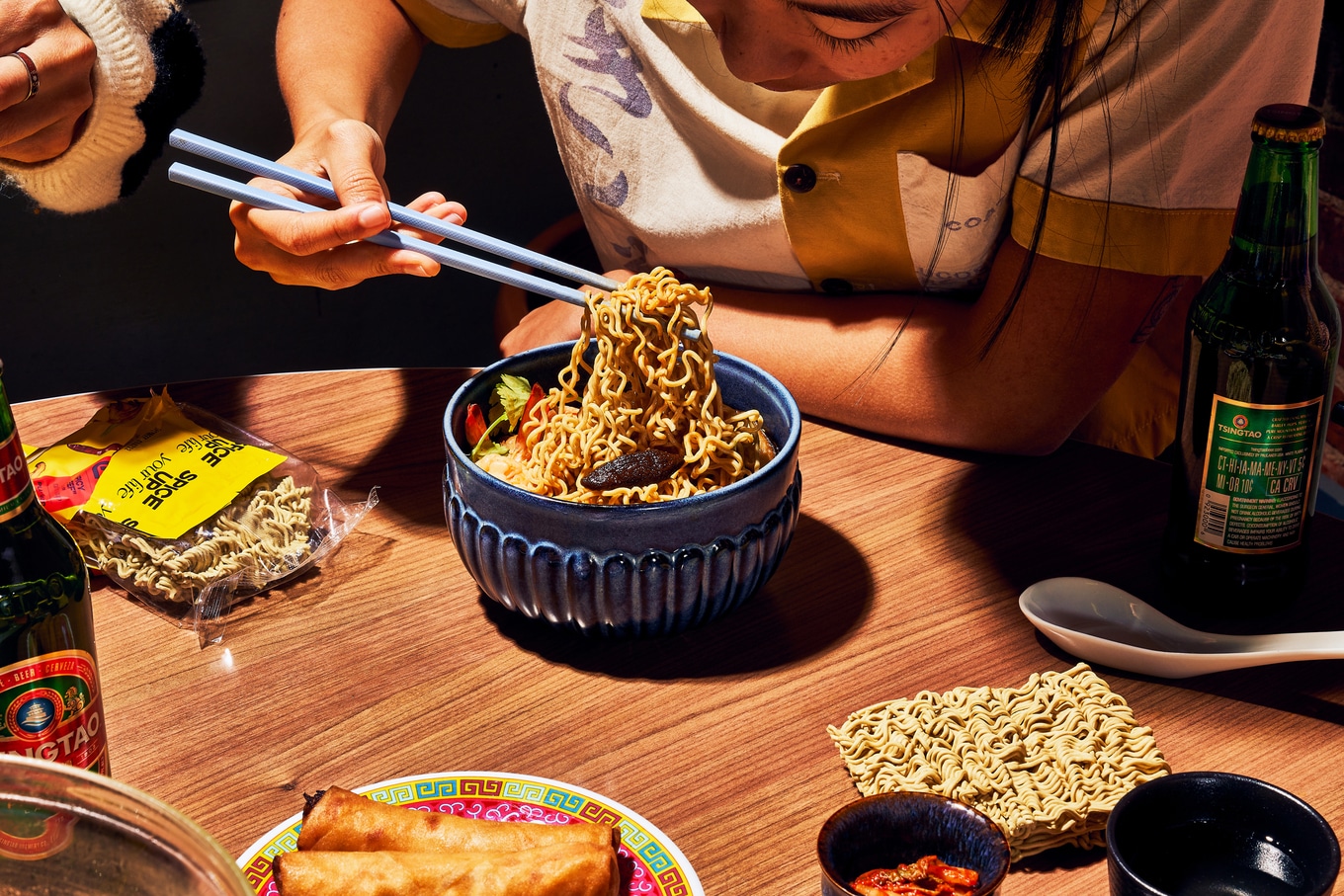 Immi
Celebrities are not just endorsing vegan ramen brands; they're also embracing their mission to redefine the ramen industry. Their support, along with major investments, are helping these brands bring their innovative, plant-based offerings to a wider audience, influencing people's taste preferences and health in significant ways.
"I value my nutrition and health more than anything else," Ohno, an eight-time Olympic medalist, said in a statement. "I'm excited to invest in Immi, which has allowed me to bring ramen back into my life again."
For Ramsay, his continued support of Borealis' Chef Woo range is a way to address food security.
"Given the prevailing cost-of-living crisis and the global issue of escalating food prices, food insecurity has become a pressing concern for households across America," Ramsay said in a statement.
Outside of these newcomers giving ramen a new spin, other brands—such as Annie Chun's, Dr. McDougall's, and Koyo—paved the way in the United States with their plant-based instant noodles.
And in Japan, Nissin is also embracing plant-based ramen. While many of its offerings contain animal products, Nissin's Top Ramen brand has two vegan-friendly flavors (Chili and Soy Sauce) while its Cup Noodle brand also offers a Soy Sauce flavor as a vegan option.
For the latest vegan news, read: