It seems that every week in the world of vegan food news is more exciting than the last and this week is no exception. There's a big honking meatless bulgogi sandwich at Ike's Sandwiches (and its meaty filling is eerily similar to that bulgogi we can't stop thinking about at Trader Joe's). DoubleTree Hotel by Hilton is keeping its 50-year-old tradition of cookies at check-in alive and well with a new option for vegan guests. And Cher just launched a gelato truck with a jaw-dropping vegan option that will make you believe in life after love.
1Vegan bulgogi sandwiches at Ike's
If you're anything like us, every single trip to Trader Joe's starts with a quick check on vegan bulgogi stocks in the freezer aisle—and maybe picking up a box or five to replenish your own supplies. Now, that meaty goodness is available in a new format: a big ol' meatless bulgogi sandwich at California chain Ike's Sandwiches, which operates 100 locations.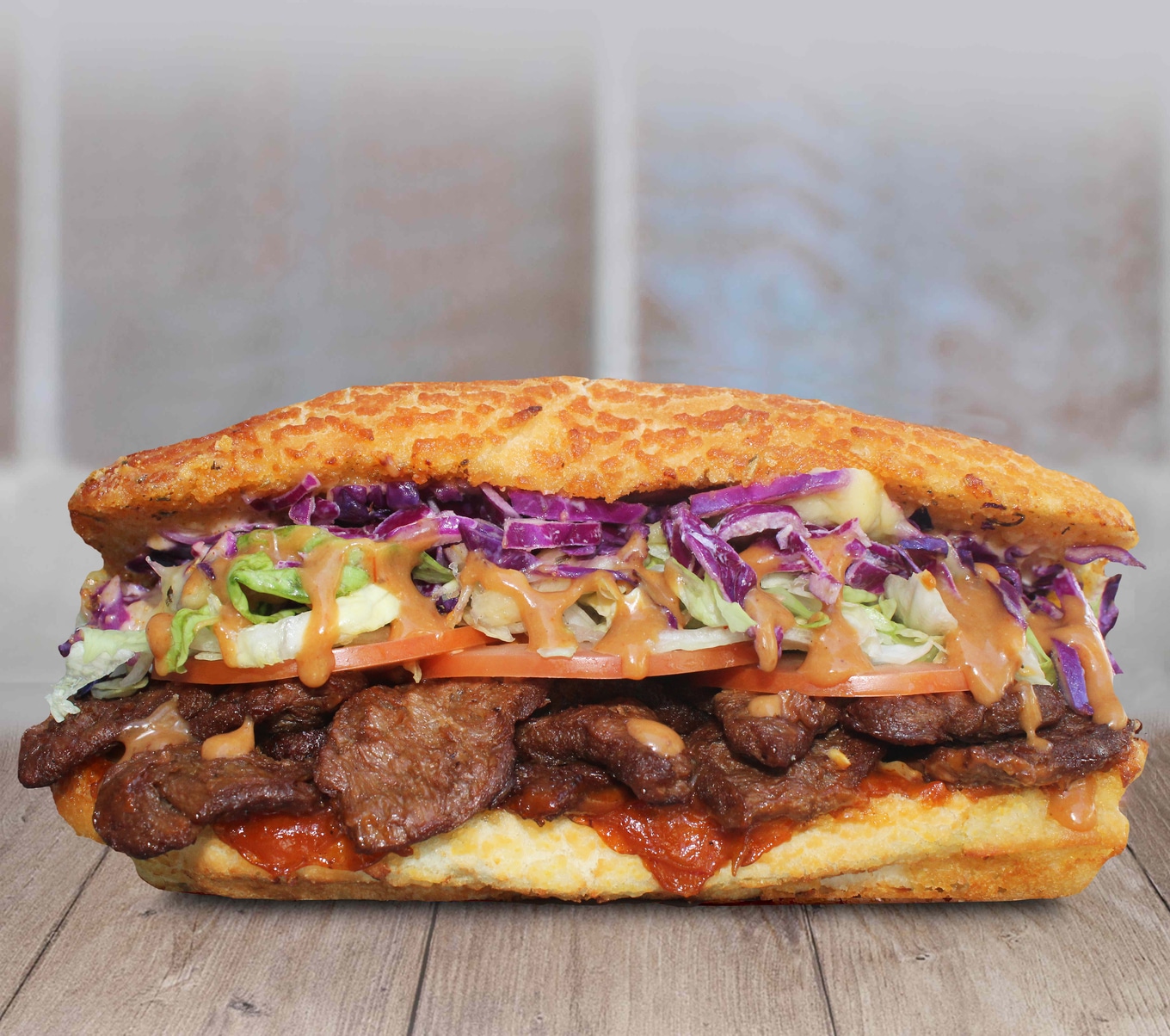 Ike's Sandwiches
Called the "Floryn," it features Nasoya's PlantspiredPlant-Based Steak, which comes seasoned with authentic Korean BBQ flavor and char-grilled to ensure an optimal taste and texture.
The sandwich also includes purple slaw and pickle havarti, along with Ike's unique Asian BBQ sauce, delivering a harmony of sweet, spicy, and smoky flavors. The gourmet Floryn ($21)—which can be customized to be fully vegan with dairy-free cheeses and sauces—is available exclusively for Ike's Rewards Members and for a limited time only.
"Sometimes I'm a vegetarian, and I have a lot of friends who are vegan, vegetarian, and flexitarian," owner Ike Shehadeh said in a statement. "I show my love for them by creating plant-based sandwiches that are amazing and filling."
"Floryn is the most ultra-premium plant-based sandwich I've ever made," Shehadeh said. "The Plantspired Plant-Based Steak we use for the vegan bulgogi is something meat lovers and vegans will both love."
Since Trader Joe's private labels items, there is no real way to really pin down which company produces its vegan bulgogi—but if you ask us, Plantspired's steak tastes strikingly similar to TJ's.
2Stacked Beyond Burgers
Plant-based meat company Beyond Meat is expanding its product range with the debut of the Beyond Stack Burger—its answer to smash-style burgers, which have grown in popularity on menus by 720 percent in the last four years.
Now available at select Kroger stores nationwide, this innovative burger—a companion to the foodservice version, Beyond Smashable Burgers, the company recently launched—is designed to offer a taste and texture even closer to beef.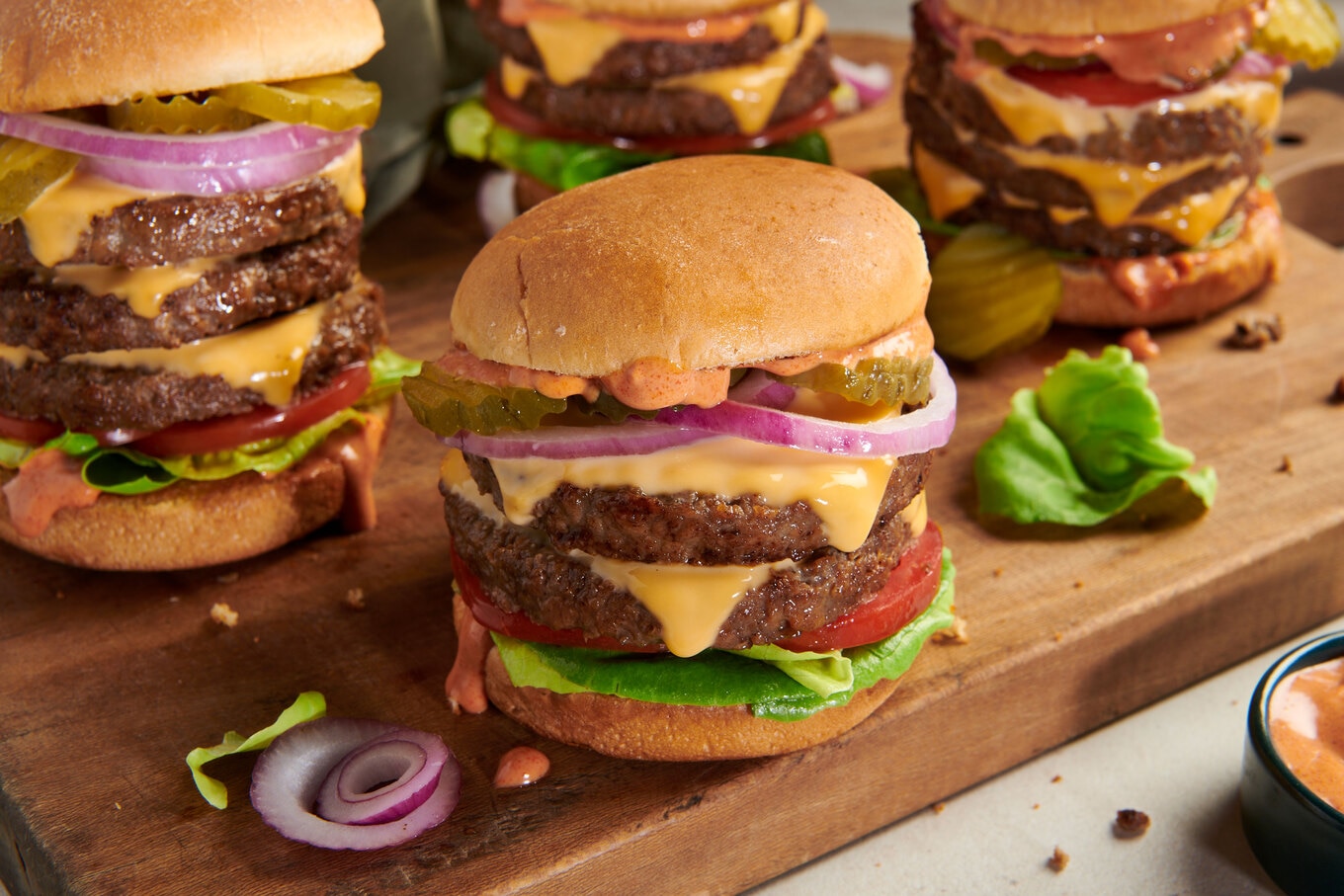 Beyond Meat
Early reviews laud its succulent taste, distinctive crumble, and crisp exterior, that successfully mimic the appeal of traditional beef burgers.
"The new Beyond Stack Burger reflects our commitment to relentlessly innovate until our products are indistinguishable from animal meat in taste, texture, and flavor while being more nutritious and sustainable," Dr. Dariush Ajami, Chief Innovation Officer at Beyond Meat, said in a statement.
"We are thrilled to expand our retail product portfolio with this latest offering which builds upon the recent launches of the newest iteration of Beyond Sausage and our groundbreaking, heart-healthy Beyond Steak," Ajami said.
In tandem with the launch of the new burger, Beyond Meat also invites consumers on a journey of transparency with its "There's Goodness Here" campaign. The multi-pronged campaign aims to celebrate and demystify the process behind the creation of the company's plant-based meats.
The campaign starts with its American Heart Association-approved Beyond Steak, made from fava beans sourced from eco-friendly farmers in Munich, ND and carefully created with other sustainable proteins using non-GMO ingredients like peas, rice, and wheat.
3Pork-free bratwurst is best
TiNDLE Foods just rebranded from its Next Gen Foods name and is working on some exciting launches under its new moniker that expand upon its vegan chicken products.
This broadened TiNDLE Foods platform will facilitate the development, production, and sales of its existing TiNDLE Chicken product line as well as novel plant-based foods that now include other meat alternatives such as plant-based sausages in Bratwurst, Italian, and savory breakfast varieties.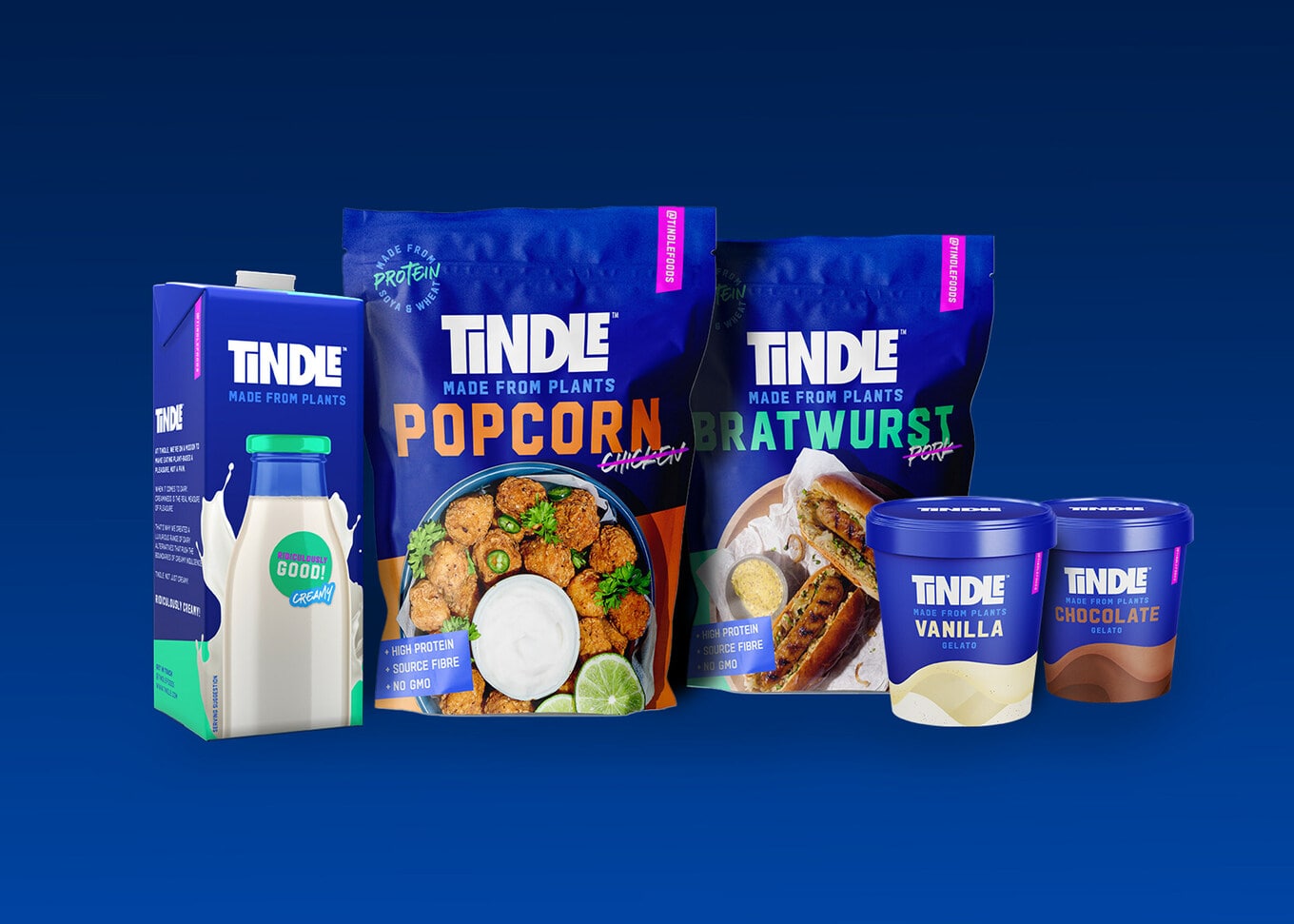 Tindle Foods
Leveraging the recent acquisition of vegan dairy startup Mwah!, the company also aims to enhance its R&D capabilities and expertise in dairy-free product development, leading to the rollout of a variety of new plant-based milks and the extension of its gelato line.
John Seegers, the CTO, and his team with substantial experience in plant protein and product development, will play a pivotal role in diversifying the product range beyond chicken.
"The new TiNDLE Foods marks a significant milestone in our journey in providing ridiculously good food experiences that will help accelerate the transition to a more sustainable food system," Andre Menezes, CEO and Co-Founder of TiNDLE Foods, said in a statement.
TiNDLE Foods, named after 19th-century Irish physicist John Tyndall, has a mission to lessen our dependence on animal agriculture and make planet-saving efforts enjoyable and tasty. The company has raised $130 million in funding and successfully expanded its plant-based chicken products to thousands of eateries and grocery stores globally.
"As we grow into new product categories and increase our capacity to make the best-tasting meat and dairy products—some of the most beloved foods in our society—we're now able to get closer and closer to finding viable and delicious solutions to help save our planet."
4DoubleTree's vegan chocolate chip cookies
This week, checking into the DoubleTree Hotel got even sweeter for vegans and the 32 million people in the United States with food allergies. That's because the Hilton-owned chain just partnered with vegan cookie brand Partake to continue its 50-year-old tradition of giving out cookies to guests at check-in.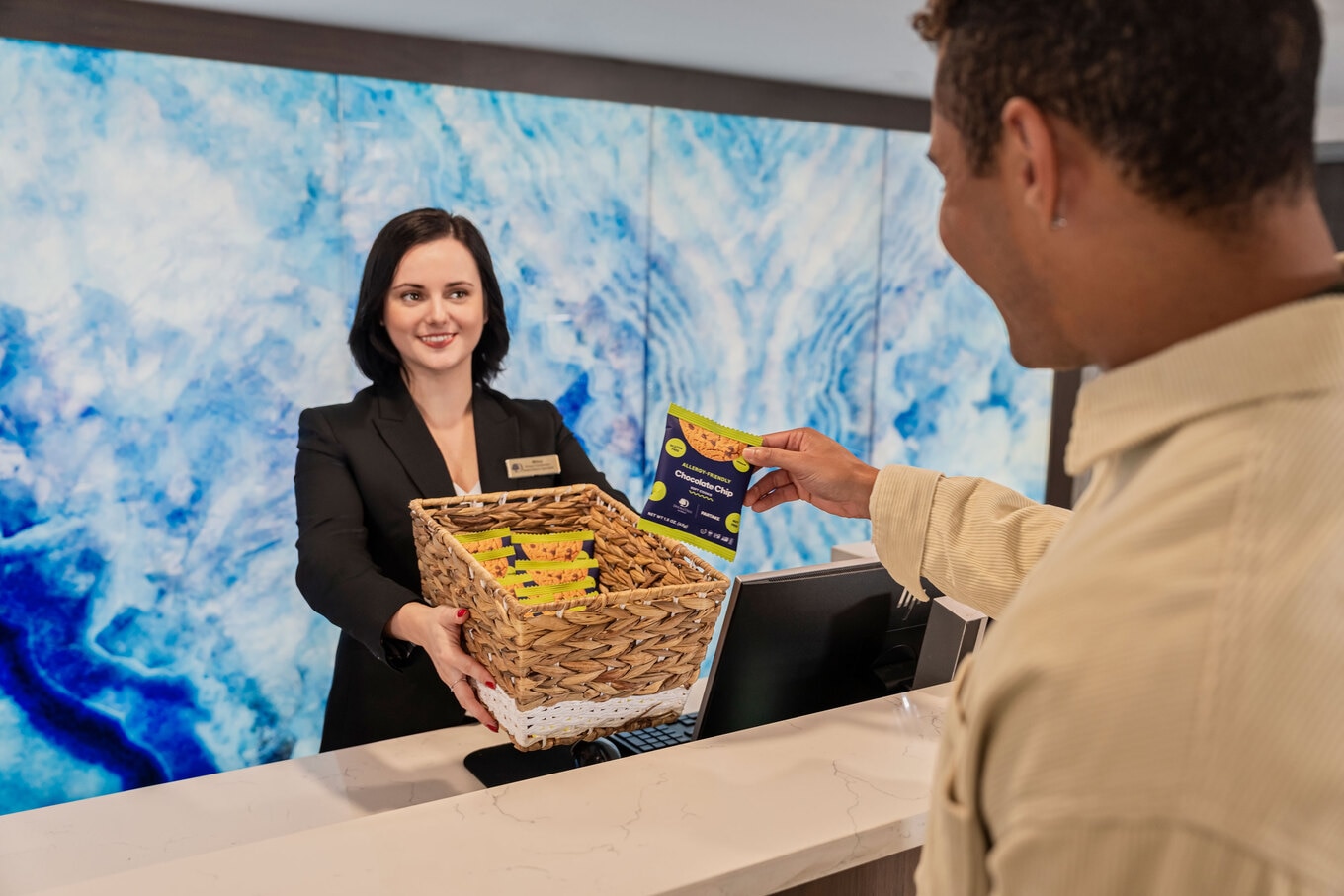 DoubleTree by Hilton
"We want every guest to feel at home when they enter the doors of a DoubleTree by Hilton, and we recognize that traveling with food allergies, sensitivities, or restrictions can be challenging," Shawn McAteer, global brand leader, DoubleTree by Hilton, tells VegNews. "This new allergy-friendly chocolate chip cookie is not only vegan but also free of the top 9 allergens, allowing us to extend DoubleTree's signature hospitality to even more travelers."
Now, everyone can partake in this little bit of hospitality, with a vegan chocolate chip cookie that's all about inclusion and comes individually wrapped to avoid cross-contamination.
"We hope that introducing this new cookie, alongside our original cookie, underscores the warm welcome that has become a hallmark of the brand and reaffirms our commitment to fostering hospitality for every guest, every visit," McAteer says.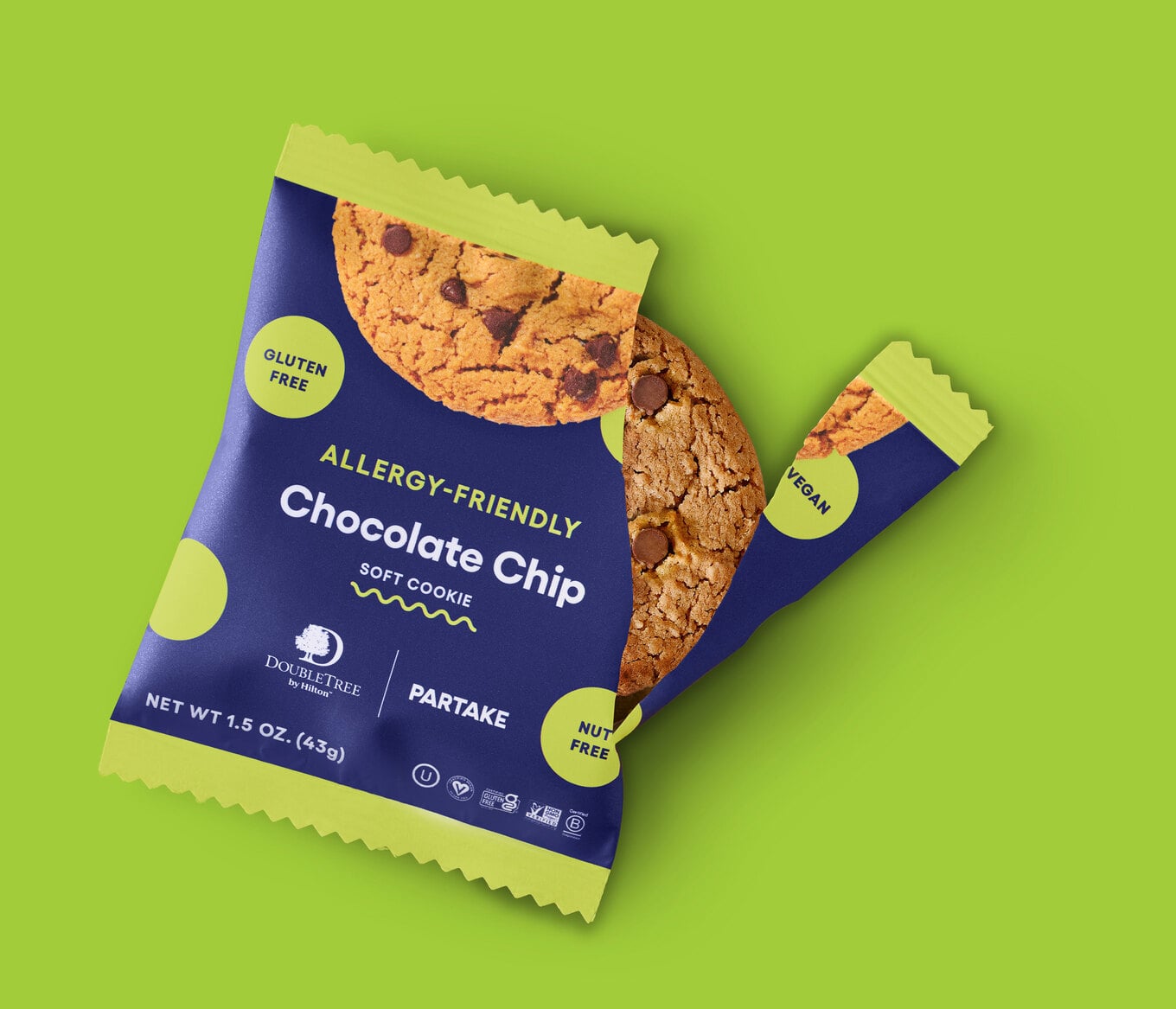 DoubleTree by Hilton
Entrepreneur Denise Woodward founded Partake to make sure her young daughter, who has multiple food allergies, could enjoy sweet treats. "As a parent of a child with food allergies, I know firsthand how limited offerings are for those with allergies and dietary restrictions when traveling—everyone deserves to have a sense of assurance and comfort when they are away from home," Woodward tells VegNews.
"We are proud to extend Partake's mission of inclusivity to DoubleTree by Hilton hotels across the United States, and are thrilled to work with such an iconic brand to create a more inclusive welcome for their guests at check-in," she says.
Outside of DoubleTree, Partake offers a variety of vegan cookies and treats, available at retailers nationwide, including Trader Joe's, Target, and more.
5Cher's new gelato truck
We always like a good portmanteau but did not have "Cherlato" on our 2023 bingo card. What does combining Cher and gelato actually mean? It's the name of a new gelato truck roaming Los Angeles, a collaboration five years in the making between New Zealand ice cream company Giapo and the 77-year-old musical artist.
And if you need a vegan flavor, she's got you, babe.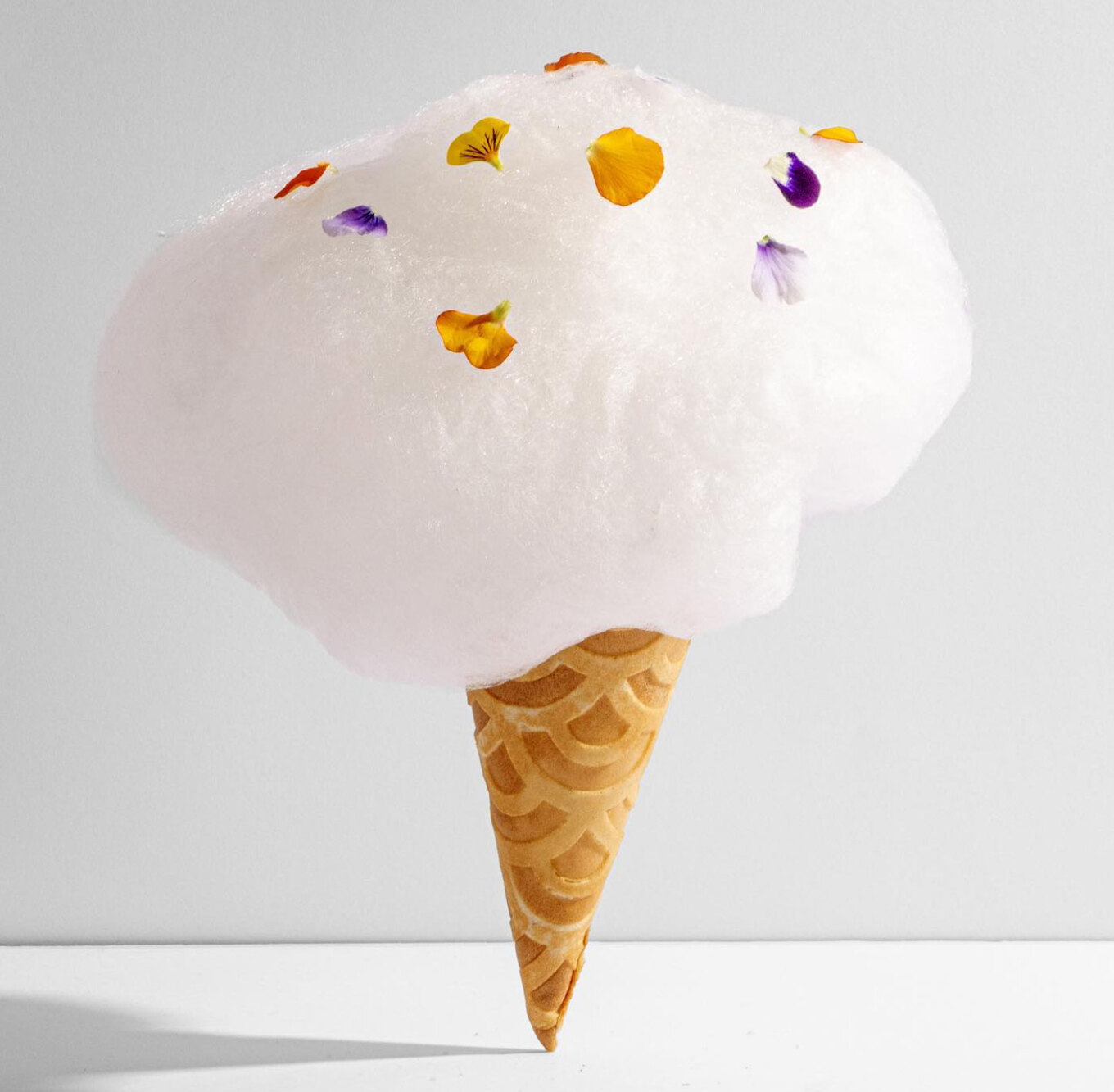 Cherlato
The option is called "LA, I Love You" and is a love letter to the city that features a base made with flax milk (from local company Malibu Mylk) that is folded with vegan white chocolate chips and pluots (another portmanteau of plums and apricots).
And if this flavor—the only one in the line-up that's free from the top nine allergens—doesn't pique your interest, the whole thing is served under an edible cloud.
For the latest vegan news, read: