The International House of Pancakes (IHOP) has been serving up its take on breakfast since it first opened its doors in 1958 in Toluca Lake, CA. After quickly gaining popularity, the chain became a leader in the family dining industry and by 1998, the chain clocked $1 billion in sales.
In the late 20th century, IHOP underwent several significant changes, including menu diversification to appeal to more nutritionally aware customers. The franchise also began to embrace mealtimes outside of breakfast to compete with the likes of Denny's, and in a creative move in 2018, temporarily renamed itself "IHOb" as a stunt to announce the addition of burgers to its core menu.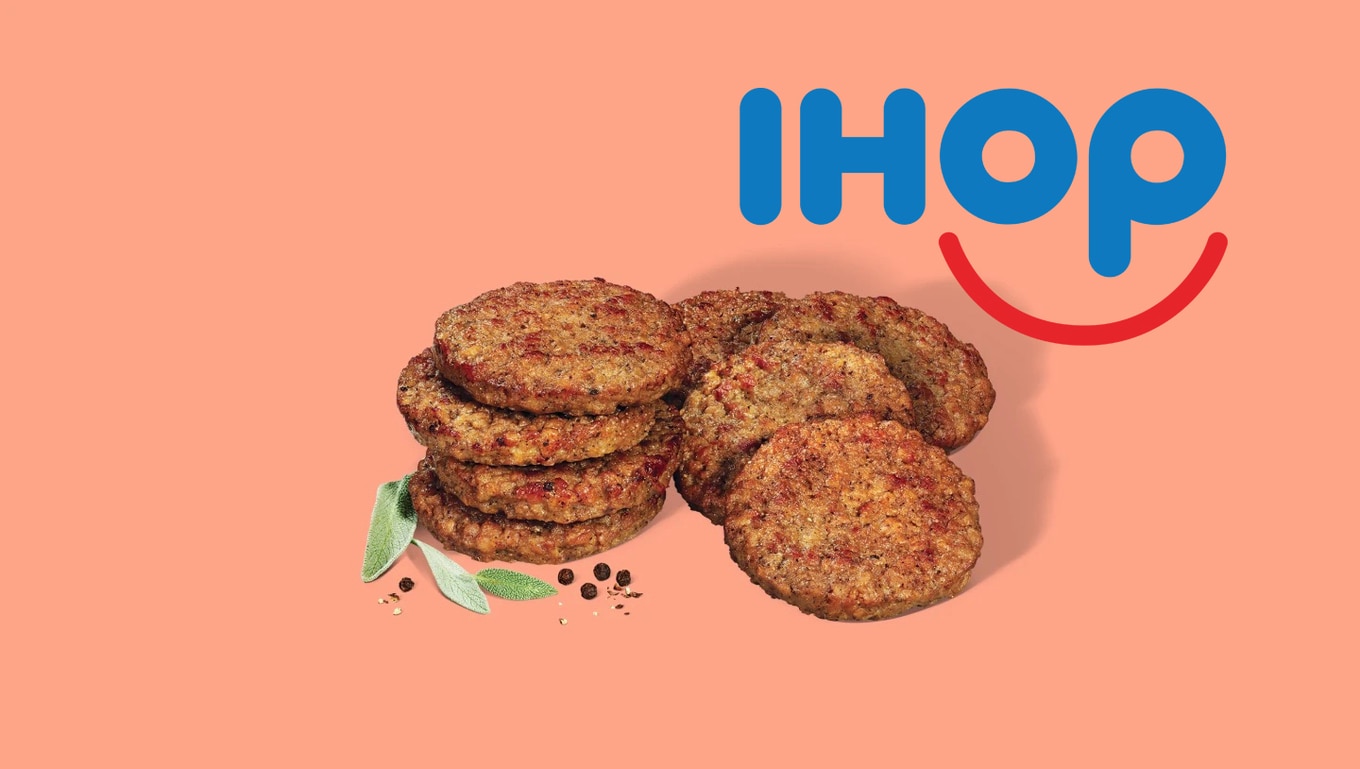 Impossible Foods
In 2023, IHOP is continuing its evolution to better serve modern consumers with the addition of Impossible Foods' plant-based meats to the all-day menus at its 1,690 locations nationwide. Starting today, diners can start their day with plant-based Impossible Sausage patties. These can be paired with IHOP's popular breakfast items such as pancakes and combo meals.
The company's flagship Impossible Burger will also be available for lunch or dinner as part of IHOP's menu of Steakburgers, all of which can now be made with the plant-based patty.
"IHOP is a classic, American institution, and having both our Impossible Sausage and Impossible Burger served at their locations nationwide is a significant seal of approval," Sherene Jagla, Chief Demand Officer at Impossible Foods, tells VegNews. "We believe this partnership will satisfy cravings for delicious Impossible dishes on their iconic all-day menu."
Plant-based options at IHOP
In addition to the new Impossible items, IHOP has also added new and seasonal menu options, such as pot roast, Belgian waffles, and buttermilk biscuits—none of which are vegan-friendly.
The breakfast chain has been the subject of several animal-rights campaigns over the years, including a 2019 petition asking for IHOP to add vegan pancakes to its menu. Launched by activists from Vegan Outreach and Animal Outlook (then called "Compassion Over Killing"), the petition made the case for adding a plant-based version of the chain's most iconic menu item.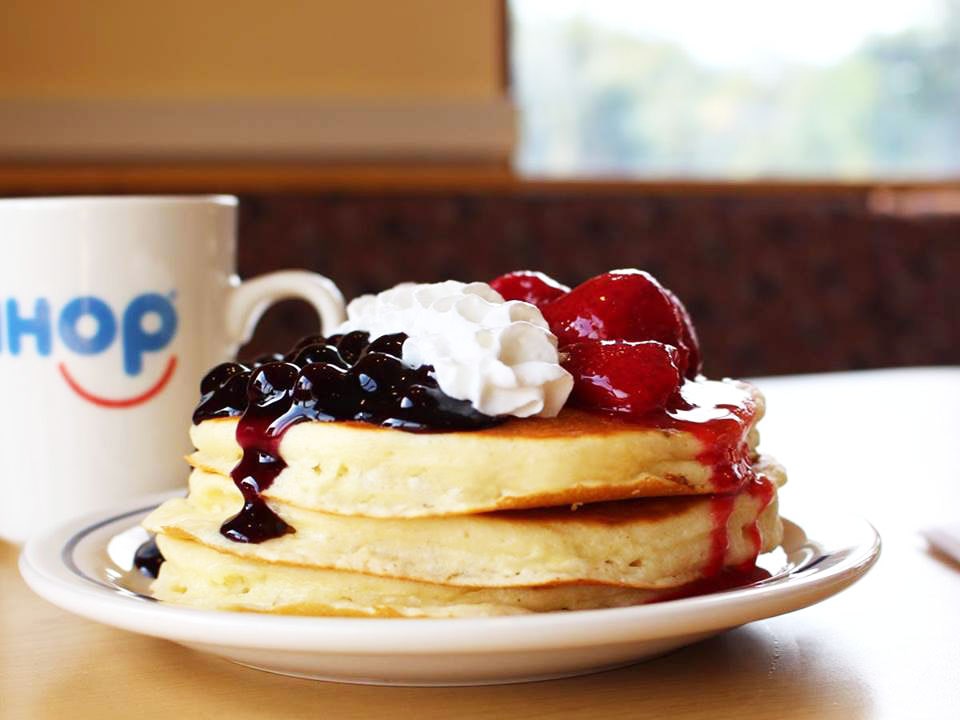 IHOP
"Pancakes have been around for centuries and are a beloved breakfast staple across the nation," the petition stated. "But surprisingly, one of the country's most well-known pancake giants, IHOP, does not offer a vegan version of the popular treat for the millions of conscious consumers who are hungry for plant-based options." It gained more than 20,000 signatures prompting the chain to issue a statement.
"Although our vegetarian/vegan options are limited, that is something we are closely looking into," IHOP stated.
In 2022, one forward-thinking location Flip'd by IHOP, a fast-casual offshoot of the breakfast chain, in New York City delved into a vegan breakfast sandwich with the Plant Based Cali sandwich that featured a vegan sausage breakfast patty created especially for IHOP by vegetarian brand Sweet Earth, mung bean-based Just Egg, arugula, roasted tomatoes, and avocado, all served on a vegan bun. This item, however, did not make it to IHOP's national menu.
Now that Impossible's plant-based meat is officially on the menu, VegNews has reached out to IHOP to inquire about its plans to launch other items nationally, including vegan pancakes.
Impossible moves in on plant-based breakfast
The launch of plant-based meats at IHOP follows several major moves into the breakfast category for Impossible Foods.
Jamba added the Impossible Handwich vegetarian breakfast sandwich in 2021, and an Impossible sausage-filled sandwich has also been a breakfast staple on the Starbucks menu since 2020—however, this build includes dairy cheese and eggs.
In January, Impossible's plant-based sausage also hit the menu of 7-Eleven stores across Canada in January as part of a build that includes Just Egg and Violife Cheese. This sandwich is plant-based without modifications.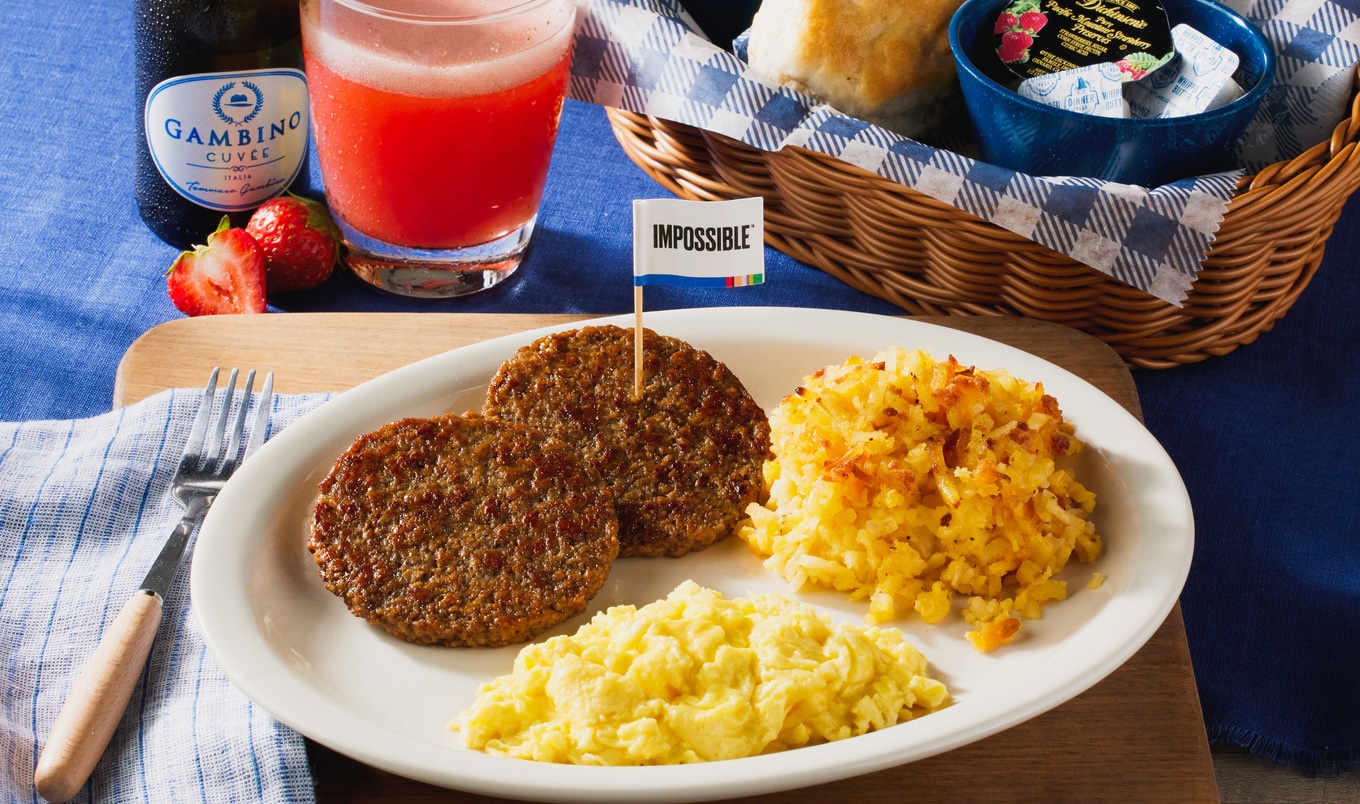 Impossible Foods
Last year, the company's plant-based sausage also arrived at 600 Cracker Barrel Old Country Store locations, stirring up some controversy from patrons of the Tennessee-based chain.
While the Impossible sausage did not replace any menu items, customers took to social media to voice their concerns, with one stating in all capital letters: "You can take my pork sausage when you pry it from my cold, dead hands. Don't tread on my pork."
IHOP's sister company, Applebee's, also began testing the Impossible Burger at select locations in 2018, and last year, the chain added the vegetarian Impossible Cheeseburger to its national menu. Competing breakfast chain Denny's previously offered a Beyond Burger nationally but has replaced the patty with one made by Dr. Praeger's.