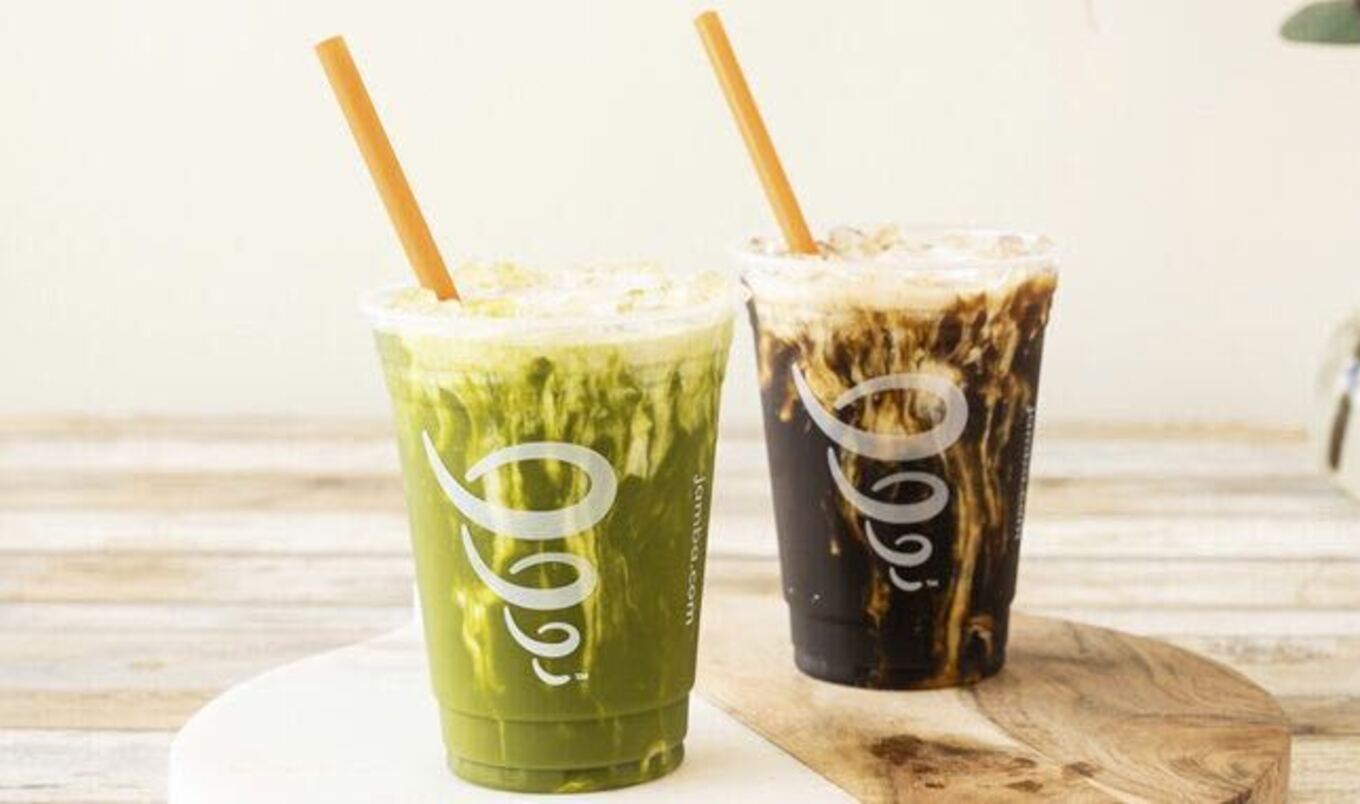 With over 850 locations, this giant smoothie chain is pleasing customers with its abundant plant-based offerings.
May 16, 2022
---
Are you as obsessed with your morning (or afternoon, or evening) smoothie as we are? If your on-the-go beverage of choice is a fruit-filled cup of yumminess—packing a powerhouse of nutrients into your day as readily as it packs incredible flavor—chances are you, like us, are a huge fan of Jamba Juice. From a summery strawberry peach beverage to a post-workout peanut butter banana protein shake, this smoothie shop has served up millions of fruity concoctions since it opened in the early '90s. But in the last 10 years, as the mainstream has started to embrace plant-based lifestyles with a vengeance, the forward-thinking chain has followed suit. Its vegan options have expanded rapidly, with non-dairy milks and snack items hitting its menus, and plant-based eaters lining up for more.
In 2019, the company became the first major smoothie chain to add Oatly oat milk to its offerings. And that same year, the smoothie giant dropped "juice" from its name and added more vegan options to their menu with smoothie bowls featuring oat milk and pea protein. In 2021, Jamba added its first plant-based meat option at more than 700 locations nationwide with its Impossible Handwich made with a plant-based Impossible Sausage patty and served with dairy cheese (that can be omitted) on a toasted sprouted grain bun. As well as new iced coffee and matcha beverages with dairy-free add-ins. And since sharing is caring, we're breaking down your definitive guide to all-things-vegan at Jamba Juice.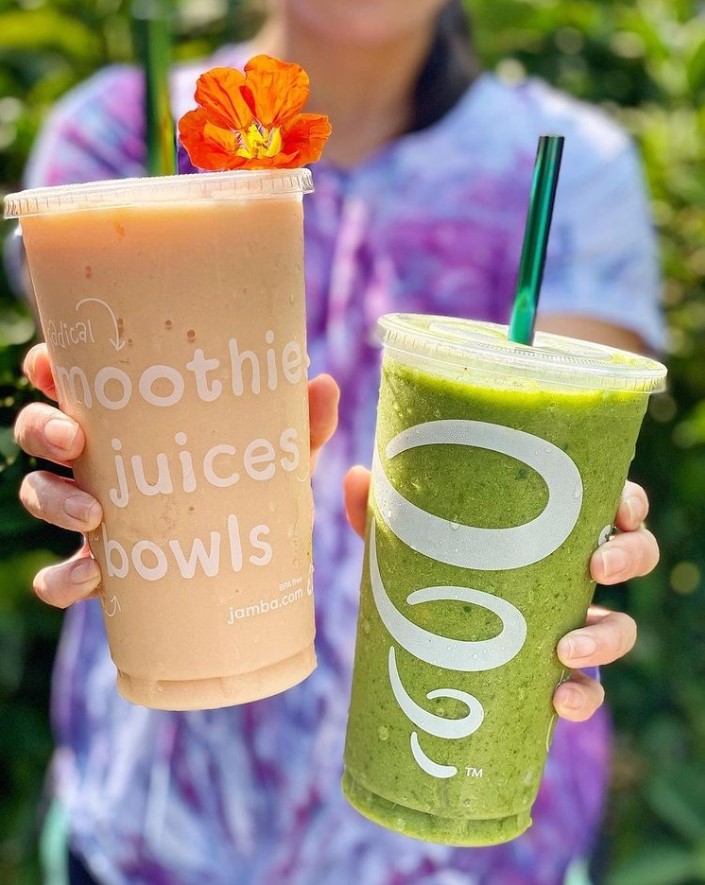 @bayarea_buzz/Instagram
1 Smoothies
Good news! Almost all of the smoothies at Jamba Juice are, or can be made, vegan. The menu even now designates a plant-based section to simplify your ordering. But, just in case, all you need are a couple of swaps in order to ensure your refreshing blend is completely plant-based.
Vegan As-Is:
All-Fruit Smoothies: As the name suggests, these blends are 100-percent fruit-based. Choose from Mega Mango, Peach Perfection, Pomegranate Paradise, or Strawberry Whirl to quench your thirst.
Apple N' Greens: This fruity, tart veggie-blend is a mixture of apple-pear-strawberry juice, kale, mangos, bananas, and peaches.
Greens 'N Ginger: A simple blend of tart lemonade, peaches, kale, mangos, and ginger.
Protein Berry Soy Workout Smoothie: This classic strawberry and banana concoction is made with vegan soy protein, and packs in multiple servings of fruit in one smoothie cup.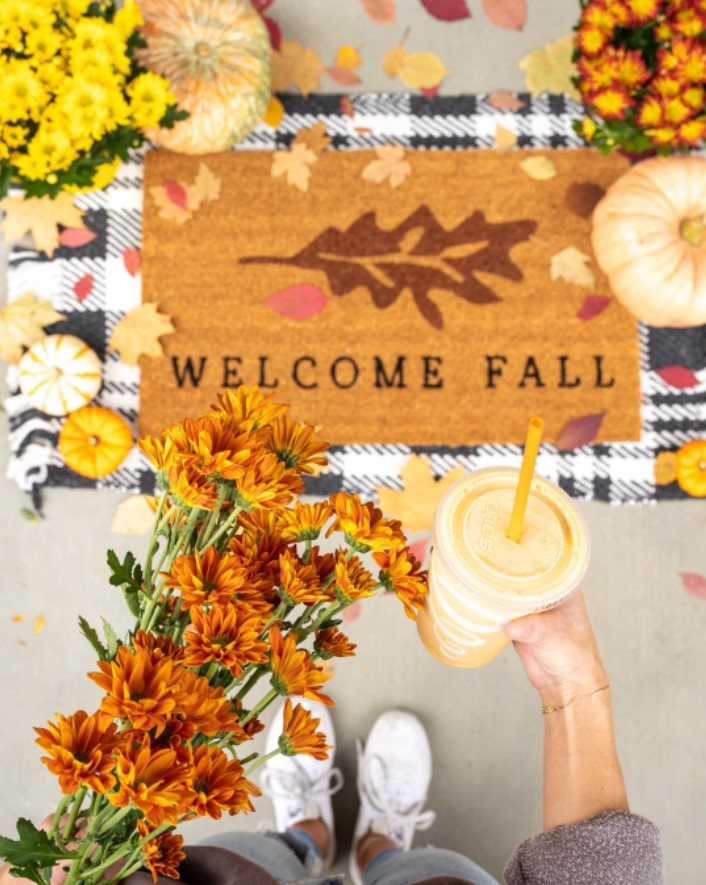 @jambajuice/Instagram
Pumpkin Smash: Get a taste of fall with this oatmilk, pumpkin spice, oatmilk frozen dessert shake of a smoothie.
Smooth Talkin' Mango: This tropical-flavored blend is a simple mix of oatmilk, mangos, pineapples, and organic agave.
Summer Blackberry: This creamy, shake-like blend consists of a blackberry-pear juice blend, vanilla coconutmilk, oatmilk frozen dessert, and pineapples.
The Go Getter: This caffeine-infused blend contains matcha green tea, a vegetable-fruit juice blend, and mangos, kale, and orange juice.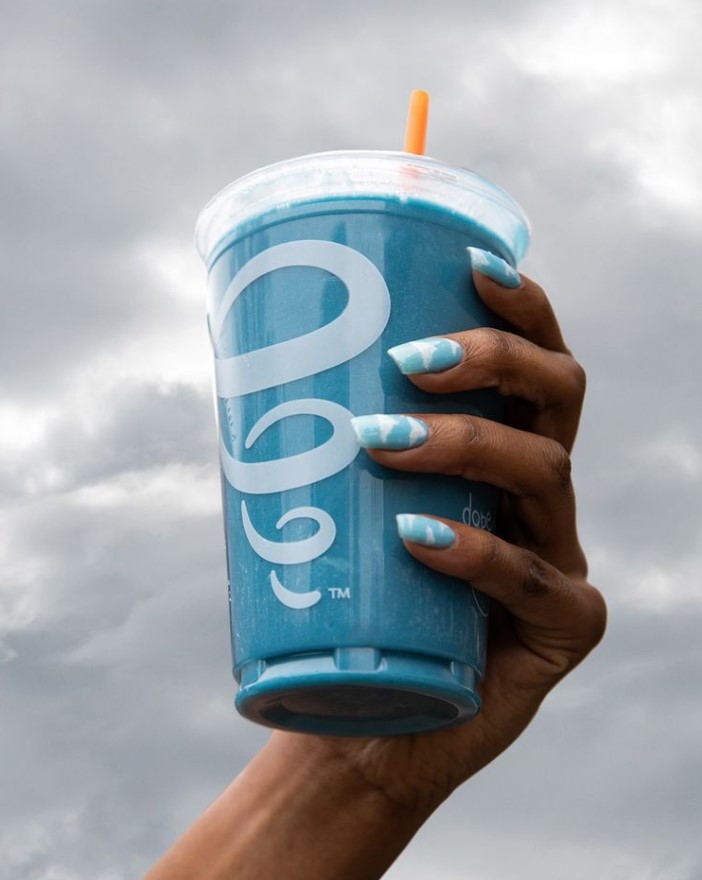 @jambajuice/Instagram
Vanilla Blue Sky: This electric-blue hued smoothie combines unsweetened almondmilk, vanilla coconutmilk, bananas, pineapples, and an antioxidant-rich blue spirulina boost.
Vegan Swaps:
Açaí Super Antioxidant Smoothie: Make this option vegan by substituting one-part almond milk and one-part mixed-berry juice for the raspberry sherbet.
Mango-A-Go-Go Smoothie: Substitute two scoops of frozen pineapple for pineapple sherbet and instantly have your tastebuds transported to a tropical island.
PB & Banana Soy Protein Smoothie: Is there anything more classic than peanut butter and banana? Swap the milk for one of Jamba's non-dairy options and ask for no honey in order to get the ultimate nutty and buttery plant-based beverage.
Strawberry Surf Rider Smoothie: This creation will make you feel like you're sipping on liquid summer. Substitute one-part almond milk and one-part lemonade for the lime sherbet, and add two scoops of ice to keep up the frosty texture.
Razzmatazz Smoothie: Satisfy that berry craving by substituting one-part almond milk and one-part orange juice for the orange sherbet, and adding two scoops of ice.
Note: Make sure to ask Jamba Juice team members for help in veganizing your smoothie, as almost any of its blends can be made vegan! The blends that can NOT be made vegan are: Matcha Green Tea Blast and Peanut Butter Moo'd Smoothie.


2 Boosts
Jamba Juice offers many different superfood and protein boosts to ensure you can really pack in essential vitamins and nutrients. Add any of these plant-based options to the above smoothies to take your drink to the next level. Happy boosting!
Almond Butter
Blue Spirulina
Chia Seeds
Kale
Ginger
Peanut Butter
Pumpkin Seeds
Matcha Green Tea
3G Energy + Green Caffeine Boost
Daily Vitamin + Zinc Boost
Soy Protein
Soy Protein Isolate Boost
Other plant-based add-in options include: frozen oatmilk dessert and frozen fruit and vegetables.


3Fresh Juice & Shots
Every juice and shot under this menu is fully vegan, containing just fresh-pressed vegetables, fruits, and roots.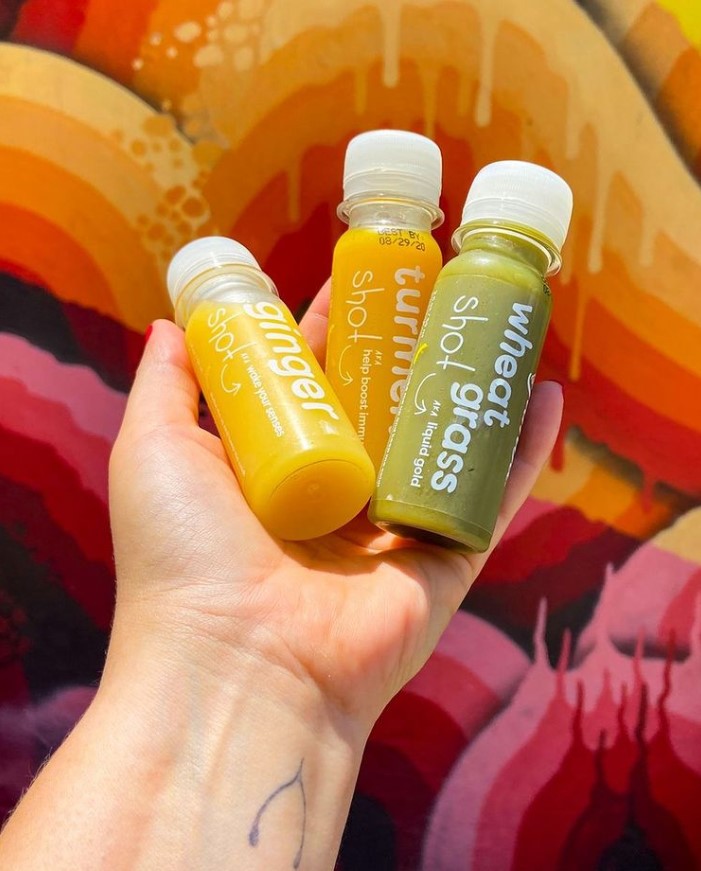 @jambajuice/Instagram
Purely Carrot
Cucumber Orange Cooler
Great Greens
Orange Carrot Twist
Orange Supreme
Veggie Vitality
Purely Orange
Ginger Lemon Cayenne Shot
Ginger Orange Cayenne Shot
Wheatgrass Shot


4 Iced Beverages
The smoothie giant also serves up caffeinated beverages like matcha and cold brew that have the option of coming topped with a house-made, plant-based sweet cloud-like coconut whip foam.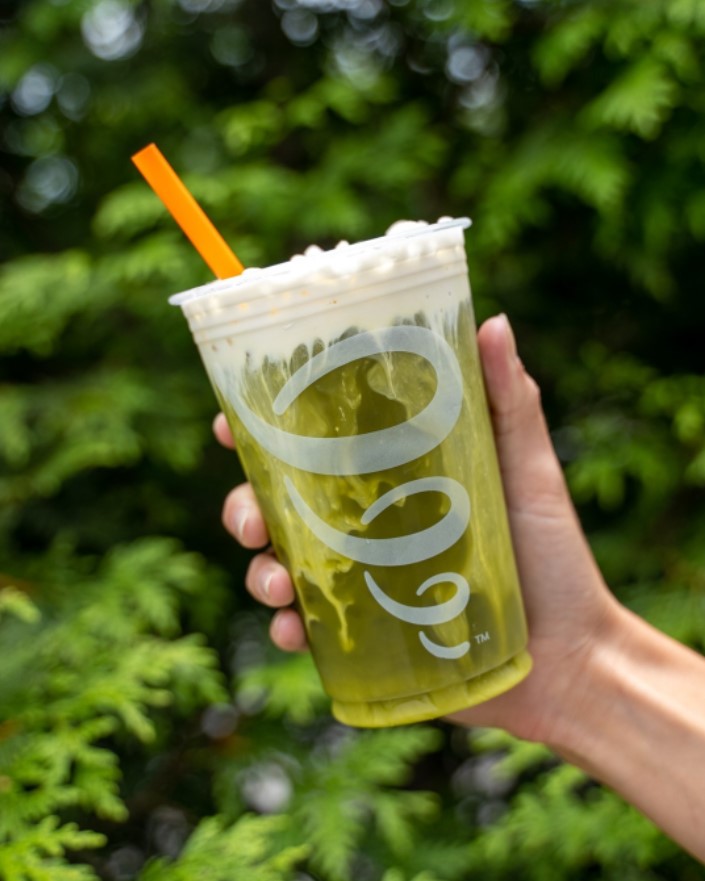 @jambajuice/Instagram
Gotcha Matcha (with or without sweet cloud whip)
Bold 'n Cold Brew (with or without sweet cloud whip)


5 Eats
While Jamba Juice may not be as well known for its food options, you'd be surprised at how many plant-based offerings are available.
@eatwithmonis/Instagram
Sweet Apple Cinnamon Pretzel: This soft, doughy, lightly-sweetened carb-filled treat is 100-percent vegan! Request it slightly warmed for an irresistible cinnamon apple scent.
Steel-Cut Oatmeal: These extra creamy oats are cooked in soy milk for an added punch of plant-based protein that will give you a boost of energy to get through your day. Request toppings like fresh blueberries, juicy strawberries, or crunchy coconut to really elevate your oatmeal. Skip the brown sugar crumble and apple topping, as they contain butter.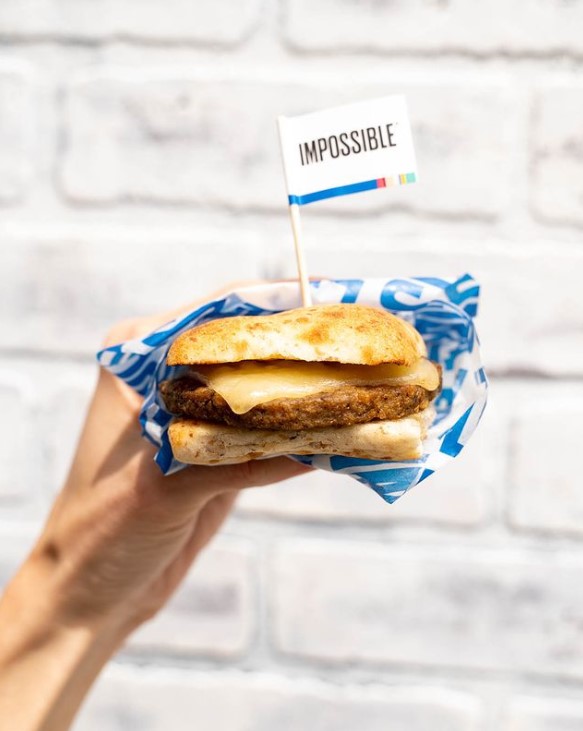 @jambajuice/Instagram
Impossible Handwich: This breakfast-style sandwich made with a plant-based Impossible Sausage patty and served with dairy cheese (that can be omitted) comes on a toasted sprouted grain bun. Simply ask to leave off the cheese.
@happiestveganonearth/Instagram
Açaí Primo Bowl: Açaí juice, soy milk, blueberries, strawberries, and bananas create the thick base of this nutrient-packed bowl, topped with organic granola, fresh bananas, fresh blueberries, and coconut (simply request to have the drizzle of honey left off to make it completely vegan).
Island Pitaya Bowl: Get transported straight to a tropical exotic locale when you taste this refreshing blend of pineapple juice, frozen pineapples, bananas, frozen pitaya, frozen strawberries, and frozen mango that crafts the base of this mouth-watering bowl (again, simply request to have the drizzle of honey left off to make it totally vegan).
Vanilla Blue Sky Bowl: The popular smoothie is also available as a bowl with a smoothie base of bananas, pineapples, unsweetened almond milk, vanilla coconut milk, and blue spirulina. It comes topped with fresh strawberries, organic granola, blueberries, and coconut flakes.
You can also frequently find Clif Bars, 88 Acres Protein Bars, Siren Protein Bites, dried fruit, and vegan-friendly chips offered in various Jamba Juice locations for quick grab-and-go options.
For more vegan options at chains, read:
How to Order Vegan at Subway
The Vegan Guide to Walt Disney World
The Vegan Guide to Dunkin'